Every online business strives to win over the hearts of customers. Well, there are infinite techniques that influence their purchasing decisions. One of the most important is social proof.
Let's remind ourselves: prospects on your website are just people. Nobody likes to be the first to try a product or a service. It's in our nature to get influenced by the choice of others, no matter if we want to admit it or not.
Social proof as a concept is drawing from our tendency to question ourselves whether we're making the right decision, and you can use this as a powerful tool in internet marketing.
What is social proof?
Social proof was first mentioned by Robert Cialdini in his book Influence: The Psychology of Persuasion. It describes how and why people imitate other people's actions when they're not sure what kind of behavior is appropriate in specific situations. As a result, people rationally observe actions of others in a group and make a decision based on it.
"We conform because we believe that others' interpretation of an ambiguous situation is more accurate than ours and will help us choose an appropriate course of action."
Social proof is a helpful tool in promoting a company's products and services and inducing potential customers to try out a business' goods. The end goal of marketing, including internet marketing, is to sell a product or a service. You can benefit from the social proof marketing to accomplish that.
All you need is to show a potential customer that people are visiting your website, buying your products, recommending it to their friends, and convince them they should do the same. Sentences like "99 of 100 people…", quotes and testimonials from users are just a couple of examples.
Why is social proof so important?
When social proof marketing is integrated into the business growth strategy, the marketing campaign becomes more effective and engaging. Let's take a look at the main psychological principles of this concept:
– Similarity
Similarity means that one person will be more likely to adopt behavior noticed in people who are like themselves and whom they can relate to. For example, a company targeting teenagers will employ young people to engage in activities similar to the ones of their target audience, and their goal is to insert the company's product or service in the picture.
– Expertise
When you have a toothache and you need advice, you won't call a plumber to ask him what to do. Likewise, companies are showing testimonials from people that their target audience will perceive as knowledgeable on the topic in their advertisements.
– Numbers
You have probably read about herd mentality before – the more people you have supporting a product, service or even a life choice, the bigger the chances that others will make the same choice. Most of us like to think we are not easily swayed by the opinions of others. Still, there are situations where we simply fall into a trap unknowingly, even if it's just checking the rating of a movie on IMDb. You will see the number principle used in traditional and online commercials as a proof that a product or a service is popular, and therefore, commendable.
15 types of social proof to use on your website
Here are effective and proven ways to leverage social proof for your online business:
1. Reviews
These are usually short in form and show the description of a consumer regarding their experience with a company's product or service. Most of the time, a rating feature is also partnered with this tool. The ranges of the rates vary depending upon the feature of a website or system. With that in mind, it's important to have essential online awards management features for more effective utilization of the system.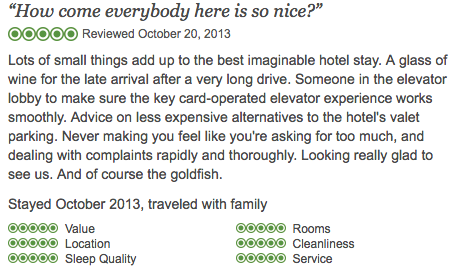 Review example
Some companies message their customers through email marketing automation campaigns or through their websites to ask for feedback on their experience with the products and services of the company. With the right implementation of strategies, companies can add value to their products through effective content creation and microformatting. This can help get customer reviews to be featured in search engines like Google Search.
2. Testimonials
Short testimonials from your customers are another great way to maximize social proof on your website. What you have to understand is that word-of-mouth advertising remains the most trustworthy marketing strategy. 84% of consumers actually trust online testimonials as much as a personal recommendation.
An example of a testimonial
You can also incorporate video testimonials as it works even better when it comes to turning visitors into customers. You can really touch the heart of your visitors by bringing your social proof to life.
Video testimonial example
3. Case studies
Case studies are a step ahead of testimonials. They are treated as the most authentic type of social proof because customers perceive long, in-depth reviews as more trustworthy than brief excerpts.
Case studies are effective, especially if you're dealing with B2B marketing, agency services, etc. This way you can provide data-driven analysis of your service or product.
Let's think of a company that provides CRM solutions. If their CRM helped one of their clients gain expected results, e.g., increased customer retention, then the business will be able to gain authority in its specific niche with a success story from the happy customer. A case study must talk about a problem, the proposed and implemented solution, and its results.
Case studies example
4. Comments
Comments and reviews can be interchangeable at times, but there is a fine line between them. A user can comment on a post, video, product, service, etc. without ever using it. On the other hand, a review usually comes after a user has personally used the product. Comments are an excellent indicator of an influencer or brand's penetration into its followers and the target audience.
Comments example
5. Ratings
Ratings are the most powerful social signals due to their visual effect. Moreover, they have an instantaneous effect on the customer-buying decisions. Companies choose to make their rating system that way cause it's visually compelling. The most common method for rating online is with stars. Customers have one to five stars to choose from with one being the worst and five being the best.

Star rating example
6. Endorsements
Social proof from celebrities and well-known industry experts can be surprisingly effective for your ROI. However, getting celebrity approval is not that easy. It may come in the form of paid endorsement or if you're very lucky, even natural endorsements.
Paid endorsements require a big budget and formal contracts between both parties.
On the other hand, natural endorsements refer to situations when a celebrity publicly approves of your brand or product based on their own personal experience.
If you can get endorsements from celebrities or experts, paid or natural, it can be the most solid form of social proof and can easily transform your business by increasing your conversion rates.
Endorsement example
7. Certification and badges
If you have certifications or accreditation from reputable industry bodies, proudly display them on your website. You can freely display your logos or badges on your site. A study reveals that showing certification and badges can increase your conversion rate to as much as 30%.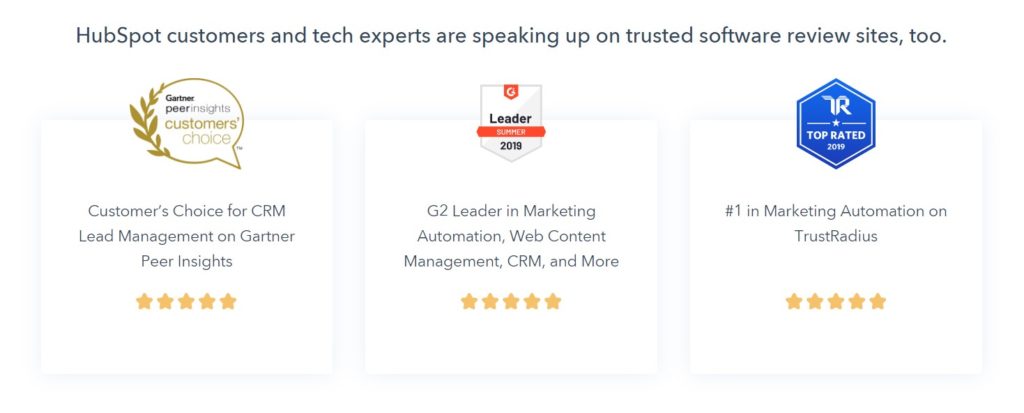 Certification and badges example
8. Platform integrations
Do your products or services integrate a third-party service? If yes, adding the logo of your integration partner can be the best form of social proof that will bring more credibility and familiarity to your brand.
9. Affiliations
This is a simple social proof that is acquired without the need for direct communication with customers. This is a strong admiration felt towards a company by a customer through business associations with companies of high reputation.
An example of these is when a company partners with a reputable organization and the business gets the privilege of promoting their affiliation with them.
Affiliation example
10. Social following
According to Statista.com, the global population of social network users in 2019 is 2.82 billion and is continuously growing at an increasing rate every year. Because of a large number of social media users, it is becoming a fertile ground for multiple marketing campaigns.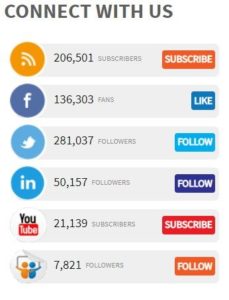 Social following example
A loyal and engaging group of social media followers is not easy to come by. A company must continuously and actively manage their Facebook page and accounts to not lose their present followers.
For potential customers, they tend to select brands that have a greater number of followers than those with lower or none. A higher number of followers promotes credibility. One way to increase a company's number of followers is to regularly upload engaging and informative content about the products and services of a company. This can be achieved by researching audiences and determining what interests them.
11. User-submitted content
This type of content is created by customers. These can be done by allowing people to post as a guest on the company's blog and write comments on a forum that the we hosts.
Another way to get user-submitted content is to promote your brand on social media. Ask customers to send photos and videos with a corresponding hashtag and share them on business accounts. This will help distinguish your company's worth as a brand.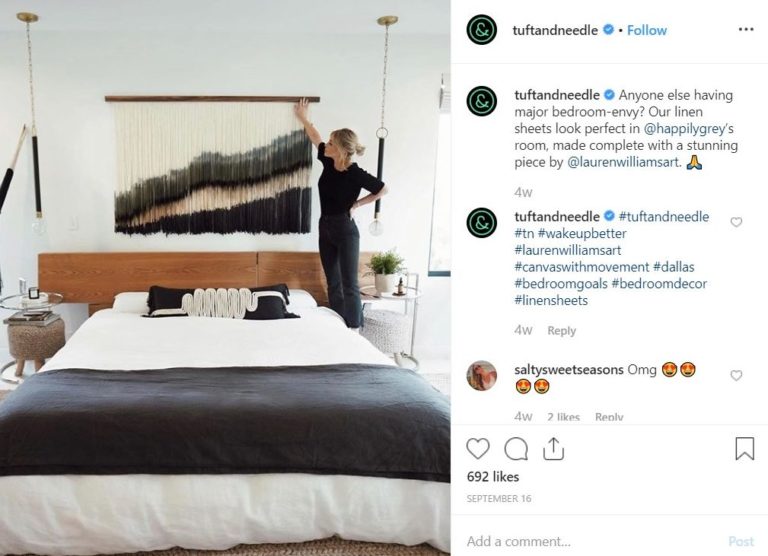 User-submitted content example
12. Media mentions
Reputable websites and media outlets are picky with who they should feature. In fact, people believe that there should be something special about your company in order to land on a notable website. In some occasions, it really is!
Just by adding a logo of the media outlets and saying that you have been mentioned by these organizations can already make a huge impact on your audience.

Media mentions example
13. Trust seals
A trust badge or trust seal is a symbol placed on your website that ensures your visitors that the page is legitimate and that all their data is collected through secure third-party service providers. The trust seal company that agrees to place their badge on your website confirms that your business is authentic, therefore users know that all processes taking place on your website are safe and secure. Adding a trust badge on your checkout page can increase conversions, as it ensures users they won't be victims of online fraud.
14. Include data and statistics
Social proof is all about the numbers. As they say, numbers don't lie. For this reason, it makes a good idea to use numbers and statistics whenever making your content. You can even use infographics to make all the numbers easier to absorb by your audience.
What numbers can do is affect the buying decision of your prospects. Numbers and statistics can create a sense of urgency and even convince the reader that they really need the product or service that you are selling.
What are examples of numbers and statistics that you can use to your advantage?
Years of experience
Customers you have served over the years
The number of employees in your business
Number of branches and your locations
Price of your item compared to that of your competition
Data and statistics example
15. FOMO
Everyone wants a good deal. In fact, a lot of people fail to assess their wants and needs. For a lot of consumers, they simply become highly compulsive with buying decisions. So, it becomes easier to convince them whenever they are in an emotional state.
One great way to trigger emotion is by creating a sense of urgency. Are you familiar with the concept of FOMO (fear of missing out)? It says that people are most likely to buy something when they are on the verge of missing out an opportunity.
Here's are some phrases for web push notifications or popups to create a buzz around your products:
X items left
This week only
Offer valid until…
Deal of the day
Mr. X has just made a purchase
Sign up today for a X% off coupon
Free shipping until…
X free products for the first 100 customers
FOMO example
Maximize the potential of your business website
All businesses are unique and no two marketing campaign plans are alike. Social proof tools come in handy if you want to improve your current marketing strategy.
It is important to make the best of reviews, testimonials, affiliations, social following, and user-created content to entice potential customers to try the company's products and services. This is an effective way to actively engage customers with the company's brand.
Choose the right tool that fits your specific business requirements for effective implementation. Just like in email campaigns, it's important to apply best practices that result in a good email click-through rate. The most of social proof techniques can be implemented automatically with the help of Trust or 8 top social proof tools.