Anyone who ever gave blogging a shot will tell you that they have experienced the disappointment of not having an audience at some point. Wouldn't it be nice if people just magically kept on clicking on our listings in search results? Too bad that's not possible. It takes a lot of hard work, and time to rank higher. That's why it's easy for most people to get frustrated and simply quit.
However, your blog can boost your business tremendously if you get it right. According to Hubspot, companies that practice blogging enjoy 97% more inbound links. But I bet you already know the importance of blogging, which is why you are looking for ways to draw more traffic.
What happens if you keep getting poor results, though? Give up? NO! You only need to try moving a few things around, and you will probably get more clicks and even rank higher.
This post is about 3 simple techniques for driving more traffic to your blog without even having to increase blog posts, especially if you already have epic content.
Adjust your title tags
Begin by adjusting your title tags. What you have to do is log in to Google Search Console and look for pages that have the most impressions and least amount of clicks.
Focus on the ones that have less than 5% CTR (click through rate). These are the ones whose title tags you want to change.
Find all the keywords that are generating your traffic and ranking you decently. Google Search Console should be able to show you what keywords are bringing you traffic. Go ahead and add those keywords to your title tag and Meta description. What will happen?
Now, more people are going to click on your link when it shows up in search results because they can identify the keywords on both the title tag and Meta description. You might even get more clicks than pages which are ranking higher on Google Search.
Think about it: if you search for "best android phone 2021" and one of the results does not have "phone" in it, you are probably not going to click it. It won't even matter that the link is the first on the list.
That's one of the factors that Google uses to rank pages. If you are not getting traffic, your rank in the search results will not stay high for long. Google is going to push you down and increase the rank of other pages that are getting more clicks.
So, by simply taking the keywords that are causing people to click on your link and adding them to the title and Meta description of your post, you are going to get more clicks. You might even start receiving more traffic than the links above you. Then search engines are going to push you up eventually because they always want to give people the most relevant results.
This little thing could increase your traffic steadily in a matter of about three months. Don't expect big changes too soon – there is more work to be done.
Reshare your old posts
Old you say? Guess what, once you write content, especially good content, it never gets too old to share one more time. Make an effort to repost it on social media platforms. Put in on Facebook or retweet it.
Take advantage of the tools available for changing meta descriptions and adjusting for social media – like the Yoast SEO plugin which allows you to add open graph tags.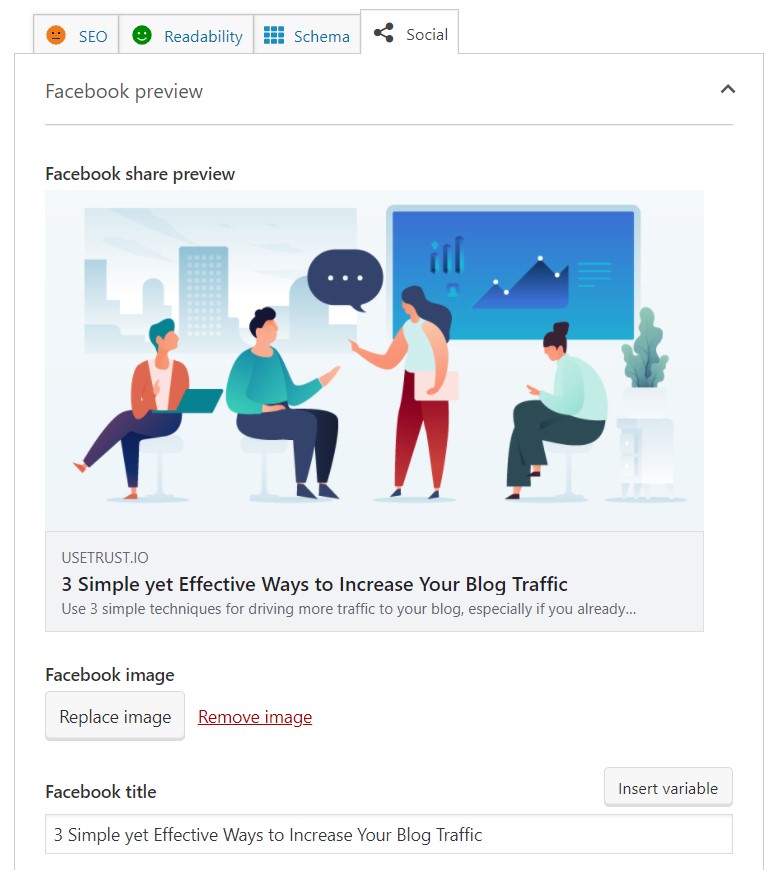 You could simply change the title of the post and reshare it on Twitter and Facebook at a month's interval, and people will think it's fresh stuff.
The good thing about resharing is that you get to capture the attention of audiences that missed out the first time. If you have a lot of followers on social media, say like 90k followers, it is very rare for more than 10% of them to see your post.
That is why you should repost over and over again. It doesn't mean you go on to put those posts up every day. Be sure to space them over a period of at least a month. That way, it won't be so obvious.
Such simple things will get you more and more traffic. You might also end up getting more backlinks from your audience. In the long run, search engines will realize that people keep coming back to your blog post. It must be useful! And, you'll start ranking higher.
Content repurposing
Try releasing the same content in different forms. For one, make videos of the same material and upload it on YouTube or Facebook. It doesn't even have to be in the form of a video all the time. You can also make podcast episodes of your post and release them on iTunes.
It's these simple tweaks that take your content to extra miles. They make you more popular. Even if people do not click on your link immediately, they still get to know you. The more they see you here and there, the more they gain interest in your business.
And, so what if they don't visit your blog? They could still leave comments on your post on LinkedIn. You could respond to those comments, interact with them, build a connection, and even conduct business!
Bonus point
How do you know the problem is in your content?
Well, if your content is not appealing enough, you can always tell from the comments section. If no one is leaving comments or isn't moved enough to say anything other than "nice post," you probably didn't get their attention.
In this case, you have to restructure your posts. If you can find a way to speak to your target audience in a manner they like, they'll be willing to cite, share, promote, and even advocate for you on other networks.
Understanding your visitors' behavior is key to finding the things you need to change. Try using Alexa to see your level of engagement. Analyze your bounce rate, daily pageviews per visitor, and daily time on site.
Check your bounce rate
If the bounce rate is too high (in this case it's 40.90%), you should try changing your website's layout to make it compatible with all devices, make the text more readable, or speed up your site. That is if you haven't optimized any of these factors already.

The average number of pages viewed by people who visited (daily page views per visitor) reflects how interested your audience is. To increase this factor, you could add cross-links within your content. This will rapidly increase your page views per visitor because people tend to click links within the content more than navigational menu links.
Furthermore, try adding a "related articles section" at the end of your blog post, where you add links to more of your posts. Ensure they are relevant. If you waste people's time, they may never come back.
The daily time on site is a reflection of the quality and value you deliver in your content. People will always spend more time going through your content if they find it helpful, controversial, and so on. Try using subheadings, lists, bullets, and block-quotes. According to Neil Patel, this can increase your time on site by about 17.8%.
Also, use more pictures. But don't insert image files that are too large because they may slow down your loading speed.
Sometimes a conclusion at the end would be nice, too. It will get people to scroll to the bottom of your post and increase your scroll-ability significantly. What's more, use the words "you" and "I" more often to create a conversational tone. It will always encourage people to read on.