There are more than 12 million different eCommerce stores in the world today, with new ones popping up every day. Standing out in the crowd is becoming harder by the day. With new models such as dropshipping, the number of competitors going for rock-bottom prices is bigger than ever. The question is – how do you stay relevant in such a market and how can you increase the sales for your online store?
Here are a couple of proven tactics that can get more people to hit that "buy" button and happily hand over their hard-earned cash.
Implement social proof
Did you know that your customers would rather trust a complete stranger than a paid marketing pitch from your company? Over time, traditional marketing methods are losing effectiveness because customers are savvier. However, they do still trust a recommendation from their peers, and you can give them just that, using social proof.
For example, you can introduce reviews to your online store, in the same way that Amazon does for all of their products. The reason why Amazon reviews work is that they are linked to actual people (so there are no fake accounts or reviews) and other visitors can rate how helpful the reviews are. Moreover, you can reply to the reviews too.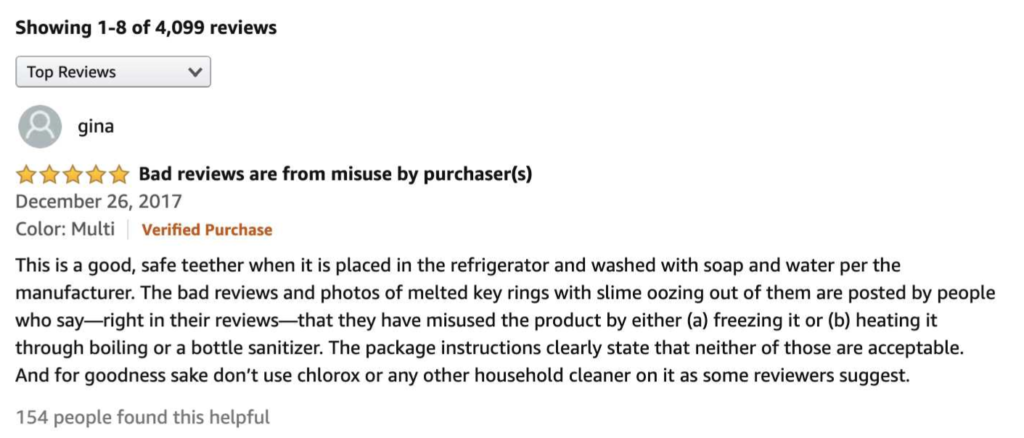 If you can't implement something like Amazon, you can grab some of the many review plugins for your WordPress website. Besides reviews, you can add star ratings for your products. These are not as effective as reviews are, but with a little bit of tinkering, you can get them to show up in Google search results.
Besides reviews, you can include testimonials to your product and landing pages. Testimonials are written accounts of your customers about the experience they had with a product. Anybody can collect reviews, but testimonials are specific to your business and your customers. There are two tips for making testimonials better.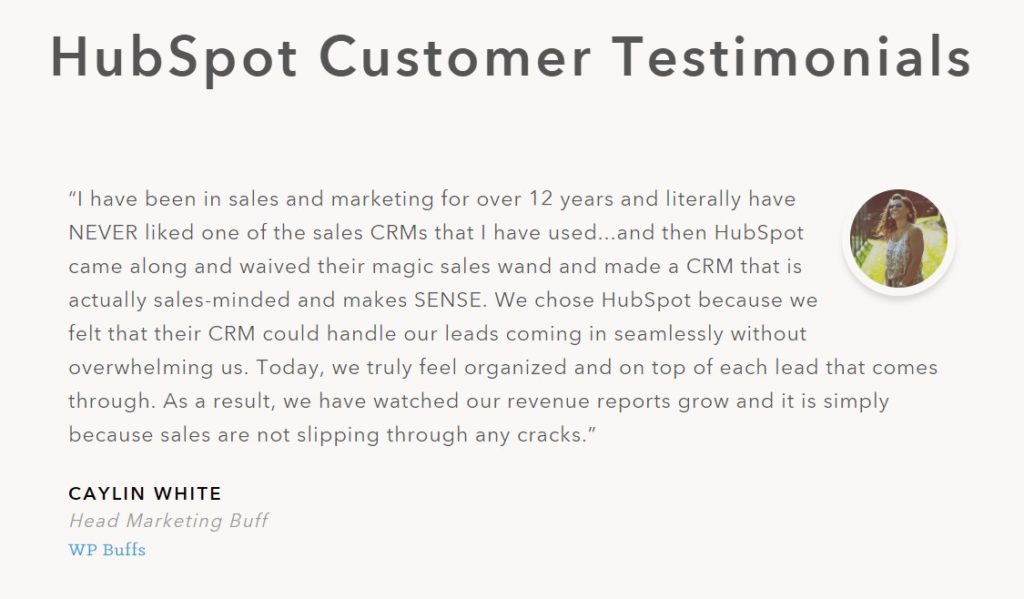 One, always include a photo and a name. People trust actual people, and the more generic your testimonial is, the less believable it will be. Two, whenever you can, ask your customers for a video testimonial. They are much more genuine and convert better.
Also, you can use notifications with recent conversions with a tool such as Proof. Simply put, visitors get notifications about recent conversions on your website. For example, when someone buys a product on your website, the visitor browsing at that time will see a notification about that sale and hopefully, will buy something themselves. Proof has a proven track record and you can choose various types of conversions for these notifications.

Example from Chanty
Finally, you can use trust signals as a type of social proof as well. These are mentions of other companies that worked with you or bought from you. If you have some well-known, respectable names that you can mention here, do so by showing off their brand logos.
Use trust badges
Speaking of Amazon, one of the reasons people love using it is because they know they are safe. They know that the money they spend won't get stolen and that they are protected in case anything happens with the product or in the shipping process.

You can reassure your customers that their purchase is safe by displaying one of the many security badges on your site. Of course, make sure to actually have the certificates that you are displaying, so as not to deceive your customers.
Have high-quality product images
A picture is worth a thousand words. Visual impressions matter greatly, especially when making a purchasing decision. However, most online stores pay little to no attention to their product images, usually grabbing the stock ones from the manufacturers' websites.

Instead of doing what everyone else does, invest in some good-quality product photography for your eCommerce store. It will make you stand out from the crowd, and the offer will be more enticing. People love reviewing products from all angles before making a purchase, especially online, so make sure to give them this option with high-quality product photography. If you have the time and the budget, you can also shoot product videos.
Reduce your abandoned carts
If you take a look at your analytics, you may notice that one of the major reasons you're losing out on sales is because people abandon their shopping carts just before purchase. You're not alone – research shows that more than 69% of shopping carts online get abandoned. However, you can influence this number and improve your order management efficiency.
First, make sure that they are not abandoning their carts because of a technical or user experience issue. Make sure that you go through your checkout process and remove any unnecessary steps or hurdles and that your buttons and forms work properly. You can also use visitor tracking software such as Hotjar to see where customers drop out and abandon their carts.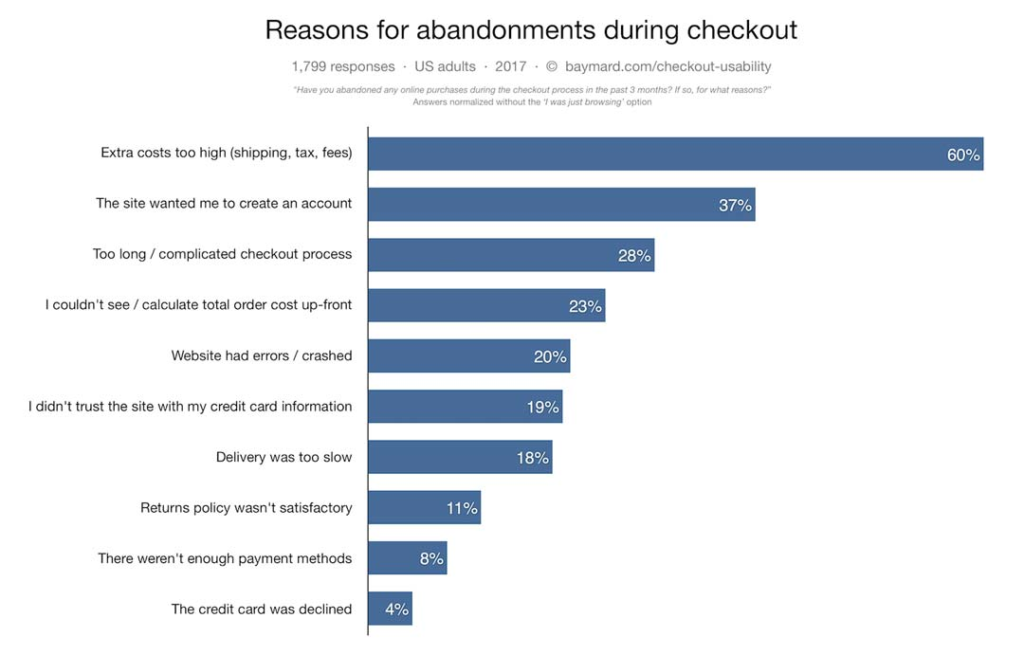 Second, it often happens that visitors simply forget that they had something in their carts. In these situations, a simple recovery email may do the trick. Set up an automated email notifying the (potential) customer that they dropped out in the middle of shopping and you will see a good number returning to complete the purchase. You can also entice them to return and finish by offering a discount.
Get more email subscribers
If someone lands on your online store and they don't make a purchase, the second best thing you can get from them (after their money) is their email. In terms of ROI, there are very few marketing methods that work better than email, and this has been true for years.
When running an online store, you may think that your options for getting email subscribers are limited, but nothing could be further from the truth. You can encourage people to get on your mailing list by offering:
– Discounts
– Exclusive offers
– Promo codes
– Interesting news
– Etc.
While signing up, you can set up a form where visitors can decide what kind of emails they want to get, i.e. what kind of products they are interested in. This is an excellent way to segment your emails and make sure your conversion rate is through the roof.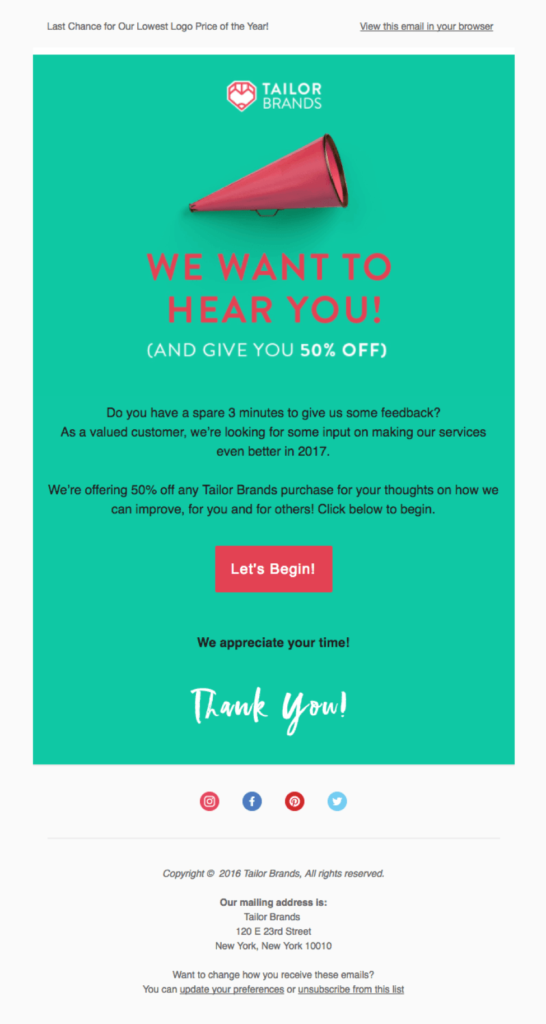 Newsletter example from Oberlo
Once you have their emails, the rest of the work is much easier. You can send out promotional newsletters with items they may be interested in (since you know their category), discounts, promo codes, limited time offers, cross-sells and upsells and much more to increase the sales.
Invest in a chatbot
In the past couple of years, chatbots have exploded as a marketing and sales tool. They are essentially live chat tools with artificial intelligence, that can give answers to predefined questions. It sounds complicated, but in practice, they can help you get more buyers with minimal investments in time and money.
For example, you can set up a chatbot to answer questions about a product's:
– Availability
– Size
– Shipping cost
– Return policy
– Etc.
Sure, you could have a customer support rep answer these questions, with a help of a click-to-call widget. On the other hand, that's what you would pay for a chatbot every month for an unlimited number of queries. What's more, a chatbot is ready and available 24/7, which is especially handy if you have customers from all over the world.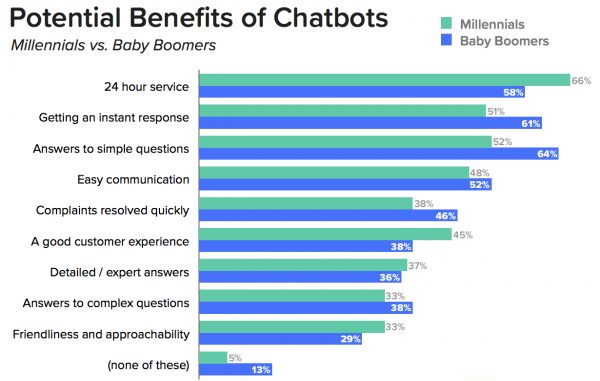 Nowadays, chatbots are no longer a futuristic idea. Since customers prefer getting their information themselves, instead of calling or emailing, they are getting embraced by shoppers worldwide and having a chatbot on your online store is definitely a plus.
Spend time to build a great mobile shopping experience
We spend a lot of time on our phones every day and it's no surprise that we increasingly use them for shopping as well. In 2021, more than 53% of all online sales will happen through mobile. The scales are tipping in favor of mobile for a few years now, and as new generations start making an income, mobile shopping will slowly but surely dominate over PC and laptop.
To prepare for this, make sure to have an excellent website design for your store, completely optimized for mobile. Many website themes (especially WordPress) now come equipped with a mobile theme ready, but you should test it with different devices to make sure it looks and functions great on each one. Moreover, you can consider building a mobile app for your store if you feel that there is enough interest.
Wrapping up
If you have a great offer, getting more sales from your online store should be an easy feat. The number one thing to keep in mind is to keep your customers happy and they will keep returning for more. You can use one or more of these tactics to get started and watch your conversion rate and sales shoot through the roof.