Customer feedback is a gold mine of insights on how to move your business forward. To name a few, with the help of customer feedback, you can find what to improve in your products or services, tailor your marketing and advertising efforts, predict and prevent customer churn, and many, many others.
Want more? Positive customer feedback featured on your website turns your pages into a conversion machine and helps you generate more leads and conversions. As you can see, the continuous process of collecting customer feedback is a must-have for every business.
To tell the truth, collecting customer feedback can be quite time-consuming. Imagine that you are a solopreneur who doesn't have enough time to reach out to customers one by one. Or, maybe there are so many customers that it will take weeks to gather their opinions.
But what if you could collect testimonials automatically? Luckily, there are many tools that automate the feedback collection process and let you gather customer testimonials in the blink of an eye.
What type of customer feedback tool do you need?
Customer feedback tools are built to help you gain valuable insights and meaningful testimonials from customers. How to choose the best solution which fits your business goals perfectly? It all depends on your needs, type of business, and budget.
Here you can find the most popular types of customer feedback tools:
Testimonial and rating tools allow you to gather customer testimonials, feature them on your website and increase conversions
Social listening tools help you track online reviews and brand mentions on social media. They allow you to track comments in real-time
Net promoter score (NPS) tools reveal how many of your customers are brand advocates, passives, and detractors.
Online survey tools allow you to collect customer feedback with the help of on-page pop-up surveys.
User experience (UX) feedback tools let you see how customers interact with your website, digital product, or service capturing the user journey.
Community feedback tools let you manage large amounts of crowd-generated feedback.
As you can see, nowadays you have a vast range of customer feedback tools to choose from. Most of the top tools provide a wide range of features and can fit into more than one of these categories. So, the first thing you should do is to decide your business goals when considering the best customer feedback tool. Chances are, you may need to use multiple tools in tandem.
Now let's dive into the top customer feedback tools on the market.
Testimonial and rating platforms
Getting customer testimonials and featuring them on websites is essential for every business. Customer testimonials and ratings are a powerful way of converting more visitors into customers and building trust and credibility.
There are many proofs of testimonials' importance. An average consumer reads around 10 reviews before trusting a business. And since 92 percent of people take time to read testimonials before making a purchase, don't hesitate to adopt a testimonial and rating tool ASAP.
We've put together a list of tools that will help you get your customers to write glowing testimonials.
Trust
Trust is here to help if you're tired of chasing customers to get reviews and manually displaying testimonials on your website. This intuitive, yet feature-rich tool allows you to create stronger relations with customers, find out what they think about your product or service, and make other prospective clients trust you.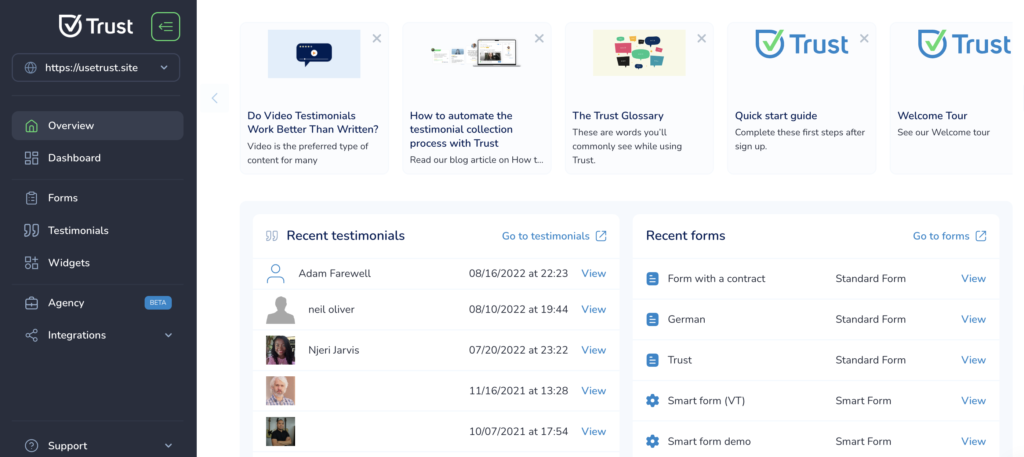 The Trust features you will definitely love to include:
Branded online forms. Trust lets you create customized, white-labeled testimonial request forms and share links to get feedback from customers and keep them satisfied. All you need is to just publish collected testimonials, and voila, they are on your website!
Comprehensive video testimonial solution. With the help of built-in Trust surveys, you can ask your customers to record or upload their video testimonials as well as make use of existing videos from Facebook, Youtube, etc. As a result, your website is spiced up with eye-catching video reviews.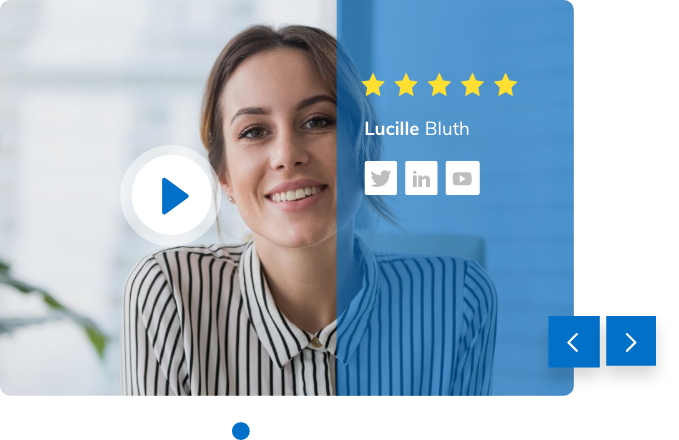 Shining stars. Trust offers a handy badge you can feature on your website. It shows the overall customer rating of your products collected with the help of Trust.
The Rich Snippet feature. Enable the Rich Snippet feature that shows your stars in the Google Search results to get more organic traffic.
Customized & ready-made templates. With the help of Trust, you can fully customize testimonials and ratings to match your website look and feel or choose one of the beautiful predefined templates to save time. There's also a notification widget that lets you display testimonials as eye-catching and dynamic popups that are hard to ignore.
Built-in email services. Using Trust, you don't need to switch back and forth between apps to get things done. Just add customers' emails to Trust, pick the day and time, personalize your message, and send it directly from the Trust dashboard.
eSigning contracts. Trust allows you to sign online agreements with customers regarding publishing their testimonials on your website to establish a GDPR compliant relationship with them.
Trust offers two weeks of using its features for free. All paid tiers include the essential powerful features like testimonials, video testimonials, Rich Snippet, email services, free onboarding, and start from $16 per month if paid yearly (the Starter plan). If you have a few websites, take a look at more expensive tiers.
Trustpilot
Trustpilot is a well-known customer review management tool. Collecting customer feedback is pretty simple here. All you have to do is to send out invitations from the Trustpilot dashboard and watch them roll in. Then you can decide which ones you want to feature on your website as a widget:
However, compared to Trust, Trustpilot lacks some useful features like video testimonials, popup notifications and Rich Snippet feature to take your online reputation and conversion rates to the next level. At the same time, Trustpilot's paid plan is quite costly and starts from $199 per month if billed annually. The free plan allows you to collect only a few reviews and use only two widgets.
Online survey tools
Online survey tools allow you to hold online website surveys and analyze feedback from users and customers. On-page popup surveys are probably one of the most popular forms of online surveys.
LeadGen App
LeadGen App helps brands capture customer feedback with its simple and intuitive form builder. Apart from the surveys brands can capture more leads from their website and landing pages with high-converting online forms. The form builder provides a user-friendly interface to easily create and design survey forms without coding skills.
With LeadGen forms you can significantly increase the conversions with the features like invisible Google reCAPTCHA and geo-fencing to block out various other customers from locations that are irrelevant for your Survey, your forms will appear and convert the right type of answers for your business.
LeadGen survey forms can be built in single-step and multi-step forms, providing unlimited flexibility on question and survey length. LeadGen App Forms allow you to ask questions in a personalized way, using conditional form flows and different question types for every kind of question
LeadGen App provides GDPR compliant solutions to capture data and solve your data collection & privacy concerns. With more than 100 form templates, you can give your form a professional look and feel and quickly customize it for your own brand.
Typeform
Typeform is an easy-to-use drag-and-drop customer feedback software for creating surveys without writing any code. In addition to online surveys, Typeform will help you with signing up people to events, receiving job applications, and creating engaging quizzes if needed. The only thing to remember that this tool displays one question at a time on their surveys.
Key features include the following:
You can integrate surveys with other applications, which increases convenience.
You can create surveys in the blink of an eye with the drag-and-drop interface,
You can use multiple-choice questions, pictures, rating scales, etc.
You can customize each survey to include your brand elements (videos, images, fonts, colors, background images, etc).
Get a taste of Typeform with its free plan, which includes ready-made forms, templates, and reporting. If you want more personalization features and 1000 responses per month, choose the Essentials plan at $35 per month if billed monthly.
SurveyMonkey
SurveyMonkey's robust functionality can fulfill the needs of organizations of all sizes when it comes to gathering customer feedback. At the same time, if you're looking for just a free, intuitive survey platform, take a look at SurveyMonkey.
Using this tool, you can:
Collect customer feedback via emails, social media, or your website,
Customize surveys, and just use templates,
Large quantities of surveys can be made at one go, without any limitations,
Predict survey quality and outcome with built-in AI.
The tool is free to use for basic survey functionality. Paid personal and business tiers start at €30 per month if billed annually and include free integrations with popular collaboration apps, unlimited surveys and questions, advanced analytics features, phone support and 24/7 email support, white-label surveys, and much more.
Community feedback tools
Community feedback tools let you manage large amounts of unorganized and free-form crowd-generated feedback from various platforms. These tools usually include various customer support and feedback features.
UserEcho
UserEcho includes a support forum with voting on ideas, helpdesk, knowledge base, and online chat to help you create a community around your product or services. The best part is that the forum and live chat uses a copy-and-paste code that can be effortlessly embedded within your website.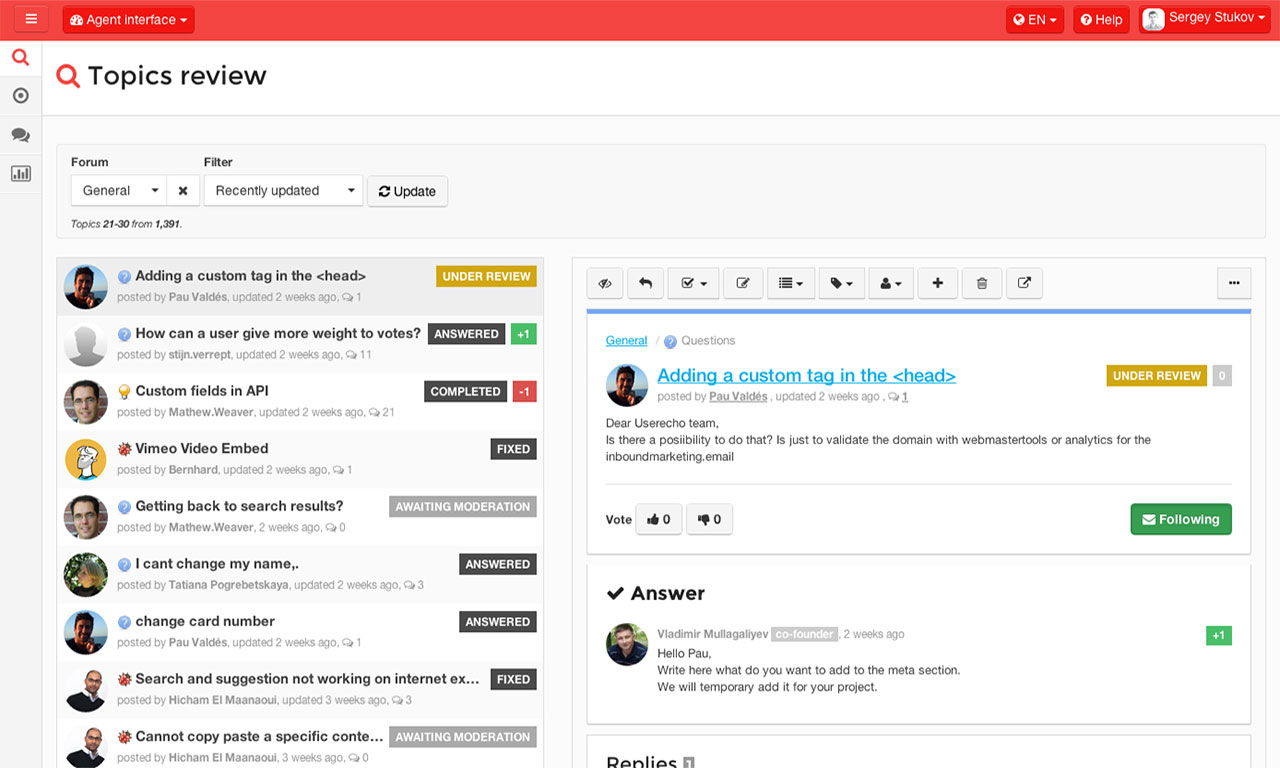 Speaking of customer feedback, this tool offers robust functionality to acquire customers' opinions in many creative ways:
Feedback forum solution. UserEcho lets you create a space for your customers to openly interact with you. You can invite users to vote for proposed ideas, get insights on what your customers need right now, or collect their feedback on your products or services.
Live chat. Instead of creating a customer feedback survey, you can install a live chat and collect insights on customer satisfaction in real-time.
Interactive knowledge base with analytics. Using UserEcho, you can collect feedback on the quality of articles and track the number of views and the usefulness of content.
You can try UserEcho for free for 15 days. The only paid plan starts at $19 per month (if billed annually).
NPS survey tools
The Net Promoter Score (NPS) survey is one of the most popular customer feedback surveys today due to its simplicity. Customers respond simply by choosing the likelihood of recommending you to their friends or colleagues on a scale of 0 to 10. Customers who choose 6 or below are detractors. Those who choose 7 or 8 are passives. And customers who choose 9 or 10 are promoters. Using follow-up questions helps a business discover the areas of improvement.
ZonkaFeedback
ZonkaFeedback is one the best NPS software that allows you to measure employee and customer loyalty across various touchpoints and also take actions to engage customers and close the feedback loop.
Businesses can customize their NPS surveys, add follow-up questions to seek the 'why' behind the feedback, and set up automated messages for the customers based on their scores and alerts for your team to update them about detractors.
By using Zonka Feedback's NPS tool, your customer success team can predict which customers are at the most risk of churning and can take action to prevent the churn from happening.
SurveySparrow
SurveySparrow is an easy-to-use tool with chat-like engaging surveys. With its conversational UI, this tool will make customer feedback collection a no-brainer.
In addition to chat-like surveys, it offers:
Usual surveys that ask one question at a time,
Video surveys,
Website chatbots with no coding skills needed,
Offline surveys for collecting customer feedback,
NPS surveys.
SurveySparrow's pricing is easy on the pockets: it starts at $19 per month and offers 1000 Responses Per Month, Unlimited Questions, Facebook Pixel and Google Sheets integrations, reports, and more. However, if all you need is classic surveys of 10 questions that can generate only 100 responses per month, consider a free plan.
AskNicely
AskNicely collects feedback based on the NPS framework. It integrates with Slack, Salesforce, HubSpot, Microsoft Dynamics, and many other platforms.
Key features of AskNicely include:
The NPS surveys,
The NPS system to keep a score of every customer and the level of satisfaction they have.
Push notifications and automated workflows to respond instantly and escalate issues,
Coaching features with real growth metrics to identify the best performers in your team and lift the performance of the rest of your co-workers.
The tool has different pricing plans, however, the price is only revealed once you book a demo.
UX feedback tools
UX feedback tools record user sessions and interactions with your website or application, capture feedback, etc.
Hotjar
Hotjar is a tool that analyzes website use and user behavior through features such as heatmaps, session recordings, etc. With their feedback polls and surveys, you can collect user feedback and turn more visitors into customers.

The tool allows you to target questions to users with customizable behavior triggers and use flexible question logic. You can launch your survey on your website or invite users to it via email. The key feedback features include the following:
Get feedback directly from website visitors,
Ask multiple question types including NPS,
Visualize results,
Customize on-page widgets.
You can use Hotjar for free with a lot of features including 300 hours of recordings, three heatmaps, 3 surveys per month, 3 feedback widgets. Alternatively, you can use their Plus plan with unlimited features for €39 per month if you have low traffic. Business plans start at €99 per month, which gives you the option to remove their branding and capture the data from multiple sessions.
Social listening tools
Social listening tools are mainly used to track user feedback on social media. That helps businesses understand what their prospects and customers are talking about them on social media platforms. These tools let you manage the type of customer dissatisfaction that hurt your brand mostly – public (or even viral) customer dissatisfaction.
HubSpot
HubSpot is a comprehensive platform with a wide range of tools for social media marketing, customer support, search engine optimization, etc. HubSpot also makes it easy to capture customer feedback via:
Email and website surveys
Net Promoter Score (NPS) surveys
Customer effort score (CES) surveys
Customer satisfaction (CSAT) surveys.
All collected customer feedback is located in a single dashboard. Here you can also easily monitor day-to-day interactions and conversations on social media. HubSpot helps you monitor specific keywords that are important to your brand.
With HubSpot, you can handle all of your social accounts from the dashboard without worries about logging into your social profiles. That means you can quickly reply to anyone who mentioned your company through HubSpot.
Don't worry about having to open specific platforms to converse with your audience either — instead, reply to anyone who commented on posts you published through HubSpot.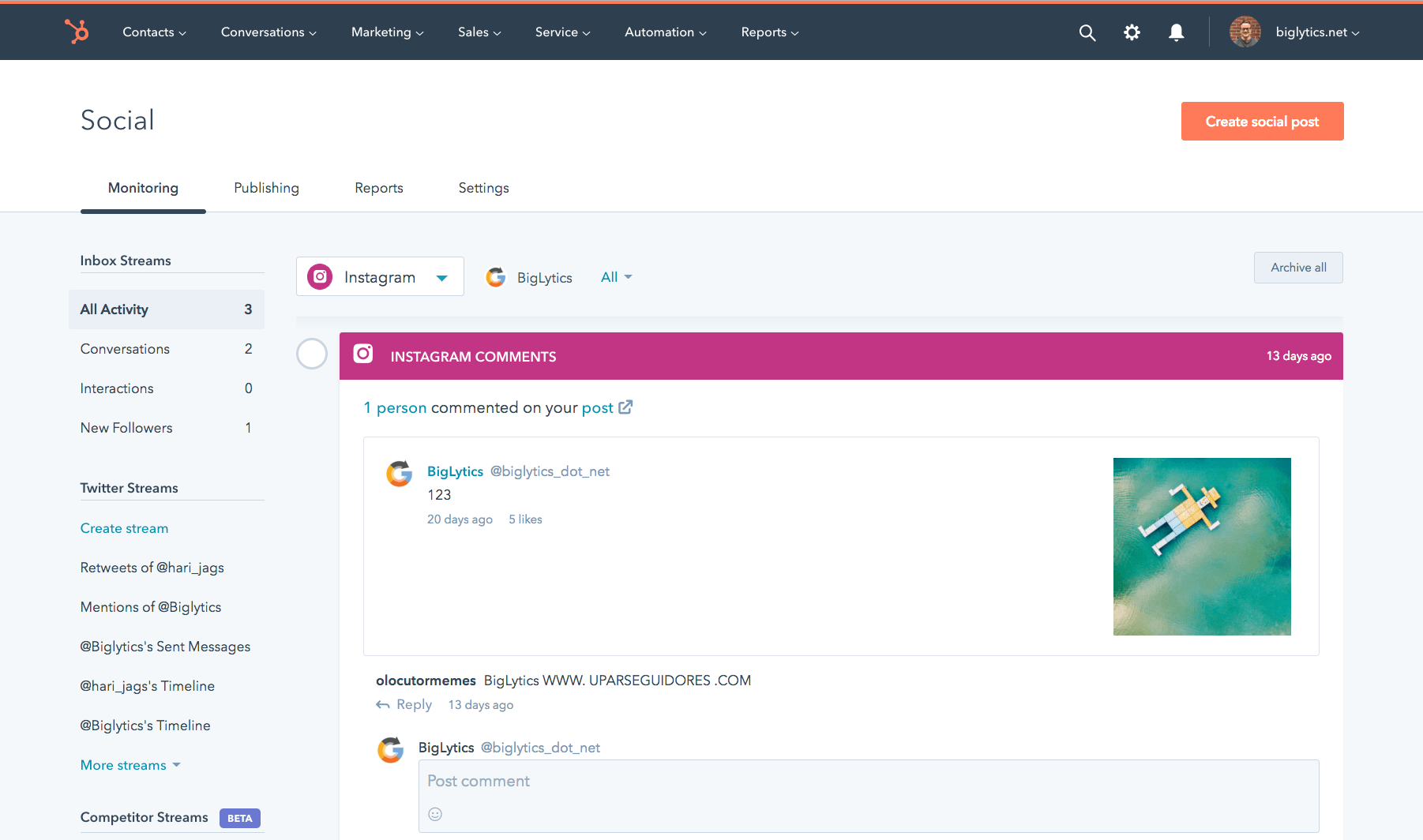 There is one downside. If the only feature you need is social media listening, HubSpot paid tiers may seem too expensive. They include dozens of features:
Hootsuite
Hootsuite is a great HubSpot alternative if you're looking for customer feedback on social channels. It allows you to view and respond to all comments and brand mentions across several social networks (Facebook, Instagram, Twitter, YouTube, LinkedIn, and Pinterest) in a single dashboard. Speaking of other features, Hootsuite allows you to track influencers and leads, customize paid social media campaigns, schedule social media posts, etc.
The following Hootsuite's social listening functionality will be especially useful if you decide to gather customer feedback:
Real-time audience insights. Here you can get an instant overview of millions of online conversations in real-time. Just search for any topic or keyword related to your brand, and filter by date, demographics, location, and more. Also, you'll get immediate alerts if and when your mentions spike.
Custom streams. With the help of Hootsuite, you can set up custom streams to focus on essential topics, trends, and social profiles, and see what's going on.
The best part is that the Hootsuite plans are much more affordable than the HubSpot paid tiers: they start from $19 per month.
Start collecting customer feedback today!
Your customers and potential customers are a gold mine of insights to help your business grow. Luckily, nowadays there is an ocean of tools for collecting customer feedback. By gathering customer feedback, you can build long-term relationships, generate more sales, improve your products and services, adjust your marketing strategy, and much more.
What tool suits your best? It all depends on the reasons why you are looking for customer feedback.
Want to convert more visitors into customers and build trust and credibility around your company? Take a look at Trust. Want to know what your customers are talking about you on social media platforms? Consider Hootsuite. All you looking for is an NPS survey? You need SurveySparrow. The only thing you definitely should not do is to postpone collecting customer feedback. It's too important for your business growth.