Making any startup successful in the long run is no easy matter. The well-known statistic shows that only a few select ones will be able to survive. One common game-changer for a startup is implementing the right growth tools.
The market provides an unlimited number of products for every need a startup team can have. And since most newborn businesses are on a really tight budget, their founders are usually looking for tools that offer maximum features for the minimal money.
Running a tech startup, we experienced many trials and errors, while testing out various growth tools to escalate our business. During this period, we've learned one crucial thing: there's no perfect tool that will solve all your issues.
However, now our team has a fair amount of experience to share with you tested-and-tried tools to optimize your workflow. So, in this article, we will walk you through 21 growth tools that every startup needs to at least know about.
Team collaboration & productivity
1. Kahootz
Whether looking for a platform where you can centralize all your tools or speed up your communication, Kahootz helps you transform your team and stakeholders into an intelligent working platform. With secure online workspaces, Kahootz is the perfect tool for collaboration!
You can easily create workspaces and move faster between different projects. It covers many sections such as:
Workspaces
Notifications
Tasks
Calendar
Communications
2. Upwork
Outsource everything you can! No doubt, there are many tasks your team doesn't want to handle. By outsourcing routine work, you have more time to focus on bigger challenges and generating income. Upwork can help you hire and manage freelancers from all around the world, paying them hourly or per project. Posting a project is absolutely free and takes only two minutes. And, obviously, you aren't required to hire any of the applicants if you're unable to find a good fit. Fiverr, another freelance services marketplace, gets most things done for as little as $5. The tool is great for super easy tasks, done dirt cheap.
3. Chanty
Your startup will definitely need a communication hub where all business discussions will be gathered under one roof. While searching for this type of growth tool, make sure that it's a closed team space. For instance, Skype is a bad choice, because it's full friends and relatives who will constantly disturb you. Second, pay attention to its feature list. Your startup team will require video and audio calls, integrations and file sharing functionality in addition to text communication. Then, read the privacy policy and ask the app rep all the security concerns before signing up. Needless to say that your sensitive information should be available to your company only.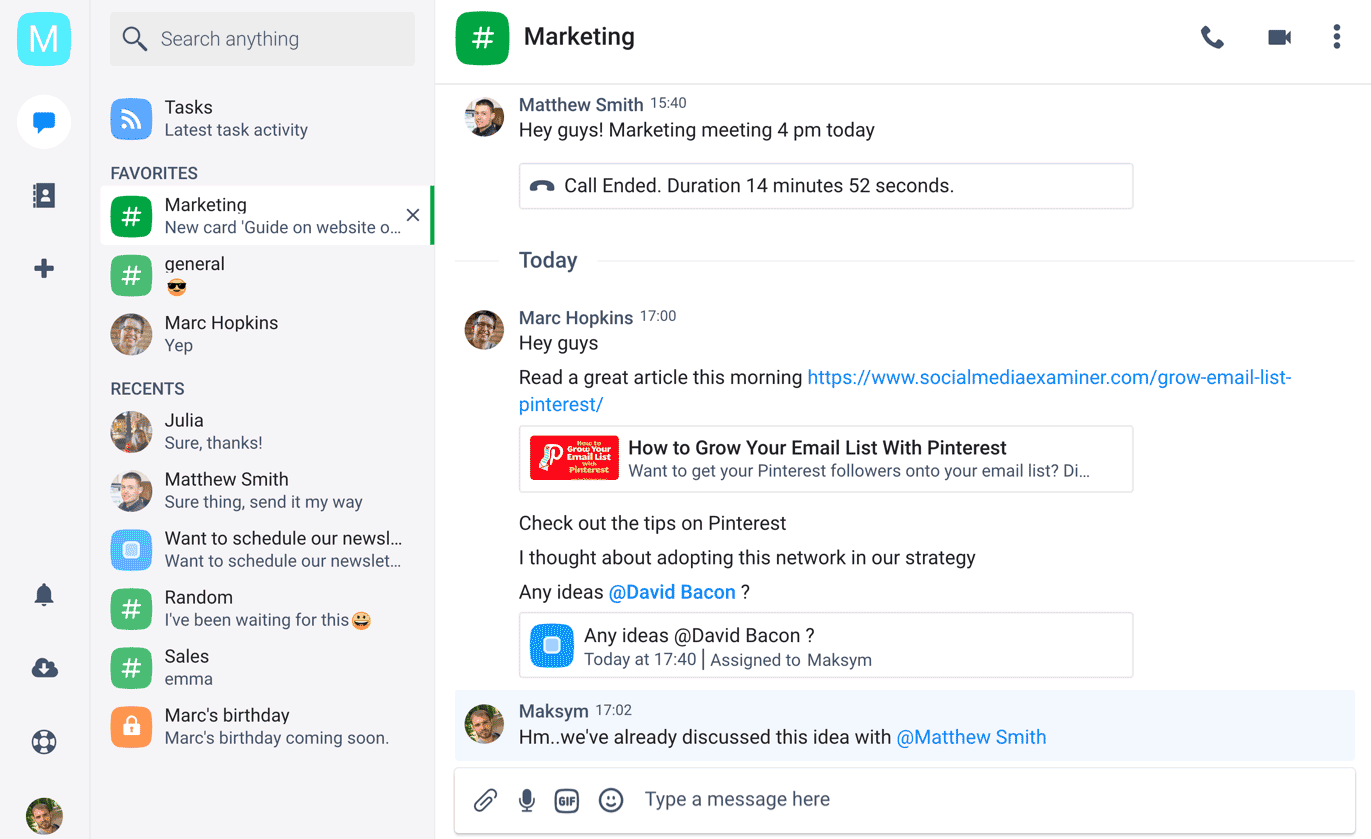 Considering that, take look at Chanty. It's a simple AI-powered tool with an intuitive interface and neatly organized chats. Unlike some of its competitors, Chanty doesn't limit searchable message history, even in a free plan. Some handy advanced features include pinned messages, built-in Task Manager, voice messages.
4. ProofHub
ProofHub is the most intuitive and robust project management solution for those startup founders who have to manage a lot of people as well as tasks daily. ProofHub helps to keep collaboration seamless and projects progressing, as planned.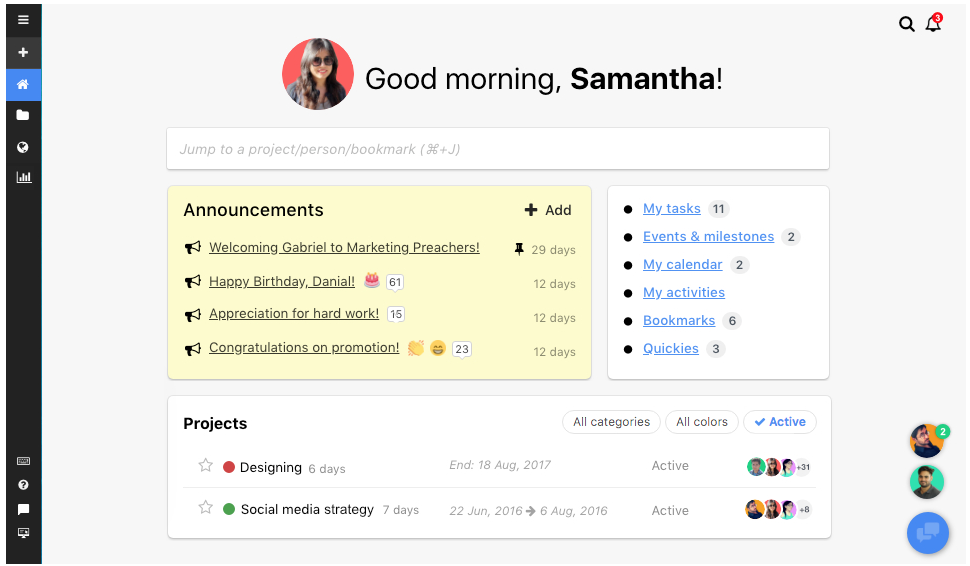 ProofHub's more advanced features include IP Restriction, Automatic Reminders, Kanban boards, Reports, Proofing Tool, @Mention, Recurring Tasks, Request Forms, and much more. The tool comes with a 30-day free trial period. At the same time, its paid tires seem to be the most cost-effective: The Essential plan is available for $45 per month for unlimited users (billed on an annual basis).
5. Toggl
If you do not know how much time you spend on a particular task, it may be hard to skyrocket your startup's growth. Toggl is an intuitive and easy-to-use tool to track working hours. What's more, it features handy reports for projects sorted by day, week or month. Using Toggl, you are able to notice any overdue projects and drawn-out tasks.
The app offers a free pal with all essential time tracking features. The paid tiers start from $9 per user, per month billed annually.
6. Evernote
Evernote is a tool for writing your notes down where you can collect them, organize and archive as well as attach images, video, audio and other files. The files are available from anywhere because your account auto-syncs across your devices. Tags and robust search help to manage your notes. Needless to say, you can share notes via links with anyone.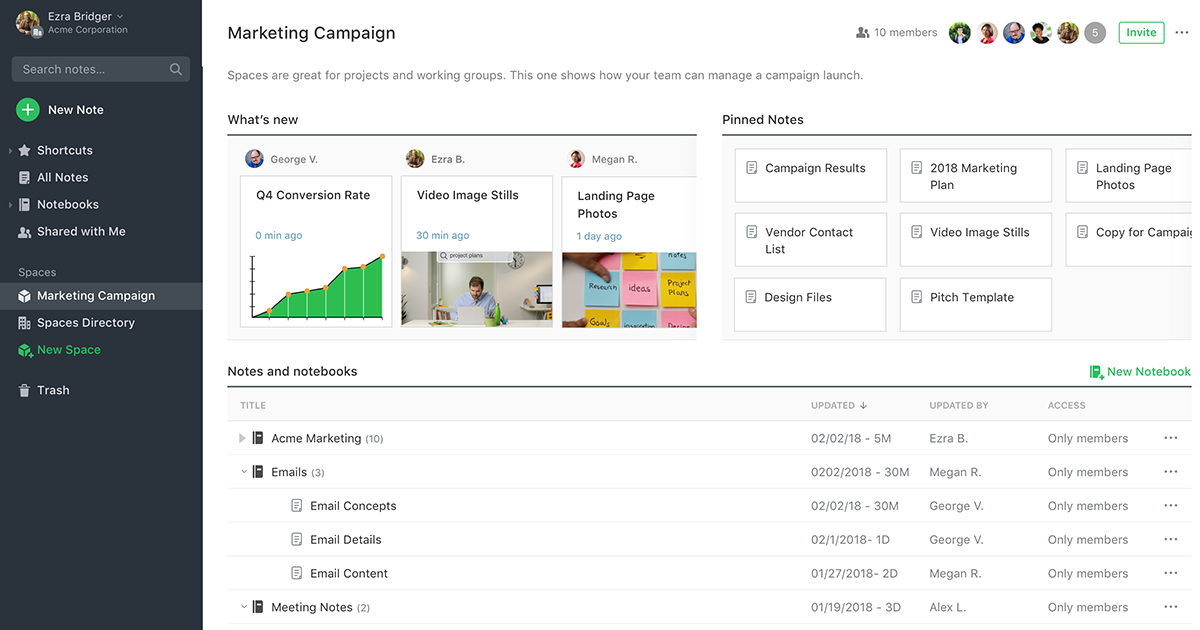 The free plan is limited a little bit: you'll be able to sync your account on up to two devices only. However, this restriction does not seem to be very important.
7. Trello
Trello offers a simple, yet effective card-based approach to project management. Its interface looks like the real-life boards where you can create to-do cards within your virtual board and then drag and drop them from To-Do to Doing or Done list. What's more, Trello also provides various productivity features such as a possibility to add comments, attachments and different plugins.
Luckily, this tool provides a free tier with a limited number of features. If you want more, consider its paid plans which start from $9.99 per user, per month (billed annually).
Website design & analytics
8. Squarespace
Squarespace is an excellent choice for almost any startup website with its award-winning templates and a drag-and-drop, developer-free site editor. This tool makes it incredibly easy to create a custom site in the blink of an eye. It is so intuitive that it's really hard to build a crappy website with Squarespace.
If you require more robust features, consider WordPress. It's a feature-rich, completely customizable platform that satisfies the needs of the most demanding startup founders.
But if you are running an e-commerce startup, consider Shopify. You can have a crisp and clean store live in hours with all your products, ready to sell.
9. Canva
Canva is an amazingly simple graphic design software that can be used to create all sorts of graphics such as banners, social media posts, presentations, blog graphics, posters, infographics and much more. Canva is free if you don't use any of the premium visual elements they offer. You'll have to register to see all of what it features.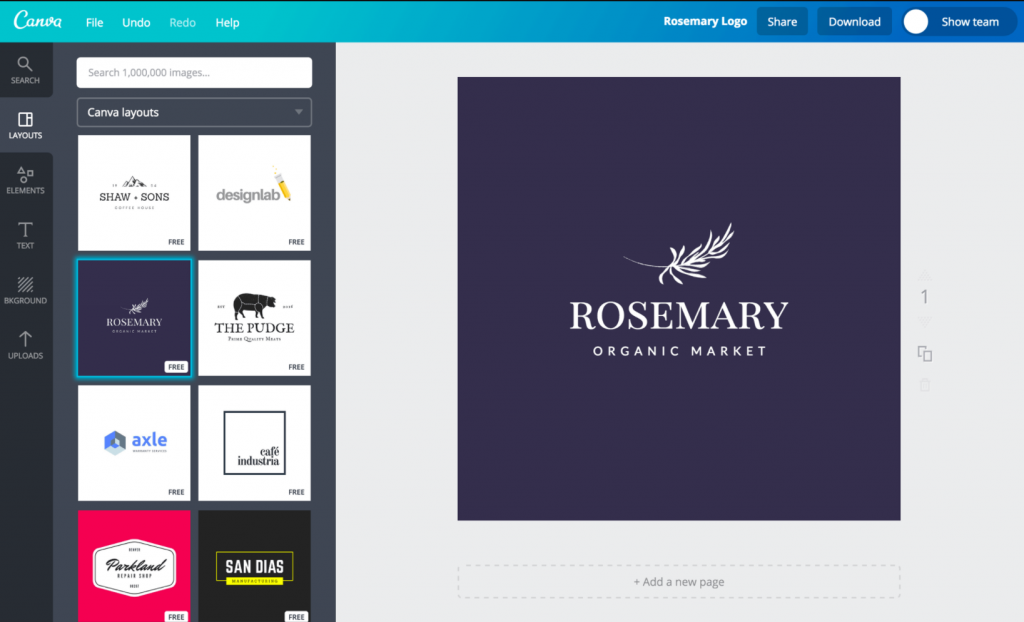 Paid plans start from $9.95 per user, per month (if billed annually) and provide features like unlimited folders, exclusive access to 400,000 free photos, illustrations, and templates, priority support and collaboration for up to 50 team members.
10. Google Analytics
Google Analytics is the tool that will provide detailed information about events and goals as well as the basic website metrics. Setting up Google Analytics is really simple and free to use. With this tool, you can isolate and analyze specific types of traffic, track CTA clicks or page exits and much more.
11. Ahrefs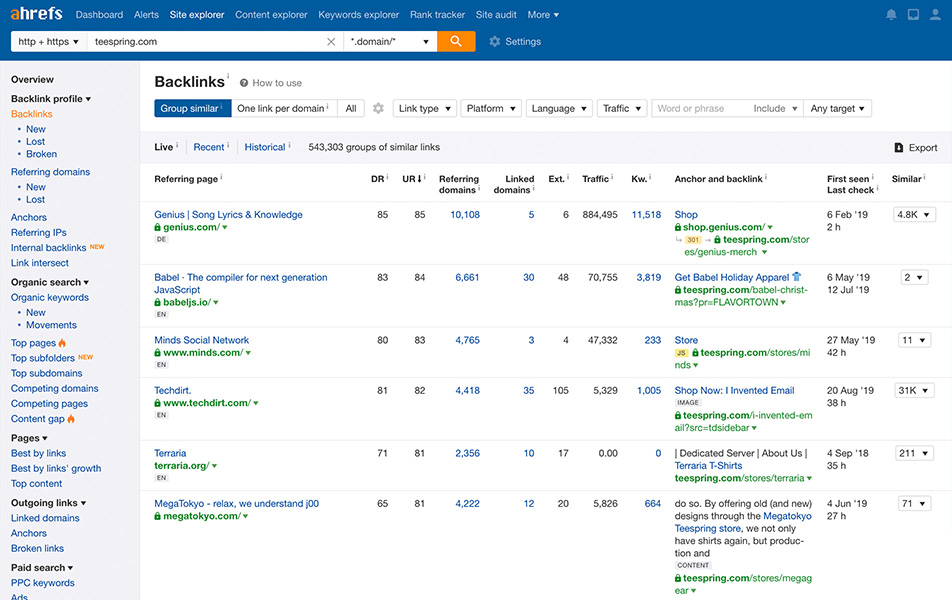 In short, Ahrefs is a comprehensive backlink checker. Knowing who links to the competition in your industry is crucial for building your own quality links. Ahrefs uses crawling software to show you how a search engine sees your website with the networks of incoming links. Paid plans are quite costly and start at $99 per month. However, Ahrefs is a golden mine for startups focused on content marketing.
Email
12. Lemlist
Cold emails are one of the most popular tools of today's B2B marketers.
Whether you like them or not, they do get results, but the problem is that most companies do them the wrong way. Cold email is an art form and most of the ones we get are bland, lack personalization and just make you hit the "spam" button.
Lemlist is a tool designed to make cold emails great. It allows you to send personalized cold emails at scale and make every email sound like it was written just for one recipient. This is actual AI in action – you can create emails dynamically, changing certain elements automatically without pressing a single button.
Compared to most other software, Lemlist offers incredible deliverability by "warming up" your address before it starts sending out emails in larger numbers. You can also use it to set up sequences for when one cold email is just not enough.
All in all, this is a superb tool for anyone who relies on cold email to get new business.
13. Verify Email
Verify Email is a simple service that verifies your email marketing lists. In a nutshell, it checks if the email exists or not. This small, yet crucial feature is useful if you are re-engaging old leads or contacts. Plans start from $14 per 50,000 email addresses tested.
14. Really Good Emails
The ingenious resource called Really Good Emails provides a repository for time-tested, effective email copy from well-known and most successful startups for email campaign inspiration. Here you can view email copy used for every marketing area, from acquisition to onboarding. Good Email Copy is another website where you will discover even more excellent email examples.
Sales & marketing
15. NetHunt CRM
NetHunt is the next tool we have fallen in love with. It's a full-featured CRM that is built inside Gmail and integrated with Google Apps. NetHunt offers a super handy way to manage all your company's relationships with clients: everything you need is available in Gmail inbox (customer profiles, deals and opportunities, data filters and views, email tracking, sending bulk email campaigns, etc.).
As a result, NetHunt feels as intuitive and simple as Gmail and provides users with smooth product experience. Nevertheless, you can fully customize this tool so that it meets your specific needs. And no coding required, it's quick and simple!
NetHunt has Professional, Professional Plus, and Enterprise subscription with the 14-day trial.
16. Close.io
The tools that allow you to keep track of and manage business relationships are called CRM software. Generally speaking, there are a lot of tools available to help you manage your sales process. So, we have decided to outline the main differences between the tools, the most suitable for startups.
Close.io is a CRM that pays much attention to automation, from calls to emails with the help of Zapier integrations.
Klenty is another great tool to kick start sales prospecting. This app helps manage prospects and leads in an intuitive way.
Pipedrive is one of the simplest, easy to use and customizable low-cost CRM tools. There is a free version of Pipedrive that to help you get started with the tool.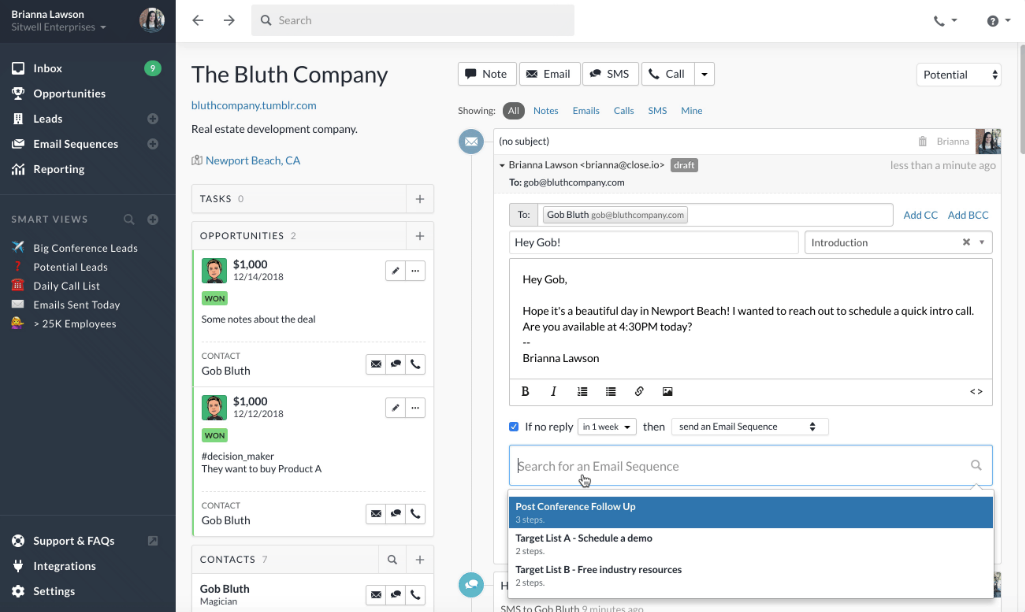 Moving forward, let's take a look at Freshsales. This app combines different features such as email productivity, profile enrichment, lead scoring and in-app event tracking. Luckily, Freshsales has a free forever startup plan.
Hubspot, for its part, offers a very functional free version of its CRM tool. Which CRM tool is right for your startup will really depend on the nature and complexity of your business.
17. Hunter
Hunter is such an essential part of any startup sales stack. Here's why: this tool makes it fast and convenient to find just about anyone's email address. Simply enter the website of the business you want to contact with and Hunter will return every email associated with the site. The best thing about Hunter – it's free to use. You get 100 free searches per month before you need to think about upgrading.
18. Google Keyword Planner
Google Keyword Planner is the best place to start when it comes to search engine optimization and keyword research. Using the tool, you can search for new keywords as well as get their search volume and traffic forecasts for them. Overall, Keyword Planner can help you determine which keywords are better to target organically or with advertising. And yes, it's absolutely free. Its paid alternative called Keyword Tool lets you find relevant keywords for Youtube, Bing, Play Store, Instagram, Twitter, Amazon, etc. in addition to Google.
19. Followerwonk
Launch day for any startup is huge, so build a following beforehand. You can use tools like BuzzSumo and Followerwonk to reach key influencers in your space and send your press release to as many bloggers and editors as possible. The more, the better.
Maître is a tool where you can create a referral system to spread the word about your business. It provides users with the unique link they should share with their friends and followers for profit.
20. Product Hunt
Product Hunt is now the go-to launch platform for startups to put their newborn products into the market. It has a community of professional testers and early adopters ready to try new products. The best thing is that adding a product is free. However, Product Hunt also offers the Ship product, an all-in-one package that includes a landing page, email subscription tools, email messaging tools, analytics, A/B testing and leads capturing feature.
Here you can find new (and free) growth tools on a daily basis as well as feature your own product. Betapage is another community of tech lovers and early adopters where you can browse, search or submit your product or startup.
21. Trust
When a visitor comes to a no-name startup's website, they don't necessarily know why they should trust it. Is the site legitimate? Are other people happy with their service? By displaying text reviews, video testimonials and star ratings to visitors, Trust adds trust and authenticity to your startup.
Our video testimonial platform displays real data from current customers so that new website visitors are encouraged to give the product a try. Trust is quite easy to set up and use and can help boost your startup's conversion rate when acquiring leads and getting demo registrations.
You can also integrate your business account with other 6 external review sites (Google, Facebook, ProvenExpert, Capterra, Product Hunt, Trustpilot, and Yelp), so that you can also show off these reviews with the help of trust-building website elements by Trust.

Moreover, Trust's testimonial request forms are a perfect tool for collecting user feedback. All data appears right in your dashboard so that you can easily analyze it and improve customer satisfaction.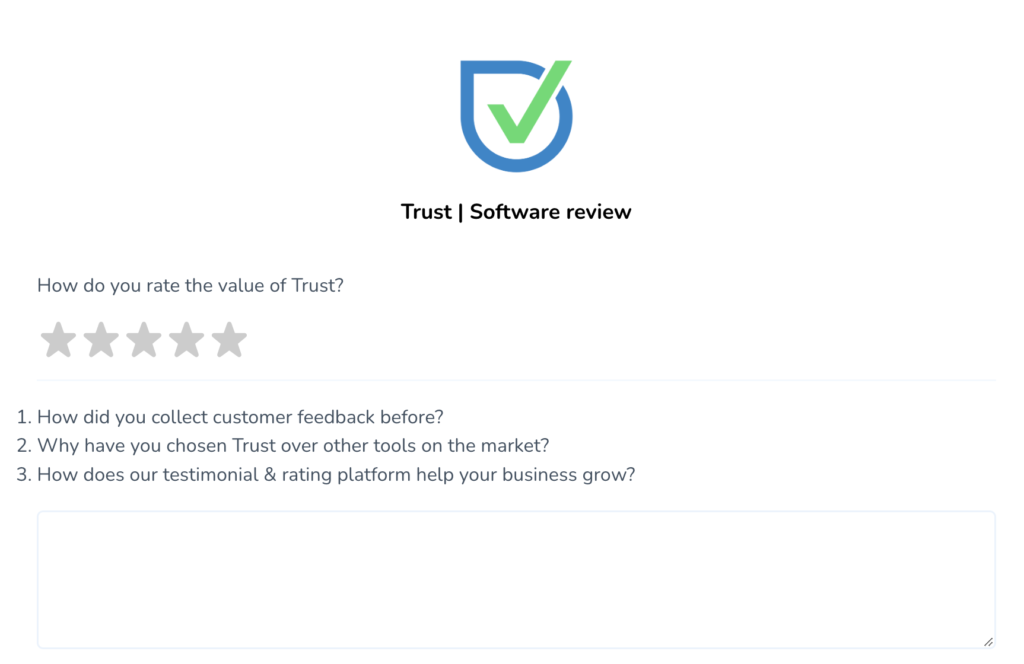 Wrapping up
When it comes to running a successful startup, you will definitely need to be armored with great growth tools. Choosing the right products generates more leads and makes your overall team more productive.
In this article, you can see some effective and affordable (if not free) tools our team has tested during the growth of our own tech startup, in all sorts of different areas. If you are a brand new startup, don't simply subscribe to all of them right now. Instead, do your research and determine which growth products you might need ASAP to help you achieve your main business goals in the blink of an eye.