The power of social proof for marketing is undeniable. With reviews, testimonials, live visual support and case studies reigning supreme as the easiest way to turn visitors into buyers, an increasing number of companies use them to amplify their marketing efforts. There's an even better social proof type – video testimonials. They make it easy for your customers to share their thoughts about your product or service and you can share them in a format that website visitors love.
However, asking your customers to record a testimonial and upload it, then share it… Can be time-consuming and tedious. This is why there are quite a few video testimonial tools – but which one is the very best? Let's find out.
Trust
Initially launched as a platform for testimonials and ratings, Trust offers a complete video testimonials solution.
Here you can ask testimonials from customers by sharing links to testimonial request forms. Moreover, you can embed surveys right to your website! That way, you don't have to constantly send messages to each customer and remind them to leave a testimonial.
On the other hand, you can pre-fill a form for the specific customer and ask them to leave a testimonial in a personalized video message. This is a great feature to show that the customer is really important to you, and you value their business.
Once people get prompted to leave a video testimonial, they have several options. First of all, they can attach a link to the video from their YouTube or Facebook channel. Alternatively, they can immediately record the video from the Trust interface with one click of a button. The recording interface works on all devices – laptops, mobiles and tablets. Finally, they can upload a pre-recorded video to the form. There is also consent box so the customers can immediately give their consent for the video to be shared on your website, social media or some other platform of your choice.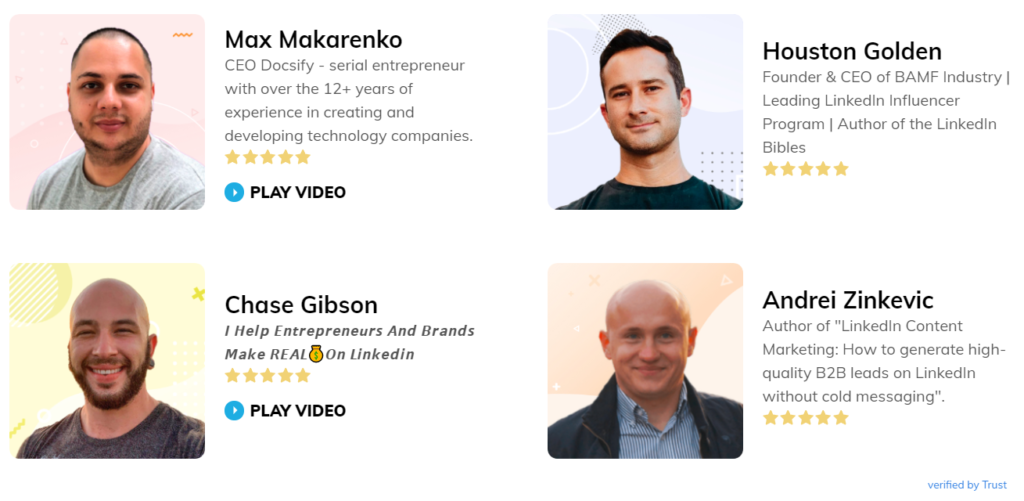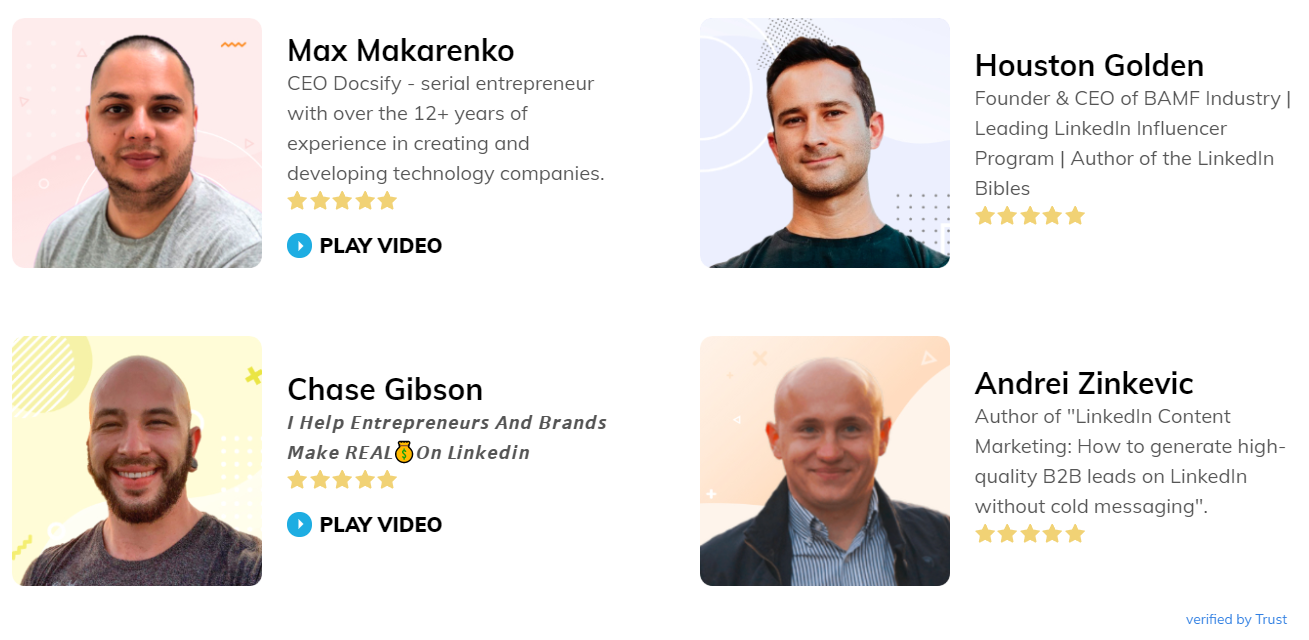 It takes mere minutes to set the entire process up, collect and display beautiful video testimonials on your website. When you consider that you also get other customer feedback types like text testimonials and ratings, this tool has a great overall social proof package.
The pricing starts at $16 / user per month. There is a 14-day free trial available along with free onboarding and live support. Starter Plan includes 1 website with 5k visitors a month, 50 testimonials, 50 ratings a month and 2 external rating services.
Boast
Similarly to Trust, Boast offers an entire platform for collecting and showing customer feedback on your website. To collect feedback, you can use a variety of forms to encourage happy customers to share their thoughts, be it a written or video testimonial. On top of that, you can use sequences – email and SMS drip campaigns containing several messages to encourage them to leave a testimonial for you. There is an option of giving out gift cards as incentives to customers.
When it comes to formats, Boast lets you collect standard text reviews and testimonials, besides video. In terms of video, you can include forms for capturing videos so that customers can record their testimonials with one click. However, there is no option of sending a link to an already recorded video or uploading a video from your own device.
The pricing starts at $25 / user per month and there is a free trial option. The cheapest plan only gives you access to videos in 480p quality, which is something to keep in mind if you need high-definition videos for your website.
Testimonial
Testimonial is built for video testimonials only and it seems to do them fairly well. You can send your customers a link that they use for recording testimonials, after which you upload them on your website, simple as that.
The process of showing videos on your website entails copying and pasting a block of HTML code and it shows up as a video player. You can also use something this provider calls "The Wall of Love", which is essentially a block of testimonial videos as a separate page on your website.
In the free plan, you can collect unlimited text testimonials and record up to 2 video testimonials. In the most affordable paid plan, you will pay $40 per month for unlimited video testimonials per month, up to 3 minutes in length. As for the Wall of Love, you can show 20 videos at a time in this plan.
Overall, this is a good choice if you already have a lot of text testimonials on other platforms, and you're looking for a no-frills testimonial solution.
VideoAsk
Before you ask your customers to record a testimonial through this platform, you should note that you don't just ask them, you VideoAsk them. In essence, you record a video yourself to ask them to record a video testimonial for you.
The good side about this product is that you can record a video as a question and that you can ask multiple questions to guide your customers through the testimonial. As for the bad part, you have to download the videos from this platform to be able to use them.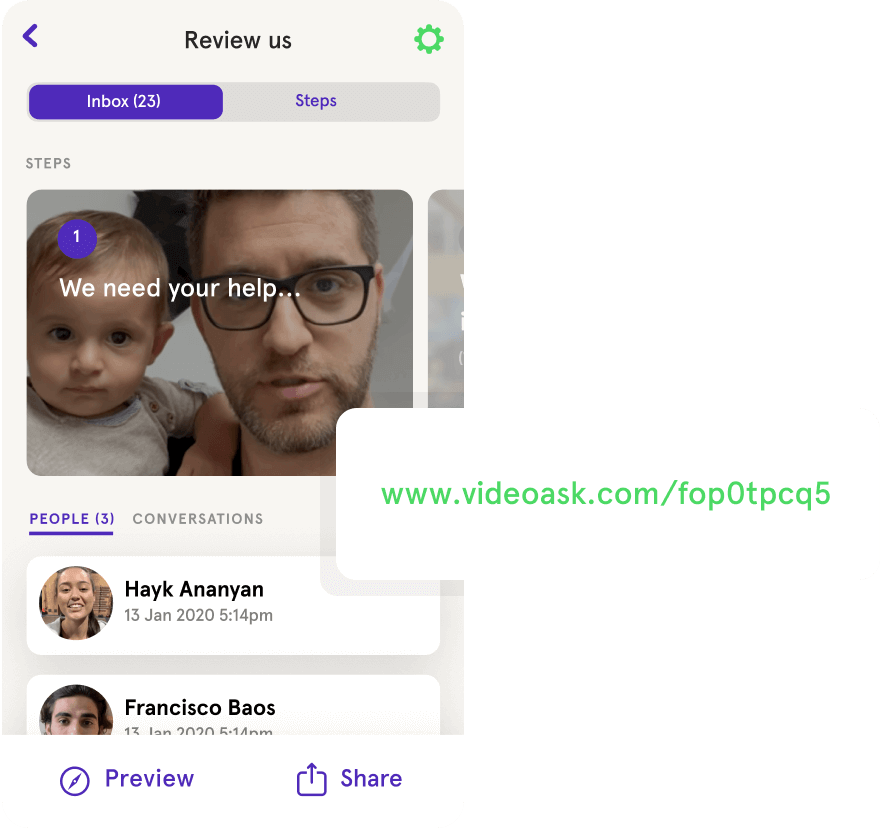 As for the pricing, you can get a free plan that allows you up to 20 minutes of video per month, with the caveat that the videos are branded with VideoAsk's name. The cheapest paid plan is $24 per month and allows up to 100 minutes of video. Unfortunately, these videos are "partially VideoAsk branded" and you have to pay for the most expensive plan in order to get unbranded experience.
This is a good choice for someone who doesn't mind the VideoAsk branding and wants to communicate with customers by videos.
GlimpseVideo
GlimpseVideo is primarily built for "video emails", a feature that allows you to record videos and send them as emails to your customers. Testimonials are the secondary use case for this app but GlimpseVideo has a nice, well-rounded offer for them.
Using emails, you can send links to your customers to ask them to record a 50-second testimonial. On their screens, they will have instructions and guidelines on what to talk about and you can even provide them with a set of copyright-free tracks to use as background music. You can download the videos or embed them to use on your website.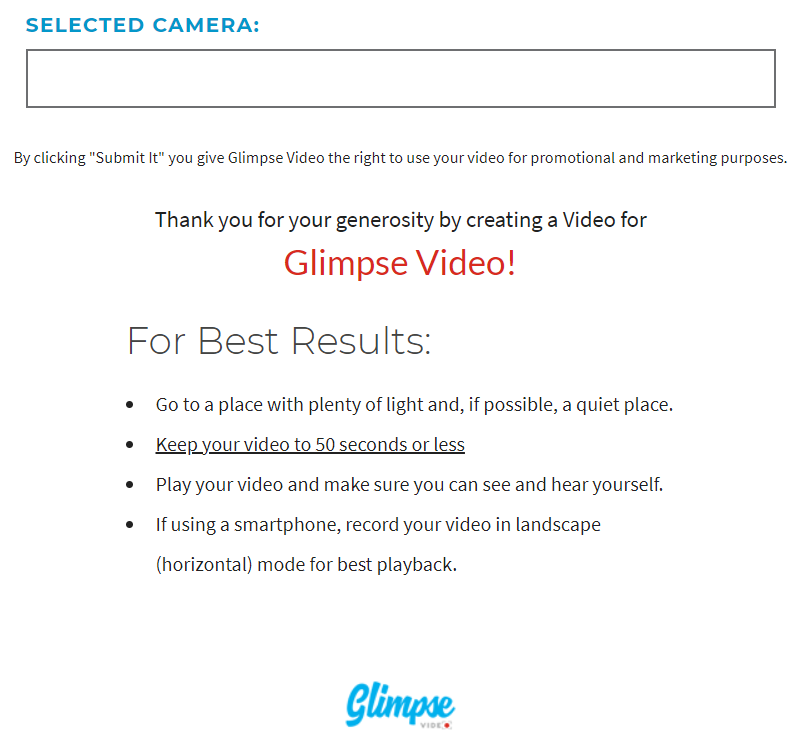 They have a rather complex features/pricing page but the one thing you should know is that they only have one plan at $49 per month which gives you unlimited video testimonials, among other things. You can try the free trial for 14 days before committing to a plan.
VideoPeel
Using VideoPeel, you can send your customers a link which they can click and immediately go to a video testimonial recording page. You can make a custom request to record the video and customers can immediately record their testimonial on any device.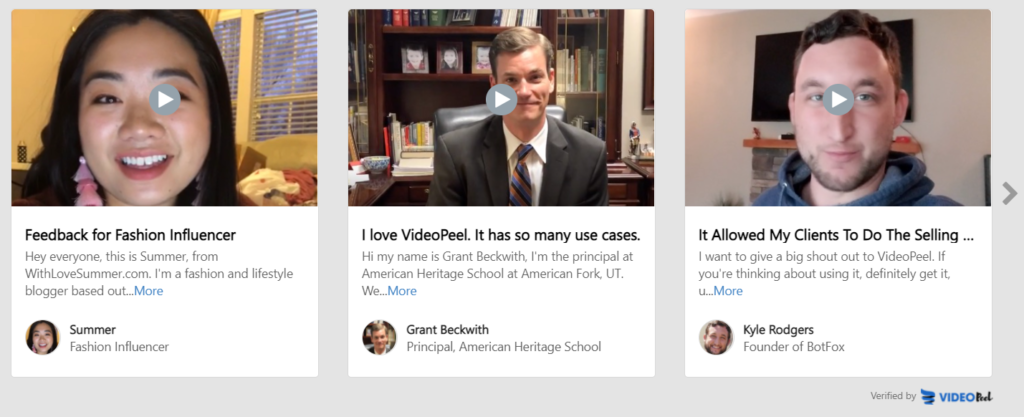 One thing that sets VideoPeel apart is that you can use their built-in video editor to make your videos more appealing instead of exporting them to your favorite video editing app. Moreover, it allows you to share testimonials on your website, as well as a range of different platforms, including Shopify, Klaviyo and a variety of social media networks.
When it comes to pricing – there is none. At least not officially – you have to reach out to the VideoPeel sales team to get a custom quote based on your specific needs.
Conclusion
While all of these tools provide video testimonials in some shape or form, Trust is the only one that offers video written and video testimonials that you can collect and share on any platform with ease. Trust integrates well with your existing marketing stack and it is the ideal way to bring new leads to your business – regardless of your product or service. Try it out for free today!