Have you recently tried Bonjoro and are on the lookout for better alternatives and quicker results? We've done the research for you.
Bonjoro is a user-friendly tool for collecting and displaying video testimonials and responses.
Still, it fails to provide a complete testimonial and review solution, unlike some of its competitors that we will look into shortly.
So, where does Bonjoro lag? Let's find out.
In this article, we have tried and tested 4 leading Bonjoro alternatives – Trust, Visme, Qwary, and Hippo Video.
Further, you can find a thorough breakdown of each tool's benefits, drawbacks, pricing, and more so that you invest in the right tool for top-quality conversions.
TL;DR
Bonjoro: A user-friendly tool to collect testimonials and generate leads with efficient video messaging. The tool lacks editing and customization features.
Trust: The best platform dedicated to collecting video testimonials and reviews. Provides an end-to-end solution from video collection to display.
Visme: Has various video editing features, premade templates for quick testimonial publishing, and analytics to track performance. Lacks a clean testimonial request process.
Qwary: Can be used to create extensive video surveys to capture timely, actionable feedback. Fewer editing options are available.
Hippo Video: Pricier of the lot. It supports extensive video formats such as campaign videos, testimonials, videos for customer support, etc. Offers advanced analytics but has a weak UI.
Bonjoro – Overview
Bonjoro is a lead-generating video messaging and testimonial collection platform. It lets you send personalized video messages to your clients and prospects, building engagement and trust.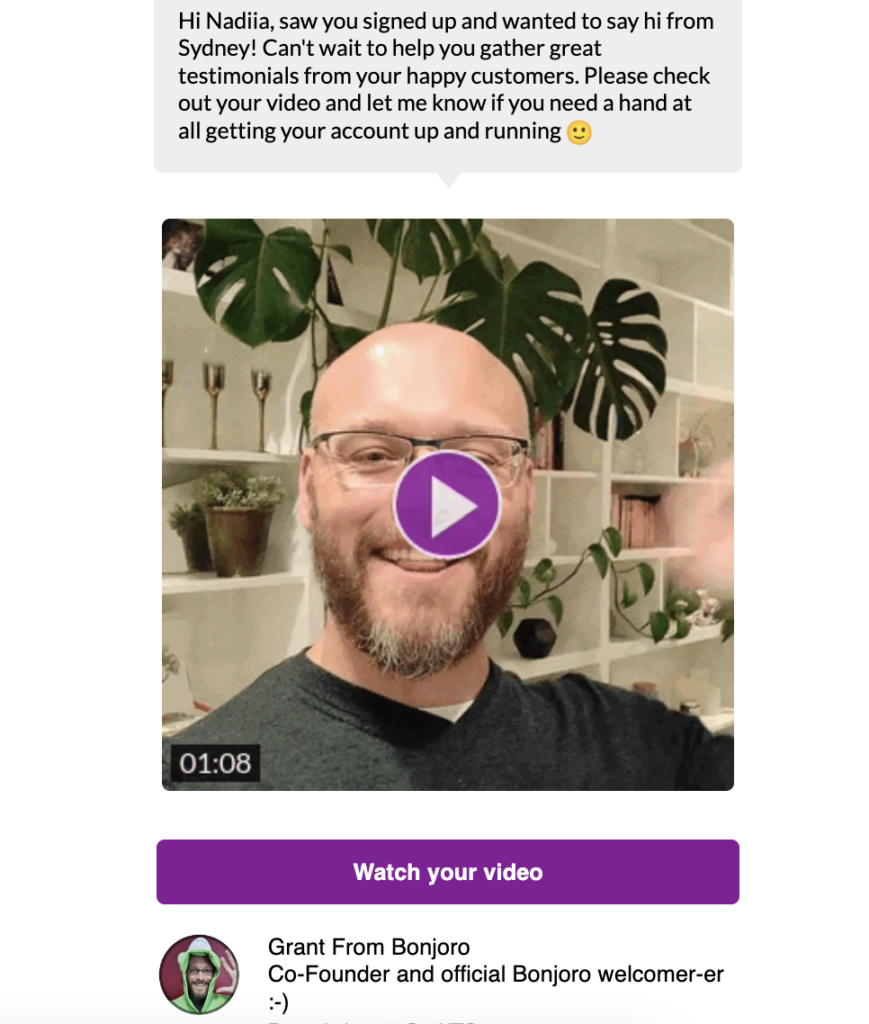 The UI is easy-to-access, and videos can be recorded and shared through any device. The video collection process by Bonjoro is a simple yet intuitive process.
You can request, collect, share testimonials in a single link, and publish them instantly. 
What's good about Bonjoro?
Let's take a look at the good aspects of using Bonjoro as a video engagement and testimonial collection tool:
It lets you create and share personal videos from either desktop or mobile apps.
Offers tracking and analytics support for the Video messaging feature on all plans (clicks, opens, views, replies, etc.).
The testimonial request feature lets you create up to 6 question series in one online form. With this, your clients find it super simple to follow through and can answer them in a video or text format.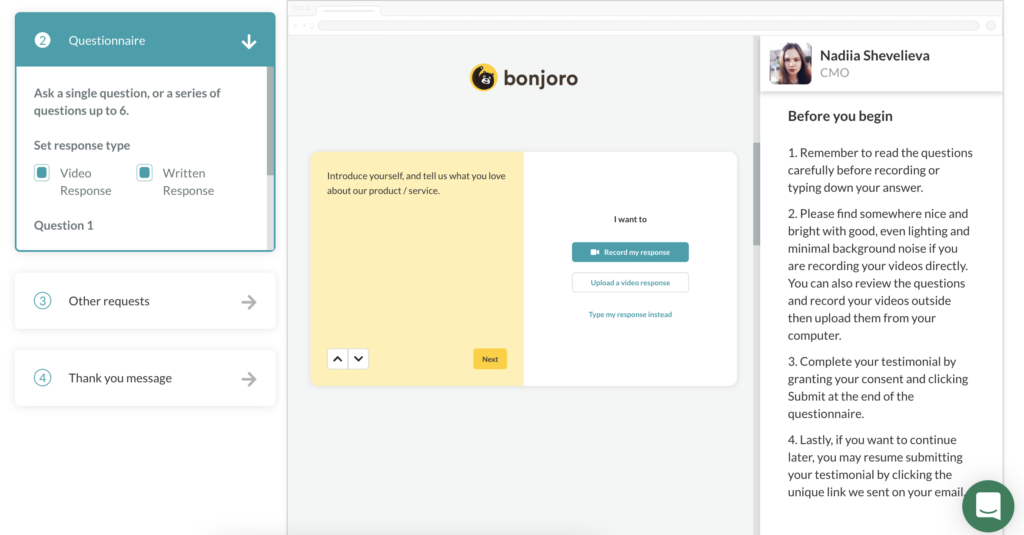 Simple, no-code framework share testimonials as lead magnets on social media, landing pages, or emails.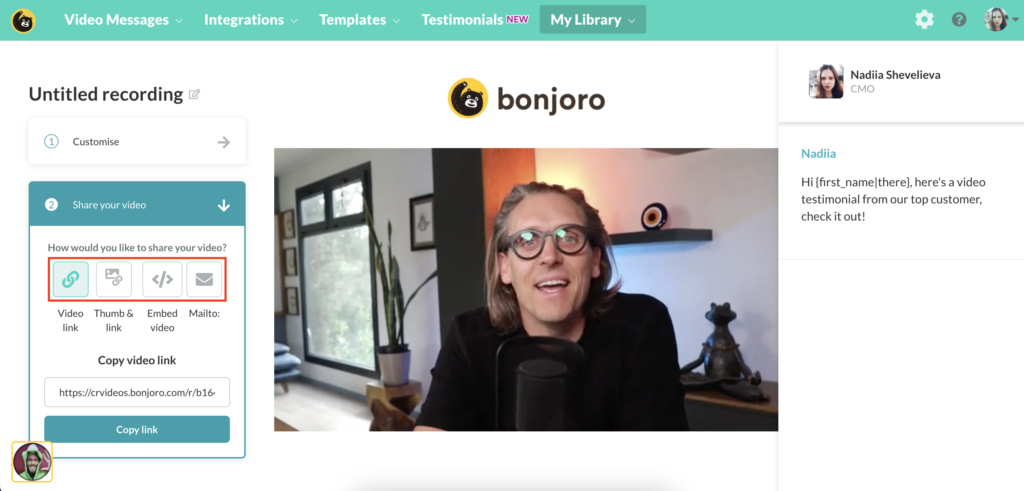 Publish your video testimonials as a Quote, Slider or Wall of Love.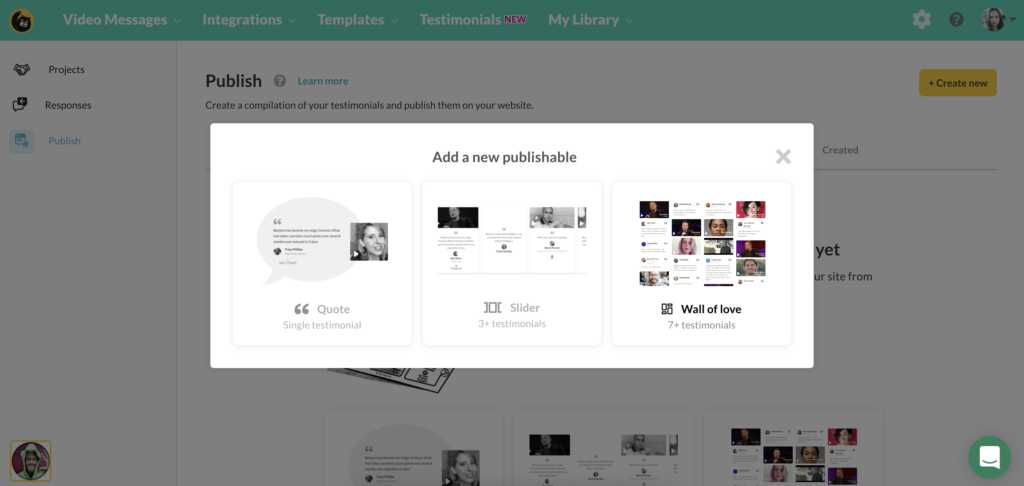 Organize and sort your videos seamlessly with custom tags.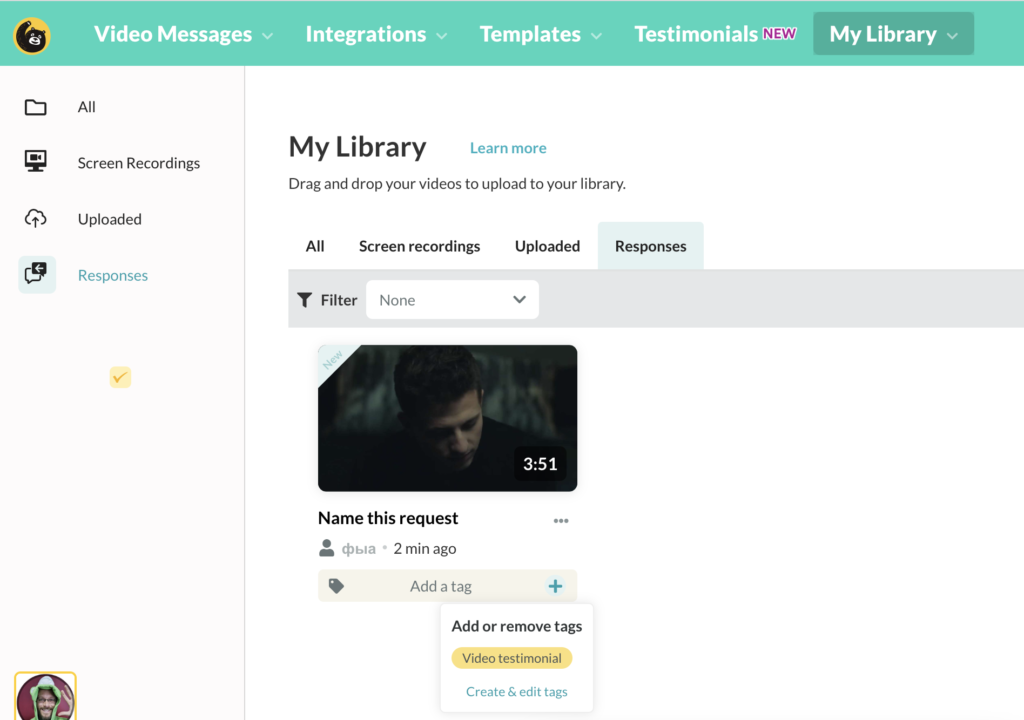 What's not so good about Bonjoro?
The biggest negative aspect of using Bonjoro as a video testimonial platform is the missing video editing options such as video trimming, enhancing, applying custom filters, etc.
Editing is constrained to video transcripts and not the video as a whole, making most videos not publish-worthy.
There is no option to import reviews or ratings from sites such as Google reviews, G2, Capterra, Facebook, etc.
The tool has no customizable widgets.
Bonjoro – Pricing
Bonjoro has two pricing options – for individuals (Solo) and teams.
Considering you are a team in an SME, here's what Bonjoro offers:
Personal: Free for three users with up to 50 videos a month, unlimited text testimonials and zero video testimonials. But you can publish only one text testimonial with this plan.
Starter: You can add your custom branding, collect upto 25 video testimonials and publish two of them. Considering the price $24/mo for monthly billings, this is quite an expensive plan for SMEs.
Pro: Priced at $69/mo, this plan offers up to 250 video testimonial collections, but only three publishables.
Growth: It includes every feature of the other three plans and offers unlimited video testimonials and message collection. However, Bonjoro has capped the pubishables to ten. The plan is priced at $179/mo for monthly billings, making it expensive for most SMEs.
So, the biggest drawback of Bonjoro's plans is the limited publishables offered, especially for the heavily priced plans such as Pro and Growth. 
If you're looking for a solid video testimonial software that is an alternative to Bonjoro, keep reading.
Bonjoro alternative #1 – Trust: A one-stop solution to capture and publish impactful video testimonials and reviews
Trust offers a full-fledged solution to collect powerful testimonials and reviews and showcase them to attract high-quality leads.
Testimonials are the most trustworthy and eye-catching lead magnets you can use to turn your prospects into long-term customers.
You can display your testimonials, reviews, and ratings on multiple platforms, such as landing pages, social media handles, paid ads, and many more.
And Trust can help you in this quest.
Trust offers a comprehensive solution to showcase your brand's credibility in the simplest way using effective feedback from collection to publishing, from video editing to importing.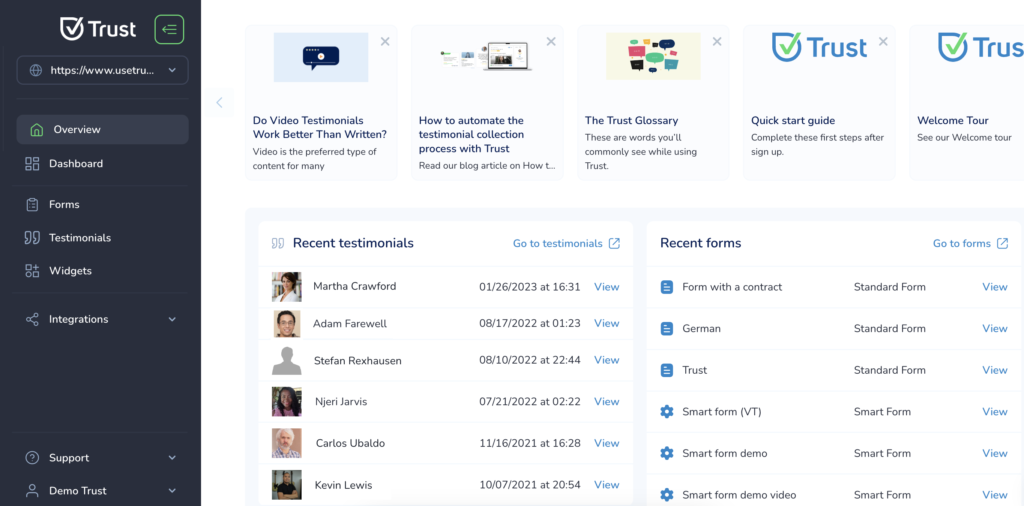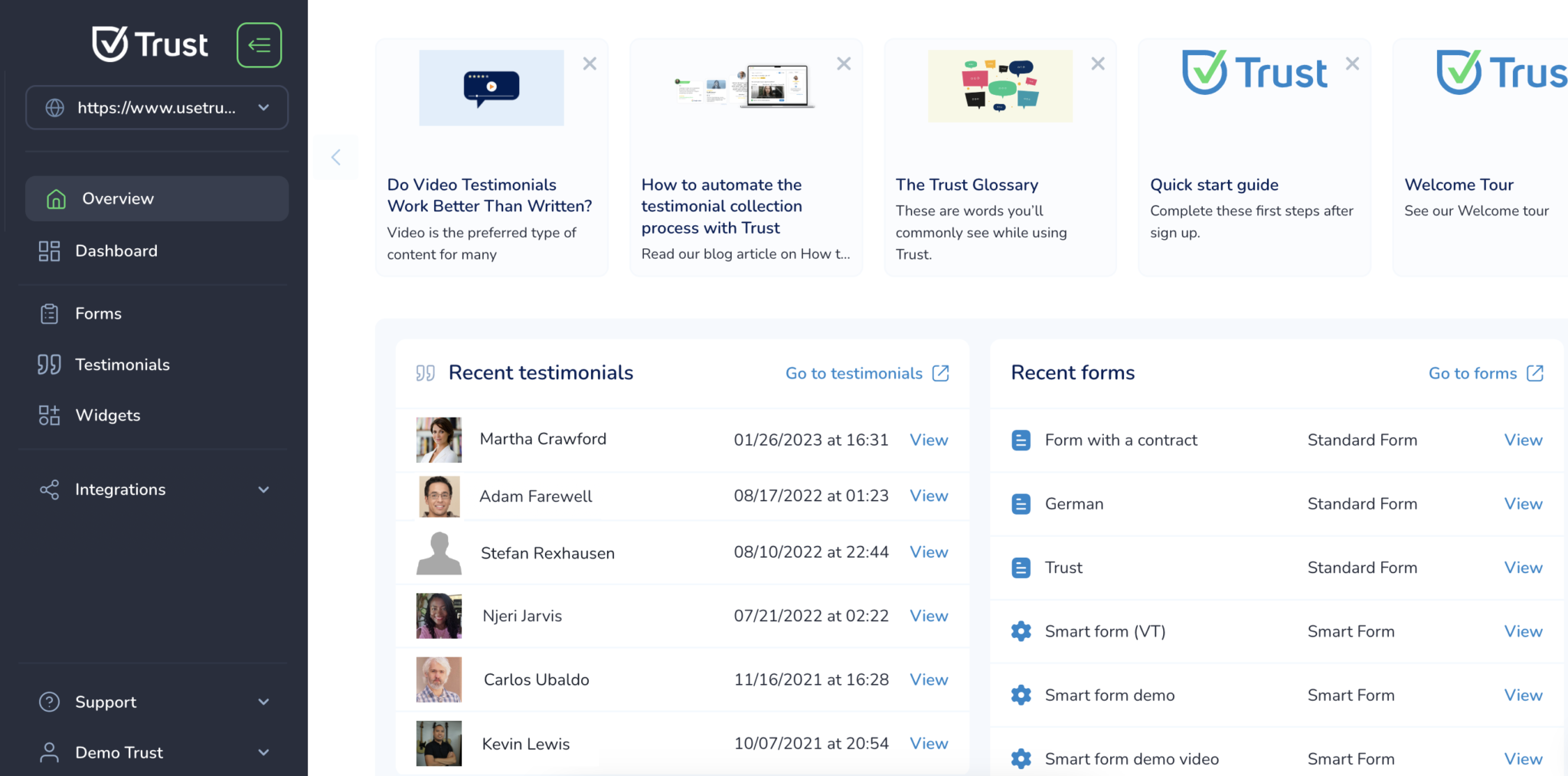 Need more reasons to use Trust over Bonjoro? Let's compare.
How does Trust outperform Bonjoro?
A stress-free video collection process. Trust uses clean testimonial request forms, where you can pre-fill feedback forms and send them to your customers, making it easier for them to submit.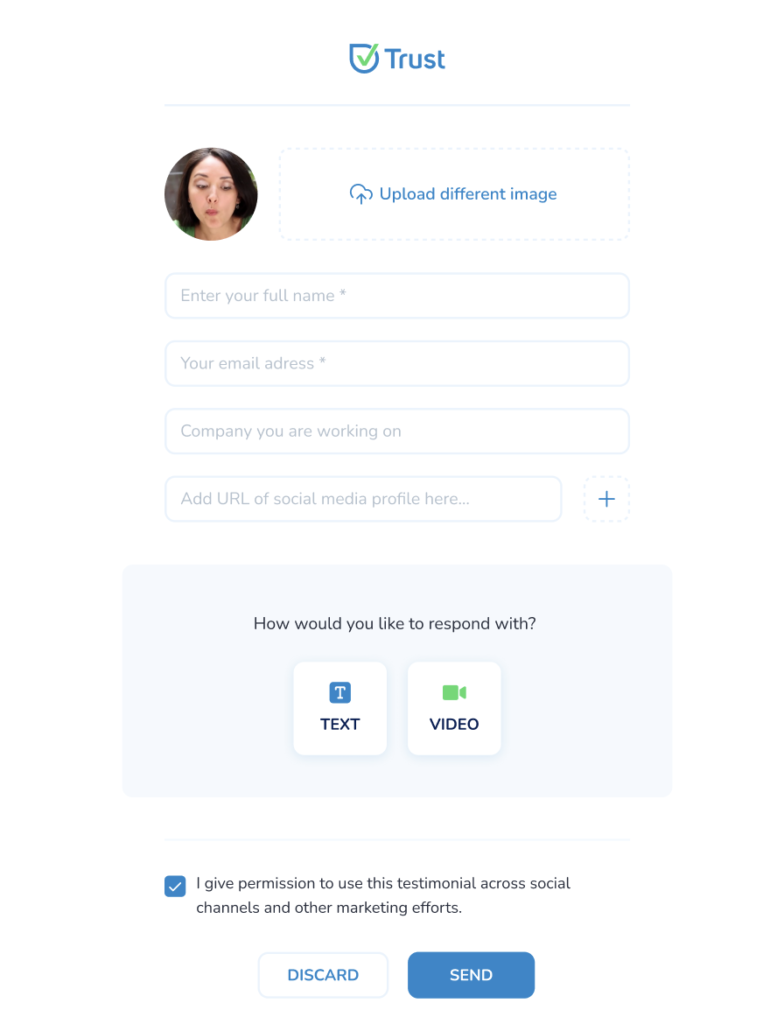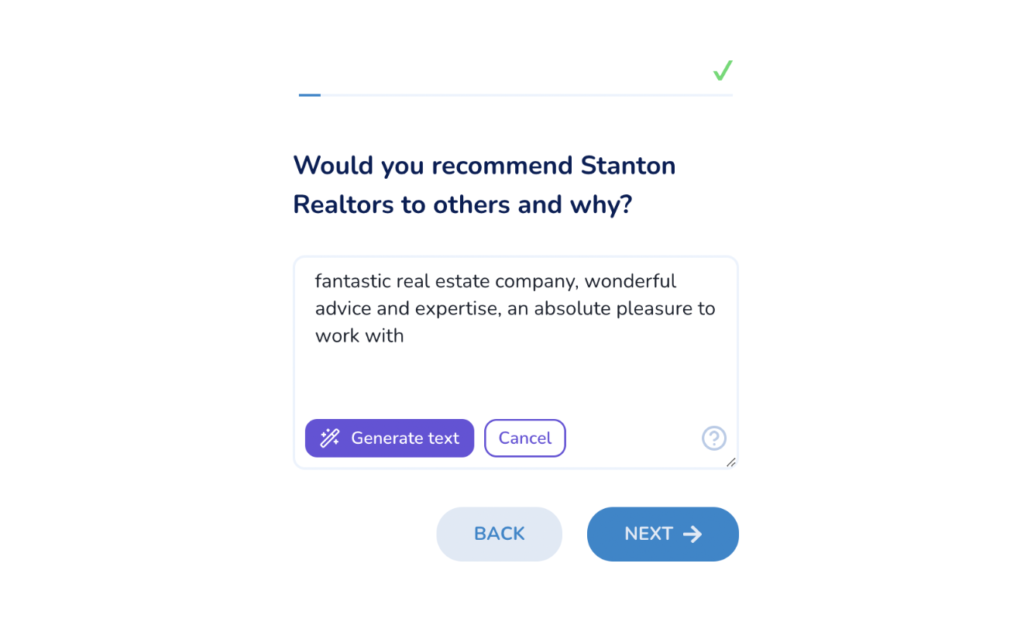 Handy video editing features enhance your captured videos before you hit publish.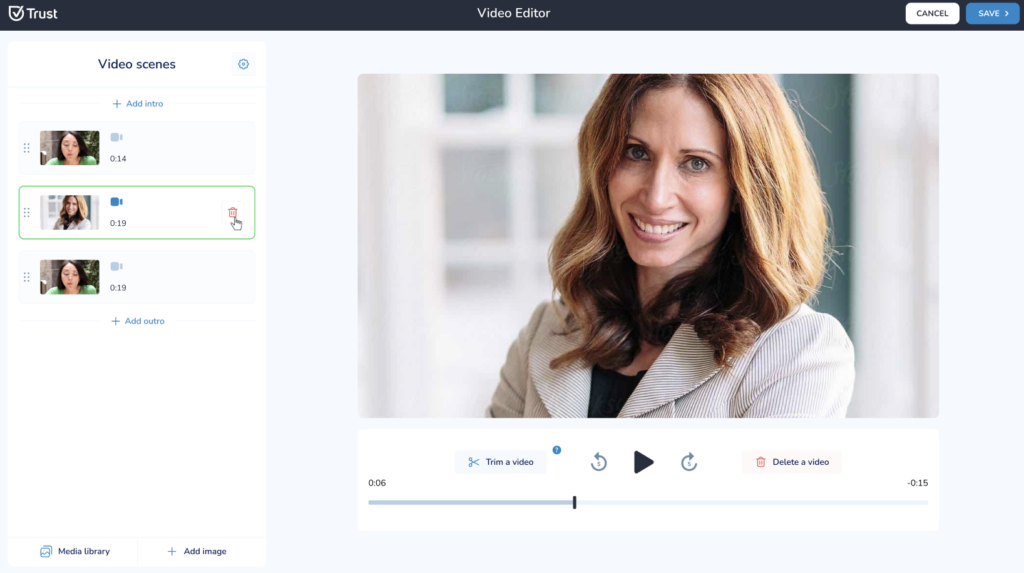 With Bonjoro, you cannot import reviews from other platforms. But Trust lets you import existing reviews from Google, Facebook, Google, Facebook, Trustpilot, Yelp, Product Hunt, Capterra and ProvenExpert.
Trust has a wide library of customizable and ready-made widgets, pop-up notifications, and badges to plug in your testimonials or reviews.
No more anonymous reviews. Link to your customers' social media handles to add more credibility to the displayed testimonials.
Integrate with CMS platforms, website builders, and more.
Any drawbacks of Trust?
The only drawback of Trust is the missing customer analytics and tracking features to track the number of clicks, opens, views, CTA clicks, and more.
Trust reviews on Capterra:
How do Bonjoro and Trust compare in price?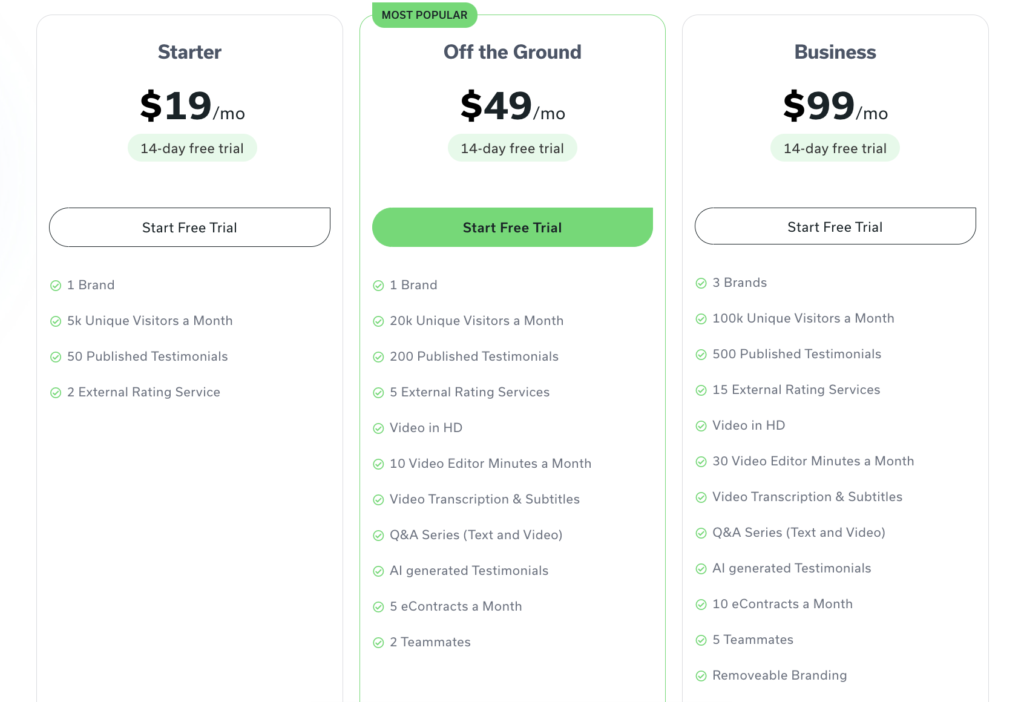 Trust has a 14-day free trial for every paid plan. The least-priced plan starts at $16/mo and offers 50 published testimonials. In comparison, Bonjoro offers only 2 publishables around this price point.
In comparing the "most popular" pricing plans of both Trust and Bonjoro – Off the Ground and Pro, respectively, Off the Ground is pricier and is $41/mo. Still, it offers up to 200 published testimonials a month as compared to Bonjoro's 3 publishables a month.
This makes Trust a better option for SMEs and businesses starting out who are looking to collect and display testimonials at scale.
Bonjoro alternative #2 – Visme: For an extensive video marketing solution
Visme has many options to create and share videos, presentations, infographics, and other visual formats using captivating templates.
You can just pick your desired template and start designing. For video testimonials, Visme has a set of 26 different templates (for the free plan) you could choose from or start from scratch using a blank video template.
How does Visme outperform Bonjoro?
Focuses on designing in-depth, personalized video testimonials by providing templates to plan and outline your testimonial video.
Visme has multiple video editing options, such as adding animations, vector icons, and unique graphics, which are missing in Bonjoro.
Lets you add subtitles to all your videos so you can reach a wider audience.
You can choose from a wide range of premade video templates, and copy and paste your testimonials in under ten minutes.
You can add transitions to your videos to enhance the final presentation before publishing them on your desired platforms.
Analyze and track traffic on your published content. For example, the number of visitors, duration of visits, etc.
Create, edit, publish, and embed your videos all from a single Visme dashboard.
Any drawbacks of Visme?
Here are some critical aspects we found missing in Visme:
Testimonial recording is done outside the tool, unlike tools such as Trust.
No option to import reviews or ratings from other platforms.
Does not include customizable widgets or pop-ups to display your testimonials.
Visme reviews on Capterra:
How do Bonjoro and Visme compare in price?
The Basic plan is free-forever but offers a limited set of templates to choose from.
The Personal plan starts from $29/mo, which is pricier than Bonjoro's $19/mo. However, using Visme, you do not have to hire a designer due to the incredible number of editing and designing options. But in this plan, you cannot track traffic on your published content.
The Business plan starts from $59/mo for each user. This plan includes every aspect of the Personal plan plus the analytics and options to add your own branding. Visme has no cap on the number of video testimonials you can capture, unlike Bonjoro.
Bonjoro alternative #3 – Qwary: An AI-powered tool to capture effective feedback
Qwary is an exceptional employee and customer feedback capturing tool for businesses looking to learn from insights and improve their marketing strategies.
With Qwary, you can easily embed customer feedback and satisfaction surveys within emails and websites and further monitor the same.
How does Qwary outperform Bonjoro?
Supports multiple formats to collect feedback and reviews, such as video surveys, emails, texts, and more.
Qwary has a smart AI engine that performs sentiment and intent analysis. With this, you get better customer responses.
You can mold your marketing strategy to see better results with Qwary's actionable insights.
Record videos, request text responses, star ratings, and more with no fuss, all from a single Qwary dashboard.
Qwary reviews on Capterra:
Any drawbacks of Qwary?
Lesser editing options compared to Trust and Visme.
No feature to import ratings and reviews from platforms such as G2, Google, or Facebook.
Does not provide integrations with CRM, CMS, or website builder tools.
How do Bonjoro and Qwary compare in price?
Qwary does not have a free plan but has a 7-day trial period on the tool.
The Essential plan costs $29/mo for monthly billing or $19/mo annually, similar to Bonjoro's Starter plan. In Essential, you are allowed up to 100 responses a month, but in Bonjoro, you are restricted to 25 testimonials under Starter.
The Professional plan is priced at $79/mo and allows 500 responses a month. This plan is suitable for medium to large businesses that need more advanced analytics.
The Ultimate plan suits enterprises and is priced at $109/mo. You get every feature under Professional plus up to 20 users, advanced workflows, custom dashboards, and more.
Bonjoro alternative #4 – Hippo Video: To ace video marketing with personalized testimonial requests
Hippo Video is a popular video creation platform for sales and marketing strategies. It serves a variety of industries in healthcare, marketing, technology, and other sectors.
The platform caters to mostly smaller businesses or larger enterprises. It offers comprehensive video marketing solutions such as personalized campaign videos, testimonials, videos for customer support, and more.
How does Hippo Video outperform Bonjoro?
Offers a free in-built video editing software for professional-looking, website-ready videos.
Seamless sharing of video testimonial requests, where your customers can quickly record their responses without having to sign up on the app.
Set up a testimonial campaign and share it as a link to capture all testimonials in one go.
Create customized questionnaires and a thank you message, set duration, and more within each campaign.
You can create a library of testimonials for quick access in the future.
Lets you add strong CTAs to your marketing videos, images, and texts to generate more leads.
You can start tracking detailed video analytics and performance with advanced metrics such as watch rate, views, and share rate.
Any drawbacks of Hippo Video?
The video editing feature is not up to the mark, with many users facing some glitches.
Weaker UI/UX as compared to tools such as Trust and Qwary.
Compared to Trust, it lacks options to publish and embed videos using widgets or notifications.
Hippo Video reviews on Capterra:
How do Bonjoro and Hippo Video compare in price?
Since Hippo Video supports a variety of video marketing and sales enablements, the pricing is divided into four domains: Sales, Marketing, Support, and Team Communication.
For this article, we will look at the Marketing plans:
Hippo Video has no free plan but has a 7-day trial period which is sufficient to test the tool and its features.
The Starter plan is priced at $29/mo for monthly billings but has no video campaigns or editing options. However, you can collect up to 50 video testimonials at an additional price of $29/mo. Next, the Pro plan is priced at $59/mo and offers several advanced video analytics features.
The Starter and Pro plans are priced higher than Bonjoro, but offer more advanced analytics and editing capabilities.
Finally, the Growth plan is suitable for larger teams and includes everything under Pro plus video campaigns, advanced reports, and more. This plan is priced at $109/mo for monthly billings.
The Bottom Line
A video testimonial and review platform must cater to all your video marketing needs from start to finish while being pocket friendly and a one-stop review solution.
And the tool that wins this debate by offering its premium features at a steal-worthy price is Trust.
See it for yourself – sign up for the free trial today with no credit card info!