Businesses should always be looking for ways to grow – and feedback and testimonials are one of the most untapped avenues that need to be explored.
Indeed, prospects will be wary of purchasing from your startup unless they're sure about your product. Research has shown it takes on average 8 touch points before a sale is made – and by using feedback and testimonials, you can show prospects that you've got what they need.
In this article, we'll look at the different channels you can combine with testimonials and feedback to grow your startup.
How feedback and testimonials can help startups
Feedback and testimonials won't always be good. But they can give you crucial audience insights into how customers feel about your business, products, services, and customer support.
If you ignore customer feedback, you won't be able to make fundamental tweaks that could make a huge difference.
Not just that, but by asking for feedback, you're showing that you care about your customers and their opinion.
While feedback serves to improve your product – you can also turn it into customer testimonials. For example by adding a line like "71% of our customers agreed with us when …" to your website, you're not only demonstrating enormous social proof – you're also showing that you reached out to your customers in the first place.
And with 56% of customers admitting that they find testimonials helpful – they can help your startup grow. They do this by building trust and consumer confidence among prospects who were otherwise hesitant.
Overview of feedback channels for startups
You can use various feedback channels to reach out to your customers for their feedback. These include:
Surveys, video testimonials and polls
Perhaps the most obvious feedback channels, surveys, video testimonials and polls can be sent via email and social media. 
The aim is simple: To help you understand how satisfied your customers are with your business.
Trust is a great tool that allows you to collect both video testimonials and conduct surveys from your website.
Unlike other video testimonial software tools, it comes with a testimonial plugin for WordPress – all you need to do is download and then upload the plugin to your WordPress account.
Social media
Because millions of people use social media every day of the week, it's essential that you use it as a feedback channel.
You can check the comments on your posts, carry out social listening and even engage with your followers to see how they feel about your business.
Email
Email is an ideal feedback channel because many of your existing customers will already be there.
You can use emails to send out surveys and polls, as well as to ask questions that invite one-to-one responses.
Live chat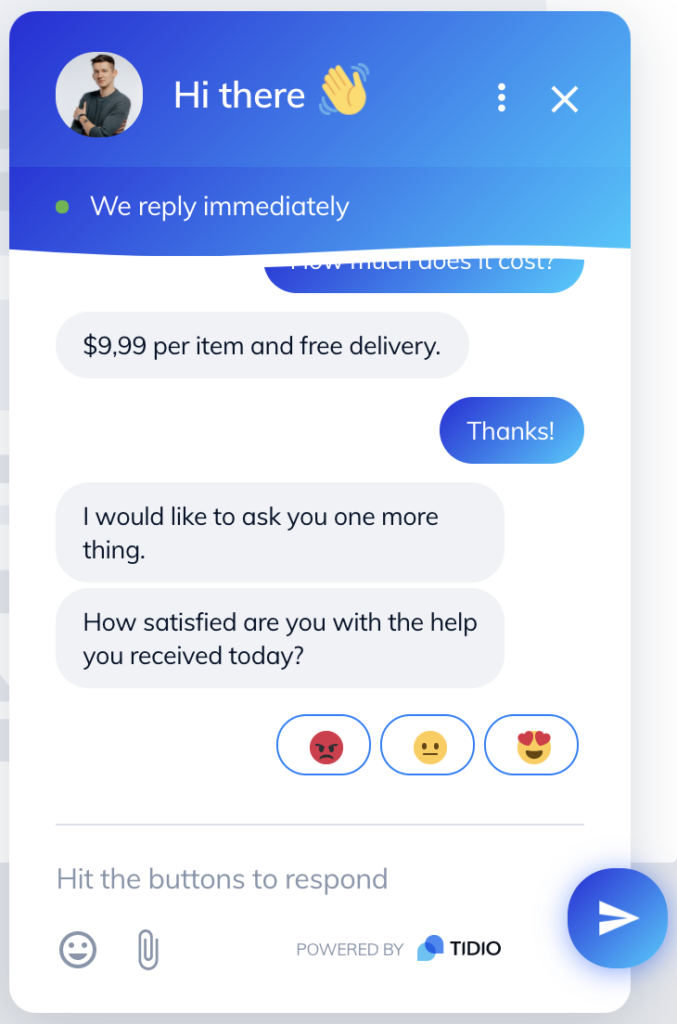 Live chat usage has soared over the last few years and it's now the preferred service for online shoppers aged 18-49.
Live chat is the most rapid of all feedback channels when it comes to data collection and direct outreach. It's efficient, it requires very little manpower and you can gather all kinds of info – from a customer's demographics to how satisfied they are with your business.
How to use feedback to grow traffic and conversions
As we've just seen, you've got several options when it comes to your feedback channels.
The next step is to use these channels correctly so that feedback leads to more traffic and more conversions.
Use active feedback surveys
With an active feedback survey, you're being proactive instead of passive.
What does this mean?
A passive feedback survey is triggered when the end user opts to fill in a survey.
An active feedback survey, on the other hand, is triggered when a customer performs a certain action on your website.
For example, maybe they've just made a purchase. Then you can target them with a survey about the purchase experience while said experience is still fresh in their mind.
Gather real-time feedback
Live chat is valuable when it comes to real-time customer feedback. Companies hire developers to ensure that their live chat runs smoothly and helps them keep in touch with their customers or potential customers.
And real-time customer feedback can boost your conversions because the response times are shorter and you can also address a customer's problem(s) there and then.
For example, exit intent behavior can be targeted with live chat. When a customer goes to leave your website, you can instantly trigger a live chat conversation that can immediately get to the bottom of why they're about to leave.
Not only will this arm you with crucial insights that allow you to reduce exit intent behavior among future customers. Likewise, it also gives you the chance to convert a prospect in real-time.
To ensure your live chat campaigns hit the spot faster, you can create an agile marketing team that constantly tests, tweaks and improves your strategies.
Engage in social listening
Social listening is when you "listen in" on conversations about your brand on social media.
You can search for keywords related to your brand, products and even niche, before putting into action what you've learned.
Essentially, you eavesdrop on the conversations people are having about your brand/ Then you understand whether there are any key issues with your products and overall offering.
Moreover, you can step into the conversations, engage with the users by asking questions – and even go in with a product recommendation and soft sell there and then.
How to design a feedback strategy for your startup
A feedback strategy will form the backbone of how you put into action what we've covered so far so that you gather together the right feedback at the right time.
Identify your audience
When securing customer feedback, it's important to segment your audience.
For example, if you want to learn more about your checkout process or why your cart abandonment rate is high, you need to address existing customers rather than first-time shoppers.
The more relevant your audience is, the more reliable your feedback data will be.
Ask the right questions
To secure accurate feedback that's worth using, you need to understand what kind of questions to ask.
If you decide to use surveys and polls, the questions need to be clear and simple. If the end user cannot understand the question, their answer will be redundant.
Leading questions are also a bit of a no-no because subject bias can creep in.
When you understand your audience, you will ask better questions that give you the insights you're looking for.
Select the appropriate channels
As we saw earlier, there are different feedback channels you can use. Some require more resources than others, and each one is used by a different audience.
Therefore, you need to take into consideration the types of questions you're asking, the reason for your questions (do you want to learn more about the usability of your product? What about the checkout process?), as well as who uses which channel.
Naturally, using more channels can eat into your budget, so SaaS lending might be a finance option worth considering.
Conclusion
Customers have a lot of power.
They also have knowledge and may even know your products better than you know them yourself.
As such, by leveraging customer feedback and using testimonials, you can learn more about your business, make changes and generate social proof that – all together – helps your business to grow!
This is a guest post by Asher Ismail.
Asher Ismail is the co-founder of Uncapped. Uncapped helps entrepreneurs raise capital without giving up control of their business. Connect with Asher on Linkedin, and if you're looking for growth capital, check out www.weareuncapped.com.