If you're finding it hard to onboard new coaching clients, you may need to look back at your social proof.
By social proof, we mean the results of your coaching programs coming directly from your past clients' mouths.
And nothing else that shouts genuine social proof the way video testimonials can.
This article shows the effortless way to get video testimonials for coaches, along with some inspiring examples.
In a rush? Checkout Trust's free video testimonial survey form!
Table of content
Why client video testimonials for coaches?
Where to use video testimonials from your coaching clients?
For your website
On social media
For paid advertising
For your email campaigns
Get real client video testimonials using Trust
Step 1. Collecting video testimonials
Step 2. Managing video testimonials
Step 3. Displaying video testimonials
5 best client video testimonial examples for you to steal
#1. Video testimonial for a life coach – Tony Robbins
#2. Video testimonial for a business coach – EU Innovation Council
#3. Video testimonial for a relationship coach – Hayley Quinn
#4. Video testimonial for a career coach – Graduate Coach
#5. Health and fitness coach – In Motion
Wrapping up. Getting client video testimonials for coaches
So without further ado, let's dive right in…
Why client video testimonials for coaches?
Testimonials and reviews are the fuel your coaching programs need to run successfully. Why do we say so?
Modern consumers do not choose a coaching program or course through guesswork alone, especially when it's paid.
They need solid evidence on how you can help them bring results and turn their vision into reality.
And there's only one way to establish this – through genuine, verified testimonials, especially videos.
When client video testimonials tell a story about their success with your programs, they stand as witnesses to your claims.
They make it easier for you to convert a doubtful potential client into an eager and excited new client.
Bonus benefit of video testimonials – Text testimonials and reviews have a higher chance of forgery, but video testimonials are extra trustworthy and influential.
Where to use video testimonials from your coaching clients?
Video testimonials are super versatile. And here are four effective ways to use them:
Your website is the first place visitors check for course legitimacy.
So it's important to place your clients' video testimonials strategically.
Apart from adding testimonials under a page called 'Success Stories', ensure they are scattered around other pages like the home page, ad landing page, or the course pricing page.
You could get extra creative and add your testimonials as widgets, pop-up notifications, or badges.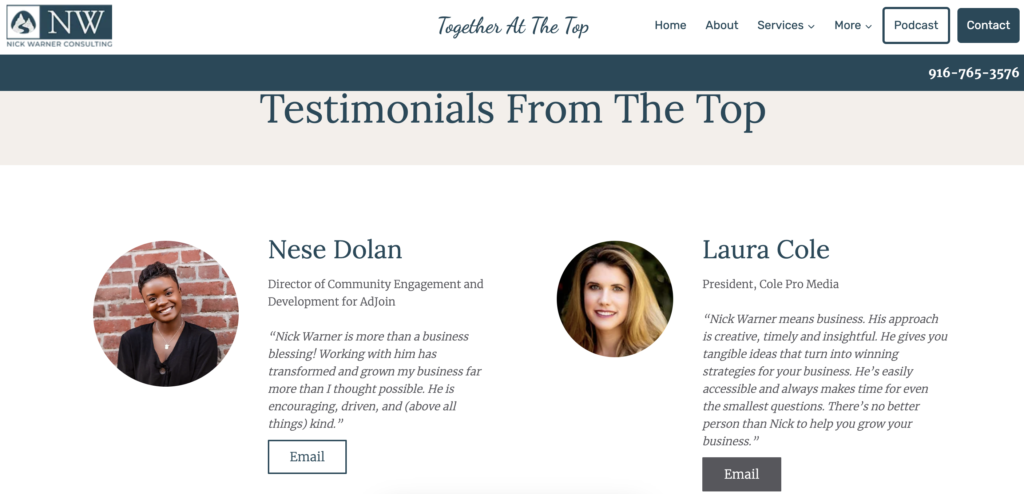 Social media, especially YouTube, stands next to only Google as the second leading search engine.
And it's only fair to tap into the full potential of your video testimonials and introduce them on your social media platforms.
Not many brands do this, but adding testimonials on your Instagram profiles, YouTube channels, and Facebook pages can attract more attention.
Client testimonials are one of the best marketing strategies to reach a hyper-targeted audience.
So combining them with paid ads for Google and Facebook / Instagram can fetch you tremendous results quickly.
Emails are one of the high-converting marketing campaign strategies that can garner high open and click rates.
Pairing your email campaigns with powerful video testimonials for a kick of social proof is by far the most effective lead generation process.
Use your client video testimonials towards the end of each email to add a touch of credibility to your claims and offer.
We've so far talked about the 'why' and 'where' of video testimonials.
Now let's get into the 'how'.
The following section introduces you to a powerful tool for coaching client video testimonials under 15 minutes – Trust.
Get real client video testimonials using Trust
If the lack of technical skills is holding you back from getting and publishing video testimonials, Trust has got your back.
Trust has an economical solution for you, from requesting to displaying testimonials minus the tech headache.
Here's how Trust lets you capture and publish client video testimonials from start to finish:
1. Collecting video testimonials
We get it. Asking for testimonials can get awkward.
But client testimonials don't appear by themselves. You must reach out to your happy clients and request them to drop in a testimonial.
And Trust makes this process super simple and painless through its forms feature. Here's the wide range of options to guide you through the collection process:
Standard forms
Suppose your clients are clueless about how to write a testimonial or are camera-shy. In that case, you can set custom guidelines to help them submit a winning testimonial using Trust's standard forms.
All your clients must do is follow the instructions and record their videos.
You can also customize a 'thank you' page for each client.
Interactive forms
Interactive forms are similar to standard forms, except, as the name suggests, they are more interactive.
Meaning, you can set a QnA (question and answer) series to collect a video testimonial.
Your clients can simply record themselves answering your questions and submit their testimonials.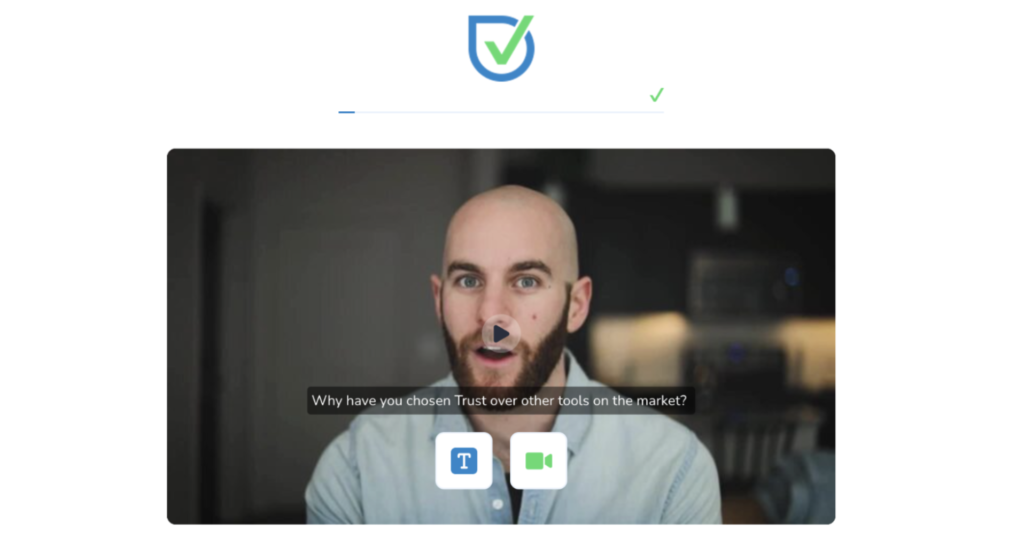 Smart forms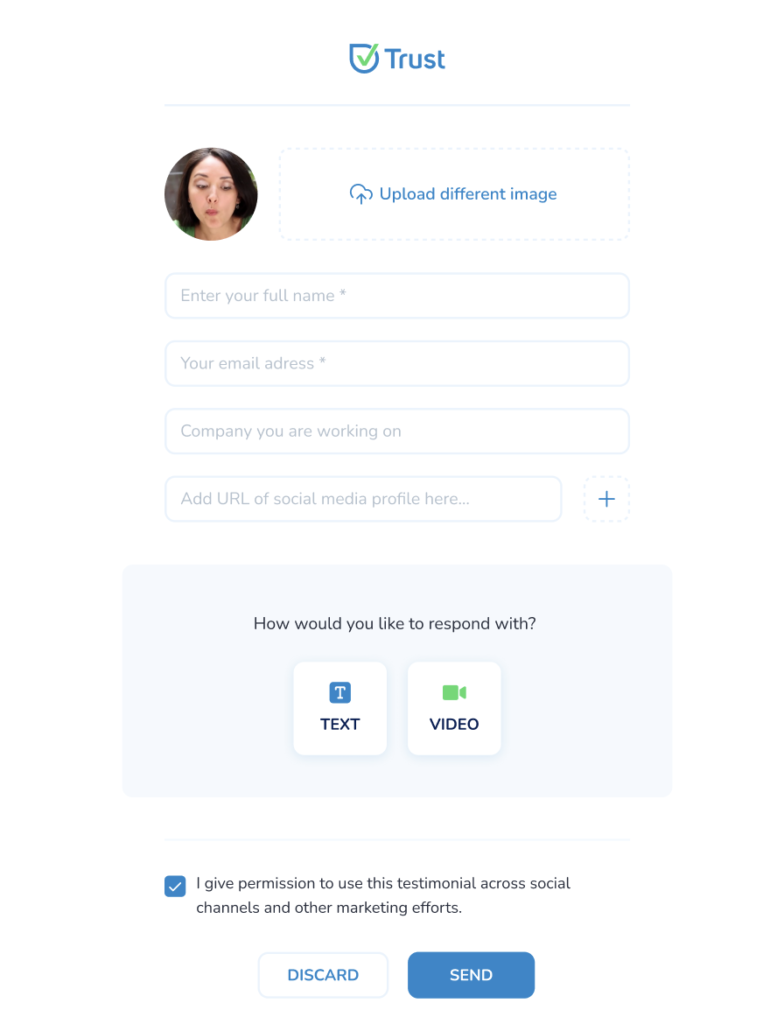 Need more than just an interactive or a standard form? Trust lets you create custom forms with its drag-and-drop functionality.
Using these smart forms, you can rearrange fields, add inputs, set custom guidelines, and more.
2. Managing video testimonials
Trust's all-in-one dashboard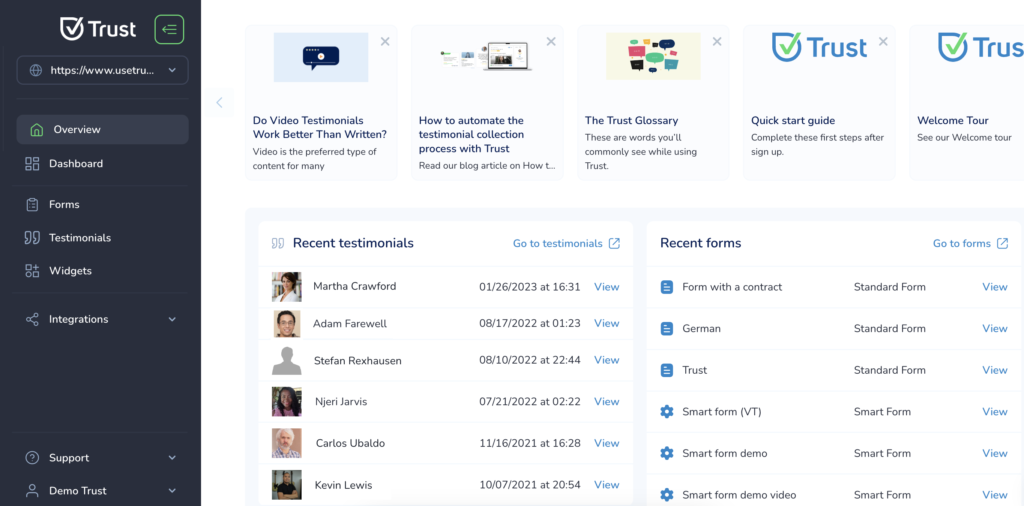 Imagine having a single platform with all your client testimonials and their statuses. That's Trust's easy-to-use dashboard for you.
It gives you a bird's eye view of all your collected, requested, and ready-to-publish testimonials and has all features that are just a click away.
Such a dashboard makes managing testimonials effortless so that you can concentrate on other critical business tasks.
Import and integrate testimonials
You may already have video and text testimonials on sites like G2, Capterra, Google reviews, YouTube, Facebook, etc.
Trust lets you import such reviews onto its dashboard for a centralized view.
Similarly, you can request fresh testimonials on other review sites, and once submitted can be sent to your Trust account automatically.
3. Displaying video testimonials
You don't have to hire a graphic designer anymore to display testimonials. Trust gives you three incredible ways to exhibit video testimonials that match your branding.
The below options are quick to set up, need zero technical experience, and are mobile-friendly.
Widgets – Trust's customizable widgets let you combine text and video testimonials to add them to your website. They do not slow down the web page from loading and are well-optimized to be all-devices friendly.
Pop-ups – Pop-up notifications are great at engaging users and grabbing their attention as soon as they land on their screens. With Trust, you can design interesting pop-ups for your website using your video testimonials and attract potential clients.
5 best client video testimonial examples for you to steal
We've gathered five excellent video testimonials for each coach type that capture the essence of coaching programs and the results they delivered:
#1. Video testimonial for a life coach – Tony Robbins
Tony Robbins is a popular author, speaker, and life coach.
His company hosts a variety of coaching programs and attracts thousands of participants from all walks of life.
This testimonial is a great example of a past client (a frustrated attorney) talking about how her life tremendously changed post the coaching sessions.
She also talks about the myriad tools and skills the Tony Robbins' course provided that helped her achieve this transition of leading a fulfilled life.
The key takeaway – Include a before and after coaching scenario and the changes your client witnessed over the course of the coaching program.
#2. Video testimonial for a business coach – EU Innovation Council
The above testimonial for EU's business coaching programs walks you through the question-and-answer format.
This is an effective format for two reasons: it covers the client's journey and experiences and grips the viewers' attention better.
The EU council's client video testimonial answers the basic yet most pressing questions, such as
What were your key challenges?
What was your experience like?
What did you do during the coaching?
What was the outcome?
The key takeaway – Create a questionnaire using which your clients can answer and record a video testimonial seamlessly.
#3. Video testimonial for a relationship coach – Hayley Quinn
Hayley is a TEDx speaker and a sought-after relationships and dating coach.
What makes this testimonial great? It is elaborate and walks you through the client's journey, pain points, and achievements through the coaching program.
Client video testimonials are also added to their website under 'success stories', unlike most other relationship coaches who stick to text reviews alone.
The key takeaway – Ensure to highlight your client's results. Also, ask them to drop in their advice for future fearful clients who are unsure of signing up for your course.
#4. Video testimonial for a career coach – Graduate Coach
We love how Graduate Coach put together multiple short client testimonials into one video. Since career coaching is taken up by students, working professionals, homemakers, etc., it's a great idea to add multiple clips into one testimonial video.
In this testimonial, past clients talk about the various services of the career coaching program that helped them land their dream job.
The key takeaway – Share your alumni's success stories that cover not just about your coaching programs but also the companies they were placed at.
#5. Health and fitness coach – In Motion
This video testimonial is by far the most creative one we've come across. Along with its current clients' testimonials, the video follows them around the fitness center and provides an insider perspective.
The clients stressed their incredible results and the fitness coaches responsible for them.
The key takeaway – Be creative and look for fresh and innovative ways to showcase your client testimonials.
Wrapping up – Getting client video testimonials for coaches
Results are the key indicators of a course's efficacy. Hence your client video testimonials must emphasize the results you helped them achieve.
But handling the testimonial process all by yourself can be an uphill task.
And with a tool like Trust, you can sit back and request, manage, and publish testimonials without waiting for a developer to help you.
Scale your coaching business with video testimonials.
Take the first step and get your hands on Trust's free testimonial survey form tool today.