Email marketing automation has become an integral part of every business out there, regardless of their size, field and operation.
From blogs and eCommerce stores to SaaS businesses and agencies, emails can determine your success and brand visibility in a highly competitive market that constantly changes.
Since automation can be one of the best growth hacking tactics, automating your processes can help you engage your customers better and encourage interactions that will lead to customer loyalty.
By taking advantage of this channel, marketers are bound to see their revenue increase beyond measure, since email marketing is one of the most cost-rewarding channels out there.
While it's easy to find email marketing tools out there, finding the one that suits your business's needs best is crucial.
Since not every business has the same budget to create grand MarTech stacks, the safe option is to benefit from the free plans that various platforms offer.
Trying something out before buying it is the ultimate tactic to get more with less.
And when your email marketing platform offers you all its resources and features, you can expect a great email marketing automation experience that will help you become an email marketing automation expert without any commitment.
So, what you should look for when you choose your free plans is the number of features you're going to get like unlimited contacts and emails, as well as extras like a landing page builder, advanced real-time analytics and A/B testing.
Now let's see the 15 best free email marketing automation platforms to rock your business
1. Moosend
Moosend is a sophisticated email marketing automation platform that lets you create amazing email campaigns, automate them and enjoy your well-deserved Piña colada next to the sea because you've saved so much time that you deserve some rest.
It comes with a ton of features like an easy-to-master campaign editor that will allow you to create responsive email campaigns and create workflows that will make your repetitive tasks less tedious.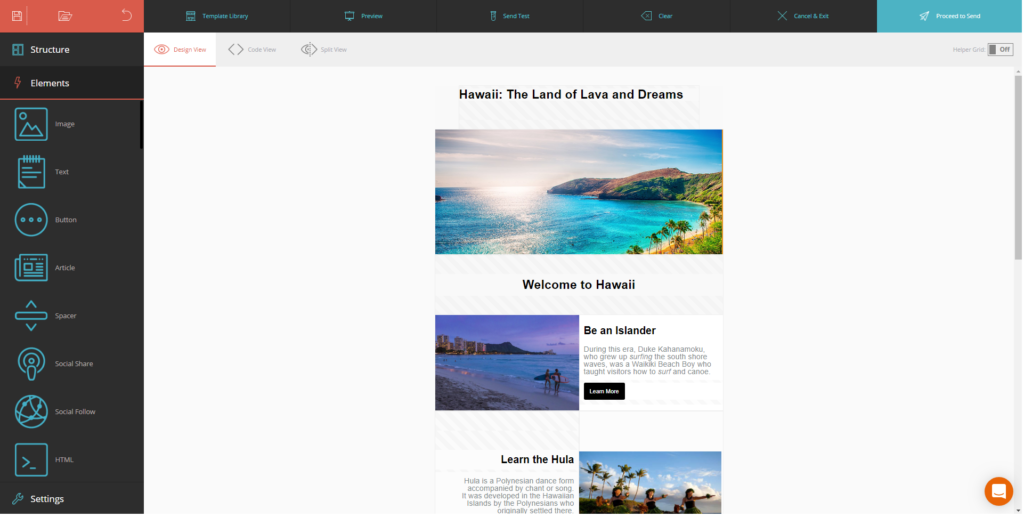 The tool gives you access to real-time email analytics to help you keep track of your campaigns and determine their effectiveness.
Also, you can use the A/B split campaign feature and spam and delivery tests to ensure your email deliverability is on point, as well as to avoid getting flagged as an unreliable source.
Along with that, you can also use the platform to create automation sequences like a cart abandonment workflow that will send your cart abandoners an email when they leave their basket without notice.
The free forever plan includes an unlimited number of emails up to 1000 subscribers that give you the opportunity to create, test and deliver incredible campaigns to your subscribers.
Paid Plan: To send emails to more subscribers and take advantage of the new landing page builder, Moosend's paid plan starts at $10 per month.
2. Clearout
Clearout offers features to automate the process of email list building and email validation. Email Finder is one of powerful tools to find pre-verified B2B prospects on any domain. You can expand your reach and engage with the prospects by discovering their email addresses. It provides assured results backed with a confidence score to build a strong customer database.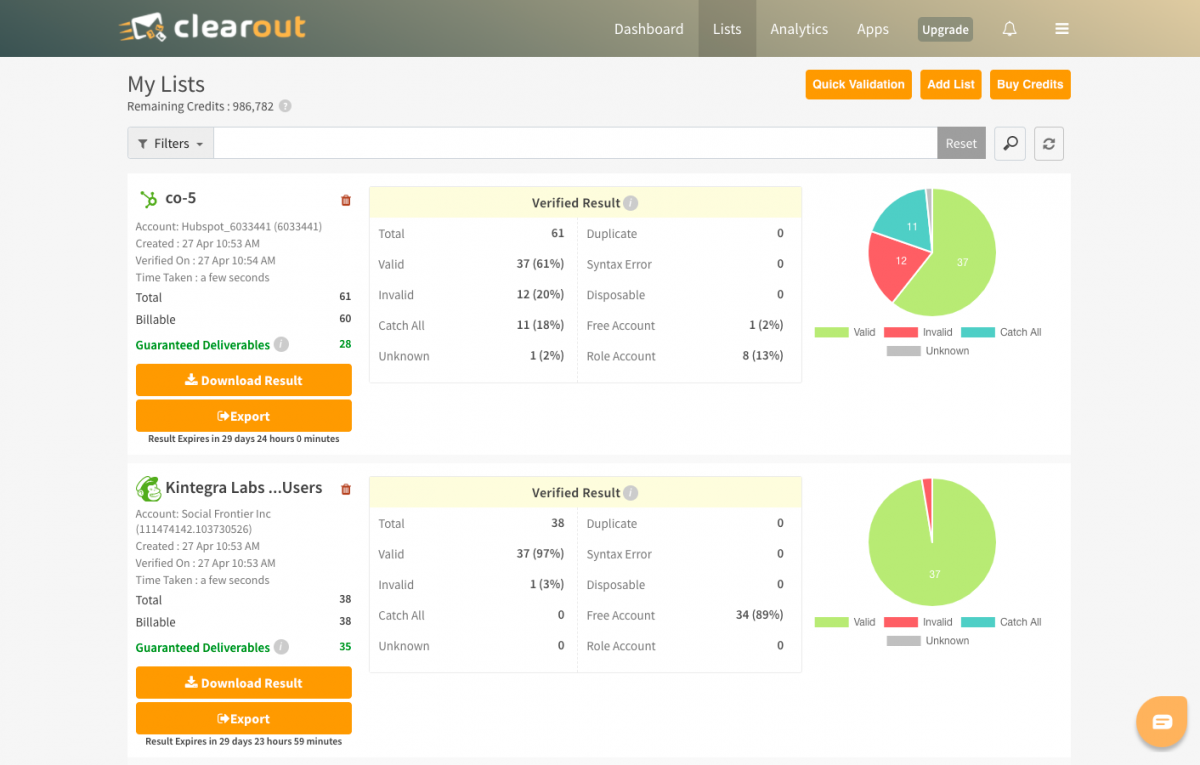 You can understand and predict the results of your campaigns with the 'Confidence Level' for your target audience list. Clearout also offers a highly accurate email verification service to maintain your email list hygiene. You can automate the task of building email lists and validating the email validation at the point of capture.
You can sign up for a free trial and get 100 free credits to test the services.
Paid Plan: You can pay as you go (one time purchase), or choose a subscription (starts from $31.5 for 5,000 monthly credits).
3. EasySendy
EasySendy Pro is an email marketing platform for online gig creators like bloggers, podcasters, vloggers, business coaches, YouTubers, makers, writers, course creators, consultants, freelancers, authors, coaches, musicians, photographers, and startups.
With EasySendy Pro, you can launch various personalized email campaigns to engage your subscribers and customers with autoresponders and automated drip email campaigns.
You can add Web Pop Forms to capture email subscribers from a website, clean email list, build email warmup process, build custom subscriber pages, edit email templates with a drag and drop editor, and do subscriber segmentation filtering. Connect your app / website through API, Google Analytics, WordPress, and Zapier.
So, if you make digital or physical products, provide services, build software, and market/ sell online, EasySendy Pro is for you. 🙂
Paid Plan: Starter Plan – $19/Month – 50000 Subscribers – Unlimited Emails.
4. Sender
Sender is a great email marketing automation tool that allows you to create and deliver effective email campaigns to capture your audience.
One of the benefits of using Sender is that you don't need to be Elliot Alderson from Mr. Robot to use it.
The only thing you need is your vision and creativity to create amazing campaigns that will swoop your audience from their feet.
It also allows you to preview your campaigns both on desktop and mobile, allowing you to tweak your campaigns and make them more appealing and mobile-friendly.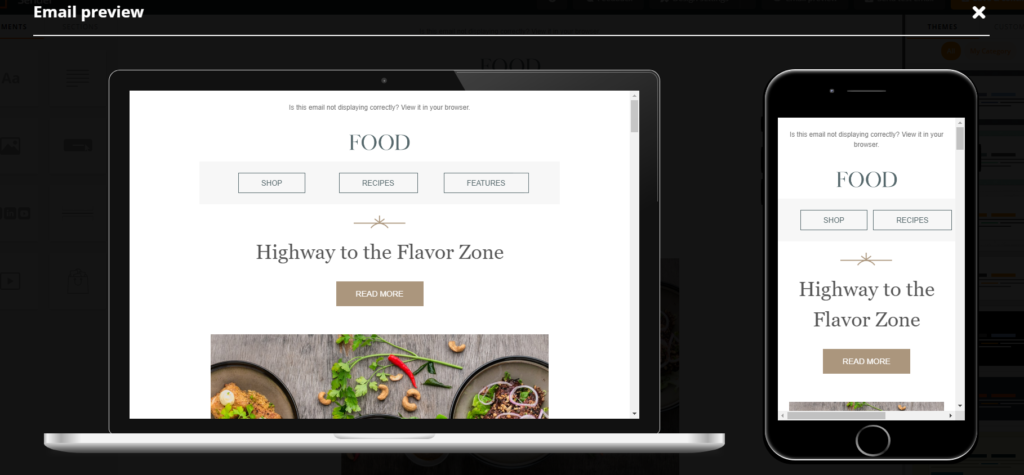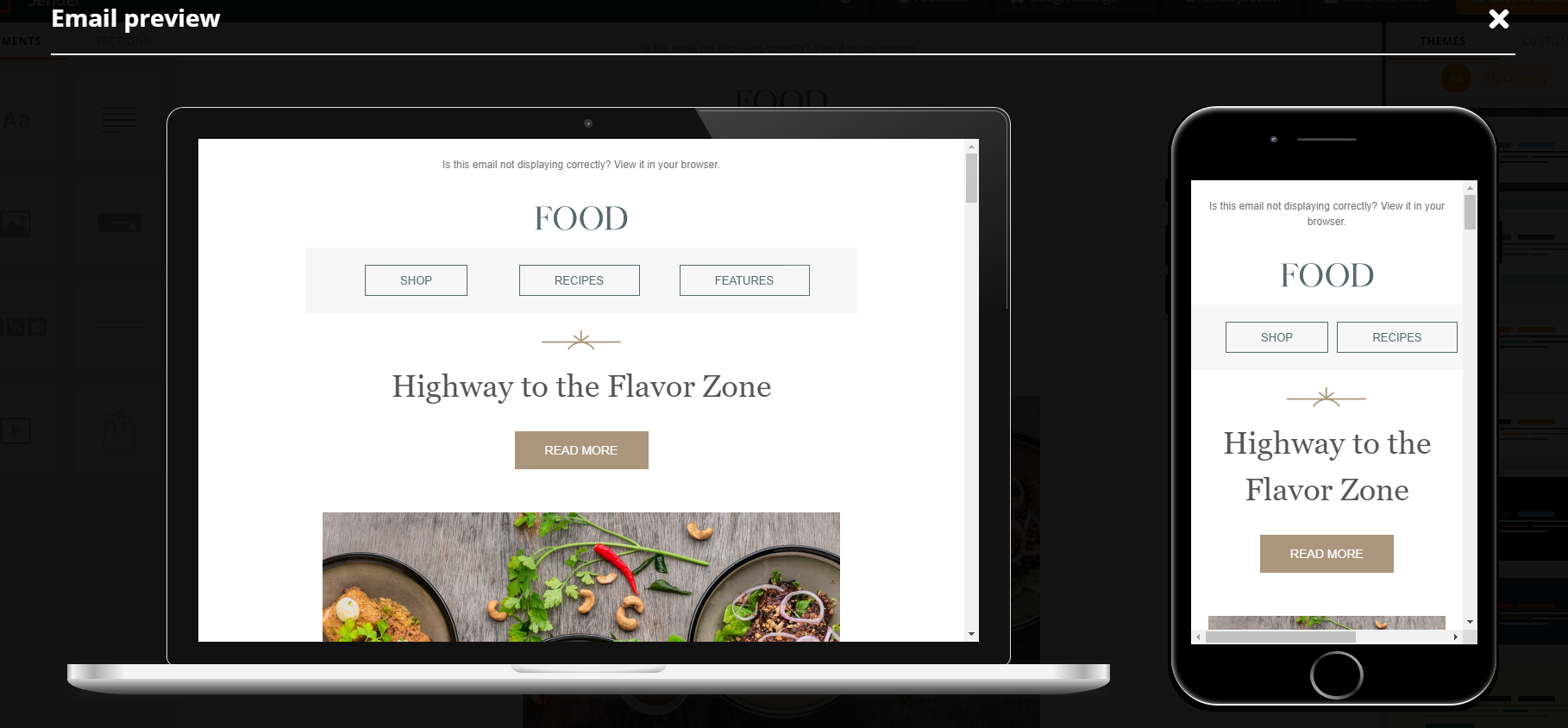 Apart from its easy-to-use editor, Sender gives you access to analytics that monitors your subscribers' behavior and helps you determine the best follow-up campaigns to convert them better.
Choosing the free plan will let you send up to 15,000 emails per month to 2500 subscribers.
Paid Plan: Starts at approximately $10 per month for 5000 subscribers up to 60,000 emails per month.
5. VoilaNorbert
VoilaNorbert helps you find any corporate email addresses, manage your leads and gain a lot of time spent on creating an email list. It allows you to find leads, email addresses and contact information on any websites simply by clicking on a button.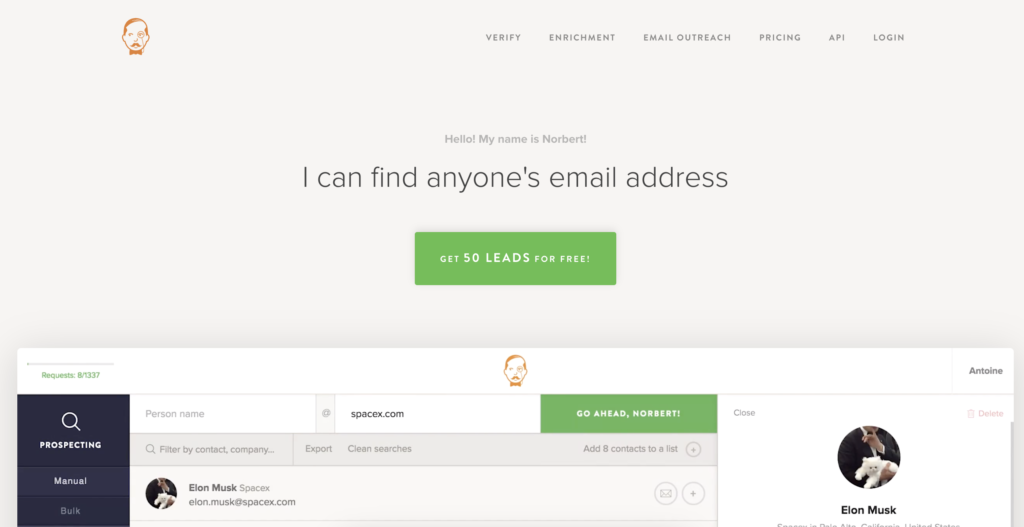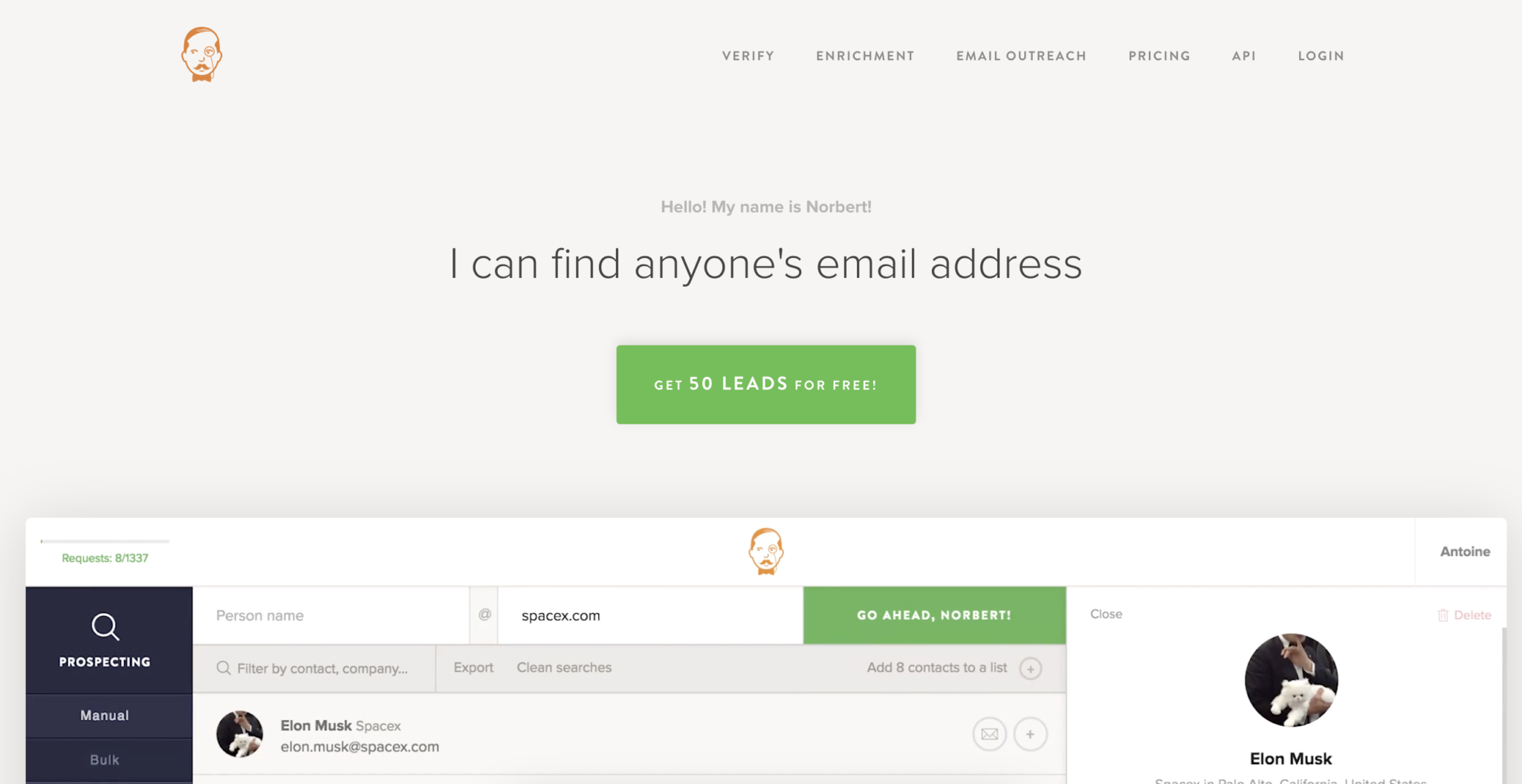 All your leads can then be exported, added into custom-made lists and/or contacted directly from Norbert with advanced tracking tools to know if they opened or even clicked on your emails.VoilaNorbert lets you find any corporate email address, but also has a feature of verifying addresses in bulk.
Paid Plan: First 50 searches are free. After that plans start from $49 per month.
6. NotifyVisitors
NotifyVisitors is an email marketing automation tool that can make life easier for business owners. It offers powerful email sequence building, email list segmentation, and email templates to help maintain highly effective email campaigns.
It also features real-time tracking of email delivery statistics, helping you ensure your messages are landing in the right inboxes.
With NotifyVisitors, you'll get valuable insights into your customers to better understand their needs and tailor your email messaging accordingly. From drag-and-drop email creation to easy integration with major CRM tools, NotifyVisitors makes email marketing automation simple no matter what size business you have.
Paid Plan: $49/per month (up to 5000 contacts, up to 75000 email sent).
7. MailerLite
MailerLite offers a well-designed email campaign editor which you can use to create and customize your next big email campaign.
While you can't access their email campaign templates with your free plan, MailerLite gives you all the freedom you want to create your own.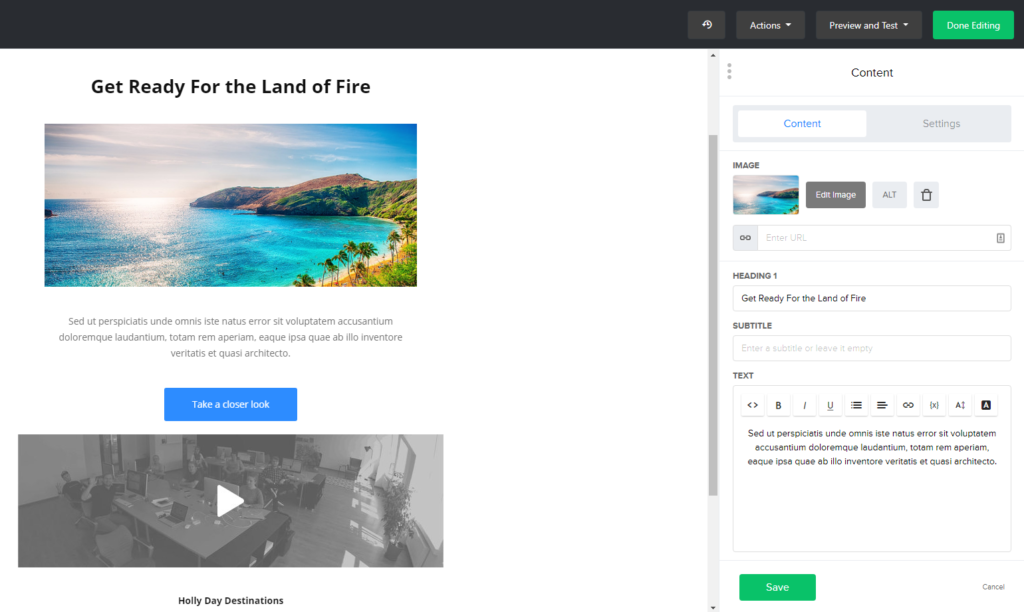 With this email marketing automation tool, you can also run your own A/B tests to determine what content speaks to your subscribers best and help you increase your conversions and sales.
If you choose MailerLite, the free forever plan includes 1-1000 subscribers and allows you to send up to 12,000 emails per month.
MailerLite's software is a great option for those who want an email marketing tool that combines email campaign creation, landing pages, and website pop-ups.
When you sign up for the free plan, MailerLite will give you a 14-day trial to test all features and decide whether you want to upgrade your plan.
Paid Plan: MailerLite has a subscription-based plan that starts at $10 for unlimited emails but for 1000 subscribers.
8. Mailchimp
Mailchimp is such a popular option out there that's really hard to miss.
With Mailchimp, you'll be able to create, test and improve your campaigns, as well as receive informative reports and statistics.
Getting the hang of the campaign editor is easy and simple to do within a couple of hours.
Compared to the other email marketing automation tools in our list, Mailchimp has a separate edit section that allows you to modify your text and see the end result on your template.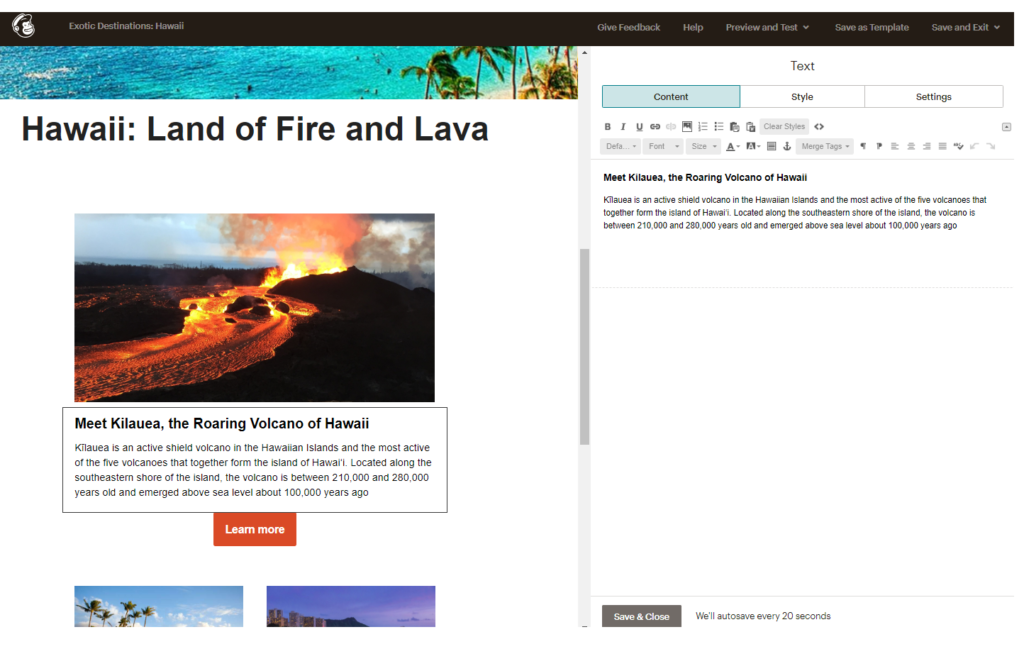 Another plus is that Mailchimp has a huge integration list that helps you connect your apps and increase your productivity.
While Mailchimp has a variety of great features that aren't included in the free plan, you can get all the basic email marketing automation tools to get you started.
The free plan hooks you up with 7 marketing channels, marketing automation, some basic templates, marketing CRM and it allows you to send emails to 2,000 contacts.
Paid Plan: If you want more, the standard paid plan starts at $20 per month.
9. Mailjet
Mailjet has a free plan that includes all the basics you need to send your first email marketing campaign and increase your sales.
While Mailjet's premium features like segmentation, A/B testing, campaign comparison, automation, and real-time monitoring are available for a 30-day trial only, the platform will help you get the hang of email marketing automation for free.
Using its advanced email campaign editor named Passport, you can create responsive email campaigns fast, as well as preview your emails to see how they look on different devices.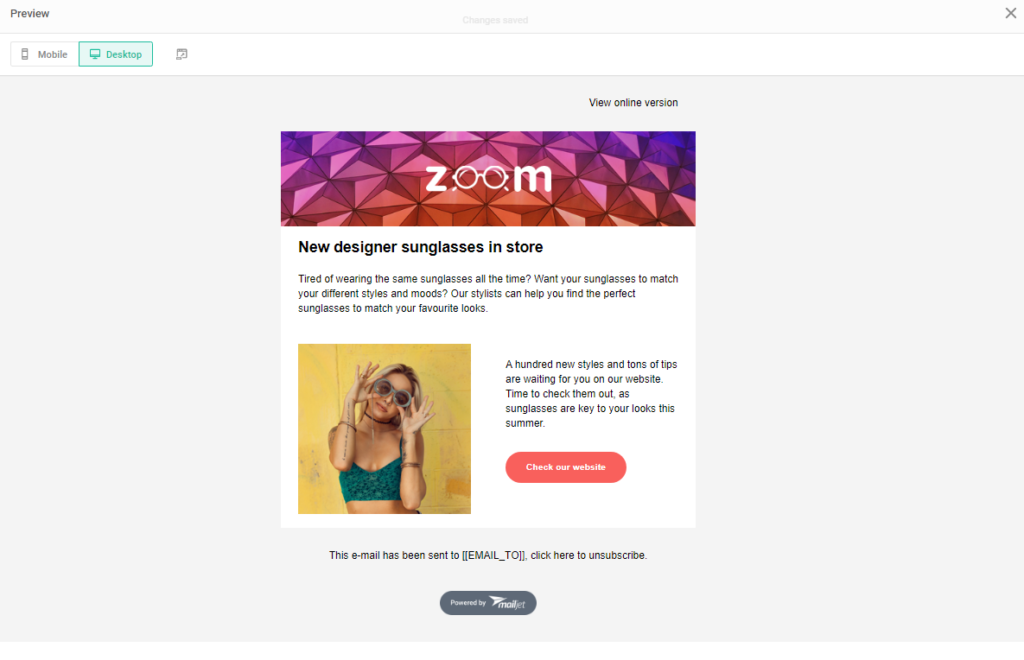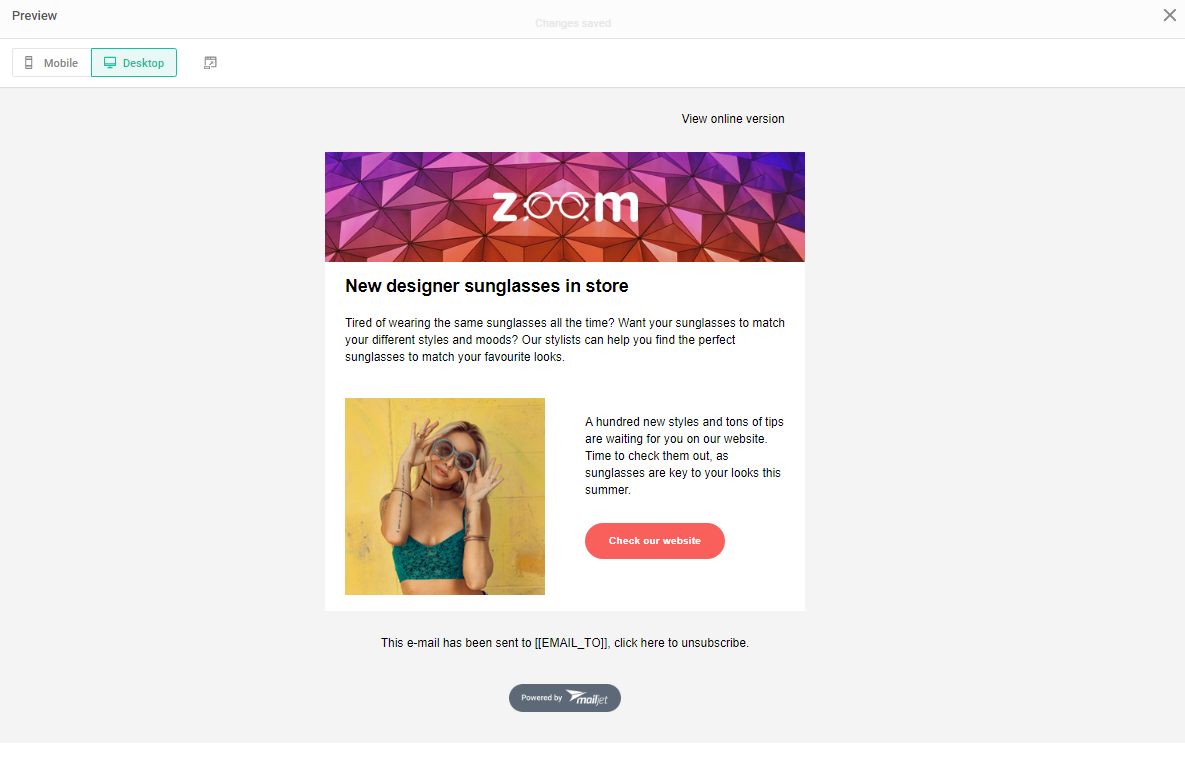 With the free plan, you can send up to 6,000 emails per month (200 per day) to unlimited contacts while taking advantage of the Passport editor, API access, and statistics.
Paid Plan: To get full access to all of the features, you can use their Premium plan starting at $18.86 per month for up to 30,000 emails per month.
10. Zoho Campaigns
Zoho Campaigns is a great email marketing automation tool to create effective email marketing campaigns that will be personalized and converting.
Apart from being super easy to register, Zoho Campaigns allows you to create subject lines that will be personalized to increase your conversions and open-rate.
The tool gives you three options when it comes to creating your amazing campaigns.
Emails can be found in your saved, pre-designed or basic templates to make the process of creating email marketing campaigns a piece of cake.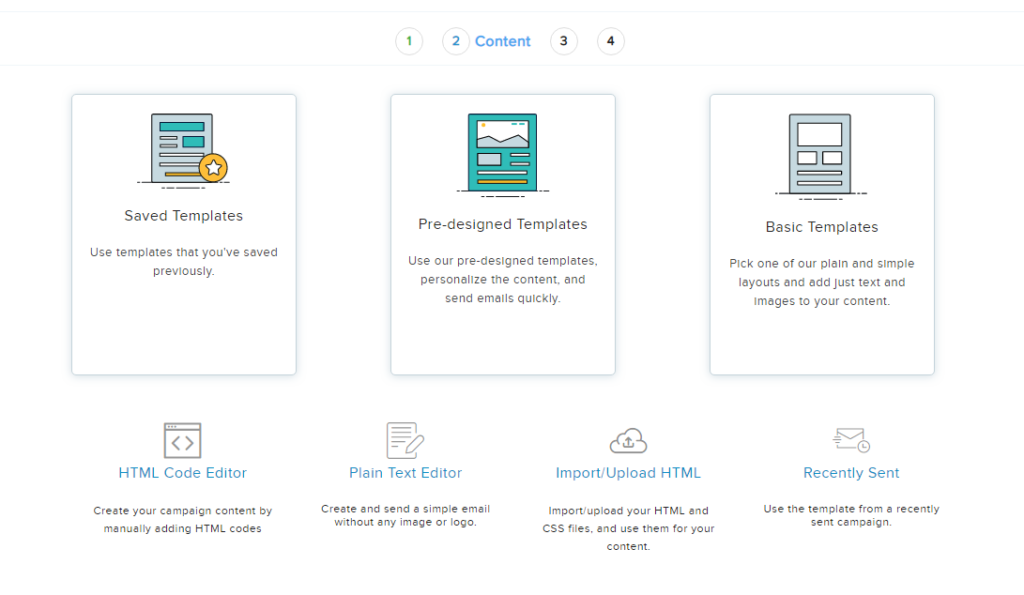 Regarding its free forever plan, Zoho Campaigns lets you send 12,000 emails per month to up to 2000 subscribers.
Another plus is that forever free users can get access to various marketing automation features like the autoresponder creation to engage with your customers at the moment they click on a call-to-action.
Paid Plan: If Zoho Campaigns suits your needs best and you want more, their subscriber-based plan starts at approximately $5.50.
11. Aeroleads
AeroLeads is one of the well-equipped automation tool to bring out enriching client lists from business platforms like LinkedIn, Xing, CrunchBase, AngelList, etc,.
Gaining credentials from the internet can be either be bought of the market or obtained by spending hours of manpower.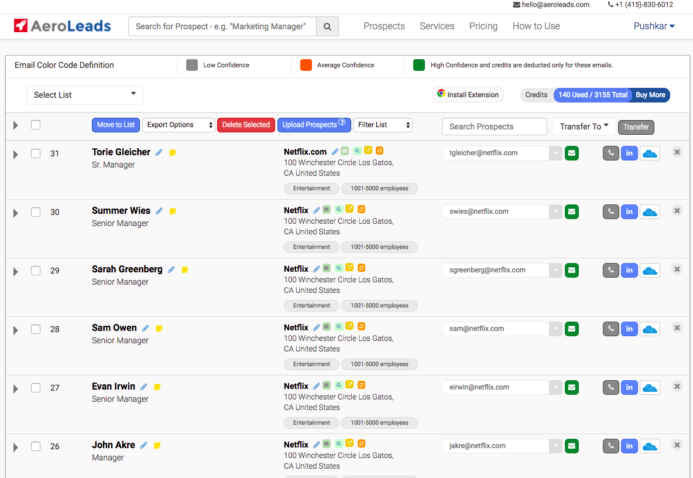 AeroLeads gives you an exclusive experience on getting hands over potential prospects Email Id can help you out a lot in Email Campaigning.
Email Marketing strategy is one of the best way to build relations and generate revenue through leads. This tool would allow you to enlist all the business Email Id's, company details, contact details, etc., all in one CSV file that can be exported to CRM, Salesforce, Zoho helping out in your Email Campaign.
Paid Plan: As much as the free trial are immense help to your email campaigning, the paid version would be much more helpful, giving you access to more than 1000 Credits for $49 per month and 15,000 Credits at $499 per month.
12. EmailOctopus
EmailOctopus is a platform that lets users send emails through the Amazon Simple Email Service.
The platform has an amazing campaign editor that is super easy to use without any technical expertise.
While EmailOctopus offers the basics, its simplicity, template management, and bounce and deliverability tools can help you work on your bounce, open and click-through rates.
The free plan called Shrimp allows you to send to 2,500 subscribers up to 10,000 emails per month, while it allows you to store reports and statistics for 30 days.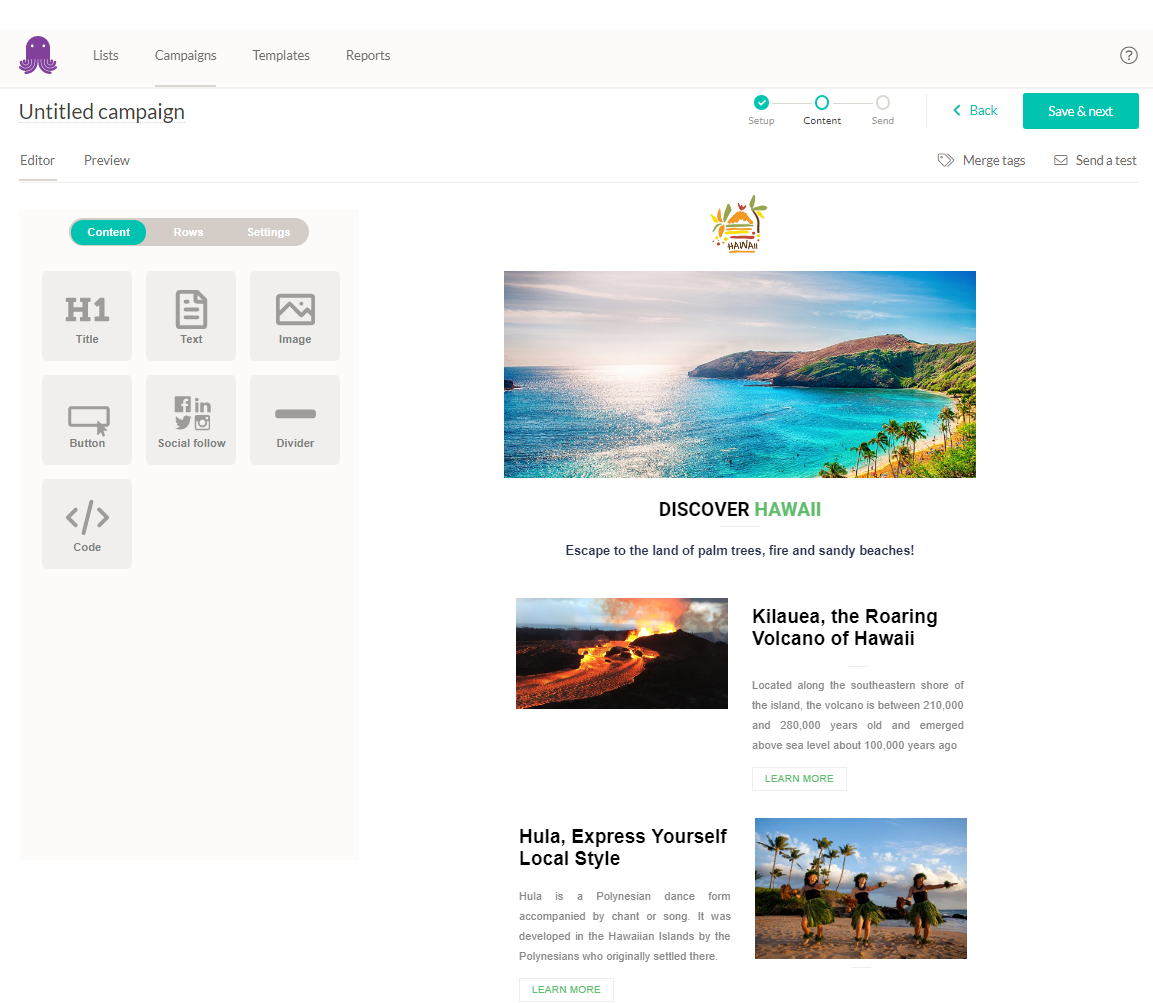 Another plus is that EmailOctopus is GDPR compliant.
Since GDPR affects online marketing in various ways, making sure that your email marketing automation software is in agreement with it is a must.
Paid Plan: EmailOCtopus has a paid plan that gives you more features with $20 per month for a total of 5000 subscribers.
13. Sendinblue
Sendinblue is an email marketing automation platform that's perfect for brands or any SaaS business that are new in the email marketing and marketing automation arena.
With a minimalistic campaign editor, Sendinblue gives its users a clean and tidy interface they can master and use to create their first email marketing campaigns.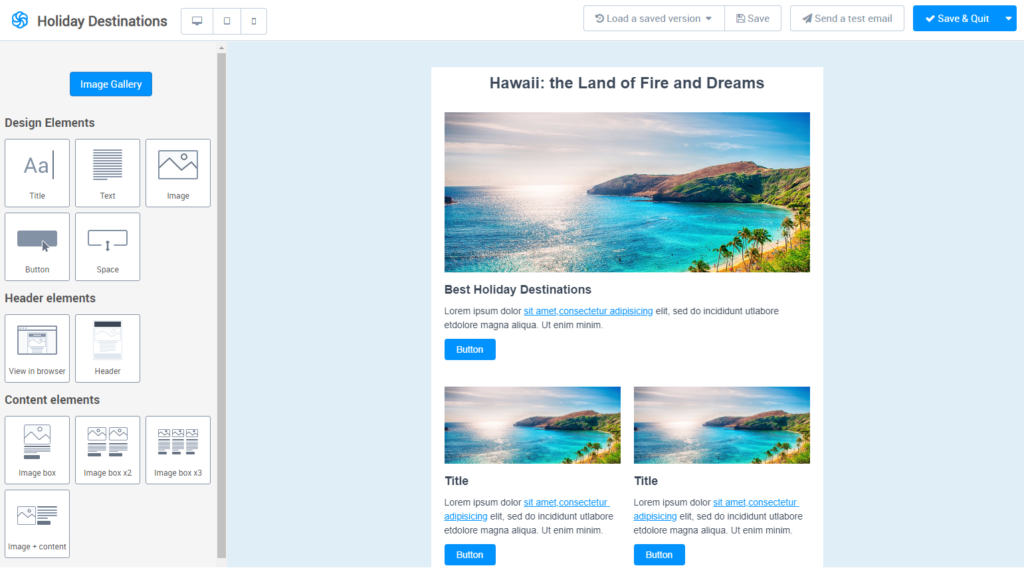 Apart from the editor, the tool allows you to manage your leads and increase the success of your lead generation efforts.
With the platform's contact management and analytics, you will be able to collect customer insights that will help you make your campaigns more efficient and personalized.
The forever free plan allows you to send 9,000 emails per month to unlimited contacts.
While brands with smaller mailing lists will benefit greatly from this, bigger enterprises with bigger mailing lists might need something more.
Paid Plan: Sendinblue's Premium plan will lift the daily limit of 300 emails and give you access to marketing automation, real-time reporting, and send-time optimization for $66.
If you want something cheaper, the Lite plan starts at $25 per month.
14. SendPulse
SendPulse is a multi-channel email marketing automation platform that allows you to create email campaigns, SMS, Viber, and Facebook Messenger chatbots to promote your business. If you use Whatsapp though, Zoko.io would be a superb choice for all your business communication needs.
It has a clean drag-and-drop campaign editor you can use to create your email campaigns easily.
One of the features you get to use in the free plan is the A/B testing tool, which gives you the opportunity to test your campaigns and see what subject lines and content convert best.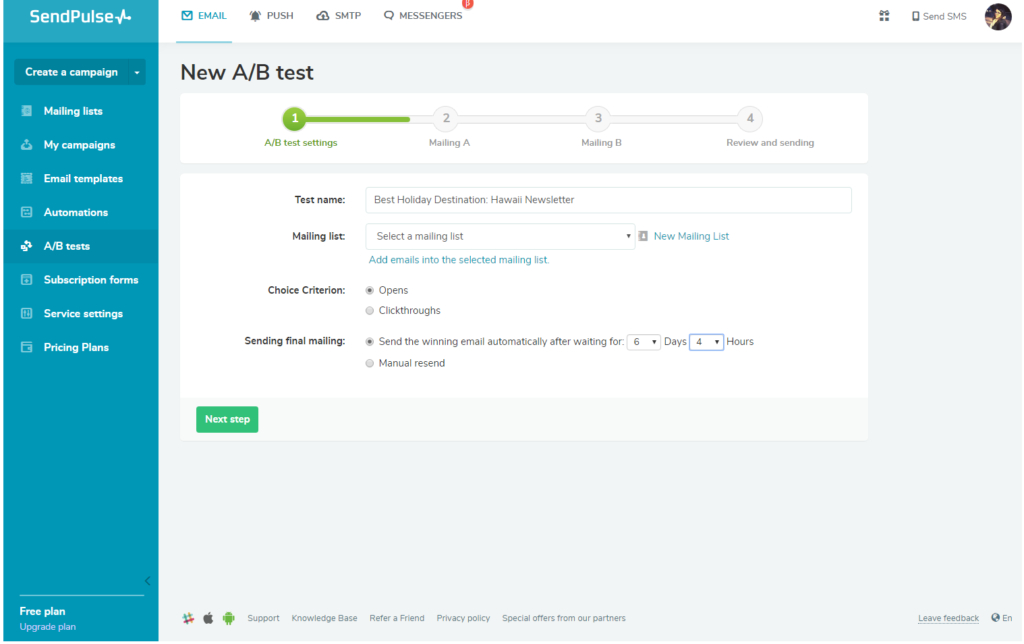 Also, the platform has a subscription form builder that you can use to create your own forms either from scratch or with SendPulse's form templates.
With the free plan, you can have up to 2,500 contacts and send up to 15,000 emails per month.
Paid Plan: If you want to upgrade your plan, SendPulse has subscription-based plans that start at approximately $10 for 2,500 subscribers.
15. Benchmark Email
What makes Benchmark stand out is its live-editing feature that allows marketers to edit and enhance photos on the spot without leaving the editor.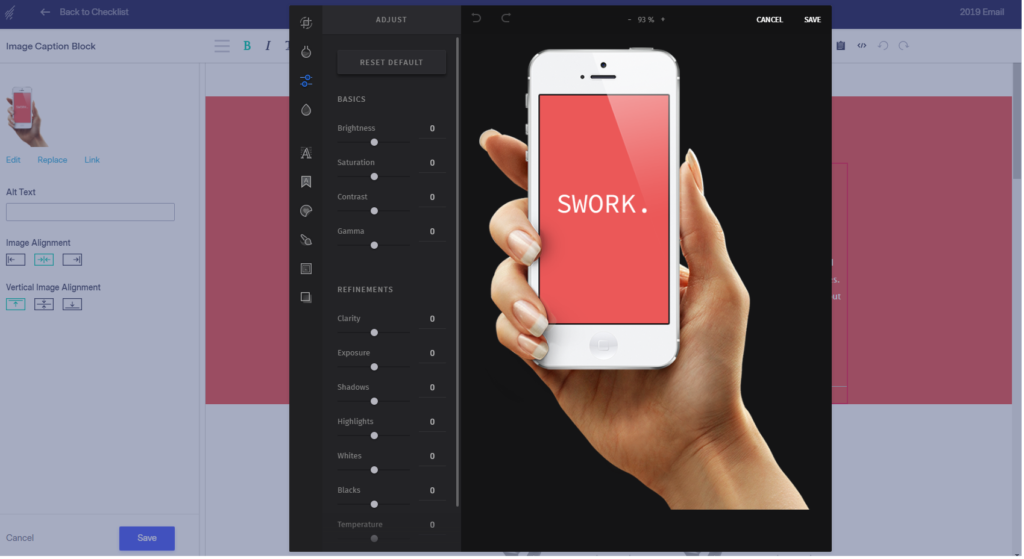 Another plus is that you can use Benchmark's Inbox Checker feature to check how your emails appear on different mobile devices.
Along with that, the tool allows you to run spam filter tests to increase email deliverability and promote sender reputation.
Despite the fact that free plans don't have a phone assistance service for a home phone or cellphone, Benchmark will give you a call when you sign up to help you get started and answer possible questions regarding the platform.
Benchmark's free plan allows you to send up to 14,000 emails per month to 2,000 subscribers.
Paid Plan: The platform has numerous premium plans that give you access to automation and premium support. For example, the Pro plan starts from $13.99 per month.
Takeaway
Email marketing automation is one of the best tools that marketers should keep in their marketing toolbox.
There are a lot of benefits that come with a great email marketing automation platform.
To name a few, email marketing can give you the best ROI out there, can reach a huge target audience without getting you involved in the tedious process, so that you can build connections, solve customer problems, increase your revenue and promote your growth long-term.
Choosing the right tools of the trade will help your marketing endeavors and promote your business growth.
While it takes only a few minutes to sign up and get started, choosing the right tool can take more than that.
To make things a bit easier for you, take a look at the 11 best free email marketing automation tools in our list, try them yourself and when you find the one that suits your needs, send your customer amazing emails!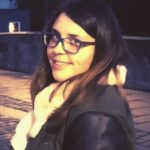 This is a guest post by Marilia Dimitriou.
Marilia is a Creative Writer working for email marketing software Moosend. Her passion for writing has made her find new ways to combine the art of Creative Writing with SEO Copywriting.