If you've opened this article, chances are, you already understand the importance of collecting customers' reviews. Leaving aside all sophisticated arguments, simply put, reviews work. They work for the same reason word-of-mouth and referral marketing do: social proof. The most mature salespeople in the universe won't be so persuasive as your real satisfied customers.
Are you still doubtful? Let's take a look at the following numbers and facts.
Social proof is based on a few psychological principles. These principles say that people get attracted to everything that relates to them somehow. That happens when people read the review which describes the same challenge they have. Think about it: the astonishing 95% of clients take into consideration reviews before making a purchase.
But what about business goals?
An increase in reviews can lead to significant improvements in conversion rates. The explanation for this is obvious: more testimonials and positive feedback equal higher brand credibility, thus, more customers.
What's more, reviews and any other types of social proof are perfect assets for your marketing strategy. You can publish them on your corporate social accounts, embed in emails or feature on your website. And most importantly, collecting reviews can significantly improve your services and products. Customer feedback is a huge source of crucial insights.
Wrapping up, your company will benefit from reviews in many ways. We have listed 11 powerful techniques you can use to collect insights from customers.
Choose an appropriate email type
Proactively asking for customers' feedback strengthens your relationships with them and reduce churn. Also, reviews improve your organic and local search rankings: the more reviews, the higher the position in Google.
One of the most effective, fastest and straightforward methods to collect reviews is through emails. Email might be the fastest and most effective way to request a testimonial. Review request emails may be especially useful if you're just getting started.
But there are many types of emails: welcome emails, thank-you emails, onboarding emails, etc. Which type should you choose? We'd recommend you start using post-purchase emails. The statistic shows that as much as 70% of reviews come from post-transactional review request emails.
Post-purchase emails are messages sent after customers complete purchases. The first hours or days after is the period when customers will be more likely to leave a review. Depending on the products you offer, it may take from a few hours to a couple of months. Let your customers take the time to test your product.
Since asking for reviews can be tricky, having a thorough plan will ensure a higher response rate.
Don't put it off
The biggest mistake you can make is constantly putting off collecting reviews. There's one ground rule: if you want to feature testimonials on your website and increase your conversions, you have to start asking for testimonials now. Period. Now is the best time. The sooner you start, the sooner you'll get reviews. Once the customer has made a purchase, ask them for a testimonial. Just do it.
Ask for permission to send emails at first
Nobody likes spam. What people actually like is to get valuable things. So, resist the urge to slide into customers' inbox without permission. You can reach out to customers via email only if they have clicked an appropriate checkbox or subscribed to become a part of your email list.
In other words, you should have every confidence in the fact that the person would like to hear from you. And even in this case, it's mandatory customers give them an option to 'unsubscribe' according to the GDPR requirements.
Personalize your email
Personalized communication is always a good idea, especially when you ask clients for a favor. One of the most powerful personalization tips is having the owner or CEO of your company as an email sender. Will you more likely to answer an email from a business owner or an outreach manager? It's obvious. This small, yet effective trick will make your clients feel special. Everyone likes it.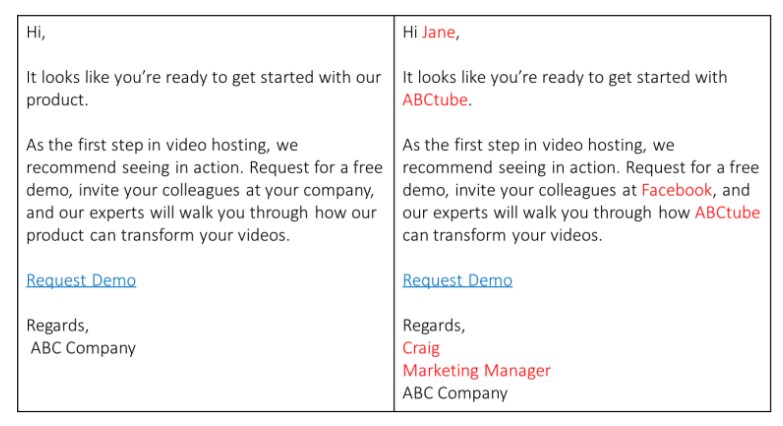 Then, always personalize your emails by including customers' first name and company. Also, mention the specific product or service that they use. Your response rate will be lower if you start your email with dry as duct 'Dear customer'. What's more, you can add some flavor to your emails with the help of a friendly tone. Cold and impersonal emails will demonstrate a low open and response rate. And at the same time, avoid sounding too pushy or needy. It'll scare away your customers.
Fine-tune the main body of your email
Here you have to write something engaging and add value to the clients. Your main goal is to keep your email uncluttered and don't confuse customers about where to look and what to do:
Don't beat around the bush. Explain your reason for reaching out clearly.

Make your content easy-to-read.

Add a lot of whitespaces.

Include images of purchased products. That will help clients to understand what actually they are supposed to review.

Add a bold CTA aligned with your request

Keep it short. Don't make customers read a novel.

Avoid unnecessary phrases.

Let customers know how long the leaving review will take.
Choose the right questions
You need testimonials that help you sell. At the end of the day, the main goal of collecting reviews from customers is to get more new customers. But not every testimonial is effective. That means you have to ask questions that focus on the results and benefits customers get from you. The truly powerful testimonial is a short success story that includes the following elements: Problem, Solutions, Numbers.
Problem. It describes the past when your customers had challenges they were not able to resolve.
Solution. Eventually, they found you and your products.
Numbers. Every good testimonial should describe to what extent

you have solved clients' problems and what specific benefits

customers have received (for instance, 2x growth in revenue).
The power of customers' reviews relies on the quality of your questions. Here are some question suggestions to help you tell a short and persuasive success story in the form of a testimonial:
What were your biggest challenges you were facing? How did it hurt your business?

How did my products or services change your life or business? Which specific business metrics were improved?

What did you enjoy most about your experience?

What makes our company stand out from the competition?

Would you recommend my company? Why?
Simplify it using a rating scale and NPS
Rating scales, Net Promoter Score (NPS), 'Yes/No' questions and multiple-choice answers are probably the fastest way to collect reviews from your clients. What's more, they are the clearest and most accurate indicators of how clients feel about your products, service, and business. Chances are, you are already collecting NPS or ratings. If not, it's a good time to introduce a testimonial request email anyway.
But first things first. While NPS is quite straightforward, rating scales and multiple-choice answers can be a bit tricky in implementation. So, try to stick to the following rules:
Pre-selected answers should be super easy.

Ask to rate your customers' purchase experience immediately after they have bought something from you.

Using a rating scale, provide a neutral option.
After receiving feedback on your NPS or rating survey, use an automated email system to send a friendly follow-up to the customers who gave you high praise. You'll be more likely to collect reviews from those who have had an excellent experience. Also, give them the option to submit a text or video testimonial.
Offer a small incentive
There are online resources like Yelp and Google Business which prohibit offering incentives for leaving reviews. On the contrary, there is an ocean of websites like GetApp which spam you with the offers to leave a testimonial for $5. Considering that, why not offer a 10 percent discount or $25 dollar Amazon card or whatever else to your customers when asking them to leave a review for your website?
In other words, a small and sweet incentive is one more reason to say yes. An easy way to do this is by providing an incentive: a gift card, company swag, Amazon gift card, coffee gift card, a free brief consultation, industry-related e-book, in-house study, etc. Only if the gift is valuable for the client, you will see an increase in the response rate. So, test out different gifts.
Provide an example
Chances are, it's the first testimonial request your customer ever gets. And sometimes they just don't know what you want from them and what they should write. It's a so-called 'writer's block' which stops customers from leaving a review.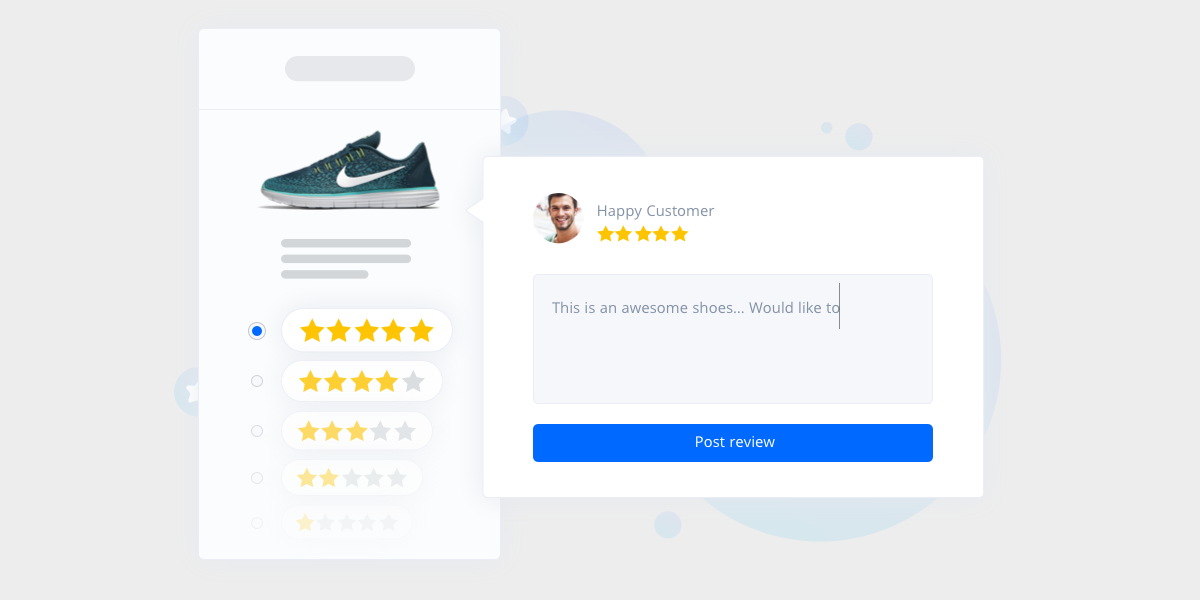 Keeping that in mind, provide clients with examples of existing testimonials. Or you can even consider writing a sample testimonial. That will help tremendously. If they like a sample testimonial, all they have to do is sign their name to it. As simple as that!
Test and adjust multiple times
Try various email variations: different subject lines, incentives, CTA, etc. Then measure results and adjust emails accordingly if needed. Then you will able to pick the top-performing email. You don't know which email copy or incentive will work until you test different options.
Don't hesitate to follow up
There are chances that customers will accidentally forget about your request. Many things can distract them. That's life. This is why it's crucial to reach out to customers more than once. The only thing you should do is to space out these requests accordingly.
Automate the process
Let's face the truth: collecting reviews can be challenging and time-consuming. You can save your time by adopting marketing tools like Trust to automates the whole process.
This app automatically gathers and displays text and video testimonials. All you have to do is approve them and – viola! – reviews are featured on your website. The process consists of a few quite simple steps:
1) Make arrangements with the client to get a testimonial from them.
2) Prepare a personal survey for the client based on the way they prefer to leave the text or video testimonial.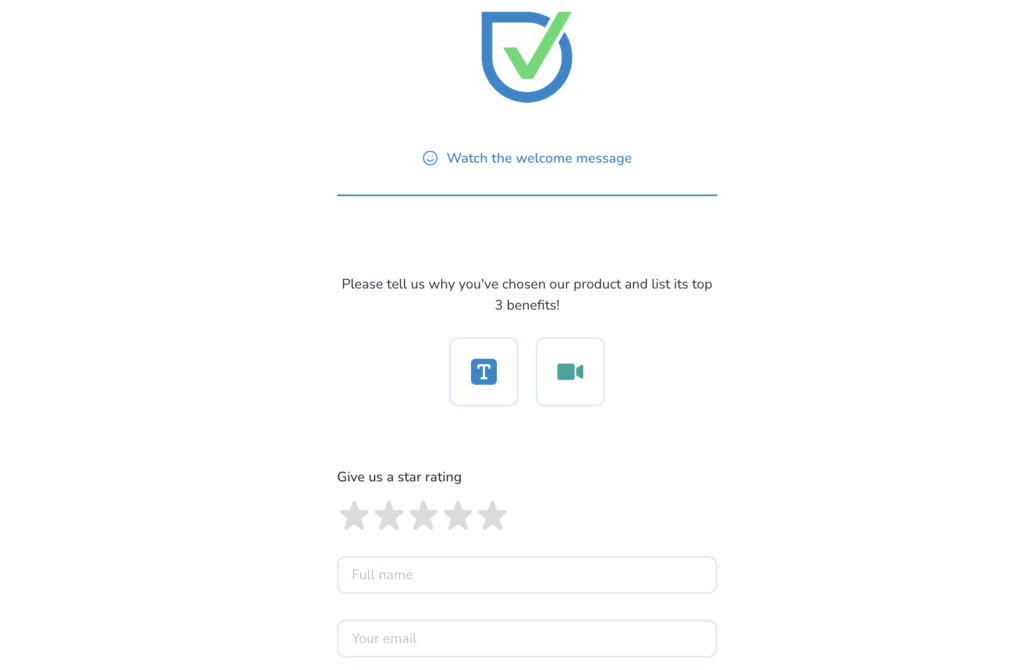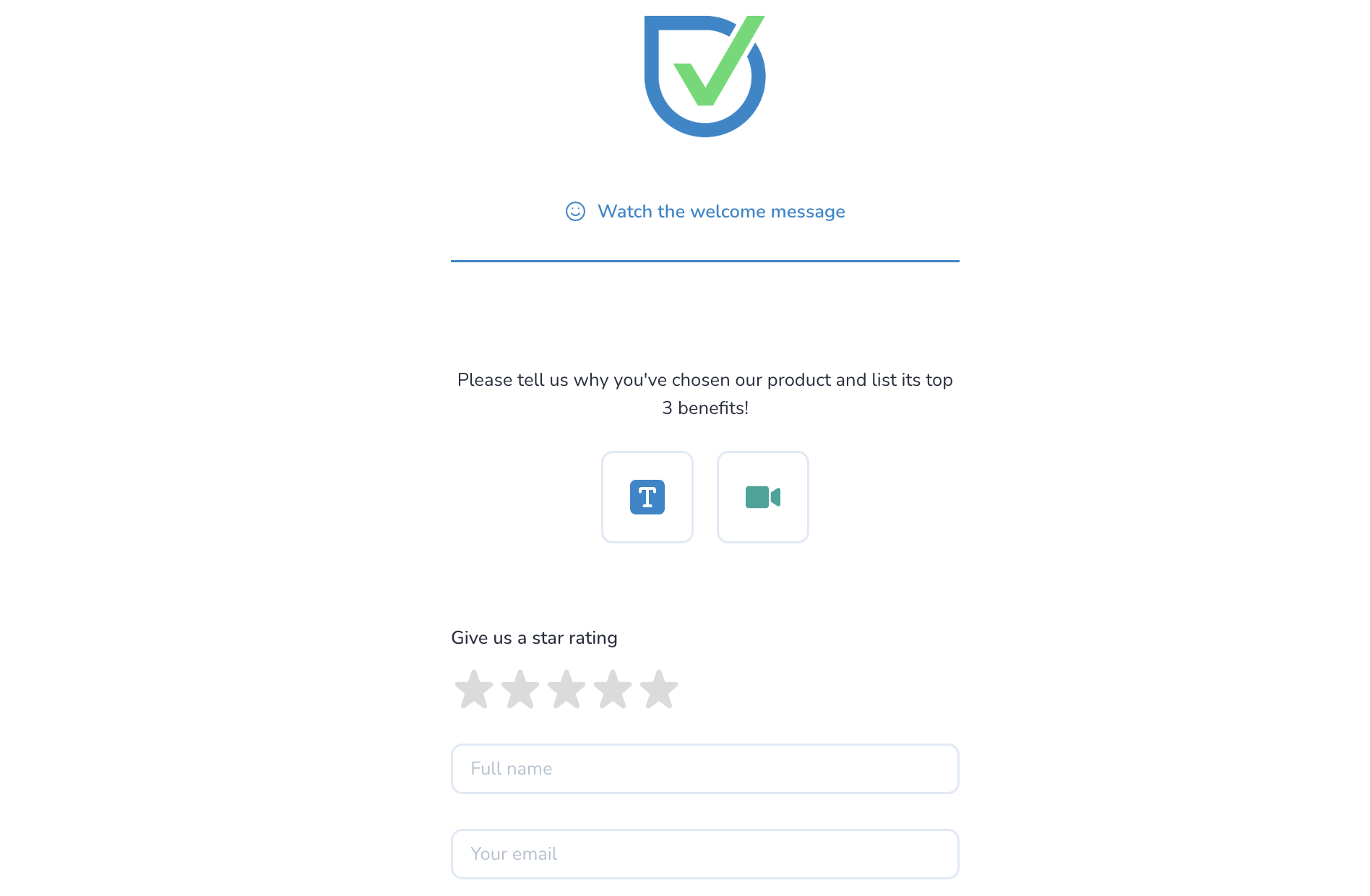 FYI: With the help of Trust, your clients have a few ways to leave the video testimonials. They have the ability to:
Upload an existing video from their computer

Give the URL to an existing YouTube or Facebook video

Record a new video using their desktop webcam or smartphone
3) The customer receives a link to the survey and leaves a video or text testimonial.
4) You approve the testimonial and customize its look if needed.
5) The testimonial goes live on your website as a notification widget or showing it on any webpage embedded into your website.
That's it!
Start collecting testimonials today
Featuring social proof and collecting customers' reviews can be a game-changer for your business. That will help you understand your customers better, measure their satisfaction, build brand credibility, boost your revenue and beat the competition.
There are a few simple and actionable steps to ask for reviews and actually get them:
Don't put it off. Start collecting reviews NOW.
Ask for permission to send emails. Don't be a spammer.
Personalize your message.
Ask the right questions to get a short success story.
Offer an incentive for completing the survey.
Send the client a link to the personal survey and get a video or text testimonial.
Customize the acquired testimonial if needed and feature it on your website.
Test out different email copies to ensure the highest response rate.
Use the above-mentioned tricks as guidelines and craft the most effective outreach emails to increase your chances of receiving more reviews. Good luck!