Every prospective client will decide whether or not to work with you based on your website. Considering that, having a professional website gives you a competitive edge and increases your client base.
The good news is that building a website for your business doesn't need to cost thousands of dollars. Now you can even create it yourself! There is a sea of different content management systems (CMS's) and website builders that can help you with this task.
Ways to create a website: content management system vs. website builder
At the same time, here comes the question: "Which option is the best one?". In this article, we'll try to give you the most comprehensive answer. Let's get it sorted out and take a look at two main ways to create a website with their pros and cons.
Content management systems (CMS's)
A content management system, often abbreviated as CMS, is software that runs on a web server and lets you create, store, search and manage your website. Popular CMS's include WordPress, Joomla and Drupal. The process of using a CMS usually has the following steps: 1) domain name purchase, 2) choosing a host, 3) CMS installation, 4) choosing the website theme and different add-ons, 5) setting up CMS and adding different plugins.
Pros:
You can quickly build the website with the help of a simple theme

You can design your own layout with a drag-and-drop builder

There are of free and paid themes and add-ons to choose from

You have more control over the design and features
Cons:
You'll have to find a host

You'll have to do your own maintenance, backups and handle security

They can be more difficult to use and take longer to learn
Website builders
Website builders make it super easy to create a website on the builder's own hosting platforms. Their greatest strength is their ease of use due to their drag-and-drop elements. The most popular website builders include Squarespace, Wix and Tilda. Website builders offer hosting, maintenance, security and backup services.
Pros:
Easy-to-use

You can create a website in a few hours

No need to choose a host
Cons:
Website builders are not flexible, scalable and customizable
You can't move the site to a new host
You might not get your own domain name
What to look for in a CMS and website builder
Which website builder should you choose? The choice depends on your skills, the amount of time you have, budget and business goals. In the long-term, the platform you've chosen will affect your versatility and functionality. Let's run through the points you should pay attention to:
Pricing. Remember that free is not always cheap as well as expensive is not always the best.
Pre-made templates, suitable for your business. Check out if the platform which you are going to choose has themes and plugins that are fit for your company.
Length and scale of the project. Make sure that the software you are about to start using, provides options to upgrade.
Migration options. Having the option to migrate to another website platform is vital if you are running a long-term project.
Blogging functionality. Content marketing is king. But some website platforms do not have strong blogging features. Keep it in mind.
Advanced marketing features. If no one can find your website on the web, it is absolutely worthless. Today you must take advantage of the various available marketing tools to drive more traffic your way, convert more leads and win more deals. It's crucial to check if your website platforms support some necessary extensions, plugins and tools.
But the question remains: what is the best choice, a CMS or website builder? Before we choose the best option for you to build a website, let's compare the most popular CMS and website builders. In this article, we've put together the information that will help you build your first website without blood, sweat and tears.
Most popular website builders compared (Squarespace, Wix, Tilda)
There is an ocean of ways to create a website, from using a simple text editor to hiring a web development team. Luckily, nowadays website builders make it super easy to go live on the web almost in a click. Now we are going to take a look at three well-known website builders: Squarespace, Wix and Tilda.
Squarespace
Squarespace is a well-known all-inclusive website builder focused on beautiful design templates. Squarespace's services include almost everything you need to get started with your first website. This website builder is opposite to the services where you should manage all stages of creating and running the website by yourself.
In a nutshell, Squarespace's target audience is non-developer clients. Squarespace operates like an apartment leasing company: there's the ability to change the design, but you leave the maintenance, security, and infrastructure to Squarespace. With this website builder, everything may fit together just right, but this 'everything' may not be what you're looking for.
Squarespace's pricing
Pros:
Beautiful design templates. Squarespace offers a hub of beautiful templates that rely heavily on photography. As a result, you can make your template unique by adding your own photographs.
Note that almost all templates require high-resolution photos. Make sure that you have the proper imagery to make your website professional.
All-in-one platform. Squarespace's functionality is built-in. That means there's no figuring out if this plugin is compatible, no troubleshooting, no spending time on research. Even website analytics is included within the platform.
Intuitive interface. Squarespace extends the beauty of their designs to the user experience. That makes building the website interesting.
Customer support. Squarespace offers 24/7 live chat and email ticket support (only in paid plans!). However, be aware of the lag time between your questions and customer support responses. That can potentially create miscommunication and prolong your issue.
Cons:
Pricing. If you compare Squarespace to their direct competitors like Wix and Weebly (we'll analyze them below), they come out more expensive.
The limits of paid plans. The main issue of Squarespace's pricing options is their caps. Their paid plans are limited to a single website. Their lower tier plans cap the number of pages and products, etc
Lack of advanced marketing tools. In the situation when you have to actively market your website through thousands of marketing and advertising channels, Squarespace's built-in marketing features may disappoint you. A/B Testing is not integrated. Integration with Google Analytics, Google Search Console, Facebook Pixel and other options are buried in Advanced Settings.
Difficult backend user functionality. We are talking about editing and adding content, adding blog functionality, editing the design template, etc.
Is Squarespace worth it?
Squarespace is a code-free, all-in-one website builder that features truly awesome and professional design templates and all basic functionality. However, the platform certainly has a bias towards design over functionality and (that's bad news) marketing. What's more, the pricing options are expensive and have some annoying limits.
Squarespace is beautiful and well-designed. But when you are actually building your website, there's a feeling that it is harder than it really should be. To sum up, if you have zero experience, with this website builder you will find a learning curve.
Wix
Let's move further to the main Squarespace's competitor. Wix is one of the best-known website builders being around since 2006.
This solution is all-inclusive: you build your professional website on their platform using their tools. Your website lives on their servers and you can only access it via the admin panel. It's in contrast to solutions where you buy, install, and manage all the "pieces" of your website separately.

Wix's pricing
Pros:
Almost free of charge. Wix has a free plan.
Really simple to use. Wix is the go-to solution for DIY website owners that features no-brainer drag-and-drop functionality.
Reasonably-priced.Their paid plans aren't outstanding (they are actually a disadvantage listed here shortly).
Solid mobile experience. You can quickly get your website started on mobile.
Good design templates. While not quite up to Squarespace's templates, Wix offers a solid selection of great themes. And most do not require giant, professional photos.
Business customization. Wix's design templates are specific to target markets and typical customers. this website builder offers various custom templates and features for many markets.
Good support. Wix does support via Knowledge Base, phone and email tickets.
Cons:
Wix has a free plan, but only if you use a Wix subdomain. Using a free plan, you also have to display Wix ads, have limited functionality and file storage limits. To use a custom domain and have full functionality, you have to pay for a premium plan. To sum up, the Wix free plan is great for a short-term project or testing Wix out before buying a free plan. But let's be honest: this free tier is useless for a professional website.
Limited paid plans. Their tiers are reasonable – though it is worth paying close attention to the caps and whether you actually need the bonus features (ie, Form Builder).
There is no way to export your data. If you do need to move to another platform, you can't bring anything with you. You'd have to manually copy and paste your data to your new website.
Site speed. Wix's sites run off lots of Javascript. As a result, their site speed tests can differ not for the better.
Price. Although Wix's paid plans start from $4.5 per month, the Starter plan doesn't remove Wix ads. And if you are using Wix for more than a few months, they are going to be much pricier than other website builders
'Fake' apps and extensions. Wix offers a wide selection of third-party apps. However, adding, for instance, the Etsy app doesn't actually add Etsy features to your website. Instead, it adds an Iframe (ie, a window) for users to navigate your Etsy online shop while staying on your website. Technically, it works, but this solution is still not perfect.
Lack of advanced marketing tools. There are many advanced marketing features and tools – like Schema, pixels, retargeting tools, custom share buttons, custom email collection tools – all are either difficult to add or unavailable in Wix.
Is Wix worth it?
Wix is an intuitive and code-free website builder focused on DIY small business owners who just need something that works. Wix does a great job getting their users started from a good place, rather than from scratch.
However, while this platform is easy and useful for most customers, keep in mind that any advanced marketing, conversion rate optimization, SEO tools may be out of reach. Especially you will lack these tools when you want to skyrocket your business growth and increase revenue. That is something to know when figuring the best fit for your company.
Tilda
Another option in the world of website builders is Tilda. Tilda is mainly focused on creating landing pages. This platform will help you create attractive basic websites without any code.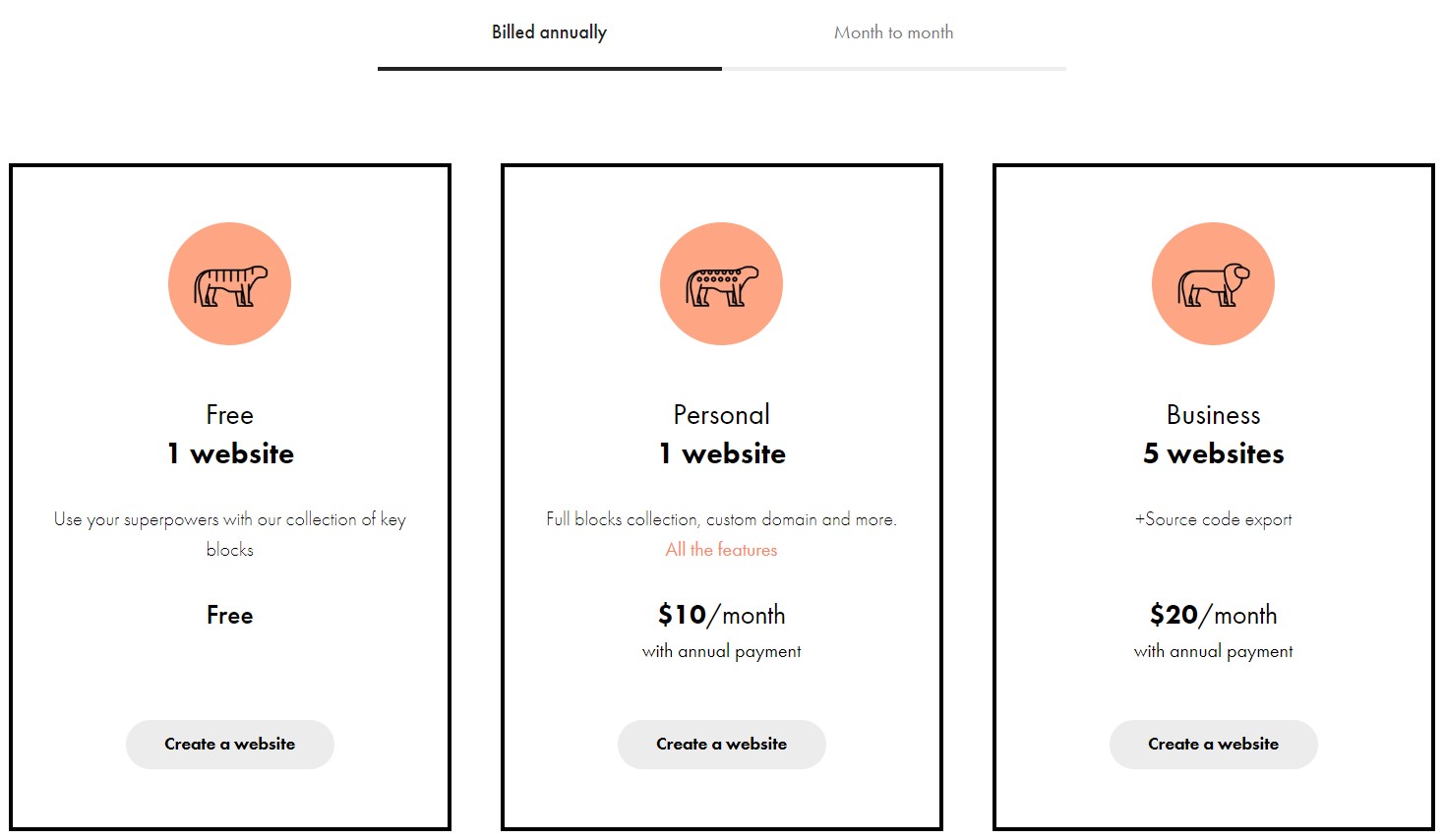 Tilda's pricing
Pros:
Intuitive. The user interface is logical, visually-appealing and perfect for newbies.
Easy-to-use. You can build your page with the help of a 'module system', a wide range of pre-designed blocks.
Good templates. Tilda offers various page templates with ambient background video, photo gallery, appealing typography, widescreen covers, etc.
Adaptive. Your website will be automatically optimized for smartphones and tablets.
Deep design customization. Here you can find extensive design customization options of your website blocks.
Basic animation effects. Tilda allows you to create interactive pages with nice animation effects.
Cons:
Limited support options. Support only via knowledge base and emails.
Handy, but too basic functionality including marketing and growth features. Not to mention that there is no document hosting, so PDF and Word documents are not allowed to be uploaded.
Poor integration with third-party tools. There are many complaints about poor Tilda integration with different third-party tools like MailChimp or Shopify.
Too limited free plan.
Is Tilda worth it?
Tilda is pretty good for beginners and short-term projects. This platform will help you create a great looking website really quickly, even you are a complete novice to web design.
However, like any other drag-and-drop website builders, Tilda won't fit your business if you are focused on growing and scaling your business, adopting different conversion tools, optimizing your website for SEO, etc.
Most popular CMS compared (Joomla!, Drupal, WordPress)
Joomla!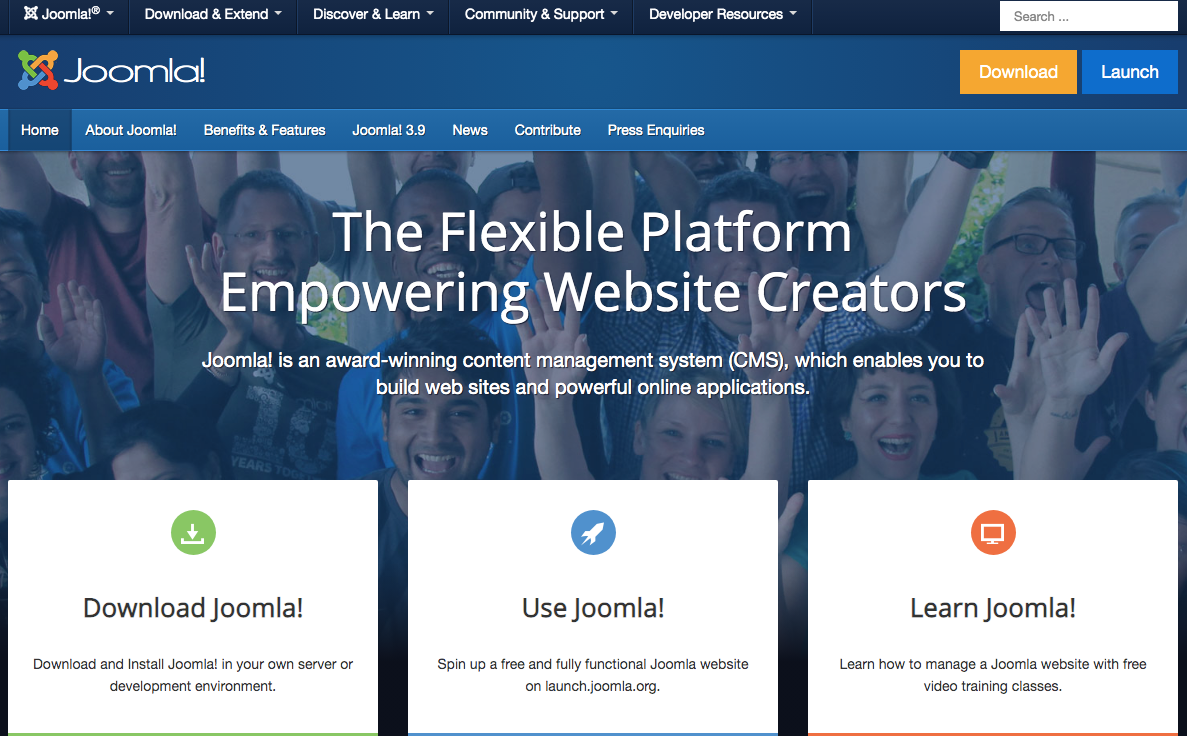 Joomla! is a free and open-source content management system (CMS) for publishing web content. It's perfect for websites with complex navigation and lots of content.
Pros:
Joomla! is multi-lingual and allows for multiple users.
It has advanced SEO features.
8000 extensions are available in the Joomla! directory (both free and paid).
Cons:
There are no themes available in the Joomla! directory. That means you'll have to find them on your own.
Joomla! is more complex than WordPress.
Creating content isn't intuitive.
It isn't easy to customize your website using Joomla! (changing colors or adding extensions).
Is Joomla! worth it?
Joomla! is perfect for websites with complex navigation and lots of content (social networks, e-commerce, etc.). If you create your first website, Joomla! will be too difficult for you.
Drupal
Drupal is another popular CMS, powering two percent of all websites. It is free to download and anyone can modify and extend the platform. However, Drupal requires a good knowledge of HTML, PHP and other programming languages to update or customize it.
Pros:
Drupal offers over 40,000 modules and over 2500 themes in the directory.
Highly scalable and very secure.
Cons:
Drupal is even more complex than Joomla!
Is Drupal worth it?
Drupal is a perfect option for large, enterprise-level websites (government, e-commerce, education) due to its complexity, speed, and security. However, it is not an ideal platform for beginners without web development experience.
WordPress.com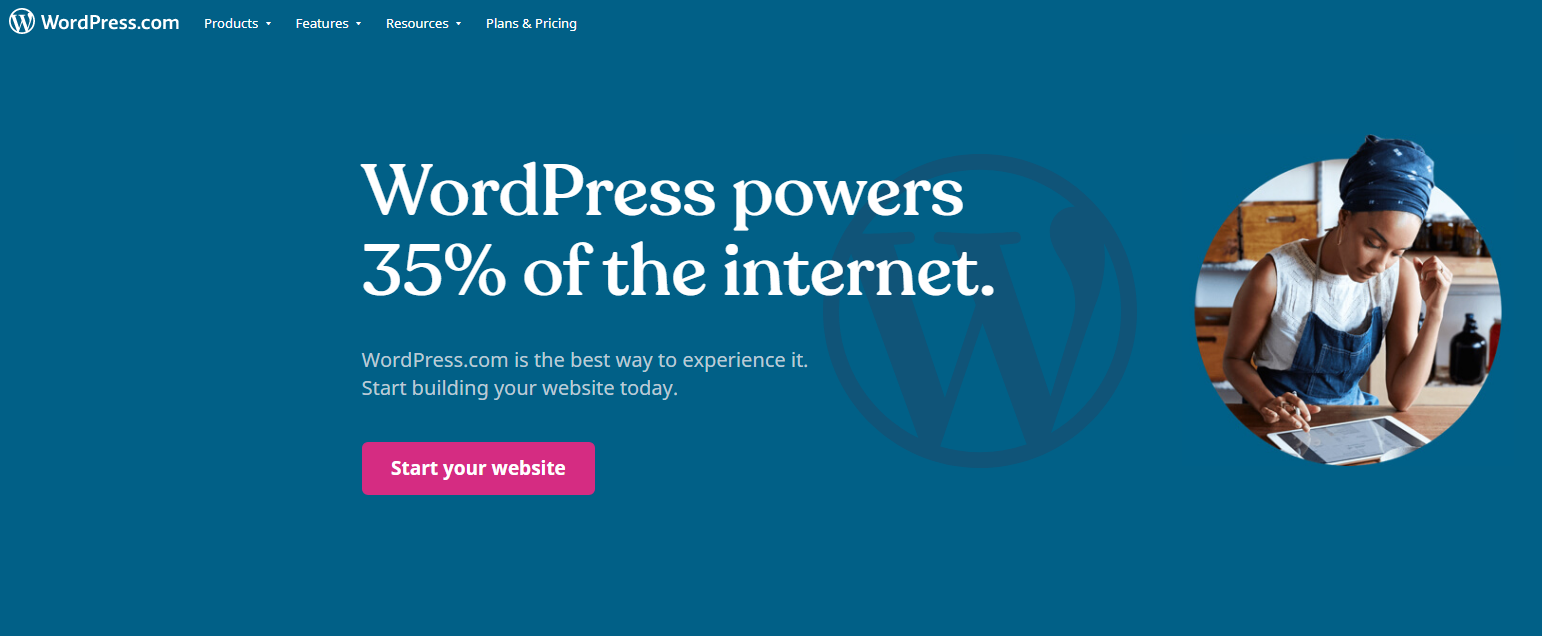 Just so you know, there are actually two versions of WordPress. WordPress.com is a hosted service run by WordPress.org. The service includes a limited version of WordPress software bundled with hosting, support and various additional services.
When to choose WordPress.com? Remember that once WordPress is installed, you're responsible for maintaining your website, keeping themes and plugins up to date and updating WordPress itself when it's needed.
One way to avoid all these tasks is by using managed WordPress hosting. In other words, someone else cares about the technical aspects of your website. As a result, you have more free time to get focused on your business.

WordPress.com pricing
Pros:
Super easy to setup. You can be even provided with automated setup scripts.
Versatile. WordPress.com takes care of everything: website speed, security, various technical issues, etc.
Popular and time-tested. An ocean of free tutorials and manuals on how to configure WordPress (create pages, etc.) are at your service.
Highly-customizable. WordPress.com still allows you to install different third-party plugins, for instance, SEO plugins to improve your page ranking, etc.
Some notes on security issues. Make sure to have the up-to-date WordPress installation and be careful about what plugins you're using. The best option is to use an SSL certificate (some hosting providers offer you that for free).
WordPress.com offers a directory of premium design templates with simple installation. Also, you can use services like Themeforest where you can get a theme for your website.
Reasonable-priced. The paid tier for small business will cost you $25 per month with custom plugins & themes, 200 GB storage and live support included.
Cons:
You gain access to a limited version of WordPress, without some functionality and design options.
Is WordPress.com worth it?
WordPress.com is the easiest way to get started with your first website. If you use the WordPress software with built-in hosting services, then you get access to the power of this software without any potential technical headaches. Sure, it's paid services. But paid plans are predictable and not very expensive.
WordPress.org
WordPress.org is free and open-source software. You can install it and use it however you like.
Speaking of usability, WordPress.org is much more user-friendly than Joomla! and Drupal. But if you want to make things easier, there is a tool called Elementor.
Elementor is an easy-to-use drag-and-drop builder plugin for WordPress that eliminates the need for coding. In a nutshell, it's a handy drag-and-drop editor for WordPress with lots of widgets and website design templates. Since Elementor is a WYSIWYG (What-You-See-Is-What-You-Get) tool, you'll see changes as you make them while crafting your website. Elementor turns WordPress, the powerful CMS, into the no-brainer website builder, preserving all website development features.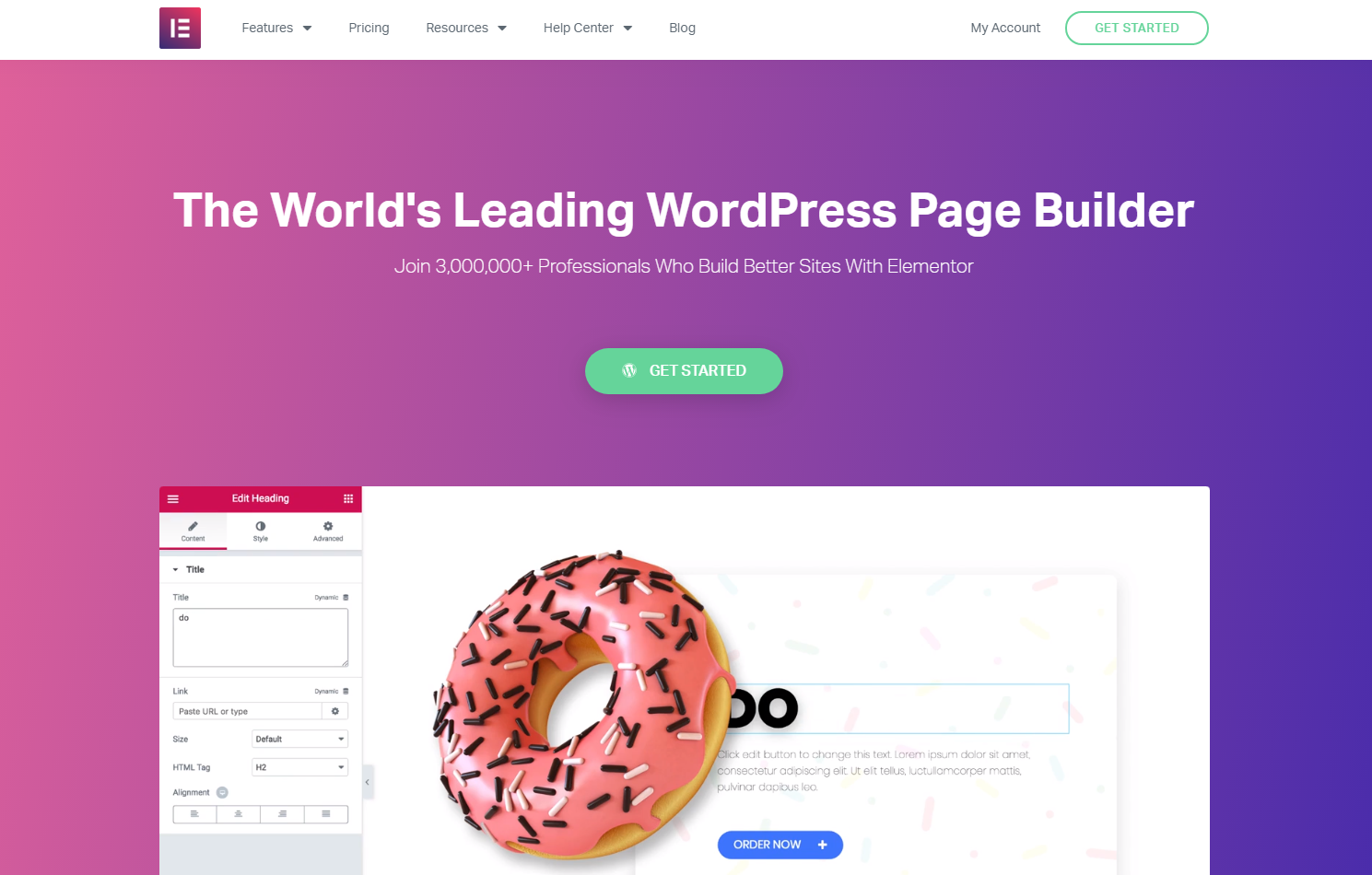 When you self-host WordPress, you also need to choose a reliable business hosting company that can provide high-quality support and security. Here are our recommendations on preferable hosting providers:
SiteGround is a popular hosting provider with multiple different hosting options, including WordPress hosting. Their pricing options are cost-effective and start at 3.95 euros per month. Advantages that make SiteGround a good hosting company includes:
Fast servers (your website will be really fact)
24/7 customer support (by phone, live chat and tickets)
Free SSL certificates (your website will be secure)
Good both for beginners and experienced users
Nevertheless, SiteGround users sometimes complain that this platform makes it difficult to cancel services or execute refunds.
If you search for a hosting company, here is another option – RaidBox. Their paid plans are more expensive: the Starter package will cost you 15 euros per month. However, if your project is not so big now, you may like the Mini Plan (9 euros per month). Here is the list of the advantages this platform offers:
The excellent and very responsive support team
Great fit for non-WordPress developers and non-techies
Numerous value-added services (caching, redirects, login protection, SSL Certificate and other extras)
Now let's dive deeper into the pro and cons of dealing with self-hosted WordPress.
Pros:
Absolutely free. It's hard to believe, but WordPress, one of the best website builders, is free.
Popular. WordPress is available on most web hosting platforms.
The most wide-spread. There's a huge community and an ocean of resources out there if you need help when building your website.
Highly-customizable. If you self-host your WordPress website, you can use thousands of pre-made themes or plugins that cover every business niche you can imagine: web forms, forums, online courses, event calendars, and more
No need for a big team of designers and developers to build your website, so self-hosted WordPress saves a good bit of money compared to other options.
Scalable. WordPress is a great platform for business of any size and any growth phase. When it comes to growing your traffic, WordPress makes it easy due to its search engine-friendly design and dedicated SEO plugins.
Cons:
You are in charge of technical aspects. For anyone who doesn't want to deal with technical issues at all – self-hosting WordPress is not ideal.
Is WordPress.org worth it?
There are many reasons why a third of websites run on WordPress: it's free, flexible, scalable and easy-to-use. WordPress is the world's most popular content management system (CMS). In fact, you can create a website for almost any kind of business with WordPress.
The only thing to remember is that you will be in charge of some technical details. On the other hand, there are already millions of answers to any possible question about WordPress out there.
So, if you don't want to choose any hosting providers by yourself for the WordPress.org software (nevertheless, we will mention some great options in the 'Tools' section below), WordPress.com is just for you.
Bonus: 4 powerful tools to have under your belt while using WordPress
It seems that the most popular solution when it comes to building websites is WordPress. Let's imagine that you have already built your WordPress website using any of the above-mentioned builders. Having a website is not equal to generating leads and closing deals. Take a look at some must-have tools to turn your website into a conversion machine.
Every website owner wants to understand how users interact with their sites. That helps discover possibles issues with high bounce rate, low conversion rate and others. Sophisticated website analytics requires to add multiple code snippets to gather analytical data. Google Tag Manager allows you to easily add and manage all of these scripts from a single place. This tool works with Google Analytics, Google Ads, DoubleClick, Facebook Pixel and numerous other third-party website analytics platforms.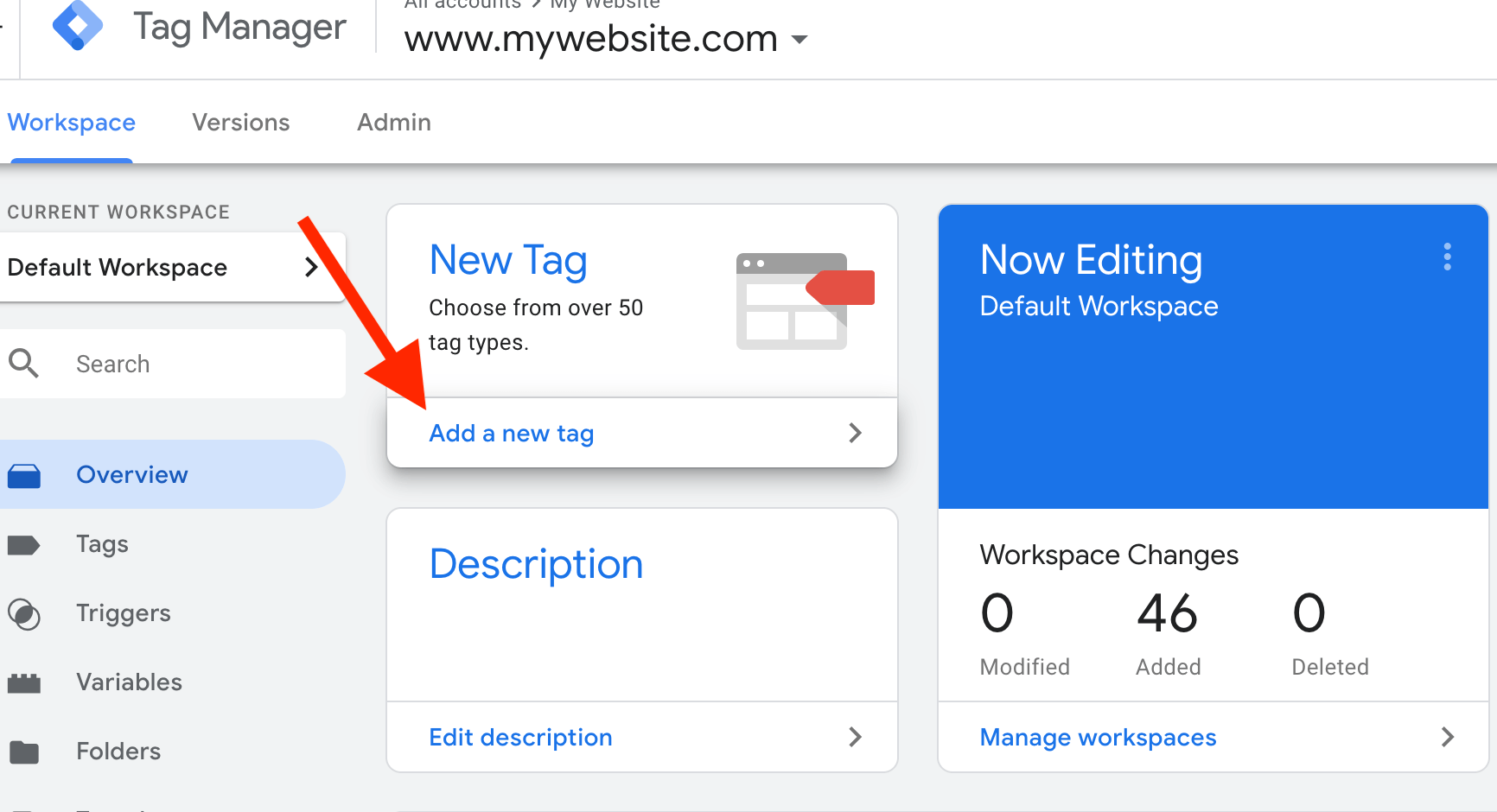 To start using Google Tag manager with your WordPress website, the first thing to do is to install and activate Insert Headers and Footers plugin. In this step-by-step guide, you will find the following steps to take while adopting the Google Tag Manager.
OptinMonster is a well-known lead generation software. Using it, you can create different types of popup forms, exit-intent popup campaigns, floating header, floating footer, mobile popups, fullscreen welcome gates and many others.
How does OptinMonster work? The most effective way to use OptinMonster's pop-ups is to combine it with the lead-magnet technique. A lead magnet is a free and valuable piece of content that you offer website visitors in exchange for their email address. That's how you can start building your email base and capture prospective clients' emails. Luckily, OptinMonster offers a detailed guide on how to start using this tool on your WordPress website.
Search engine optimization (SEO) is essential for every website. Using Yoast WordPress plugin, you can make your website rank higher in the search results. Yoast checks your content and ensures if you use the right keywords in sufficient quantity and in the right spots.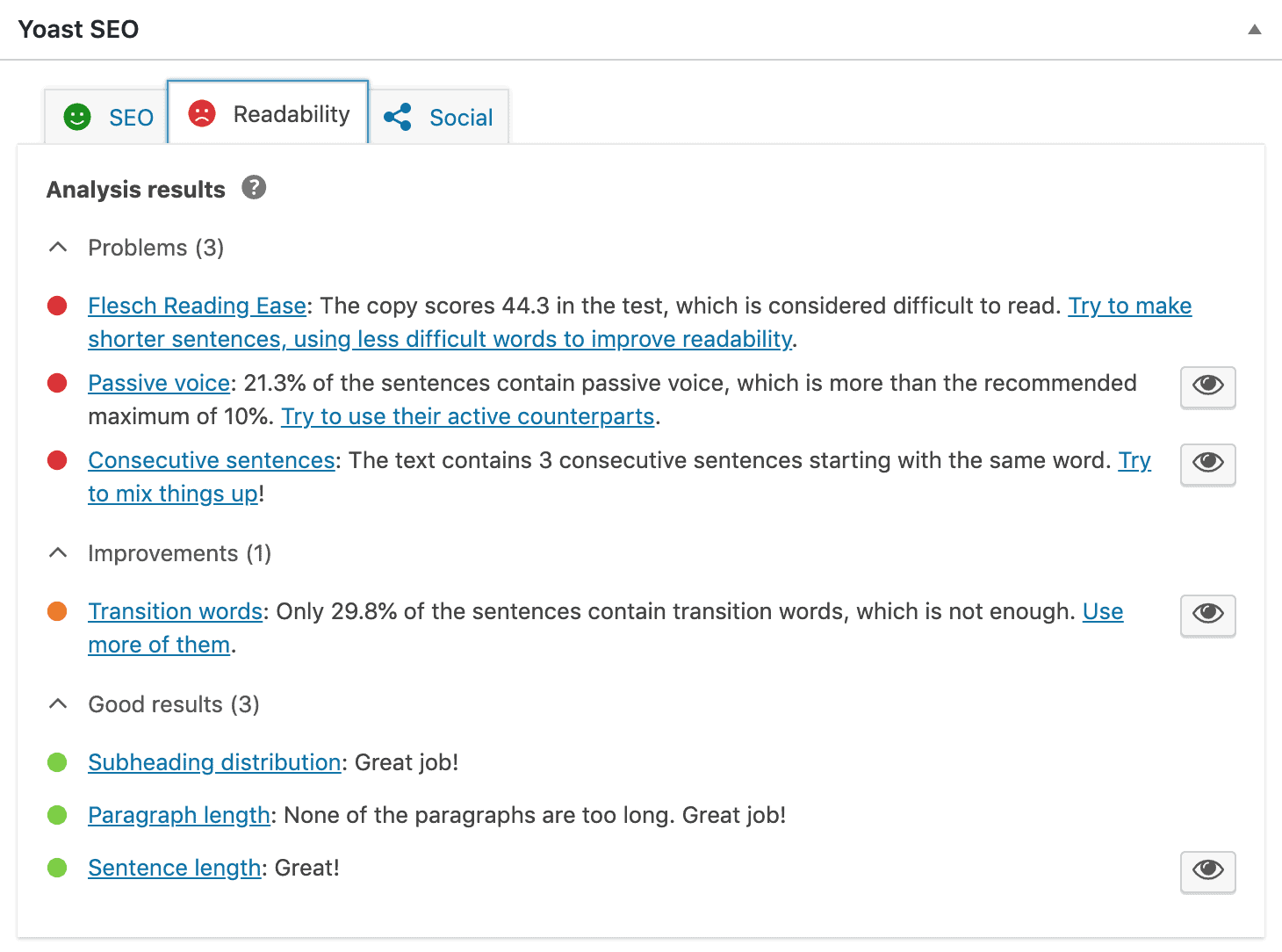 The best part is that Yoast is free. However, the paid tier offers more sophisticated SEO functionality like analyzing your content on all keyword variations.
Trust is a testimonial & rating platform focused on building trust on your website.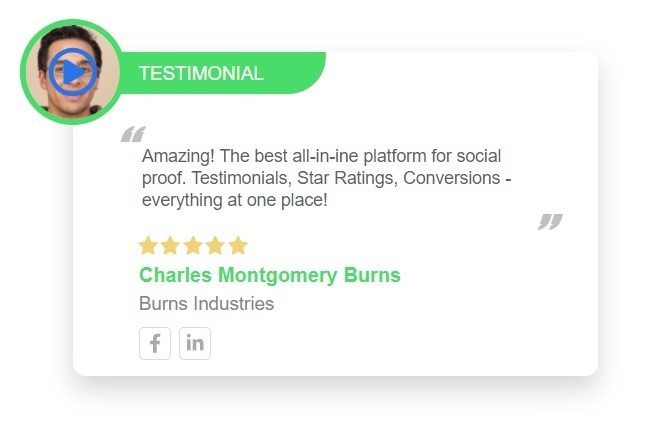 When a visitor comes to an unknown website, they don't know why they should trust it. Website visitors ask themselves, "Are other people signing up for the service?". By displaying text and video testimonials with ratings, Trust adds authority to your business and, as a result, increases conversions. What's more, Trust is quite easy to set up and use and doesn't require any coding skills.
Our verdict: Which website system is the best possible choice?
There are literally thousands of different ways to create a website nowadays. In this article, we have walked through the most popular CMS and website builders.
Which solution should you choose? The choice depends on your skills, budget, available time and business goals. But there are a few ground things you should take into consideration while choosing a website builder: pricing (free is not always cheap), availability of great-looking pre-made templates, scalability, migration options, advanced marketing features.
Unfortunately, not every website platform satisfies these requirements, especially when it comes to website builders. It turns out that all-inclusive website builders lack numerous crucial features that relate to design customization, marketing, conversion rate, website analytics, etc. If you want your website to bring your clients and revenue, all-inclusive website builders are not a good choice. On the other hand, CMS like Drupal and Joomla! are too difficult to use.
In our humble opinion, the only option that meets all criteria is WordPress. This platform offers sophisticated and customizable functionality (that means your website will be highly optimized for your business and marketing goals) as well as managed hosting (that means someone else cares about the technical side of your website). It's easier for beginners to learn and you can have a website running quickly. WordPress is fast, has great SEO, secure, easy to localize, mobile-ready and shareable.
If you hate coding, there's handy Elementor, a visual drag-and-drop page builder for WordPress. With Elementor, you can craft a website without coding. What's more, there is an ocean of plugins and tools that will turn your WordPress website into a traffic-generating and conversion machine (Trust, Yoast, OptinMonster, etc.). Make sure to test them out.
But at the end of the day, every website builder offers a free trial period. Why not try out them and see how they fit you?