You can potentially have a superior product, but if nobody claims that it's great, the product will seem less attractive and reliable to prospective clients than it is.
Why is this happening? The reason is quite simple: nowadays people are so familiar with different types of social proof (reviews, testimonials, star ratings, etc) that they take it for the necessary component of the products they consume.
There is another fact about social proof you should know: our purchasing decisions are affected mainly by social proof. This phenomenon is based on the psychological and social principles which say that people imitate others in situations when they are not sure what to do or what to choose.
That's why every single successful company use social proof on their website to increase revenue and the number of closed deals. Social proof can be a game-changer for your business.
Trust implements social proof in testimonials and ratings. In a nutshell, this platform uses the existing satisfied customers' experience to acquire new ones.
Trust offers various types of social proof:
Testimonials

Video Testimonials

Ratings

Conversions (paid add-on)

Visitors Count (paid add-on)
All of these tools are a good addition to your growth strategy because they help in building user trust and credibility. Although all social proof techniques are worth to be chosen among others, their implementation varies widely. So, what social proof methods can you adopt to dramatically boost your number of new clients and company growth?
Testimonials
What is that?
Testimonials are written endorsements created by your customers about the experience they have had with different companies. Testimonials affirm the performance, quality and value of a certain product or service.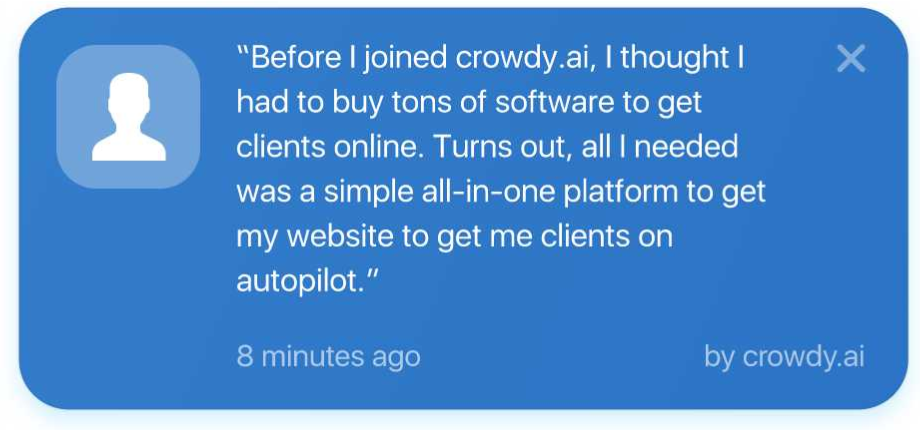 Why you should care
There's a reason why businesses gather testimonials from their customers about the successes they have had using their products. Whether it's a positive customer review on the company's website or testimonials on a third-party website, this content can significantly contribute to the client conversion strategy. This works even better if the customers are well known in their industry.
Main features
Feature a testimonial as a clickable notification widget.
Show testimonials as static or carousel elements on your home page, product pages or landing pages.
You can fully customize testimonials to match your website look and feel.
This useful feature will help you document the agreements with customers regarding publishing testimonials. This establishes a GDPR compliant relationship with your clients.
Integrated Email Services
How it works
Traditionally, using testimonials is a lot of work: You have to follow up with your customers, get them to leave a testimonial, wait for them to send it to you and then you have to manually add it to your website.
Instead of waiting and begging your customers to leave a testimonial, let Trust gather and display your testimonials – all you have to do is approve them and they're on your website.
Here's how it works: once the customers purchase your product or service, you send them a simple link. Once they click on the link and share their impressions with their picture, customers can find an option to e-sign a contract. After that, Trust will automatically process data. Once you approve the testimonial, it goes live on your website.
Best practices
There are a few tips for making testimonials better. First, when asking for testimonials, encourage your customers to describe their situation before and after using your products or services. Considering that, ask clients to tell a small, yet completed story that describes their problem, the reasons why they've chosen you and how you have solved their challenges. The stories are very persuasive because people tend to imagine themselves as the character of the stories they read.
Second, always include a photo and name because people trust actual people. In other words, the more generic, the less believable. And one more ground rule: make sure that testimonials featured on your website are real (sorry for being obvious). Your prospects are clever enough to identify fake testimonials.
Third, to make the most of testimonials, place them where they will definitely impact your conversion rate: next to a contact form or call-to-action button, on an ordering page, on your 'About us' page.
Video Testimonials
What is that?
A video testimonial is a video of a client praising your company. But why not just use text testimonials? Although text testimonials are an awesome social proof tool, they don't utilize one of the most powerful marketing mediums – video.
Why you should care
A solid video testimonial is a powerful social proof. 64 percent more likely to buy after watching a video. Nowadays it's tough to catch someone's attention, videos are powerful marketing weapon because they are more easy-to-consume, eye-catching, dynamic and enjoyable in comparison to text:
Videos foster customer loyalty and sell, not being salesy.

Video content saves time: videos make complex things easy to consume and showcase more information in less time.
Main features
Feature video testimonials as a clickable notification widget.
Show video testimonials as static or carousel elements on your home page, product pages or landing pages.
Document the agreements with customers regarding publishing testimonial to establish a GDPR compliant relationship with your clients.
Customization of look & feel
You can fully customize testimonials to match your website look and feel.
Integrated Email Services
Recording or uploading Videos with an integrated video hosting solution
It offers you to host videos within the platform without wasting your money and time on third-party hosting services.
Integrating Facebook and YouTube Videos
Trust allows you to collect existing videos from these two social media platforms.
How it works
Video testimonials can potentially build confidence in your company and increase the number of closed deals. Unfortunately, capturing video testimonials is no easy matter. The good news is that there is Trust, the most convenient way to collect testimonials.
Trust helps you make use of existing videos from Facebook, Youtube, etc. as well as allows you to record your own video testimonials in a few easy steps. After purchase, you send a customer a link to leave a video testimonial. Your customer records it or uploads their own video and optionally e-sign a contract.
Then, Trust works on the data and features the video testimonial on the website after your approval.
Best practices
Video testimonials are not easy to create. Creating a truly memorable testimonial requires a thorough plan and execution. The first step in creating persuasive customer testimonial videos is to make a questionnaire. Think about the questions you want customers to cover. What prompted them to consider our product or service? How has your product affected your business? What functionality do they like most?
And last but not least thing to remember: people love receiving shout-outs. Why not reward customers for their testimonials by calling attention to how awesome they are via your social accounts? After that, they're more likely to share the video with their followers and give you an additional buzz. And here is another bonus of sharing video testimonials on social media: social networks are a great place for finding new people who may want to leave a video testimonial.
Star Ratings
What is that?
You've seen that thousands of times: a website element with five points, applied in the meaning of rating across products and services, or in other words – Star Rating.
Why you should care
Star Rating the most easily recognizable expression of customer satisfaction and quality proof.
Main features
Notification Widget and On-Page Element
You can use Star Rating as a notification widget, page badge or clickable snippet.
With various customization options, you can match your website design perfectly.
Display an average rating for each product or service you are offering.
Star Rating can be visible in Google search results. That will bring you more organic traffic because your rating is already shown in the list of search results.
How it works
By using Trust, you can automatically gather and display this kind of reviews on your website. When customers buy a product or a service on your website, send them (either manually or automatically) the link to leave a review. Once the customers receive the link, all they have to do is to click on it and leave their comments. Trust will process the review and show it on your website after you've approved it.
Best practices
Don't chase the highest Star Ratings. The studies claim that mainly the meaningful content of the testimonials impacts conversions, not just the number of stars. There's one more thing to remember: the perfect 5.0 rating looks suspicious and shouts out 'I'm fake!'. Yes, Star Ratings on your product pages should be above the average. One study has found that the ideal star rating is between 4.2 and 4.5 because it is more realistic than a perfect 5.0 rating.
One more tip regarding Star Ratings: utilize review schema markup to feature this type of social proof under your search engine results. Those ratings can move users to click on one particular result instead of another. Without diving deep into technical details, review schema markup is additional lines of code that make reviews on your website more readable for search engines.
Conversions
What is that?
Conversations appear as a notification widget that shows conversion-boosting social proof notifications on any page.
Why you should care
By displaying conversions like opt-ins and recent sales on your website, you will establish social proof, raise the number of acquired leads and increase the credibility of your brand.
Main features
Show notifications about new conversions on any page on your website.
You can customize the look and feel of the widget.
Support for multiple languages
Trust offers location-based multi-language support so you can match the widget language to your visitors' native language.
Using Trust, you can embed CTAs in your notifications for immediate conversions: when website visitors click on the widget, they will be taken on the specific page to leave their emails, sign up, make a purchase, etc.
The tool allows you to set up specific rules to display notifications and target visitors based on different metrics.
You can seamlessly integrate Trust with platforms such as Infusionsoft, Unbounce and WordPress to simplify lead generation. What's more, using Zapier or custom webhooks, you can connect to literally any application out there.
How it works
The way it works is quite no-brainer. When users fill out a form to register for a webinar or to download an ebook on your website, Trust will collect the data and visitors get notifications about conversions that have taken place on your websites. That's it!
Best practices
In case there aren't enough conversions in a given period of time, you can switch to the 'Conversion Totals' mode in the Trust dashboard and show conversions in a specified. It's easy to set Trust up, and once you do it, it'll work automatically.
Visitors
What is that?
When you use Trust, the number of visitors is shown as a widget that you can customize to fit your website design.
Why you should care
Showing off your numbers helps in generating more leads. And there is no surprise since we love to feel like part of the group. Demonstrating the number of people that are currently seeing the same page or product on your website is a great form of social proof. This real-time user activity builds trust around your company and products as well as adds urgency. As a result, you win more clients.
Main features
Feature the number of website visitors as a clickable notification widget.
Trust allows you to change the color, shape, add animations and more.
You can also choose one of the predefined templates to save time.
How it works
Adding just one line of code to your website, you let Trust collect data of page views and saves them for 1, 7 or 30 days and shows this information on the website. Once the users visit the specific pages, Trust shows them the widget.
Best practices
If you don't get enough visitors yet, you can use statistics for a specified time period instead of real-time user activity.
Wrapping up: Where to start?
There are different ways to add social proof to your website. Where should you start to get more clients?
Choose one type of social proof you want to test out.

Conduct only one test at a time to see which one works best for your company.

If some types of social proof don't show results, don't stop there. Instead, optimize your campaigns: change targeting rules, add another CTA, feature more credible testimonials, etc.

Don't forget to keep updating your social proof content.

If you need help during the setup of any of the Trust features, you'll find in-deep tutorials

here

. Also, you can contact us through the chat on your Dashboard to schedule a cost free onboarding session. We offer free coaching services to help you to get most out of Trust, too.
There's last but not least thing to remember: The only way to know whether social proof has improved conversion rate is through testing. A/B test every single social proof techniques to see how they affect conversions.