Facebook was the first Social Media platform to boast a billion users. And, the numbers have only gone up in recent years. Today, they have more than two billion active monthly users, according to Statista.
Having so many people in one place is always a major opportunity for businesses and marketers to reach out and interact with potential customers. But you can't just post ads that target everyone and hope to do well. As much as someone might see your message out there and get interested, it makes more sense to reach out to audiences with the most potential for purchasing.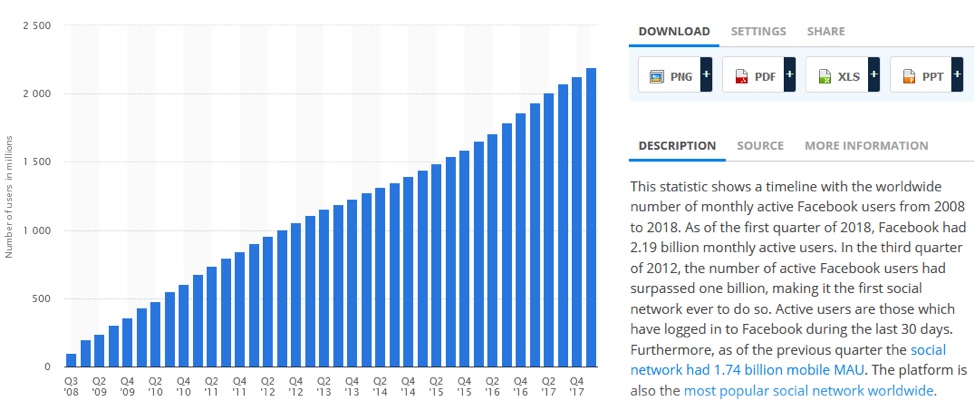 In January 2018, Facebook updated their algorithm to make it such that users receive more personalized content in the news feeds than public content like posts from the media, businesses, and brands. In short, people now have to perfect the art of Facebook ads and part with some money to connect their audiences.
The fact that these ads are not free means you have to be keen to ensure every cent counts. And, there is no better way to do that than capitalizing on effective targeting. This article will take you through the factors you should base your advertisements on so that every Facebook user who receives it has the highest potential for generating profit.
Compile the attributes of your audience
First things first, you want to have a clear list/lists of the characteristics of the people you know are your biggest potential buyers. Ask yourself these questions:
What is their age group?
Where do they live?
What is their gender?
What are their interests?
Where do they mostly hang out online?
What is their financial status?
Marital status?
Traveling patterns?
The list could be longer. Basically, have as much information as possible so you can get the most out of Facebook ads. This is especially considering that Facebook allows you to use all these stuff to put your biggest prospects within the crosshairs.
Once you have compiled a list of the attributes associated with your target market, you can go on to post an ad that covers a combination of any of the following points.
Begin with basic demographics
Obviously, the first thing you're going to have to do when posting the ad is to select the location, age, and gender of your prospects. And of course, that will be after choosing your campaign objective on the first page of the Ads Manager.
These three are the basic demographics and the first step in audience targeting, but you don't want to stop there, or your ad won't be as effective.
Target their interests
Within the age group, gender, and location of the audience you have selected, what are the interests of those most probable to make purchases? In the ad settings, you should be able to locate the "interests" section under "include people who match at least one of the following". If you type anything in the search box, you will be given several suggestions.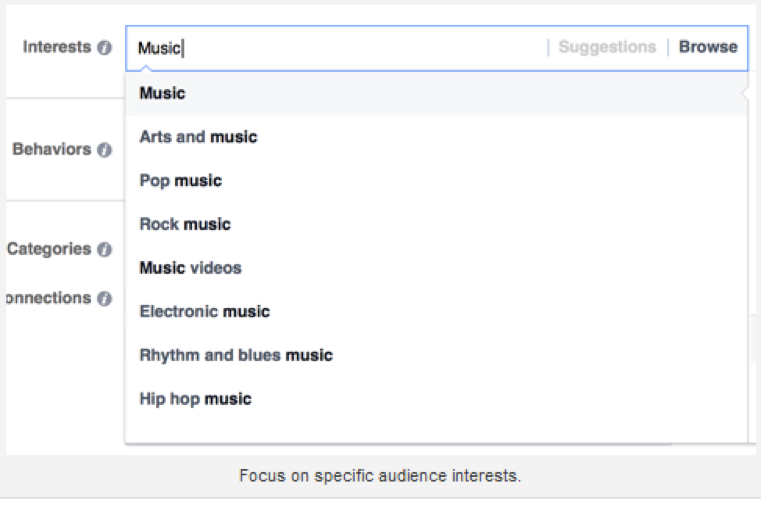 Selecting a single interest might not do the trick. This will target a very large group. You might want to select various intersecting interests to narrow down your target.
Target by level of income
As creepy as it may sound, Facebook knows rough how much you earn, spend, or your net worth. It is a huge deal for marketers. If you're selling high-end products, you don't want to advertise to people who don't make enough money to make purchases.
You could end up wasting a lot of money on an audience that is not willing, let alone capable of placing orders.
The good thing is that Facebook provides 30 varied financial behaviors to ensure your ads are only made available to people who be able or inclined to take your offer. While on the demographics section, target people by financial elements such as net worth, income, and liquid assets.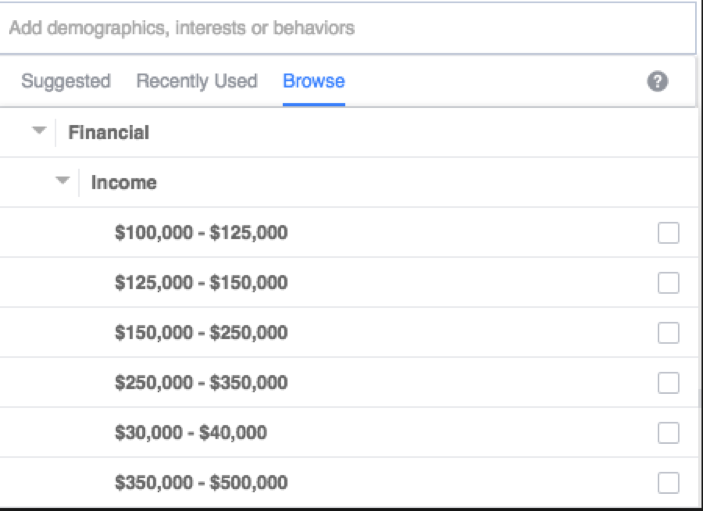 Wondering how Facebook knows people's income? They don't exactly know how much you earn or own, but they use a combination of data from from third-parties, household, general demographics , and any other information to place you within an accurate financial category.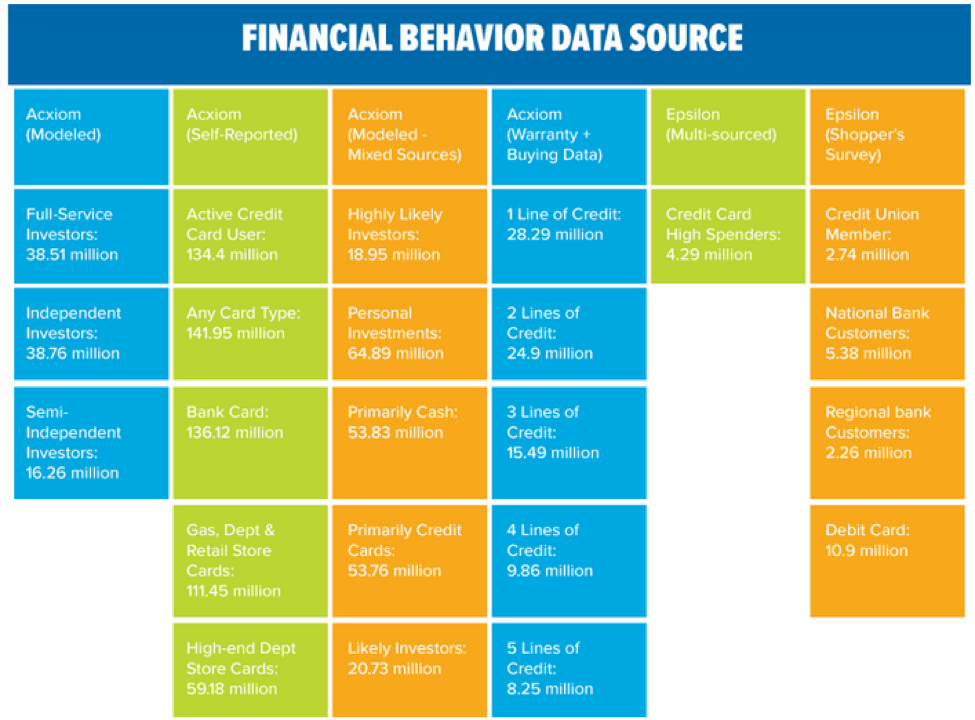 Home ownership
Facebook gives you a chance to market exclusively to people who own a home, rent, or are looking to buy one. How does that matter, you ask?
Well, people who are just moving in are always looking to buy new home appliances, furniture, renovations, insurance, landscaping, and so on.
Again, you'll find this option under the demographics section. Besides the ownership status, you can also choose a type: apartment, condo, multi-family home, and single.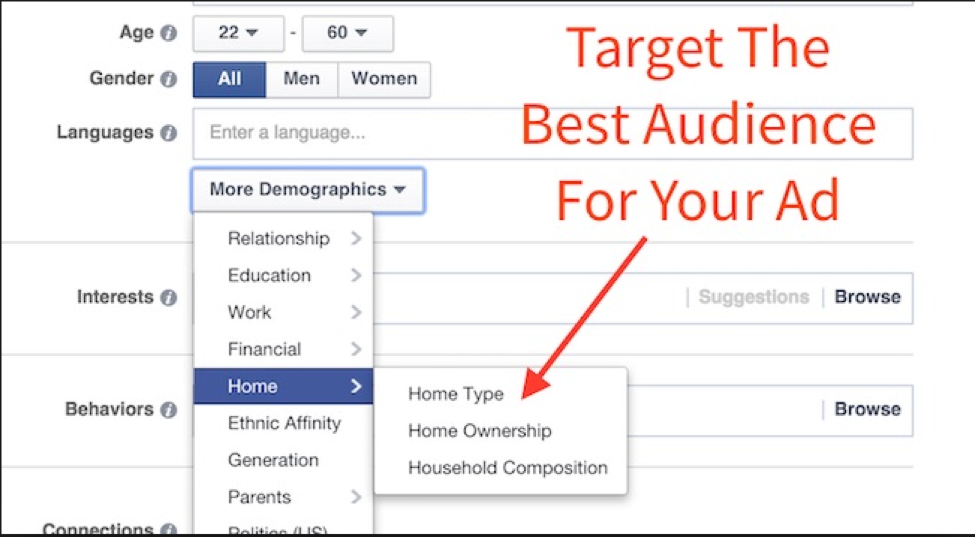 What's more, after the home type, you can choose from a range of home values. This is a good alternative for targeting financial status if you want an audience that has a lot of extra cash and can afford high-end or luxury things.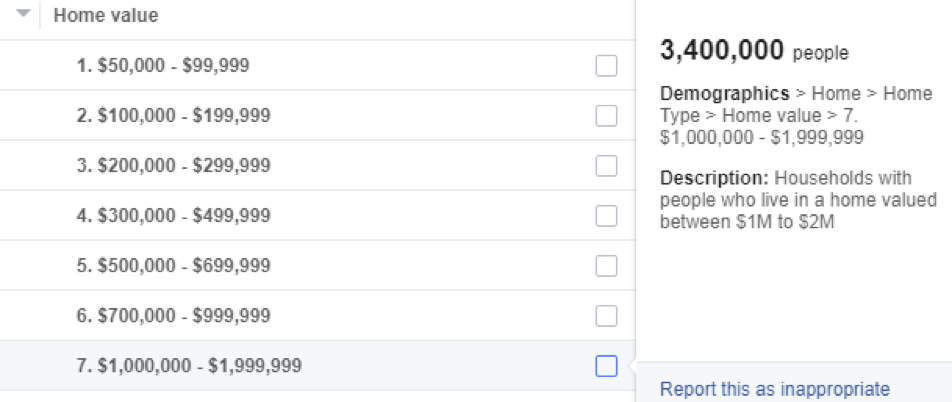 Target life events
Life events are always accompanied by a change in shopping patterns. After all, if you got a new job, you will want to adopt a new dress code to suit your work environment or just acquire those things you've always wanted now that you can afford them.
Other life events you can target include anniversaries, milestones, and people in long-distance relationships, or away from home.
Facebook says there are over 16 million people in long-distance relationships. You can target this category for gifts delivery, travel, and restaurants because research shows more money is spent on such things by people who are far away from their loved ones.
If they are about to celebrate an anniversary, birthday or Valentine's day, they'll find your services useful, especially if you have deliveries. Even close friends of people celebrating a milestone can be potential buyers.
You can do this under the life events section:
Combining the demographics of anniversaries, long-distance relationships, and location could be a great way to zoom in on an audience that is most likely to promote your business.
Find people who are already interested in your product
Yeah, whether you like it or not, Facebook knows if you've been online searching for things to buy. And, 73% of consumers search for things online before buying. People generally make purchases within a week from the time they start researching.
And, 75% of them complete the shopping within two weeks.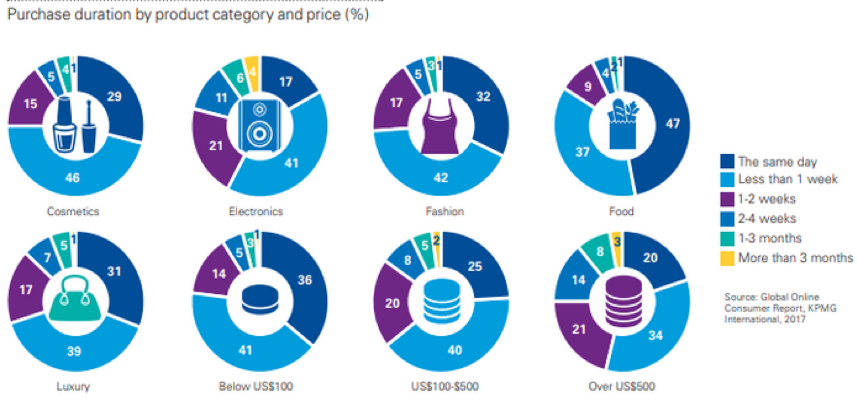 The good news is that Facebook can identify customers who are already looking for products similar to yours. This gives you an opportunity to reach out to them and market yourself even if they haven't heard about you.
You'll find this option in the category marked behaviors:
You can browse or type in a search word and see suggestions. There are folders and subfolders representing purchasing behavior so you can narrow down as much as you want.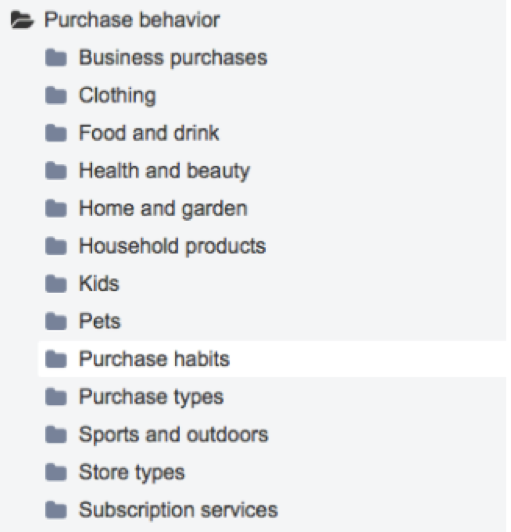 If you are selling wedding gowns, you should not stop at clothing. Within the clothing folder, there are subfolders to help you get specific – gowns.
Check out this Facebook ad by Inspire Flowers & Gifts: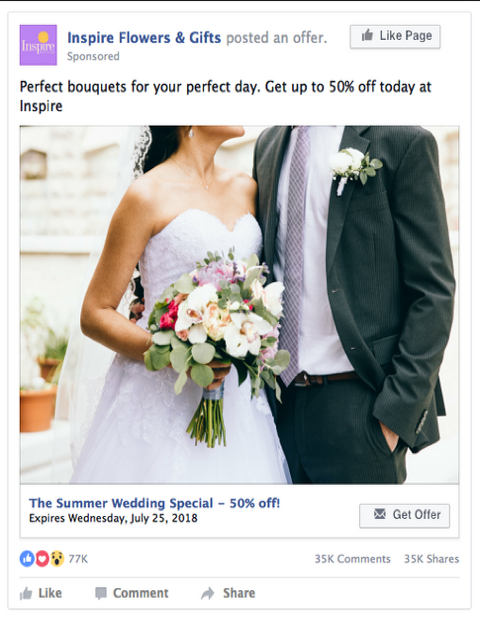 Test your ad on different audiences through split testing
You might zoom in on your target market, but the best way to be sure your ad is effective is to test it on different groups. You could do everything right, but then your ad fails to speak to the consumers you've been eyeing. Testing will help you save and get the most out of your money in the long run.
When creating your ad in Facebook Ads Manager, you can choose between the campaign objectives awareness, consideration, and conversion. After selecting an objective, click "create split test" checkbox and enter a name that will help you remember what kind of test you're trying, just in case you forget.
Also, you should select audience as the variable you're testing.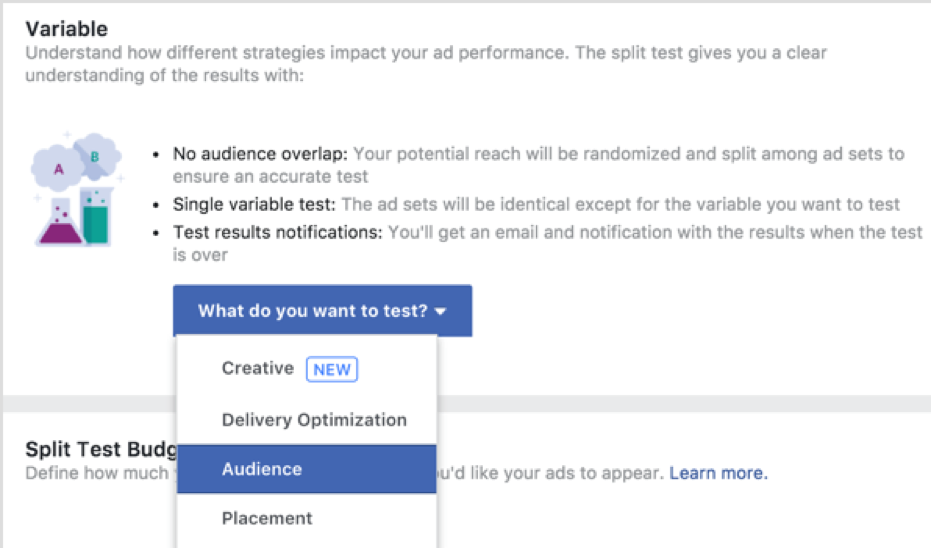 The default option is for two audiences, but you can change this by clicking on "Test Another Ad Set".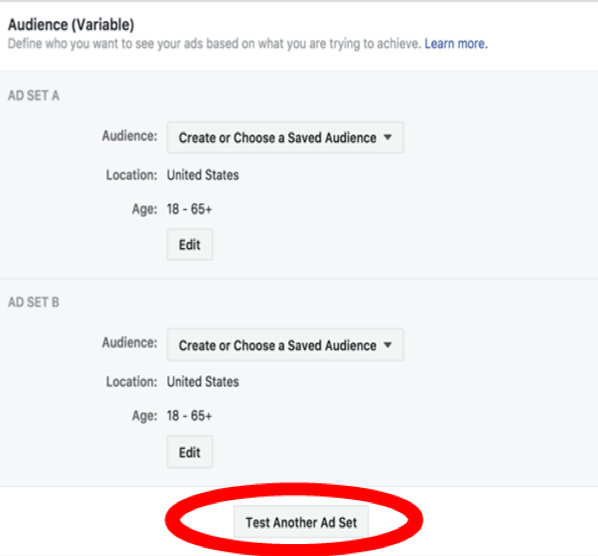 Then you'll have to describe you audience according to the characteristics mentioned above; or any other that you see fit. You'll click on 'edit' for that.
The final part will be setting up a split test budget and schedule. Once you have saved your audiences' profile, you can re-use it. Also, be sure to shuffle things around every few months, so you stay current.