A vast majority of internet surveys and research shows that on average a standard internet user can spend up to two hours on social media on a daily basis.
This is an astounding number, especially when extended over the period of one's lifetime.
While most social media users expect to bridge connections with their friends and get news updates, there is one thing that they do not look forward to – a sales pitch.
As someone who is looking to make the best out of e-commerce, you should aim for spot-on messaging.
This can then be picked up by social media posts and then sent across various platforms, hence reaching an unimaginably large audience.
Getting your messaging wrong can be poisonous to your brand because users will not hesitate to hit the unfriend or unfollow button when they view your constantly salesy content on social media.
There is a way to still manage an effective social media campaign without coming out like you're giving a sales talk. Here are a few things you should try out:
1. Build a relationship with online bloggers & social media influencers
According to a research published by Collective Bias on consumer influencers, a resounding 70% of millennials are easily influenced to purchase what their peers recommended them to buy.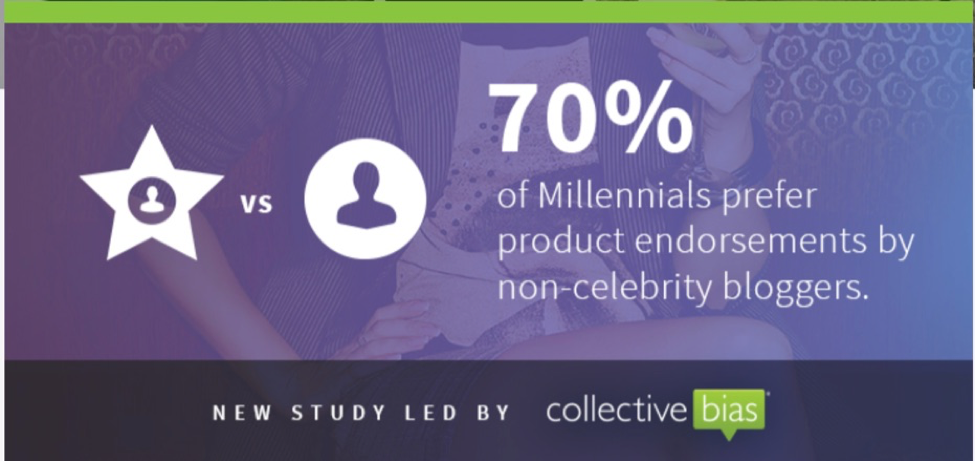 What's even more thrilling, on social media, the number of peer influencers are growing exponentially.
What this means is that there is a larger pool of influential peers on social media besides friends and relatives.
The pool includes celebrities, bloggers, and trend-makers as well.
You can choose to specifically work with these groups of individuals on social media to promote your brand.
Remember, a healthy partnership with influencers and social media bloggers can bring increased sales and revenue in addition to to building yourself a loyal customer base.
The use of influencer marketing is a driving force that blends posts seamlessly into the timeline of users.
The following data by Tomoson gives you a simple representation of the most effective customer acquisition strategy employed online.

If you do not want to sound like a sleazy salesperson on social media, you should look to forge a lasting relationship with influencers, trusted celebrities, and bloggers.
Alternatively, you can consider working with an influencer agency like Tiddle.
When you do this, the social media influencer or celebrity shares their positive thoughts about your product, hence creating awareness and building trust.
Therefore, the posts will not appear to be coming directly from you. To wind up that thought, you should consider getting your products onto the feed of the influencer using the sponsored content.
If you choose to use this strategy, you should pay a lot of focus to the influencer by going after those who will be readily willing to put in extra effort in creating a caption that builds trust in your product.
Moreover, the influencer should also tag each post appropriately.
The greater the relationship and trust is between you and the peer influencer, the stronger the sales from their posts.
Hence, the better the returns for your brand.
2. Offer a promotion or a contest
To see real results from a promotion, stay true to your brand and always focus more on the quality of promotion participants and less on the quantity.
Let's say you wan to promote your escape room. If you choose to run a contest, you should employ proper planning.
This is key to it being successful.
A content or promotion should also have a set of rules or guidelines to be adhered to by the participants.
Look at an example of rules issued by Sunny Co Clothing when they ran a free red swimsuit promotion.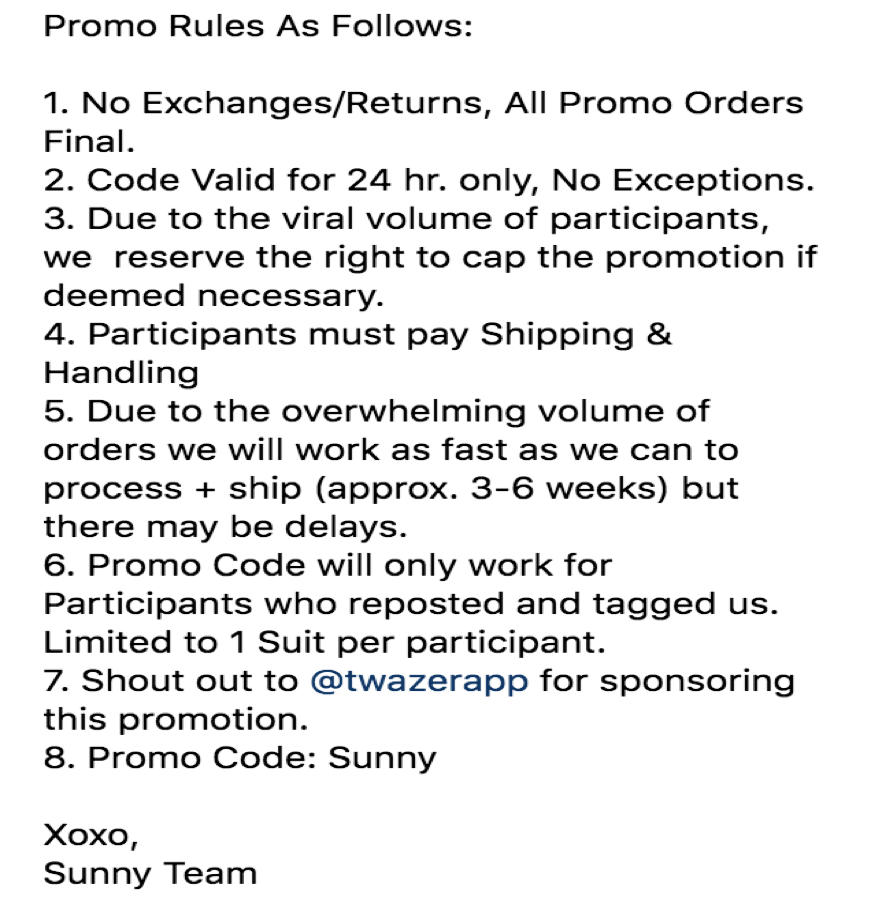 The rules should be simple and clear and remember to state when the winner of the contest will be picked, time of close of the entry pool and the expected delivery time of the reward.
The reason for establishing expectations in advance is to reduce any confusion that might ensue later on, thus keeping you and the contest participants in good terms.
Always create a promotion plan for the contest or giveaway early on.
Also, let potential participants be aware of it by using an effective strategy to spread the word out.
A good contest or promotion should not just end with the issuance of the reward, but by letting the participants know what will come next.
This helps in keeping them as a follower of your brand. It will also enable you to create awareness about any new products or services you might launch in the course of time.
In addition, have a way of capturing your new leads by adding them to an email list or by engaging them with your social media profiles.
3. Produce product videos
Did you know that more than 500 million hours-worth of YouTube videos are watched on a daily basis?
According to a publication by social media Today, using video strategy is soon going to be the most popular business marketing strategy.
Video content is a simple, creative, and interactive way of engaging with your new audience in a better way.
It shouldn't come as a surprise that we are more attracted to visual content. What's more appealing are videos that are creative, direct to the point, and easy to understand.
Social media makes it highly acceptable to post videos filmed using a smartphone which means you don't need complicated equipment to create and post a product video.
What can you show in a product video? It can contain any of the following:
A video can, in a very short time, give to the user a lot of information which can convince them to purchase your product.
Putting a product video out there is a way to humanize your brand, share your voice, and create a strong relationship with your potential customers.
Another way to create awareness on social media without sounding salesy is by incorporating any of the following social media strategies:
Utilize enhanced posts on Pinterest and Instagram.

Become part of the conversation you started on social media about your product (e.g., in Instagram comments).
Make use of user-generated social media content.
Your target internet users are now, more than ever, making educated purchases because they have the whole internet right at their fingertips.
Therefore, they will not necessarily purchase what you tell them to buy.
Instead of trying to push your sale, use social media first to establish a trusted relationship and connect with your customers.
By listening to what your customers need and using bloggers and media influencers to promote your brand, you can start to earn better returns from increased sales generation effectively.