One of the biggest accomplishments as a coach is making a passive income. However, getting to that point requires a lot of work, experience and know-how. After all, how can you make a passive income with something as personal as coaching services? And how can you even make this happen without spending considerable time on each client?
The best way to achieve this as a coach is to turn your services into coaching products (online webinars, ebooks, cheat sheets, white papers, courses, etc.). If you want to create an offer that sells itself without dedicating time to each and every client, this is the right approach to take. It lets you sit back and think about ways to promote the product while it generates revenue on autopilot.
Here's how to make that happen.
Before you get started
You may be wondering if turning your coaching services into products is even a good idea. The first reason why you should do it is that you will be able to save considerable time. Instead of devoting it to individual coaching sessions, you can offer a product to your clients. That way, you can go after better clients or refine your services to suit a different target audience.
The second reason is that with a product that sells itself, you won't have to worry about finding new clients all of the time and you won't have to put yourself in panic mode. You can let your business grow while you take a look at the bigger picture.
Step one – finding the ideal target audience
You probably have a variety of different clients, even if you focus on just one niche. You may want to create a coaching course for all of them, but the truth is, that's probably a bad idea. The more specific you get with your target audience and product, the more likely it is to sell. For example, you can work with entrepreneurs who want to learn how to successfully lead a small business.
Ideally, you would cover several different types of clients, but the only way to make this happen is to offer several different types of products. In the end, it will be far easier to design a superb product with a very specific client in mind.
When you start building a product, write down about 10 clients who fit your ideal profile and whom you're coaching at the moment. This will be your trial group and you should send them your course after completion to take a look and send you their feedback. You can always change and adjust your course on the go, but it's invaluable to get initial feedback before the product release.
Step two – list all of the services you offer
If you want to turn your coaching services into a product, one of the best places to start is to make a list of all the services you offer. Think of the exact services you provide to your ideal target client you found in step one.
Your services could include:
– One on one coaching
– Group coaching
– Career coaching
– Performance coaching
–   Pre-recorded videos and webinars
– Phone and email support
– Cheatsheets, templates, checklists, ebooks and other types of written materials
It's highly unlikely that you will use all of these services in a single coaching product, but it's a great exercise to put them all down on paper. It lets you choose the most appropriate services that should go into your coaching product.
Step three – don't create just one product
Remember that there are different types of clients. Even if you focus on a very narrow niche, you can still make several products for one idea client.

If you take a look at some popular offerings online, you'll notice that successful coaches offer several tiers of the same product. For example, you could offer three different tiers:
Pre-recorded audio/video course or webinar with additional materials

Group coaching services

Private, one-on-one VIP coaching
There are multiple benefits to structuring an offer in this way. First, you can upsell your clients easily and those that are satisfied with your initial product will purchase group or VIP coaching. Second, it will force your clients to think about what kind of coaching help they need.
Moreover, if you offer services as an upsell for your product, you can easily create an excellent funnel that leads your product buyers to become VIP coaching clients.
Step four – think about the price for your coaching product
This is perhaps the most crucial aspect of a product you're about to create. With traditional coaching services, you exchange your time as a coach for money and it's pretty easy to see the value in that. Your time is limited and you're devoting it to a specific client, which is why it's easier to demand a higher hourly rate. On the other hand, clients may find it more difficult to set aside a bigger sum for a coaching product, because it is a product, after all. They're trading money for something you made and there is less perceived value.
This is why you need to devote significant time to think about the price. The most important tip is to think about the value that the clients will get from the product. How will their professional and personal lives change after purchasing your product? Since you can't offer your time, you can offer the second most important thing – value.
The second thing to consider is how much time and resources it's going to take to create a coaching product. You need to set aside time to structure the course, write a script, checklist, template, or some other type of collateral. The time you set aside to work on your product will be taken away from your clients, so make sure to factor in the money you may lose. Also, you will have to pay someone to record the video and audio, edit it, put it together, design the visuals, put up a website and a registration page, create a funnel, etc. All of this will require additional funds so make sure to factor it into the final cost.

Finally, think about the price your clients want to pay. You already have an established clientele, so think about a number that would make them accept without batting an eye. When you sell a coaching product, you need to price it just right because a price that is too low might turn your clients off and think that the product doesn't provide value. At the same time, if the price is too high, they will opt for coaching services instead of a product.
Step five – launch to an audience eager to buy
Since you've already figured out your niche and tested out your product with an audience, you have a general idea what kind of audience you could sell to. If you already have a mailing list, this is a great time to make use of it.
If people have never signed up for your coaching sessions, they are likely to try out a product first before signing up for a session or two. If they've already tried group sessions, you could upsell them to one-on-one VIP coaching. In any case, you have nothing to lose and everything to gain, as long as you offer the product to an audience that is interested in your product.

When you already have some happy clients, it's time to ask for their feedback. Their inspiring words will show new website visitors that you and your products are worth each penny. You can handpick each testimonial or set a testimonial platform like Trust which automates the whole process.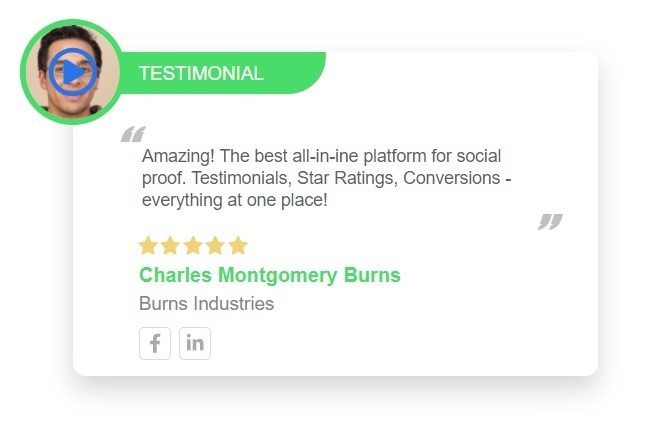 Wrapping up
Building a coaching product from your services is a process that requires significant investments in time and money. However, there are multiple benefits of doing it, provided that you do it in the right way. Not only will you be able to generate a passive income, but you will also be able to expand your offer and upsell your existing clients.
If you're already an established coach that has an established offer, creating a product will help you automate your sales and marketing processes and generate more revenue at the same time. In other words – do it now, if you haven't started already. Good luck!