Are you using testimonials to promote your brand on Instagram but finding them challenging to collect and display?
If so, we've got you covered with this article – a complete guide on using testimonials as a powerful tool for Instagram promotion along with some great templates.
Potential customers love connecting with users like themselves before trying your product or service.
And showcasing your customer testimonials on Instagram humanizes your brand and tells your brand's story through the perspective of your customers. 
But it's not that simple.
Requesting, collecting, and displaying testimonials for social media manually, especially for Instagram, can test your creativity and coding skills and is quite time-consuming.
But not anymore!
With a tool like Trust, you can do all these steps without any design or coding background in under 15 minutes.
Want to try it yourself?

How to use Instagram testimonials for marketing
When it comes to promoting your business, a few elements can help you stand out as much as social proof like customer testimonials.
Testimonials give potential customers a peek into what it's like to work and purchase from your brand.
And while positive reviews on Google or Yelp are great, Instagram is quickly becoming the go-to platform for sharing and showcasing testimonials.
Here's everything you need to know about using Instagram testimonials and Instagram video testimonials in your marketing:
1. Instagram testimonials create credibility & trust with potential customers
Testimonials aren't just for earning credibility.
They help prospects understand the value of working with you without having to commit or accept a hard sell tactic.
Plus, when done correctly, customer testimonials don't come across as salesy, so they can be one of the most effective tools in creating an authentic feel that brands crave more than ever before on social media platforms like Instagram.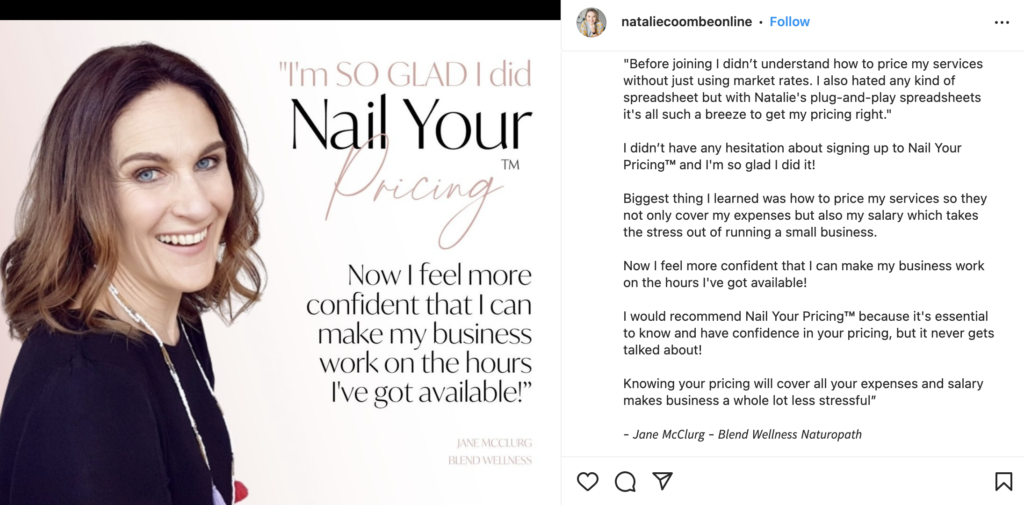 When you're looking into adding Instagram testimonials to your posts, choose between photographic images or videos of previous customers talking up your services/products.
Both types have proven effective in helping businesses gain recognition based solely on word-of-mouth testimonies and have been shown to convert into sales at higher rates than traditional advertising tactics when used correctly on Instagram.
2. Bring authority to your brand through influencers and celebrities
By bringing in influencers and celebrities who use or advocate for your business, you will be able to communicate authority faster which often results in an increase in followers and conversions instantly because people trust a third-party opinion more than yours (the brand).
Not only will this give your product or service more attention, but also tap into totally new markets that would otherwise never hear about relevant deals or promotions you might offer them connected with the product being reviewed by said influencer/celebrity on their behalf.
3. Post frequently and regularly
When it comes down to posting Instagram testimonials, be consistent – post consistently.
Say once each week.
This way viewers get accustomed enough over time regarding why they should buy from you instead of anywhere else based on what satisfied (or unsatisfied) customers might have said previously.
Also, remember not every post needs to feature an actual 'testimonial' – make sure some showcase simple product/service features too!
Instagram testimonials checklist
And while positive reviews on Google or Yelp are great, Instagram is quickly becoming the go-to platform for sharing and showcasing testimonials.
Testimonials for Instagram, unlike on websites, must be much more visually appealing and to the point.
Users read client testimonials on your profile in order to make a trustworthy purchase decision.
So, what makes Instagram testimonials stand apart? Here's a quick checklist:
The displayed client images are of high-quality
The testimonial has been well-structured without being clunky
Video testimonials capture attention, form an instant connection with the viewer, and resonate with them.
The testimonial articulates your product or service well and creates a lasting impression on the viewer
The CTA is included
And while positive reviews on Google or Yelp are great, Instagram is quickly becoming the go-to platform for sharing and showcasing testimonials.
5-steps to creating, capturing, and displaying a captivating Instagram testimonial
Step 1: Sign up or log in to your Trust account
Pro tip: Trust has a 14-day free trial which does not require your credit card details.
Sign up here!
Step 2: Walk through your Trust dashboard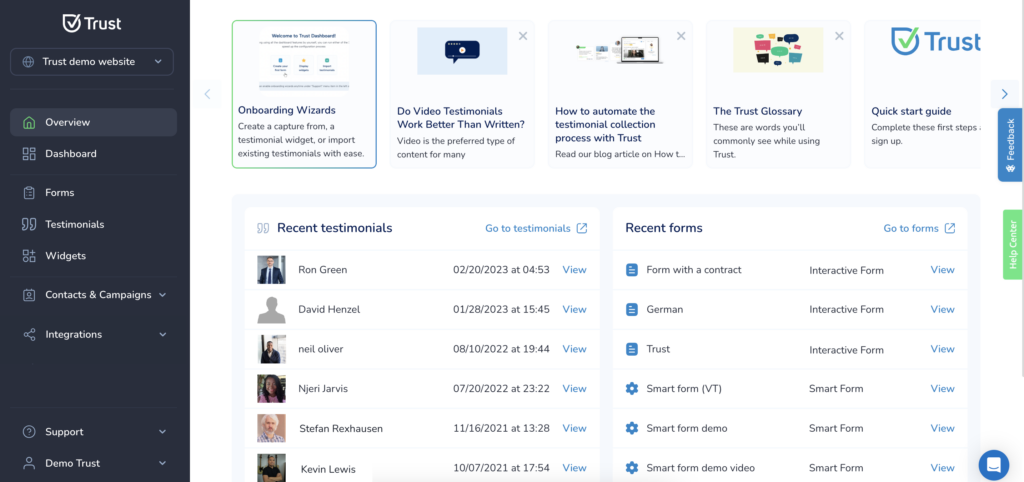 The Trust dashboard provides an at-a-glance view of your collected and published testimonials. You can quickly navigate through testimonials, integrations, forms, and widgets in your dashboard. 
Click on Add New on the Testimonials page.
You can add testimonials in two ways:
1. Copy & paste an already collected testimonial.
2. Import a testimonial from social media: You can add your Instagram post as a testimonial to Trust (as well as generic text or video testimonials). Also, you can import your reviews from sites such as G2, Google reviews, Facebook, and others.
Step 3: Collect a top-notch client testimonial for your Instagram account
Trust offers a unique, pain-free "clean form" method for requesting and collecting testimonials. Using a single form, you can collect:
5-star ratings
Text and video testimonials
Use existing customer videos for testimonials from sites such as YouTube, Facebook, Instagram, and Vimeo
Ask for the client's consent before publishing the testimonial or using it for advertising purposes
Fetch links to their social media accounts
Add custom guidelines for your customers to follow to submit their responses quickly
Add a personalized message thanking them for their time and for being loyal customers
Pro tip: Trust has recently launched a built-in AI testimonial generator that is shown as a part of your form.
That means your customers only need to enter a few words about your product or services to leave you a full testimonial!
To access forms, click Forms (on the left pane of your Trust dashboard) and then Add New.
Trust lets you choose from two types of customer testimonial request forms: Interactive and Smart.
1. Interactive form
Interactive forms display every detail step by step.
On top of that, they offer such an amazing feature as a video question series.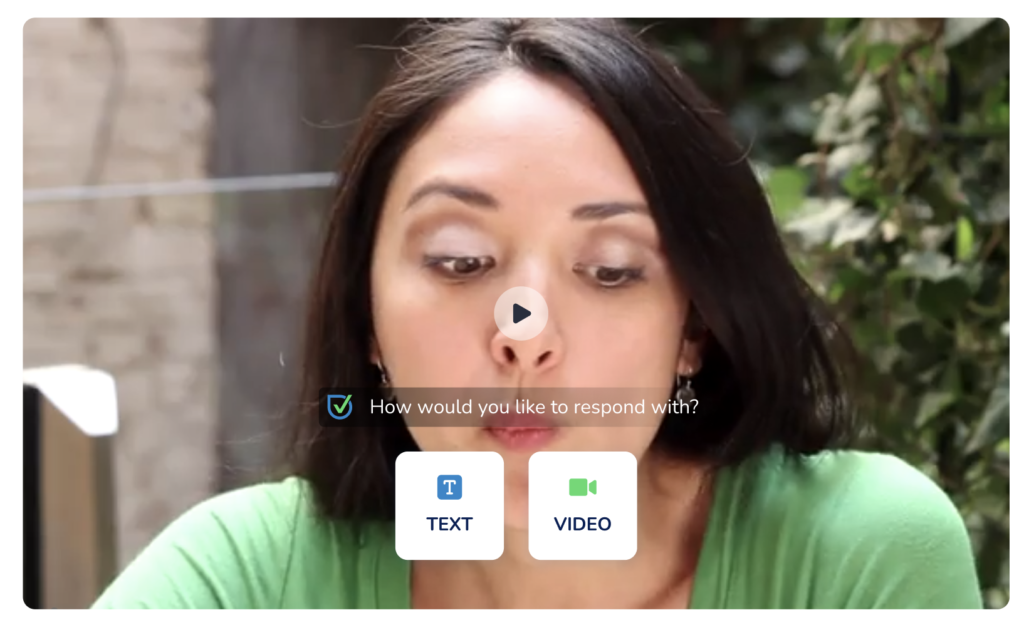 Important note: To share your customer testimonials on Instagram, enable the consent section within the above forms. This way, you have your clients' consent before publishing their words.
Also, remember to enable Ask for Social Links to collect their social media profiles and link them to the reviews. This will make them more genuine.
Similar to the standard form, select the Thank you tab and enable the slider on Rate on other services:
Once saved, you can view your forms on the Forms page and publish or re-edit the information.
2. Smart form
With Smart forms you can easily create custom forms because it includes a drag-and-drop builder.
This way building an ideal form for your particular use case is a no-brainer with a great variety of fields that you can rearrange. 
Apart from that, it offers all the basic features that Smart and Interactive forms include.
Step 4: Share your Instagram testimonial request forms with your customers
You've created a thorough testimonial request using the "clean form" approach and gathered all the essential elements, and now it's time to send them across to capture their words.
With Trust, you can share your testimonial requests using two quick and easy methods: share it as a URL or add the request form to your website.
Here's how to do this:
Under the Forms page Activity tab, you can see options to add to the website, copy the URL, re-edit the form, and more.  
After you click on Add to website, a pop-up message appears with a code snippet and options to add your testimonial request Inline or as a pop-up notification.
Select Copy to Clipboard and paste it into your website builder app, such as Wix, Squarespace, etc.
You can also share the link to the testimonial request directly with your customers through emails or personal messages on Instagram. Click on Copy form URL to the clipboard and share the link. 
Here's a sample published testimonial request form that helps your customers add a review or testimonial on your Instagram as well:
Step 5: Publish your customer testimonials
When your customer clicks on 'Review us on Instagram' in Step 4, they are automatically routed to your Instagram business page that you set up in Step 3.
Since Instagram has no exclusive rating method, they can DM (direct message) their testimonial on your page or fill up a form in your Instagram bio.
You can use these words to create a testimonial image or use their recorded testimonial video to publish on your Instagram page.
Or, just download a video testimonial that you collected with Trust and upload it to Instagram. That simple!
If you wish to publish the testimonial on your website, navigate to the Trust dashboard and click on Testimonials. Here, you see the list of testimonials – published (live) and unpublished.
Trust provides testimonial display customizations through widgets, pop-ups, badges, and Floating Stars.
Check out the full widget library on the demo website!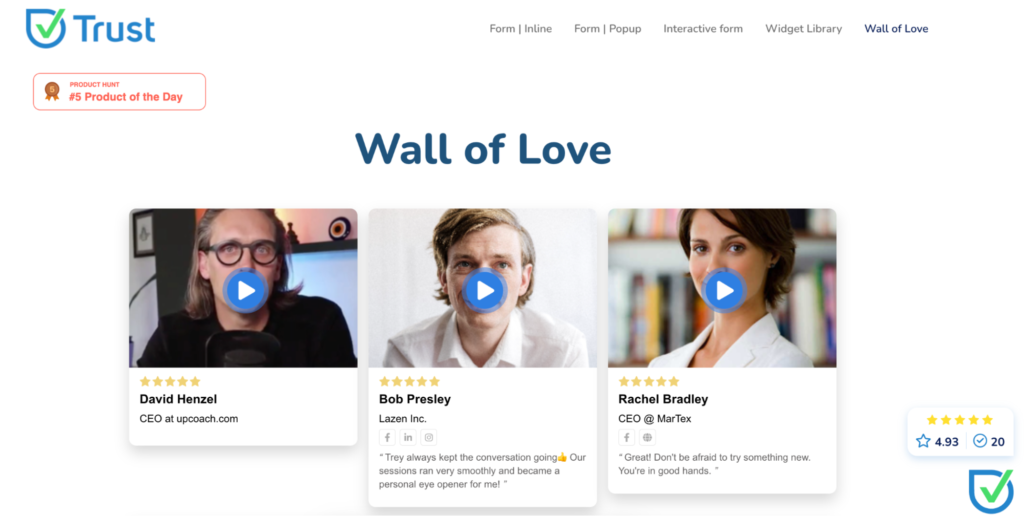 There you have it. An authentic Instagram customer testimonial to impress your potential customers and build solid credibility using Trust's foolproof testimonial platform!
Leverage your Instagram with powerful social proof
Start using customer voices to attract high-quality leads on the widely used social media platform – Instagram.
Use Trust to display your customer testimonial and increase conversions.