If you've been keeping up with our blog, you probably already know how great of an effect social proof can have on your conversion rates. Chances are, you're probably already using a social proof app to increase your sales. You may be looking at ProvenExpert, an established social proof tool that lets you collect reviews for your eCommerce store.
However, if you're looking for something else that might fit the bill and easily convert visitors into paying customers, you may be looking for some ProvenExpert alternatives. Here are a few of them that are worth your time and money.
So, why ProvenExpert?
Launched several years ago, ProvenExpert has spread to the worldwide market as one of the most renowned social proof apps. Besides letting your customers leave reviews, it also allows you to aggregate reviews from all over the internet, including those from Amazon, eBay, Google, and many other sources.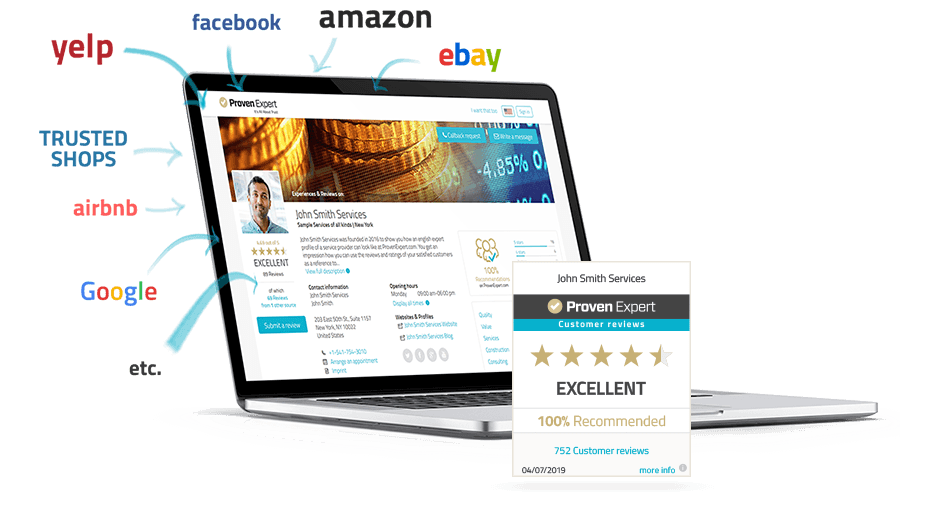 The way that ProvenExpert does this is quite elegant. It offers a range of different survey templates which you can use to invite customers to leave a review for your products or services. The survey templates are sorted by industries and most companies fill easily fit into one of the available categories.
Once you have collected a solid number of reviews, you can display them on your own website. Instead of bothering with design and coding, ProvenExpert gives you a special page for reviews that you can easily embed in your own website. Once done, you can adjust its design to match its surroundings.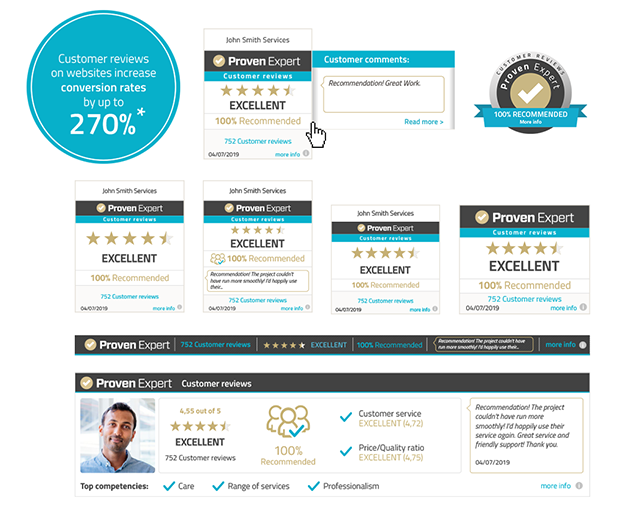 Overall, ProvenExpert is an easy-to-use social proof tool that lets companies collect and display reviews on their website. If you're looking for an in-depth review of this tool, you can take a look at our recent comparison.
At the moment of writing, ProvenExpert has a free plan which allows you to collect and display up to 10 reviews. The basic plan is $24.90 per month, which gets you 50 publicly available reviews, 25 surveys and ratings aggregated from 3 other platforms. The most popular plan is called Plus and it gives you 250 ratings and 50 surveys at $39.90 per month.
Ekomi vs ProvenExpert
The first entry to this list also comes from Germany and it caters to an enterprise audience. Focusing primarily on Google ads (more on that later), Ekomi advertises itself as the go-to review solution for large e-commerce and service-based operations.
So, what's the good part about using Ekomi? First, you'll be in good company, because some of their clients include Goldman Sachs, Allianz, DHL, Axa and many others. As their own social proof, Ekomi has over 14,000 clients worldwide and has gathered a total of 40 million reviews.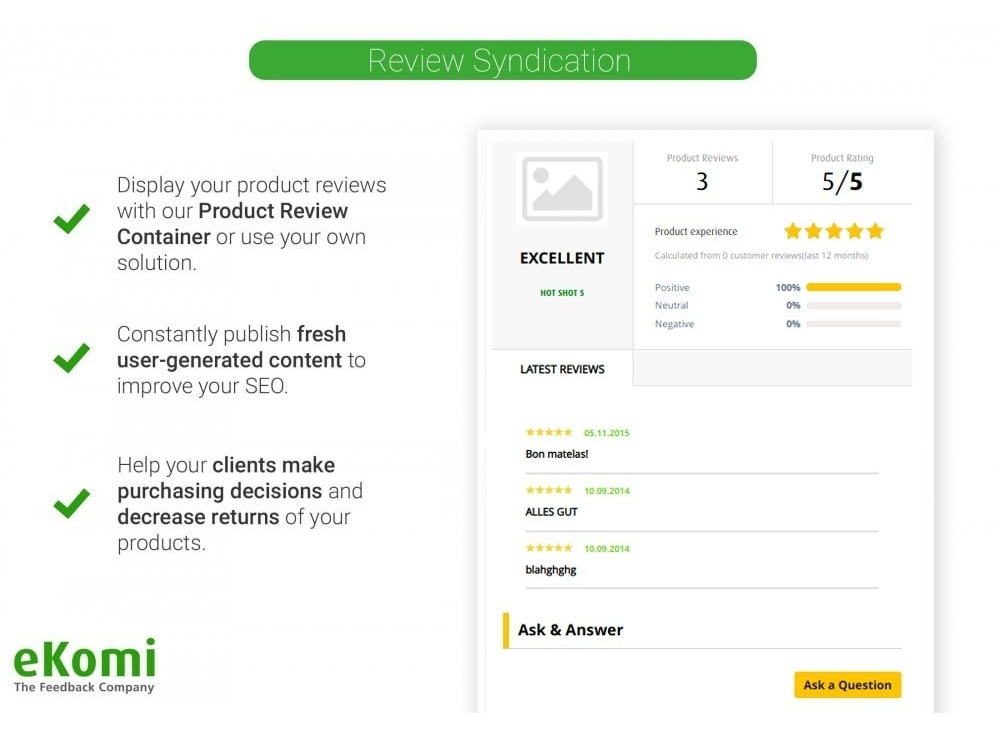 Ekomi's reviews are largely automatic. That means that immediately after a purchase, the customer gets a link to leave the review. Once they do leave it, Ekomi's review team receives it and you can choose to display it on your website.
Speaking of which, Ekomi integrates with a variety of different platforms, including Prestashop, Shopify and Magento. Perhaps most notably, it integrates with Google Adwords and Google Shopping, which many marketers will appreciate.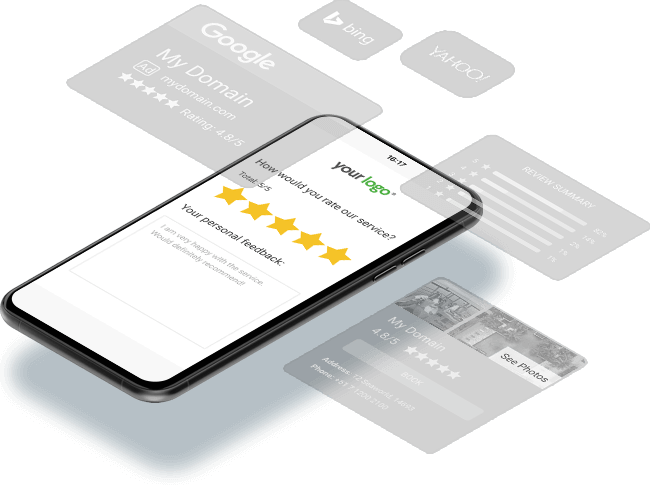 One major downside to Ekomi is that all of the reviews gathered through their platform are tied to your account. In other words, should you ever stop using Ekomi or switch to a competitor, you will lose all of your Ekomi reviews.
So, how does Ekomi stack up against ProvenExpert? For the most part, Ekomi works better if you have a larger store and a variety of different products. Smaller stores and companies dealing with services will be better off using ProvenExpert. On the other hand, Ekomi has a much better way of displaying the reviews it aggregates since it integrates with a large number of platforms.
Getting reviews is more straightforward in Ekomi since you can manage all invitations from your dashboard. However, ProvenExpert comes with a larger variety of templates you can use to get reviews from your customers. Finally, when it comes to pricing, Ekomi is more expensive at around $65 per month. However, you have to dig around to find this information, since Ekomi doesn't display it publicly on their website for some reason. Overall, ProvenExpert is a better choice and provides more value.
Google star ratings vs ProvenExpert
To be fair, Google's star rating system is not a direct competitor to ProvenExpert, but it has to be mentioned. Google can create rich snippets for your website pages in search results, which can increase your click-through rates by as much as 29%. So, the good news is that Google star ratings work and they work really well.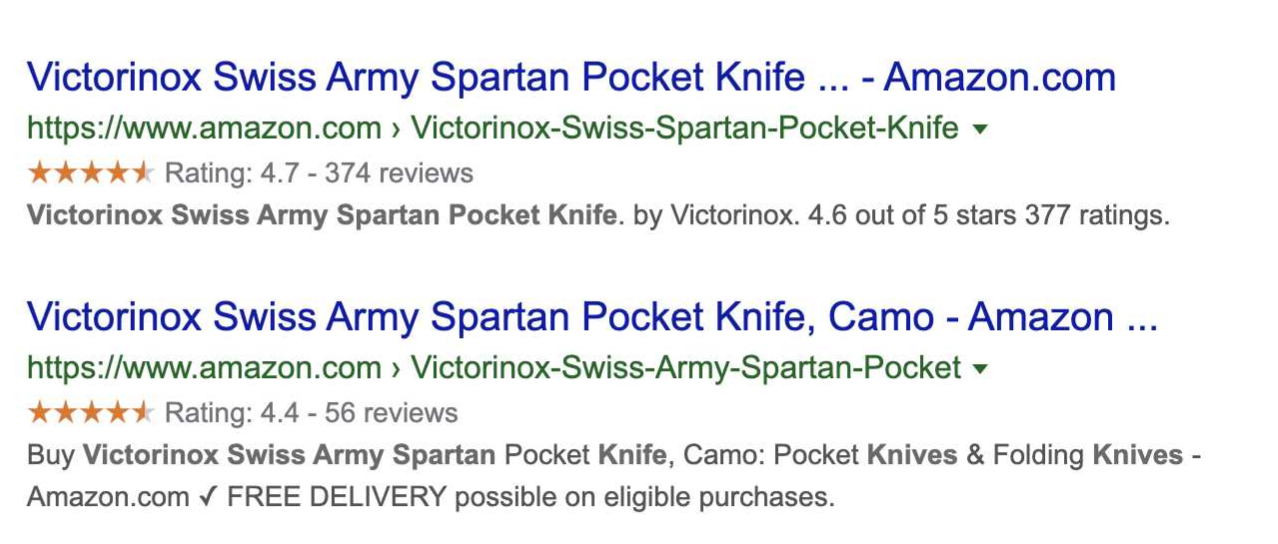 The bad news is that you can't apply to use star ratings in Google and they will automatically start showing up. Similarly to the way Google ranks your content in search engines, it has an algorithm for star ratings. In other words, it has a number of trust signals it uses to determine who gets star ratings and who doesn't.
To sum up, Google star ratings are earned, rather than paid.
When it comes to ProvenExpert vs. Google star ratings, it really is not a fair comparison, especially since ProvenExpert aggregates Google star ratings. However, ProvenExpert is a nice addition to your marketing stack if you already have a solid number of star ratings on Google.
Perhaps the best-known review app out there, TrustPilot has set the industry standard for reviews. The good part about this app is that it's become a household name for reviews, so people will trust your reviews simply on the account that they are hosted on this platform.
They achieve this by being very stringent about who can leave a review. There are no fake or spam reviews because only those with a direct buying experience can leave one. That way, the chance of false reviews are reduced to a minimum.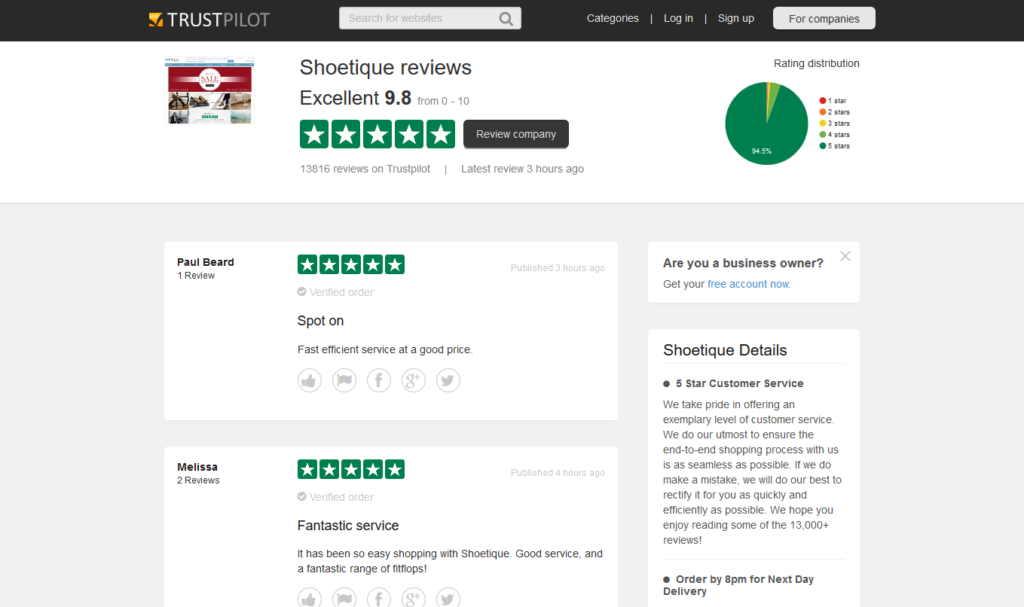 On the company side, collecting reviews is fairly easy, because all you have to do is send out invitations from their dashboard and watch them roll in. You can then decide which ones you want to show on your website and which ones are going to scrap bin.
The downside of TrustPilot is that there is not all that much you can do with their free plan. To do anything useful, you need their API, which requires their cheapest paid plan – this will set you back $349 per month. If you don't have the number of customers to justify this kind of spend, you are far better off with one of the cheaper competitors.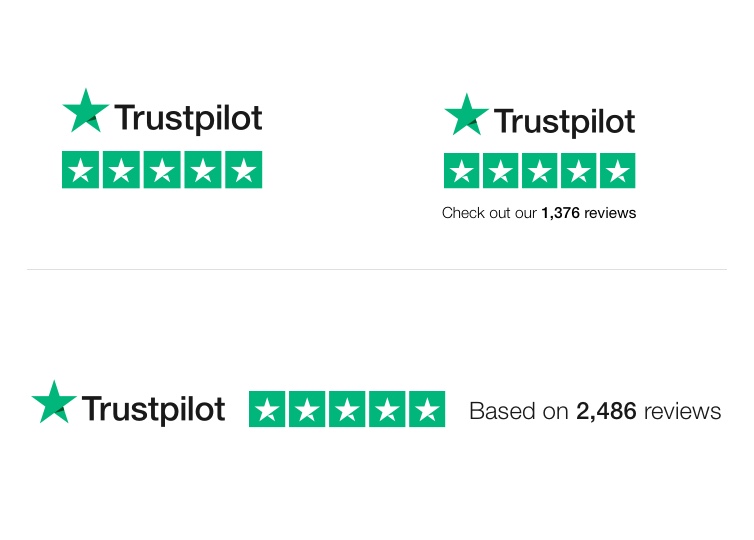 When comparing ProvenExpert and TrustPilot, we have to get to the elephant in the room first. As mentioned, at $349 per month, TrustPilot is 10 times more expensive. Even though TrustPilot has some impressive features, as well as the fact that it's used by a large number of businesses, you really have to determine if it's worth the investment. The only major advantage of TrustPilot is the fact that their reviews are verified, which could make a difference in how visitors perceive them.
Trust vs ProvenExpert
Think of Trust as social proof taken to the next level. While most social proof apps deal with only one type of a marketing tool, Trust combines all into one.
To start off, Trust offers star ratings – so that your customers can rank your products with stars – and you can show them off in Google search results as well.
Besides star ratings, you can make use of testimonials and video testimonials. The platform allows you to easily reach out to your customers with a single link where they can leave a testimonial for your company.
Moreover, there are notifications that you can use to turn your visitors into buyers. For example, you can use the notifications to show off your most recent conversions. That way, when someone buys a product, signs up for a webinar or books a demo, the other people on the website at that time will see it and hopefully convert as well.
When comparing Trust and ProvenExpert, first let's take a look at the ease of getting reviews from your customers. It's a tie here, since both platforms make it easy to get reviews from your dashboard. Trust gets a slight upper hand here, since the user experience in the back end is more intuitive.
In terms of pricing, Trust is less expensive (starts from $16 per month). Moreover, Trust comes with a wider range of social proof tools, offering more than just reviews: text and video testimonials, conversion notifications, star ratings, as well as other useful tools.
You can buy Starter plan for 1 website and display Conversions, Visitors, 10 different testimonials, 50 star ratings and access 1 external rating service. Off the Ground plan ($49/mo) unlocks 200 testimonials, 200 star ratings and 5 external rating services along with removeable branding and ability to e-sign contracts (GDPR compliant consents to show customers' testimonials). Business plan ($99/mo) provides endless features for up to 10 websites.
Overall, considering the ease of use of both apps, Trust is the better deal of the two.
Conclusion
ProvenExpert is an excellent tool for social proof and collecting reviews. However, the competition is pretty stiff and there are now a number of tools offering not only reviews but a variety of other tools for collecting and displaying social proof. If you'd like to try out a tool that combines multiple social proof tactics in one, make sure to give Trust a try!