Up until recently, social proof was considered a tactic that is nice to have in marketing campaigns for your brand. However, as the effects of paid marketing are decreasing and the ROI of traditional marketing efforts is getting lower, more and more marketers are turning to social proof to increase their conversions and sales. After all – people are more likely to trust a complete stranger online than a company trying to sell to them.
Having this in mind, it's no surprise that there are numerous social proof tools out there that help marketers spread the word about their products. Today, we're taking a look at two of them that promise to increase your conversions – ProvenExpert and Trust, to see which one does a better job of collecting and displaying social proof.
Let's dig in.
About the tools in general
Trust was launched in 2017 by a software developer with a passion for solving marketing problems. The platform aims to combine all social proof tools in one – reviews, ratings, visitor count, social media followers count, and many others.
Launched in 2013, ProvenExpert was designed as a platform to aggregate and review customer feedback for companies in the German-speaking region, including Germany, Austria, and Switzerland. In 2017, ProvenExpert was opened to the global market. Through the use of reviews and ratings, the company promises an average increase in revenue of 10% when using their product.
The features
As a CMO or marketing manager, one of the main concerns when buying a new tool for your marketing stack is how many features it has and how it benefits them as the customer.
ProvenExpert features
The core of the app is the survey feature. You can create your own from scratch and grab one of the many available templates to get started quickly – they are sorted by industries. The surveys look great and have a nice UX for your customers.
Rating seals
To prompt your customers to take the survey, you can invite them using survey cards, emails, links, social network buttons, QR codes, and many other platforms. You can do all of this from a single dashboard.
Moreover, ProvenExpert helps you control your surveys from other platforms. You can import and aggregate surveys from other websites (Amazon, eBay, Google, etc.) into ProvenExpert. This way, you can have them all in one place for easy overview and access.
When you have all your surveys in one place, you can run analytics to find out your weak spots and highlights. If you don't want to stare at the dashboard every day, you can get weekly reports.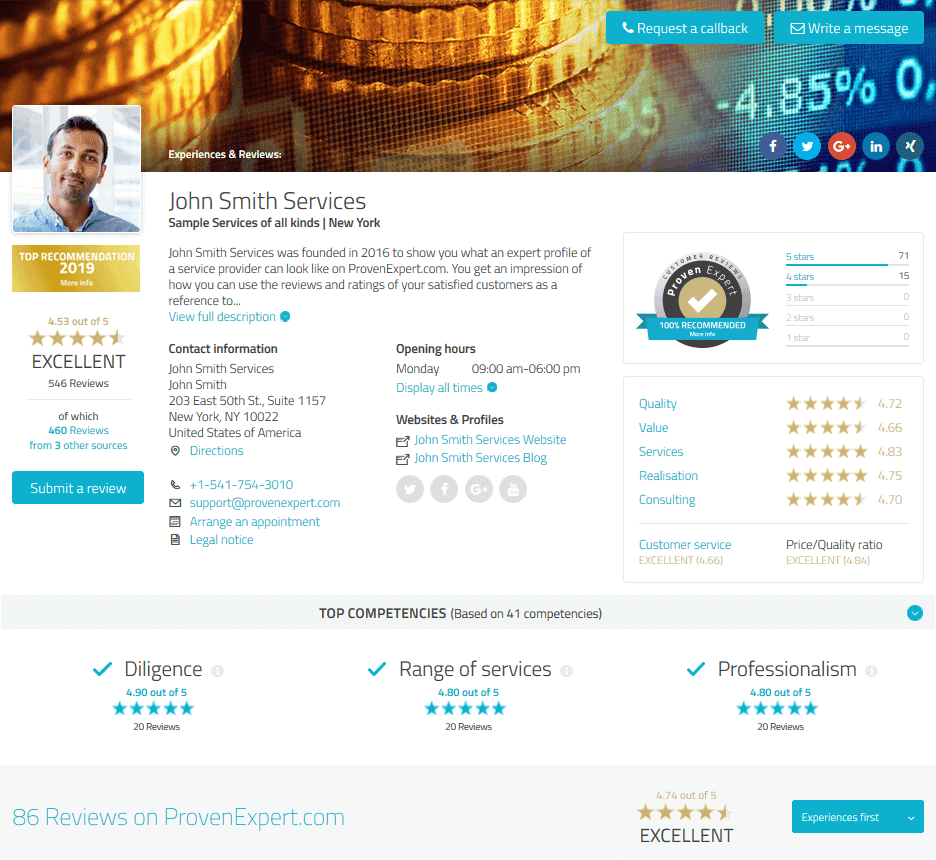 ProvenExpert profile
Once you collect all your survey results and ratings, you can publish them using your company profile, which is a separate page that you can show off on your website. This is a neat option if you like ProvenExpert's design and UX, but if you want to integrate the ratings and survey results into your own website pages, you'll have to spend some time coding and maneuvering around your website's source code.
The great thing about ProvenExpert is that you decide which reviews and ratings generated through ProvenExpert are shown on your profile. However, this option is associated with constraints regarding your rating seal on your profile as well as your widget for your website.
In addition, you can start surveys for only internal purposes such as quality management, which doesn't affect your rating seal.
сrowdy.ai features
Unlike ProvenExpert, Trust focuses on a multitude of things. For the sake of comparison, we'll start with reviews (called testimonials in Trust) and ratings. To get testimonials from your customers, you can set them up from Trust and send them to customers whose opinions you want. You can set up your own questions, titles, and logos and completely customize the look of the surveys that the customers get. You can display these testimonials as part of your own website using either a widget or as part of the page.
Testimonials feature
Video testimonials feature allows you to collect existing videos from different social media platforms as well as to record your own video testimonials in a few easy steps. After purchase, a customer receives a link to leave a video testimonial, records it or uploads their own video. Then, Trust works on the data and features the video testimonial on the website after your approval. Moreover, you can e-sign a contract between you and your testimonial sender in a few clicks.
Video testimonials feature
Unlike ProvenExpert that limits you in the ways that you can display your reviews and testimonials, Trust makes it possible to adapt your testimonial to your own website so that it fits into the overall design of the website.
The second feature is the star rating. Similarly to testimonials, you can collect and display them from your dashboard. When you set up your star rating tool, you can decide on the general settings (display as a widget or flyout) and you have some really cool extra features that ProvenExpert doesn't have. For example, you can set up the tool to display higher ratings first and to publish automatically if a rating is above a certain threshold (3 stars, for example).
Star Ratings feature
Moving on to features that ProvenExpert doesn't have, Conversions is an impressive feature that can really do what it says. Simply put, you can set it up to display the most recent conversions on your website as notifications in the browser. For example, every time someone buys a product, a visitor browsing the website will see this activity displayed in their browser. You can set up different actions as conversions and edit the notifications' style to match your website's.
Conversions feature
Similarly, there is an option called Visitors, which does exactly the same, but with the number of visitors on your site. For example, you would get a notification saying that 5,000 have visited a website in the past 24 hours.
Visitors feature
There is another cool option that Trust offers – you can send emails to your customers directly from your dashboard, from lists made in the app or those uploaded from a .csv file. In the future, the developers are planning to release automated email sequences from the app as well. These automated emails can be triggered by a Conversions tool or any other integration Trust offers, for instance a webhook or a Zapier app.
As for the plans for the future, the Trust team is planning to integrate ratings from other platforms in a manner similar to ProvenExpert. In other words, you'll be able to aggregate your company ratings from TrustPilot, TrustedShops, ProvenExpert and others and apply them to your website with Trust.
The pricing
ProvenExpert pricing
Like many SaaS companies nowadays, ProvenExpert offers a free plan, which allows for 10 publicly displayed ratings and 5 simultaneously active surveys. While this is good enough to test the waters, it's not enough for a busy e-commerce store or website.
Paid plans start at $24.90 per month (Basic plan) and this will get you 50 publicly displayed ratings, 25 simultaneously active surveys and ratings from 3 other platforms. The Plus plan is the most popular (250 ratings, 50 surveys) and it costs $39.90 per month. If you want to get everything unlimited, you have to jump for the Premium plan which costs $79.90 per month.
Trust pricing
The platform has 4 pricing plans in total. The good news is, you can test Trust during 14 days for free.
Starter plan costs $19 billed monthly and $16 billed annually. It gives you access to Conversions, Visitors, 10 different testimonials, 50 star ratings and 1 external rating service. You can hook up Trust to 1 domain with unlimited monthly visitors. Moreover, you get free implementation and coaching along with excellent support.
Off the Ground increases the number of websites to 3 and it costs $49 billed monthly and $41 billed annually. It offers 200 testimonials, 200 star ratings and 5 external rating services along with removeable branding and ability to e-sign contracts (GDPR compliant consents to show customers' testimonials).
Business plan doesn't limit any feature on 10 websites for $99 billed monthly and $83 billed annually. Agency plan's pricing is custom and depends on specific needs.
In general, Trust is less expensive, and its features you get justify the cost. Whereas Provenexpert displays ratings only, Trust has a whole host of useful features on top of ratings. On the other hand, if you need ratings and surveys only, ProvenExpert is the better option for you.
The verdict
These two social proof tools are only similar on the surface. While ProvenExpert offers two great ways to collect and show social proof, Trust offers the whole package. Both are social proof tools. However, this is where the similarity stops.
ProvenExpert is much more limited in its use, while Trust gives you a range of possibilities to use social proof and market to your website visitors. On top of reviews and conversions, it offers video testimonials, visitors and social media followers count.