Wouldn't you want to know everything people are saying about your brand? Unfortunately, you can't. However, you can get pretty close with some social monitoring tools.
Social monitoring is a practice that has been around for about two years now. It is all about collecting business intelligence concerning your brand or competitors from the various social media platforms.
Social listening also goes hand in hand with social monitoring, although the line separating the two is very thin. While social monitoring (or social media monitoring) involves the acquisition of data from social messages, social listening is more about forming strategies and actions by analyzing the data acquired from your social media monitoring.
You basically use social monitoring tools to acquire information on what people are fussing about and then social listening to form an actionable plan for improving your business beating your competitors.
You probably already like this social monitoring thing by now. But just in case you don't appreciate it enough, let's clear that doubt by looking at some of the things you can do with the information you get from social monitoring tools.
Why monitor social media?
– Gather valuable data about your brand
You obviously can't monitor everything people are saying on social media by yourself. That is where these social monitoring tools step in. They help you filter through people's posts and get the specific info you are looking for.
You can find out exactly what your audience wants so you know what to give them. It is the most honest feedback you can get from your customers and prospects because you don't actually have to ask for it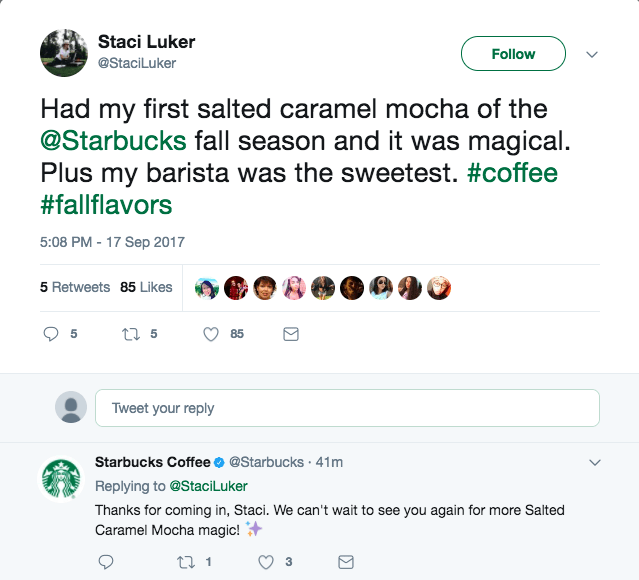 With social monitoring, you will be able to gauge your customers' reactions to your most current marketing campaigns and product changes so you can better tailor them to their needs.
– Become more approachable to your customers
Every brand is always trying to provide the best customer service. Achieving this means you have to keep track of every communication channel, especially on social media.
Almost everyone nowadays has at least one social media account and that's where people talk the most. Monitoring social media enables you to interact more closely and easily with your audience, so they find you more approachable.
– Neutralize negative social buzz
You don't want a bad image spreading because it will deter your growth strategies. In this modern era, news spreads faster than wildfire. For instance, when a fire was caused by a coffee maker from Keurig in Oregon last year, rumors spread quickly across different platforms that the company was planning on replacing the family's coffee maker, yet their apartment still burnt down.
After listening to the audience's cries, Keurig met the full cost of fire restoration and the family settled again. However, the spread of such information was bad for business and could have been prevented sooner with proper social monitoring.
– Find influencers and interact with top brand advocates
Influential people can make important advocates for promoting your product and sparking more engagement in many smaller groups. Social monitoring allows you to find such people a lot easier. After all, your biggest fans are the most appropriate for recruiting other fans by explaining why they have stuck with you all that while.
You find such people a lot easier by listening in on conversations and interactions between particular customers.
But how do you filter conversations on social media to find the ones that concern you? The answer is social monitoring. Find a tool that works best for you and have it do most of the work. Most of these tools can find conversations about your brand even when the name was misspelled.
Once you find where your biggest customers hang out, go there and interact with them more closely. It could be the difference between a loser and a major winner in your line of business. Target your biggest prospects and influence them to make purchases by clearing all doubts, or connecting them to someone else from your organization to provide further guidance.
– Spy on your customers
Because why not? Why not take every advantage you have? Don't stop at listening to your own audience. Go a step further and find what people are saying about your competitors. Know their strengths and weaknesses. Then go back to the drawing board and find a way to beat them.
It is always easier to beat the competition if you understand their pain points and strengths. That way, you can offer customers what they don't get from the competition, as well as what they get but in a better way.
Of course, you don't want to be seen copying your competitors' services, but you can acquire invaluable insights from social media to help you fight better.
Here are three guidelines to keep in mind when spying:
1. Gather intelligence and analyze their efforts.
2. Find loopholes for beating them.
3. Come up with new targets for your business based on the competition you want to beat.
One little advice though, be keen and do not make it obvious that you are spying on your competition. It works both ways, you know. Besides, the secret to creativity is to hide your sources.
Popular social monitoring tools
In case you are wondering how to start monitoring social media, here are some of the popular tools on the market (not according to rank):
1. Buffer Reply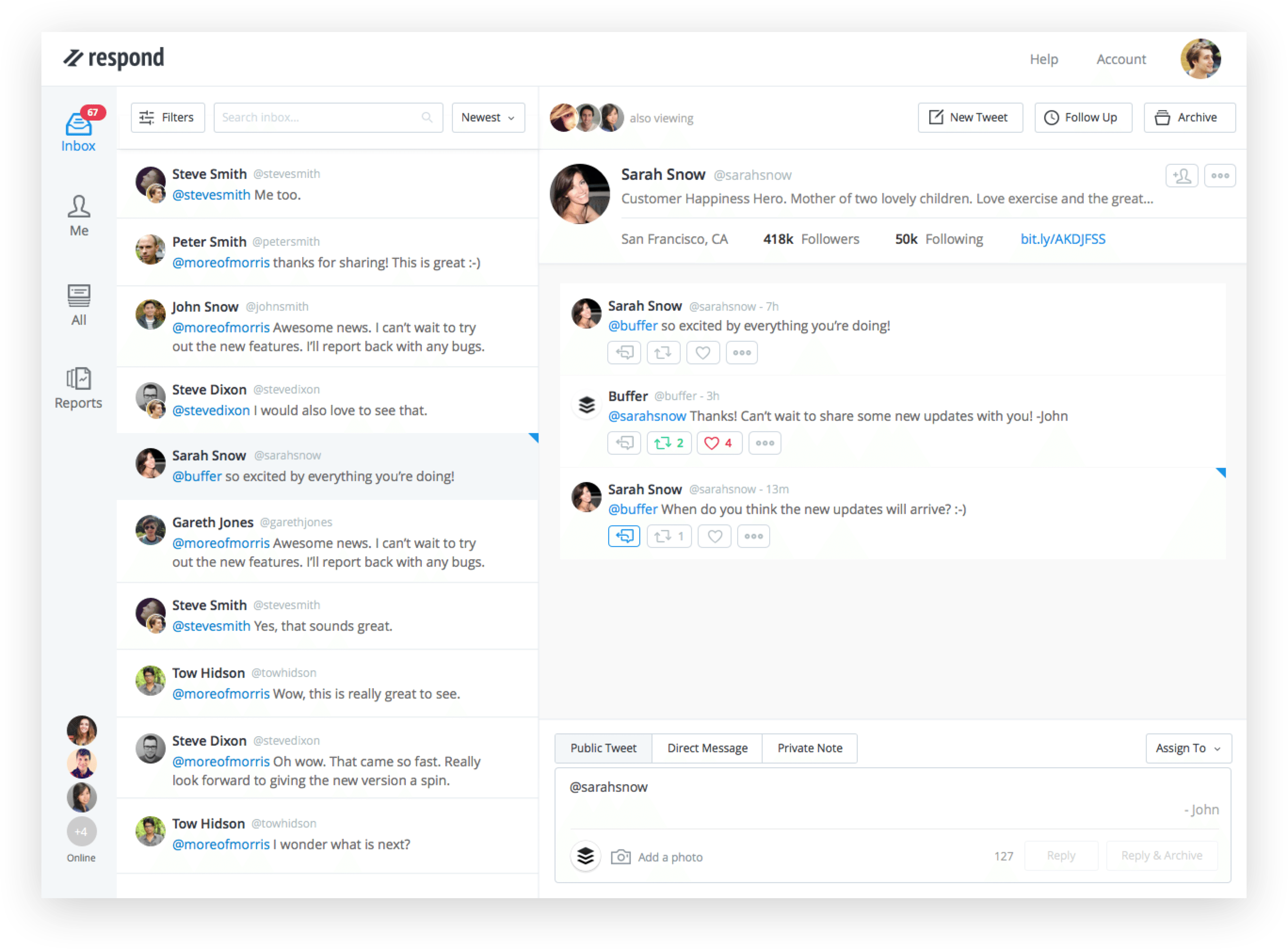 Buffer Reply is a social media monitoring tool that can be used to organize your Facebook, Twitter, and Instagram engagement into well-threaded conversations and present them as a shared inbox for teams. With this simple tool, you can have all the relevant information about every customer involved in the conversation, hence enabling you to come up with customized replies to each of the customers. What is more is that you have the advantage of making the responses spicier by using emojis and GIFs.
2. Reddit Keyword Monitor Pro
Boasting over 250,000,000 users and at least 8 billion page views a month, Reddit is definitely one of the best tools for monitoring the fuss that's trending.
3. HootSuite
HootSuite is a popular freemium software for tracking activities across various platforms such as Twitter, Facebook, LinkedIn, Foursquare, Google+, and WordPress. The tool also enables you to schedule posts on multiple platforms and delegate tasks to your crew. Handy, isn't it?
4. Keyhole
With Keyhole, you can monitor your Twitter and Instagram accounts and conduct searches for keywords and hashtags, usernames, and URLs. It also provides both real-time and historical records, as well as "heat maps" that show your level of activity in specific regions of the world.
5. Sprout Social
This tool is among the most popular, especially because of its ability to analyze the data you require to increase your social media engagement. Publishing posts from the software is enabled, and so is teamwork.
These are just but the tip of the iceberg. There are numerous social monitoring tools in the market, each with unique features and capabilities. Sometimes, one isn't enough. But for a start, the above-mentioned software is excellent. They wouldn't be popular otherwise.
There is no telling the extent of how a well-managed social media monitoring can go in improving your marketing skills and your product sales in the long run. But the statistics themselves show this to be a budget friendly and effective way of enhancing your social media reach which can lead to successful active lead generation.
Now, go ahead and get started on social monitoring. People are talking. You should be listening.