Either you've already tried Testimonial.to, or maybe you're on the lookout for the best video testimonial software and comparing tools.
Both ways, it's wise to try options before you go all in and put your money on the table.
To help you in this search, the following article will take you through the four outstanding Testimonial.to alternatives.
And the best part?
We've tested out the tools, so you don't have to!
What is Testimonial.to?
Testimonial.to is a testimonial collection tool that lets businesses collect customer text and video testimonials and display them on business websites.
It is a great tool for solopreneurs or freelancers without a website who want to create a dedicated landing page to display video and text testimonials or reviews.
Sample Testimonial.to landing page to collect videos
Why do you need to look for Testimonial.to alternatives?
Testimonial.to is a decent tool to add testimonials, but it lacks in some areas, such as:
It has a fundamental approach to testimonial collection, like forms with limited customization.
No key features to create custom widgets and display testimonials. You can only display them as a 'Wall of Love' on your website or publish them as a dedicated Testimonial.to landing page.
It has a limit on the video minutes and uploads for paid plans making the tool pricier for small teams.
So without further ado, let's start reviewing Testimonial.to alternatives one by one.
Before that, do you know what features made the four tools – Trust, Trustmary, Testimonial Hero, and Vouch a part of this list?
How we've chosen Testimonial.to alternatives for our review
Here are some of the top features we've considered before curating this list of alternatives to Testimonial.to:
Customization – Customer testimonials must be a reflection of your brand. Therefore, a perfect video testimonial software should give you multiple options to customize and display testimonials as you like.
Ease of use – This one's a no-brainer. The tool's UI should be user-friendly for you and your customers.
Seamless testimonial submission – You wouldn't want to waste your client's time submitting the perfect testimonial for you. So the tool you choose must make the submission process a breeze.
Quick recording options – The tool must offer multiple recording options without installing an app and should be all-devices friendly.
Fair pricing – Lastly, the tool you choose must be fairly priced for the range of features while fitting into your budget.
The 4 best Testimonial.to alternatives
1. Trust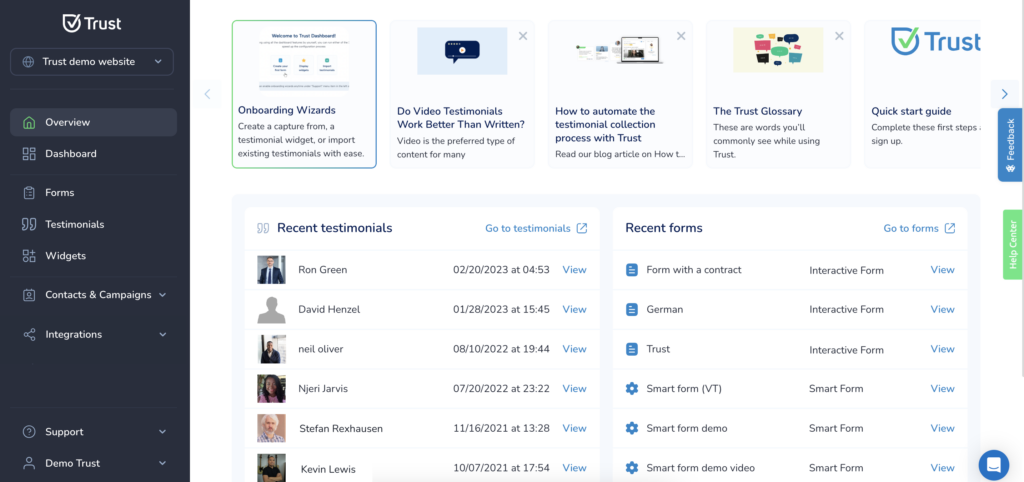 Picture a single tool taking care of your marketing needs, such as growing credibility, attracting prospects, etc., and offering an easy route to collect testimonials at scale. That's Trust for you.
An intuitive tool that lets you make the most of your marketing budget through powerful testimonials, Trust also gives you multiple options to display social proof with zero coding.
Here's a glimpse at Trust's unique features that outperform Testimonial.to and let your written testimonials stand out:
Get a high-quality, genuine testimonial by asking the right questions while engaging your client. Trust's Interactive forms with a handy video editor lets you create video surveys and engage your client through conversations.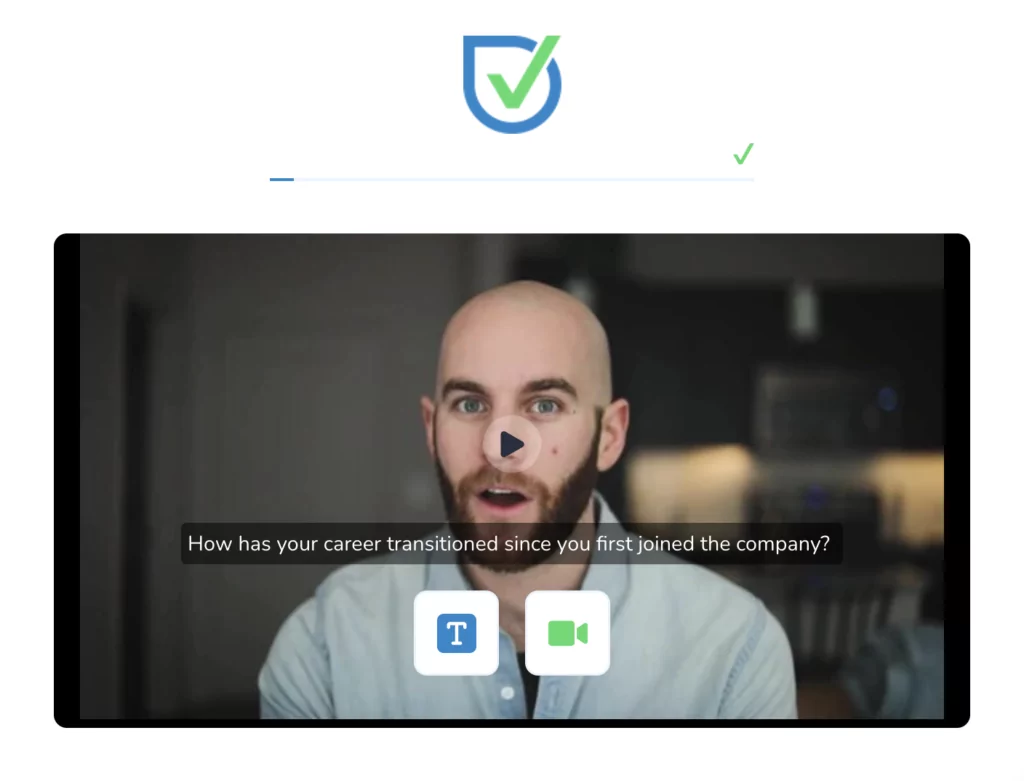 Not one but three ways to collect customer testimonials through customized forms. Trust offers Smart and Interactive forms that help you collect testimonials as you please. You could use an Interactive form if you need a dedicated landing page to add responses. Or if you like personalizing forms and playing around fields, use Smart forms.
Auto-transcribe your video testimonials and generate subtitles automatically with Trust.
The pros and cons of Trust
Pros:
Covers the end-to-end functionality of testimonial collection and displaying using no code that eliminates the need to hire a developer or designer.
Fair pricing compared to market standards for smaller to medium-sized teams for the many extensive features offered.
Import reviews from any site and store them on your Trust dashboard for quicker access.
Cons:
Trust's pricing
Testimonial.to alternative – Trust pricing
Trust's basic plan – Starter is priced at $16/mo (if billed annually), while Testimonial.to initial plan starts from $20/mo.
And Trust offers 50 publishable testimonials and an unlimited collection for its basic plan, but Testimonial.to only offers two. This makes the former more suitable for small to medium-sized teams.
Trust's Off the Ground plan is perfect if you're a growing business and is affordable at $41/mo.
Trust reviews by happy customers
Who is Trust for?
For small to medium-sized growing businesses looking to transform their marketing strategies through testimonials.
For solopreneurs and freelancers searching for a stress-free way to collect video testimonials and attract high-intent clients.
Want to leverage social proof? Sign up for a 14-day free trial today with no credit card details.
2. Trustmary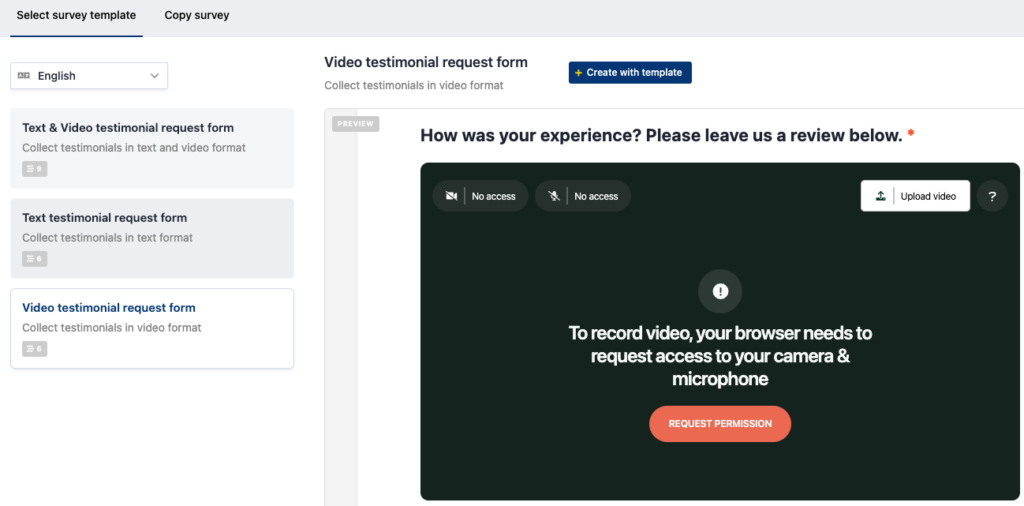 Trustmary has a quick and clean process to collect video testimonials and display them. You can enable automated review imports from sites like G2, Google reviews, Trustpilot, social media platforms, etc.
The tool offers a fast and easy 'record and send' format to collect customer feedback and has plenty of display options.
Here's a look into Trustmary's features and benefits:
Offers pre-made testimonial form templates that eliminate the burden of building a form from scratch.
Besides testimonials, you can choose from a wide range of widgets for reviews on sites such as Facebook, Google, G2, Capterra, etc.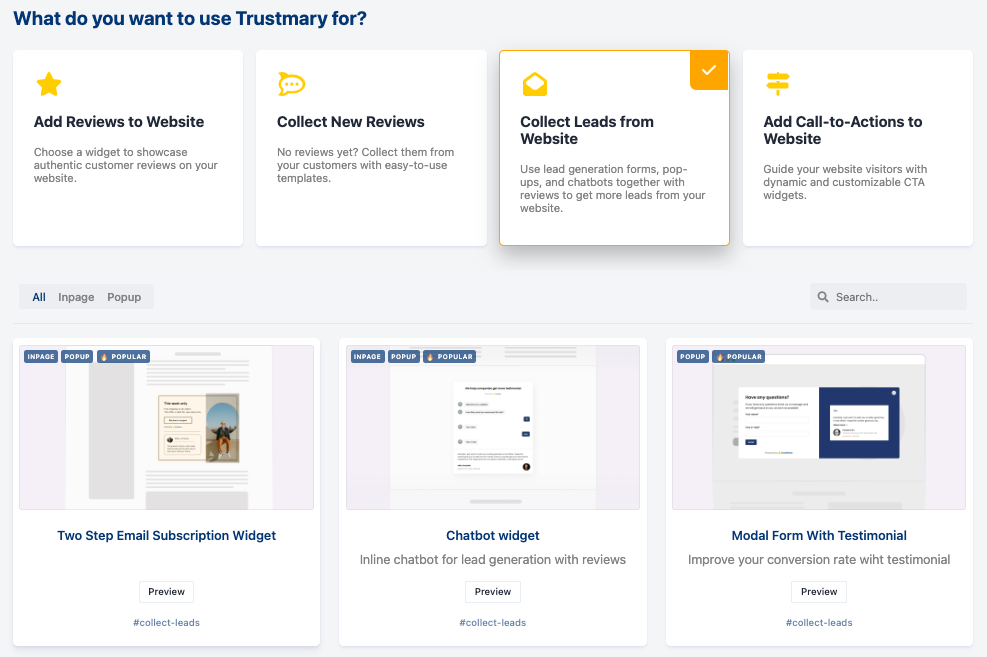 Trustmary lets you automate your feedback process using its inbuilt email automation.
The pros and cons of Trustmary
Pros:
Easy import of reviews from numerous platforms.
Lets you A/B test testimonials or review widgets to see what works best for your business.
Pre-optimized questionnaire forms to make your review collection process simpler.
You can create event survey forms and collect ratings or customer feedback on the go.
Cons:
Trustmary has separate pricing to display and collect testimonials instead of an all-in-one solution.
Limited video editing or formatting options.
Video testimonials cannot be transcribed.
Unlike Trust, you cannot link to your clients' social media profiles to add authenticity.
Trustmary's pricing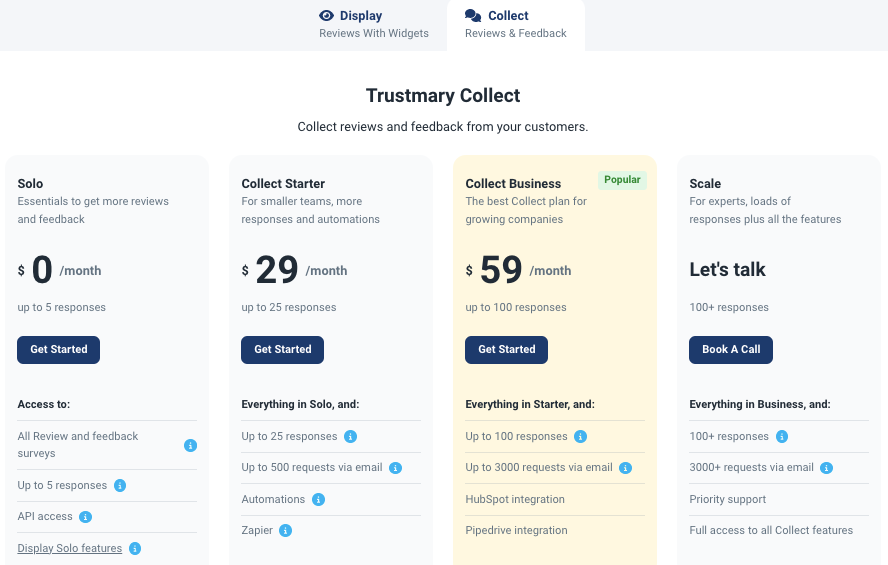 Trustmary's plans can get quite confusing from a user's perspective. Also, there's a monthly cap on how many widget loads you're allowed.
For individuals or businesses looking only to import reviews and display them, Trustmary offers the Display Starter plan for $19/mo.
Collect Starter (testimonial collection plan) is priced at $29/mo, and Business is priced at $59/mo, which is pricier than Trust, considering you can only collect testimonials.
Who is Trustmary for?
Larger enterprises with a higher budget ready to invest in different plans for different use cases like surveys, review displaying, testimonial collection, etc.
User reviews for Trustmary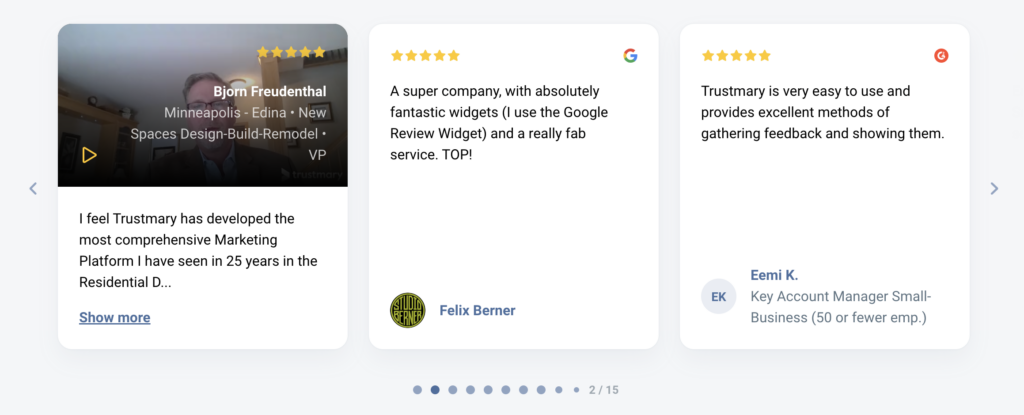 3. Testimonial Hero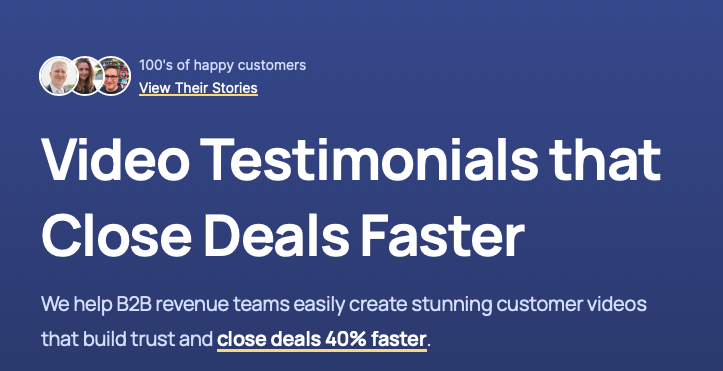 Testimonial Hero is a complete done-for-you testimonial collection tool for B2B sales and review teams. They manage the end-to-end process, from strategizing to filming, editing, and publishing testimonial videos.
Here's a peak into Testimonial Hero's best features and benefits:
Testimonial Hero's experts help you capture customer and employee video testimonials remotely or on-site. Remote capturing needs 30 to 45 mins of your customer/employee's time, while on-site needs at least an hour.
All testimonial videos are captured in high definition and extracted for impactful quotes.
On-site video capturing can include up to two customers at once.
The Pros and cons of Testimonial Hero
Pros:
The 100% done-for-you approach is great for enterprises looking for high-quality testimonials without the capturing and editing headaches.
On-site or on-location video testimonials can add more impact to social proof.
Cons:
Not suitable for small to medium-sized businesses due to Testimonial Hero's steep per-video pricing considering other budget-friendly options in the market.
Lesser control over the final video output.
Most customers would not prefer in-person video capturing that takes almost an hour and would like a natural flow of conversation.
Limited to video testimonials.
Testimonial Hero's pricing
Testimonial Hero has three pricing plans for remote and on-site testimonial capturing.
Test Drive for remote capturing starts from $1,688/video and just two rounds of edits. On-site video capturing plans start from $3,000 per video.
Who is Testimonial Hero for?
For large enterprises with huge budgets who wish to hand over their testimonial generation process to a third-party provider.
User reviews for Testimonial Hero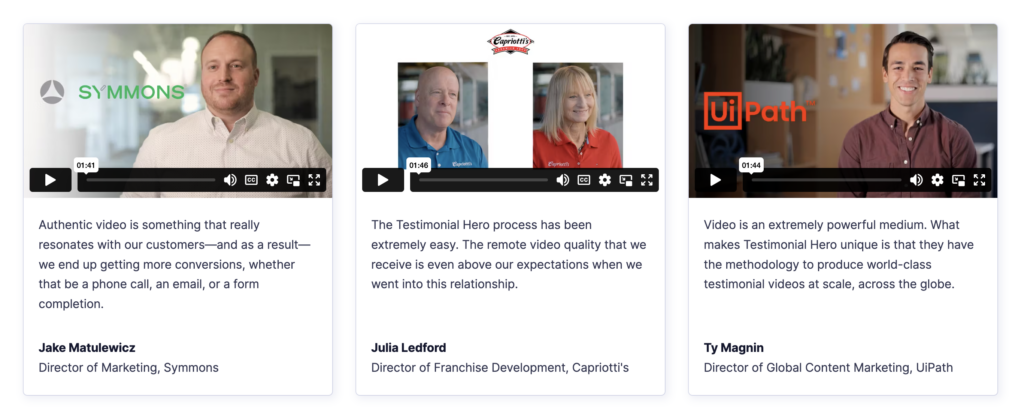 4. Vouch
Vouch is another great zero-fuss alternative to Testimonial.to for capturing genuine testimonials in a few easy steps. You can create a 'Vouch' by framing the right questions to which your clients can instantly record answers.
Most clients love such an asynchronous video testimonial collection format as it makes the process less tricky.
A sample 'Vouch' with questions for clients:
Clients can record and answer each question or upload
Here are the topmost features and benefits Vouch offers:
Intuitive and user-friendly interface that offers a rich experience.
Basic editing features include trimming raw videos, adjusting aspect ratios, generating transcriptions, and more.
Create a playlist and stitch your best videos together in a few clicks.
Vouch offers multiple video collection methods like QR codes, email requests, on-site recording, and link sharing.
Offers developer tools and guides for coders to play around and implement more complex solutions for their websites.
Pros and Cons of Vouch
Pros:
Offers basic video analytics to measure and optimize videos and their impact.
Has a 'free forever' plan for one active campaign.
It has various options to share testimonials, from creating a dedicated Vouch landing page to embedding requests on your website.
Cons:
Vouch does not support text testimonials or reviews.
Lacks advanced video editing options and covers basics like changing branding and video trimming.
One cannot import reviews from other sites and publish them.
Unlike Trust, we found no options, like widgets, pop-ups, etc., to display video testimonials.
Vouch's pricing
Vouch has a free plan where you can create just one active campaign.
The Starter plan is priced at $24/mo for annual payments. However, depending on the number of teammates (user seats), it can surge. Such a pricing plan makes it unsuitable for medium to large teams.
Who is Vouch for?
Solopreneurs or freelancers looking for a simple video testimonial collection solution with a basic coding background.
User reviews for Vouch
Comparison of the best Testimonial.to alternatives
Before we wrap up our final thoughts and the winner, let's compare each tool side by side:
| | | | | | |
| --- | --- | --- | --- | --- | --- |
| Tool & must-have features | Testimonial.to | Trust | Trustmary | Testimonial Hero | Vouch |
| Customization | No custom widgets or pop-ups. | Widgets, rich snippets, pop-ups, and badges with custom branding. | Form personalization, widget libraries, etc. | No hands-on customization | Lack of custom features to display video testimonials. |
| Video editing | No | Basic to advanced | Limited options | Handled by the Testimonial Hero team | Basic |
| Video analytics (paid plans) | Yes | No | Yes | No | Yes |
| Who is it for? | Medium-sized growing businesses | Small to medium-sized businesses and solopreneurs | Larger enterprises | Large, revenue-generating enterprises. | Solopreneurs and freelancers. |
| Fair pricing? | No | Yes | Yes, for large enterprises. | Yes, for large companies. | Yes |
| One major drawback? | Limited functionality. | Lack of video analytics. | Separate pricing for collecting testimonials and displaying. | Steep pricing. | Limited functionalities to edit and display testimonials. |
Some final thoughts
Video testimonials are a direct reflection of your brand. Therefore, choose a tool carefully to turn simple testimonials into lead-generating engines.
We hope this article helped shed light on what makes a video testimonial tool exceptional. If not, here's a quick summary of the four discussed Testimonial.to alternatives to help you decide:
Trust – To create glowing testimonials with a super accessible UI and handy features at an affordable price. Best suited for transitioning SMBs and solopreneurs.
Trustmary – Pre-made form templates and email automation to capture testimonials at scale. Best suited for larger enterprises due to its separate pricing.
Testimonial Hero – A 100% done-for-you approach to testimonial capturing for remote and on-site approaches. Per-video pricing can range from $1450 and up, making the tool suitable only for larger companies.
Vouch – A rich UI with basic editing and analytics. Its limited functionalities are unsuitable for medium to large companies.
The final unbiased verdict?
The winning Testimonial.to alternative is Trust. Its intuitiveness in capturing genuine testimonials, A-Z functionality, and one-of-its-kind AI testimonial generator are vital to ace your marketing efforts.
So hurry up and sign up for the 14-day free trial today!
FAQ
What's the best Testimonial.to alternative?
Trust is the best Testimonial.to alternative with its rich UI, advanced editor, affordable pricing, and unique AI testimonial generator.
What are Testimonial.to competitors?
Trust, Trustmary, Testimonial Hero, and Vouch and the best Testimonial.to competitors in the market today.