Every day, we see anywhere from 4,000 to 10,000 ads. Online or offline, we are drowning in advertising, and marketers show no signs of slowing down. The bad news for marketers is, it's not actually working. With an increasing amount of ads pushed to them, people tend to trust them less over time.
Offline, people will ignore your advertising and go on with their day. Online, they will use ad blockers (which are doing some serious harm to publishers already) for an uninterrupted browsing experience.
In other words, traditional marketing no longer works and businesses need to find new ways to reach out to customers and improve their sales. One of them is social proof.
The official definition of social proof is that it is a phenomenon where we copy the actions of others in an attempt to undertake behavior in a situation. In marketer language, that means that people are more likely to trust their peers (and even complete strangers) more than a random ad they see on Facebook, print or TV. As such, social proof is a marketing method worth investing time and effort into.
There are quite a few tools out there today that let you leverage and automate social proof for your business. Here are some of the best social proof tools out there, with their characteristics, features and pricing.
Testimonials are one of the most effective methods of social proof out there. The trouble is, collecting them takes a long time and then you have to find a way to display them on your site or some other platform. Boast takes the problem head-on, providing a way to easily collect and show your customer testimonials.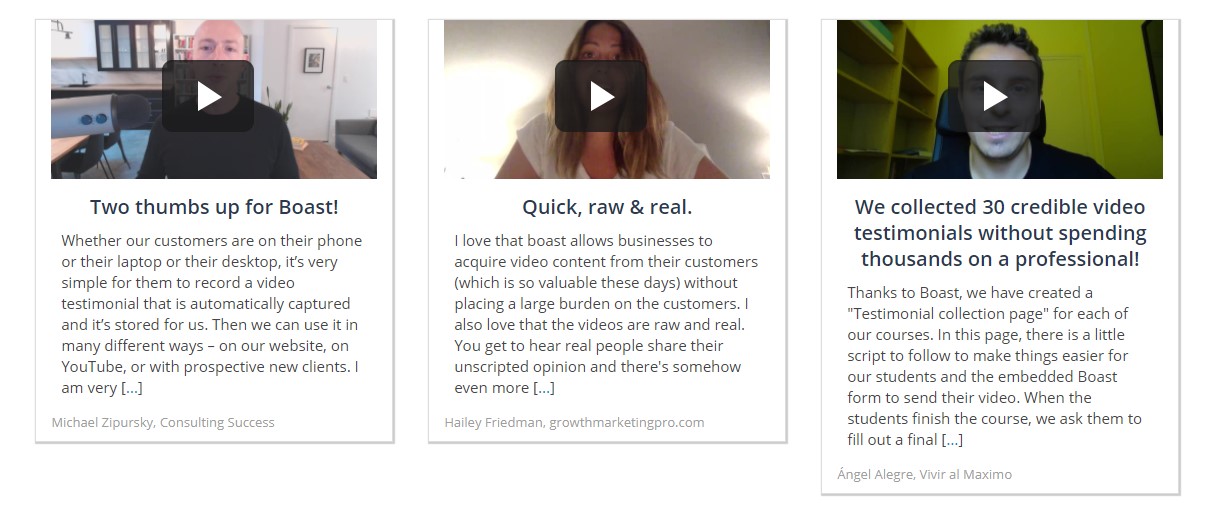 Besides text, you can also use Boast to gather video testimonials and manage them from a central dashboard. Boast integrates with Facebook and YouTube so you can easily take these videos and share them across your social media platforms for maximum social proof.
The coolest feature is perhaps the Boast mobile app. Instead of fumbling with uploading to your site, customers can download the app and record a video testimonial directly through the app, making the process extremely simple.
The pricing: There are four plans, ranging in the number of testimonials and their length. For example, the cheapest plan gets you 10 testimonials per month with videos up to 5 minutes each and costs $16 monthly. The priciest plan is $166 monthly for up to 400 testimonials with videos up to 15 minutes in length.
One of the oldest apps in the social proof market, used by large and small businesses in different industries. Since they've been around the block for a while, they have the upper hand over the competition in some segments, primarily a large number of integrations.
There are two aspects to Proof: Experiences and Pulse. Experiences lets you create personalized versions of your website for different visitors. You can change your copy, calls to action, design and much more to cater to the individual visitor.
The second aspect of Proof is called Pulse, and this is the one that we're interested in. Pulse lets you send push notifications to your visitors, telling them about recent conversions that happened on your website. It offers three features – Recent Activity (recently taken action on your site), Live Visitor Count (the number of people currently viewing a page or your whole site) and Hot Streaks (the total number of people who have recently taken action on your site).

You can set up custom times for when Pulse collects data – e.g. a certain number of conversions in the past day, week or as high as three months. Proof has multilingual support so notifications can be displayed in different languages as well. It's fairly easy to install and set up.

The pricing: It depends on the number of visits to your website. The basic plan starts at $29 per month and allows up to 1,000 unique monthly visitors, while the priciest plan is $299 per month for up to 300k visitors monthly. Note that the cheapest plans don't offer full features – they lack Hot Streaks and Live Visitor Count, which can only be had in plans starting from $79 per month and up.
Short for 'Fear of Missing Out' (FOMO), it is one of the oldest tricks in the marketing book. It's also the name of another social proof tool that makes sure visitors become customers. There's a host of usual social tool features in Fomo, along with some unique ones which make it worth your attention.

The standard features are all there, including notifications for conversions in all shapes and forms. What makes Fomo stand out is that you can go to great lengths when creating permutations for notifications and create them exactly how you want them to sound. According to the Fomo team, making full use of this feature does not require the help of a developer, and you can do it all without a single line of code.

The app comes pre-built with a variety of templates and display rules to try out, but you can create your own as you please. Just like the previously mentioned tools, it also has multilingual support and comes with 89+ integrations at the moment of writing this article.
The coolest feature is the social media plugin that automatically creates posts on social media when a conversion takes place on your website. Whether it works or not is a different story, but it's certainly something different.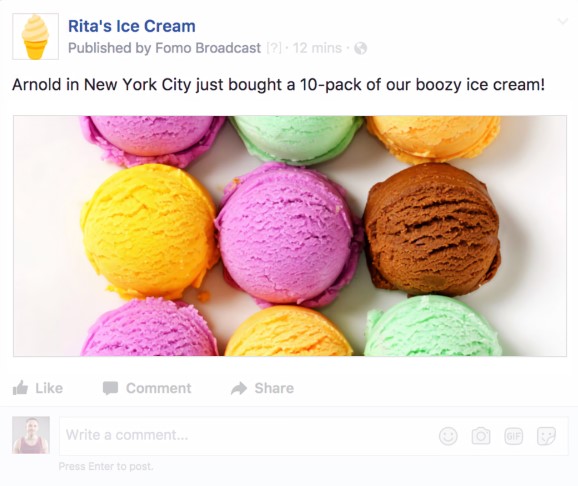 The pricing: The Starter plan costs $19 per month and gives you 25,00 notifications per month with all the features Fomo has to offer. If that's not enough, you can purchase Essential plan for $39/mo and 50k notifications and live chat support available. Plus plan covers 250k notifications for $79/mo and includes phone support. The most outstanding Fomo feature is A/B testing which you can get for $199/mo in Advanced plan in addition to 3 million notifications.
Built with e-commerce store owners in mind, Yotpo is a powerful suite of tools to help you market and sell more. It integrates with a large number of platforms, such as Shopify, HubSpot, Magento, BigCommerce, Salesforce, MailChimp and others.
The most notable part of Yotpo is the reviews feature, which lets you collect and show reviews and ratings on autopilot. Using artificial intelligence, Yotpo messages previous customers, nudging them to leave a review after the purchase. With this same AI, it displays the right reviews at the right time to visitors browsing your website, whether it's home page, product pages or category pages.
The coolest feature is the Q&A section which you can place under the reviews, which lets your team or even other customers ask and reply to questions about the product. Amazon uses a similar system and it's highly beneficial for increasing trust and engagement.
Pricing: Yotpo offers Free plan that includes 50 monthly orders, review request emails, on-site widgets and basic customization. You have to request a demo to check out the pricing if you want to upgrade.
A newcomer in the world of social proof tools, Provely is looking to take a slice of the cake from some of the bigger players in the game. It promises a 250% increase in conversions when using their tool, which is quite a bit compared to some modest predictions by Proof and other competitors.
It has all the usual bells and whistles, including notifications for conversions for a certain time period. You can choose between live conversions or past conversions (if you only have modest traffic and conversions), or set up Provely to rotate a combination of the two.
Provely integrates into a large variety of platforms, such as WordPress, Clickfunnerls, Instapage, Shopify, Magento and others.
The pricing: The Basic plan costs $97 per year for one domain, the pro is $147 annually for five domains, while Ultimate gets you unlimited domains at $197 per year. The pricing is unusual compared to the competition. However, there is a 30-day money back guarantee, so you can take the risk without any worries.
Similar in nature to the rest of the tools mentioned here, SocialProve is another social proof tool just beginning in this competitive market. However, it promises a humble 15% increase in conversions, compared to Provely's exaggerated claims. In fact, even the testimonials on the SocialProve website are as honest as it gets – from actual people pointing out the good and bad sides of the tool.

SocialProve is unique in that it only offers a single feature for now – notifications. Either for conversions or visitors, you can display conversion popups on your website. Just like the rest of the tools, setup is easy and doesn't take any knowledge of programming to take care of. You can adjust the notifications to match the look of your website.
The pricing: The Starter plan is $29 per month and gives you 25,000 notifications and unlimited websites. The standard plan is $49 for 250,000 notifications and Business gives you 2.5 million notifications monthly at $199. All plans come with a free trial for seven days to try out before committing.
Notifia integrates over 30 pre-built tools (widgets) to influence visitors behavior, from in-app notifications and messages to sending emails and collecting feedback. To be exact, Notifia is not a social proof software in its pure form. This tool is trying to fulfill many marketing needs at the same time.
To which extent Notifia can replace Google Analytics, Intercom and Salesforce is hard to tell. The chances are that trying to take any shot they can, Notifia sucrifiсes the professional approach of each marketing area.

But let's get back to social proof functionality. Crafting notifications, you can apply customized text, style and images as well as page targeting, exit intent, time delay and UTM targeting. Notifia can also nurture leads via upselling features such as yearly plans and failed payment notifications.
The pricing: Each widget costs $9/mo. You can unlock all widgets for $49/mo – unlimited websites, Impressions and Campaigns incuded.
Most social proof tools focus on a single feature – Trust is the testimonial and rating platform with awesome add-ons. Although fairly new to the market, Trust combines the features of all the other tools on this list: text and video testimonials, star ratings, visitors, conversions, and provides a couple of extra features to give even more value.
Testimonials and video testimonials let you collect and display testimonials from customers with ease. Instead of manually asking each customer to send in a testimonial, Trust collects them on your behalf. Once you take a look at the testimonial and approve it, it shows up on your website for others to see and make them more likely to buy your products.
Ratings is another useful feature that allows customers to leave ratings on your products. That way, the ratings automatically appear on your website. Moreover, they also appear in Google search results, making it easier to get some organic traffic.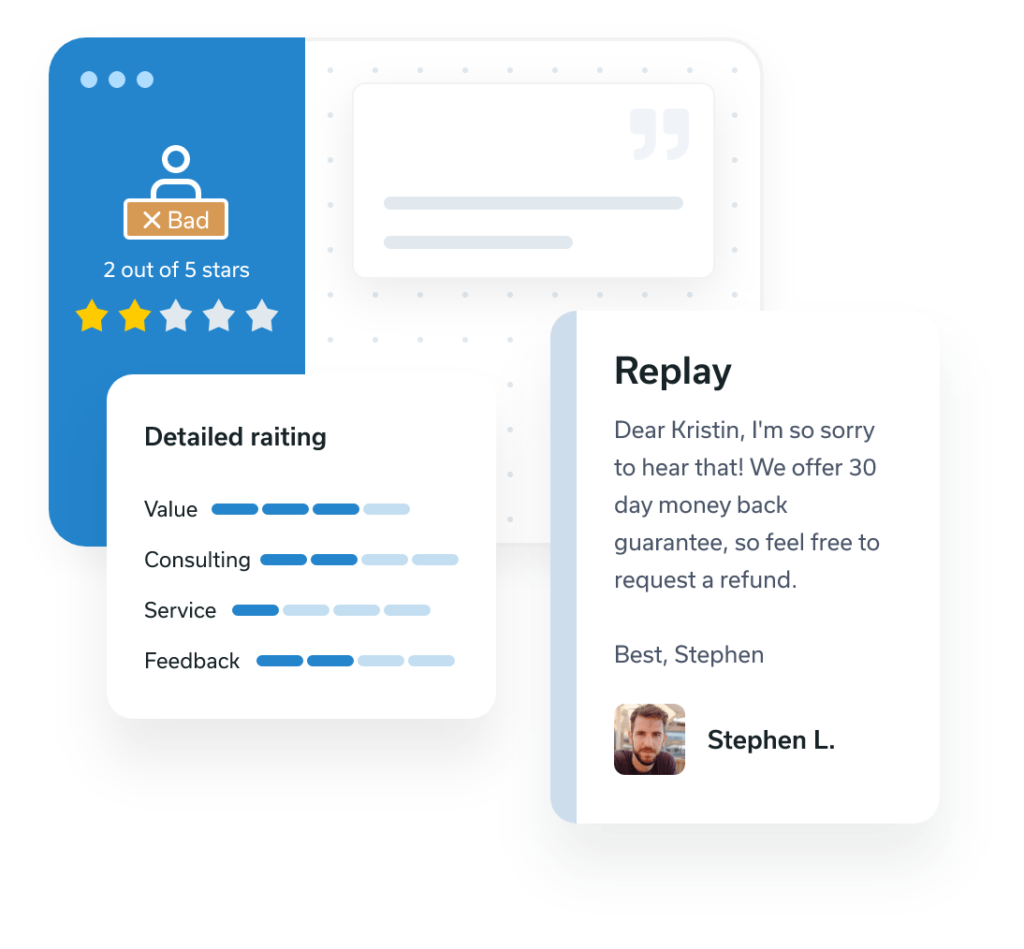 The coolest feature: all of them. Trust is an incredibly good deal along with a complete video testimonial solution, web surveys, removable branding, built-in email tool, free implementation and coaching.
The pricing: Trust offers four paid packages.
Starter: $19/mo for 1 website
Off the Ground: $49/mo for 3 websites
Business: $99/mo for 10 websites
Agency: depends on specific needs
Note: Every plan offers 2 months free if paid annually.
As you can see, Trust is quite reasonably priced. On top of that, Trust's list of features is constantly growing.
Conclusion
Although all of the tools are seemingly similar, there are slight differences that require you to do some research before deciding on your next social proof tool. Depending on your industry, goals, the number of visitors and the type of social proof you need, you can find your ideal social proof tool on this list.
If you're undecided, feel free to try Trust and enjoy many features for the price of one!