If you've ever tried to find ways to prove that your products or services are the real deal, you've likely come across the term 'social proof'.
In a nutshell, social proof is showing your potential clients that other people trust you and have found your products or services to be of high value and had a positive experience with them.
Here are a few ways you can benefit from social proof:
Build trust around your company.

Increases sales.

Increases website traffic.

Ensures a higher conversion rate (sign-ups, downloads, and purchases).

Enables you to charge more.
Are you searching for a social proof tool that can bring you all these benefits? Keep on reading and discover the pros and cons of two popular social proof tools – Trust and Pulse by Proof.
Trust vs Pulse pricing
The basic Pulse plan starts at $29 per month and allows up to 1k unique monthly visitors, while the priciest plan is $299 per month for up to 300k visitors monthly. Note that the cheapest plans don't offer full features – they lack Hot Streaks and Live Visitor Count, which can only be had in plans starting from $79 per month and up.
At the same time, the minimum Trust tier starts from $9 per month. You can buy Starter plan for 1 website with 2k unique monthly visitors and display 20 Testimonials, gather 50 Ratings a month and access 1 external rating service. Off the Ground plan ($49/mo) unlocks 200 testimonials, 200 ratings and 5 external rating services along with the ability to e-sign contracts (GDPR compliant consents to show customers' testimonials). Business plan ($99/mo) provides endless features for up to 10 websites and removes Trust's branding. You can also buy such add-ons as Conversions and Visitors.
Speaking of additional differences, both platforms offer a free 14-day trial. To cut the story short, if the price is your major concern, you may want to check out Trust as an alternative. It's as affordable as Pulse while offering more advanced features.
Trust vs Pulse user interface
Both tools have vertical layouts with just two basic fields: social proof tools and settings on the left and working space on the right.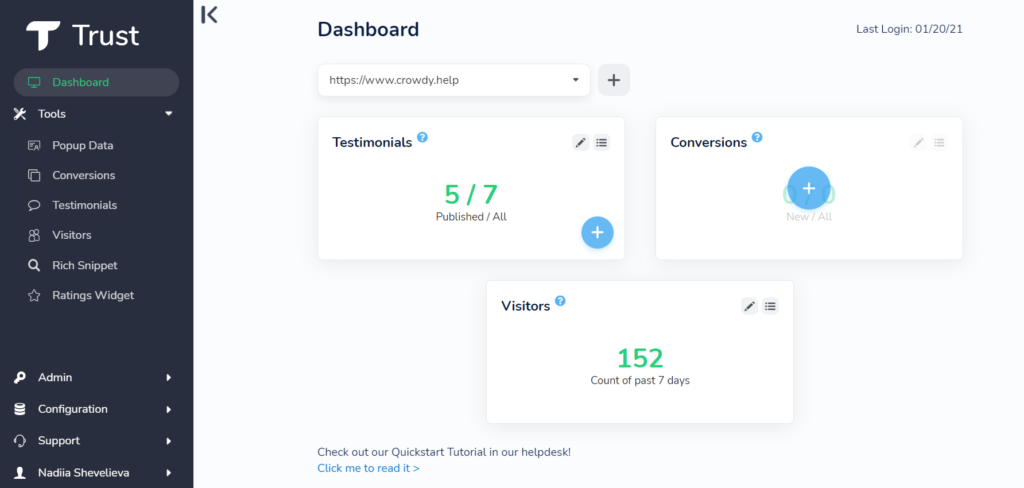 However, the features are grouped in different ways. For instance, using the Trust dashboard, you can see all the available tools at once. Just one click – and you start configuring the social proof technique you like.
When it comes to Pulse, the features are not arranged so intuitively here. Actually, it will take you five steps to see available social proof features. Click 'Campaigns', then 'Create campaign'.
Then you need to set your goal, and only after that you land on the tab 'Create notification':
See these cropped cards at the bottom of the screen? We are almost there. These cards are Pulse social proof features. As you can see, if you a new Pulse user, it may be a bit difficult to explore its features.
Now let's take a look at how to start using Trust and Pulse. Both tools offer users installation snippets. You need to copy-paste them into the code of your website pages right before the </head> tag.
Plus, if you want to display the same testimonials on different website addresses (e.g. usetrust.io and blog.usetrust.io), Trust offers the "Allow to use on other websites" feature. The website where this feature is on will be considered as "the main website" to collect all data so you can copy and paste its snippet to other websites where you want testimonials from "the main website" to be displayed.
Trust also goes the extra mile here and gives you an option to avoid managing your website code. You can find a WordPress plugin in the Trust dashboard, so there is no need to copy your snippet code into your WordPress installation. Just install the plugin, enter your API code and you're done. All further configuration is still done here in your dashboard.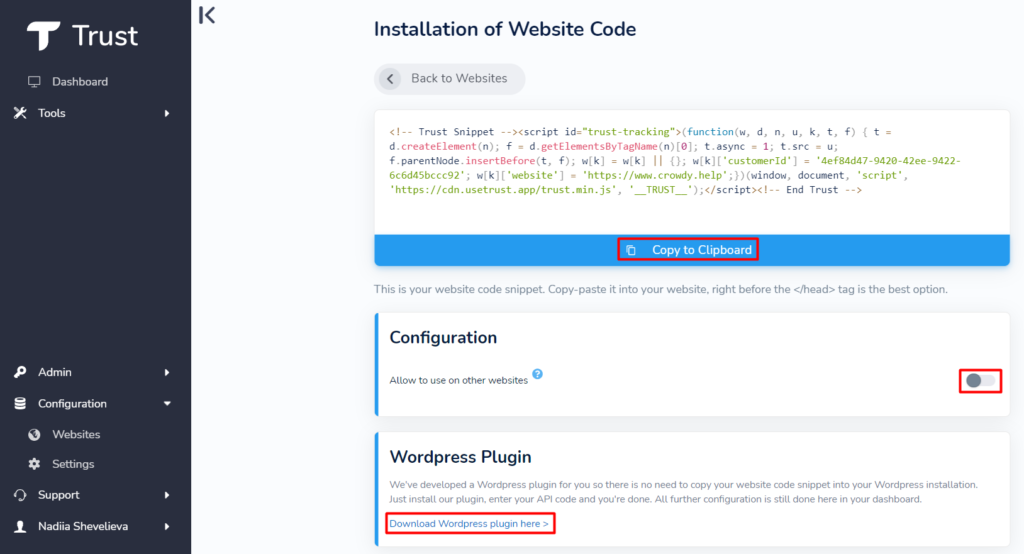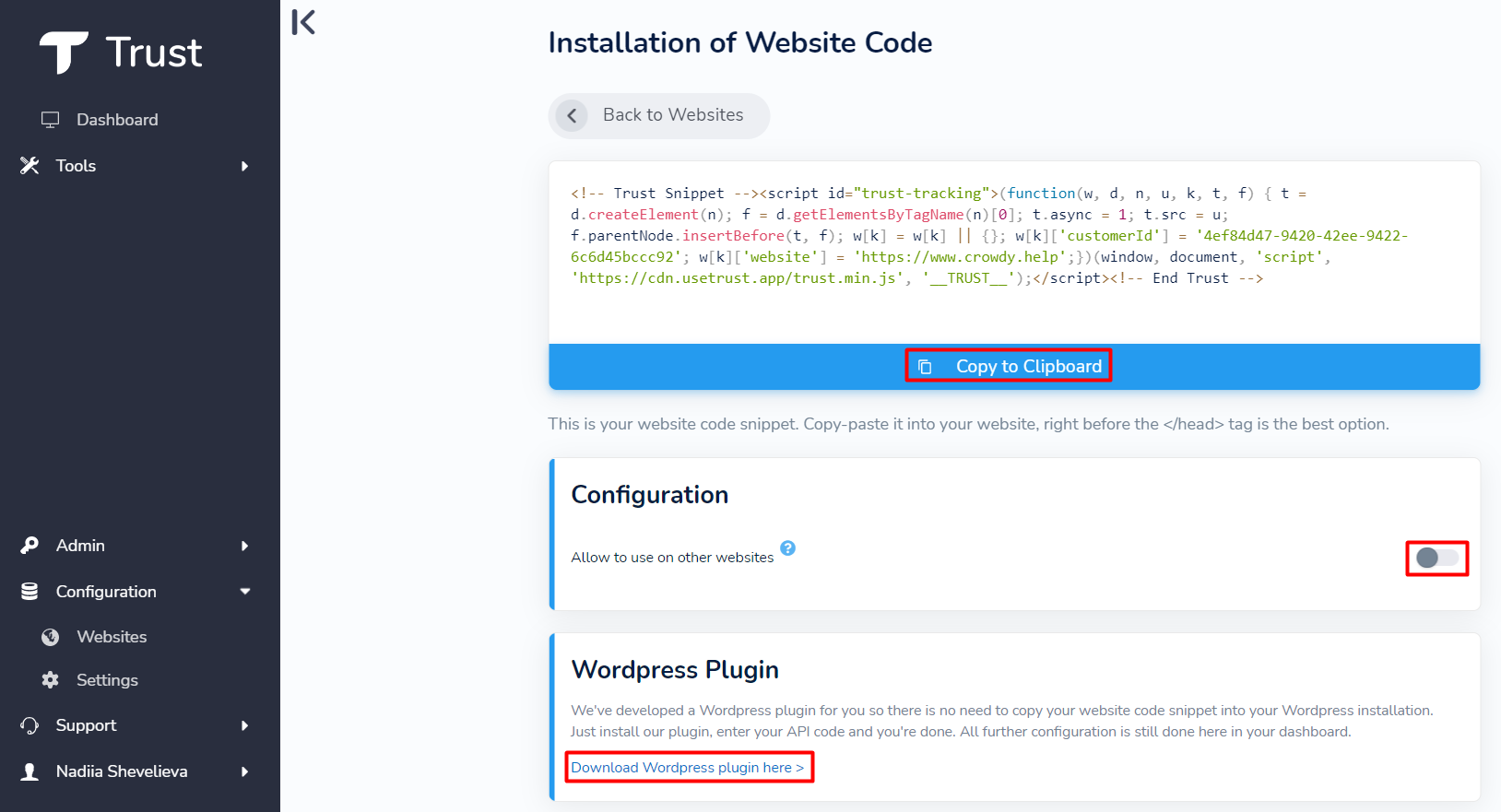 Trust vs Pulse user support
Pulse supports users via email and Help Center in the basic paid plan. You get more support options like a live chat support only in a more expensive tier.
On the contrary, Trust doesn't limit you in terms of support options. This tool offers a wide range of channels where you can get user support: Helpdesk, live support, video coaching sessions and a few additional resources like a public roadmap and a news feed featuring the latest updates.
Trust vs Pulse feature overview
Let's start from the main difference between Trust and Pulse: Trust offers much more social proof features than its opponent. Pulse is mainly focused on user activity notifications and offers the following features:
Recent Activity

allows you to show people who have recently sighed up

Live Visitor Count

displays how many people are currently on your page

Hot Streaks

shows the total visitors or sign-ups over a period of time
In addition, in Business and more advanced plans (from $108/mo billed annually) you can adopt so-called Conversion Cards, custom messages with a call-to-action.

Using Trust, you can use more powerful social proof features: Text Testimonials, Video Testimonials and Ratings. Let's take a look at them.
Trust automates the process of collecting and displaying one of the most powerful social proof type – text testimonials. Here's how it works: once a user converts on your website (sign-up, purchase, download), you send them a link to the testimonial survey. Once the user clicks on the link and shares their impressions with their picture, they can find an option to e-sign a contract.
After that, Trust automatically processes data. Once you approve the testimonial, it goes live on your website as: 1) a clickable notification widget, 2) a static or carousel elements.
Although text testimonials are an awesome social proof tool, they don't utilize one of the most powerful marketing mediums – video. 64 percent of consumers more likely to make a purchase or book a call after watching a video because video content is more easy-to-consume, eye-catching, dynamic and enjoyable compared to text one.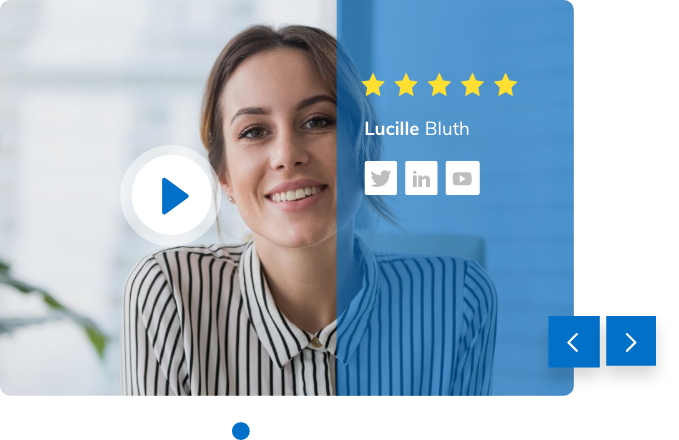 Trust is the most convenient way to collect and feature video testimonials. It allows you:
– Make use of existing videos from Facebook, YouTube, etc.;
– Record your own video testimonials in a few easy steps;
– Upload any video file.
This feature allows you to automatically collect ratings from your clients and display them on your website and in Google search results to get more organic traffic. What's more, you can display ratings from other platforms like ProvenExpert, etc.
Moreover, Trust offers user activity notifications as additional features:
The '

Conversions

' feature allows you to show recent conversions to your website visitors, using notifications: sales, bookings, downloads, subscriptions or whichever conversion action you want.
Conversion Totals

shows the sum of your conversions.
The '

Visitors

' feature increases conversions by showing how many visitors a specific page has gotten over the past 1, 7 or 30 days.
To sum up this section, here's a table summarizing the main Trust and Pulse's features:
Feature

Pulse

Trust

Real-time visitor count

Yes

Yes

Conversion notifications

Yes

Yes

Total user activities

Yes

Yes

CTA cards

Yes

Yes

(available in Conversions)

Ratings

No

Yes

Text Testimonials

No

Yes

Video Testimonials

No

Yes

Feedback surveys

No
Yes
Trust and Pulse additional perks
We have reviewed the main social proof features of Trust and Pulse. Now let's explore some additional perks these tools offer.
Support for multiple languages
Speaking of the support for different languages, Pulse is localized for 27 languages. At the same time, Trust's notifications are available in 70 languages so you can match the widget language to your visitors' native language. Great job, Trust!
In the nutshell, this feature allows you to set up specific rules to display notifications and target visitors based on different metrics. Both tools offer essential rules to feature notifications. However, Pulse also has a handy timing functionality which allows delaying the first notification for X seconds, displaying each notification for X seconds and spacing each notification X seconds apart.
Customization and ready-made templates
It can be crucial to have the ability to fully customize social proof notifications to match your website look and feel. Let's compare both tools' customization features. If we want to use the Live Visitor Count in Pulse, we will notice that it's not allowed to customize notifications. Pulse's widgets will be like this one:

Now let's take a look at the similar social proof tool in Trust called Visitors. On the contrary, here you have a lot of options for your widget appearance:
With Trust you can fully customize social proof notifications or choose one of the pre-defined templates to save time. Nice, isn't it?
The following features are available only in Trust because Pulse doesn't support many social proof tools (Text Testimonials, Video Testimonials, Ratings). However, we should provide you with a comprehensive picture of Trust. So, let's dive a bit deeper!
eSigning Contract

(available only in Trust)
Document the agreements with customers regarding publishing testimonial to establish a GDPR compliant relationship with your clients.
Recording or uploading Videos with an integrated video hosting solution

(available only in Trust)
It offers you to host videos within the platform without wasting your money and time on third-party hosting services.
Integrating Facebook and YouTube Videos

(available only in Trust)
Trust allows you to collect existing videos from these two social media platforms and, as a result, adopt video testimonials NOW.
Trust vs Pulse: which tool to choose?
Here's a quick summary of the comparison between Trust and Pulse, it would be this: Trust has more social proof features and Pulse is more pricy and focused on enterprise companies.
If you're still in doubt which of them to choose, consider the following:
– Pricing. If the price is your major concern, you may want to check out Trust as an alternative: its paid plan starts from $7 per month (if paid annually). Trust is more affordable than Pulse while offering even more advanced features.
– Support. Pulse supports users via email and Help Center in the basic paid plan. Support from a dedicated account manager and a private Slack channel is available in a more expensive tier. Using Trust, you can get support via HelpDesk, Live Support, Feedback, public roadmap.
– Features. Both tools let you feature user activity notifications showing visits and conversions that have taken place on your website.
However, when it comes to more advanced social proof techniques like collecting and featuring text and video testimonials with ratings, Trust wins the race.
Summary: What you choose as your social proof platform depends on the goal you want to achieve. Both apps are a good choice. If you want basic functionality, take a look at Pulse, but be aware of its high price. If you want a comprehensive social proof tool packed with various powerful features, adopt Trust.
We hope that this article helped you make the right decision. If you still don't know which tool to use, we suggest giving Trust a try. The setup and user interface are extremely easy to use. What's more, we are adding to our list of features every day. Sign up today for a free 14-day trial!