Probably the biggest name in the world of social proof software is Useproof (also known as Proof). It was the first company that introduced pop-up notifications for the sake of increasing conversion rate optimization and sales.
However, now Useproof isn't the only game in town. The fate of all market leaders was waiting for this tool: an endless feature list, complex interface, skyrocketing price… More on that later.
While Useproof might be the right choice for some, luckily there are many other top social proof tools on the market to fulfill the needs of various businesses. But before we dive deeper into different Useproof alternatives, there are a few words to say about the guest of honor.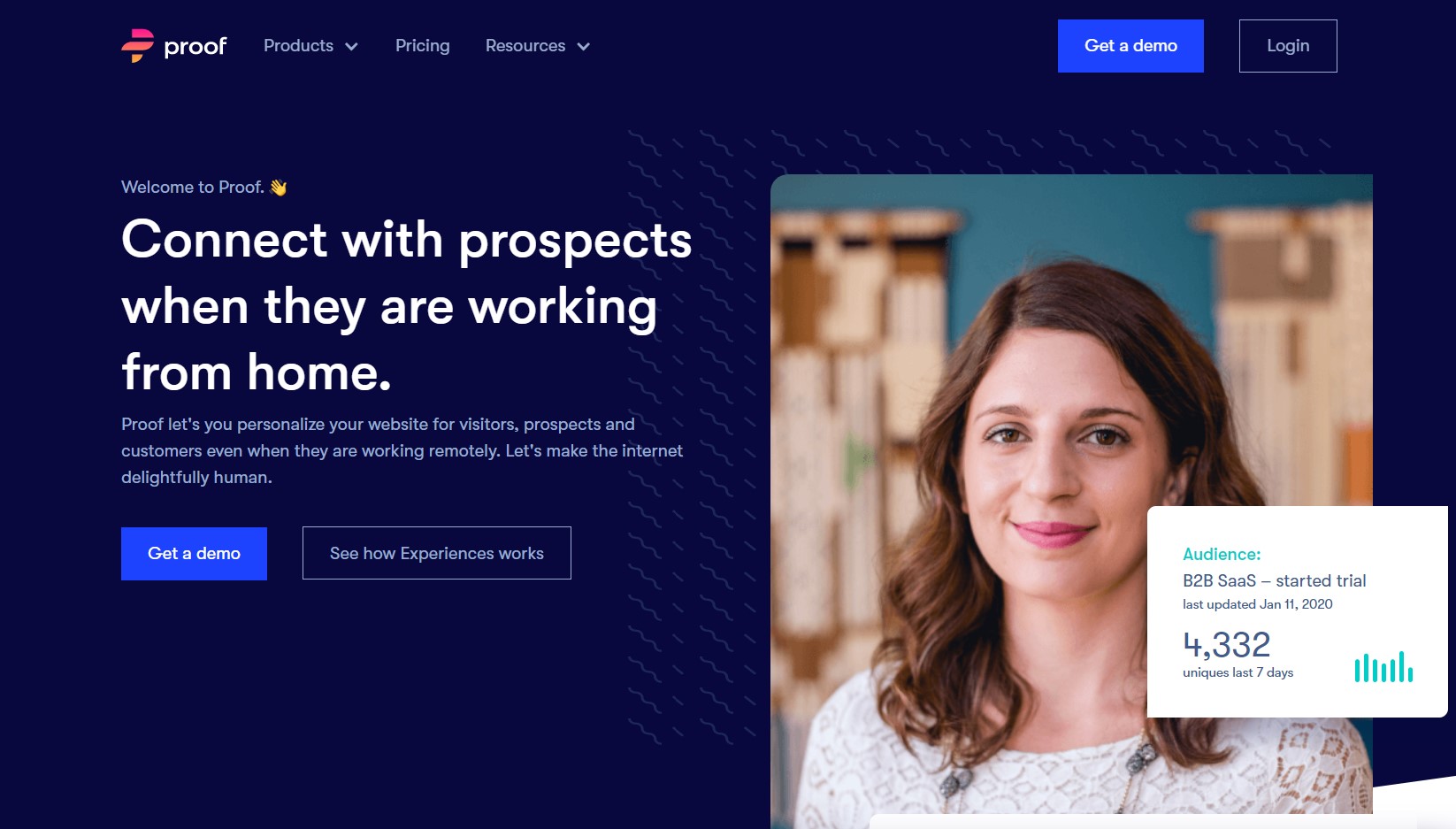 Proof website
If you're looking for Proof alternatives, you probably already know what this tool can offer. However, chances are that you are trying to compare social proof tools before purchase (smart move), not having enough insights on them.
Anyway, it's a good idea to start from the very beginning and shortly describe Useproof. In a nutshell, the tool (like any other software in this category) offers two kinds of products:
Experiences: transform and personalize your website for the individual visitor. Adapt your images, copy, calls to action and overall design to maximize your conversions. You can only get a demo of Experiences to see how exactly it works.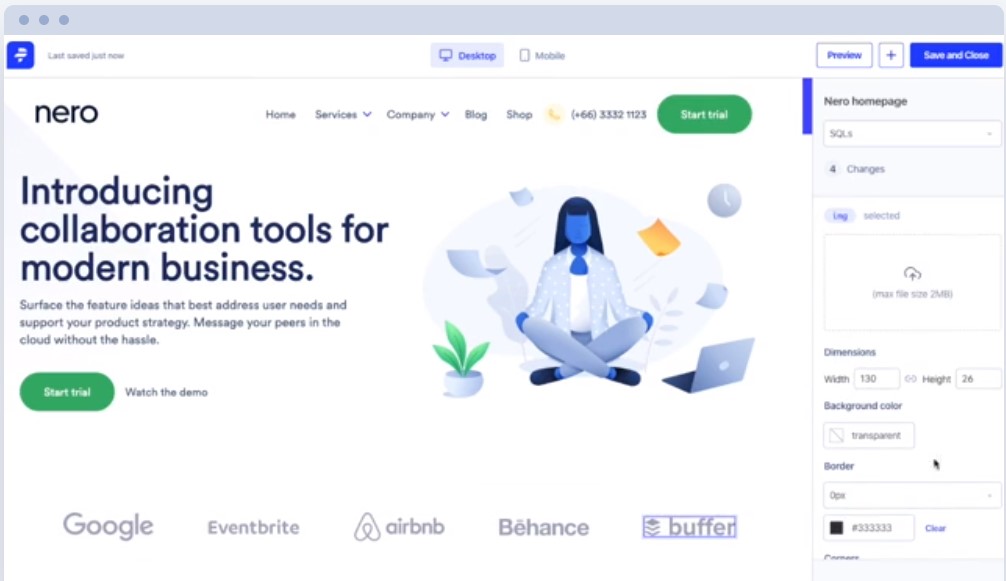 As wonderful as Experiences are as a product, its future is not so promising, in the European Union at least. In order to deliver this kind of experience to your website visitors, you will have to collect a lot of their personal data, including where they are from, where they work, how they behave on your website and much more. Needless to say, this is not going to pass the strict privacy laws of EU, such as GDPR.
Pulse: send push notifications about the most recent conversions to your website visitors to convert them into paying customers – this is the part of Useproof that we are interested in and the part we will be comparing to other apps on this list.

Currently, monthly pricing model of Pulse includes six plans:
Basic: $29/mo for up to 1k unique monthly visitors
Pro: $79/mo for 10k unique monthly visitors
Business: $129/mo for 50k unique monthly visitors
Premium: $199/mo for 100k unique monthly visitors
Platinum: $299/mo for 300k unique monthly visitors
Enterprise: Custom pricing
Pulse prising
Pulse offers an ability to test out its plans for free for 14 days. However, be aware that you must enter your card information anyway before a free trial: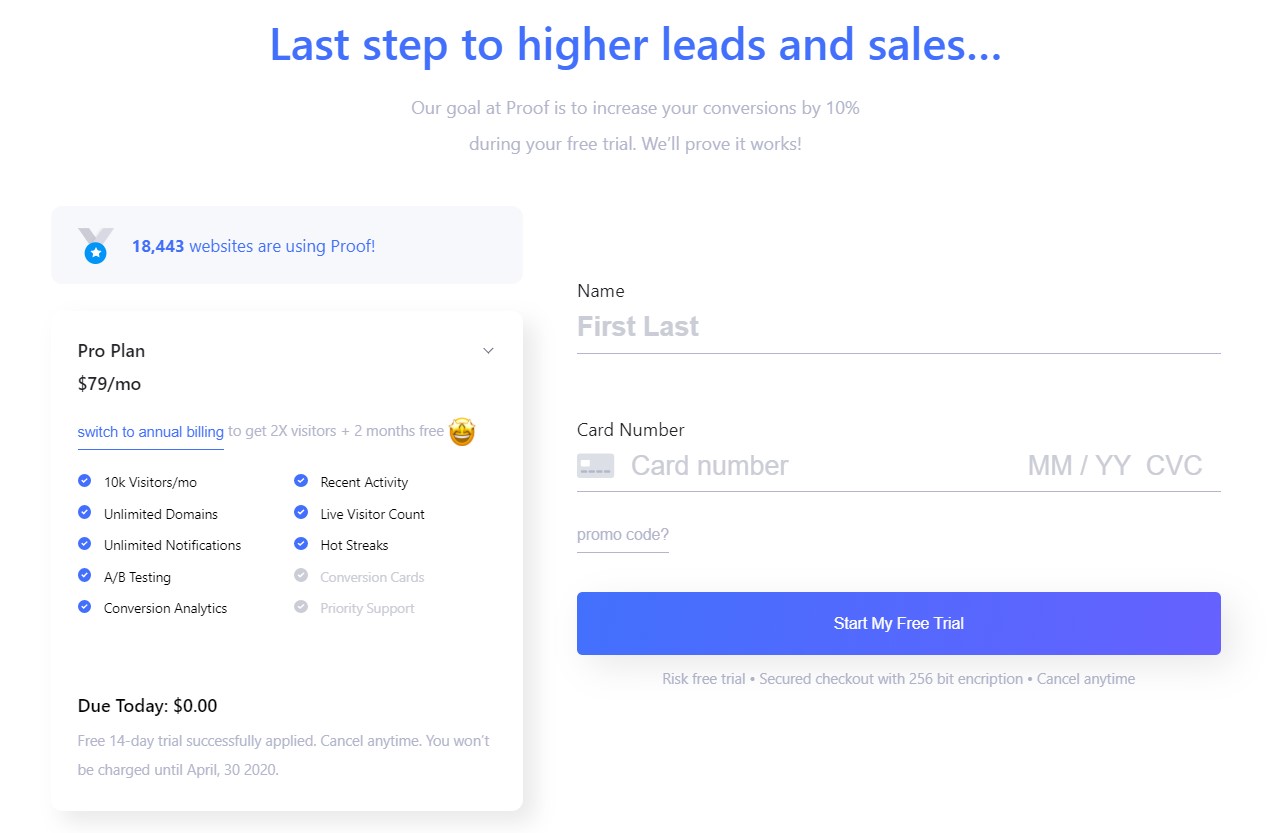 Among 3 main features, we can see Recent Activity, Live Visitor Count and Hot Streaks. In Business plan you can also create custom conversion notifications with a CTA. Pulse promises to boost your leads, demos and sales, as well as build trust and create urgency around your services or product. Here's a sneak peek on its interface:
Pulse interface
However, when Pulse by Proof seems to be doing everything right, why do you need an alternative?
Starving for something more compelling and new, many companies have naturally started looking for effective alternatives. The relatively new social proof tools out there put many on several factors that Useproof clients are constantly looking for:
Better pricing. Being around for a while, Useproof acquired a big pie of social proof market and, as a result, went a bit bold with their pricing options. In fact, it is the most expensive solution.
Simplicity. Many Useproof users have often complained about the complexity of setting up the tool and confusing interface.
Email support in Basic plan.
Limited features. Pulse covers only three social proof types while customers may want more.
To sum up, these are only the top several reasons for businesses to look around for Useproof alternatives.
So let's go further taking a look at some other entrants in the social proof tool category. Although all social proof tools must be the same since they all have common goals, it does not happen that way. Each tool has its own focus, specialization and even target audience.
How not to become puzzled among this large number of options? At this article, you will be able to compare different plans, features and integrations available in each platform.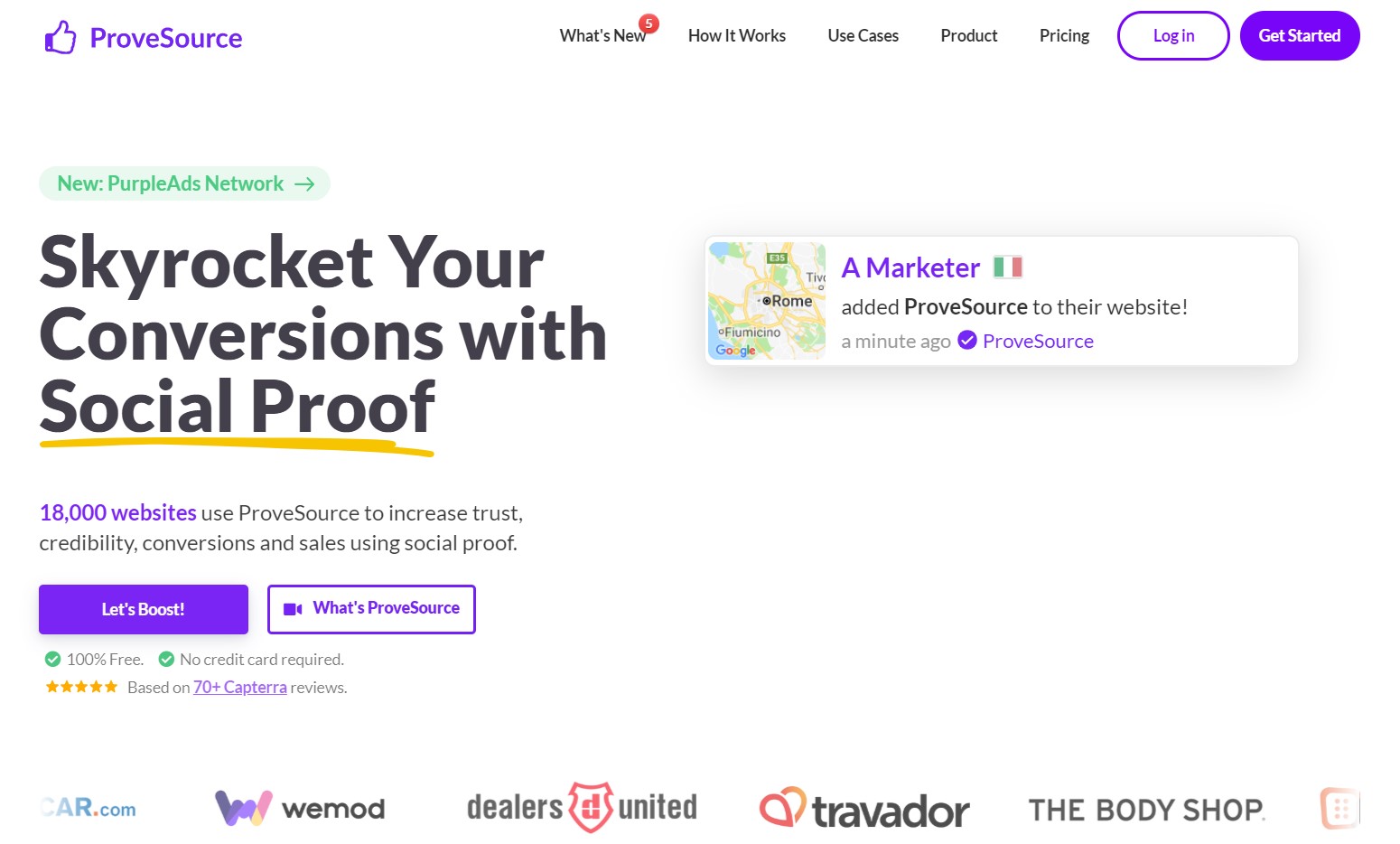 ProveSource website
ProveSource is a company from Israel founded in 2017. In a nutshell, this social proof platform does not differ much from Useproof in terms of features. They both support different localizations and integrate with tons of third-party tools. As always, the devil is in the details.

To start with, ProveSource features live chat support on its website in addition to an ability to contact them via email. In addition to recent activity notifications and visitors count, ProveSource displays reviews from Google, Facebook and other sources.
ProveSource interface
Speaking of pricing, ProveSource seems to be much more affordable. It includes Free plan for new websites with up to 1K unique visitors per month. Monthly Starter plan costs $21 for 10k unique monthly visitors (compared toPulse by Useproof $79). For the Growth one, ProveSource will charge $54 for 50k unique monthly visitors (compared to Useproof $129). Each ProveSource plan includes all features despite custom branding which is available only in the Growth plan. In addition, the company offers a 14-day money back guarantee.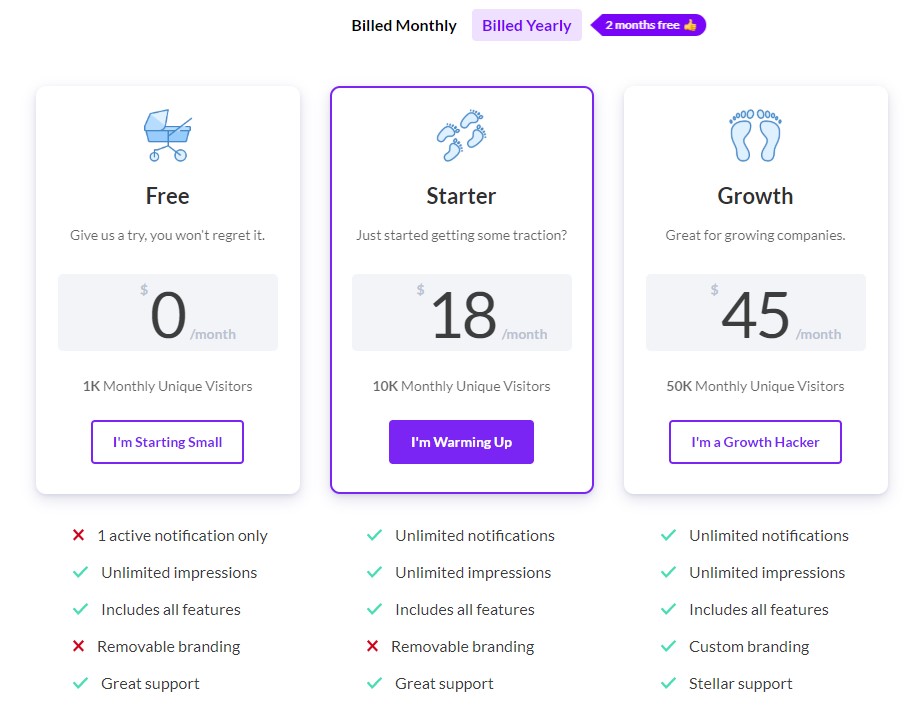 ProveSource pricing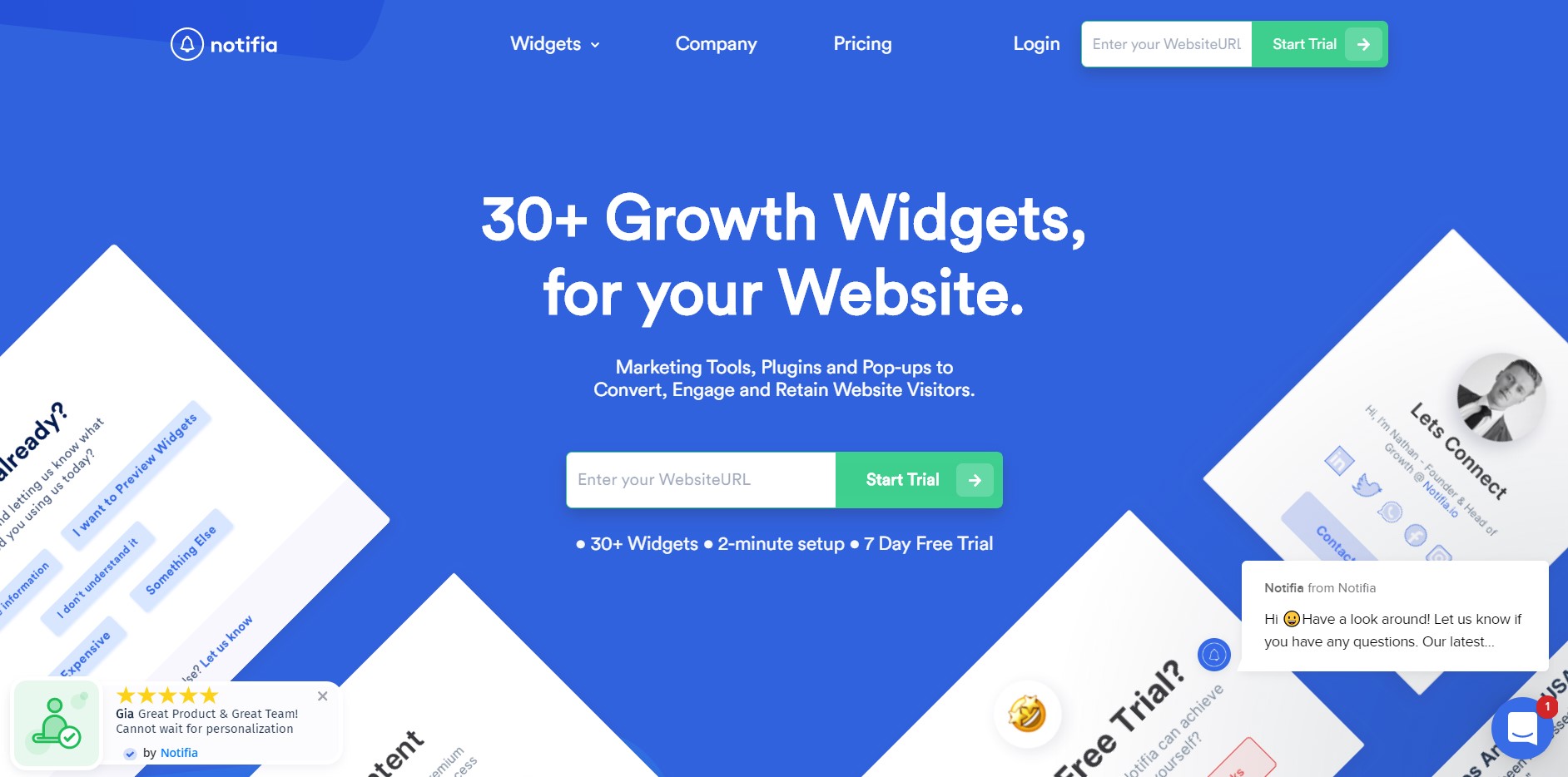 Notifia website
Notifia integrates over 30 pre-built tools (widgets) to influence visitors behavior, from in-app notifications and messages to sending emails and collecting feedback. To be exact, Notifia is not a social proof software in its pure form. This tool is trying to fulfill many marketing needs at the same time.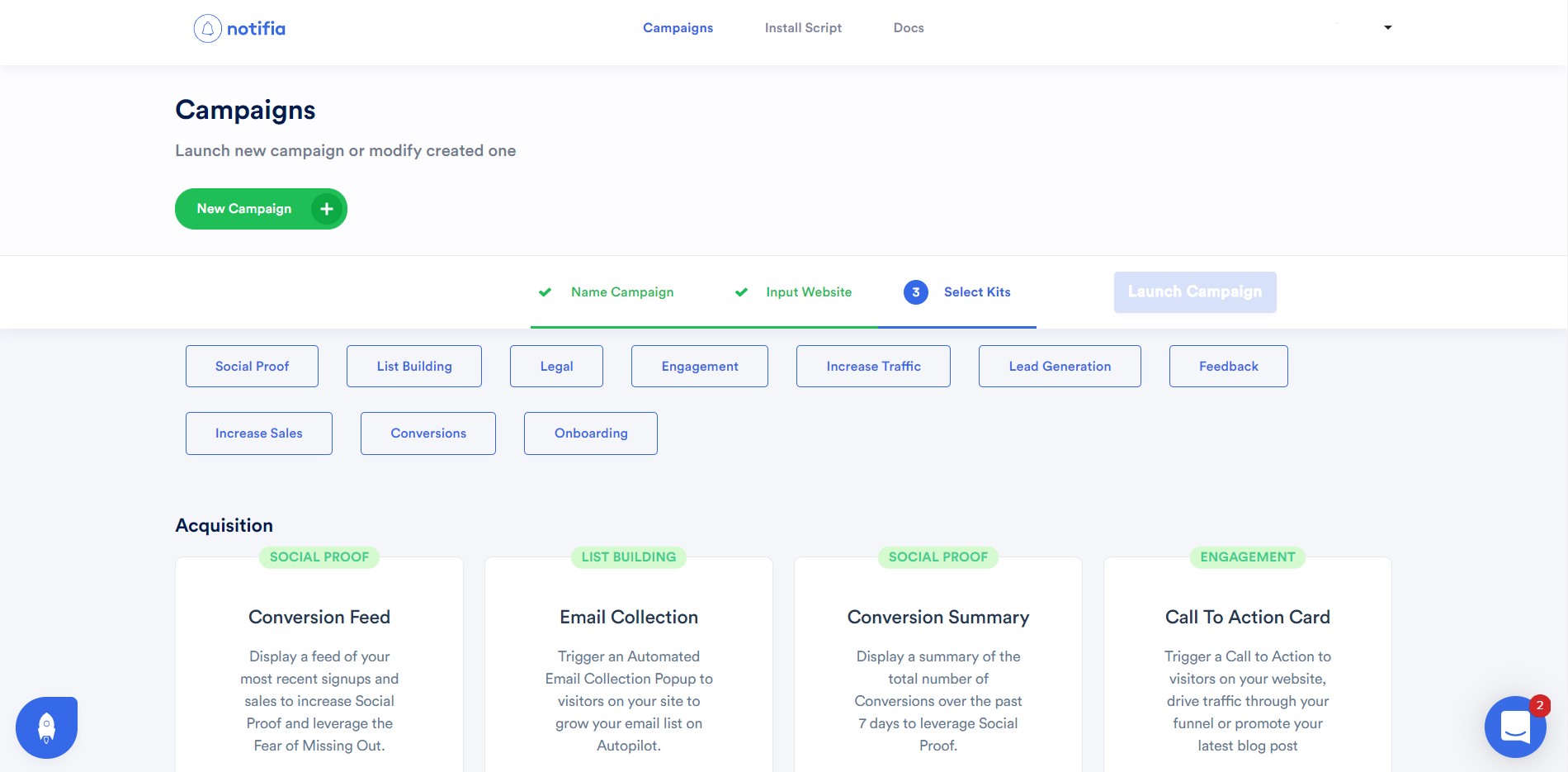 Notifia interface
To which extent Notifia can replace Google Analytics, Intercom and Salesforce is hard to tell. The chances are that trying to take any shot they can, Notifia sucrifiсes the professional approach of each marketing area.

But let's get back to social proof functionality. Crafting notifications, you can apply customized text, style and images as well as page targeting, exit intent, time delay and UTM targeting. Apart from social proof features, Notifia can nurture leads via upselling features such as yearly plans and failed payment notifications.
As for pricing, each widget costs $9/mo. You can unlock all widgets for $49/mo – unlimited websites, Impressions and Campaigns incuded.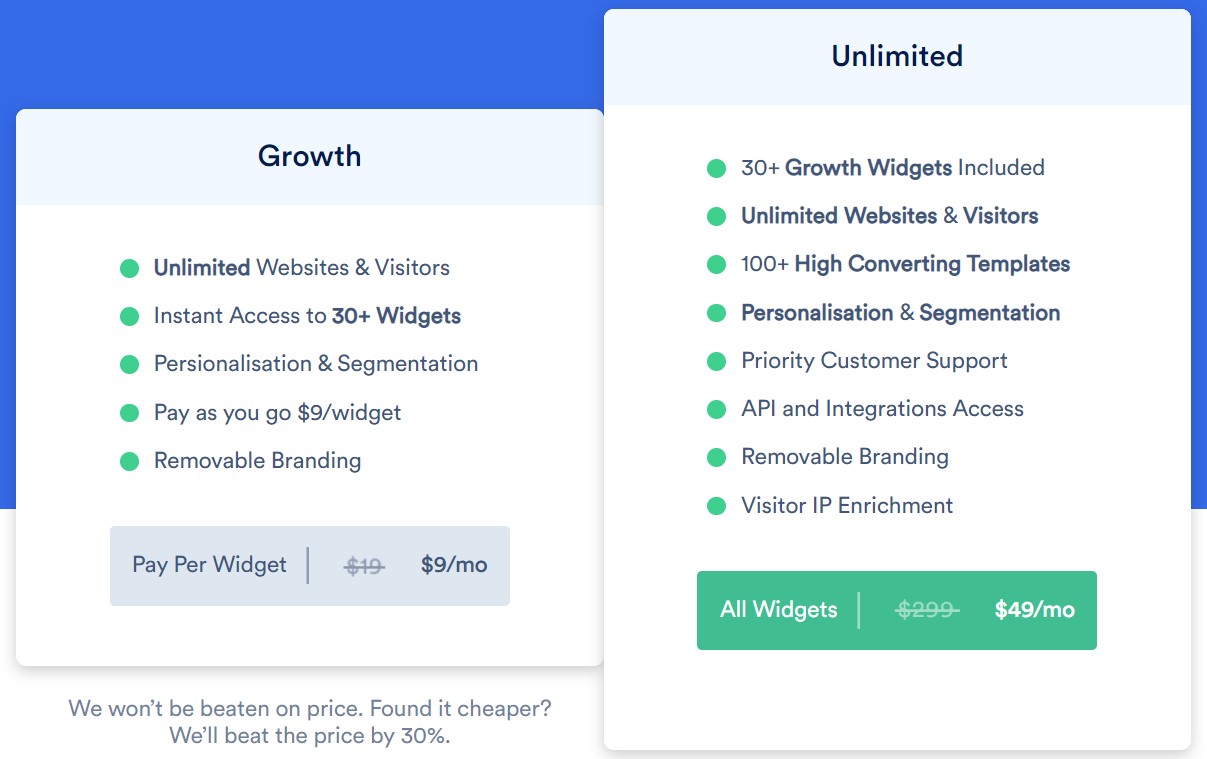 Notifia pricing
By the way, Notifia also asks to add your card information to access a 7-day free trial.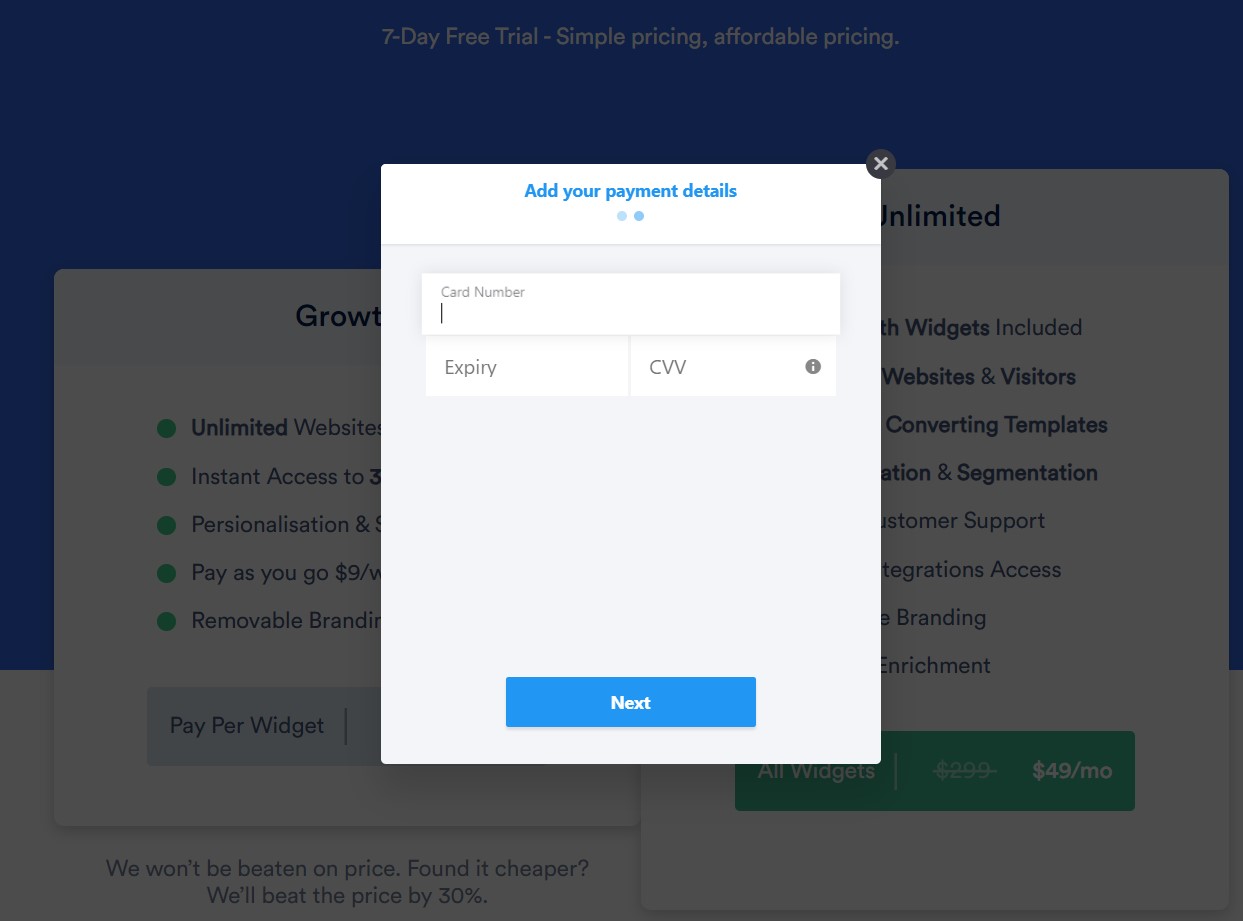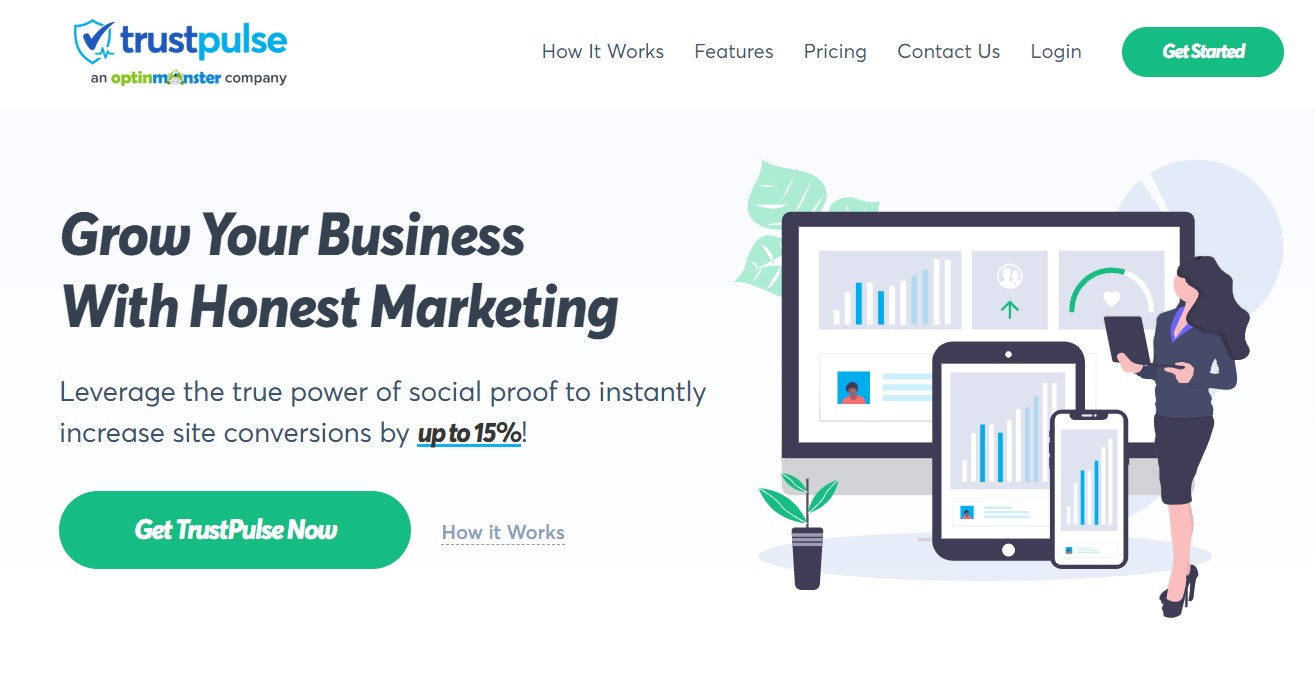 TrustPulse website
Similar to Useproof in nature, TrustPulse lets you display user activity on your website in the form of notifications. You can choose the activity that triggers the notification, such as purchases, registrations, demo bookings, website page visits, etc. Moreover, you can also choose a variety of display triggers, so that notifications show up at exactly the time you want them to.
TrustPulse interface
In terms of features, TrustPulse seems pretty basic in comparison to Useproof, as well as some of the other alternatives in this list. They essentially offer notifications and nothing but notifications.

However, there is one upside – the pricing seems pretty good. At $39 per year, you can get a total of 2,500 sessions. Needless to say, if you have a website that gets ANY traffic at all, you can run out of 2,500 sessions within a single day.
Essentially, you are forced to spend more and buy the higher-tier plans if you want an adequate number of sessions. The most expensive plan (called Growth) costs $349 per year and offers 100,000 sessions, which should be good enough for websites with decent traffic.
Card information is requred to sign up for a free trial
The biggest downside with TrustPulse is probably the pricing since you cannot buy monthly plans and instead, you lock yourself into a year with an app you know nothing about.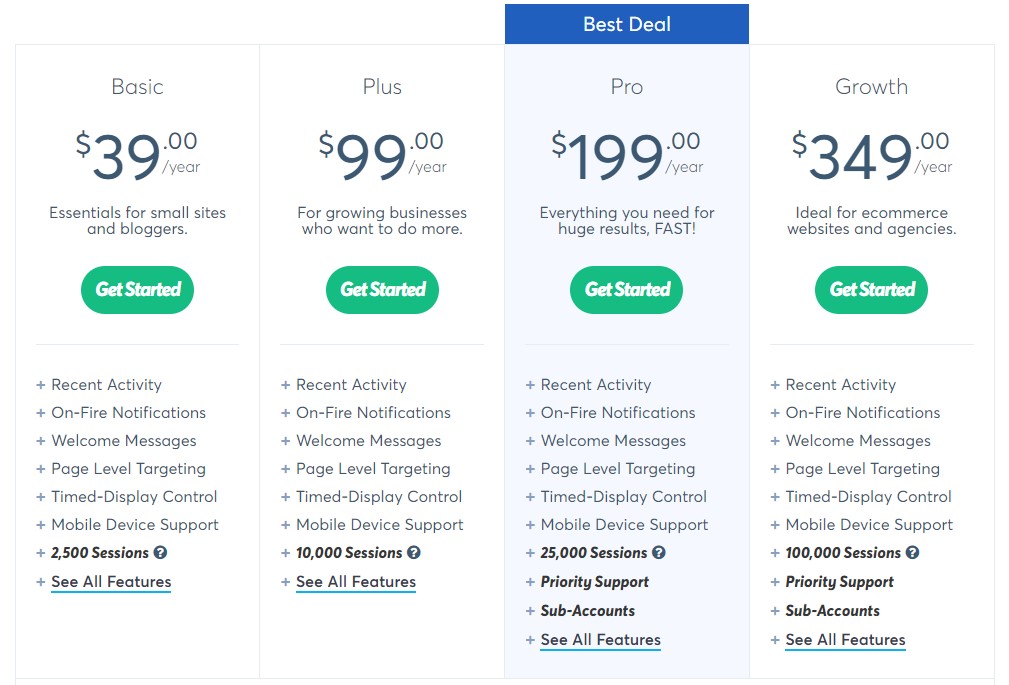 TrustPulse pricing
Useproof vs Fomo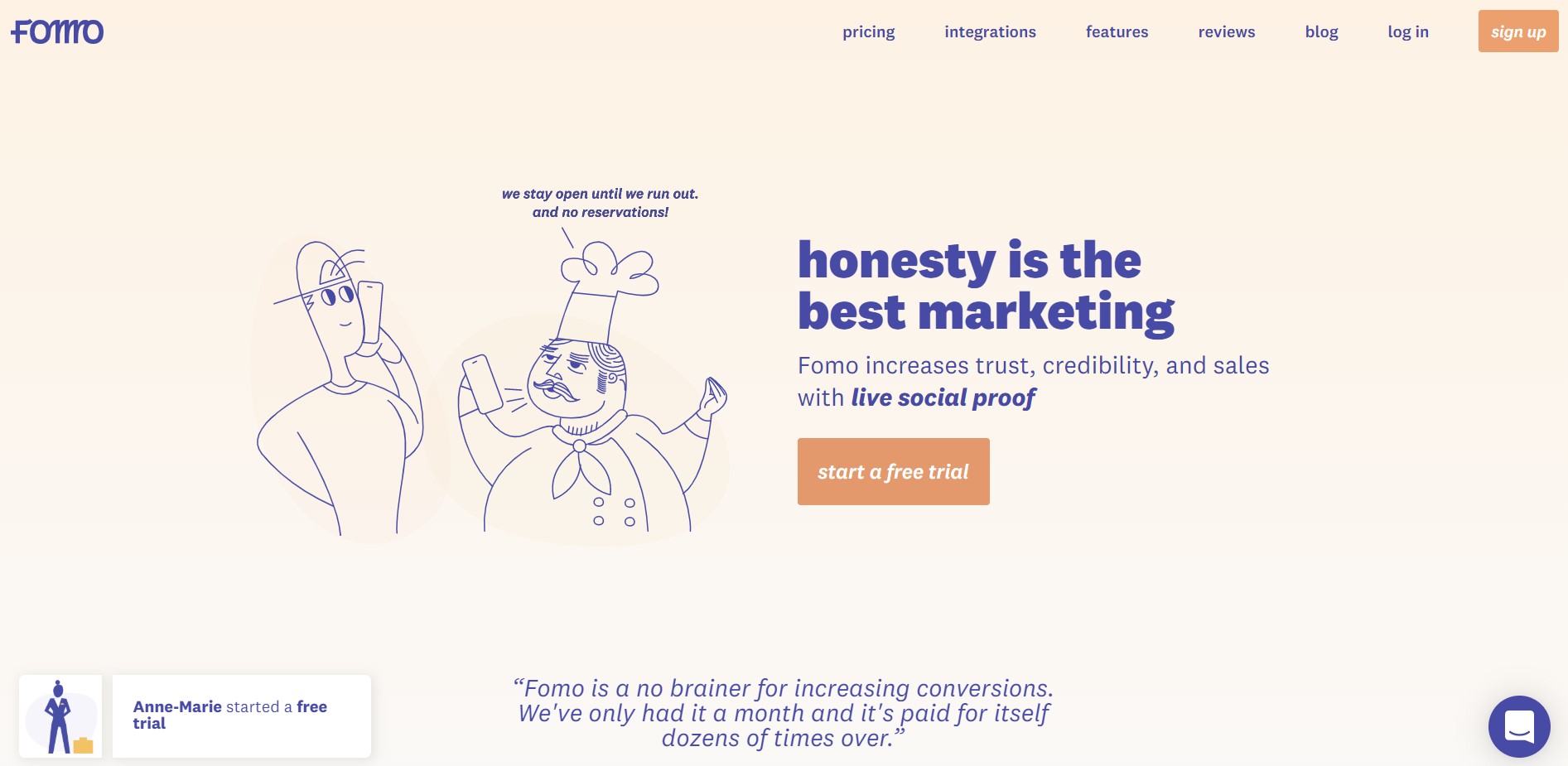 Fomo website
Fomo doesn't offer quite the number of services that, for instance, Trust does. Nevertheless, it still offers great social proof functionality, including customized notifications to match your site design and use page rules to enhance the user journey.

Fomo does not offer any free plan. The price starts from $19/mo for Starter plan which includes 25k notifications. If that's not enough, you can purchase Essential plan for $39/mo and 50k notifications and live chat support available. Plus plan covers 250k notifications for $79/mo and includes phone support.
Fomo interface
The most outstanding Fomo feature is A/B testing. You can get it in Advanced plan in addition to 300 million notifications. Also, Fomo offers annual discounts, three months for free, compared to two free months in Useproof annual plan. Also, they both provide a 14-day free trial.
Provely website
Provely is probably the most unpretentious social proof platform on this list. Displaying product purchases is the only feature.

No live visitors count, no page visits notification, no informational notification. Forget about any advanced functionality like showcasing testimonials or in-app messages. Only purchase pop-ups without limit as to quantity.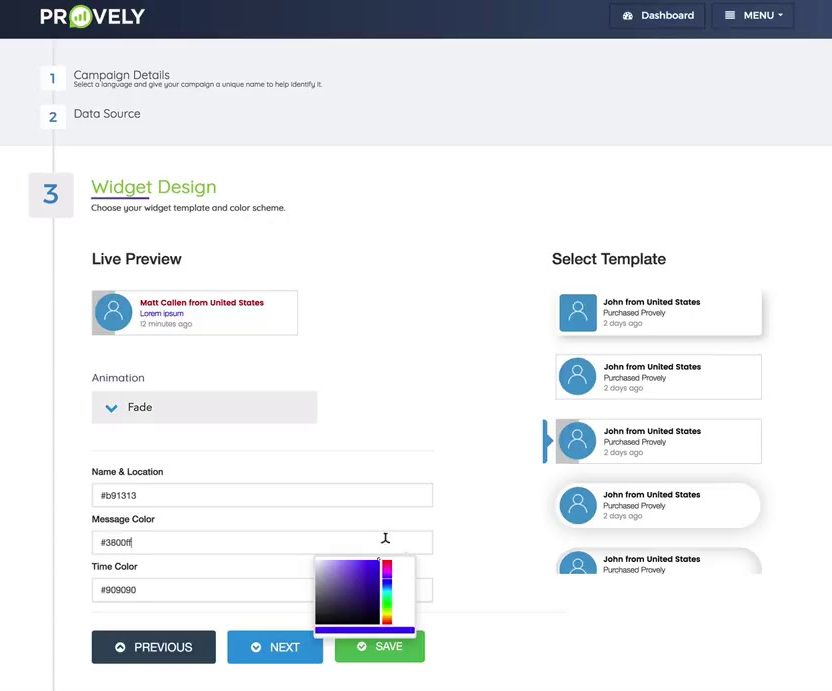 Provely interface
However, Provely pricing cannot be described as too pocket-friendly. The cost varies from $17/mo to $37/mo depending on the number of your domains. The free plan doesn't exist (as well as anything except purchase notifications):
Provely pricing
Nudgify's website
Nudgify is a social proof app from Convertize compatible only with Shopify. In this tool, notifications are called 'nudges', in contrast to Useproof's 'Hot Steaks'. What else makes them different?

To be exact, Nudgify is an activity notification tool rather than a comprehensive social proof platform like Useproof or Trust. The functionality includes only different types of activity notifications: Popularity Nudge, Order Soon Nudges, Low Stock Nudge, etc. As a result, there's no surprise that Nudgify is quite easy-to-install and easy-to-use.
Nudgify interface
Nudgify offers 3 paid plans. It offers a 7-day free trial, with no credit card required. After that, you have to pick one of paid plans to use the app (the most basic plan starts at $0.99/mo). The trial includes all the features that the Genius plan provides.
Nudgify pricing
Useproof vs Trust
Trust website
Anyone looking for a social proof platform with the breadth of Useproof services without its cons should take a hard look at Trust. This tool focuses on serving small to medium businesses being a wise choice for beginners because of its simplicity.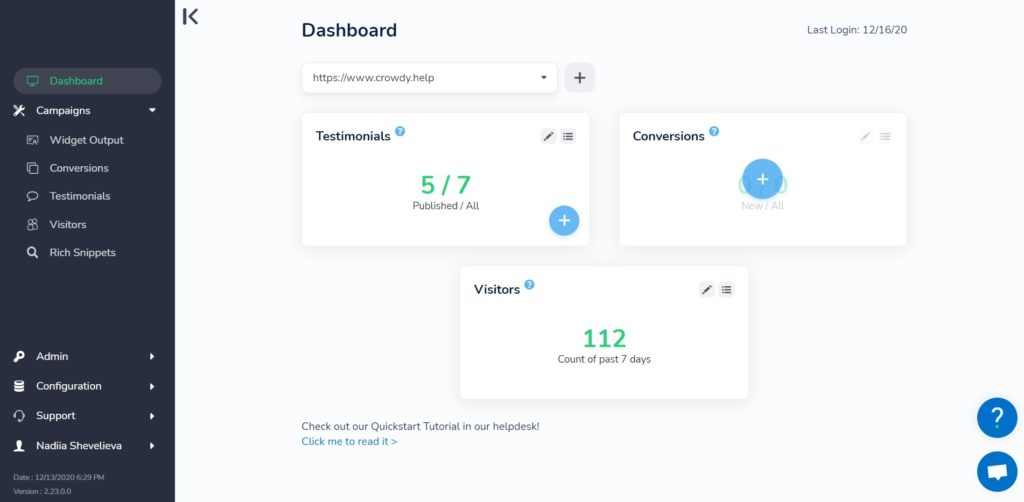 Trust interface
Although Trust prides itself on offering a tool that takes minutes to learn, the list of its features obviously go beyond the basic social proof platform. Among the unique features you can find the following ones:
Star Ratings, namely automatically gathering reviews and displaying them on your site.
Testimonials and Video Testimonials that gather and display text and video reviews from happy clients to attract even more clients.
Social Count displays your followers or subscribers on various social media channels.
Conversions displays recent conversions like opt-ins or sales.
Visitors shows how many visitors your website or a specific page currently has.
Plus:
Full support of multiple languages.
eSigning contracts.
Free implementation and coaching.
Sending emails right from your in-app dashboard.
Removeable branding.
Want more? Here we go. Trust offers a lot of different widget templates. And more styles of widget templates are on the way. Widgets are extremely customizable on desktop, tablet and mobile.
Imagine that you can configure even widget animation! If that's not enough, there is one more killer feature: customers can make the widget of conversion tools clickable and add a CTA button. Sounds pretty good, doesn't it?
Speaking of pricing, Trust offers four paid packages.
Starter: $9/mo for 1 website
Off the Ground: $49/mo for 3 websites
Business: $99/mo for 10 websites
Agency: depends on specific needs
Trust pricing
Note: Every plan doesn't limit the number of your website's visitors. It also offers 2 months free if paid annually.
As you can see, Trust is quite reasonably priced. On top of that, Trust's list of features is constantly growing.
Some more alternatives
In the past year or so, there have been a number of alternatives to Proof that popped up, with similar features and functionalities. These include tools like TrustActivity, Uptible, Proofleads, Useinfluence and many others. While they may look unique, they are essentially Useproof clones with almost nothing unique to offer.
Wrapping up
In this post, we have described the top six Useproof alternatives along with the pros and cons.
Deciding which social proof platform is right for you is based only on your unique business needs.
And this isn't about pricing (however, we have thoroughly described tools' prices for companies with limited marketing budgets). This is about the focus, interface and features within the social proof platforms you're looking at. For instance, if you have a single page website, Notifia is probably too much. At the same time, Provely might not offer the depth of customer engagement that you need.
A great way to find the social proof platform that's suitable for you is to test a trial period or free plan of above-mentioned tools. Give Trust a try to reveal the full power of social proof marketing!