91% of consumers want to see more video content from brands. And for 92% of marketers in 2023, video marketing has provided a solid ROI.
These stats clearly show that ignoring video marketing is no longer an option for any business.
But at the same time, many companies are still hesitant about using video in their marketing because they fear the high production costs associated with video editing, creating engaging videos, and using them effectively.
But today, you don't need a film crew to shoot interesting videos your audience will enjoy.
In fact, by using video testimonial software like Trust, you can create beautiful-looking testimonial videos with nothing more than a laptop or phone camera and a bit of your customer's time.
These types of video marketing tools help streamline the collection, recording, and sharing of video marketing messages, such as video testimonials, allowing you to make them a central part of your marketing efforts.
This guide will explore the best video marketing tools available today, helping you make the right choice for your business.
We'll also cover some of the best strategies for creating video marketing messages that resonate with your audience.
10 Essential video marketing tools
There are many video tools allowing businesses to create video content for a variety of situations.
But to find the best video marketing tools in your situation, it's a good idea to explore what each one offers.
Trust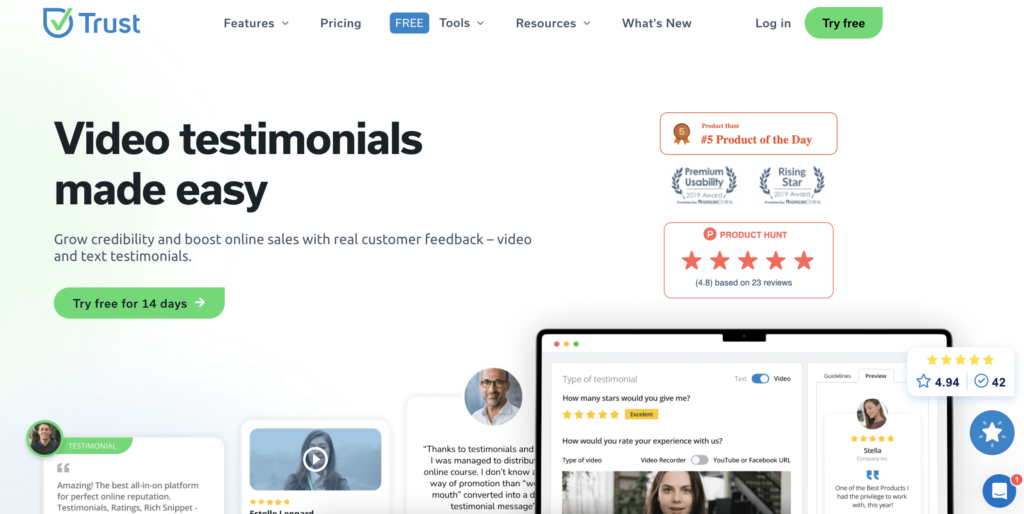 Trust is a video testimonial solution that can completely change how you collect and use video testimonials throughout your marketing.
Even if you have never used video testimonials before, it offers a complete solution that will take care of every aspect of the process, from reaching out to happy customers to showcasing the testimonials on your site or social media platforms like Instagram.
But how does it work?
Well, the Trust process of creating video testimonials is incredibly easy:
1. First, you create a testimonial request form that includes everything your customer needs to record it in just a few clicks.
You can even help your customers record perfect testimonials by including specific testimonial scripts and questions for them to use, as well as providing guidelines so that they know exactly what to do in each step.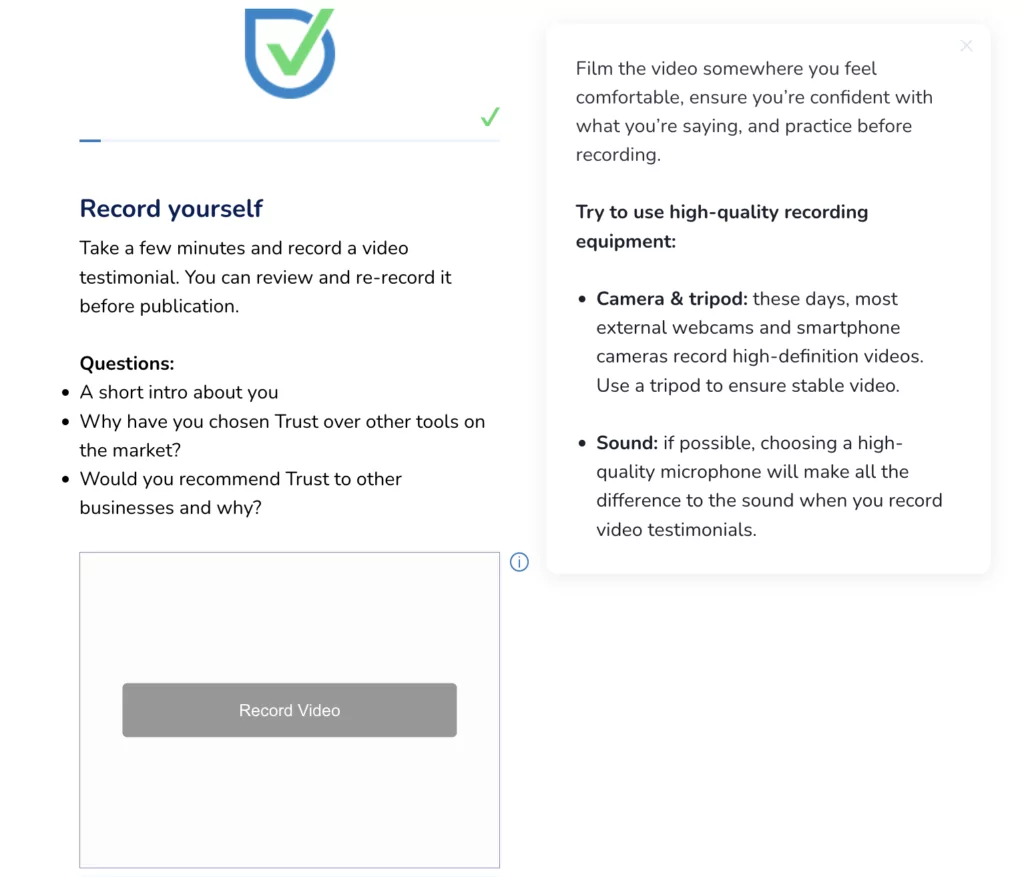 2. Once they finish recording and hit save, you can access the recordings and edit them according to your needs.
Trust allows you to cut different sections, compile multiple-question videos, and more in an easy-to-use video editing tool.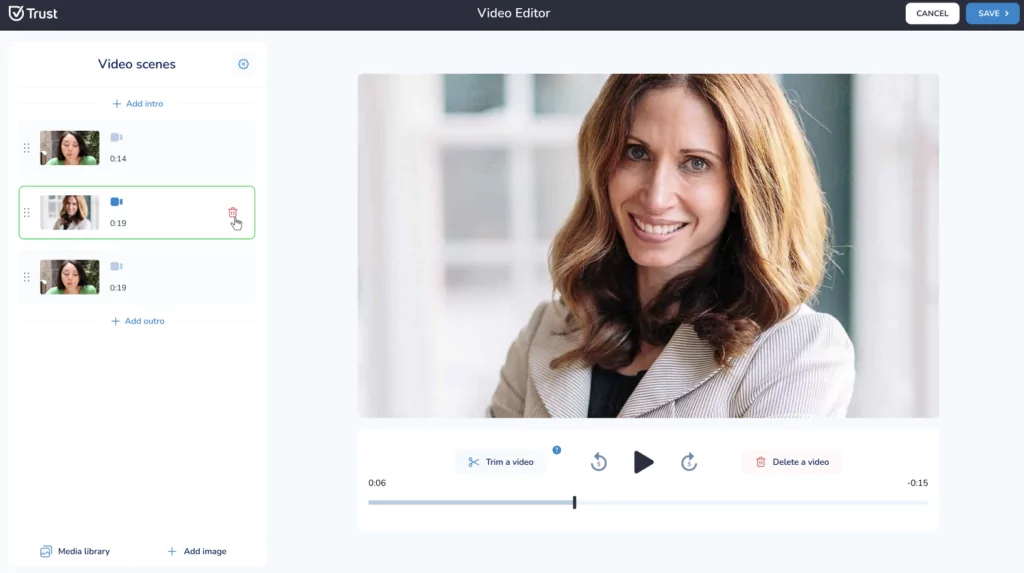 3. Once you're happy with the result, Trust allows you to use an intuitive widget to add beautiful-looking video testimonials to your website.
You can also download and use the testimonials throughout your social media platforms.
If you want to enjoy the full range of benefits video testimonials can offer your business, sign up with Trust and get started today!

Benefits
Very user-friendly, even with no prior experience.
Boost your social proof with engaging video clips.
Give your audience a chance to share their experiences.
Ability to instantly add to your website using widgets.
How to use
Trust is an ideal tool for companies that want to add another dimension to their social proof.
While text testimonials can be great, they don't have the same impact as seeing real people talk about their success with your product.
And if you want text testimonials, Trust offers the same easy-to-use process for collecting and displaying them as well.
Best for
This is one of the best video marketing tools if you want to build trust with your audience and leverage social proof on multiple levels. It offers an easy-to-use process for collecting, showcasing, and sharing your customer stories.
VidIQ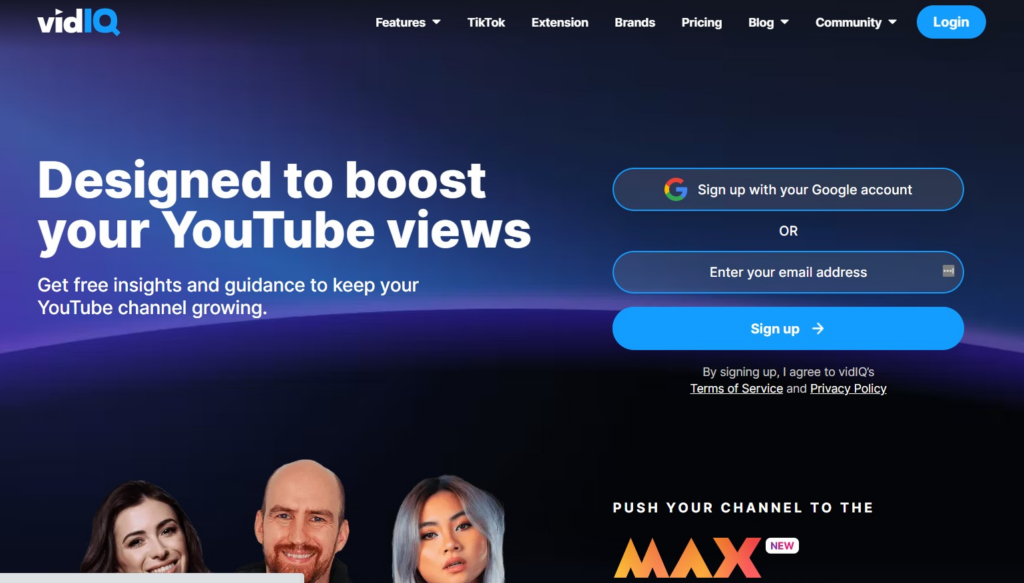 YouTube has over 2 billion monthly active users.
And that means that for almost any business, there's an audience of eager viewers who want to learn more about how to solve their problems with products, services, and solutions.
And that's where VidIQ can be very useful.
It offers intuitive growth tools for video creators, providing a suite of powerful features that make creating professional videos much easier.
Whether you want to discover the best keywords to use in your videos, create better titles and thumbnails, or stay on top of your views and performance on your online video platform, VidIQ can simplify the process and enable your YouTube channel to grow faster.
Benefits
Excellent keyword research designed to maximize YouTube views for your interactive videos.
Powerful Channel Audit tool that helps discover what's working and what needs to be improved.
The chance to find out what your competitors are doing and tweak your strategy.
Easy to get started and can take your video marketing game to the next level.
How to use
You can use VidIQ to improve every part of your video marketing on YouTube.
You can find better keywords to boost the visibility of your current videos, discover trends on the platform you can leverage, and optimize your videos for performance.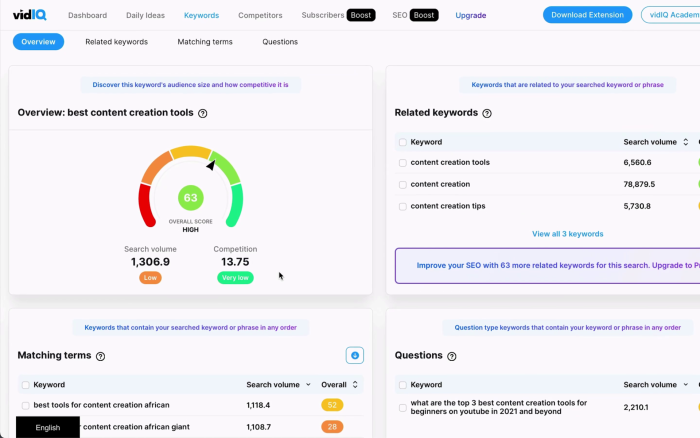 Best for
One of the more affordable video SEO tools on the market, with competitive pricing plans that make it easy to get started on any budget.
Biteable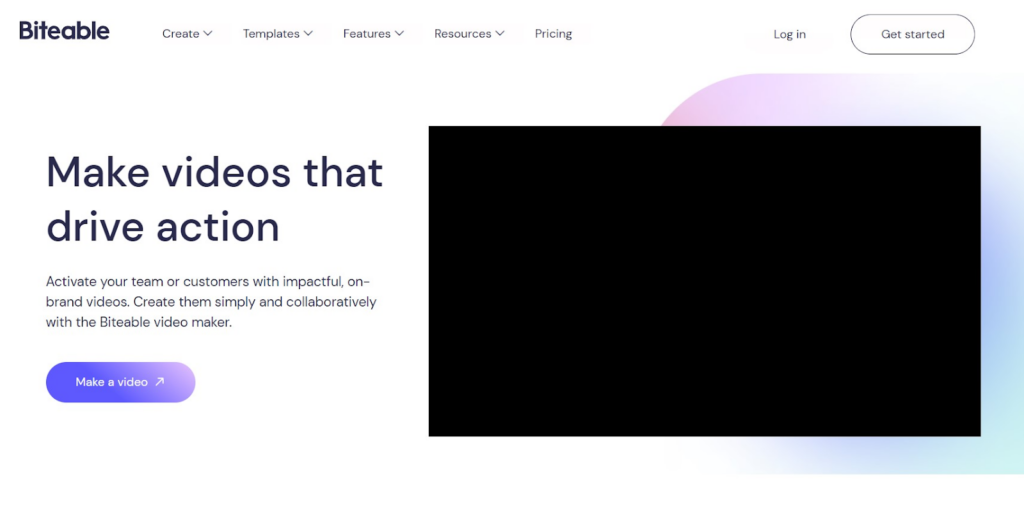 Before you can start promoting your videos on YouTube or other platforms, you need to have a way to create them.
And today's viewers won't settle for anything less than top-quality videos that are on par with what the leading content creators are putting out.
And that's where a video creator like Biteable can be incredibly useful.
It's an all-in-one tool that enables businesses to create videos that are on-brand, studio-quality, and engaging.
All without the need for a professional studio.
You'll find stunning, pre-built templates you can use in various situations, powerful editing software to get your professional videos ready quickly, and the ability to record yourself (or someone else) on-screen within the platform.
Benefits
Allows you to create amazing quality marketing videos without needing special equipment or lots of time.
A library of templates that you can use to showcase your marketing messages in an engaging format.
A vast library of footage, animations, and clips that you can use to enhance your videos.
How to use
If you're looking for a way to quickly put together engaging marketing videos, Biteable is hard to beat.
It's very easy to get started, and you can utilize the vast selection of templates and clips to make your videos look great for any situation and goal.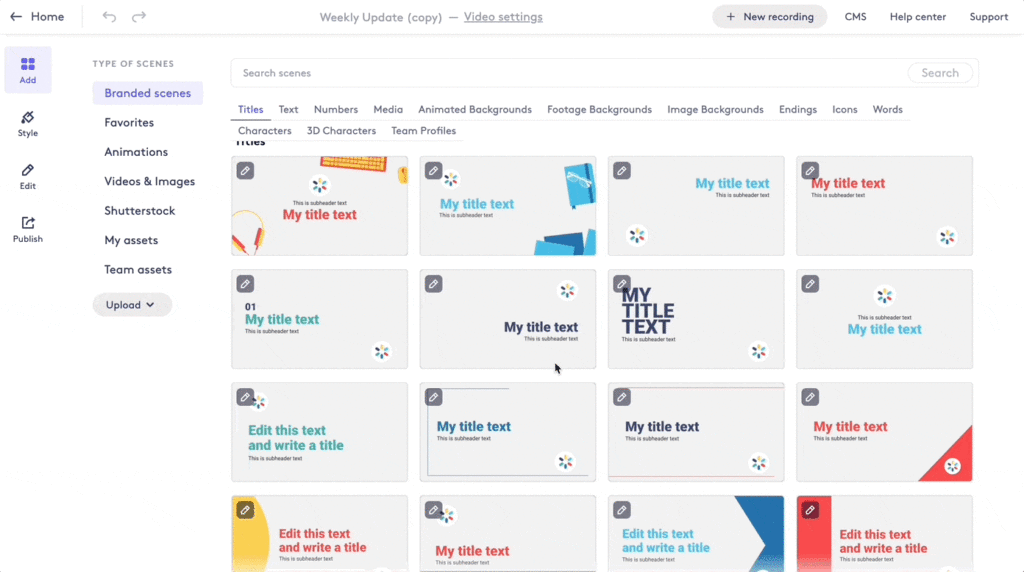 The tool is positioned as the simplest video-making tool on the market, which may very well be the case.
And when creating videos is easy, you can make them faster, reaching more of your customers in the process.
Best for
While many tools on the market allow users to create videos, few make it as easy for someone with no prior experience.
Agorapulse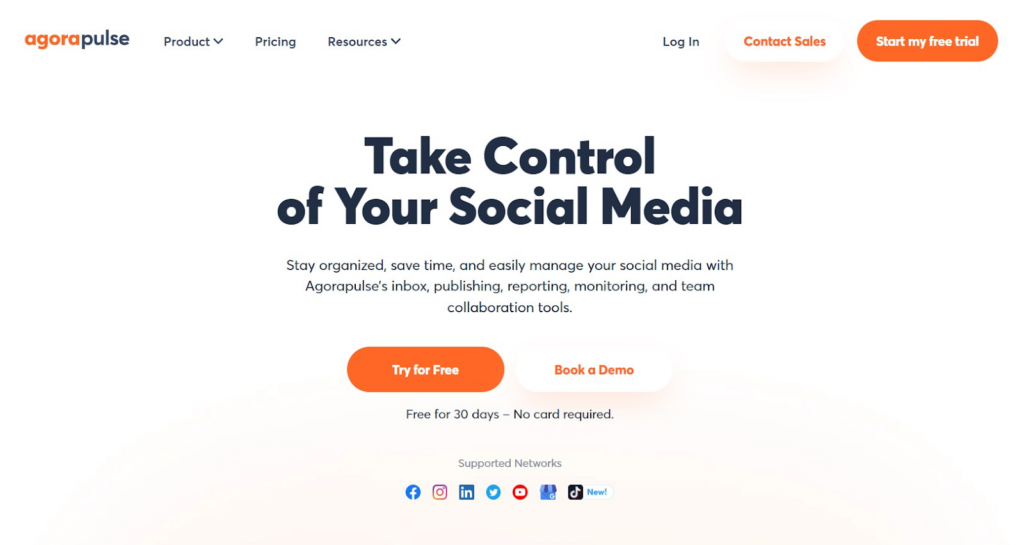 54% of marketers say that for achieving their social media marketing goals, video offers the best ROI.
But navigating the complexities of social media platform algorithms to get your videos noticed and shared is not easy.
Therefore, using a tool like Agorapulse to help streamline parts of the process makes a lot of sense.
It can be an invaluable asset in your video creation process, offering valuable insights about how to get in front of your target audience and leverage the platform for maximum reach.
It also provides useful features like content scheduling and topic recommendations and even allows you to track follower interactions with your videos, which is a great way to discover insights you can use throughout your marketing.
Benefits
You can start using it quickly with a Chrome extension.
It makes it easy to stay organized with your video marketing on social media.
It collects tons of data about your video performance and your audience, which you can use to optimize your strategy.
There is a range of ready-made Facebook apps designed to boost engagement, get more followers, acquire leads, and more.
How to use
The best way to use Agorapulse is to make it your central hub for managing videos on social media.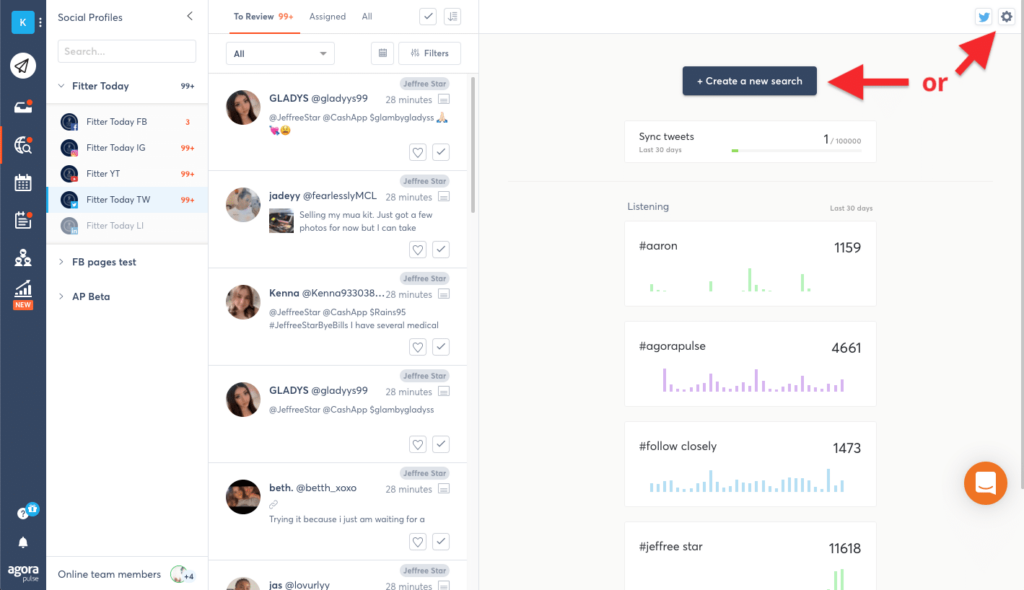 No matter what types of goals you want to accomplish, it can help you make sense of social media video marketing, providing you with insights and automations that will allow you to grow faster and get in front of the best buyers for your products.
Best for
When it comes to Agorapulse, the most common advantage users mention is its ease of use and setup.
Unlike many of the more complex solutions, Agorapulse can help you with every part of publishing and promoting your video.
Wistia
Wistia is one of the more unique video hosting platforms on the market.
Unlike YouTube or Vimeo, it's designed for business users, offering a range of powerful features that will help you get more views on your videos while also allowing you to monetize your high-quality videos to achieve your business goals.
On one hand, Wistia allows users to quickly create professional-level videos right there on the platform, where you can also host them.
But it also offers tools that will enable you to add call-to-actions, annotation links, and even lead collection forms right in your video.
Benefits
Easy to record and edit videos right on the platform.
Secure and convenient video hosting that loads fast and makes sharing videos easy.
Powerful video marketing software tools that allow adding call-to-actions and engaging your viewers.
Advanced video analytics that tells you what's working and what you need to improve upon.
Ability to run targeted A/B tests to continually optimize video performance.
How to use
You can use Wistia as your central hub for creating business videos that drive your prospects and customers to take action.
It's even possible to host live webinars, using the built-in marketing tools to help capture leads, promote products, and more.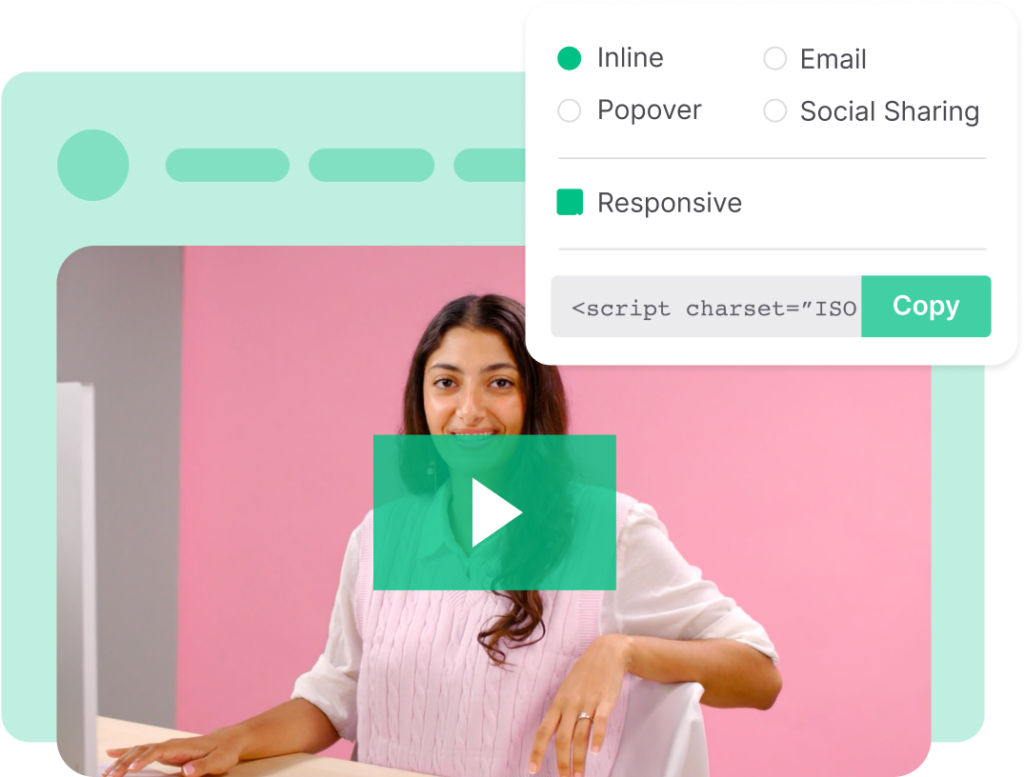 Best for
The main reason to use Wistia for hosting and sharing videos is that it's a platform built for businesses.
Unlike YouTube or Vimeo, Wistia offers a range of powerful business tools that help drive sales, customize the viewer experience, and stay on top of performance.
Wideo
Animation is a great way to create engaging explainer videos, how-to videos, and promotional videos.
With the help of animated videos, you can break down complex steps or concepts in a way that's easy to understand, with the animated elements helping to enhance and emphasize the points you are trying to make.
And Wideo is one of the better options if you want to create animated videos with the help of templates and an intuitive drag-and-drop interface.
Even if you haven't created animation videos before, you can use Wideo to quickly combine different elements using scene templates and share the finished animated videos across your marketing channels.
Benefits
A wide variety of animation templates that will help you design scenes quickly.
An intuitive video editing tool that you can use to polish your videos and make them more professional.
It's easy to share on YouTube.
Ability to search the vast library for objects to ensure your animation videos are specific and clear.
How to use
Wideo is great for creating short, snappy marketing or explainer videos that you can share on your website, social media, and anywhere else.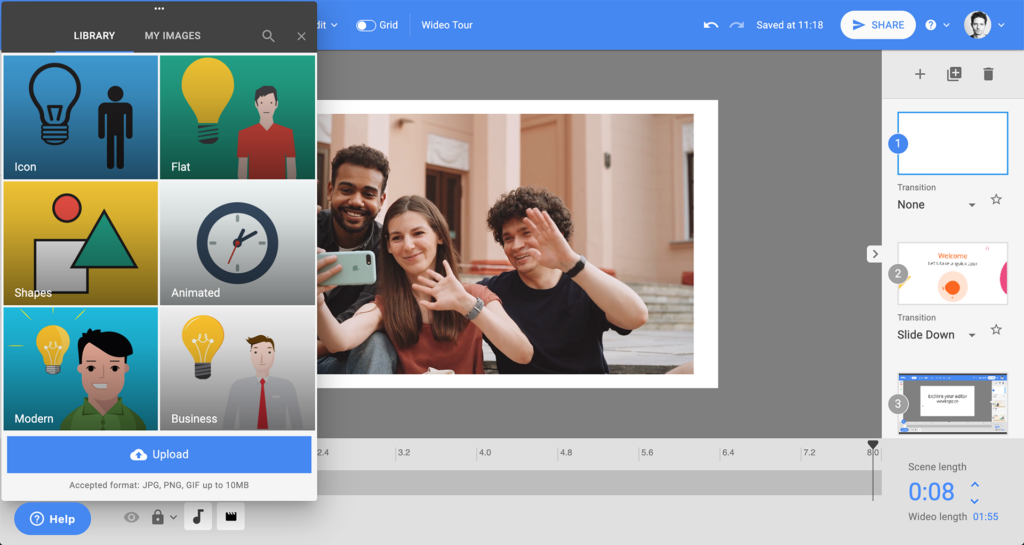 If you need to explain a concept or introduce a new feature, these videos can be a great way to quickly get a valuable asset that will break down the topic in just a few minutes.
Best for
If you want to use animation videos in your marketing but want to keep it simple, it's hard to beat the convenience and affordability of Wideo.
It may not have the customization options of some of the more robust alternatives, but it gets the job done and has a much shorter learning curve.
Viewbix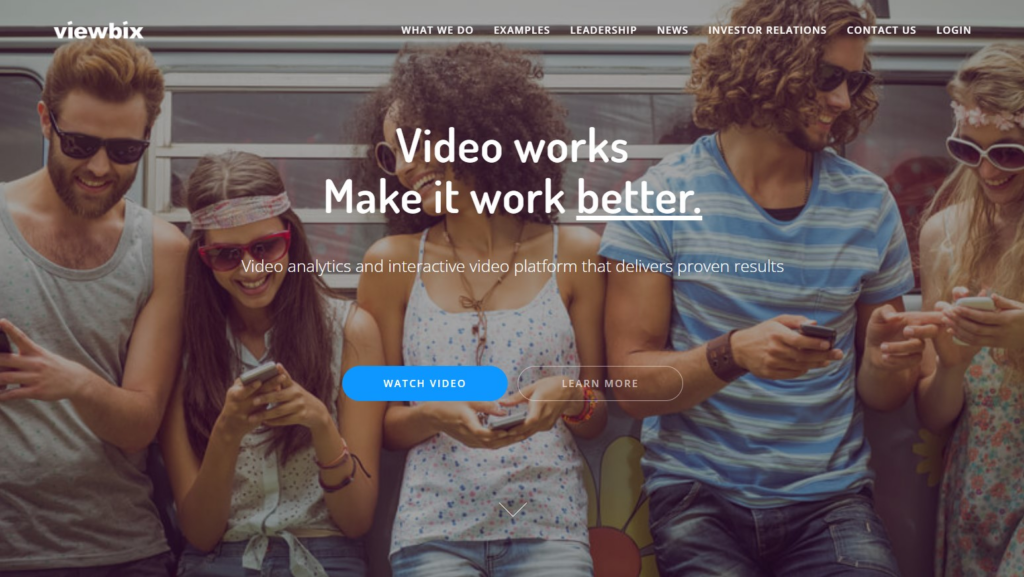 A big part of creating an effective video marketing strategy is understanding your audience's needs.
But without the ability to analyze your video performance across different platforms, gaining insights is not easy.
Viewbix is one of the best video marketing tools for addressing that.
It's a complete video analytics software that will help you understand your viewers and create a better video experience for your audience.
You can use it to quickly share and track your videos across multiple platforms, access actionable analytics that tells you when and where users engage with your videos, and even allow you to integrate CTAs in interactive video players so that you can drive specific actions you want your viewers to take.
Benefits
Get a complete view of your video performance through comprehensive analytics.
Add targeted CTAs and drive your users to subscribe or buy.
Develop a more effective video marketing strategy to focus on creating videos that make an impact.
How to use
Use Viewbix as an analytics platform where you see the data from your performance.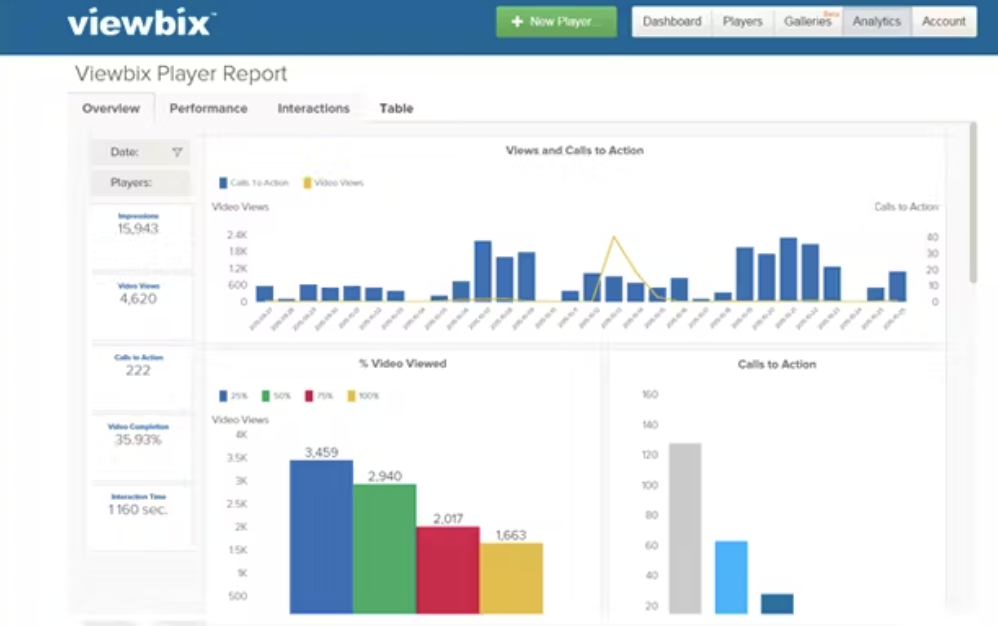 You can also utilize its secondary features, such as the CTAs, to drive specific actions and boost the potential ROI of the amazing videos you create.
Best for
Most video marketing tools provide just a limited view of performance and engagement.
Viewbix is a more advanced solution in terms of the KPIs you can track, providing details beyond the views and click-through rates, such as the specific action the user took when watching the video.
Powtoon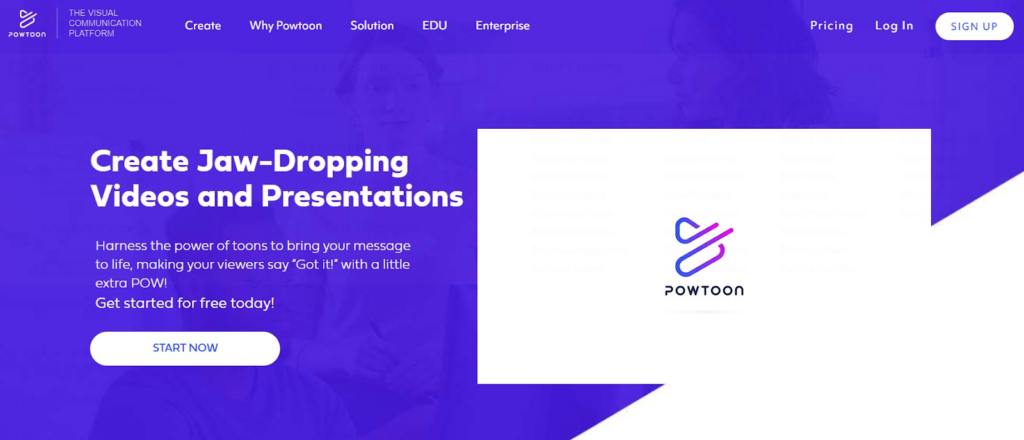 One of the most effective ways to use video in marketing is to create informative how-to videos that break down concepts or outline specific steps the user needs to take.
By breaking down the process your product uses, you can make it more appealing and allow the prospect to envision themselves achieving success as well.
With Powtoon, you get a complete online video maker for creating marketing videos such as presentations, how-tos, explainer videos, and much more.
It offers a range of templates, characters, props, background music soundtracks, and everything else you could need for creating personalized videos your audience will love.
The solution also has built-in tools that allow you to share your videos across your platforms.
Benefits
A variety of templates and a vast media library allow users to personalize the videos and quickly find a visually-appealing way to create explainer videos.
A convenient editing tool that helps polish your ideas and ensure that the flow of the video remains on point.
Because it's so simple to use, you can quickly create multiple versions of the same videos, testing out performance and optimizing your tutorial videos accordingly.
How to use
The best way to use Powtoon is to create various educational videos you can use in your marketing campaigns.
Choose a template that suits your video's purpose, explore the media library to fill in the blanks and get the message across, and then quickly export the video and share it with your audience.
Best for
Powtoon can work extremely well for companies of all sizes.
Whether you're a one-person business or a medium-sized company, you can significantly reduce the cost of producing videos in any situation.
And the ability to quickly exchange elements in the editor means you can have dozens of versions of a similar video, adapting them to different audiences and video marketing goals in minutes.
Lumen5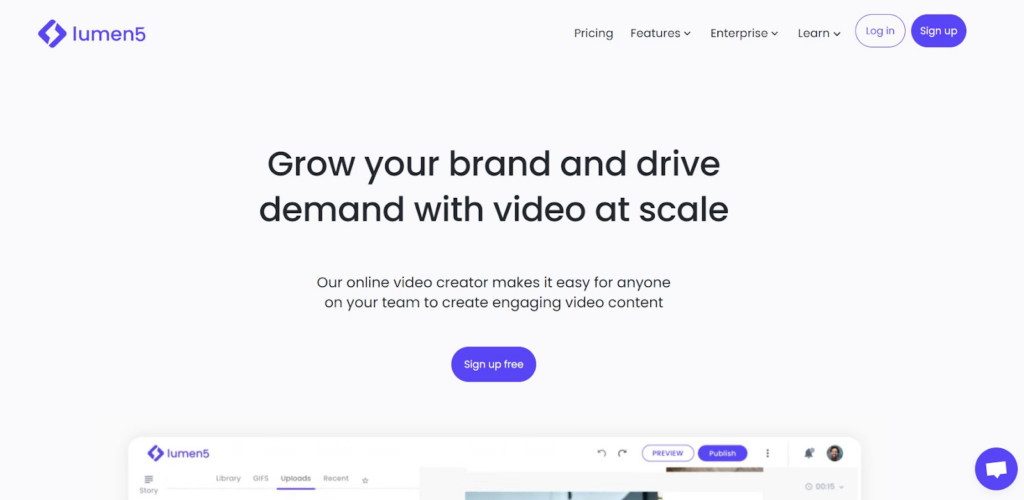 AI technology has taken the marketing world by storm.
The introduction of tools like ChatGPT or Jasper is just starting to scratch the surface of how AI can simplify and streamline copywriting.
Still, video editing has been taking advantage of AI technology for a few years now.
A great example of using the power of AI to create high-quality videos is Lumen5.
It's a straightforward and intuitive tool designed to develop beautiful-looking videos in seconds.
One way to use the tool is to quickly convert any blog post into an engaging video.
It also has many tools for creating talking head video content, enhanced with captions, callouts, cutaways, and more.
Benefits
The biggest advantage of Lumen5 is that it can save a ton of time. Instead of having to manually create videos, you can use your content as a basis that the platform will convert into video and enhance automatically.
After the video footage is created, you can share them in one click throughout your social media platforms.
In addition to automated video generation, Lumen5 also has advanced video editing and enhancing tools that you can use to make your footage more professional.
How to use
Lumen5 is one of the best video marketing tools you could use if you want to quickly turn your blog posts into videos.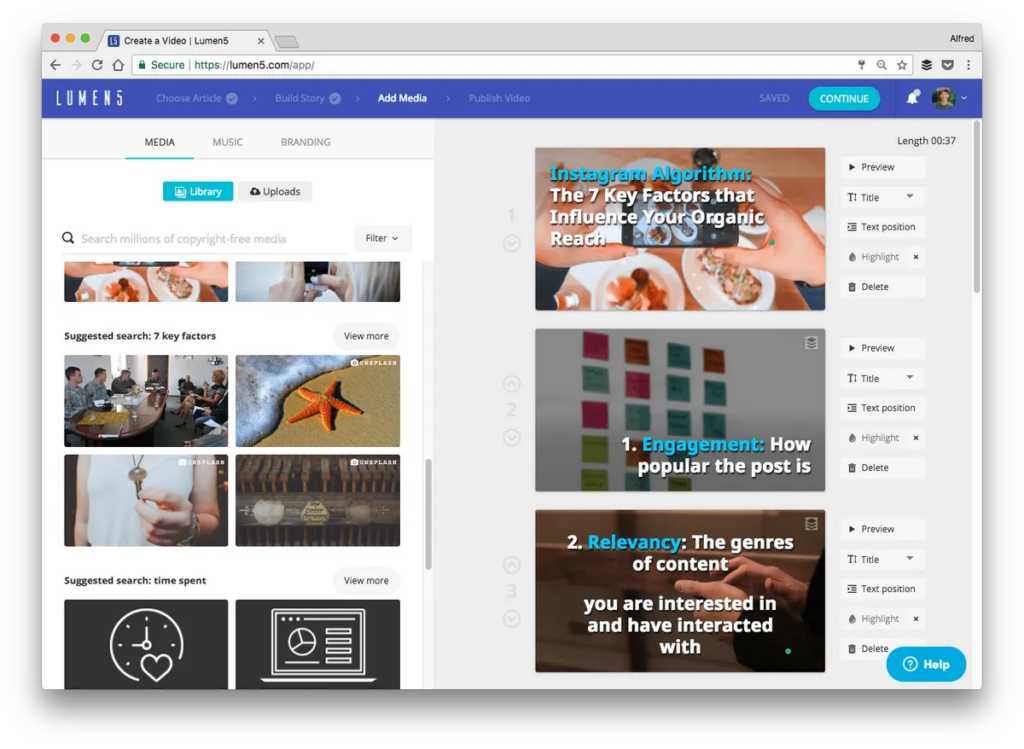 While it may not work in every situation, the ability to put together amazing-looking video clips in a matter of seconds or minutes can be highly beneficial to your business.
Best for
Companies that want to leverage their content in more ways.
If you have a selection of high-quality blog posts, you can turn them into videos that will lead to more views, engagement, and sales.
Videoshop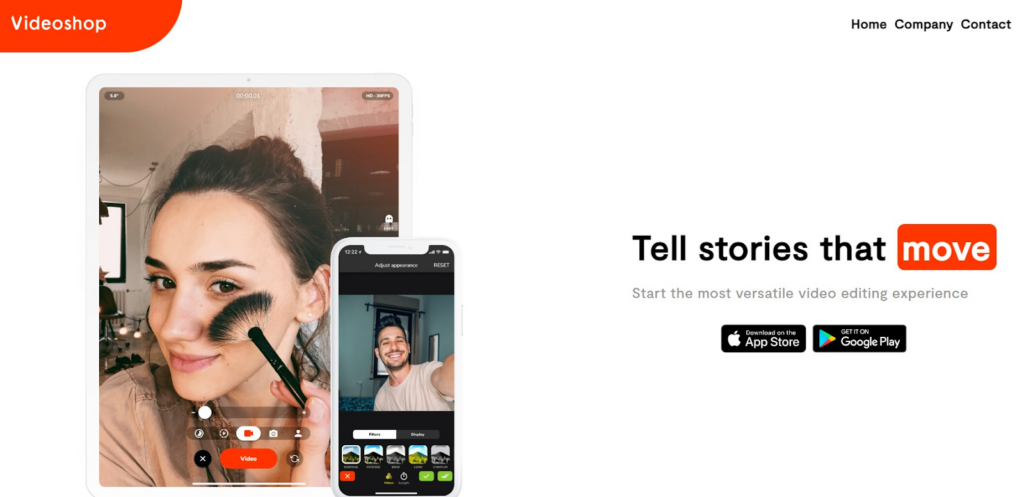 Many of today's marketers operate almost exclusively out of their mobile devices.
And the convenience of creating marketing campaigns on the go has resulted in marketing tools offering solutions catering to this audience segment.
Videoshop is a great example of that type of tool. In a market dominated mainly by desktop solutions, Videoshop created a powerful video editor that works exclusively on iOS and Android devices.
Whether you want to quickly add music, clips, and transitions, do some editing to make your explainer videos more snappy and smooth, or create slideshows using a list of images, Videoshop has you covered.
Benefits
A long list of video features like sound effects, video trimming, slow-motion, and filters, to get unlimited videos ready quickly.
Ability to quickly add voiceovers for instructional or demo videos.
Designed specifically for use on mobile devices, which makes it the most convenient video editing tool for marketers on the go.
How to use
Use the tool to quickly edit your marketing or YouTube videos.
Great tool for creating short videos for reels, TikTok, and similar platforms.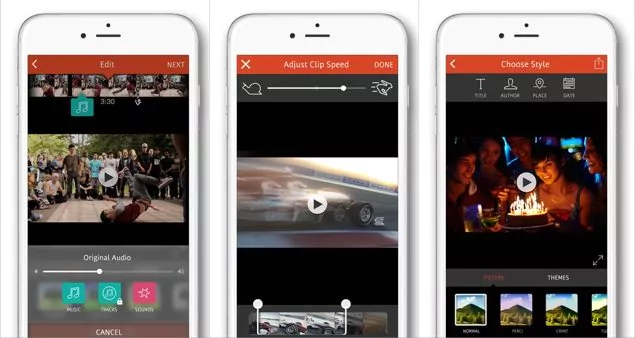 But it can also be used to quickly polish off any video and make it look more professional when shooting on a mobile device.
Best for
Videoshop is unmatched for users who need a video editing tool on their mobile device, as opposed to a more complex desktop-based solution.
How to choose the right video marketing tools
With the number of video marketing tools available today, it's easy to get overwhelmed with the choices and become unsure of what direction to go in.
And as you saw in the list above, there are a lot of different categories of video marketing solutions, each geared towards different situations.
Because of that, it's a good idea to consider the main aspects that determine whether it's a good fit.
Start with your video marketing goals
The easiest way to narrow down your list of options is to look at what you're aiming to accomplish.
For example, if you want to create videos and don't know where to get started, a simple editor might be what you're looking for.
If you want to build an audience on YouTube, a software solution for that platform might be the best choice.
And if you want to boost your social proof, Trust is the perfect video marketing software for getting more customer testimonials and showcasing them on your site.
Consider the reputation
Once you know what you need, you should also consider if the specific solution is likely to deliver on the promises it makes.
Whether you want to create animated videos or need help with overall video creation, the tool you choose must have a proven track record of helping users make that happen.
Analyze the video marketing solution and its features, making sure it can cover everything you need.
You can also look at explainer videos to see it in action.
Finally, go through customer reviews and see whether they were able to solve problems like yours.
Look into integration
Finally, you want to ensure that the video platform is not just convenient and effective at what you want it to accomplish but also is suitable for your marketing infrastructure and overall strategy.
You want to find a video marketing tool that will function well independently or efficiently integrate into your other platforms and processes, providing the necessary features to create professional videos without disrupting or bottlenecking your other strategies.
Best practices for creating video marketing strategies
Creating marketing videos takes time, resources, and money.
And while the video marketing software options listed above can be very helpful, they won't be beneficial to video marketers if they don't have an effective process for developing a video marketing strategy that suits your situation.
Here are some best practices for ensuring all your videos are part of a sound strategy.
Start with the goals. An effective marketing video strategy needs to revolve around a specific outcome you want to achieve. Therefore, your goals are an excellent place to start. Consider whether you want to educate your audience, generate clicks to your landing page, showcase customer success stories, or do something else. Then, figure out what type of video will help you achieve that.
Identify your target audience. Next, you'll need to match your goals to the audience you're trying to reach. Today's viewers need to find the video relevant to them, so you need to get specific and figure out how the video needs to look and feel, what it needs to cover, and even what objections it needs to overcome to be effective.
Create engaging content. There are countless directions you can take a marketing video. And something that works well in one situation might flop in another setting. So consider the platform, goals, and audience when deciding what elements to use, as well as the video's style, length, and tone.
Measure performance. Even the most experienced video marketers don't always produce high-performing videos. But the only way to know why one video works and another doesn't is to track performance and engagement. You can then learn to identify what your audience cares about and which platforms or video formats work best for your business.
Conclusion
Video marketing tools are an indispensable part of a successful marketing strategy.
It's not just a great way to educate your audience about your products but also crucial for strengthening your brand presence and driving sales.
The tools listed in this article will help you create a variety of video marketing content that you can use on your website, on social media, in emails, and throughout your interactions with customers and prospects.
And the good news is that, in most cases, getting started with these tools doesn't require a large budget, special equipment, or even a lot of time.
Trust is an excellent example of a video marketing tool that's not just easy to use and affordable, but is also designed to have the maximum impact on your business.
Whether you're a one-person business or a larger company, Trust allows you to collect video testimonials in a way that's easy for your customers.
And then, it helps create beautifully-looking testimonial video ads that you can display on all your online platforms.
Sign up for a free trial and get started with Trust today!

Frequently Asked Questions
What is the best video marketing tool?
It's hard to pick the single best video marketing tool because the answer depends on your needs and priorities. Any of the tools on this list can be used to grow your online presence with video.
That being said, we believe that Trust offers a unique opportunity to leverage the positive experiences of your best customers, which can be more persuasive than almost any other form of marketing you could use.
How can video be used as a marketing tool?
There are countless ways you could use videos as a marketing tool. Some examples include promo videos to introduce a new promotion, video ads encouraging people to buy, testimonials that supercharge your social proof, and explainer videos that break down complicated subjects and ensure your customers use your product.
Why is video a powerful marketing tool?
Video is an excellent marketing tool for a variety of reasons. For one thing, it's much more engaging and can have broad appeal to different types of audiences. Video can also be adapted to different situations and present the same information according to the platform and goals. Video marketing also has a good chance of going viral, providing you with a lot more reach.
How do I market video content?
The simplest way to market video content is to simply post it on your website. This works especially well with video testimonials you generate using Trust, which you can use to bolster your claims and enhance your sales performance.
Other ways to market your videos include posting them on your social media accounts, optimizing for search, using paid advertising campaigns, and sharing them with your email list subscribers.