You know video testimonials will drastically improve your brand loyalty, trustworthiness, and sales.
But the entire process of collecting the videos from your customers, editing them, and publishing them is a nightmare.
That's why you need the help of video testimonial software. But which one do you choose?
In this article, we will be comparing the five best video testimonial software tools:
Trust
VideoAsk
Boast
VideoPeel
Vocal Video
StoryPrompt
We've tried all of them and are ready to give you the best options to go with based on your particular use cases.
If you want to skip lengthy reviews of all platforms and see our final comparison and the verdict, feel free to scroll down to the bottom of the article.
Now, let's get started.
TL;DR
Trust – a versatile, automated solution for video testimonials and customer reviews collection, management, and display. It is highly optimized, feature-rich, and affordable. Ideal for SMBs that strive to build a solid reputation online.
VideoAsk – An easygoing software that provides video questionnaires with conditional logic. It's more suitable to collect video testimonials than show them on the website. An expensive tool for smaller businesses.
Boast – A well-organized approach for collecting and displaying video testimonials. More suitable for larger agencies.
VideoPeel – Builds authenticity into videos and is suitable for beginners and quite an expensive option for medium to large businesses due to its minimal features.
Vocal Video – Offers captivating video edits for high-quality, website-ready videos, and is expensive for beginners.
StoryPrompt – The platform integrates AI to assist users in video production, allowing them to create professional-quality video content without extensive tech tools.

What are video testimonial software tools?
Video testimonial software is designed to help businesses and individuals create video testimonials, handle video recording process and remote video capture, manage video testimonial requests and video production process.
These tools typically provide features and functionalities that enable users to record, edit, and publish testimonial videos.
Plus, there's no need to pay for video hosting platforms, as most video testimonial software offer add-free hosting and embedding of your videos.
Some common features of the best video testimonial software include:
Video recording. Video testimonial tools allow users to record high-quality videos using their smartphones, laptops, or other devices.
Editing. They may offer basic editing features, such as trimming, cropping, and adding captions or text overlays.
Sharing. Once the video testimonial is complete, users can share it on their website, social media channels, or other marketing platforms.
Analytics. Good video testimonial tools offer analytics to track engagement and views of video testimonials.
Collaboration. Some video testimonial platforms offer collaboration features that allow multiple users to work on video and text testimonials together.
A great video testimonial service is particularly useful for businesses that want to collect video reviews and showcase customer feedback, testimonials, or endorsements in a more engaging and persuasive way.
It can also help businesses to build trust and credibility with their audience, which can ultimately lead to increased sales and revenue.
Video Testimonial Software #1 – Trust: All-in-one video testimonial software for capturing, managing, and publishing video reviews
Overview of Trust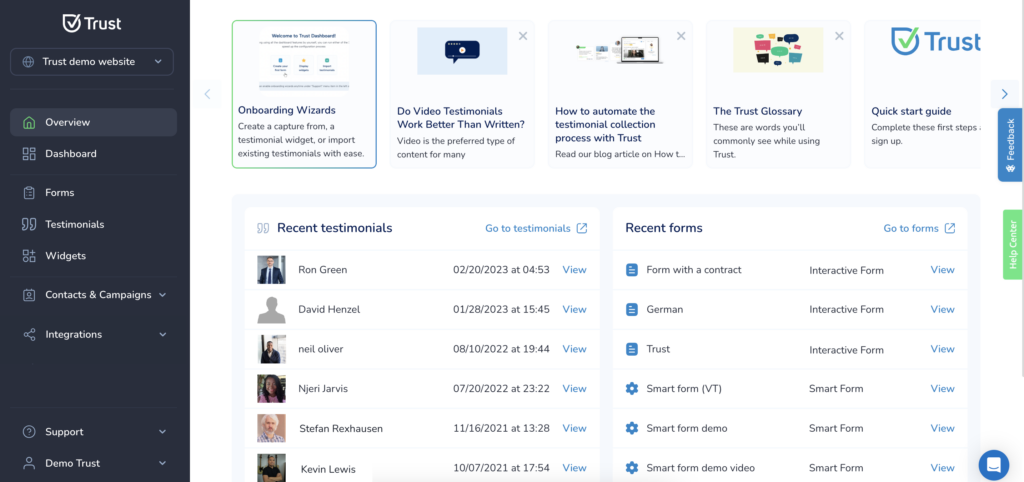 Looking for a streamlined approach to collecting genuine testimonials and showcasing them in a way that talks directly to your potential clients? Then Trust might be a good fit for you.
Why Trust?
We often notice brands misusing their website by displaying mediocre testimonials that barely drive any value.
Your goal shouldn't be constrained to collecting and publishing a testimonial but to ensure it builds up your brand's credibility without seeming too "pushy".
And if you're looking for a complete solution to your video testimonial marketing efforts, Trust is your go-to software.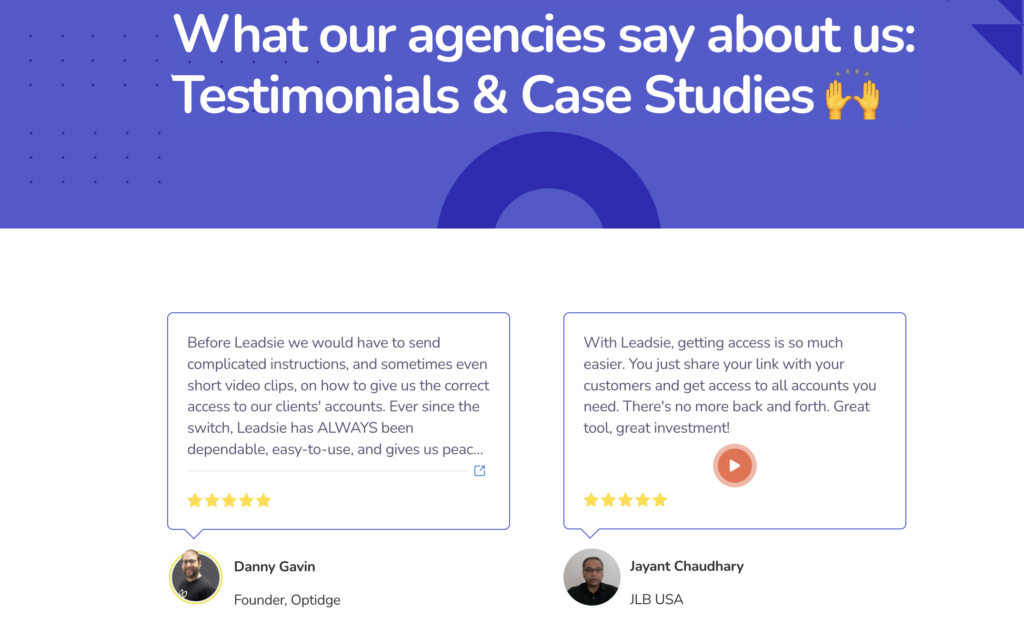 Need to import your existing reviews from Google, Facebook, and review sites? With Trust integrations, you can import and add them to your website with Trust's captivating widgets.

What features and benefits make Trust stand out?
Trust is the most feature-rich video testimonial software discussed in this article. It has multiple types of testimonial request forms as well as a full library of ready-made website elements to display video testimonials.
Here are some of the essential features:
It offers a straightforward solution to recording a video testimonial – online testimonial request forms – where your customers can directly record the video from the Trust's UI.
Moreover, you can add supportive guidelines to your testimonial request forms to make sure that you get a perfect video review from your customers.
Trust lets you create interactive video surveys – a series of questions and answers that you can combine into one single testimonial later.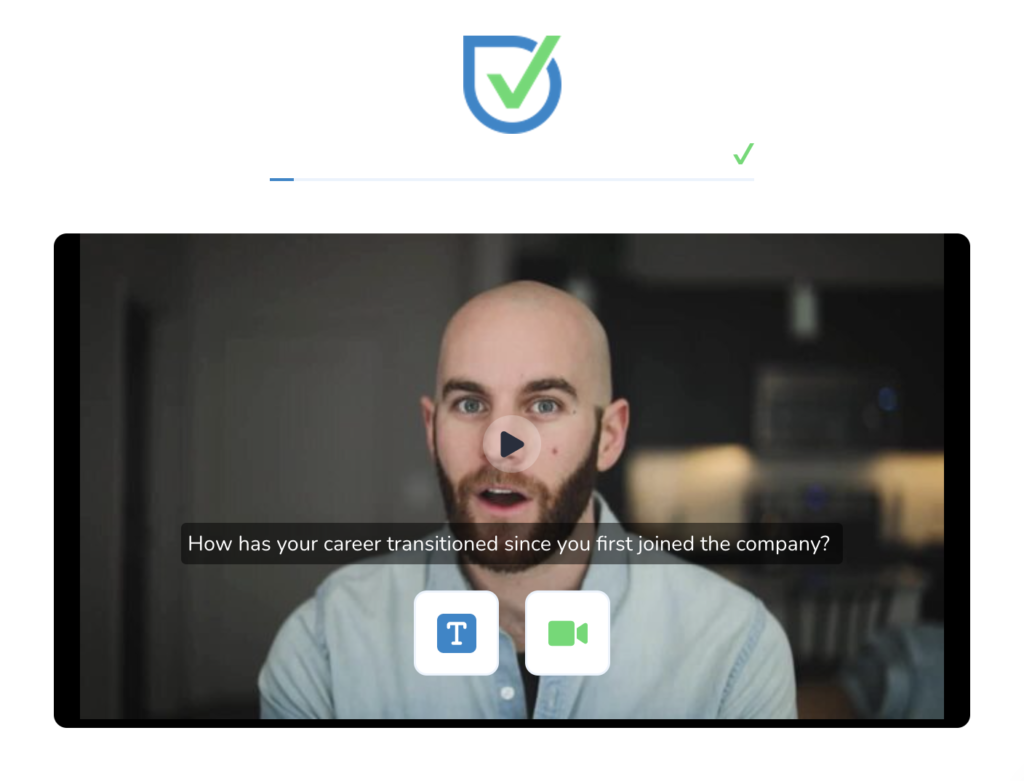 All testimonial request forms by Trust include consent checkboxes, so you never need to worry about sharing customer testimonial videos publicly.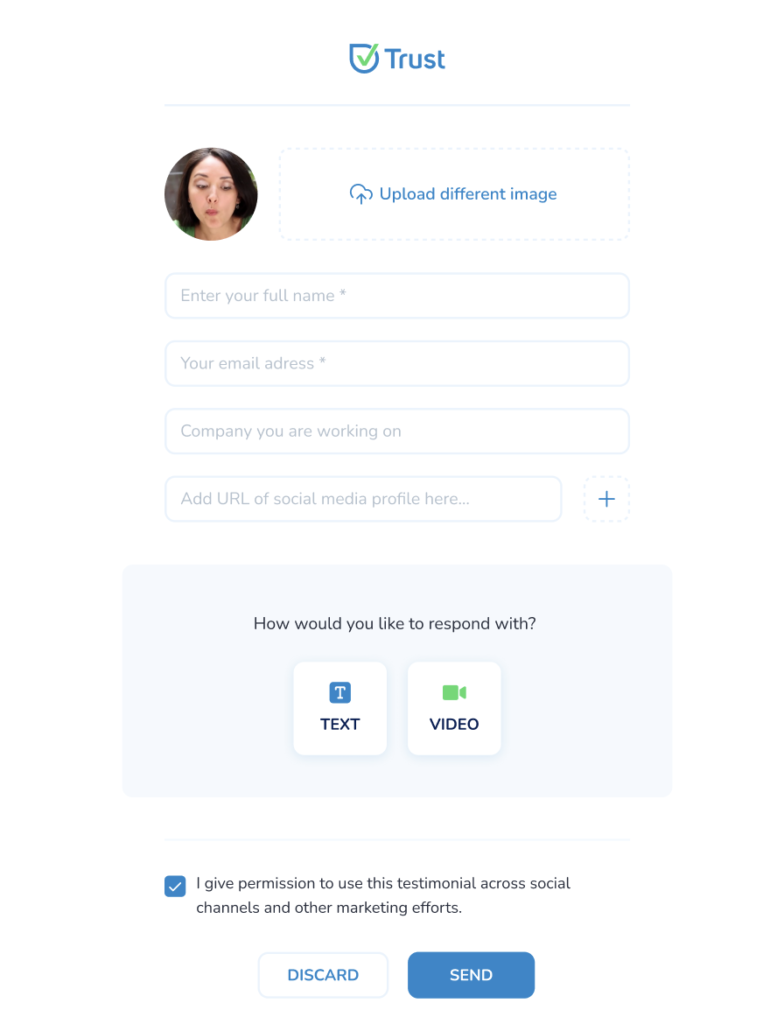 Are customers not comfortable being spontaneous on camera? They can directly link their existing videos from their Facebook, Vimeo, Instagram, and YouTube channels or upload a pre-recorded video.
Creating a video testimonial campaign is a breeze. Just send over the predefined forms to your customers via a link, and they'll send you back their videos in a few minutes.
Need a quicker approach? Collect video testimonials and customer feedback on autopilot by embedding forms on your website. No coding skills are required!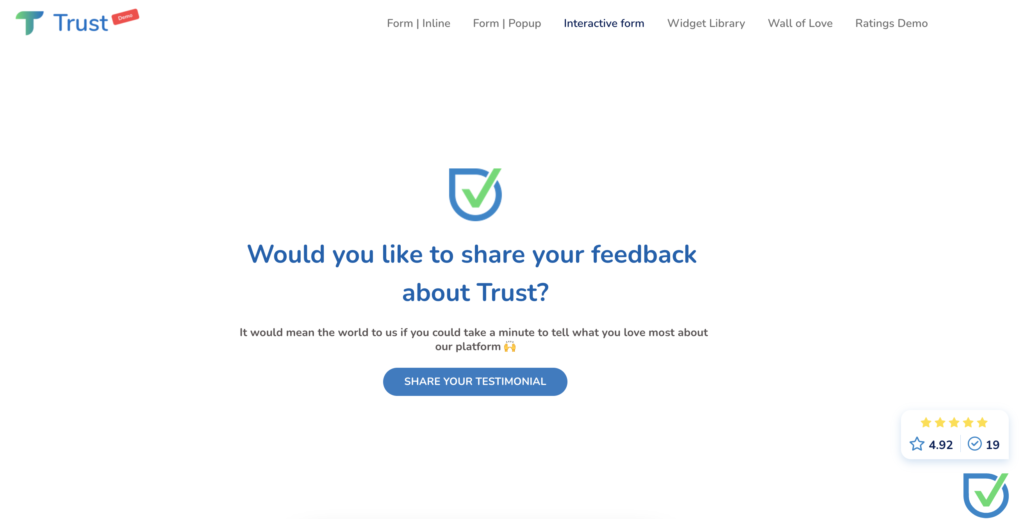 That means your customers only need to enter a few words about your product or services to leave you a full-text testimonial!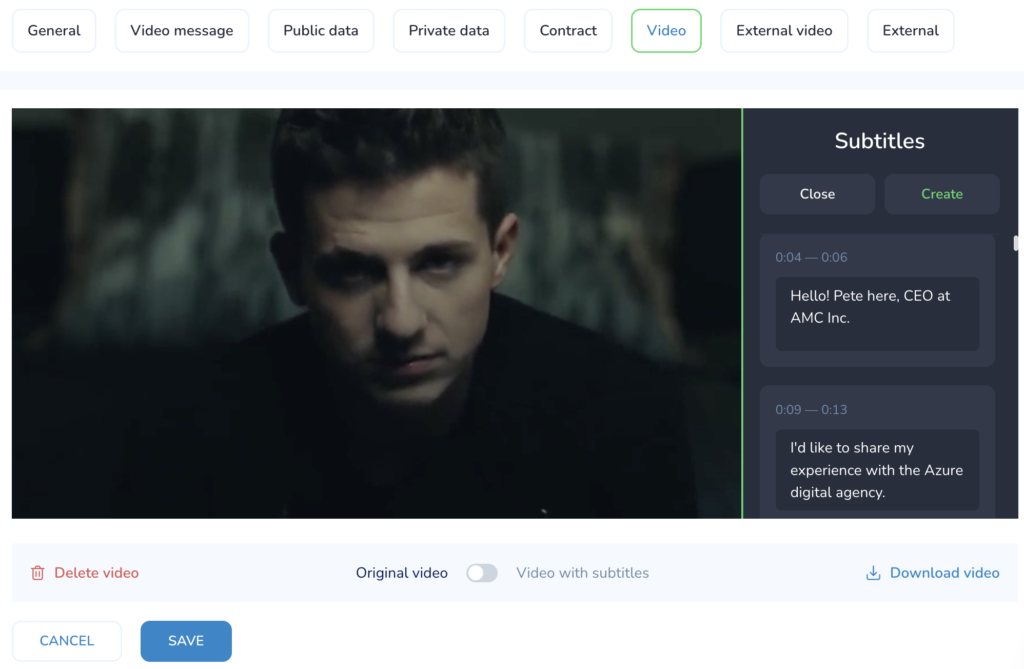 Trust has a built-in video editor to edit question-and-answer pairs from Interactive forms and transform them into very powerful testimonials.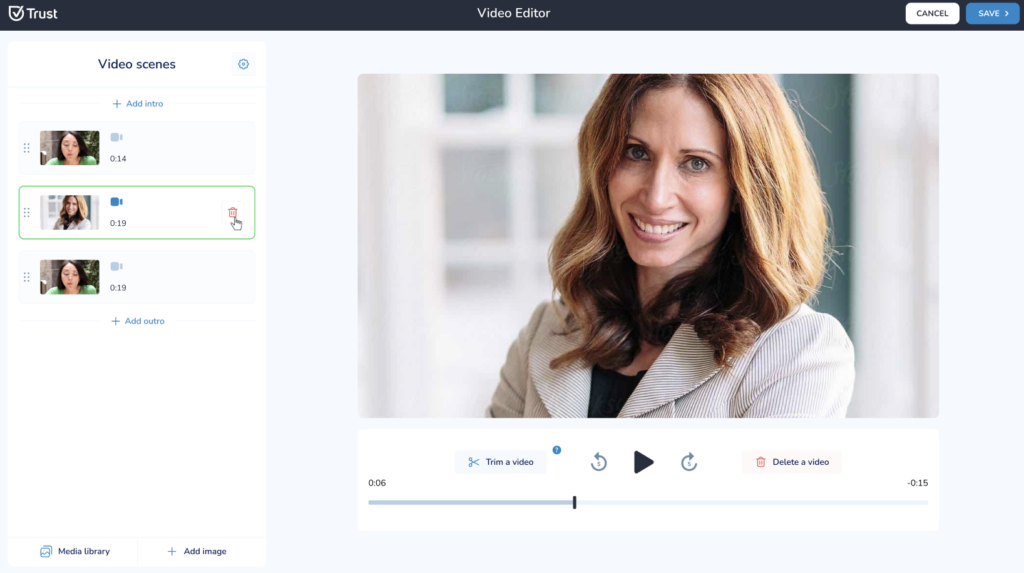 Trust has integrations with multiple CMS platforms – meaning you'll be able to easily (and quickly) publish your video testimonials on your website.
Ready-to-use and customizable website elements (widgets, pop-ups, a badge, and Floating Stars) to showcase your testimonials on a dedicated landing page are at your disposal.
Show your prospects that your reviews are from "real people". Trust lets you link your customers' social media profiles or business websites to their testimonials.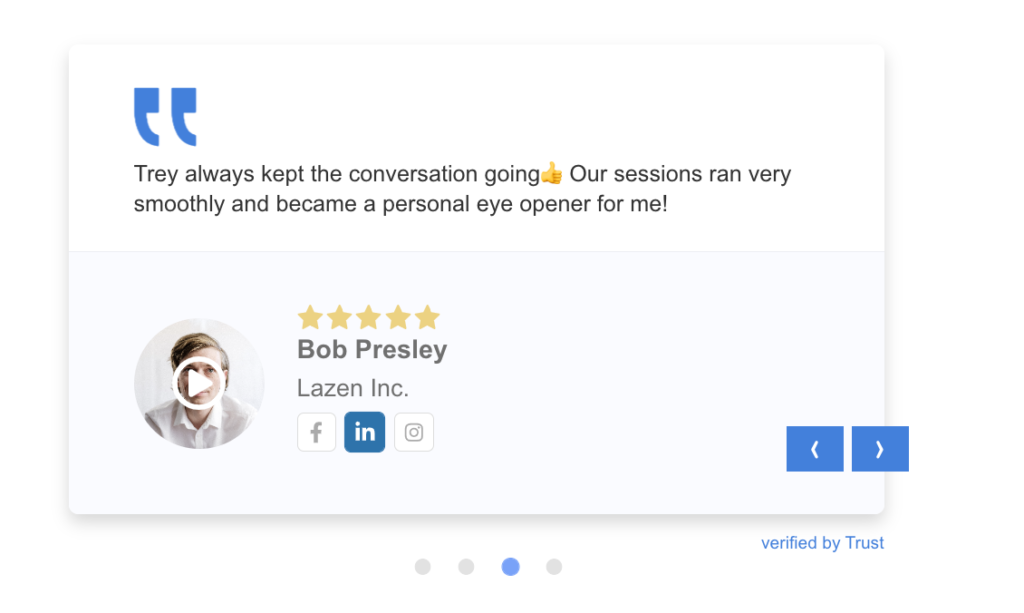 Shortcomings of Trust
No significant disadvantages; however, video insights and analytics are missing.
No free pricing plan.
Trust pricing
Trust provides three payment plans – Starter, Off the Ground, and Business with a 15% discount if billed annually. All plans come with a 14-day free trial.
The Starter plan is priced at $19 if billed monthly and $16 for annual payments – which is almost two months' worth of discount. This plan is great for solopreneurs and early-stage brands with a single website and up to 5000 monthly visitors.
Off the Ground is priced at $49 monthly or $41 annually. This plan supports up to 200 published testimonials and websites with up to 20k website visitors.
The Business plan is ideal for medium-sized businesses that handle multiple websites. It starts at $83/mo if billed annually or $99/mo for monthly billing. This plan offers an unlimited number of published testimonials and ratings.
For companies handling more than ten websites at once, Trust can offer a customized quote.
Who is Trust for?
Solopreneurs like freelancers and solo business owners looking to display high-quality, genuine video testimonials and attract worthy leads.
Online businesses (small and medium-sized) and agencies to see promising result-driven growth.
Agencies that offer reputation management services to their clients.
eCommerce companies due to Trust's abundant features.
What customers have to say about Trust
"Beautiful & authentic reviews and testimonials for service-based websites."
"Trust facilitates the process of collecting video testimonials through a clean form. Highly recommend it if you are looking for a simple solution for video testimonials!"
A video testimonial by David Henzel, CEO – upcoach.com, Trust's customer
Video Testimonial Software #2 – VideoAsk: For More Personalized Video Interactions
Overview of VideoAsk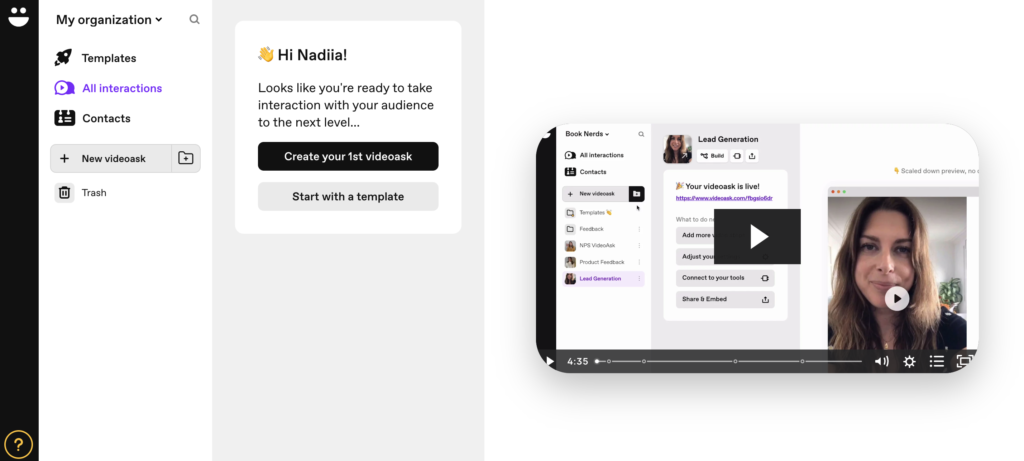 VideoAsk lets you get face-to-face with leads, customers, or website visitors through video.
It has a step-by-step approach where you show people a set of pre-recorded videos, and they send you replies by video, audio, text, or multiple-choice selection.
You can also include a calendar booking, a payment, an NPS rating, a file upload, or even a live video call as a part of your form.
To make things smoother, VideoAsk lets you gather every video testimonial in the same format. All you have to do is download and showcase it on a dedicated landing page or a case study.
VideoAsk's unique features and benefits
The video testimonial software offers step-by-step questionnaire templates for different use cases that you can easily customize.
Helps to build a smooth testimonial request flow with its conditional logic.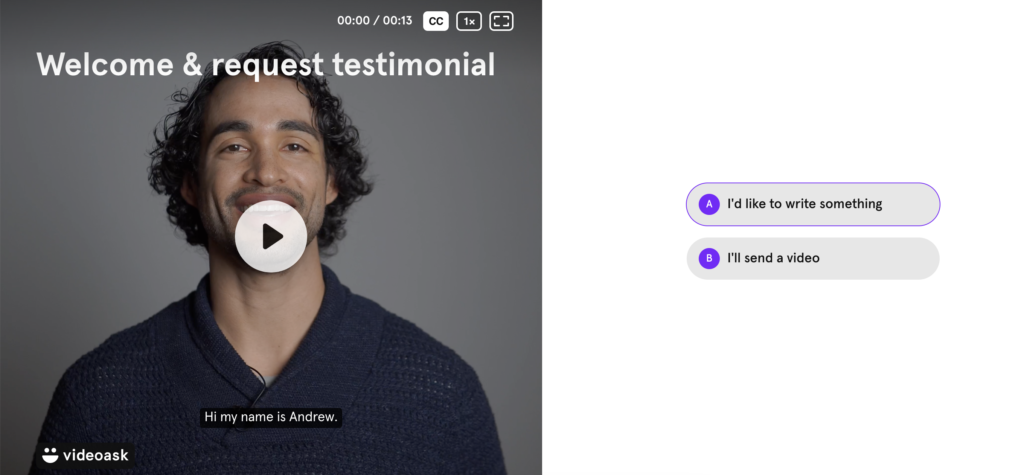 Are you worried about legality? VideoAsk's testimonial tool provides a multiple option Consent Box as proof of consent before you share your customers' testimonial videos publicly.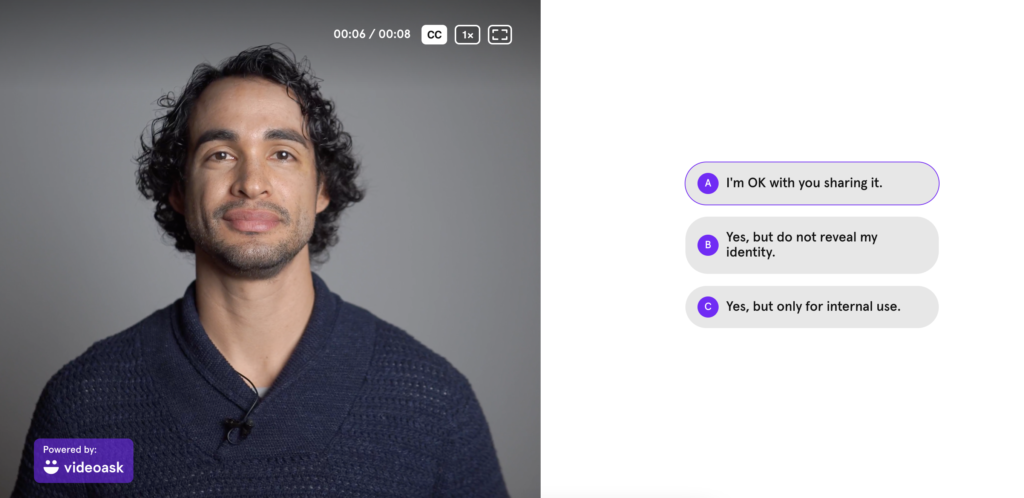 Auto-generated code for easy website embedding and several customized widgets for forms.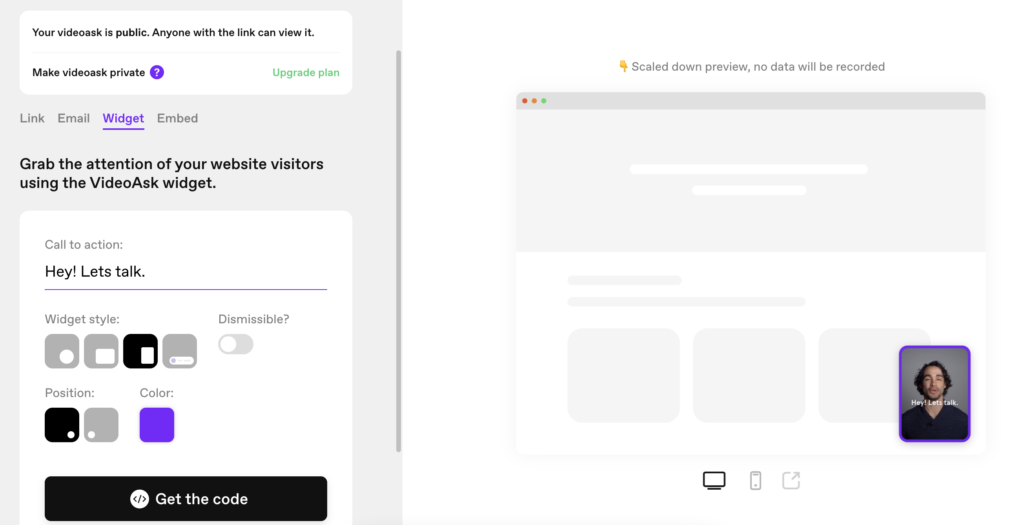 Provides advanced analytics to help you track visits, clicks, answers, and completions.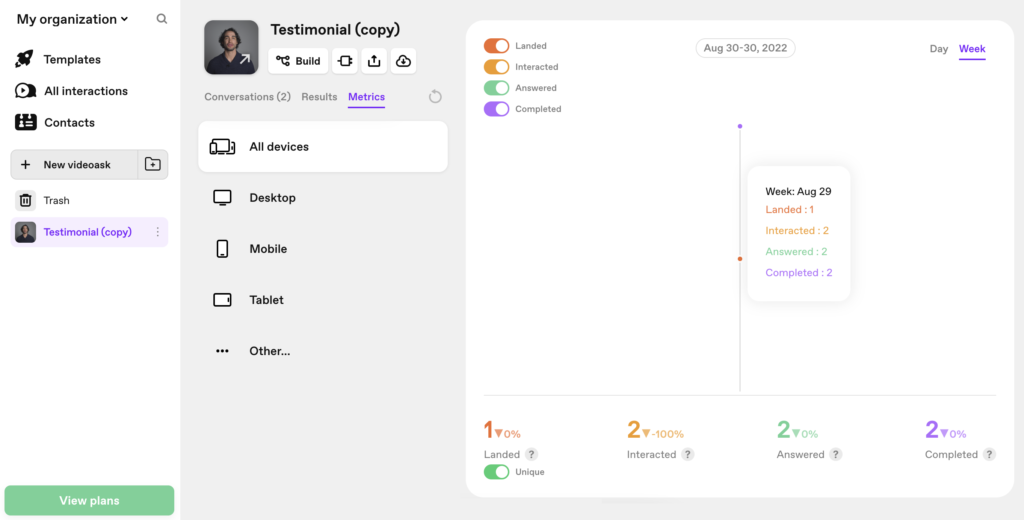 You can collect all customer testimonials in a single dashboard where you can transcribe, download, and share testimonial videos onto your site.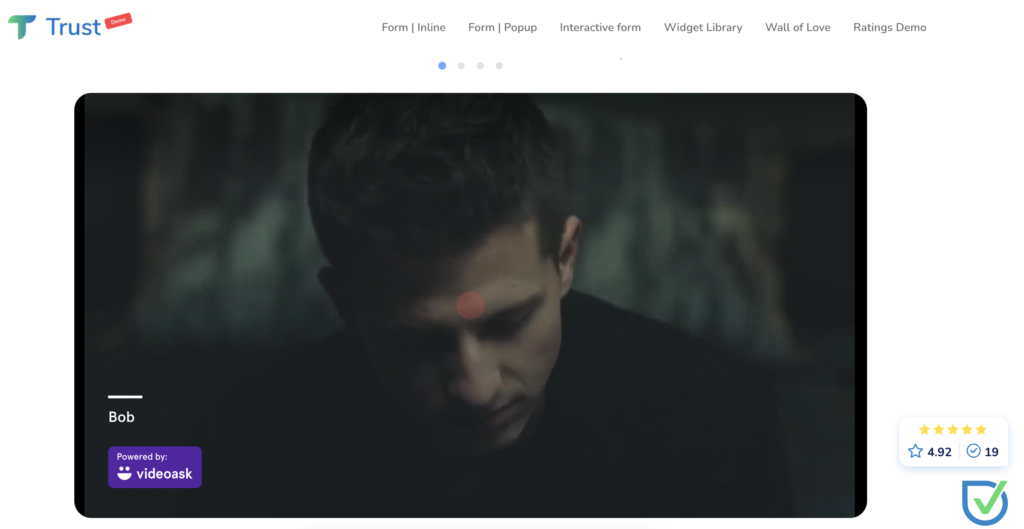 Shortcomings of VideoAsk
No options to collect customer photos and a product / service rating.
No way to collect and display any additional information (e.g. company name) from your reviewers.
While you can collect unlimited video testimonials with Trust, VideoAsk limits video minutes per month for all its pricing plans. Not suitable for budget-conscious businesses that invest in video marketing a lot.
No editing features to make testimonial videos website-ready.
Only 1 way to show video feedback on your website (no multiple display options and no widgets).
VideoAsk pricing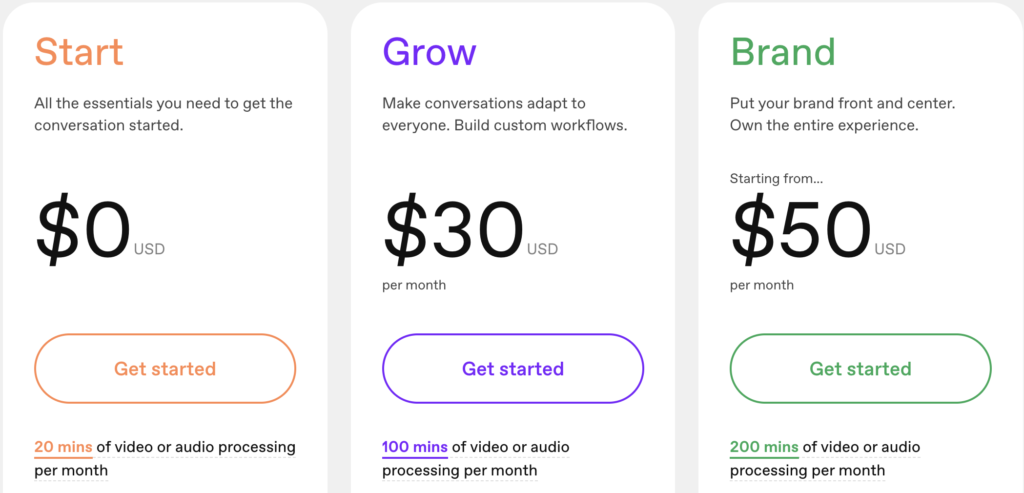 VideoAsk provides three plans – Start, Grow, and Brand with options to pay monthly or annually.
The Start plan is always free and offers 20 mins of testimonial video processing a month but with minimal features.
The Grow plan is priced at $24 a month if billed yearly and $30 monthly if you want to pay annually.
And if you're a larger team with ten or more users, you can opt for the Brand plan, which is priced at $40 a month billed yearly or $50/mo when paid annually. It provides 200 minutes of video content. The Brand plan also lets you add more testimonial video processing minutes at an additional cost, starting at $67 for 350 mins.
Who is VideoAsk for?
Smaller or medium-sized businesses, provided their required video minutes are limited. And for companies with an older audience who are less tech-savvy due to its easy-to-use pre-recorded testimonial video templates.
VideoAsk reviews and ratings
"A potentially powerful (but expensive) video engagement platform."
"The price increases based on the minutes you consume. It can be difficult to manage the budget this way."
Video Testimonial Software #3 – Boast: A Proof-Based Marketing Solution for Creating Video Testimonials
Overview of Boast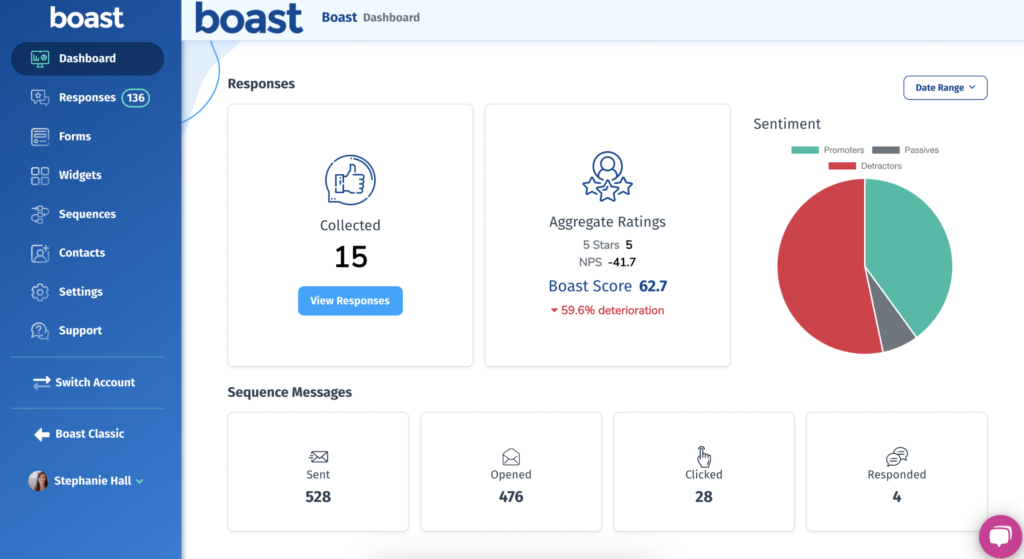 As a dedicated video testimonial software, Boast has been widely used to leverage social proof using authentic testimonials.
Tired of frequent follow-ups to collect testimonials? Boast automates testimonial requests for you. It has a unique customer experience and a seamless process for your clients to quickly record and upload their testimonials.
What's more?
Boast's unique features and benefits
An organized, step-by-step process to get reviews from your clients, request testimonials, and quick uploads, all within an hour.
Mobile-friendly forms for your clients to submit their video feedback on the go.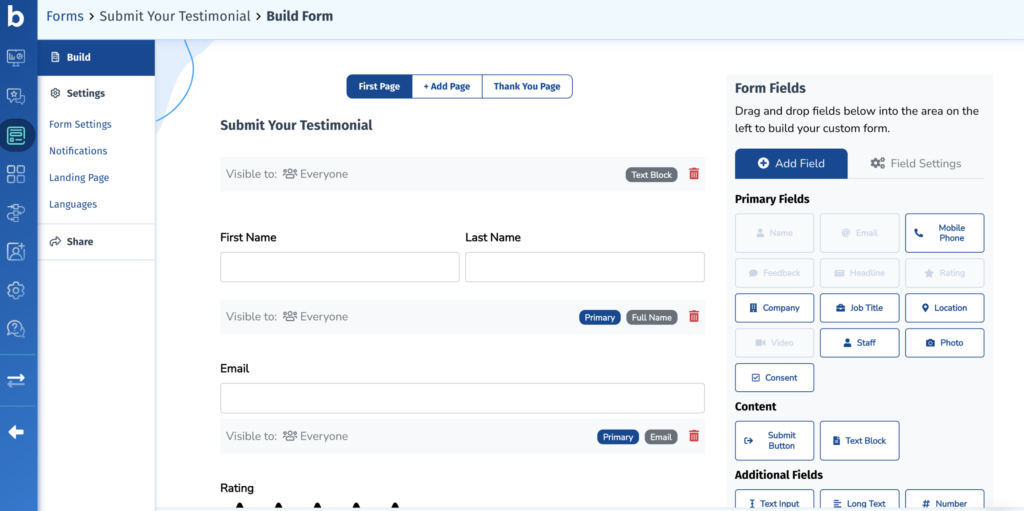 Easy and guided embedding on websites with widgets and integration with multiple marketing or advertising tools.
Requests and follow-ups on auto-pilot for reduced manual effort.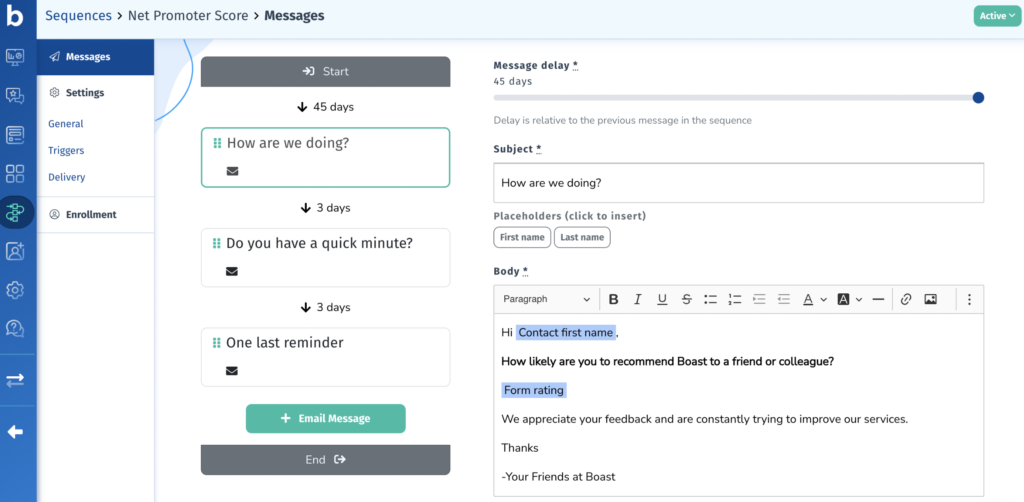 Shortcomings of Boast
Boast does not allow users to edit their client videos once submitted and can be a massive drawback for users willing to rectify quality or content.
Does not have a "Free Plan".
It has the most expensive payment plans compared to the rest, ruling out small businesses with budget constraints.
Boast pricing
The Basic, Team, and Premium packages are tailored for small, medium, and large businesses.
The Basic plan is priced at $50 a month if billed annually or $59/mo for monthly billings. This plan offers only 600 responses in a year, and compared to tools like Trust, with 200 responses a month at merely $41, Boast is quite an expensive option!
The Team plan is priced at $100 a month if billed annually or $119/mo for monthly billings and provides up to 1800 responses a year.
Its Premium plan is priced at $208 a month if billed annually or $249/mo for monthly billings. It's an ideal plan (although on the pricey side) for bigger teams and enterprise companies.
Who is Boast for?
This video testimonial tool is ideal for mid-tier medium-sized businesses.
For companies with over 2000 customers a year.
Boast reviews and ratings
"Makes it so easy to capture testimonials from my clients!"
"Great tool for gathering testimonials or other customer feedback."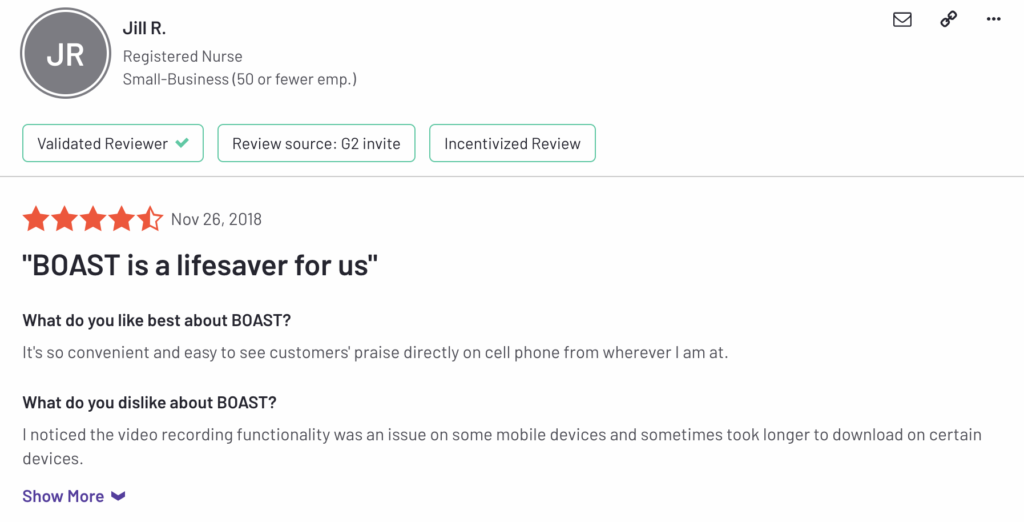 Video Testimonial Software #4 – VideoPeel: Real-Time Videos as Social Proof
Overview of VideoPeel
A software created exclusively for authentic video testimonials, VideoPeel helps you effectively manage your user-generated content, aka videos, and publish testimonials on your website, social media, or paid ads or use in your video marketing plan.
VideoPeel's unique features and benefits
You can create a customized campaign to collect their video responses for each client.
Allows clients to record videos remotely from any device.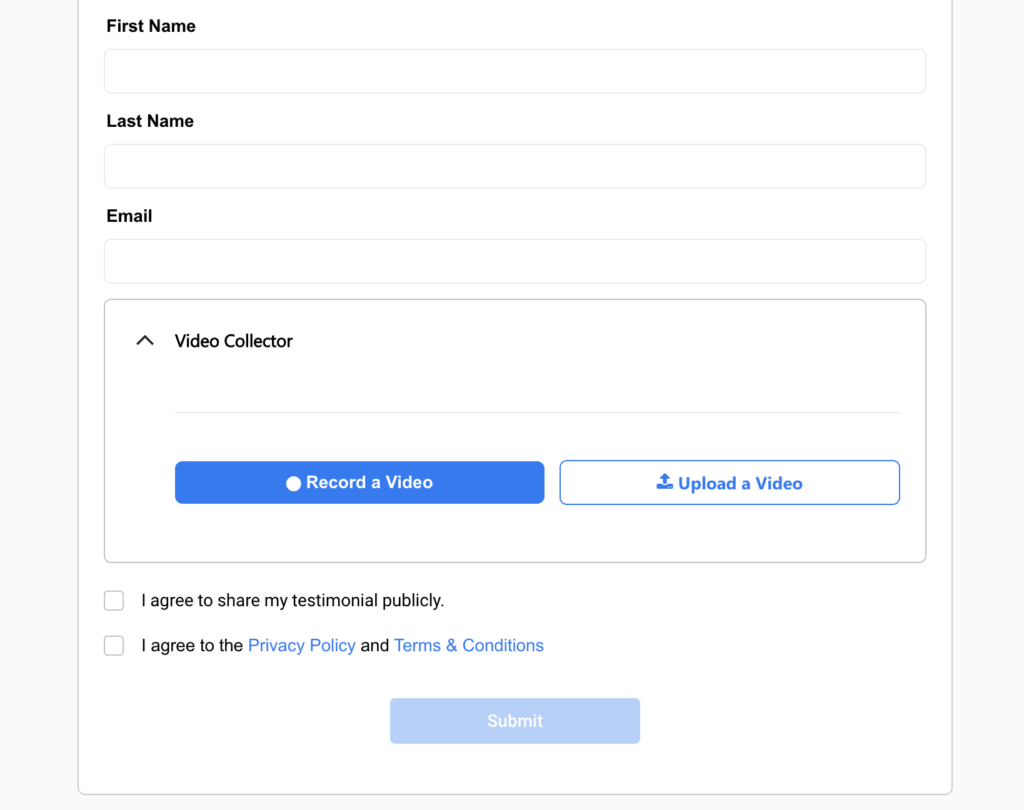 Aligns your client testimonials to fit perfectly into your potential buyer's journey by posting at the right time and tracking performance.
Enables you to better showcase your products by curating video testimonials on Amazon's platform.
Shortcomings of VideoPeel
Minimal overall features compared to Trust and lack of advanced editing options.
A drawback of VideoPeel is its lack of multi-use support for its Pro and Premium plans.
No "Free Plan", but it has a 30-day trial period.
VideoPeel pricing
VideoPeel's pricing is split into three primary, straightforward pricing plans – The Pro, Premium, and Enterprise.
The Pro pricing plan is priced at a decent $49/mo if billed annually and at $69/mo if billed monthly. It's a smart move to attract solopreneurs like freelancers and individual business owners who need video testimonial software.
The Premium plan is priced at $249/mo if billed annually and $399/mo for monthly billing. The add-ons include automated transcripts, more video insights, and business reviews.
For larger companies who need more advanced features, VideoPeel suggests the Enterprise plan with a custom quote.
Who is VideoPeel for?
It offers Amazon video review curation and management support and is suitable for small to medium-sized product-based companies.
VideoPeel reviews and ratings
"You need real people with honest reviews. That is what VideoPeel provides."
"Very few customization options. You must adjust to the tool, which is not very flexible."
Video Testimonial Software #5 – Vocal Video: For Effortless Video Testimonials
Overview of Vocal Video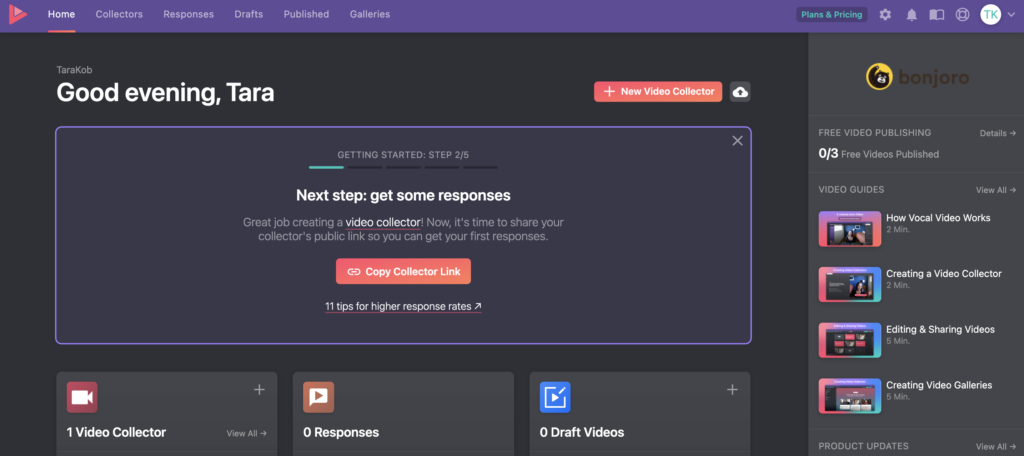 Vocal Video provides an exhaustive list of features to collect video testimonials, especially on the expensive video editing front.
It lets you send a text-based questionnaire to your customers and request a response via videos, text reviews, or audio.
It follows an asynchronous format for testimonials where your clients can record videos at any time, irrespective of the device. They also help personalize your video messages and format them before you send them out to each of your customers.
Vocal Video's unique features and benefits
Video collectors are dedicated landing pages that include plenty of customization options.
Exceptional and easy-to-use editing features (with tons of video tutorials) to turn raw videos into high-quality.
Customizable video galleries to display your videos in a more organized format.
Uses turnkey editing and branding to create better videos every time.
Provides valuable templates for a guided testimonial collection process.
Lets you convert videos to audio-only clips.
Offers integrations via Zapier with platforms like Facebook, Shopify, etc.
Shortcomings of Vocal Video
No "Free Trial", and the Free plan offers to publish only 3 video responses.
Lack of analytics to measure video performance, unlike tools like VideoAsk.
Quite an expensive option for small businesses the Team and Pro plans offer only annual billing.
No monthly billing options.
Vocal Video pricing
This video testimonial software offers four pricing plans – Free, Team, Pro, and Enterprise.
The Free plan is forever free but lets you publish only up to 3 videos, then you have to pay $99 each as per their pay-per-video scheme.
There is only 1 option currently for monthly payments (the Solo plan) that cost $69/mo.
The Team plan is priced at $396 (billed annually). It provides multi-user support of up to 3 users, 5 hours of video storage, 5 video collectors and unlimited video publishing.
The Pro plan is priced at $468 (billed annually). This plan provides multi-user support (up to 5), unlimited video publishing, downloads, and more.
Vocal Video also offers custom pricing for Enterprises.
Who is Vocal Video for?
For large-scale enterprises that need professional-looking videos due to its pricier side.
Vocal Video reviews and ratings
"I would absolutely recommend Vocal Video. It's so easy to use…and it takes a lot of the guesswork out of video editing."
"Vocal Video is going to make your life a lot easier. You don't have to be in person to get answers from people, and you can get very real, very genuine stories and comments."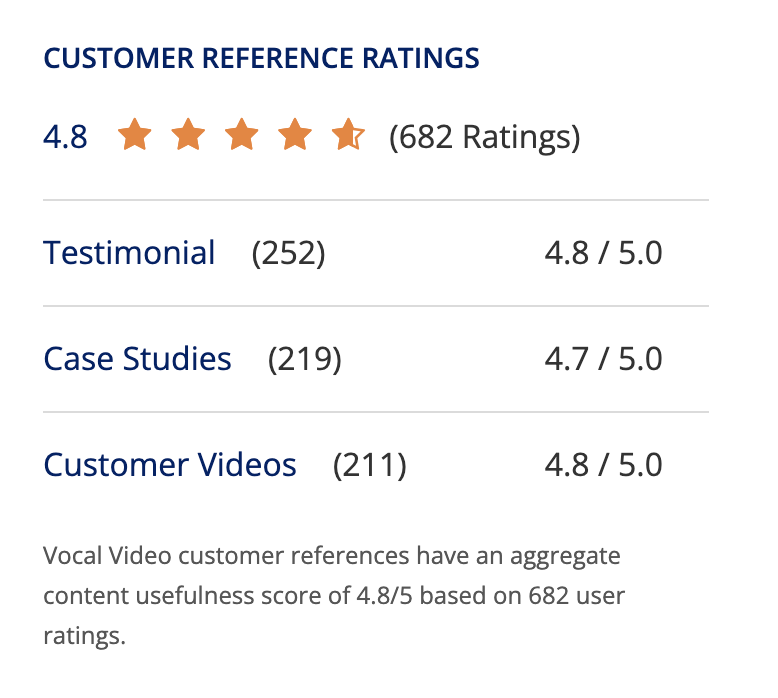 Video Testimonial Software #6 – StoryPrompt: For Community-Led Businesses
Overview of StoryPrompt
StoryPrompt is a platform that streamlines the process of creating, sending, replying to, and producing video testimonials.
With an emphasis on user experience and ease of use, the platform integrates AI to assist users in video production, allowing them to create professional-quality video content without the need for extensive technical knowledge or expensive video editing tools.
StoryPrompt's unique features and benefits
Customizable templates for users to gain inspiration and easily start their projects.
Workflows let you arrange the response collection flow.
Teleprompter allowa customers and clients read from the script while answering the question.
Captions & AI production. Videos can be automatically produced with the addition of captions, enhancing accessibility.
Zapier integration connects with a multitude of other software and platforms, expanding its usability.
CTAs in videos enable interactivity within the video content itself.
Script addition. Further personalization and guidance for respondents.
Embeddable testimonials provide businesses with the capability to showcase authentic video testimonials directly on their website.
​​
Community space is a unique feature where businesses can interact with clients, fostering organic conversations and easily collecting testimonials in the process.
Shortcomings of StoryPrompt
While StoryPrompt boasts an intuitive and feature-rich platform, its dependence on AI might not suit marketers looking for full manual video editing control.
The watermark on the basic free plan might deter some users.
14-day response history in the Free plan.
Lack of pro video editing features.
StoryPrompt pricing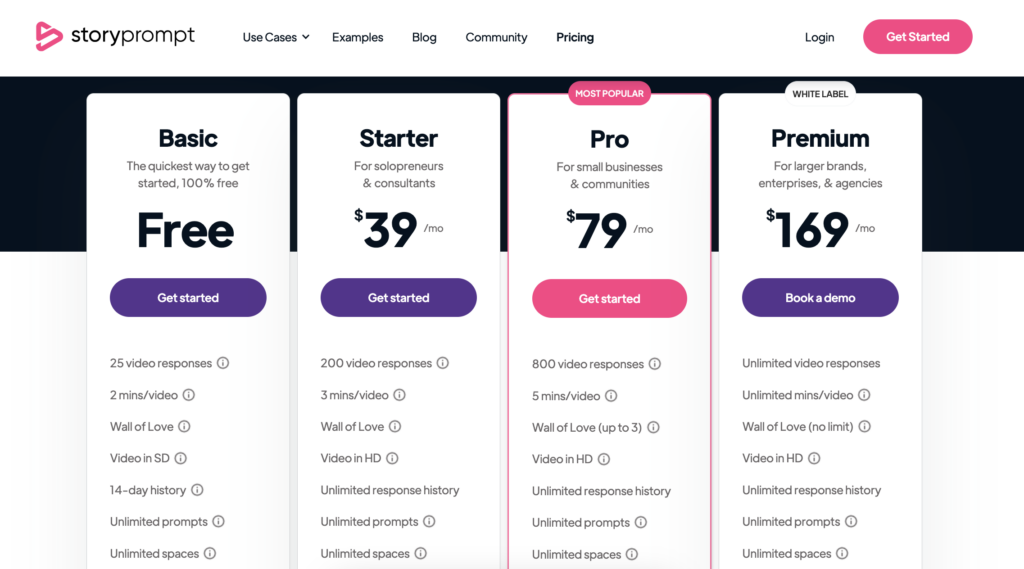 StoryPrompt offers a selection of four packages. They also offer 2 months if users choose an annual subscription.
Basic: This free plan offers users up to 25 video replies, each capped at 2 minutes, endless prompts, and limitless spaces. However, videos come with a StoryPrompt branding.
Starter: At $49 monthly, users enjoy 200 video answers with a 3-minute cap for each. This tier offers infinite history storage, boundless prompts and spaces, video download capability, embedding options, and personal branding on videos.
Pro: Priced at $99 monthly, subscribers can collect up to 800 video responses with a 5-minute limit each. This plan integrates with Zapier, offers insightful analytics, and grants access to the API.
Premium: For $199 each month, members benefit from unlimited video feedback with no time constraints, customized link branding, premium onboarding services, a personal coaching session, priority assistance, and a first look at upcoming features.
Who is StoryPrompt for?
Perfect for businesses seeking a hassle-free solution to capture authentic video testimonials, StoryPrompt is especially beneficial for those looking to foster community interactions and want professionally produced content without diving deep into video editing.
StoryPrompt reviews and ratings
"With StoryPrompt, you can easily record and share videos with your customers, teams, and communities, and watch as they react and engage with your content. We're confident that StoryPrompt will help you create meaningful connections and foster collaboration, no matter how far apart people may be."

"StoryPrompt has so many different functions that a company can use. HR, marketing, and so much more. I use it as a social impact platform to ask companies what they care about and the videos are priceless."

StoryPrompt rating by G2
The bottom line. Our team's verdict on the best video testimonial software
User-generated content has been the MOST compelling marketing strategy of late. Your potential customers love watching and relating to real people who talk about their experiences and the results they obtained while working with you.
There's no better way to exhibit this than through impactful customer testimonials and online reviews.
To help you make the most profitable decision for your use case and target audience, here's our final verdict post comparing the five best video testimonial software tools:
Trust – The most intelligent choice for small to medium-sized businesses, solopreneurs, and eCommerce companies. Thanks to its wide range of payment plans and a full-blown solution for video reviews, you could never go wrong with Trust.
VideoAsk – Suitable for smaller businesses satisfied with the restricted number of video minutes. This tool is also relevant for larger companies where budget is not a huge concern and for firms with relatively older customers due to its easy pre-recorded templates.
Boast – Quite an expensive option. Therefore, advisable for relatively larger enterprises and agencies with over 2000 customers in a year.
VideoPeel – Suitable for product-based small and medium-sized businesses (due to its tie-up with Amazon's platform) that do not mind the lack of customized features or multi-user support.
Vocal Video – For larger enterprises that require an unlimited number of videos each year.
StoryPrompt – Helps your clients feel comfortable on video, but lacks video editing features.
Achieving higher customer conversion rates while working on growing your business can be an uphill battle. And an end-to-end solution for capturing a high-quality video testimonial gives your business a solid boost!
With Trust, you can do just this and more. Using this all-in-one solution, sit back and automate feedback requests, manage, edit and publish your customer testimonials, and monitor online reviews at the click of a button.
See it for yourself – Sign up for the FREE TRIAL today with no credit card info!