Are you looking for an effective way to boost your SEO?
If so, then you should consider using video testimonials.
Video testimonials are a powerful marketing tool that can help improve your SEO and online visibility.
In this blog post, we'll look at video testimonials, why they're essential for search engine optimization, and how you can improve your web traffic and online visibility.
Why use video testimonials
Video testimonials fuel your SEO efforts and let your website rank higher. Here are some benefits of using video testimonials in your marketing strategy:
🛠 Increase website traffic and online visibility
Video SEO testimonials can help increase site traffic by making your website more visible to potential customers.
💪 Build trust and credibility
They build trust and credibility with potential customers by showcasing real customer experiences.
🤩 Increase user engagement
They help increase user engagement on your site, allowing potential customers to connect with your brand personally. Have a dedicated testimonial page or add positive reviews to high-traffic web pages.
📈 Boost SEO
They help boost your SEO efforts by increasing the number of backlinks to your website and improving your search engine ranking.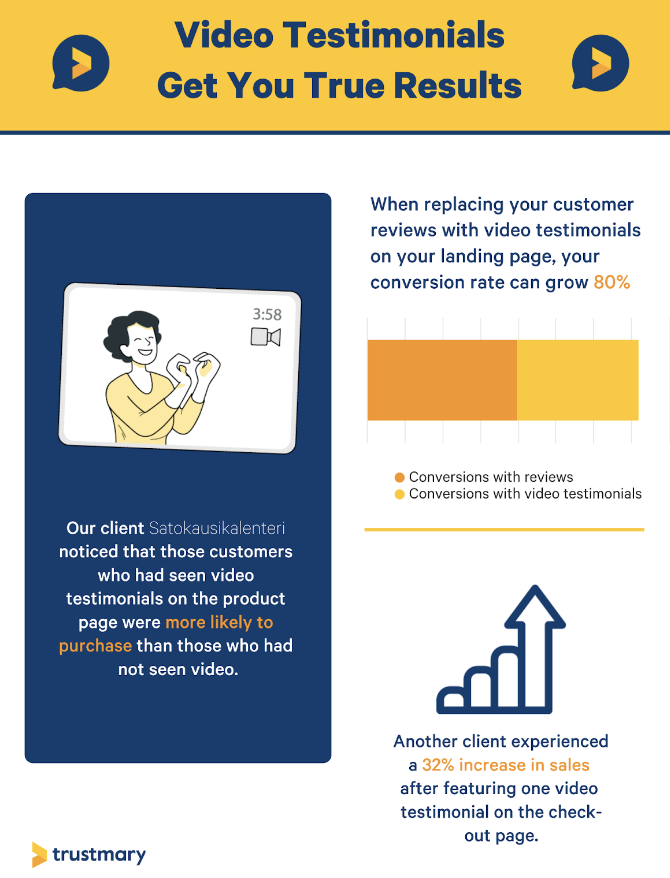 Importance of video testimonials for SEO
Video testimonials are essential to any SEO strategy because they can help improve your search rank, increase website traffic, build trust, and increase user engagement.
Here are some tips for creating effective video testimonials for SEO:
1) Optimize the title and description
Be sure to include relevant keywords in the title and description of your video so that it will be more likely to appear in search results.
2) Use transcription
Include a transcript of the audio from your client testimonials so that search engines can index the video's content.
Built-in video transcription feature in Trust
3) Add tags
Add tags to videos that describe the content so that they are more likely to show up in related searches.
4) Create a video sitemap
A video sitemap is an XML file that provides information about your video to search engines. This will help ensure that your video appears in search results.
Understanding search engine optimization
Search engine optimization (SEO) improves the visibility and ranking of a website or web page in search engine results pages (SERPs).
It is done by optimizing the website content, structure, and on-page elements like page title, meta description, body content, and anchor text.
SEO strategies can be divided into two main categories: on-page SEO and off-page SEO.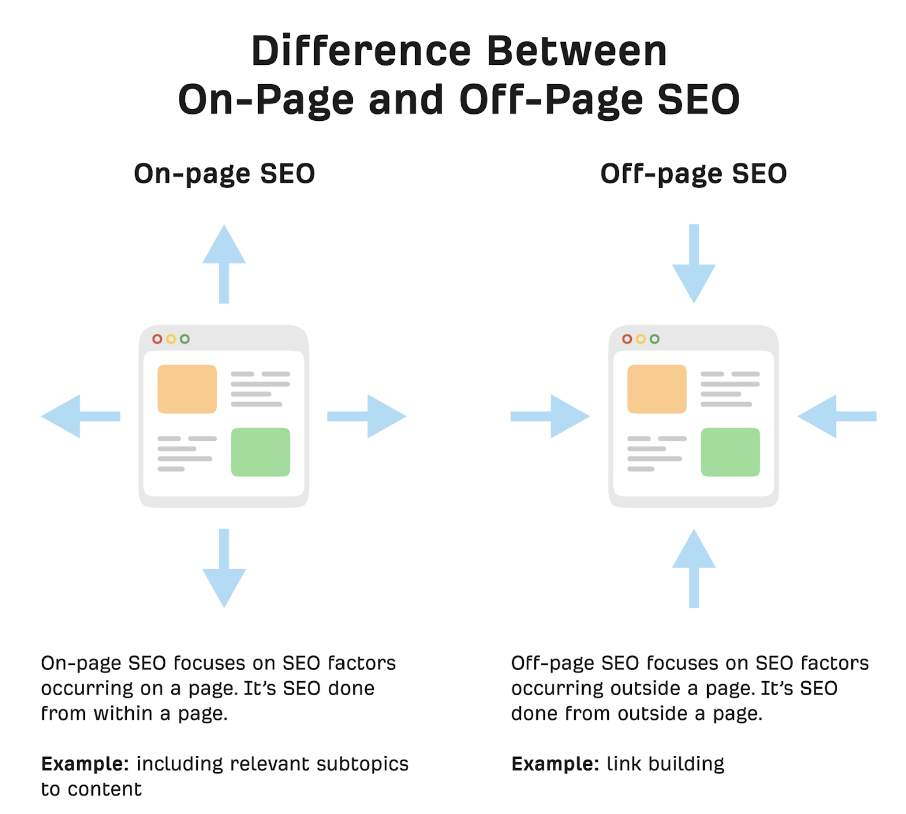 On-page SEO refers to the measures taken directly within the website to improve its position in the search rankings.
This includes optimizing the website content, structure, and HTML code to get on the first page of search results.
Off-page SEO, on the other hand, refers to all activities carried out outside of the website to promote it and improve its authority.
This includes link building, social media engagement, and creating online buzz.
On-page and off-page SEO are essential for getting a high ranking in SERPs.
However, off-page SEO is often more effective at boosting organic traffic than on-page SEO because it helps to build trust and authority with Google.
Key factors affecting your website's SEO
Many different factors affect SEO. Here are a few most essential ones:
• The quality of your website content
Your website must be well-written, informative, keyword-rich, and unique.
Googlebot crawls web pages and evaluates their content before indexing them and determining their rank in a search engine results page. So if your content is subpar, your website will not rank well.
• The structure of your website
The way your website is structured also affects its ranking in SERPs.
A well-structured website with a clear hierarchy is more accessible for Googlebot to crawl and index than a poorly structured one.
• The number of backlinks pointing to your website
Backlinks are linked from other websites that point to yours.
They act as votes of confidence from these other third party sites, which tell Google that your site is trustworthy and relevant.
So, the more backlinks you have to point to your site, the higher it will rank in SERPs with a greater domain authority.
• Your website's loading speed
If it takes too long, users will likely discard their browsing session.
This increases your bounce rate and tells Google that your site is not upto the mark. As a result, your ranking will suffer.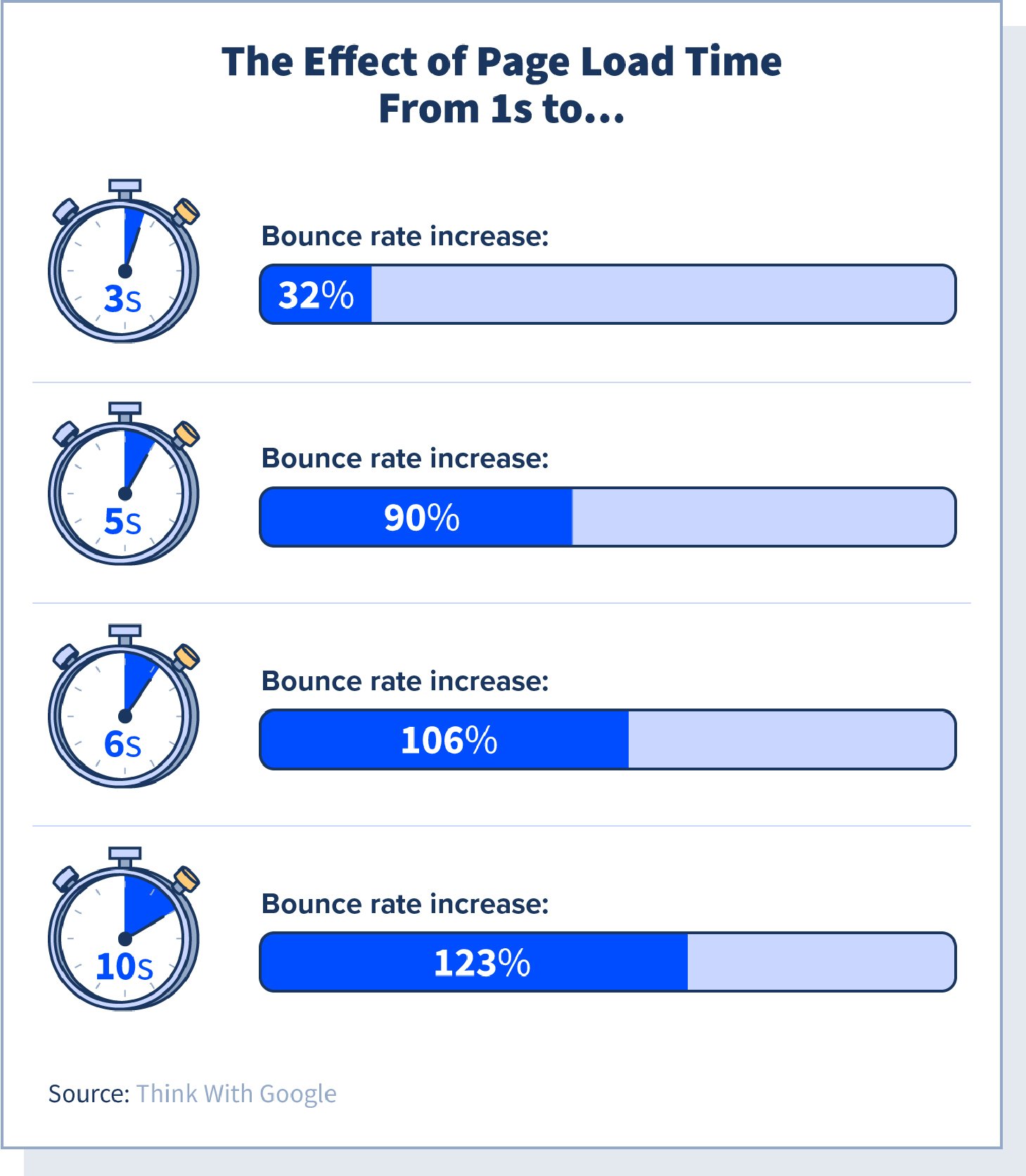 • Your website's mobile friendliness
Mobile devices are used to access the internet across the globe. Over 60% of all internet traffic now comes from mobile devices.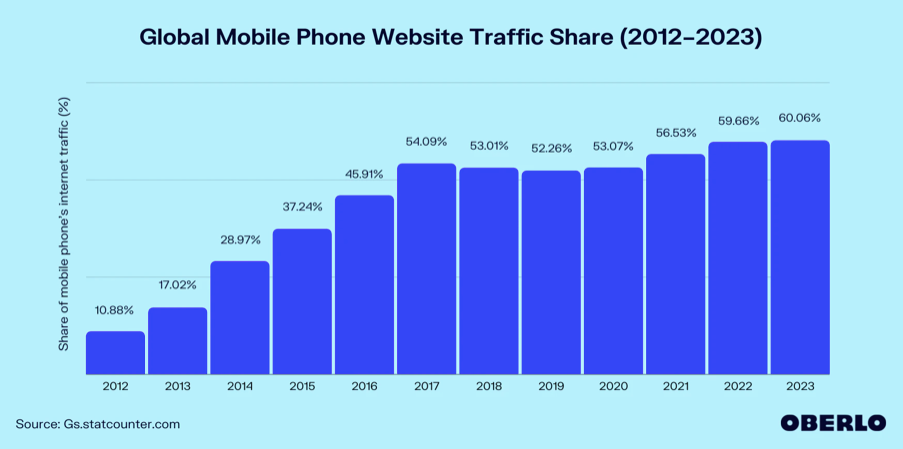 If your website is not optimized for mobile, you miss out on a considerable portion of potential traffic.
And since Google considers mobile-friendliness when determining rankings, this could hurt your SEO.
How video client testimonials can help with SEO
Forget hiring SEO companies. Video testimonials can be beneficial for boosting SEO in several ways. They can:
Improve the quality of your website content by making it more engaging and informative.
Build trust and authority with Google by increasing user engagement and social signals.
Increase website traffic and online visibility by optimizing video content for SEO and promoting it across channels.
The power of video testimonials
Video testimonials are more impactful than written testimonials for a few reasons:
They add a personal touch that can be difficult to convey in written form.
They allow the customer to express themselves in their own words, which can be more convincing than a sterile, canned testimonial.
Video is more engaging than text, and it's easier for people to watch a short video than read a long text block.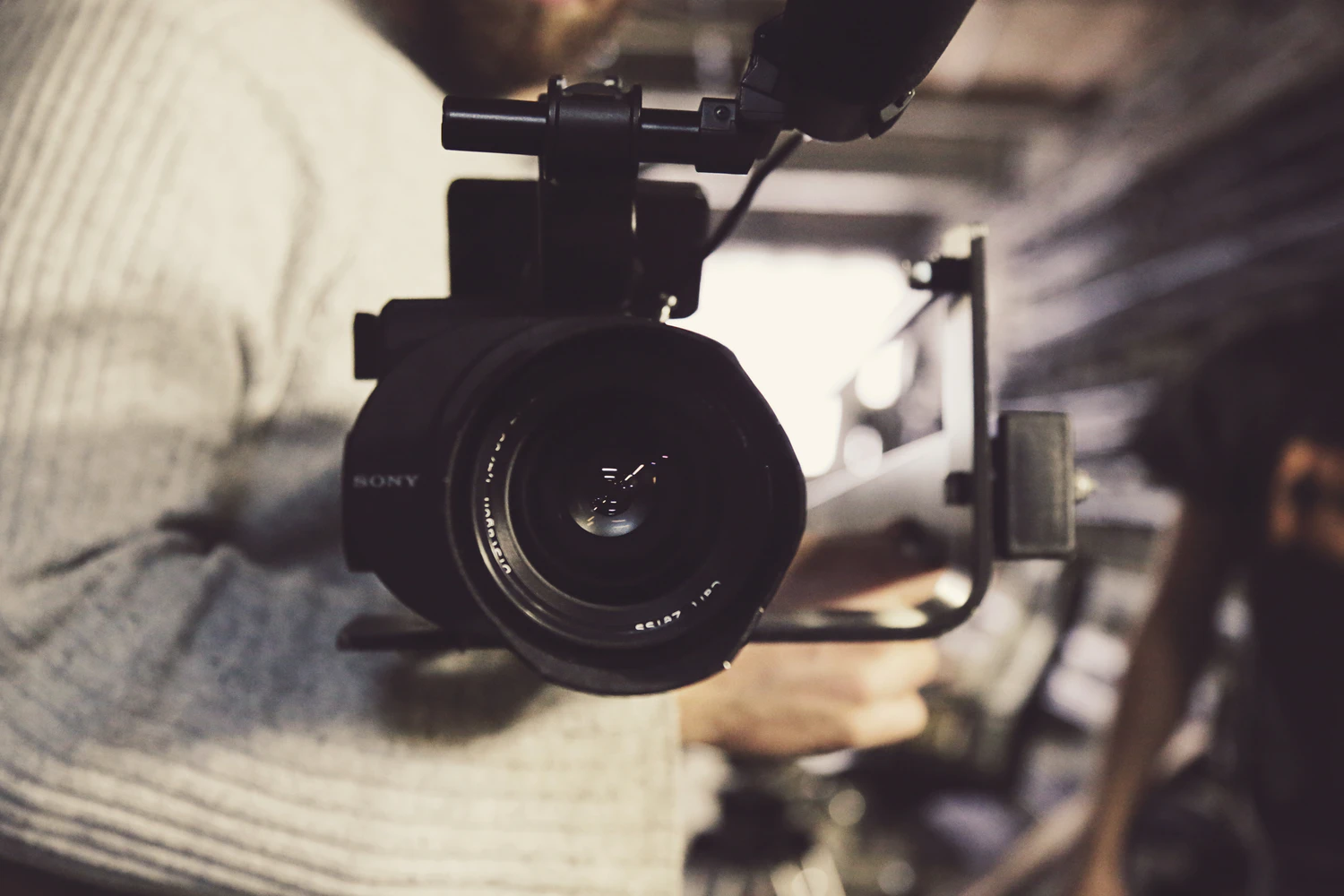 There's plenty of research to keep the energy of video testimonials. For example, one study found that 78% of consumers say they've been convinced to buy a product or service after watching a brand's video.
Another study found that including a video on a landing page can increase conversion rates by 80%.
Integrating video testimonials into your SEO strategy
Creating a compelling video testimonial doesn't have to be complicated. Here are a few simple steps to get started apart from choosing the right video testimonial software:
1. Choose the right person: Your client should be relatable, credible, and well-aware of your offerings.
2. Keep it natural: The best testimonials are genuine and unscripted. Allow your customer to speak freely about their experience, and avoid asking leading questions.
3. Use compelling visuals: Besides featuring the speaker in the video, include relevant visuals, such as screenshots of your product in use or before-and-after shots.
4. Make it concise: A good testimonial should be between 30 seconds and 2 minutes in length. Any longer, and you risk losing viewers' attention.
Best practices for optimizing video content for SEO
There are a few simple things you can do to optimize your video customer testimonial for SEO:
Use descriptive titles and tags: Include relevant keywords, such as a long tail keyword in your title and tags so that people searching for those terms can find your video more easily.
Provide transcripts: Transcripts help search engines understand the content of your videos and make them more accessible to viewers who are deaf or hard of hearing.
Optimize your thumbnail image: Your thumbnail image is one of the first things people will see when they come across your video, so make sure it's eye-catching and relevant to the topic of your video.
Tips for integrating video testimonials into your website
Once you've created your video testimonial, there are a few different ways you can incorporate it into your website:
1) Add it to your homepage:
Placing your video prominently on your homepage is a great way to grab visitors' attention and give them a taste of what they can expect from your product or service.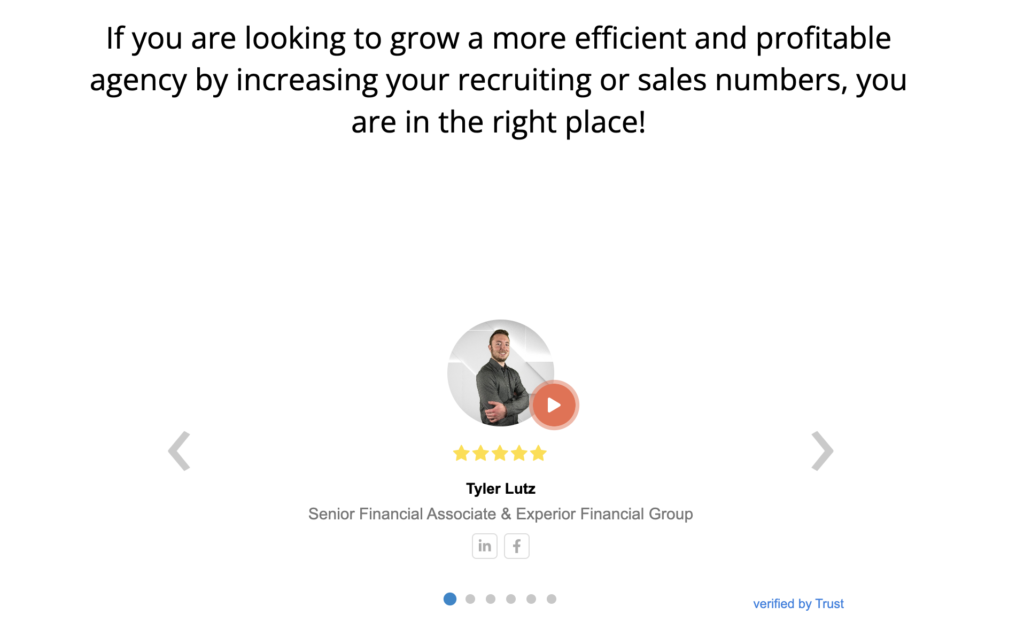 2) Create a dedicated landing page:
If you want to give visitors a more immersive experience, you can create a dedicated landing page for your video testimonial, for example, a testimonial page (include a clear call-to-action).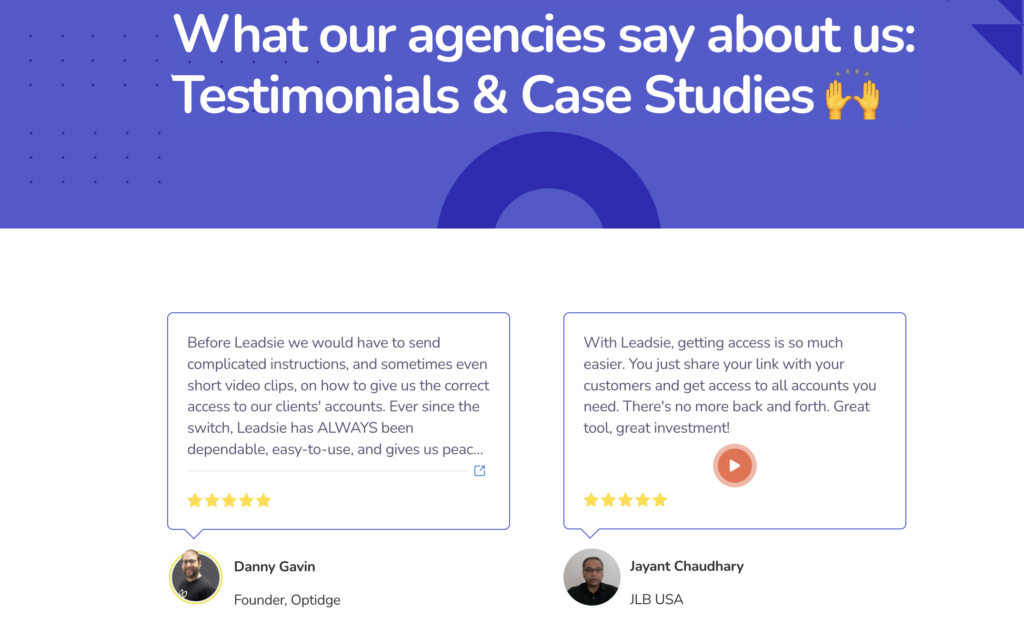 Video testimonial widgets by Trust
3) Embed it into blog posts:
If you have blog posts relevant to the topics covered in your testimonial, consider embedding the video within the post.
It's a great way to provide extra value for readers using user generated content while increasing their chances of watching the entire video.
Conclusion
As video becomes an increasingly popular format, it's essential to consider how to use it to boost your SEO.
Video customer testimonials is the way to go. They are more impactful than written testimonials and help increase user engagement and build trust.
By following the steps outlined in this guide, you can integrate video testimonials into your SEO strategy and see real results in terms of website traffic and online visibility.
Frequently asked questions
1. Can testimonials improve SEO?
Google recognizes testimonials as actionable insights from real people. So the strategic use of customer testimonials, especially video testimonials, can improve your domain authority and search engine ranking.
2. How can I optimize video content for SEO?
To optimize your video testimonials and drive more SEO Value, keep in mind the following things:
Use a long tail keyword for the headline.
Optimize page title, meta description, and alt text.
Add video transcripts.
Use an optimized thumbnail image.
3. How do you promote testimonial videos?
You can use customer video testimonials to fuel your marketing efforts by including them on your homepage, testimonial pages, paid ads, social media content, promotional emails, etc.