You probably already know that social proof can be an incredibly powerful form of marketing. You use your existing customers to appeal to your potential customers – and that's all fine and well. But how do you choose which type of social proof to use?
Today, we'll talk about one of the most common social proof forms – testimonials. Namely, the difference between video and written testimonials. Both are great ways to market your services and products, but which one is better?
Let's find out.
Video is the preferred type of content for many
All those predictions about the major growth of video marketing in the years to come are not unfounded. Year after year, research shows that consumers prefer video to other content formats. As Hubspot shows, there are certain differences between demographics, but in general, consumers love branded videos.
Granted, testimonials aren't the prototypical branded video type. However, there is a clear parallel that can be drawn. Given the choice between a written and a video testimonial, most consumers would choose video testimonials because they are easier to remember and they're also more authentic, which we'll discuss in a minute.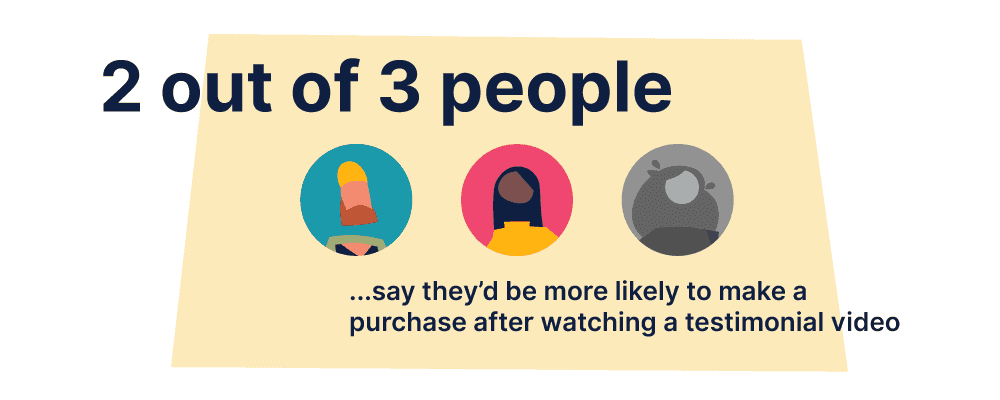 Moreover, there is specific research comparing written and video content. When senior company executives were given a choice between written and video content 59% of them said that they would rather watch videos than read the same content. Moreover, 72% of people surveyed in a Hubspot research said that they would rather use videos to get informed about a product instead of written content.
Video testimonials are much harder to fake
We've all seen our fair share of corny infomercials from the 1990s with people who obviously never used the product, praising it for how awesome it is. There is no doubt that hiring actors and paying them is an action you can take but most brands nowadays don't go through all the trouble.
Having been in the writing business for almost a decade now, I was hired quite a few times to write fake testimonials for various clients. Even though there is very little value in fake testimonials, businesses in various industries write and publish them quite often as public records.
In short, faking a video testimonial is much more complicated and expensive than writing a fake testimonial and slapping on a stock image you found on Google (or even without it).

On the flip side, creating a testimonial video definitely takes more time and money than having a customer write one. It requires an additional effort from their end because they have to think of what to say, record it, upload it and send the video your way. You then have to edit it and upload to relevant website pages.
In order to avoid all this hustle, you can use a video testimonial software like Trust that will help you collect video testimonials and display them on your website with ease.
With Trust, customers can record videos right from the testimonial request form or share links to videos from YouTube and Facebook. It's also possible to provide them supporting instructions that will guide people throught the whole process.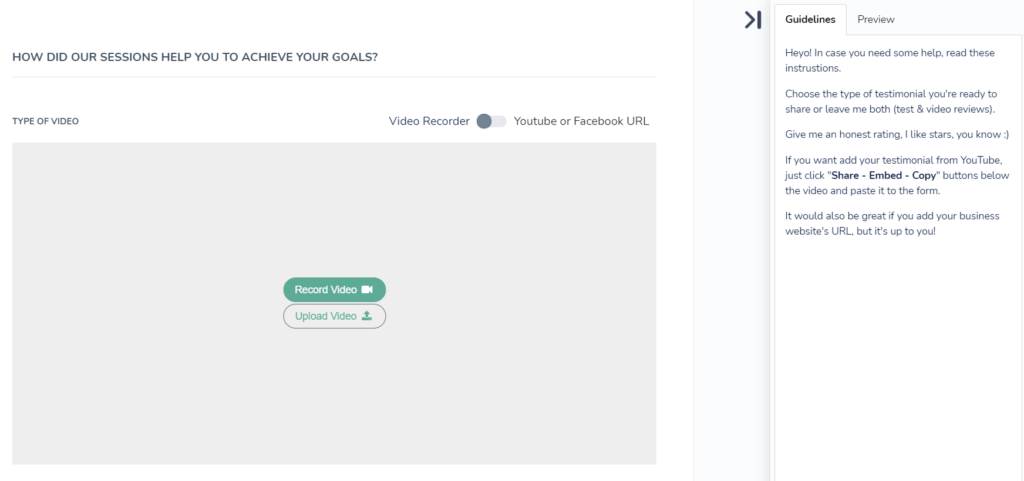 After you collected some video testimonials or uploaded existing ones to Trust, you can show them on your website with customizable widgets or pop-ups.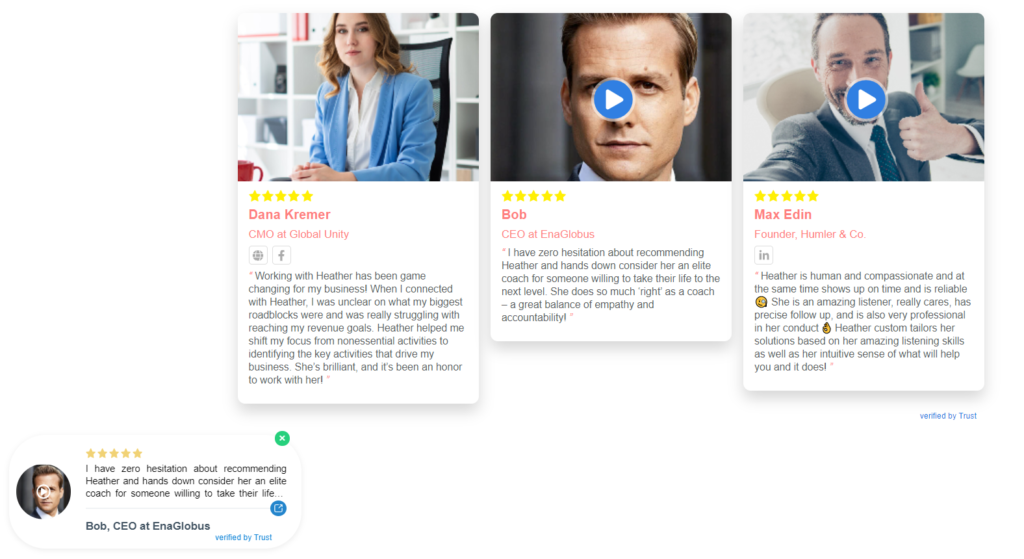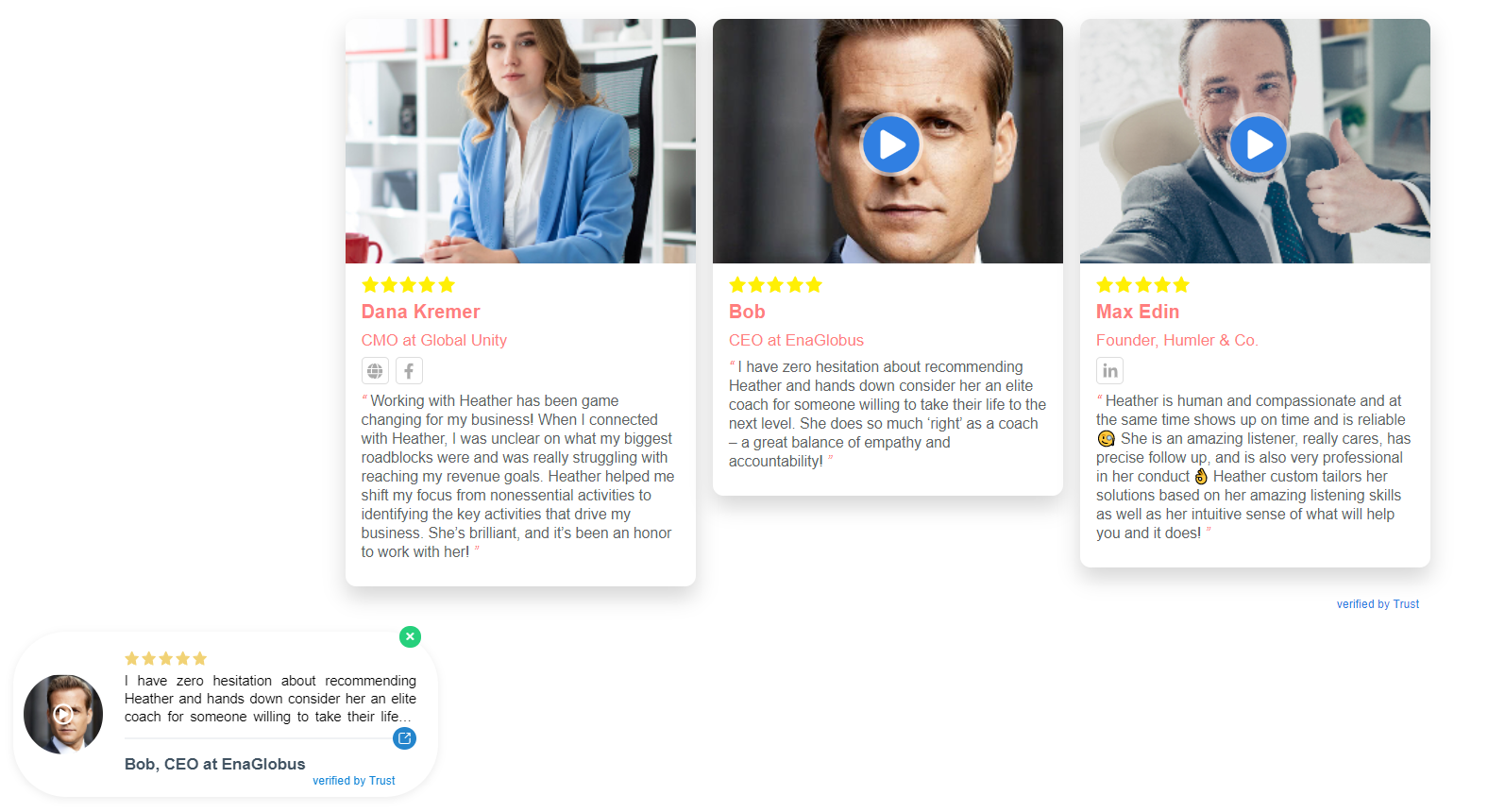 Think of incentives you can offer to your customers in return for recording a testimonial, such as offering a free month of your SaaS subscription or a gift card on Amazon for a certain amount. By the way, you can quickly add them to Trust's "Thank you" page.
Videos improve conversions
Let's make one thing clear first: how well your website will convert depends on a variety of factors. However, adding a video to your landing page almost certainly will make a positive impact on your conversions.
Adding a video on your landing page can increase conversions by as much as 86%, according to one piece of research. Testimonial videos are a great example of a video that you can include on a landing page, among others.
Moreover, another piece of research shows that videos increase click-through rates by 27% and overall conversion rates by 34%. Besides landing pages, testimonial videos can be used in emails, your home page, your social media profiles and every significant place in your sales funnel.
Videos in emails are a great idea as well. There are a few studies out there showing that just the word "video" can increase all of your email metrics – from open rates, to click throughs and conversions.
Videos are immensely powerful for SEO
While SEO is a major buzzword for many, no one can deny the benefits of organic traffic for any business. There are many things that you can do to improve your website's SEO and adding more videos is a good way to get started in that direction.
When properly optimized, testimonial videos can enhance the SEO performance of your pages. This means embedding them in the right way, adding proper video tags, creating the right kind of video title and more.
Overall, it's a piece of a much bigger puzzle. Videos improve user experience because they make visitors stay on your pages longer. Your session length increase, your bounce rate decreases and search engines interpret this as a sign that your content should rank well.
As a result, web pages with videos get 41% more organic traffic from search engines. Moreover, research by Moz showed that including a video on your page also increases the likelihood of getting backlinks to it by as much as 3 times.
As mentioned, this has nothing to do with videos being an almighty SEO tool. They merely improve user experience, which has an amazing effect on your website's SEO performance.
Videos help your customers make a decision
Videos in general (not just testimonials) are generally a great way to help potential customers make a decision. According to Hubspot, product videos help 90% of consumers make purchasing decisions. These are explainer videos and general product videos that show what an item looks like in person.
Testimonials are even better in this respect because they (ideally) show independent reviews of your product or service, from a third party – another customer of yours. When it comes to moving the needle, they perform better in convincing new customers to buy.
Actually, there's research that proves that 64% of viewers are more likely to buy a product online after seeing a video.
Wrapping up
In terms of pure marketing return on investment, there are very few marketing collaterals that perform as well as video testimonials. Comparing written with video formats, it's clear that video testimonials are a much better choice. They are more memorable, they benefit your conversions and organic traffic and they persuade your visitors to become customers. If you're not already using customer testimonials in video form – now is a great time to get started. And if you don't know how and when to do so, try Trust for free!