Searching for a VideoPeel alternative to bump up your testimonial collection process? Look no further.
VideoPeel provides a simple method to collect and showcase your testimonials. But let's face it, that's not always enough.
What you really need is a complete testimonial and review solution from collection to display and optimization.
In this article, we've researched four of the best VideoPeel alternatives: Trust, Vocal Video, Trustmary, and Vouch, rounded up their benefits, shortcomings, and more.
Are you in a rush? Here's a breakdown of VideoPeel and its four alternatives:
TL;DR
VideoPeel has limited features but can be helpful for eCommerce companies due to its Shopify and Amazon tie-ups.
Trust is a versatile, automated solution for video testimonials and review needs. It is highly optimized, feature-rich, and affordable – ideal for SMBs.
Vocal Video is an excellent tool for video editing. Fits businesses needing unlimited videos that are not budget conscious.
Trustmary has a user-friendly UI and optimizes testimonials to drive more conversions. It provides fewer video customization options compared to the rest.
Vouch lets you create hyper-personalized video requests and offers integrations with Slack, Microsoft Teams, and more. But it does not support text reviews.
VideoPeel – overview
VideoPeel offers an easy-to-collect platform for testimonials in multiple formats, such as videos, texts, and pictures.
You can create a customized campaign for the type of testimonial you wish to collect.
This way, your customers find it easier to follow through as all they need to do is record and submit their testimonials.
VideoPeel is also great for eCommerce companies due to its integration with Shopify and Amazon.
It lets you curate and upload customer product reviews on your website and social media platforms.
What's good about VideoPeel?
You can create personalized campaigns and tailor them to your customer's needs, add a company logo, thank you note, pictures, etc.
Lets you automate capturing and publishing video testimonials to your website, landing pages, and social media platforms.
It has a centralized library for easier content access.
If you're an eCommerce company, you can benefit from VideoPeel's product reviews and build awareness around your product with user-generated content.
Your customers can record their videos on any device remotely without having to install an app.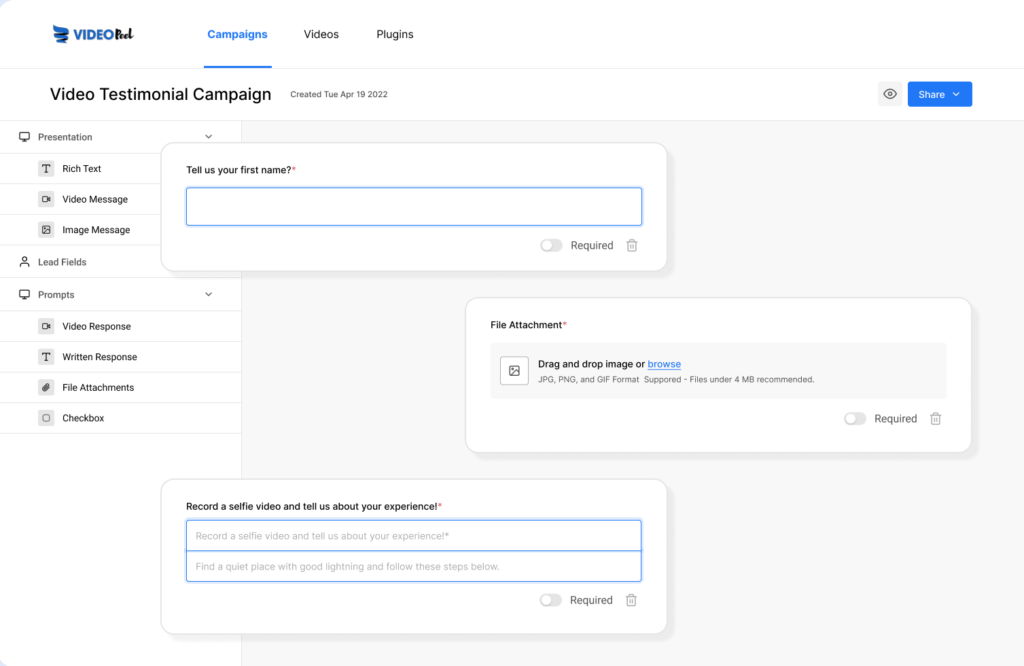 What's not so good about VideoPeel?
Here are some crucial areas where VideoPeel falls short of being a key contender for showcasing testimonials:
The only editing options available are for adding your logo and text edits. VideoPeel does not offer video editing options such as cropping, enhancing through visual elements or adding effects. You could be stuck with raw footage that is not website-ready.
Automating video publishing is not a great idea because it is safer to review the video first before you hit publish.
No multi-user support for its Pro and Premium payment plans is a big drawback for larger teams.
It has no free plan and offers a 30-day trial period.
VideoPeel – pricing
VideoPeel offers three pricing plans – Pro, Premium, and Enterprise. There is no "Free" plan.
Let's see if they are worth the price point:
Pro: It is priced at $49/mo if billed annually and $69/mo monthly. This plan offers unlimited videos and campaigns. It is great for personal use as it lacks multi-user support and no video insights that could be useful for performance-driven businesses.
Premium: Priced at $249/mo if billed annually and $399/mo for monthly billing. This plan offers everything from Pro plus video insights and auto-generated transcripts. Although this price point is higher, it fails to provide multi-user support.
Enterprise: This is a custom-priced plan. It offers SSO, multi-user support, and every other advanced feature.
Our thoughts? VideoPeel can be termed "expensive" for businesses that require the Premium plan.
However, it is suitable for one-person or eCommerce companies that don't need advanced editing options or insights to operate their marketing strategies.
Let's compare the four best video testimonial software alternatives to VideoPeel so you can choose the best of the lot to use with your customers immediately. 
VideoPeel alternative #1 – Trust: For an all-in-one, affordable video testimonial and customer review solution
One way to amplify your marketing strategy is through user-generated content such as video testimonials, reviews, and feedback.
And you need to make it easier for your customers to provide valuable input and display them in an extraordinary way.
Trust can help you bring this to fruition.
An intuitive, UI-rich software, Trust is a complete solution for your customer testimonials and reviews. What makes it a complete solution?
Trust helps you in every step, from capturing videos/reviews to editing them, measuring for performance and optimizing them to feed your marketing efforts.
This setup is super easy, and the entire process takes less than 15 minutes.
Trust's dashboard for quick testimonial capturing
How does Trust outperform VideoPeel?
Trust has 3 types of testimonial request forms for you to send personalized testimonial requests to your customers quickly (and easily).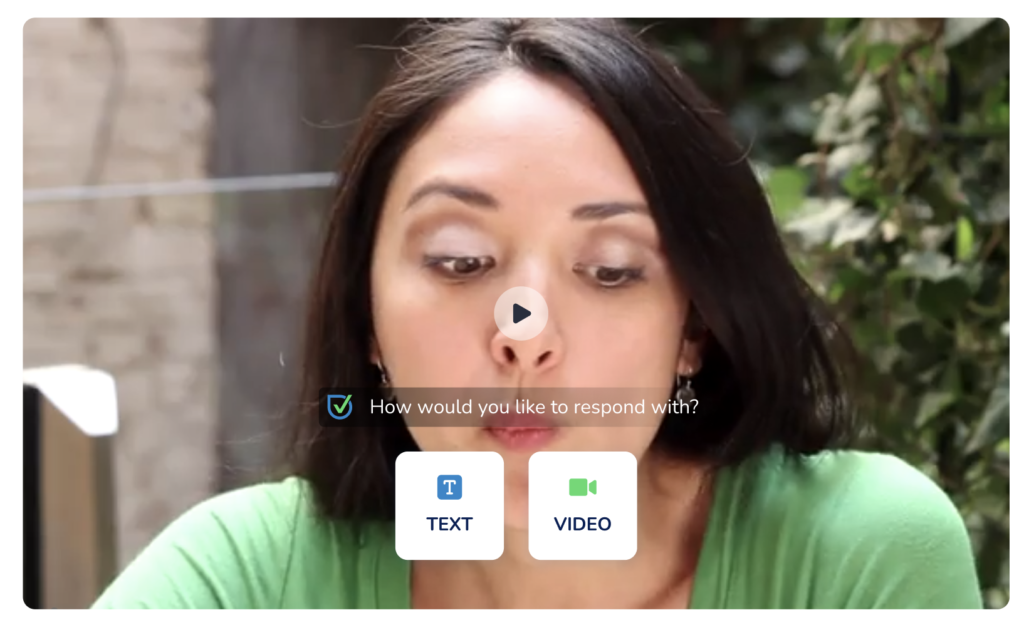 Customers can choose the video testimonial format they are comfortable with. Trust offers three options: recording a video remotely, uploading an existing video, or linking it from their Facebook, YouTube, Instagram, or Vimeo accounts.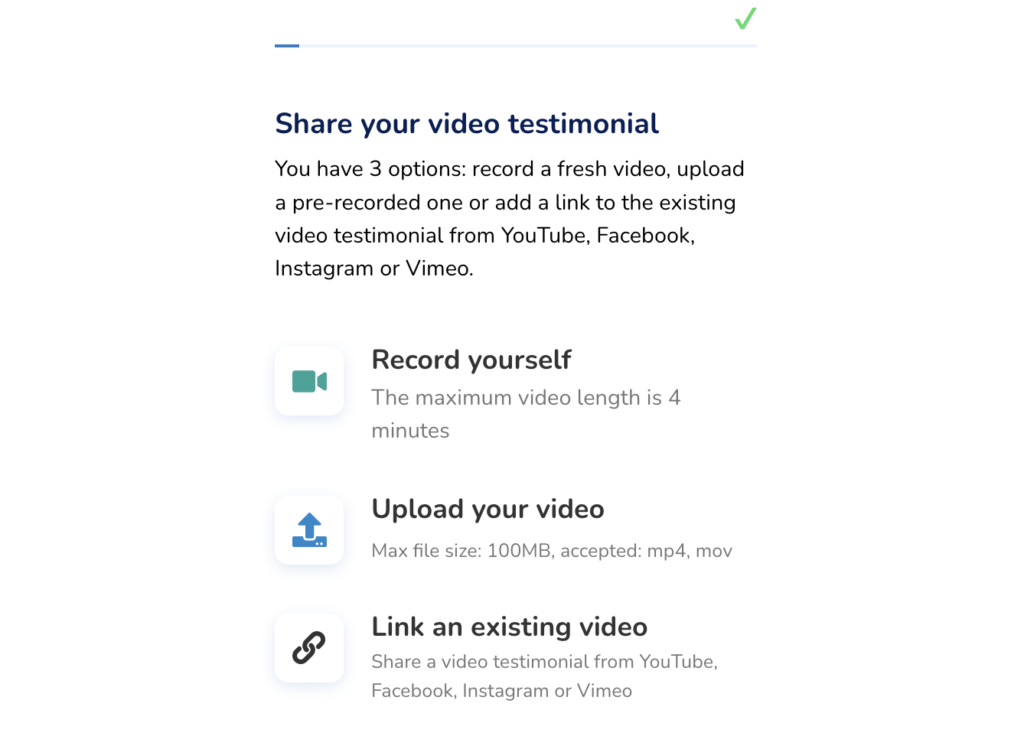 You can add supportive guidelines for customers to get them some help.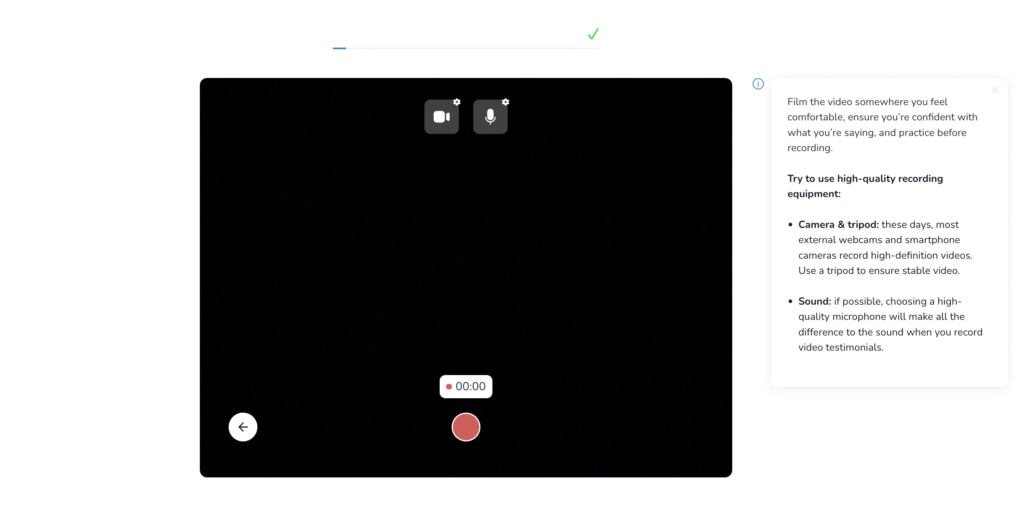 Trust's forms include a built-in AI testimonial generator to streamline the testimonial writing process of your customers.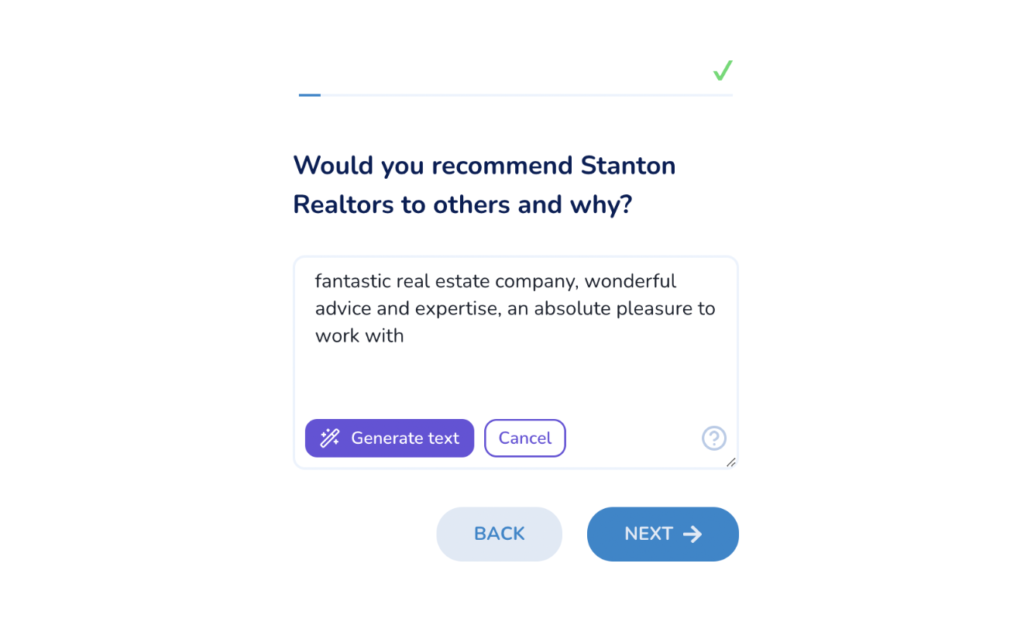 Collect your customer's consent before publishing their videos or linking social media profiles to their testimonials.
Make your website a lead magnet. Unlike VideoPeel, Trust offers a variety of widgets, pop-ups, badges, and advanced video editing options so that your website catches the attention of your potential customers.
Check out their library of widget templates!
What else is missing in VideoPeel? Standing out in Google search results. Trust provides rich snippets to amplify your ratings on search results and improve SEO.
Speed up your testimonial publishing. Trust offers seamless integration with CMS platforms and website builders. With this feature, you can collect and publish your videos on auto-pilot.
Trust vs. VideoPeel review by Capterra: Trust outranks VideoPeel for ease of use and value for money.
Any drawbacks of Trust?
Trust does not offer customer insights nor analytics, yet.
Limited built-in video editing features.
How do VideoPeel and Trust compare in price?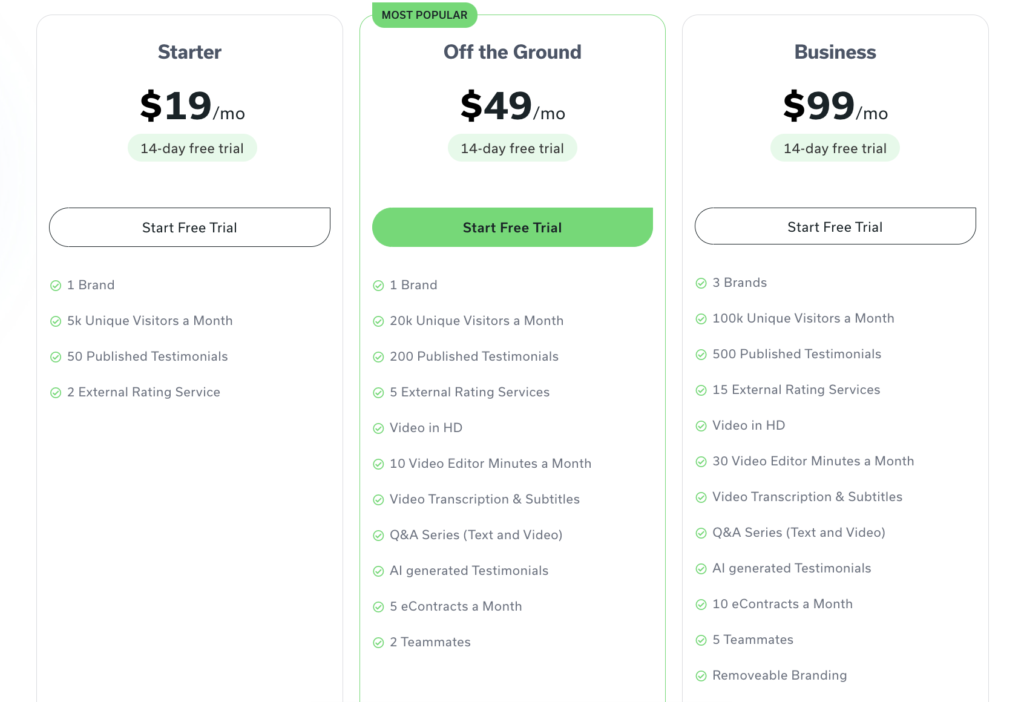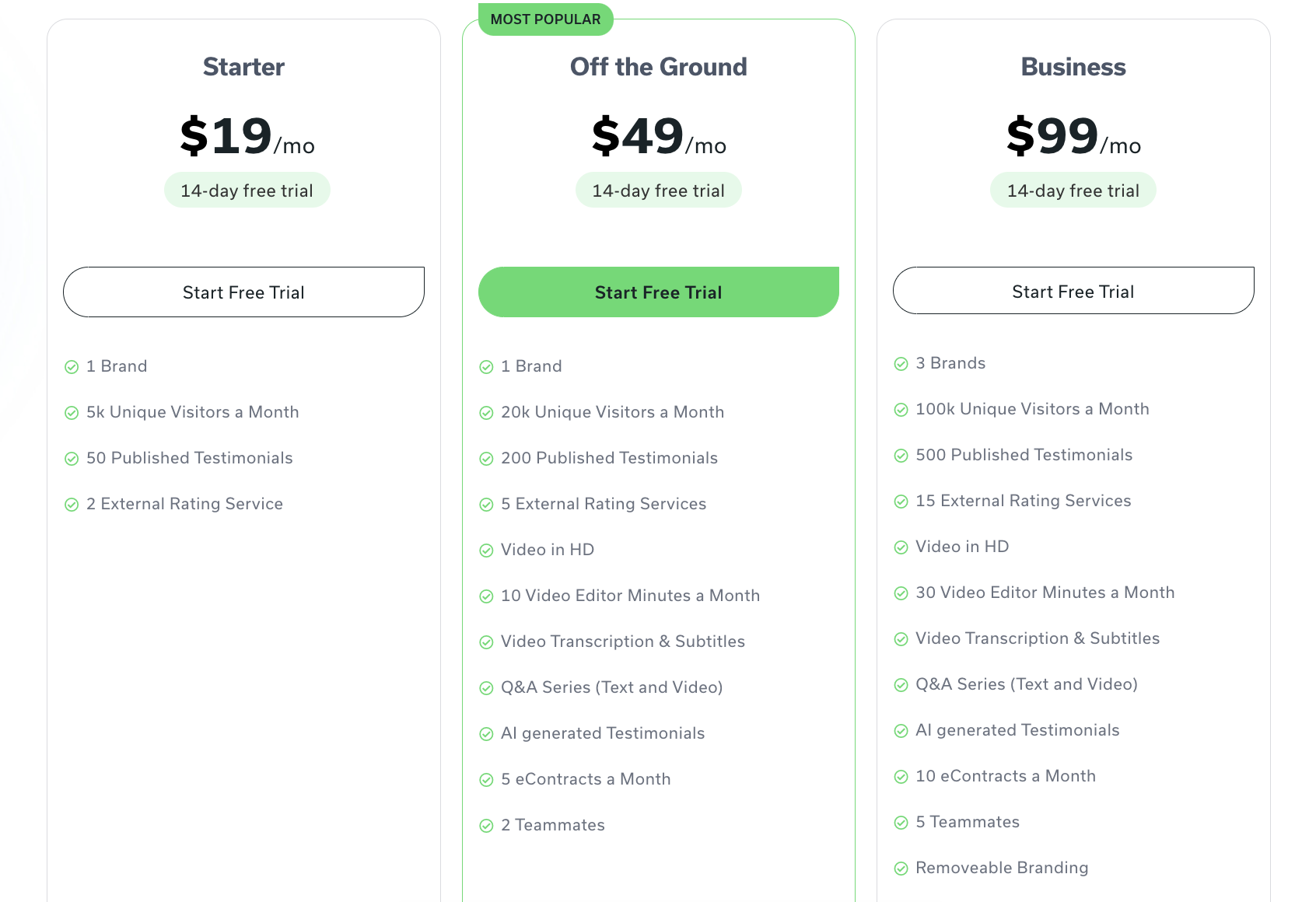 Trust offers almost every essential feature under VideoPeel at a much lower price. However, Trust does not include VideoPeel's Amazon or Shopify integration for product reviews.
Here's a quick comparison:
With Starter, you get unlimited text/video testimonial collection. But you can publish up to 50, which is a decent amount at this price point – $16/mo for annual payments or $19/mo for monthly payments. In comparison, VideoPeel's lowest priced plan ranges from $49/mo to $69/mo.
So, VideoPeel is undoubtedly pricier for its limited number of features and weaker UI than Trust.
VideoPeel alternative #2 – Vocal Video: For exceptional video editing
If you're looking for excellent video editing options for your testimonials, then Vocal Video is a great option for you. It offers an attractive UI with video guides at every step.
You do not have to depend on an external editing tool. Vocal Video provides many options to update your video thumbnails, enhance quality, add graphics, and more.
Collecting customer testimonials is a breeze. Click and choose your desired template for video requests and personalize them.
How does Vocal Video outperform VideoPeel?
Vocal Video outshines VideoPeel by offering an incredible number of testimonial editing options.
Not happy with how a video turned out to be? You can switch formats from video and audio.
A ready-to-use video template for every user type. Just choose a template with questions or form your own and send them to your customer or user.
It lets you add subtitles to videos, choose music, create graphics, add branding, and more.
It can automatically enhance your raw footage to a high-quality video with your branding and music of choice.
Auto-creates transcripts and subtitles for up to 13 languages.
Vocal Video has a free plan to try and test out its features, unlike VideoPeel.
Any drawbacks of Vocal Video?
Does not offer analytics support that could help review video performance.
No option to collect text testimonials, which are an equally powerful tool for social proof.
Does not support review or rating imports from other sites.
Not affordable for smaller or medium-sized businesses.
How do VideoPeel and Vocal Video compare in price?
We see no options for monthly billing, which is not a feasible payment plan for new businesses.
Vocal Video offers a Free-forever plan, and you can publish up to 3 videos, a feature that VideoPeel lacks. Its least-priced plan costs $99/mo, which is expensive for SMBs but allows unlimited video publishing, advanced editing options, and multi-user support for up to three users.
VideoPeel alternative #3 – Trustmary: To improve your conversion rates with testimonials
Trustmary provides a clean and straightforward method to request testimonials from your customers. You can quickly choose and send a pre-optimized form to your customer. Once received, your customer only clicks the record option and sends a video.
You can create personalized surveys or forms for each customer to ensure the collected reviews are high quality and genuine.
Also, Trustmary provides widgets, pop-ups, and lead generation testimonial templates that you can use to display on your website and attract customers.
How does Vocal Video outperform VideoPeel?
You can automate importing your existing reviews from multiple sites such as G2, Facebook, Google, etc.
Trustmary sends automatic reminders to your customers until the testimonials have been sent.
Has a user-friendly interface with guided videos for every step.
Offers plenty of widgets to display reviews on your website.
It has a decent pre-optimized questionnaire form to send testimonial requests.
To collect responses, your customers do not have to download an app. You can share a URL or QR code or embed a testimonial collection code onto your website.
Improve your conversions. Trustmary offers multiple options to display testimonials on your websites, such as call-to-actions, widgets, chatbots, and more.
Trustmary vs. VideoPeel ratings by Capterra:
Overall, Trustmary and VideoPeel's features performed equally. But in terms of ease of use and value for money, Trustmary took the lead.
Any drawbacks of Trustmary?
Trustmary has fewer video editing and customization options than Trust and Vocal Video.
No social media links to the customers' profiles to make the testimonials trustworthy.
Does not offer customer insights or analytics.
No automated transcripts or video subtitles for easier understanding.
How do VideoPeel and Trustmary compare in price?
Trustmary offers unlimited video and text testimonials in their Free plan.
Considering the features offered, Trustmary's Business plan, priced at $82.50/mo, is similar to VideoPeel's Premium plan which is priced at $249/mo, which is more than three times the rate of Trustmary.
VideoPeel alternative #4 – Vouch: For frictionless video collection
Vouch helps you capture genuine customer testimonials by letting you send a "Vouch" for each customer. In a Vouch, you frame questions that customers can answer, record your video, and add a message for a personal touch.
Once done, you can send it as a single link through which your customers record their responses. Then comes the editing. Vouch lets you trim your videos and enhance them for clarity. Finally, you can embed codes to publish videos or share them as links.
How does Vouch outperform VideoPeel?
Vouch provides a rich and uncomplicated interface.
You can request a testimonial in a few clicks. By creating a "Vouch," you personalize your video request for every customer resulting in more authentic reviews.
While creating a Vouch, you can add a video or a screen-record request for your customer, adding more clarity.
Besides websites and social media, it lets you embed your videos to Slack, internal Wikis, presentations, and more.
Unlike VideoPeel, you can add your logo and branding colors to your Vouch.
Vouch creates a playlist of all your videos for easier access.
It provides decent video editing features. You can preset ratios and edit videos using Vouch shortcuts.
Vouch offers integrations with Slack, HubSpot, Microsoft Teams, etc., for quicker collection and sharing.
Any drawbacks of Vouch?
No options to import reviews from sites such as G2, Google, Facebook, etc.
Does not support text testimonials or reviews.
Unlike Trust and Vocal Video, Vouch does not have advanced video editing capabilities.
Displays customer viewing and response metrics but does not offer customer insights or analytics.
How do VideoPeel and Vouch compare in price?
Vouch has the "Free-forever" plan with unlimited video creation and automatic transcripts, which is suitable for smaller businesses and solopreneurs. VideoPeel has no such plan.
Vouch has the Pro plan for larger teams, priced at $79/mo. This is pricier than VideoPeel. However, you can customize videos with your brand logos and colors, which benefits your marketing efforts.
The bottom line
Choose a video testimonial and review software that you can see your business using for the long term. Because ultimately, testimonials are there to attract potential customers and move them down the sales funnel with ease.
After our hands-on experience with the five tools described here, we are convinced that an all-rounder software, such as Trust, outruns the rest.
See for yourself – Sign up for the free trial today, made even easier with no credit card info!