Vocal Video is a great video testimonial software feature-wise, but it is an expensive option for beginners and smaller businesses.
Moreover, if you're looking to gain video insights through analytics, then Vocal Video has minimal options.
So as you've already guessed from this headline, we've researched the four best Vocal Video alternatives for you to consider, including our feature-rich and affordable testimonial software – Trust.

Here's a quick summary of Vocal Video and its four popular alternatives:
TL;DR
Vocal Video offers a user-friendly interface with excellent editing tools, but it sets a limit on the number of client questions and can be expensive.
Trust is a comprehensive video testimonial software that manages the entire collection and display process, and it is more affordable.
VideoAsk prioritizes building a strong connection with clients and adding a personal touch to video testimonials. However, one drawback is the limited number of video minutes allowed in its paid plans.
VideoPeel is a great option for businesses that need a basic and straightforward testimonial solution. It uses an asynchronous format and is on the expensive side.
Boast features a sleek UI and provides pre-designed templates for various industries. However, its editing options and features are limited considering its price point.
Vocal Video overview
Vocal Video boasts a wide range of advanced video editing tools that allow you to personalize your videos and craft polished, publish-ready testimonials without needing to hire a graphic designer.
This software provides a smooth and efficient approach to collecting testimonials, right from its intuitive dashboard.
You can create a customized welcome page, craft testimonial questions, choose your brand colors, and even add a thank-you page.
Once you're satisfied with your settings, you can easily copy the "collector link" and share it with your clients for swift feedback collection.
What works and what doesn't with Vocal Video?
What works:
Vocal Video offers a dedicated dashboard that makes testimonial collection and viewing a breeze.
The software reduces the strain of post-production by automatically adding subtitles, your company's logo, the submitter's credentials, and background music (if chosen) as soon as a client submits a testimonial through a video collector.
Users can create beautiful video galleries, such as walls of love, carousels, slides, etc., with zero coding.
Vocal Video recently introduced the Vocal Video Editor, a self-service, on-demand portal that provides customizable editing options and the ability to auto-add motions and graphics.
What doesn't work:
Vocal Video's least-priced plan starts from $49/mo for annual billing or $69/mo for quarterly billing for a single user and three video collectors, which may not be affordable for beginners.
The Solo and Team plans do not provide access to video analytics.
There is a limit on the number of client questions that can be included for each video collector.
Vocal Video's pricing
Vocal Video does offer a free plan, but its features are quite limited and are primarily suitable for those who wish to test out the software.
Additionally, Vocal Video offers three paid plans:
Solo – Priced at $49/mo for annual billing or $69/mo for monthly billing, this plan only allows users to publish up to three videos per month, which may not seem like a fair trade-off for the cost.
Team – This plan costs $33/mo for annual billing and is limited to three users. However, it does not remove Vocal Video watermarks.
Pro – This plan offers annual billing at a rate of $39/mo for up to five users. For teams, the Pro plan may be more suitable than the Team plan, given the comparable cost but with more features.
Overall, while Vocal Video does offer valuable features, particularly with its paid plans, there may be room for improvement in terms of the features offered with the Solo and Team plans.
Vocal Video alternative #1 – Trust: A versatile and cost-effective tool for collecting video testimonials
If you're looking for a tool that can handle the entire testimonial process from collection to display in under ten minutes, Trust is the perfect choice.
Trust's streamlined approach to testimonial and review collection sets it apart from its competitors.
Its all-in-one dashboard allows you to monitor, edit, create, and publish testimonials easily.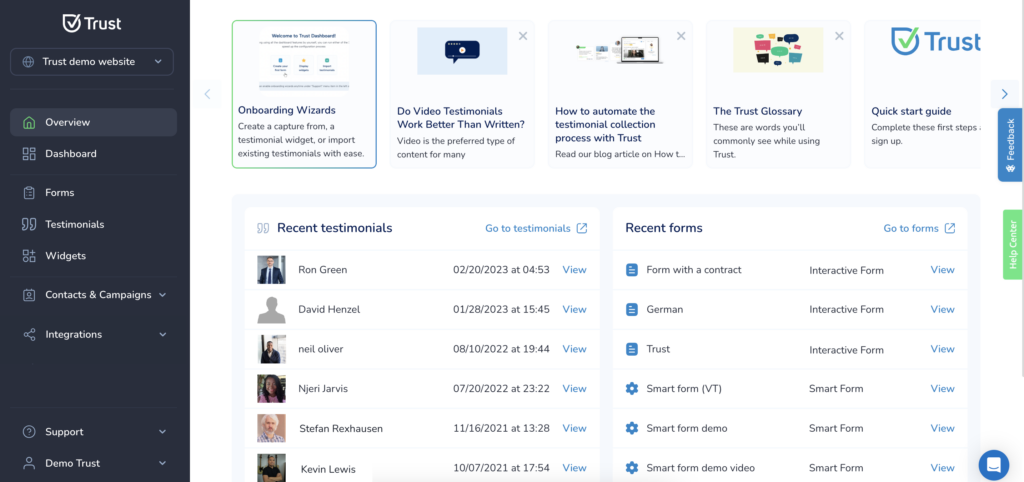 Here's a sneak peek into Trust's intuitive UI
How does Trust outperform Vocal Video?
With Trust's Smart Forms feature, you can create hyper-personalized custom forms for testimonial collection using an easy drag-and-drop, no-code form builder.
Trust offers an integrated AI feature that provides AI support for clients in public survey forms.
Unlike Vocal Video, there is no cap on the number of questions you can frame for your clients with Trust. This saves clients time and effort by allowing you to record questions and answers using a virtual survey or step-wise questionnaire (called Interactive forms here).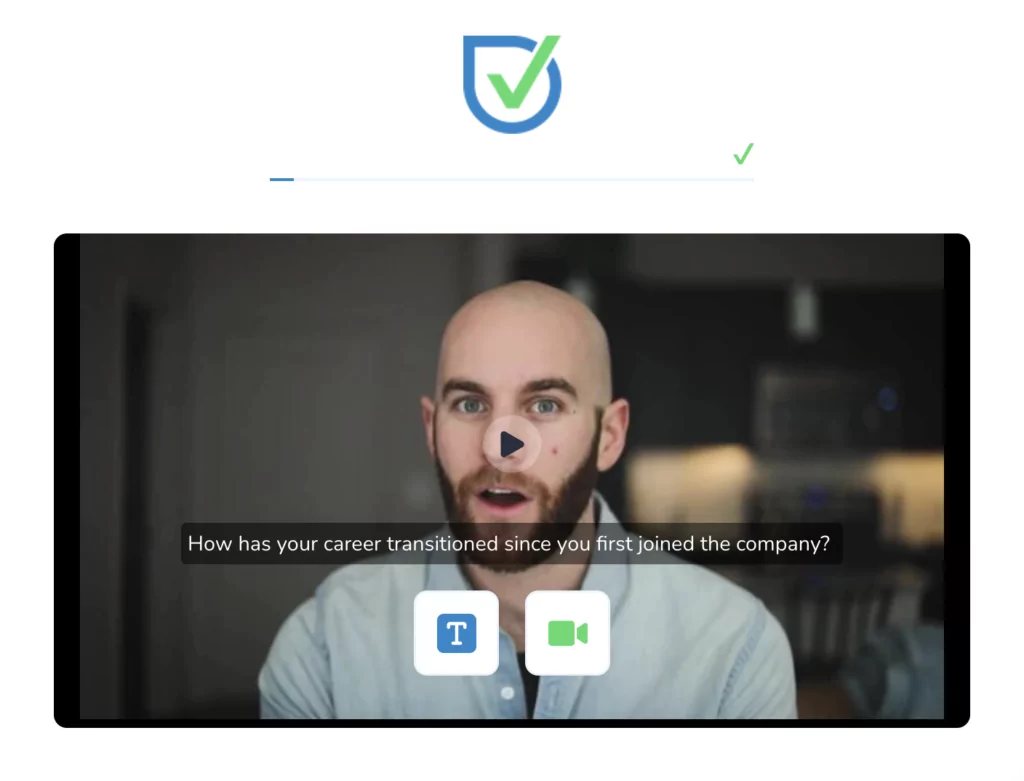 Trust's handy video editor in its question-and-answer feature lets you add intros and outros, upload social media files, trim videos, and make your video testimonials publish-ready from the collection process.
Trust's Starter plan offers 50 published (publicly displayed) testimonials per month, while Vocal Video's similar plan only offers 3 published testimonials at 2.5x the price.
Any drawbacks of Trust?
How do Vocal Video and Trust compare in price?
Compared to Vocal Video's pricing plans which range from $49 to $69 per month, Trust's plans start as low as $19 per month, making it a more affordable option for solo entrepreneurs and small to medium businesses. 
Additionally, Trust offers a 14-day free trial period for all plans, allowing users to test out all features before committing.
Moreover, Trust's impressive number of publishable videos per month (starting at a minimum of 50 videos) surpasses Vocal Video's offering of only 3 videos for its starter plan.
📚 Read also:
1. Testimonial Video Template – A complete guide to create demand-generating video testimonials
2. Testimonial Templates for Social Media – 6 steps to win over new customers on social media
3. Employee Testimonial Templates – The A-Z of employee testimonials with inspiring examples
Vocal Video alternative #2 – VideoAsk: For an interaction-based video testimonial format
VideoAsk is well-known for its video conversation-style testimonial collection, known as 'asynchronous' format.
This enables you to record yourself asking questions and then receive responses from your clients in the same format.
How does VideoAsk outperform Vocal Video?
VideoAsk places more emphasis on building a strong connection with clients and offers a human touch to the testimonial collection process that Vocal Video lacks.
Unlike Vocal Video, VideoAsk's asynchronous format allows users to ask clients an unlimited number of questions without worrying about reaching the maximum limit.
VideoAsk also has a decent lead-generation process with an in-built conditional logic flow, making the collection process easier for newcomers.
Users receive analytics and insights on their published video testimonials.
VideoAsk's editable conditional logic flow and dashboard
Any drawbacks of VideoAsk?
Although VideoAsk allows for unlimited questions, each of its paid plans has a fixed limit on video or audio processing minutes. This may not be suitable for brands on a tight budget.
VideoAsk's video editing options are very limited compared to those of Trust and Vocal Video.
The asynchronous video collection format may not suit all clients, particularly those who are camera-shy.
How do Vocal Video and VideoAsk compare in price?
The initial paid plan of VideoAsk costs almost 50% less than Vocal Video's minimum paid plan.
However, VideoAsk's biggest disadvantage is the restricted number of video/audio minutes and a maximum video length of 5 minutes in Grow and Brand plans.
When compared to Trust, VideoAsk may not be appropriate for SMBs as they need to buy extra minutes, costing a minimum of $54/mo (billed yearly).
If you're interested in finding out more about tools that offer multiple question-and-answer series like VideoAsk, feel free to check out our comprehensive article on VideoAsk alternatives.
📚Read also:
1. Instagram Testimonial Best Practices – How to create engaging Instagram testimonials using the right tools
2. Customer Testimonial Template – Tips on crafting testimonials that will skyrocket your sales
3. How to Craft a Perfect Testimonial Script – A step-by-step guide
Vocal Video alternative #3 – VideoPeel: A basic video testimonial collection solution
VideoPeel provides an uncomplicated way to ask for client video testimonials.
Simply create a campaign, request client testimonial videos, and publish them to your desired portal.
Unlike the previously discussed tools, VideoPeel does not support online surveys like Interactive forms or Smart forms. 
If you want a straightforward solution for collecting testimonials, then VideoPeel is the one for you.
How does VideoPeel outperform Vocal Video?
VideoPeel provides detailed video insights/analytics for its Premium and Enterprise plans.
There is no limit on video minutes or the number of publishable videos.
You can choose from any number or types of campaigns within your industry. For instance, if you own a software company, VideoPeel offers suggestions to improve your results.
E-commerce companies can add product reviews and increase product awareness using customer reviews and ratings.
Any drawbacks of VideoPeel?
VideoPeel does not provide advanced video editing options beyond adding images and trimming videos, leaving your videos unpolished and not production-ready.
The Pro and Premium plans of VideoPeel do not support multi-user teams.
There is no free plan.
You cannot create survey-type videos, as VideoPeel has no mechanism for creating forms or questionnaires.
How do Vocal Video and VideoPeel compare in price?
From the looks of it, VideoPeel is not worth the price point due to its limited functionality compared to tools like Trust.
However, for businesses looking to test out multiple video testimonials as part of their marketing strategies, VideoPeel may be a good option, as there is no fixed limit on video minutes.
The Pro plan starts at $69/month or $49/month for annual payments, which is similar to Vocal Video's prices, but VideoPeel offers unlimited videos and campaigns.
However, if you need media and video insights, you must purchase the Premium plan, which costs $399/month.
If you want to learn more about VideoPeel and its alternatives, take a look at our in-depth comparison that covers everything you need to know.
📚Read also:
1. How to Help Your Customers Record Perfect Testimonials
2. How to Successfully Create Video Testimonials with No Expertise
Vocal Video alternative #4 – Boast: To fetch and request testimonials automatically
Boast is a user-generated content collection tool that includes video testimonials, ratings and reviews, and customer surveys.
It offers a hassle-free solution for collecting testimonials.
How does Boast outperform Vocal Video?
Boast allows for seamless integration with current systems or workflows, automating the testimonial collection process by sending reminders or requests for testimonials.
Customers can record themselves on any device with mobile-friendly forms.
Pre-built templates are available for various industries to save time in framing questions, and you can either share them with clients or upload them to your website.
Boast's paid plans have no limit on the number of publishable videos.
Boast lets you create testimonial request email sequences and track analytics (the number of views, clicks, etc).
Any drawbacks of Boast?
Video editing options are limited, resulting in unpolished video testimonials.
Client videos received over email cannot be edited, and they have to be uploaded in their raw format.
Boast has no free version.
Boast is more expensive than Trust, with the Basic plan starting at $50/mo.
How do Vocal Video and Boast compare in price?
Boast's pricing page explicitly states that the Basic plan is for small businesses, the Team plan is for medium-sized businesses, and the Premium plan is for larger agencies.
The Basic plan starts at $50/mo, which is more expensive than Vocal Video's starting price of $39/mo.
However, Boast offers more video responses (600 per year) and publishables, making it a better choice for pricing.
Our final thoughts: What's the best Vocal Video alternative?
A good video testimonial software should provide an enjoyable and effortless testimonial process for both you and your clients, taking care of every aspect from collection to display.
Here is an unbiased review of the five tools we discussed:
Vocal Video– This tool is perfect for those who want to avoid the hassle of making their videos production-ready. However, the high prices may not be suitable for budget-conscious individuals or those new to the industry.
Trust – Trust is ideal for small and medium-sized businesses, solopreneurs, and eCommerce companies due to its range of payment plans and end-to-end solutions for testimonial collection.
VideoAsk – VideoAsk is best for small businesses due to its limited video minutes and for those who prefer the raw, asynchronous format of testimonial collection with no edits.
VideoPeel – This tool is suitable for SMBs or eCommerce companies with Amazon shops that don't mind a basic testimonial collection process.
Boast – Boast is more suitable for larger agencies with many customers who want to collect testimonials differently by building custom email sequences.
If you are looking for an all-inclusive, cost-effective testimonial solution that allows you to sit back, collect, display, and let your testimonials generate leads for you, Trust is the way to go.
Don't believe us? Try it out for yourself – sign up for the all-access free trial today without providing any credit card information!