You can read any article about marketing and they will all tell you that social media is the strongest and best place for marketing your goods and services.
However, what these articles usually do not talk about is that not everything is a success on social media.
Just because you have managed to post something on your social media account does not mean it will go viral. After sharing your content on a platform, the next crucial step is working to increase its social shares.
How do you do that? Read on to find out how!
Where does sharing take place?
Before doing anything, you need to decide which channels you want to improve.
For example, you may have the highest engagement and the number of followers on your Instagram profile thanks to high-performing Instagram gynamic ads, while Facebook makes a tiny portion of your target audience and you don't know how to fix it. Each of these platforms has its own unique rules for reach and engagement which are worth studying before you create an effective social media marketing strategy.
Once you know where you are the most likely to increase the number of your shares, it's time to get to work.
The benefits of sharing
Every brand out there wants its followers and customers to share their content – that's a given. But besides the attention boost, having your content shared has other, more palpable benefits.
First, you will get authentic praise from your clients, without paying for a sponsored post or bribing them with a prize to share something that you've posted.
Second, with each piece of content that your customers share, your chances of getting new followers and customers and more cash in your bank account get better. The more shares that you get, the more likely it is that you will generate leads from social media.
Why do certain posts have hundreds of shares, and others don't?
You've probably seen social media posts that get insane amounts of shares and wondered why this isn't happening to your content as well.
The truth is, viral content doesn't become viral on accident.
The most shared content pieces out there have a certain number of common traits, which we are about to share below. So, the next time you want your new social media post to have hundreds and thousands of shares, keep these tips in mind.
Top 23 tips to skyrocket social media shares
1 – Optimize your social media profiles
The reason why you're not getting any shares from your social media profiles could be as simple as not having your profiles fully optimized. This can mean one or more of the following:
Not having all of your contact data filled out

Having an invalid website address

Not getting your accounts verified

Not having all the images (profile image, cover image)

Not using the right image sizes
In general, make sure that your profiles are properly optimized before posting any content so that you can maximize your opportunities of getting shares.
2 – Design your content according to the platform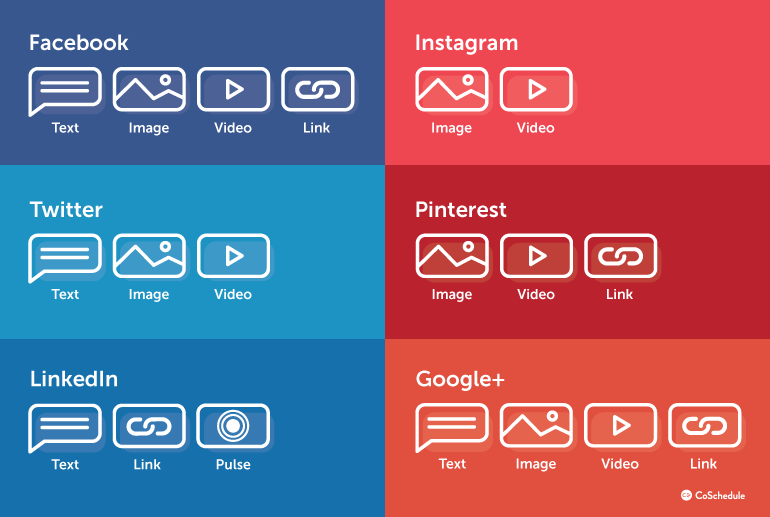 The first and most important thing when sharing your content is to design it according to the platform you are about to share it on.
For example, you would not want to write long text-only posts on Instagram or Pinterest as they are mainly photo-sharing sites. When marketing on these two platforms, you have to use images.
If your content directly requires it to be in text-only format, it is best that you share it on LinkedIn, Facebook, or Google+. Not keeping this in mind will affect your view count and shares negatively. In fact, people might not even look at your post because it will stick out like a sore thumb.
3 – Check the content display on mobile
More than 52% of all content on the web is viewed on mobile.
The fact of the matter is that a lot of your visitors will first view your content on their phone, before ever seeing it on their laptops or computers. For this reason, it's crucial to make sure your content is optimized for mobile before even attempting to share it on social media.
Content that isn't ready for mobile will have poor engagement, and it's no surprise. People will open a link, reach a page that they cannot view properly on their phone and close the window. This counts as a bounce and it hurts your SEO, your conversions and if you're paying to promote the post, even your entire marketing budget.
Before sharing any kind of content, first open it on a few different devices to make sure it's optimized, especially if it's a landing page that you're paying to promote.
4 – Share at peak times
It is also vital that you share your content at peak hours; times when your target audience is most active on social media. This factor is particularly important for companies that have their operations in multiple countries. For example, if you want to get Twitter followers, you should always keep in mind: when your American subscribers are active, those in China are most likely asleep and vice versa.
If you share your content without taking this factor into account, your posts will have gone down on the stream by the time your followers open their social networks. Keep in mind that not everyone has the time to scroll down to the bottom of the stream.
The best thing to do in this scenario is to use the modern social media Marketing software tools and applications. These tools let you organize your content and automate its sharing across various platforms. You might have to share the same post twice to make it visible to your audiences who are in two different time zones.
5 – Follow the trends
Even if your content is interesting, your audience might not feel like sharing it with others if it is about something that is considered "old news".
Show your audience that you are up-to-date with the latest trends by creating content around the most talked-about and/or more popular hashtags. You have to understand that platforms like Instagram and Twitter are all about these hashtags.
And before you share any type of content under a particular hashtag, be sure to check its context first. Some brands have used certain hashtags without knowing beforehand what it actually means or stands for. Not only is this embarrassing, but it may also even, in some cases, cause some huge negative impact and backlash on your brand.
6 – Keep requesting shares
You will learn this art from YouTubers. They are adamant with this approach as they will continuously ask their viewers to like and share their content, plus to subscribe to their channel. Your followers might love your content and "like" it, however, not all of them will feel the need to share your content with others.
7 – Embed social sharing within your email
Every time your content is in front of your target audience, it's a chance to get them to share it.
If you have an engaged list that you regularly send emails to, why not seize the opportunity? Simply add social sharing buttons next to the content which you're including in your newsletters and watch your social shares go through the roof.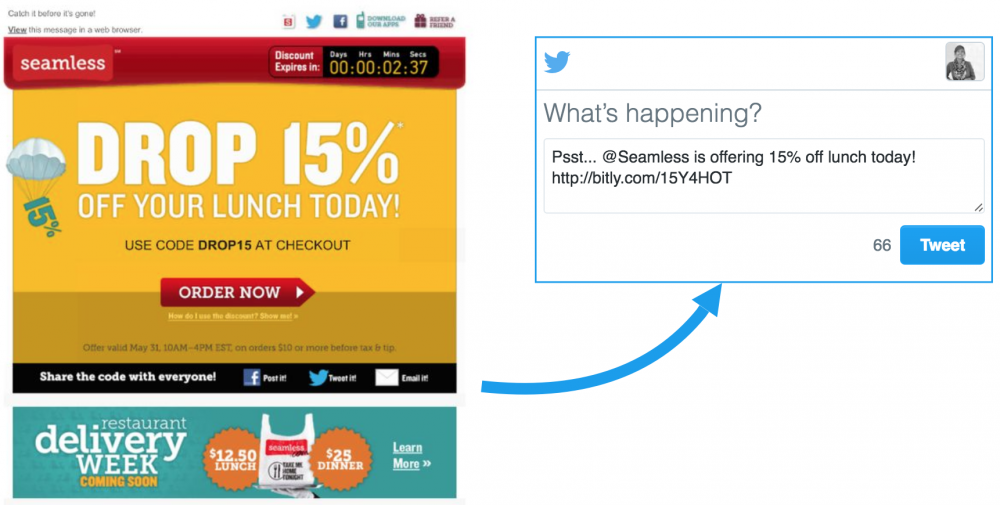 Adding these buttons doesn't require any knowledge of HTML or other programming languages. In fact, most email marketing software nowadays comes with this feature right out of the box.
8 – Create enticing social media buttons
When you create posts on your blog, you have the option of adding social media buttons. The location and design of these buttons can greatly impact the share-ability of the content.
First, you want to make the buttons large enough to make it easily visible as soon as someone is done reading your post.
And second, you have to choose a location where your users can easily see them.
It is important that the design of these buttons is similar enough to the overall look of your website. But, you should also stay within the original logo design of the social media platform itself. You don't want your Facebook Follow/Share button to be so different from the industry standard that your customer cannot even recognize it.
Another amazing way to increase your shares is to use the highlight-to-share feature. This feature allows users to highlight a portion of the text in your blog post and share it using the social media sharing buttons that appear subsequently. Meanwhile, you can leverage hashtag generator tools to create your own hashtags for your brand. In short, your readers don't even have to find the buttons on the page.
9 – Give a good reason to share

Ask people to share your content, and most will ignore your pleas. However, give them a good reason to share and they will take the time off their to listen and help out. The fact of the matter is that we are selfish in nature and won't share just because someone politely asked us to.
We need motivation and for most people, that motivation can come from getting something as a reward. For example, with each social share, they get another entry in a giveaway that you're sponsoring. Alternatively, each entry will mean a $1 donation to a charity of your choice.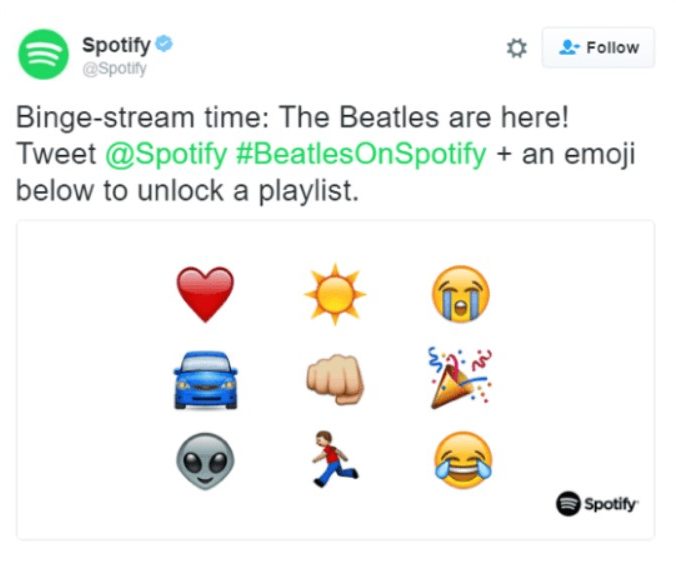 Thanks to a wide variety of social media apps nowadays, it's possible to make these kinds of actions. However, make sure that the person sharing always gets something worth their while, and not a 5% discount code to your next app sale.
10 – Ask for opinion, feedback and reviews
As mentioned in the previous section, people are generally selfish. If you can't give them something of value (such as a free gift), you can do something else they will appreciate – ask for their opinion. Your customers will love the idea of their voice being heard and their ideas appreciated, so it's up to you to get the conversation started.
You can do this by sending out surveys and polls in your email newsletters. These can be about your new product, about your website's design or content or something completely different. At the end of each survey or poll, leave a share button so that the customers can share the poll and the results with their friends.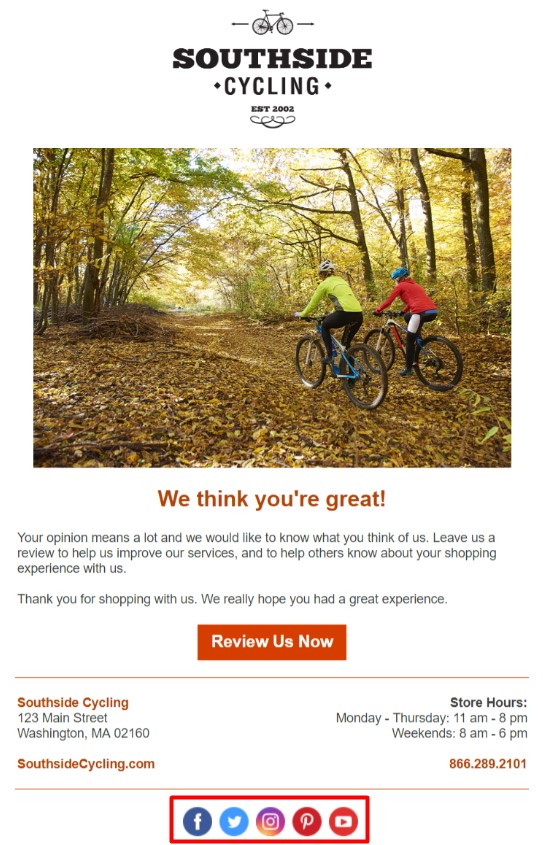 However, bear in mind that once you ask for feedback and receive it, you should act on it. Whether the customers' opinions are good or bad, do your best to reply to each survey result that you get to increase engagement and build your company brand.
11 – Post customers' reviews and emails
Since you've asked your faithful customers to send in their thoughts and feedback, now is a good time to make it public, especially if the feedback is good.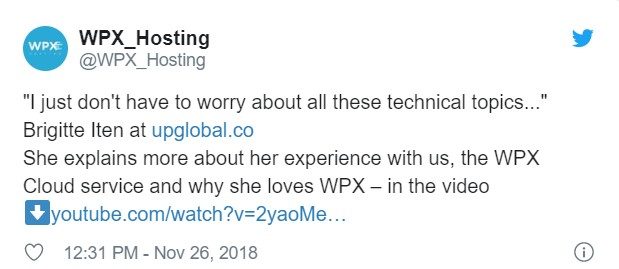 Your customers will love the attention and the fact that their voice matters, and you will share a good word about your brand. Moreover, others will be very likely to share positive comments about a brand that they endorse.
12 – Prompt the reactions you want with emojis
You've probably seen this strategy used a few times before. A company shares an image on their Facebook account and asks their followers to vote for the best option in the image using emojis available on Facebook. This strategy is extremely easy to use and it's a great way to increase your reach and get likes and shares, even from those people that rarely engage with your content.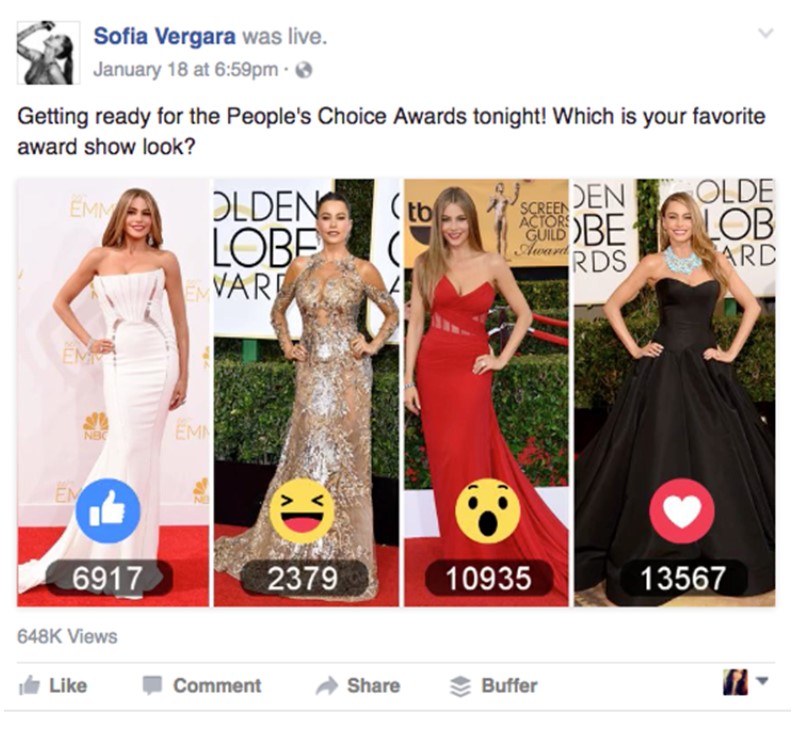 13 – Interview industry experts
You write a lot on your blog and you share a lot of content, but it just isn't getting the kind of reactions you want. However, what if you changed your approach and published content from someone that your audience already likes and who has a sizeable following?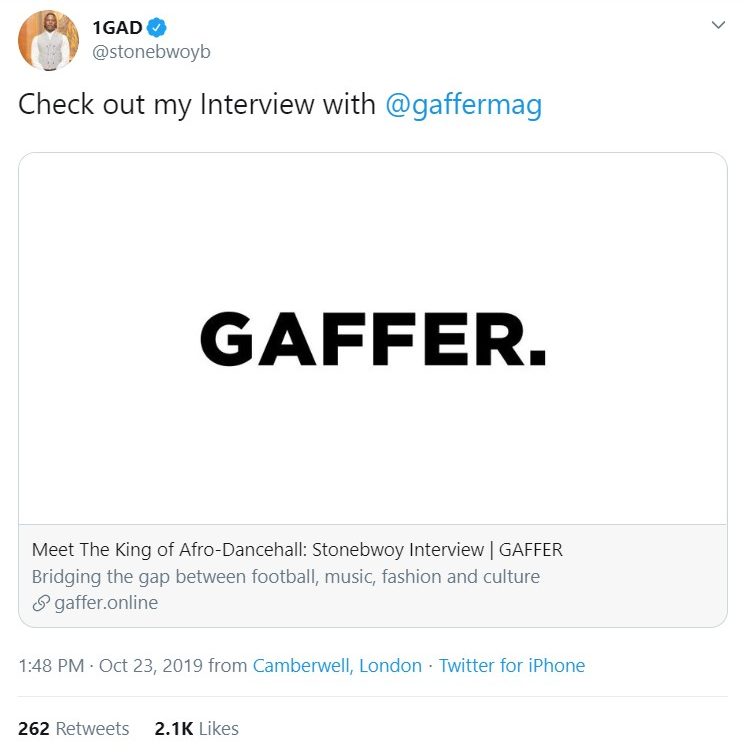 One of the most effective ways to get shares is to have interviews with industry experts and post them on your website. For example, if you're in the digital marketing space, you can try getting Neil Patel, Rand Fishkin or Eric Siu for an interview. Those kinds of posts will get much more shares than your own on the same topic.
14 – Use hashtags where appropriate
Hashtags are one of the most convenient ways to get seen by new audiences. By searching trending hashtags that have lots of views and posts, you too can jump on the bandwagon and get included in the list of posts for these hashtags, and subsequently, get more shares.
Before using your hashtags, make sure to find out how many posts they have, what your competition is up to and whether it's realistic to get close to the top of the content for a given hashtag.
15 – Encourage sharing when copying text
If someone is browsing the content on your website and they see a sentence that they really like, there's a good chance that they want to share it with someone. Why not give them an opportunity to do it with one click of a button?

There are certain website scripts that show social share buttons the moment when someone selects a piece of text on your website. That way, they can share directly within seconds instead of copying and pasting in a different window or app. Perhaps they didn't even want to share on Facebook – but they will when they have an option to do it with ease.
16 – Write a super-shareable headline
Not all headlines are created equal. Have you ever read an amazing piece of content that made you think how it clearly deserves a better headline? On the other hand, you may have seen fantastic headlines that made you want to click the link, only to open it and see a poorly written article unrelated to the title.
Headlines have the power to move people. Across the web, you'll find the information that 80% of the visitors read your headline only, which is why yours needs to be compelling, actionable and interesting to the reader. The same way that interesting headlines entice people to read, they also make them share your content.
The good news is that you don't have to be an amazing writer to improve your headlines. To get started, you can use CoSchedule's Headline Analyzer, which will run your headlines through a set of algorithms to see how powerful it is.
17 – Connect content with current events
If there's a major event going on, you need to tie it into your content. If you're thinking that it's impossible to relate something like a sports event to your brand – think again. By connecting with your target audience through an event taking place at the moment when the post is created, you're increasing your chances of getting shared. For example, the company TD Ameritrade had a series of posts around the 2014 Winter Olympics, motivating their followers to get more active.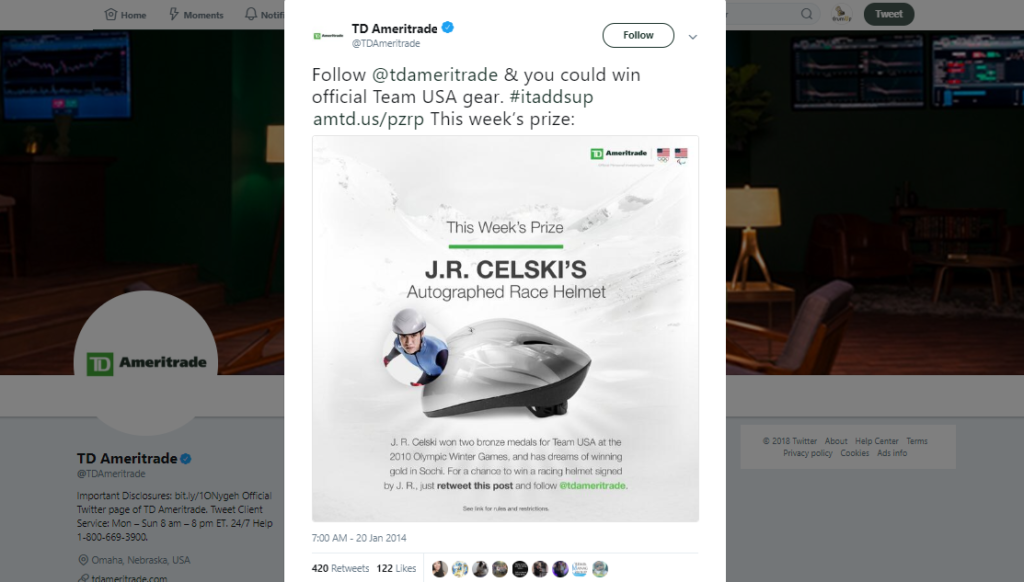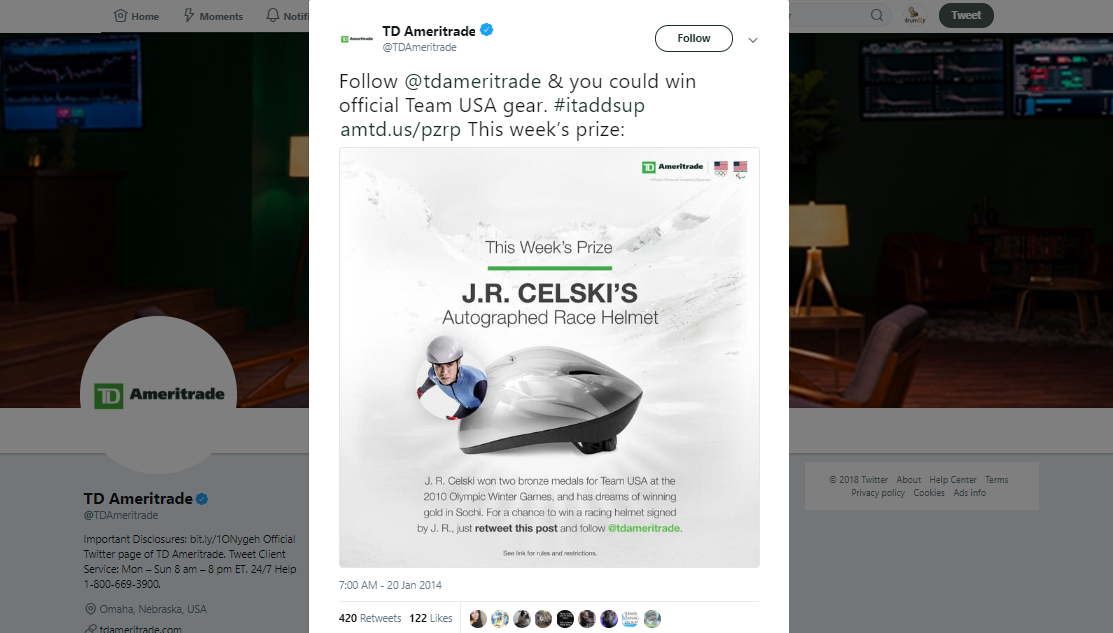 As a result, their hashtag #itaddsup was used more than 78,000 times during the Olympics.
18 – Add "click to tweet" style widgets within your content
As a content creator, I have to admit that I always thought of these widgets as a bit of a gimmick, but the truth is, they work well and they look great.
The idea is simple – extract some of the best sentences from your content and put them in special blocks so that your visitors can share them on Twitter with a single click. It's easy to do since you don't have to write any code, and it allows your visitors to share with a single click. Of course, your success rate will depend on the type of content you put in these blocks, so choose wisely.

19 – Repurpose your existing content into a different format
Do you have a piece of content that your customers already love? Does it get a lot of shares without you actually lifting a finger? You can get even more shares by repurposing this content into a different format!
For example, good, long-form blog posts can be turned into videos. A couple of blogs can be turned into a good eBook. A customer success story can be turned into a case study. The options are endless – all you have to do is pick a piece of content that performs really well and get creative with it.
20 – Don't forget about visuals
Links are perhaps the most popular type of content for businesses to share on social media. It's only reasonable – a link can lead to your website and result in an immediate sale. However, links don't get shared as much as other types of content, primarily visuals.
At your disposal, you have a wide array of visual content to choose from – images, videos and .gif files, for example. You can repurpose the images from a blog post and turn them into a nice image for your new Instagram campaign. Alternatively, you can turn a blog into an infographic and share it with your audiences. Finally, you can shoot videos using nothing but a cell phone, to get some extra reach.
The sky is the limit, as long as you keep it in mind to experiment with visual content – you are certain to get more shares than with text and links alone.
21 – Reshare posts
You probably already know this, but just because a post was created once, it doesn't mean that it can't be shared multiple times.
In fact, you probably don't have time to create a new post on social media every day, but the fresh flow of content will benefit your engagement and reach. That's why it's a good idea to set up a social media scheduling tool to share your posts over and over again. Good social media tools will create a schedule so that your followers don't see the same posts in a very long time. Of course, the more posts you have in your library, the better the re-sharing strategy will work.
22 – Continually thank users who are already sharing
We've mentioned time and time again that interacting with your customers and followers is a good way to get them to take action. Once they've shared your post(s), it's a good time to thank them for their time.

If you can see who shared your content, make sure to thank them every time. They will feel a stronger bond with your brand and they will be more likely to share again in the future.
23 – Use social media management tools
You cannot do social media all on your own. Well, maybe you can, but at a certain point in time, you will realize just how much of your time is wasted.
There are lots of social media tools that can help you out with some of the most tedious tasks, such as scheduling your posts, managing a content calendar, assigning roles to your social media marketing team, etc. Most notably, a social media management tool (such as Kontentino, PromoRepublic, CoSchedule, Buffer, Hootsuite and others) will help you automate your shares to get your content in front of as many eyeballs as possible.
Final thoughts
So, it should be clear at this point that mere social media marketing is not enough.
What you need is effective social media marketing.
Your focus should not only be to make your content interesting. Instead, you have to put in some extra effort to make your followers share your content. And before you start doing all of this, spend some time to know your target audience. You can never create valuable content unless you know your audience well. Once you understand their likes and dislikes, you can give them exactly what they will love and feel the need to share with others.