Remember popups and how everyone thought they were the biggest enemy of anyone browsing the web some 15 years ago? The surprising news is, popups still work. Following a logic similar to popups, marketers and developers came up with a new concept – push notifications.
Some may consider them intrusive for the visitor and that actually harmful for conversions. However, they have a proven track record and they can bring a wide range of benefits to your business.
Here's what they are and how you can use them for your business and website.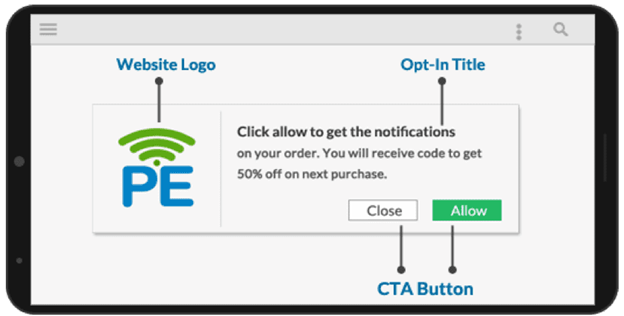 What are web push notifications?
You've probably had a situation where an app on your phone sent you a notification when you weren't using it. For example, every time someone comments on a post of yours on Facebook, you'd get a ping from the app on your screen. These are mobile push notifications.
Over time, companies realized that they could do something similar for desktop users. Web push notifications are messages you get from your browser that come from a specific website, whether you're currently on that website or not. There are only two conditions:
Your web browser has to be open

You have to allow push notifications from that website
In essence, it's a simple way to get people to return to your website. Just like with any other form of advertising, the key to getting the most out web push notifications is how you use them.
Why you should use web push notifications
You're probably wondering why these notifications are a good idea, since you already have so many other marketing tactics you can use. However, there is a unique set of benefits with web push notifications.
For starters, they have a click-through rate of an amazing 33%. For every 10 people that receive a push notification, three will head to your website. This is incredibly good compared to email, for example – which gets an average click-rate of 1-2% per email sent.
The second reason is that web push notifications are easy to set up. If you're into email marketing, you know how complicated it is to set up a funnel and segment your mailing lists to get the best open and click-through-rates. With web push notifications, there is usually a single snippet of code which you can copy and paste into your website and you're good to go. Usually, you can do it on your own, without any knowledge of code or hiring a developer.
Third, web push notifications are much cheaper. If you have a product and you want to send notifications to mobile users, you first have to develop a mobile app for each platform. Needless to say, this is an expensive endeavor. Additionally, 42% of all people online still use desktop for browsing, which is a huge chunk of your target market.
Finally, there is the issue of getting subscribers to your web push notification list. With email marketing, getting new subscribers to your list is immensely challenging. People are wary about subscribing because of how many emails they get every day and they don't want another spammy email about your latest offer. On the other hand, when they subscribe to your push notifications, they will get a subtle pop-up every once in a while and their inbox will stay clutter-free.
How do web push notifications work?
So, you want to get started and incorporate these notifications in your marketing strategy. The good news is, it's fairly simple.
First, your website will require visitors to opt in. They have two choices – block or allow. Once they allow notifications, they will be notified every time you send out your message.
Second, your website will send out push notifications every time you want it to. These notifications arrive in real time – it doesn't matter if the user is online or not at the moment. You can edit the message and the link the user will see, with a limitation in the number of characters.
Third and final, the subscribers receive the notification and once they click on it, they go to the specified URL on your website.

A question that often gets brought up is – are web push notifications illegal according to GDPR? Actually, since you have to ask the visitors for permission before sending out any notifications, they are perfectly in line with GDPR. In fact, they are even better than email in relation to GDPR, since they don't require the visitor to fill out anything or go through double opt in to sign up.
Setting up your web push notifications
You're itching to get started by this point, so let's get you prepared. Even though it's simpler than most other marketing methods, there are still a few tricks you need to know.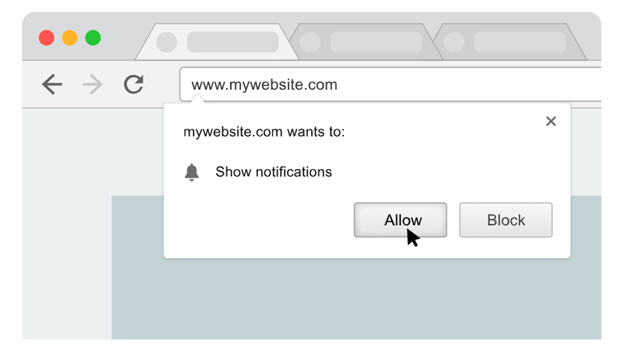 Step 1: writing the copy
Writing copy that sells is an art form. Writing push notification copy is an even higher form of art because you are very, very limited on the amount of space for writing. If you've ever written Google ads, you'll have a pretty good idea on how push notification copywriting works.
First, make your message super short and clear – your subscribers need to know what you're offering right off the bat. So, "New features, -20% off all plans" works much better than "We have new features and discounts for you, click to see them now!".
The second thing is adding some urgency. For example, "Flash sale: all sneakers -10% off this week only". It's one of the oldest tricks in the book, but it's proven that it works, even for push notifications.
Third, social proof. If you already have a good reputation, a solid number of visitors and users, show it off. Something like "5,000 consoles sold in one day – come see why" can work beautifully.
Step 2: the timing
Just like with emails, the time when the subscribers receive your notifications will have a major impact on all of your metrics. Also, just like emails, you can't choose a random time during the day and spam away.
To time your push notifications the right way, you need to know your target audience. Take a good look into your website's analytics to learn where your visitors are from. It's crucial to send not just at the right time, but in the right time zone, for maximum effect.
Once you have a good idea on when people are most likely to visit your website, you can start testing. The right time to send push notifications will depend heavily on many factors, but sending on work days in the afternoon is generally a good idea.
Step 3: the frequency
Even the right message can get boring if you send it too many times. People don't like being spammed and if they receive too many push notifications from you, they're very likely to unsubscribe.
To figure out the ideal frequency of your message, you need to take a good look at your visitors once again. Not everyone will want 5 messages per day, but if someone is a strong lead, they might actually want that kind of interaction. The only true way to find out the best frequency is doing plenty of testing.
Step 4: segmentation
If you're sending the same message to everyone, chances are high that you won't reach anyone. You need to send highly personalized messages for individual users. Since writing 5,000 different push notifications every day isn't feasible, you should segment your subscribers, and there are several different ways you can do so.
Segmenting your audiences can bring you many benefits, including higher click-through rates and better conversions. Some of the most basic types of segmentation include segmentation based on the device type, location and the URL the subscriber came from. Furthermore, you can segment based on specific actions the user takes on the website or based on the time they register.
In practice, this means that you can send a unique push notification to someone who subscribed on a landing page for a new type of product. You can then send them specific web push notifications about that product, and you can segment that even further to people who come from United States, for example.
Segmentation is very powerful but it requires lots of time and testing to get it right. However, the return on investment is very much worth it.
Step 5: tracking your metrics (and your success)
If you're a marketer, you probably know what UTM codes are. Essentially, it's a small bit of code which you add to your links so that you can track when a user comes from a specific source. In our case, we want to know when a user comes to the website from the web push notification. Using UTM tags, you can track how effective your push notifications are in comparison to other ways of getting traffic to your site, e.g. social media.
Last but not least, the only true way to get better at web push notifications is to test, and test a lot. When you look at your overall performance, you can see how they performs compared to other sources of marketing and you can find ways to improve them. The road to improvement means testing every factor, from the copy to the frequency of the notifications, all the way to minute details in segmentation.
Wrapping up
With so many modern digital marketing methods, are push notifications really worth it? When you consider their ease of use, cost and potential for personalization, web push notifications are currently one of the best choices for marketing your product and website.
As long as you take your time and work on each of their elements, you may find that web push notifications can improve your bottom line better than email marketing, paid ads, social media ads or SEO. In the end, it's all about how much time you devote to them and how well you've researched your target audience.
As for the final word – you should definitely make use of web push notifications as a marketing tool, no matter what you're using at the moment – it's definitely worth it.