What is a crucial thing for your business that often gets overlooked? Customer feedback. If you lack sales, the first step you should do is to take the time to listen to your customers and collect their opinions. Customer feedback can give you insights to move your business forward.
Alternatively, without customer feedback, it's impossible to create the product development roadmap, marketing strategy, unique selling proposition, etc. Why? The answer is pretty simple: you should know exactly what your customers truly want and align your product offering accordingly.
In this article, we've put together 11 reasons why you should collect customer feedback ASAP. If you're looking for ways to take your business to the next level, let's dive right in!
Find what you can improve
Sure, you know every nook and cranny of your product. You have probably used or seen it thousands of times. However, you need to understand what actually clients think about your product. After all, you make the products for them.
What suits the customers well? Why? What is their least favorite aspect of the product? How can your product be closer to what clients desire? Does the product solve their problems or fulfill their needs?
You can get answers to all these questions with client feedback and find aspects of your products or services that need improvements. So ask clients and act on their words. Listening to your clients is the only way to know if your products meet or ideally exceed their expectations. That will allow you to adjust the product development process and build stronger competitive advantages.
Tailor your marketing efforts
Client feedback is a gold mine of marketing insights.
First, with the help of client feedback, you can discover how customers find you and which of your marketing campaigns are effective. That will allow you to invest more in channels that bring you new clients and cut spending on channels that bring your nothing. Excellent, isn't it?
Second, by running a survey and collecting clients' answers, you can validate your buyer personas. Buyer personas are fictional characters who describe your clients. That helps you adjust marketing activities to attract your ideal customer. 
For instance, client feedback can help you decrease acquisition costs. Knowing who your ideal client is, you can update the copy on your website, advertising messages, and banners, emails, to better speak to them. The result – more customers at a lower cost.
Innovate and keep up with trends
Many businesses often fail to notice any new market trends. Luckily, here comes client feedback. In addition to various improvements, client feedback can inspire you to create a brand-new feature, product, or offer a new service. So, don't hesitate to listen to your clients' requests and notice how their demand and market trends change. And adapt! Otherwise, you risk falling behind your competition.
Build loyalty for the brand
Asking your clients about their experience with your products or services, you'll make clients feel that they are important and their opinion is truly appreciated. This will increase their loyalty to you, which in turn could lead to more sales and positive retention in the future.
What's more, if you've done some improvements based on client feedback, get back in touch with your clients thanking them for their input and letting them know that thing is fixed now. As a result, your customers will feel valued, because they are involved in shaping your products. Ultimately, client feedback is the best way to gain brand ambassadors and maintain relationships with clients.
Generate personal recommendations
Why are brand ambassadors so important for your business? The answer is pretty simple: they are a source of free word-of-mouth advertising and personal recommendations. In other words, brand ambassadors turn into referrals, someone who spontaneously recommends your business to a new prospect. The best part is that personal recommendations are the top motivation to make a purchase.
Measure client satisfaction
The truth is, client satisfaction helps businesses thrive, grow, and predict your company's financial condition in the future. Client satisfaction is directly linked to many aspects of business performance: market share, costs, revenue, churn, etc.
Considering that, it's not enough to know that a client is happy or unhappy with your products or services. You should go the extra mile here and find out to what extent the clients are satisfied. For instance, you can use the NPS (Net Promoter Score). This feedback metric is based on one simple question, 'On a scale of zero to ten, how likely are you to recommend our business to a friend or colleague?' Every business can use NPS to measure customer satisfaction because of its simplicity.
Get clients to come back for more
Your goal isn't to sell a product to a given person once. Your ultimate goal is to motivate clients to come back for more. Client feedback will help you find out the factors which return clients: more payment options, free shipping, safe packing, 24/7 customer service, user-friendly website, etc. That will result in happy, repeat customers.
How can client feedback help here? The best time to sell more is when clients are satisfied with you. Client feedback lets us identify happy clients and make a personalized offer at the best time.
Predict and prevent client churn
Negative client feedback is a sign that the client is at risk of churning. Unhappy clients will find a better alternative to your products and leave. But it's not time to give up! On the other hand, client feedback can be a powerful tool for client retention and churn prevention. It enables you to give clients reasons to stay. 
Asking for opinions regularly and recognizing which clients are at the risk of churning, you can always keep a finger on the pulse. This gives you room to prevent churn. Each time an unhappy client expresses their disappointment, you can immediately react. This is a perfect moment to win a client back. For instance, you can reach out to them with an issue resolution and a personalized offer. As a result, with the help of client feedback, you can address potential churn drivers and boost customer satisfaction and retention.
Generate social proof for your brand
Customer feedback is at the core of social proof. Social proof is the concept that we follow the actions of the masses. If so many other people behave in a certain way, it is the correct behavior. Check yourself: which restaurant would you choose, the empty one or the crowded one? That's social proof in action.
Social proof is especially crucial for digital marketing and online businesses. Shopping online, you don't have the product in hand to try it yourself. Therefore, you look at reviews before you buy online. And the more positive reviews, the better. If your prospects see that a product is being purchased by others many times, this helps them make a confident purchasing decision.
Win new customers
And last but not least. Customer feedback is vital for every business because it helps win more new customers. 93 percent of people say testimonials impact what they choose to buy. However, it's crucial to remember that customer feedback has the capacity not only to do good. If there are many negative reviews about your company, be careful. 80 percent of consumers decide not to buy something after reading a testimonial from an unsatisfied customer.
Google and Facebook are the top spots for customer reviews.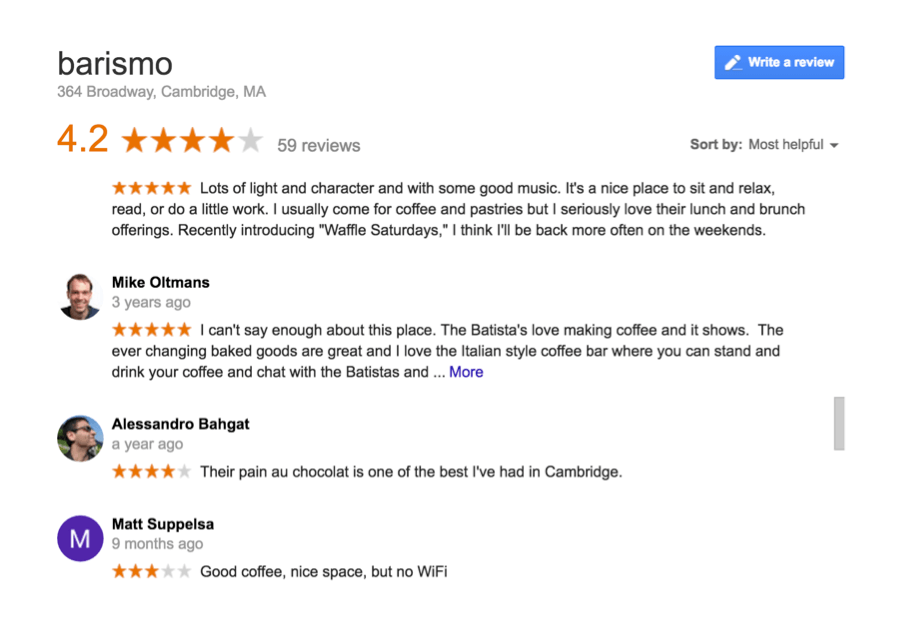 Nevertheless, if you have a lot of positive reviews about your products or services, get ready for more sales! A product with reviews is 270 percent more likely to be purchased than a product with no reviews. Why is public customer feedback so effective? The truth is, people trust online reviews as much as a recommendation from a colleague or a friend. As a result, a single user who has broadcasted their praises online can influence an audience of millions.
In a nutshell, positive customer feedback about your company should be featured on rating sites and your website. Rating sites like Capterra or Yelp are usually the place where prospects begin their buying journey. If you're a new brand, reviews on trusted review platforms are even more critical. If you have a high rating here, there's a chance that users go ahead and visit your website.
The website is the perfect place to display positive customer feedback in real-time and highlight exactly what customers find value in your business. Also, feel free to spice up your marketing assets with these testimonials: emails, advertising messages, white papers, etc.
Increase traffic and online conversions
Are you optimizing your website to improve conversion rates? Don't forget about customer feedback. In today's digital world, customer feedback has more power than ever. The thing is, positive reviews have the power to potentiate sales.
Positive reviews can mean a 5 percent increase in conversion rates. While the average website conversion rate is around 3–4 percent, imagine how many new leads you can get if your conversion rates jump to 10 percent due to testimonials? What's more, featuring testimonials is even more crucial if your products are expensive. Displaying reviews for more expensive products increased conversion rates by 380 percent.
In addition, the high volume of positive reviews featured on your website will bring you more website visitors. Think of reviews as content. Fresh, product-specific testimonials drive search traffic and keyword rankings. Brilliant, isn't it?
How to get customer feedback ASAP
Now you know how important and valuable customer feedback is. You might be wondering how you can collect it quickly and hassle-free. The most difficult thing is … to start doing that. Just go ahead and ask your customers for testimonials.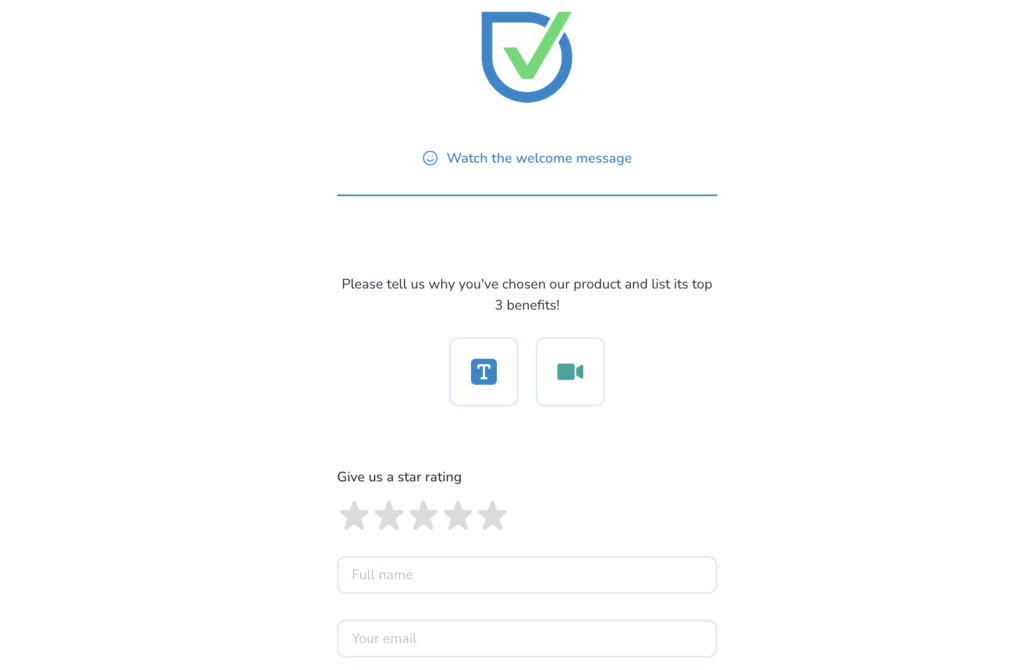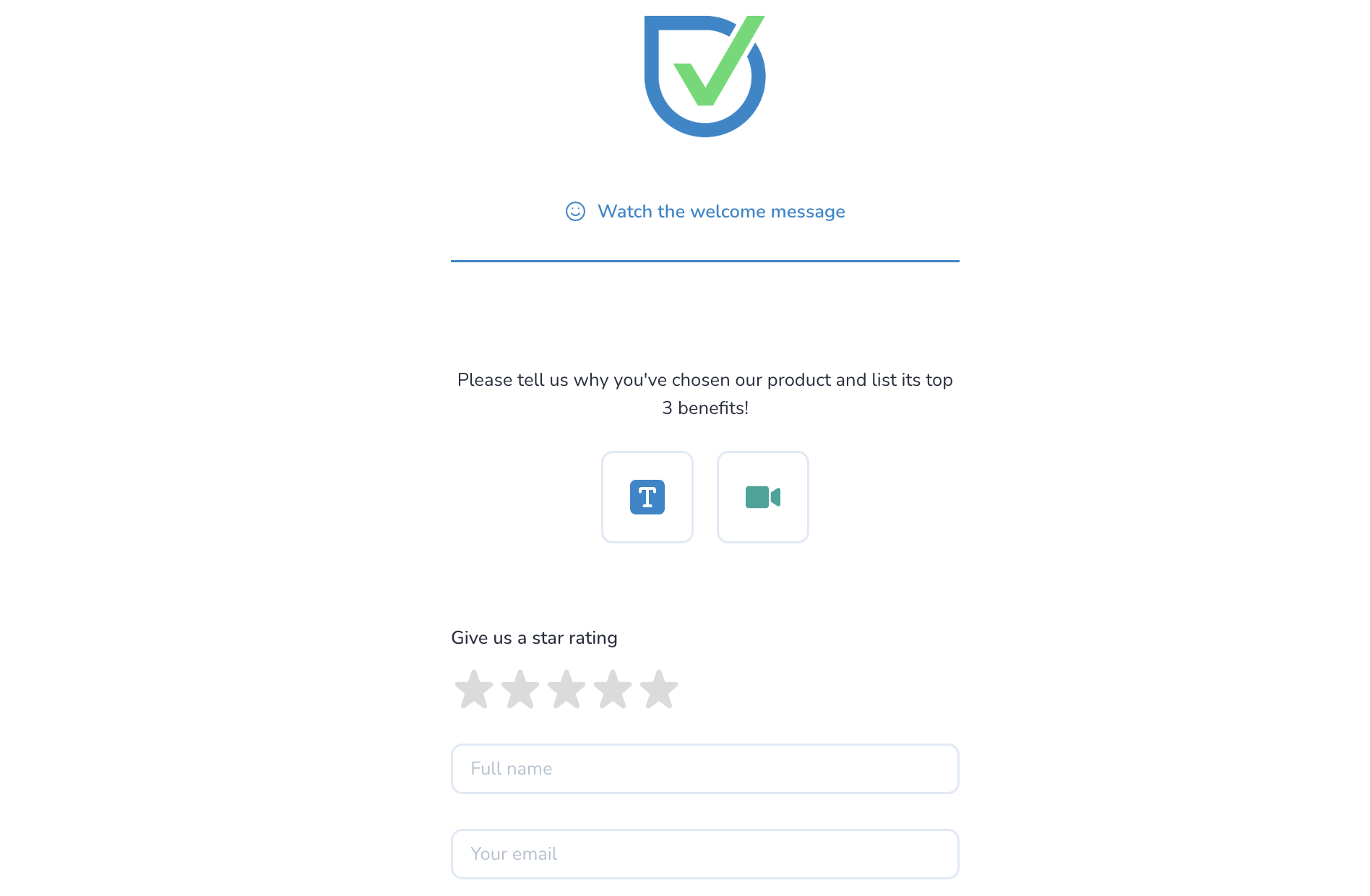 To make a response rate higher, you can offer rewards to people who review your products. Another trick is to choose the right channel. There are many ways to collect customer feedback:
Phone calls. You could give your customers a call and ask them about their experience in person. People tend to share more details on the phone. However, keep in mind that this method takes a lot of time and energy.
'Comments' section on your website. It's quick to implement and doesn't require additional effort. But the number of responses will be quite low.
Email. There is always an opportunity to simply send out an email to your customers with a few brief questions. It's simple, really. But remember that nobody wants to endure long, irrelevant questions.
Social media. Social media is two-way communication. Probably, your customers have already shared their thoughts about your products. You can search for certain keywords related to your company on Twitter, Facebook, Instagram, etc., and see posts related to your products or services.
Platforms for testimonials and reviews. If you want something a bit more convenient and, you could also use dedicated online platforms that help you collect and feature customer feedback and boost your website conversions. The best part is that no technical skills are required.
The most comprehensive testimonial platforms like Trust offer many handy features like gathering and publishing customer testimonials, use existing videos from Facebook, YouTube, etc. as video testimonials, change the look of the review to match your website, and many more.
And last but not least, don't forget to include questions that would give customers a chance to tell what they struggle with. In other words, try to find potential problems and improve your offerings.
Go ahead and start benefiting from customer feedback today
The most successful businesses are based on data. Customer feedback is a crucial source of valuable data that guides you to better business decisions and higher revenue.
No matter your stage, nowadays you can collect and feature customer reviews in the blink of an eye with the help of dedicated platforms like Trust. All it takes is to:
Add Trust to your website with a single line of code or use a WordPress plugin,
Create an appealing survey, send out its link, and see results right from the platform,
Use the received information to improve your business,
Show the best testimonials online to attract new clients.