Whether it is the online world or the physical, when you have started a business, you have to find ways to make it visible to your potential customers. In the physical world, you have marketing materials like billboards, pamphlets, leaflets, flyers, channel letters, newspaper ads, etc. to contribute to your business' visibility. In the online world, however, the most important is search engine optimization (SEO). So here are some SEO tips to help you get your content found on search engines.

The importance of search engine optimization
SEO is the use of online marketing techniques and tactics to rank your website high on the search engine result pages (called SERPs). The search engine that most businesses focus on is Google. SEO is an ongoing process that starts with a research on the keywords that are most relevant to your industry. You have to keep researching keywords to refine the best ones i.e. the ones that will produce the most traffic for your business. There are various software tools and SEO best practices that can help you rank your website above your competitors on the search result pages.
It's not easy to get your website on the search engine's first page. Moreover, it is even more difficult to maintain that rank once you have landed on the first page. Whether you want to optimize your website on your own or hire a firm to do that, here are the primary SEO steps that help boost a website's ranking.
SEO hacks to improve your site's ranking
1. Proper keyword research
Search engine optimization starts with keywords. These are the terms that internet users search for on search engines to find some information. You have to know the keywords your audience is using to find your business or industry. For example, if you sell music, the most relevant terms to your industry are "music", "songs", "mp3", "mp4", etc. However, keywords are not always that short as there are ones that are referred to as long tail keywords. These can contain two or more words in them, e.g., "music companies in New York", "top mp3 music 2021", etc.
A tool called Google Keyword Planner can help you discover the keywords that your audience is using to find businesses similar to yours. The important thing here is that it tells you the "real" keywords based on people's searches – it does not guess them. You might be a t-shirt company bidding against the keyword "t-shirts", when on the other hand the planner might suggest that your audience is also frequently searching for "tees" as the keyword.
The good news is that there are dozens of free keyword research tools available today. Here are some of the best and most commonly used ones:
Soovle
Google Adwords: Keyword Planner
IMforSMB
Wordtracker Scout
Ubersuggest
You have to be sure that you incorporate the exact keywords that your target audience is using. It also makes sense here to bring in voice searches as a lot of people are now using their own voice to search for things on the internet. It should also be taken into account that how people type sentences/words usually differ from how they would speak them.
For example, on a keyboard, a user might type "plumber in New York City" whereas the same user might use his/her voice and perform the same search by saying "find me the best plumber in New York City".
2. Proper on-page SEO
On-page SEO means the techniques and tactics you use on your website to rank high on search result pages. Let's break down on-page SEO into many of its integral components.
– Title tag
Your title tag is the utmost part of on-page optimization because the title tag is the one that appears in the search results based on the searched keywords. A Moz survey revealed that 35 SEO leaders out of 37 agree that the usage of keywords in title tags is of utmost importance.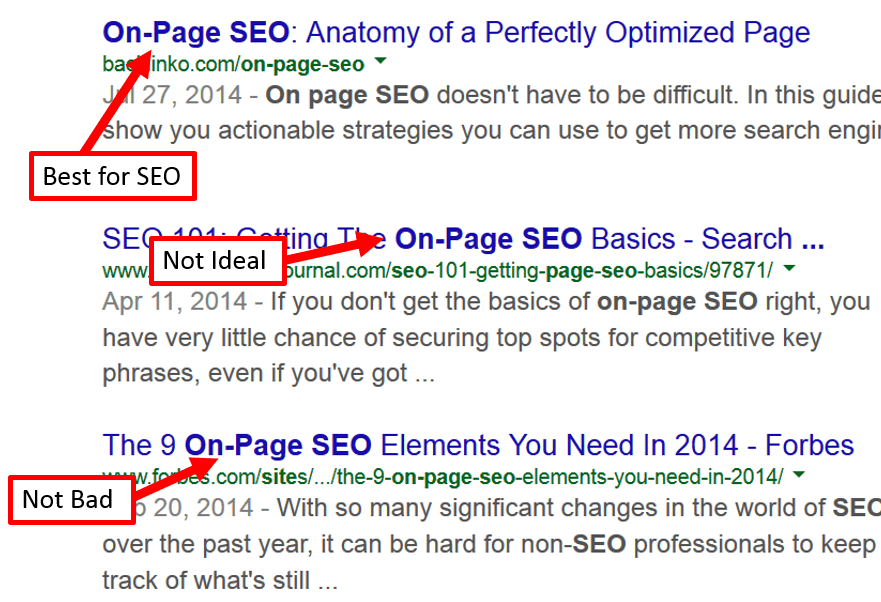 – URL
Good URLs (or slugs) are the ones that clearly define what's on the page that a user is viewing. Its relevance with the content of the page is crucial for SEO. It also shows how orderly your website content is stacked which is a sign of excellent internal linking.
– Content
Content optimization means a lot of things. First, your content has to be relevant to the page URL (slug), the title tag and any anchor texts that are directing visitors from other websites to your web page. Second, it must provide users some value and contain keywords that are relevant to the search of the user. Keyword stuffing is a sin that Google will penalize you for. Structure your content under H1, H2, H3, etc., headings and subheadings to make it comprehensible for search engine crawlers.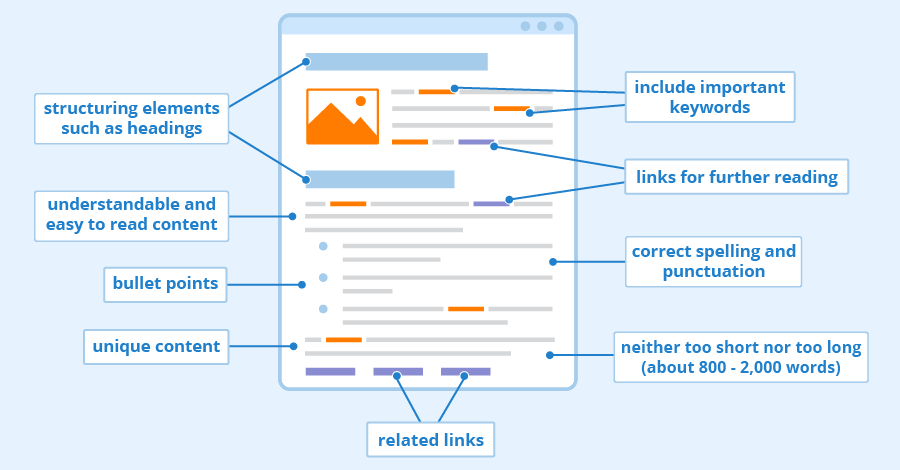 Image Author: Seobility (Content optimization), License: CC BY-SA 4.0
– Image optimization
The first thing to do to optimize your images is to put only high-quality images on your web pages. High quality should not mean large file sizes; work to find the right balance between good quality and the right file size. Use proper alt (alternative) attributes to describe your images. Your alt attribute should be so good that if your eyes are closed and someone reads the tag to you, it should form a clear visual of the object in your mind. Think of alt attributes as the signboards for web crawlers.
– Meta description
A meta description is the text you see under the title of your page on the search engine results page, and it's best to have it under 300 characters. It shortly explains what's on the page i.e. what the page's content is related to.

– Link building
The final step is to nail your on-page SEO with high-quality backlinks. It's a time-consuming yet key way to show search engines that your website is popular and noteworthy. Tools like LinkOkay help to track all website links automatically and monitor important backlink metricks in the click of a button.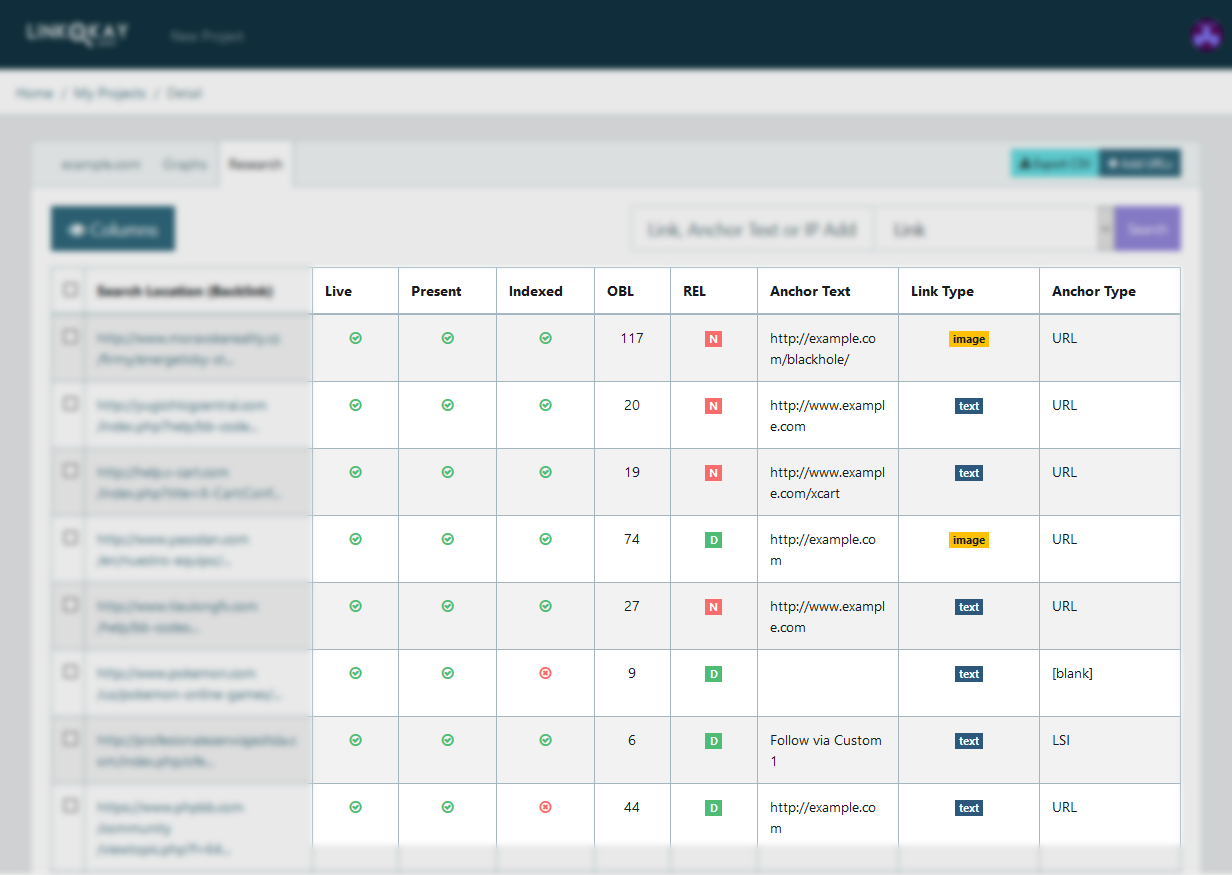 3. Sensible keyword tracking
Once you have optimized your web pages and incorporated the right keywords within your content, you have to track the performance of your keywords. Why you want to do that is because you will have to separate the "performing" keywords from the "non-performing" keywords. You should base your marketing campaigns around the keywords that are giving you the most traffic. In addition to that, you have to categorize your performing keywords into two sections as well: traffic-producing keywords and converting keywords. The best keywords are the ones that convert.
You can use a variety of software tools to track the performance of your keywords. These softwares are called keyword trackers, and there are many of them for you to choose from. These are some of the keyword rank trackers, in no particular order:
MOZ
Ahrefs
Rank Tracker from Link Assistant
SEMrush
Advanced Web Ranking
RankWatch
You can try their free versions and trials to know which one you like the best. Here's what a typical rank tracking software's interface looks like: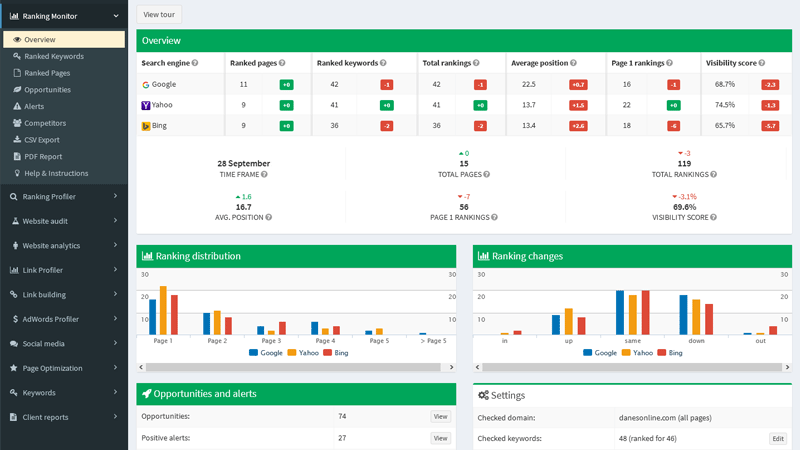 Final words
The best thing about search engine optimization is that it is inbound marketing – it is the type of marketing where you don't interrupt customers or even approach them. Your website acts as your base, and your tool to lure your audience on your website are contents that are high-quality and SEO optimized. Despite your great efforts, you need to be patient before you notice considerable volumes of traffic flowing on your website. Keep tracking your progress in the rankings and take note of factors that are boosting your rank. In the end, the aim should always be to land your website on the first search engine results page.