If you are reading this article, you already understand how crucial collecting clients' testimonials is for your coaching business.
Testimonials are a powerful type of social proof that works as a mature salesperson.
They help you get more conversions and better-paying clients.
Considering that, coaching testimonials are must-have for your website.

If you are still doubtful, let's take a look at the following facts: the whopping 95 percent of clients take into consideration testimonials before making a purchase.
What's more, testimonials lead to significant improvements in conversion rates.
Also, testimonials improve your search rankings: the more reviews, the more clicks on your website link in the Google search.
And most importantly, client feedback is a huge source of crucial insights.
Are you in a hurry?
Scroll to the end of the article and grab the template.
But if you want to learn how your coaching business can make most of the testimonials, check the list of powerful techniques you can use to collect insights from clients.
Let's dive right in!
Which testimonials will make a difference for your coaching business?
Website visitors never read every single line of text on your website. Rather, they look through web pages. Considering that, every word of copy (including testimonials) should be meaningful. But unfortunately, collecting meaningful testimonials is no easy matter.
Your clients are more likely to write sublime and super-exciting testimonials without describing the measurable results and benefits of collaborating with you. In fact, it's your job to help your clients put together a brief but powerful prospect-winning testimonial.
There is a sizable difference between impactful and pointless testimonials. A high-quality testimonial is not about you, it's about your clients and their successful transformation. A meaningful testimonial is a success story of how your client got out of misery and into bliss.
– Example of a low-quality testimonial:
"X is an exceptional trainer, his methods and delivery are brilliant – lots to learn from him!

A natural teacher and extremely funny! Very well organized and presented training. X approached a difficult subject in a considered and informative manner. X clearly has a wealth of industry experience and knowledge which he readily demonstrates! Amazing how quickly you can build lasting friendships with your peers. Great sense of humor and personable manner – thank you for a great day. I will look forward to meeting up and staying in touch. What a bunch!"
Why is it not a winning testimonial?
First, it's too long. Website visitors won't read it. But the main reason is that it tells us literally nothing about the measurable value of dealing with the coach. Your potential clients want to learn what output they will get after collaboration, not how awesome and funny you are.
– Example of a high-quality testimonial:
"In the first full year working together, revenue has grown 81%, profit by 133%, and costs are down by 20%. Within 20 minutes of our first session, Coach identified the root cause of the problem. Over the next 2 sessions with him, we built a robust and actionable plan for growth that we then implemented. Those actions had and continue to have an immediate effect. Use him!"
Why is this much better?
It's brief. Every phrase is focused on impact. It clearly shows measurable benefits that will encourage prospects to invest.
✅ There is a short list of guidelines for ace testimonials:
Three to five short phrases (carefully picked), 70 words or fewer. But feel free to publish a longer testimonial if the client gives you a compelling success story. If your testimonial gets a bit lengthy, bold the crucial sentences.
Use the formula 'Story plus Transformation' because stories make your prospective clients relate emotionally. Think of it as a simple sequence: before state –> after state –> call-to-action.

Include at least 3 specific measurable achievements.

Text testimonials are awesome, video testimonials are much more engaging and persuasive: people are

64 percent more likely

to buy after watching a video. Personal, videotaped testimonials can be an icebreaker between you and prospective clients.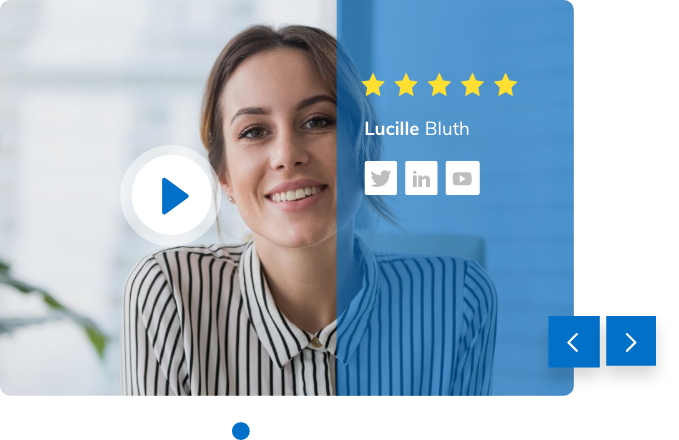 Now we've learned what type of testimonial you need. But to get a meaningful testimonial, you should ask meaningful questions. Let's explore the specific questions to ask to get valuable answers.
Your secret weapon, questionnaire
To get a high-quality testimonial, it's not enough to send your clients a question like 'Hi, what do you think about my coaching services?'. Instead, you have to guide your clients through their entire experience by asking them specific questions about every stage of their issue and collaboration with you. You can also offer gift cards or any other incentives to motivate your clients and thank them for their time.
That will give you the information you can benefit from. Winning testimonials, both text and video ones, should accomplish the following tasks:
Define the before state (highlight previous clients' pain points),

Pinpoint other solution,

Uncover the objections,

Define the after state (illustrate the benefits the clients experience from collaborating with you),

Highlight your specific services,

Get a call-to-action.
Now we will walk through the questions appropriate for a coaching business. But you can customize them for your online courses, webinars, etc.
1. What was going on in your business before working with me?
Asking this question, you will get detailed information about your potential future clients. You definitely have their attention if prospective clients find themselves in the situation described in the testimonial.
2. Have you tried something else to solve your challenges? How did it go?
This question will give you insights into your competitors. At the same, it will tell your prospective clients reading the testimonial 'Don't waste your time! Book the session!'.
3. Were there any hesitations or concerns before making the decision to work with me?
You won't use this information in the testimonial. However, you will discover the possible weaknesses of your marketing, website, credibility, pricing, etc.
4. What made you choose to work with me instead of other coaches or doing the work in-house?
Here you will learn the strengths of your services into a client's eye. The best part is that these answers can differ from your opinion about your strong points. After that, you'll be able to adjust and sharpen your value proposition and positioning to empower marketing activities.
5. How was your experience during the sessions?
Coaching is personal and close communication. It can help a bit when your existing satisfied clients mention how comfortable you have made them feel during your collaboration.
6. What three specific benefits did you gain from the sessions? What changed after working with me? What did you find as a result of this project?
Here we come to the most important and powerful part of any testimonial. Without it, testimonials lose sense. Make sure your satisfied clients write in a few sentences about how they have benefited. It's also a great idea to emphasize this part of the testimonial (especially if the testimonial is lengthy) by making it bold or put it into the testimonial title.
At the end of the day, this information is a perfect social proof for your landing page. So, don't hesitate to use it in the copy.
7. What type of person do you think would benefit most from my services?
The answers will be valuable because of two reasons. First, your prospective clients will recognize themselves while reading the testimonials which include this information. Second, these answers will help you better understand your target audience and a portrait of an ideal client.
8. Would you recommend the session to others? If so, why? If you wanted to recommend me to a friend, what would you say?
By answering these questions, your satisfied clients will compose a perfect call-to-action to anyone who is reading the testimonial. Place these answers at the end of a testimonial.
But there's an important note. Why can't you believe these answers and think, 'Wow, they will definitely recommend my coaching business! I'll gain a lot of new clients soon'? Let's discuss it in a line below.
9. Have you recommended my services to anyone?
It is the metric you can believe. If the client has not recommended you yet… they won't do it. You can't use a negative answer to this question while putting together a testimonial, but it's super-valuable information for you to think about.
10. Is there anything else you'd like to add?
It's an optional, yet nice-to-have question that may bring you unexpected insights.
11. Can I use the testimonial on my website? If yes, could you attach your picture (write your full name, provide the link to your website, etc.)?
Ask for permission to use what the client has sent you. Plus, consider adding the following elements to the testimonial to make it more credible and personal: full name, country of residence, photo, link to social media accounts, link to a website, etc. depending on your field of work (there is a chance you won't need all this information).
After you get an email reply or fill out the form, you will see that all answers are separate and not necessarily connected. It's your job to turn them into one smooth testimonial. Feel free to shorten answers and delete things that are not relevant.
7 steps to make collecting winning testimonials easier
There are a few steps you can take to make it quick and easy for your clients to deliver a winning testimonial:
Choose clients who reflect your target audience because you need to show prospects you have experience in their business niches.

Don't wait for client testimonials to roll in. Instead, be proactive about it.
Don't miss the right timing. Watch the moment when a client is expressing their satisfaction with your services, and ask if they'd be willing to give you a testimonial. It's better to ask right after they get a result.
Be flexible. If clients prefer email communication, send your questions via email. If they prefer an online call, do that. And so on.
Save clients' time and put together a sample testimonial. In your testimonial email request, you can include your draft of their testimonial and offer clients to either accept it, tweak it, or write their own.
When you receive testimonials, thank clients personally.
Routinely ask all your clients how your coaching business is doing and how they like your work. It'll help you find respondents for future testimonials.
How to automate the process of gathering testimonials
To tell the truth, collecting testimonials can be challenging and time-consuming, especially if you have to do it yourself and manually. You can save your valuable time by adopting video testimonial software like Trust to automate the entire process.
The tool offers the functionality to automatically gather and display text and video testimonials. All you have to do is approve received testimonials and – voila! – they are featured on your website as a notification widget or on-page badge.
The process of gathering testimonials with Trust includes a few quite simple steps:
1) Make arrangements with the client to get a testimonial from them.
2) Prepare a personal survey for the client based on the way they prefer to leave the text or video testimonial.
3) The customer receives a link to the survey and leaves a video or text testimonial with all the additional information like image, full name, age, country, etc. If you are not allowed to or don't want to use photos when featuring text testimonials, use an avatar image.
FYI: With the help of Trust, your clients have a few ways to leave the video testimonials. They have the ability to:
Upload an existing video from their computer

Give the URL to an existing YouTube or Facebook video

Record a new video using their desktop webcam or smartphone
4) Trust offers an additional handy feature to e-sign a contract between you and the respondent. That allows you to freely use clients' testimonials.
5) You approve the testimonial and customize its look if needed. If you don't have time to customize a testimonial, choose one of the pre-defined templates.
6) The testimonial goes live on your website as a notification widget or showing it on any webpage embedded into your website.
Simple as that!
A few actionable steps to start collecting high-quality testimonials today
Collecting and featuring powerful client testimonials can be a game-changer for your coaching business. Client feedback helps you understand your target audience better, measure client satisfaction, and increase the number of closed deals.
Here's a list of simple actionable steps to start collecting powerful coaching testimonials:
Don't put it off.

Adopt Trust to automate the process of gathering and featuring text and video testimonials.

Choose clients who reflect your target audience.

Ask for a testimonial right after a client gets a result.

Send the client a link to the personal survey that consists of well-considered questions (

check this guide on how to create best surveys for testimonials and ratings).

Shorten and customize the acquired testimonial if needed and feature it on your website.

When you receive testimonials, thank clients personally.
Use the above-mentioned tricks to craft the most effective strategy to get powerful coaching testimonials. Good luck!