Coaches and trainers who run their businesses usually don't have the chance to meet their potential clients and give them a pitch in person. Landing on a coaching website, people usually think, 'Hmm, I don't know them. Why should I trust this coach?' Being the owner of a coaching business, your main goal is to gain the trust of website visitors.
If you've ever tried to find ways to prove that your services are the real deal, you've likely come across the term 'social proof'. Social proof is a powerful way to earn credibility in the eyes of prospects.
What is social proof?
In short, social proof shows your potential clients that others trust you and have found your services to be of high value. It actually proves that your services are valuable and trustworthy because others have purchased them before and had a positive experience.
Think about your own purchasing experience. When you go to eBay to buy something, would you look at the item with no reviews or the one with a dozen 5-star reviews? The answer is obvious. And the most amazing thing. Although these ratings are left by people you've never met, they do influence you.
That's the power of social proof, though. Are you starting to see how useful social proof can be for your coaching business? Here are a few ways you can benefit from social proof:
Build trust around your company.
Increases sales.
Increases website traffic.
Ensures a higher conversion rate (signups, downloads, and purchases).
Lets you charge more.
5 ways you can use social proof to build your personal training business
Trust implements social proof in testimonials and ratings. In a nutshell, our platform uses the existing satisfied customers' experience to acquire new ones. Trust offers various types of social proof:
Testimonials
Video Testimonials
Ratings
Real-time user activity: Conversions and Visitors Count (paid add-ons)
All of these tools are a good addition to your growth strategy because they help in building user trust and credibility. Although all social proof techniques are worth to be chosen among others, their implementation varies widely.
So, what social proof methods can you adopt to dramatically boost your number of new clients and company growth?
Display customer testimonials
Imagine that you want to buy some information products: an online course, consultation, etc. How will you choose? Chances are, you will search for reviews and testimonials left from people who have bought these products. You want to see people saying, 'He really helped me!' By seeing how successful existing clients are, potential customers are inclined to buy. The only thing to remember is to use testimonials from people who are closest to your ideal customer.

There are a few tips for making testimonials better. First, when asking for testimonials, encourage your customers to describe their situation before and after using your products or services. You need a small, yet completed story.
Second, always include a photo and name because people trust actual people.
Third, to make the most of testimonials, place them where they will definitely impact your conversion rate: next to a contact form or call-to-action button, on an ordering page, on your 'About us' page.
How it works
Instead of waiting and begging your customers to leave a testimonial, let Trust do it for you. Here's how it works: once the customers purchase your product or service, you send them a simple link. Once they click on the link and share their impressions with their picture, customers can find an option to e-sign a contract. After that, Trust will automatically process data. Once you approve the testimonial, it goes live on your website as:
1) a clickable notification widget,
2) a static or carousel elements.
Feature video testimonials
Why not just use text testimonials? Although text testimonials are an awesome social proof tool, they don't utilize one of the most powerful marketing mediums – video. A solid video testimonial is a super powerful social proof.
Think about it: 64 percent more likely to make a purchase or book a call after watching a video because video content is more easy-to-consume, eye-catching, dynamic and enjoyable in comparison to text one. Videos foster customer loyalty and sell, not being salesy. What's more, video content saves time: videos make complex things easy to consume and showcase more information in less time.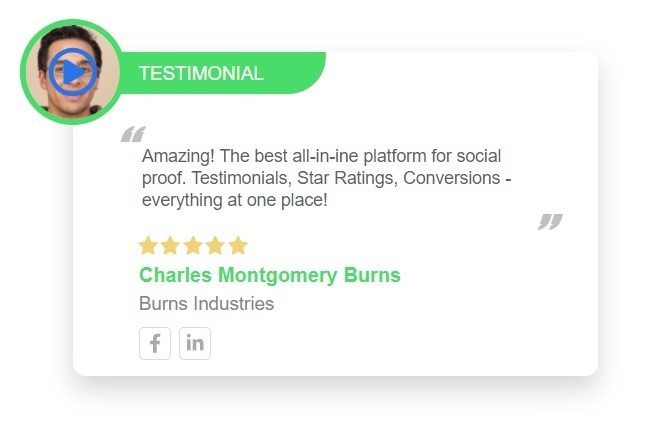 Video testimonials can potentially build confidence in your coaching business and increase the number of closed deals. Unfortunately, capturing video testimonials is no easy matter. The good news is that there is Trust, the most convenient way to collect testimonials.
It allows you:
Make use of existing videos from Facebook, Youtube, etc.
Record your own video testimonials in a few easy steps.
How it works
Trust is an all-in-one solution that eliminates any efforts on your end. No worries about how to record or upload the video. After purchase, Trust sends a customer a link to leave a video testimonial. Your customer just hit the 'Record' button or uploads their own video and optionally e-sign a contract. Then, Trust works on the data and features the video testimonial on the website after your approval. Simple as that.
Ratings
You've seen that thousands of times: a website element with five points, applied in the meaning of rating across products and services, or in other words – Star Rating. Star Rating the most easily recognizable expression of customer satisfaction and quality proof.
For instance, you can apply this feature to the list of your online courses, e-book or white-papers. But don't chase the highest Star Ratings. One study has found that the ideal star rating is between 4.2 and 4.5 because it is more realistic than a perfect 5.0 rating.
How it works
By using Trust, you can automatically gather and display this kind of reviews on your website. When customers buy a product or a service on your website, send them (either manually or automatically) the link to leave a review. Once the customers receive the link, all they have to do is to click on it, leave their comments and approve their email address. Trust will process the review and show it on your website after you've approved it.
What's more, the upcoming features include the possibility to include star ratings from other rating platforms like ProvenExpert, etc.
Real-Time User Activity
Real-time user activity builds trust around your coaching business as well as create urgency around purchasing the service. This type of social proof shows website visitors how many people are doing the same things at the same time on the page they have landed on.
Activity Notifications usually show the number of website visitors currently looking at the same service page (the 'Visitors' feature) and the number of real people who bought this service in recent times (the 'Conversions' feature). Showing off these numbers helps in generating more leads. And there is no surprise since we love to feel like part of the group.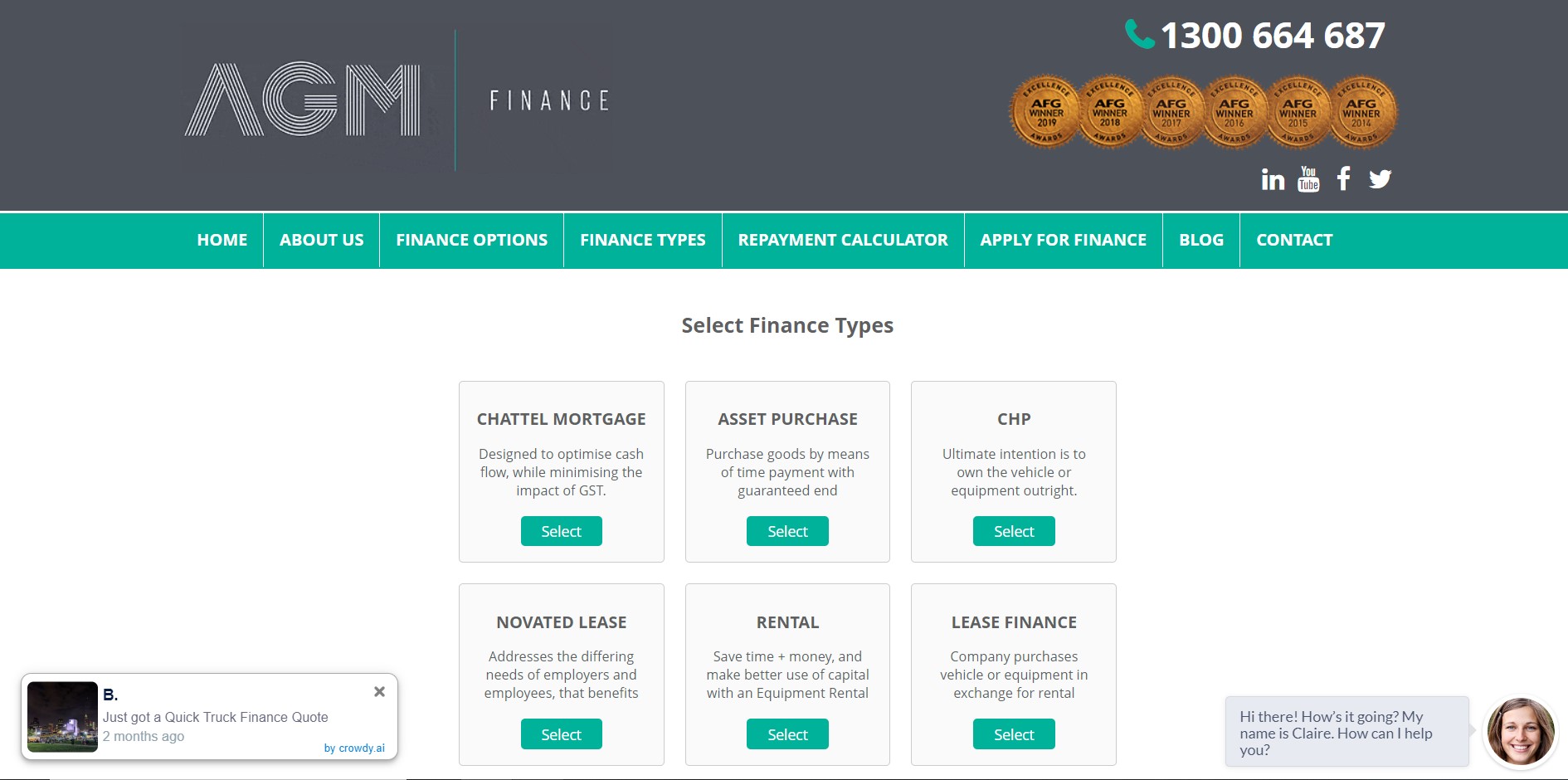 In case there aren't enough conversions in a given period of time, you can switch to the 'Conversion Totals' mode in the Trust dashboard and show conversions in a specified.
If you don't get enough visitors yet too, you can use statistics for a specified time period instead of real-time user activity.
How it works
The way it works is quite no-brainer. Speaking of Conversions, when users fill out a form to register for a webinar or to download an ebook on your website, Trust will collect the data and visitors get notifications about conversions that have taken place on your websites.
The 'Visitors' feature is quite easy to implement, too. Just in a few clicks in the dashboard, you let Trust collect data of page views and saves them for 1, 7 or 30 days and shows this information on the website. Once the users visit the specific pages, Trust shows them the widget.
How Trust can you help your coaching business?
Long story short, Trust uses the existing satisfied customers' experience to acquire new ones. The platform supports all the above-mentioned features – Testimonials, Video Testimonials, Ratings, Conversions, Visitors Count – and even goes beyond.
There are a few specific and unique features that make using social proof seamless and simple as ABC:
1. eSigning Contract
Document the agreements with customers regarding publishing testimonial to establish a GDPR compliant relationship with your clients.
2. Customization or Ready-Made Templates? It's up to you!
You can fully customize testimonials to match your website look and feel. You can also choose one of the predefined templates to save time.
3. Support for multiple languages
Trust offers location-based multi-language support so you can match the widget language to your visitors' native language.
4. Recording or uploading Video testimonials with an integrated video hosting solution
It offers you to host videos within the platform without wasting your money and time on third-party hosting services.
5. Integrating Facebook and YouTube Videos
Trust allows you to collect existing videos from these two social media platforms and, as a result, adopt video testimonials NOW.
6. Rules
The tool allows you to set up specific rules to display notifications and target visitors based on different metrics.
7. Call-To-Actions
Using Trust, you can embed CTAs in your notifications for immediate conversions: when website visitors click on the widget, they will be taken on the specific page to leave their emails, sign up, make a purchase, etc.
How to implement social proof in 15 minutes or less
All of the above-mentioned features are a good addition to your growth strategy because they help in building user trust and credibility. There's no reason you can't start taking advantage of social proof today. Right now!
First, sign up to Trust. It's absolutely free to try.
Then, pick a type of social proof you want to focus on.
Focus on just one type of social proof.
Make the necessary adjustments until you've made significant progress with it.
And before long, you'll dramatically boost your number of new clients and company growth.
And let me know: what type of social proof are you going to implement?