Building effective backlinks are arguably the best thing you can do for your site. But it is getting more and more complex each day because the Google team is always working to fish out any tricks that people use to rank too fast too easy. Not long ago, building links were simpler; you would submit a few articles to authority sites, part with a little cash, and get a lot of backlinks leading to a high page rank. This article on SEO might help you with your dilemma.
Ever since Google did the Penguin update, however, such tactics do not work anymore. In fact, they might do you more harm than good. For instance, when Google realized that people were using private blog networks to increase their PR, they came up with the PBN deindexing update and sites that had been in that game got really low rankings.
In short, every time a backdoor for getting easy rankings opens, the Google team will change their algorithms. Yet one thing that isn't about to change is that organic backlinks are a crucial SEO factor. So, which is the sure way? First things first, you have to understand how search engines work.
How Do Backlink Pre-Search Engines Work?
Search tools like Google are designed to rank pages in search results basing on the domain authority. That is the number of links both to and from your site (mostly to), the age of content, size, popularity, and other trust-related indicators. Unfortunately, search engines do not reveal their algorithm for ranking pages. But we have a clue.
These metrics are measured on a scale of 1 to 100. Here is a chart from Neil Patel: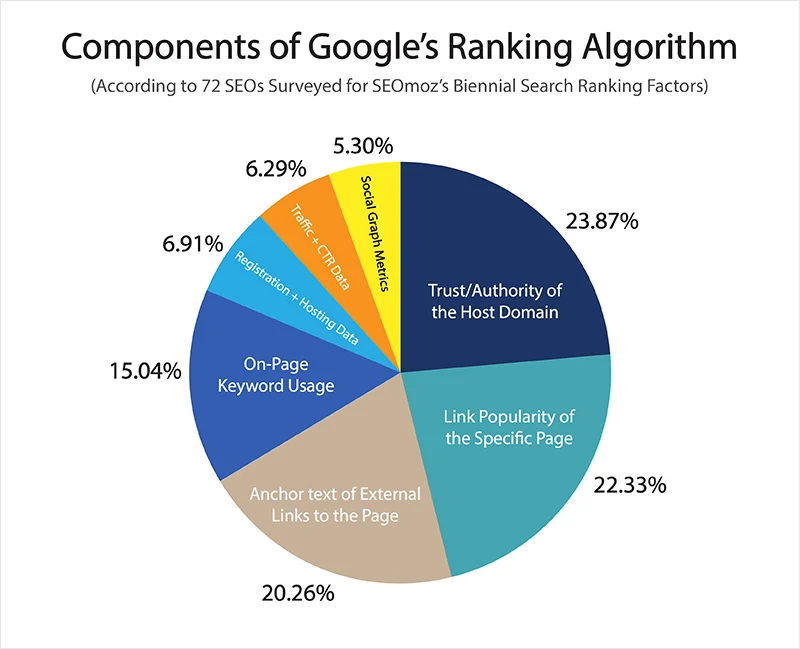 Basically, each backlink to your site is taken as a vote of confidence. The more you have other sites linking to yours, the more you appear to be trusted. But the links also have to come from trustworthy websites to improve your rank. Avoid links from low-quality sites.
Then, of course, your content must appear to be as relevant as possible. I bet you already know that. There are several Website Authority Checkers out there to help you gauge whether your efforts are resulting in progress. Now about the backlinking strategies.
Strategies for Building Backlinks Organically
SEO strategies are all about making yourself easy to find organically by your prospects and customers by having highly converting keywords. Then, for building backlinks, the most crucial consideration is to have relatable content. Refer to the RAID test concept for effective backlinking:
Relevance: the source linking to your work must have relevant content that compliments your own.
Authority and Influence: is your link source an authoritative and influential one?
Diversity: By adding links to your web presence, are you diversifying and strengthening your digital footprint?
Every backlink you build should be able to pass the RAID test if you want to be successful. If you understand these basic concepts, you can now start building backlinks that add value. Here are the top strategies:
Associate Yourself with Great Content and Relevancy
Having epic content can never be stressed enough. Ensure that you write things people actually want to read. And don't stop there. Make it unique and captivating. How can you do that?
1. Create Controversy
The good thing about controversial topics is that they always grab people's attention. Just don't go too far or it will backfire. You will always create lots of successful high authority backlinks to your site with a strategic controversial story. For a start, you could join a forum and post something fairly active.
2. Viral Content
To get many links to your website, you have to create content that readers are willing to share. Don't just make assumptions. Go through posts from other people that went viral and steal their link building strategies. Your content will be shared much faster if it is helpful, valuable, and mind-blowing.
3. Write Case Studies
These are things that you have been following and observing for a while before writing a case study. You will enjoy a lot of attention from sites that would like to incorporate such content in their work. This is among the safest ways to obtain organic backlinks because its unique nature will force people to keep on linking back to your site for a long time and the organic backlinks will grow exponentially.
As for relevant content, Google's relevancy marking scheme is based on three things:
The general content (or theme) of the linking domain
The content of the lining page, and
The relevancy of the backlinks to the domain
There are various tools in the market for investigating a site's relevancy. For one, try Majestic's Topical Trust Flow Topics: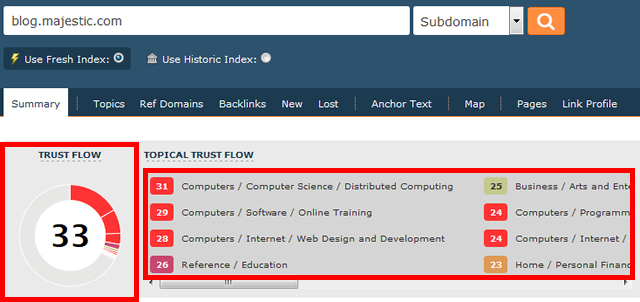 4. Use Facts and Figures
When you state facts on a specific topic, people researching about similar content will borrow some of them and link back to your site. Simple! Take an example from Neil Patel. He includes statistical facts on neilpatel.com all the time:
Social Media
Social media platforms like LinkedIn and Twitter are quite ideal for link building. In fact, this is where you start with your controversial topics. Then add a link back to your site for the full content or for other similar content. Ensure you create a professional profile and be one as well. People like professionals.
Take advantage of Google+ personal profiles too. Google+ profiles give you an opportunity to sneak in a few links for yourself. Just be careful not to overuse them or it will look spammy and probably tank your ranking.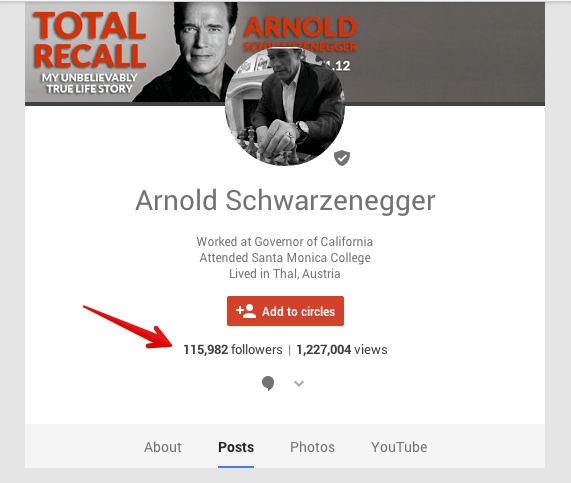 Networking and Active Participation
Places with your potential readers are the best to get seen if you want to be noticed. Hang out in places like:
1. Q & A Sites
Sites like Quora and Yahoo are a great place to get a lot of backlinks. Be sure to give quality and helpful information to the readers. If your answer is helpful enough, people will read it long after you posted and who knows? They might even follow you back to your site because you seem to know your thing!
2. Conferences and Live Events
It is all about exposure. The more you participate in such events, the more you get noticed and people go looking for more of your work.
Create a "Link to Us" Page or Section
For as long as you have content worth linking to, appeal to your readers to link to more content by using CTA buttons, badges, banners or providing HTML codes that can help them automatically link back to you.
Provide Free Resources
Release a tool that people find useful or run a service for free. People like free things. Try offering such things as a firefox plugin or website tool. It doesn't mean you have to go learn computer programming to do so. You can outsource. People will come back to your site over and over again just because there is something that solves their problems for free.
A good example is Grammarly. They have provided plugins for Chrome, Firefox, Microsoft office and an app for Windows, though you have to subscribe for premium features.
Guest Blogging
Contributing to other sites is another great way to promote your website. It is an easy way of getting your website to the frontline of a pre-established community. You will have an opportunity to keep on referring traffic and those backlinks you create will also have a positive effect on your SEO.
Don't stop there, go a step further and monitor your competitors' guest blogging campaigns. You could use a Monitor Backlinks account to do so. All you need is the site's URL. That way, you'll be able to find sites with new opportunities for building backlinks through guest posting. Monitor Backlinks will give you an update every ten days showing the new backlinks your competitors have built.
One more thing: avoid low-quality websites like a plague. They might do your SEO rank more harm than good.