Are you lost finding a VideoAsk alternative and a fast-tracked solution to amp up your social proof with reviews? You're in the right place.
VideoAsk is quite an expensive tool for the limited number of features compared to its alternatives.
So, are the noteworthy VideoAsk alternatives worth your money and effort?
In this article, we will look at 4 alternatives to VideoAsk – Trust, Bonjoro, Qwary, and Testimonial. We'll compare and talk about their benefits and shortcomings, pricing, and more to see which of these software stands out to boost your credibility, the right way.
TL;DR
VideoAsk – Easy-to-use software with an asynchronous video format to collect and organize video testimonials. But provides inadequate video time.
Trust – A complete solution for online forms and video surveys, testimonials, and external reviews, inexpensive, feature-rich, and a perfect fit for your marketing strategy.
Bonjoro – Video engagement platform that helps you send hyper-personalized video messages to your warm leads and existing customers, and drive more conversions with self-recorded testimonial video clips; no widget customization or video editing options.
Qwary – An AI-driven review tool to create high-quality video surveys with a basic testimonial collection feature.
Testimonial – Create your testimonials landing page and get video metrics to analyze performance. It lacks options to embed reviews outside websites and has zero video editing options.
VideoAsk overview
VideoAsk by Typeform enables interactive video conversations with your customers. It is well known for its asynchronous video format framework.
What does it mean?
You would first record or upload a video of you asking questions to your customers or audience by following a selected template.
Later, you would request a response in your preferred format, embed the video/audio in an email, share it in a URL, or add it to your website as a widget.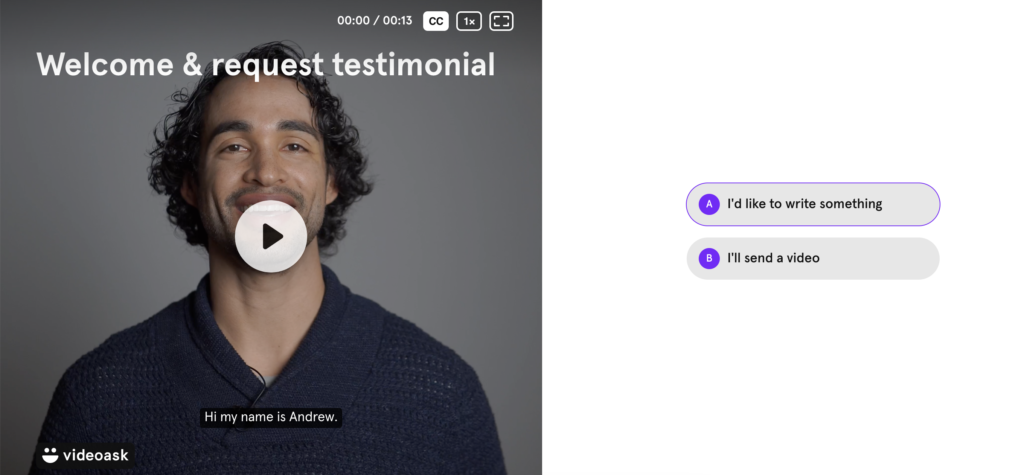 What's good about VideoAsk?
Here are some of the key benefits of using VideoAsk to collect testimonials:
It provides a video template to record questions and get quicker responses seamlessly.
Has a good lead generation process with pre-recorded videos and an in-app conditional logic flow.
Videos are readily transcribed and stored in a single dashboard in the same format.
Offers a way to upload raw VideoAsk video responses to your website, emails, socials, etc.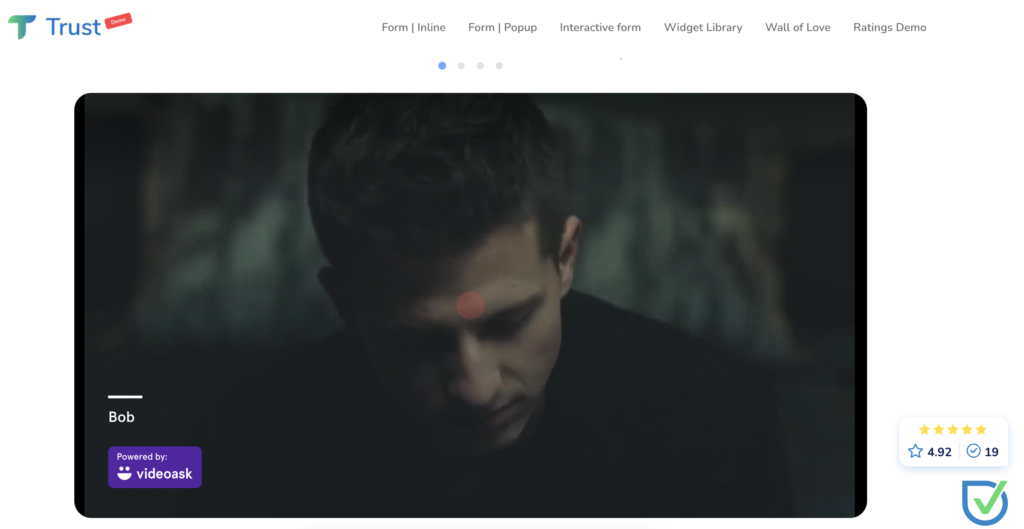 Get analytics delivered for insights related to clicks, conversions, visits, and more.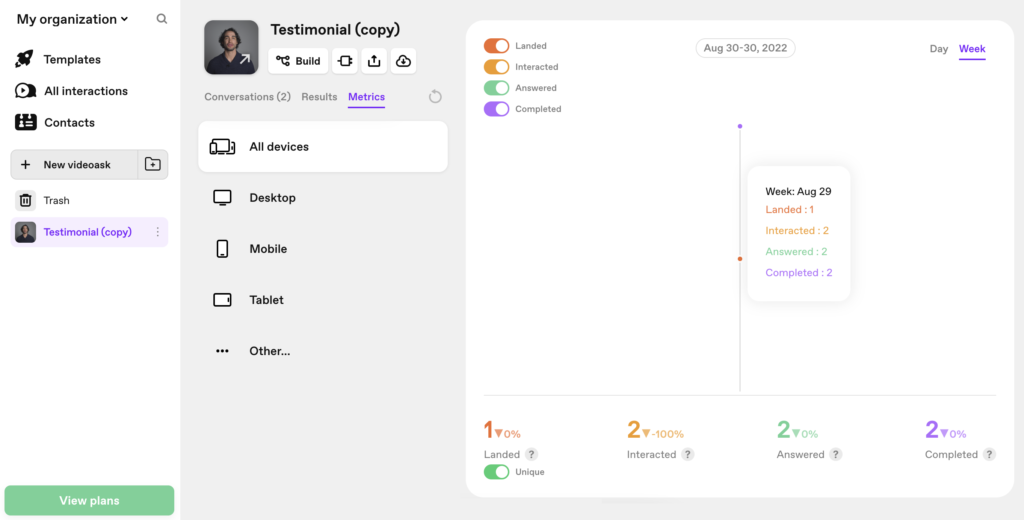 What's not so good about VideoAsk?
The price can quickly scale up depending on the additional video minutes you consume, as every plan has a default set of minutes.
Although you have more control over your video responses, VideoAsk barely provides editing options to edit the final video before publishing.
Not every customer would prefer the questionnaire format of the video testimonial sent to them.
No options to collect customer photos and a product/service rating.
Limited video sizes and fewer options to display them on websites.
VideoAsk pricing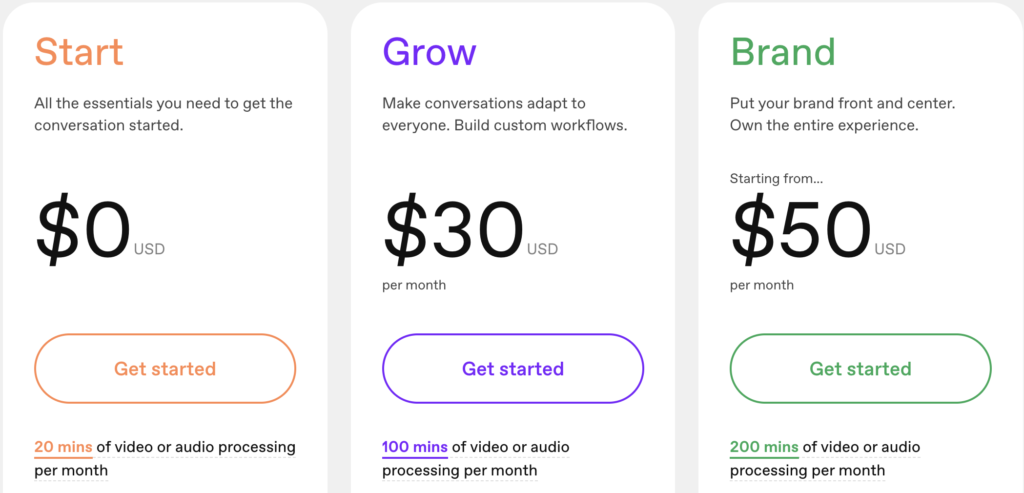 The biggest drawback of VideoAsk's pricing methods is its restriction on video minutes, i.e., the number of minutes you or your customers take to generate video content on the software.
Based on this, VideoAsk has three pricing plans, and here are what they include:
Start: It's free, and the video/audio minutes are limited to 20 minutes a month, which is barely enough to create under four videos. The plan allows you to add up to 3 more users from your team and includes conditional logic (custom conversation paths) and most core features.
Grow: Provides up to 100 video/audio minutes a month, partial VideoAsk branding, multi-user support of up to 5 users, unlimited steps for creating a video, and more. It is priced at $30/mo for monthly billings or $24/mo when paid annually.
Brand: Suitable for a larger team with up to 10 users, but the video/audio minutes provided are only up to 200 minutes a month. And if you wish to add more minutes, you would have to pay an additional fee. This plan is priced at $50/mo for monthly billings or $40/mo when paid annually.
The final verdict? VideoAsk is not for you if you're starting out or are a small business looking for a comprehensive, reasonable solution to fetching and showcasing top-quality reviews.
Let's now look at the four best VideoAsk alternatives among the top video testimonial software solutions that you could consider using right away.
VideoAsk alternative #1 – Trust: To easily capture and showcase video testimonials
If you are looking for a simple yet all-inclusive platform to collect video testimonials and use it for marketing or any other purposes, then you could never go wrong with Trust.
It's a powerful testimonial video platform designed to help businesses of all sizes make the review process more engaging by including personalized messages, specific questions, or other elements and customer testimonial templates that really speak to their customers.
And once those reviews start rolling in, Trust offers a range of tools for managing and organizing them.
Overall, it is a comprehensive video testimonial platform that offers businesses all the tools they need to collect, share videos, and manage authentic customer reviews.
Get closer to sealing a deal.
With Trust, you make it easier for potential customers to move down the sales funnel by letting them relate to your irresistible customer testimonials on your website, emails, landing pages, and paid ads.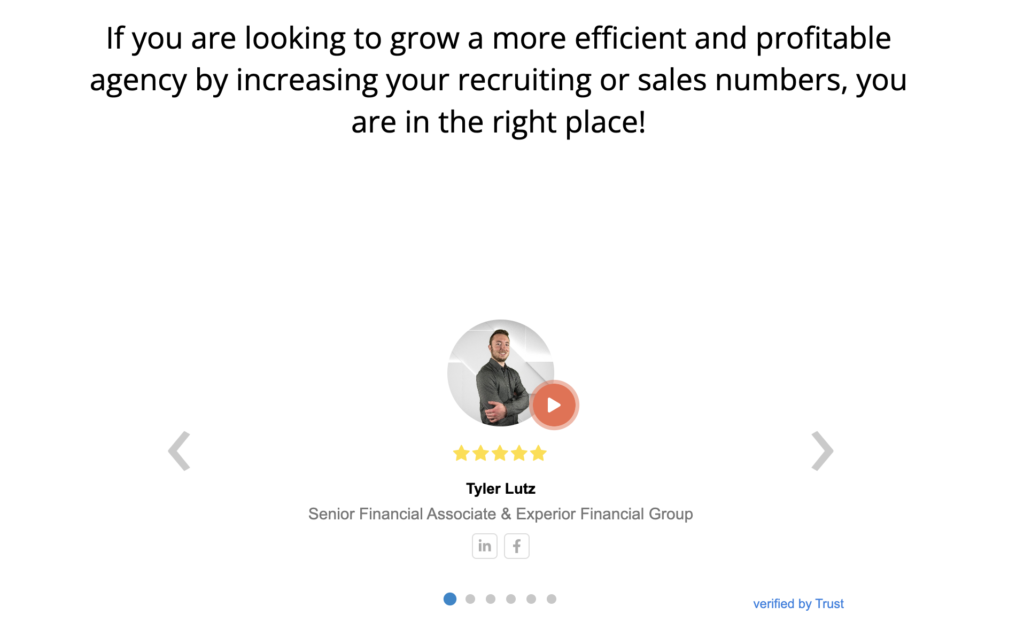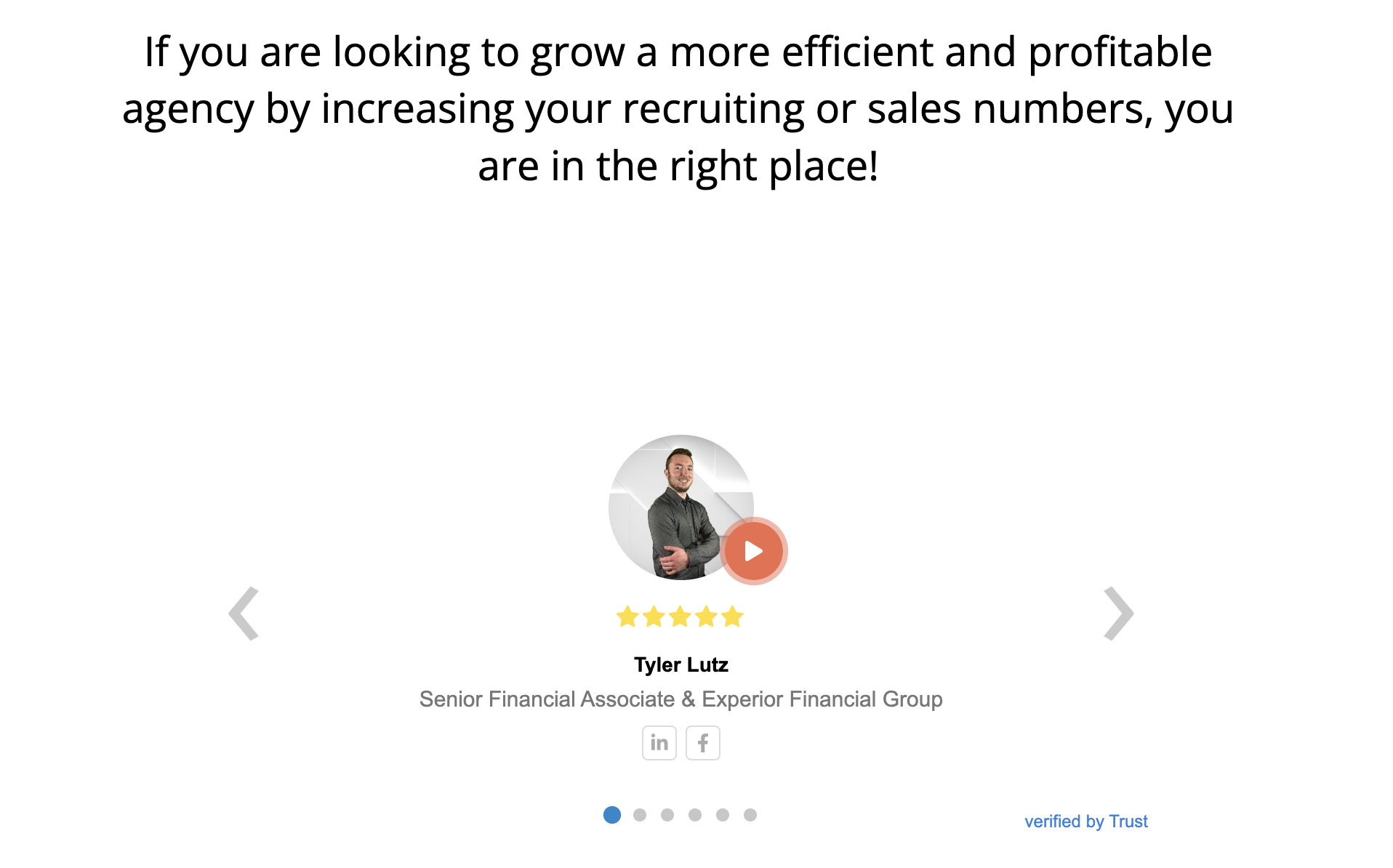 Trust gives you a wide array of options to publish video feedback on your desired channels compared to VideoAsk.
Want to feature your reviews from Google, Facebook, and review sites?
With Trust's integrations, you can import and add them to your website with Trust's stunning widgets.

How does Trust outperform VideoAsk?
Here are more reasons why we believe Trust to be an all-in-one solution for video feedback and the BEST VideoAsk alternative:
Trust covers the main VideoAsk feature – interactive video conversations – that's called Interactive forms here.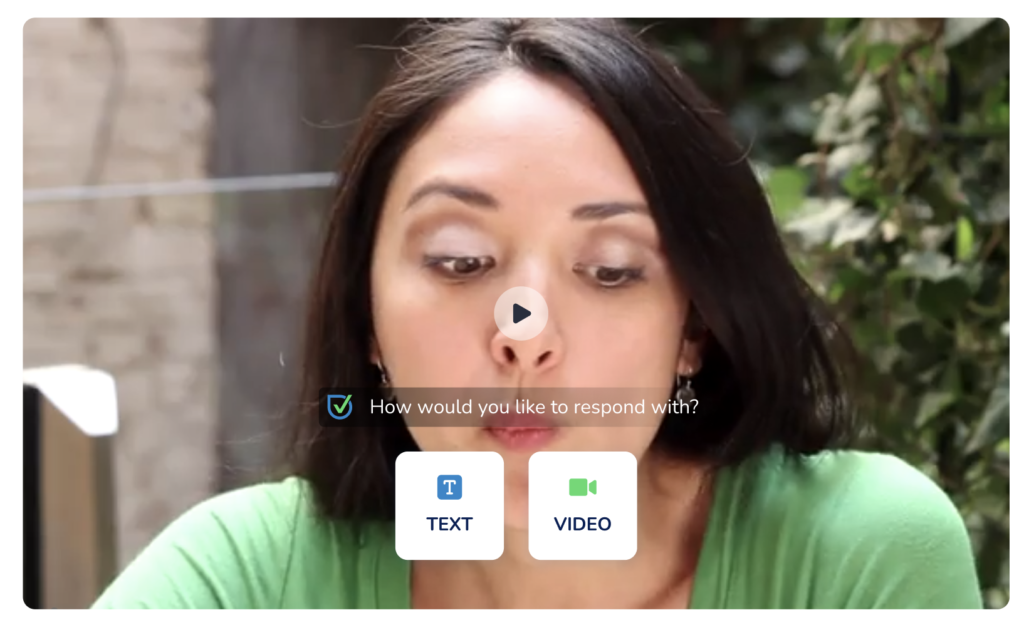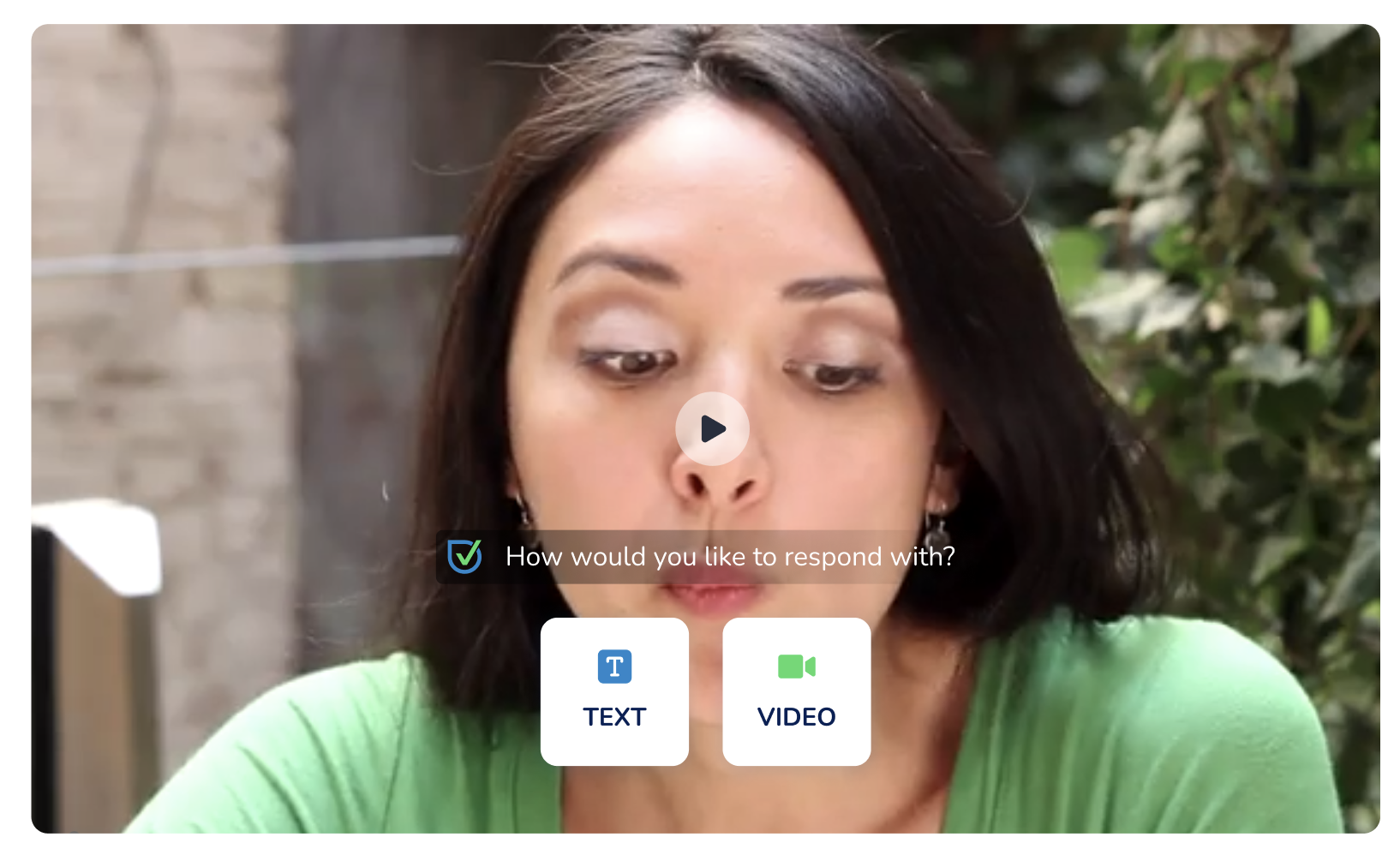 Trust's forms include a built-in AI testimonial generator to streamline the testimonial writing process of your customers.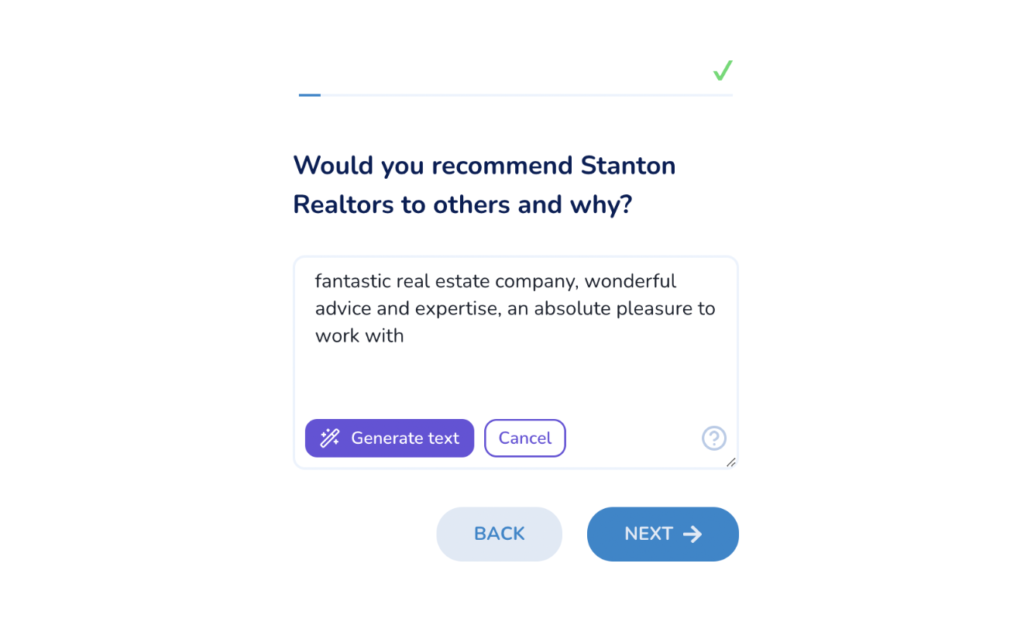 You can add supportive guidelines to your question series in Interactive forms to make sure that you get high-quality feedback from your customers.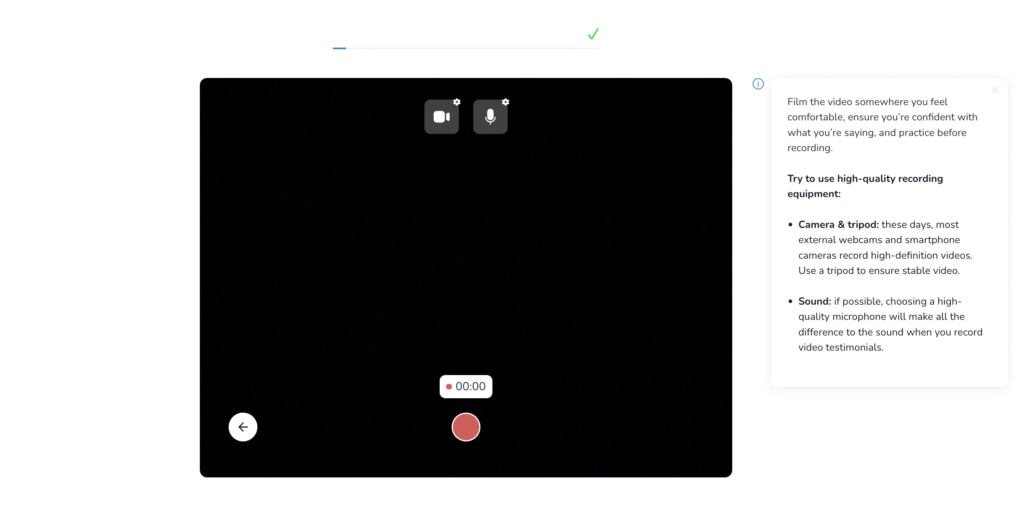 All forms by Trust include consent checkboxes, so you never need to worry about sharing the best videos publicly.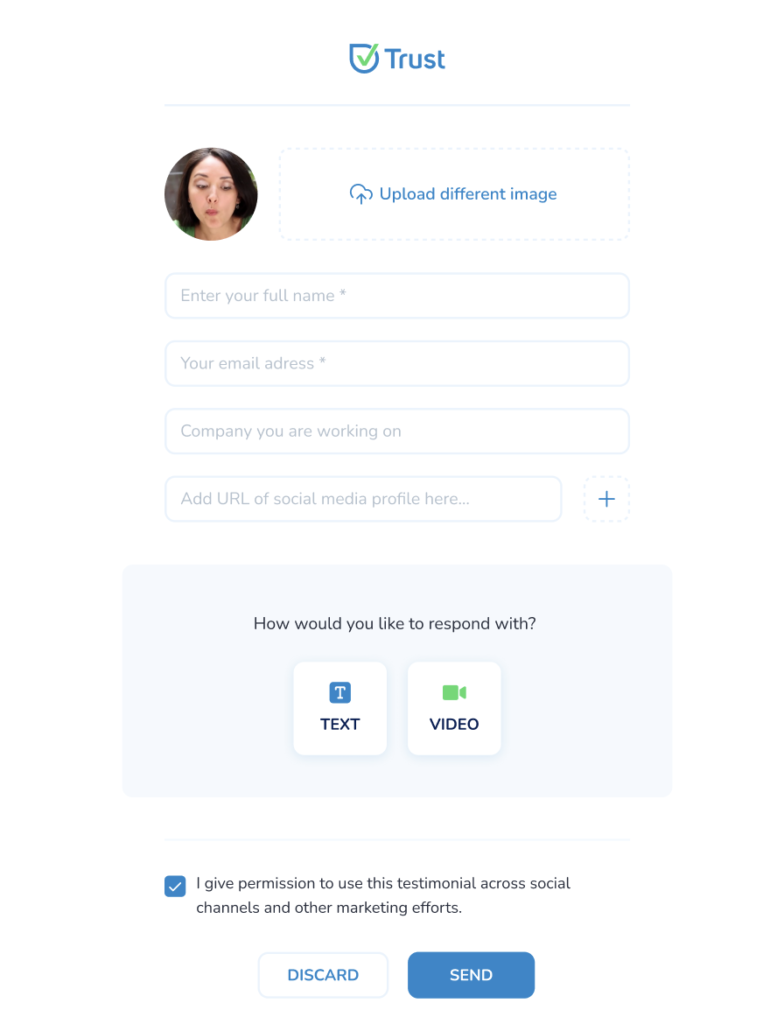 You can set up a hassle-free video feedback collection with clean online forms by sharing their URL or adding them directly to your website.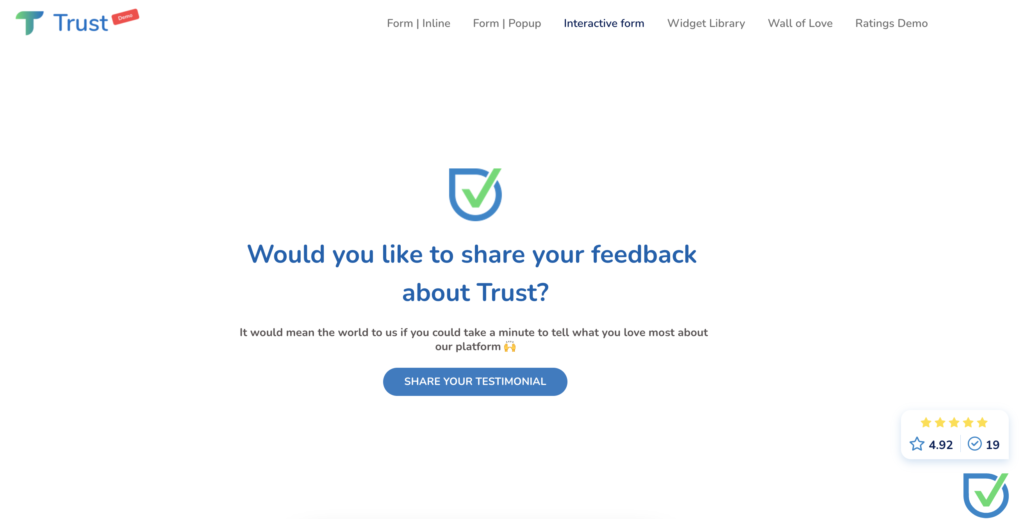 You can auto-transcribe your testimonial videos and generate subtitles for them. Save these logo-free testimonials and use them for any purpose!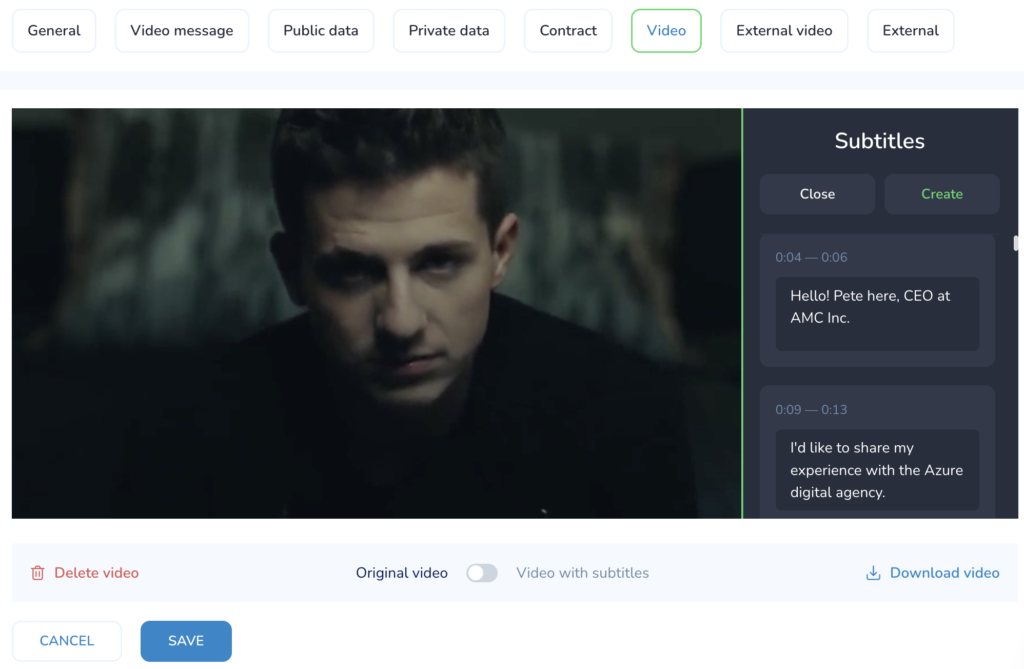 Want to show prospects that you're the real deal? Trust lets you quickly import and add links to your clients' social media profiles or review sources.
No more clutter. You can manage all of your testimonials and external reviews from a single dashboard.
Beautify your landing pages. Display your videos or text reviews with Trust's impressive collection of widgets or pop-up notifications.
Not tech-savvy? No problem. Trust provides a step-by-step guide to publishing and embedding videos or forms on your desired platform.
Easy integration with CMS platforms such as Hubspot, and website builders such as Wix, WordPress, and many more. 
Trust Vs. VideoAsk review by Capterra shows Trust to be a clear winner
Any drawbacks of Trust?
Unlike VideoAsk, there is not much that Trust lacks except in the missing customer insights (visits, clicks, answers, and completions) that VideoAsk provides.
No free plan.
How do VideoAsk and Trust compare in price?
Here's a quick comparison:
The pricing plans are minimally priced at $16/mo for annual payments or $19/mo for monthly payments with the Starter plan. VideoAsk's least-priced plan starts at $24/mo if paid yearly or $30/mo for monthly cycles.
For the value you get compared to Trust, VideoAsk is an expensive option for small businesses, solopreneurs, and medium-sized businesses.
Because with VideoAsk, they have no other option but to purchase additional video minutes (starting at $54/mo) if their number of video/audio testimonials increases in any month.
And another great benefit of Trust's pricing is its 14-day free trial period with every plan.
VideoAsk alternative #2 – Bonjoro: To record videos that are engaging and super personalized
Bonjoro is a well-known platform that lets businesses create personalized video messages.
It helps businesses easily communicate with their customers in a more engaging and personalized way.
With Bonjoro, businesses can also create videos and send personalized messages to their customers, as well as request video feedback.
Overall, it is a powerful tool for businesses looking to step up their customer engagement game and build stronger relationships with them.
Bonjoro provides a simple platform and easy-to-use video creation tools with a focus on driving more conversions.
Along with video testimonials, their offering includes video messaging for lead generation.
You can send personalized video messages to your prospects or new customers as soon as they make an inquiry or subscribe.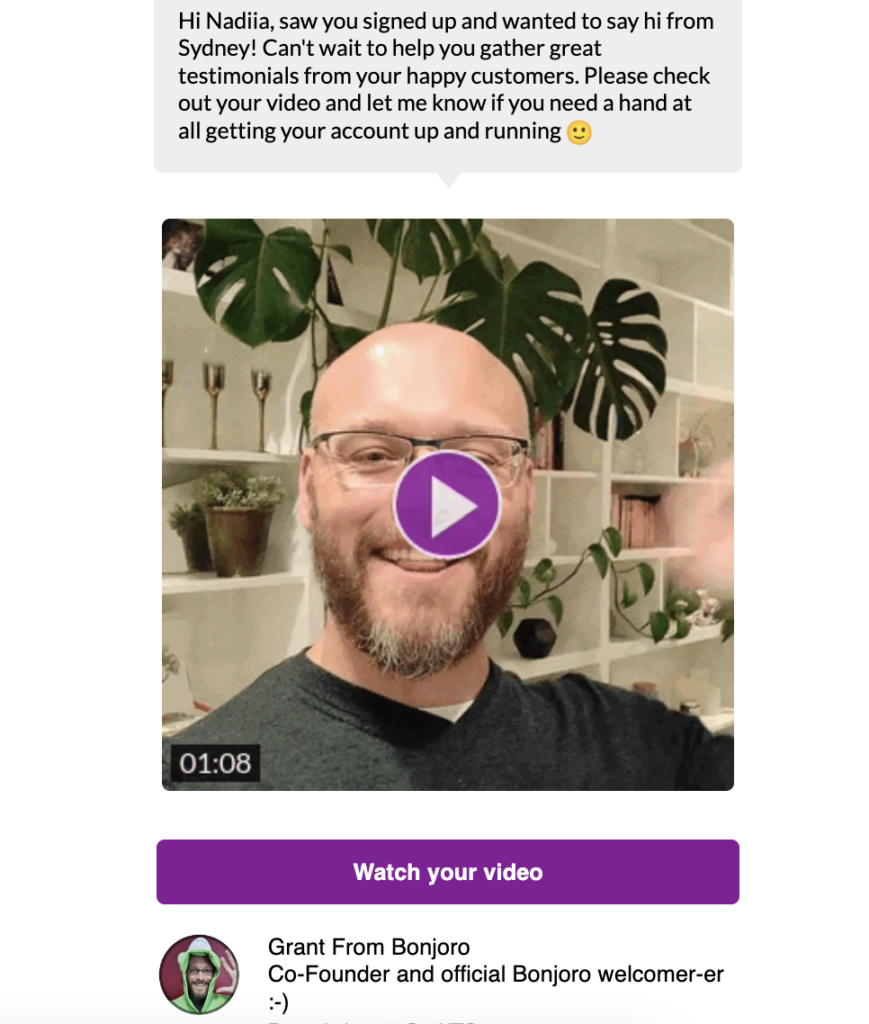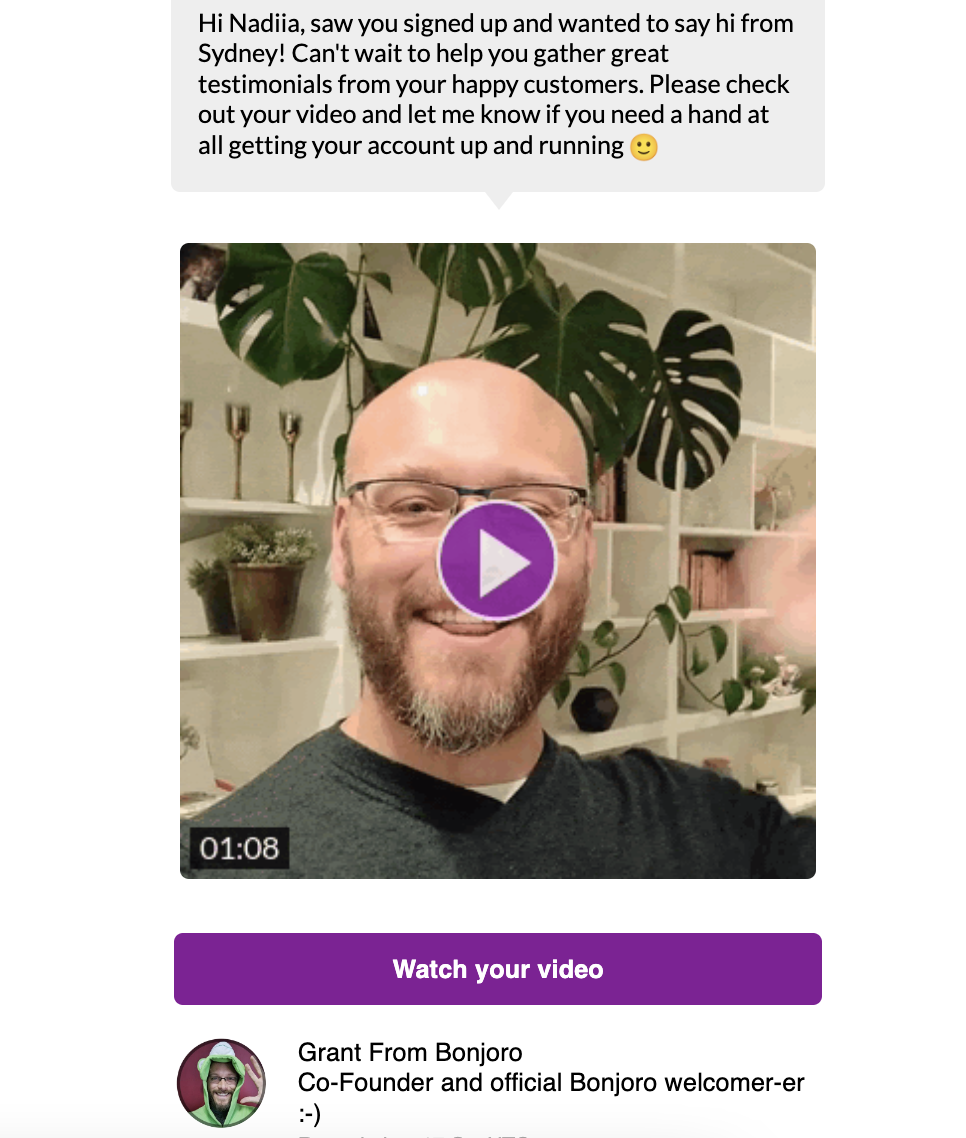 Collecting video clips and testimonials is also a breeze with Bonjoro.
It provides a simple framework where you request a testimonial, and you can share it in a link, tag your received response, and publish them in just a few clicks.
How does Bonjoro outperform VideoAsk?
Here are some key Bonjoro features that outshine VideoAsk:
Form your custom questions with a testimonial request. With this, your clients find it super simple to follow through and can answer them in a video message or text format.
The form (questionnaire) can have up to 6 question series. You can add text questions and text or video answer options: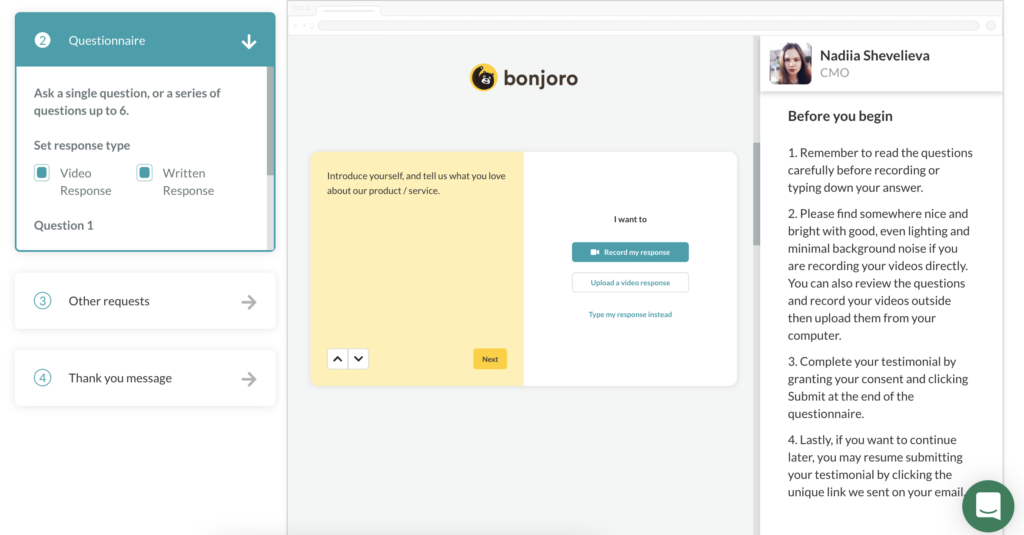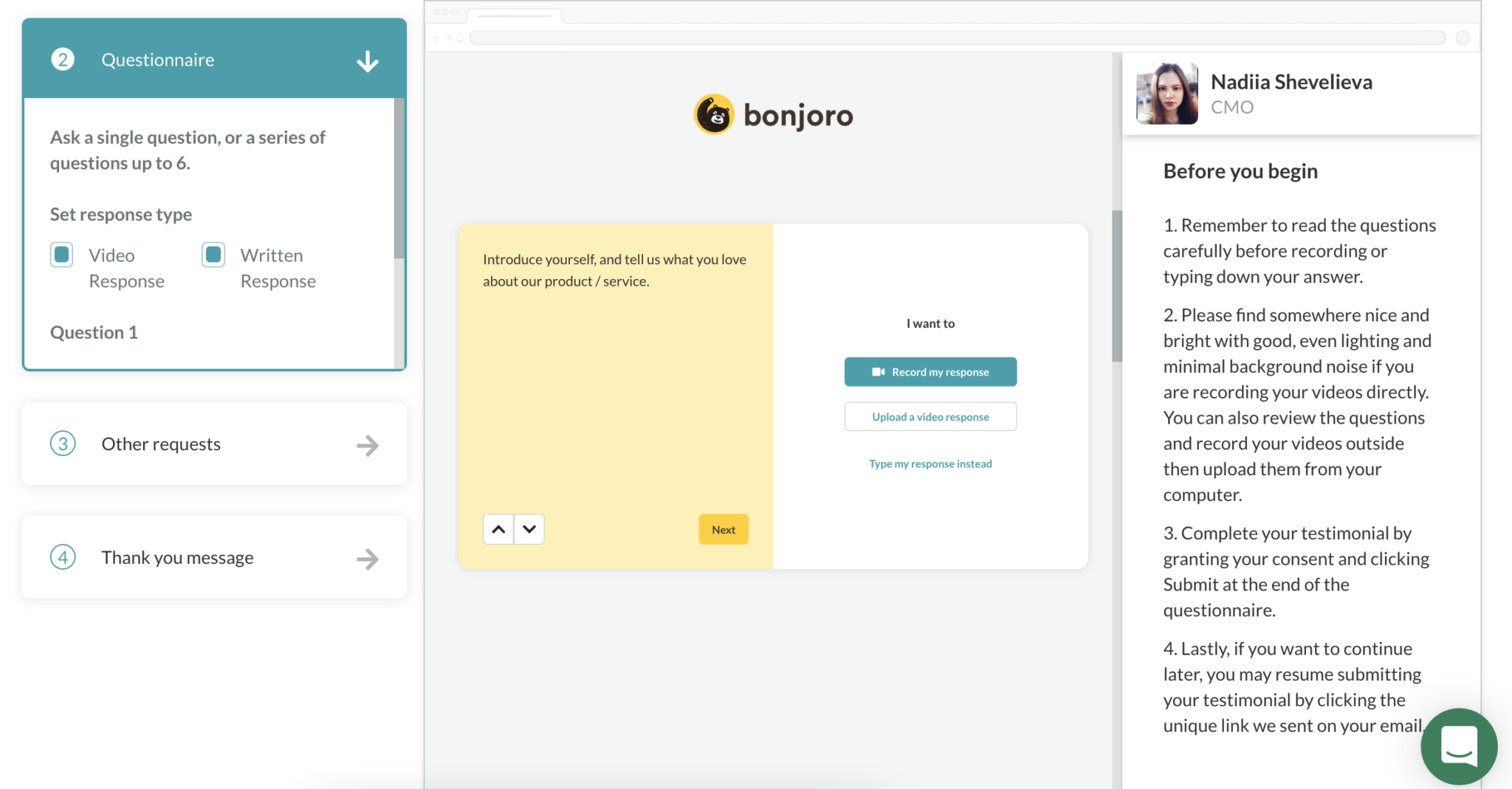 A platform to utilize videos as testimonials as well as lead magnets. Bonjoro lets you embed client videos in emails, websites, and social media.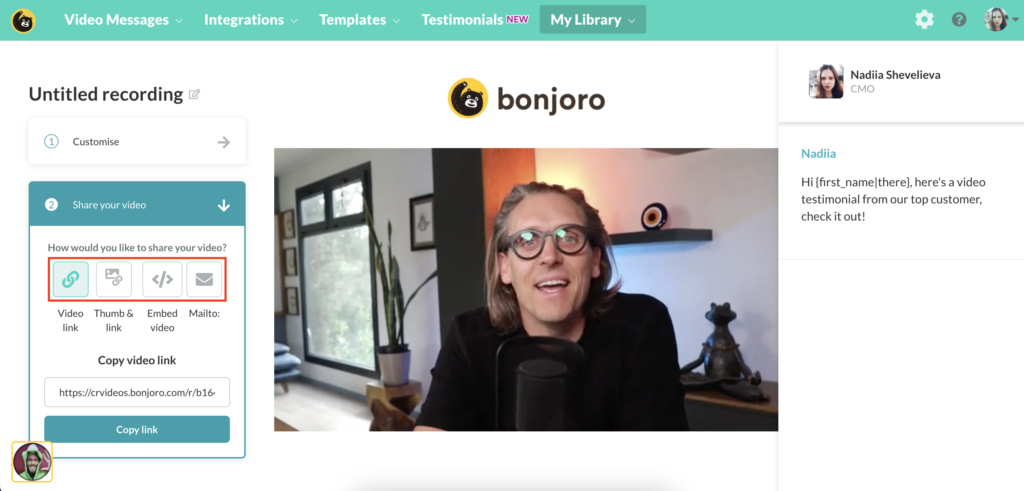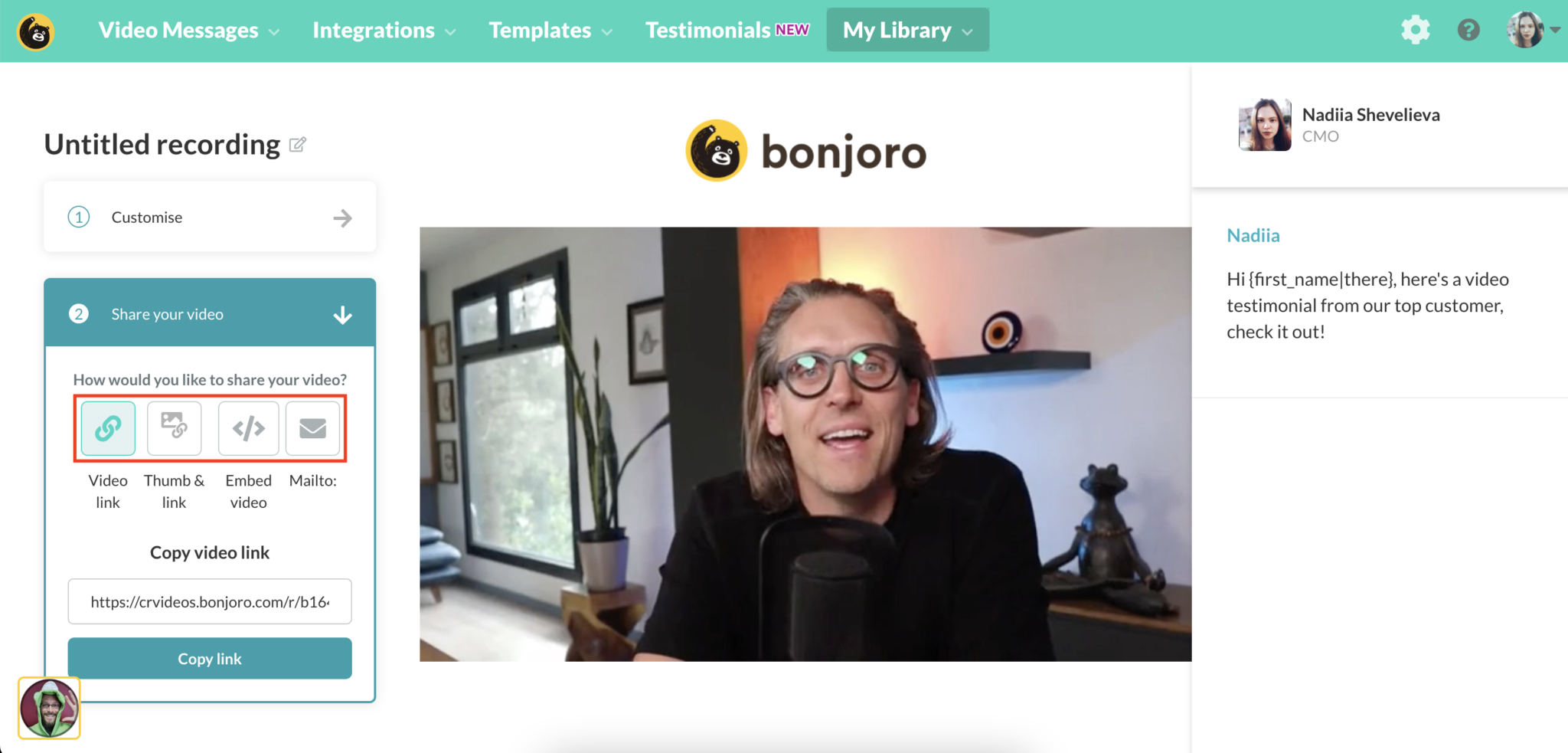 Easy, no-code video publishing support.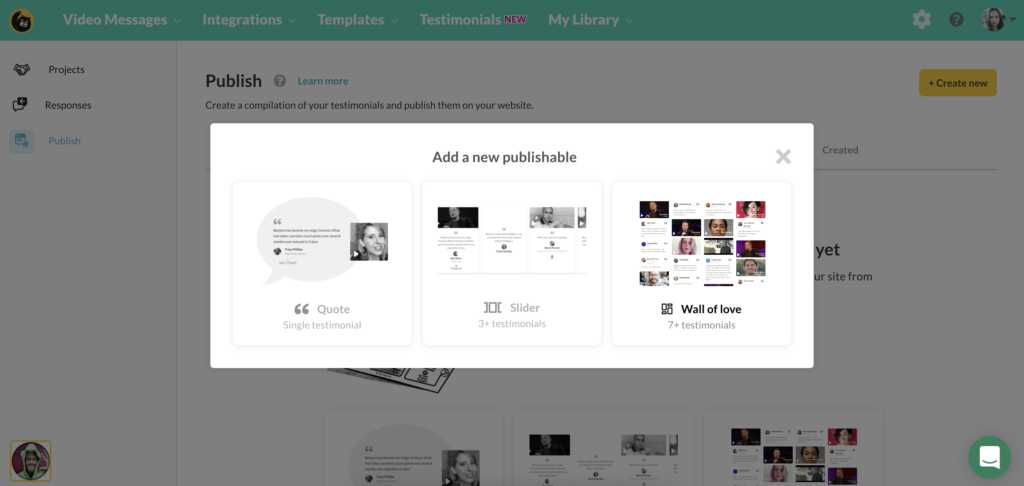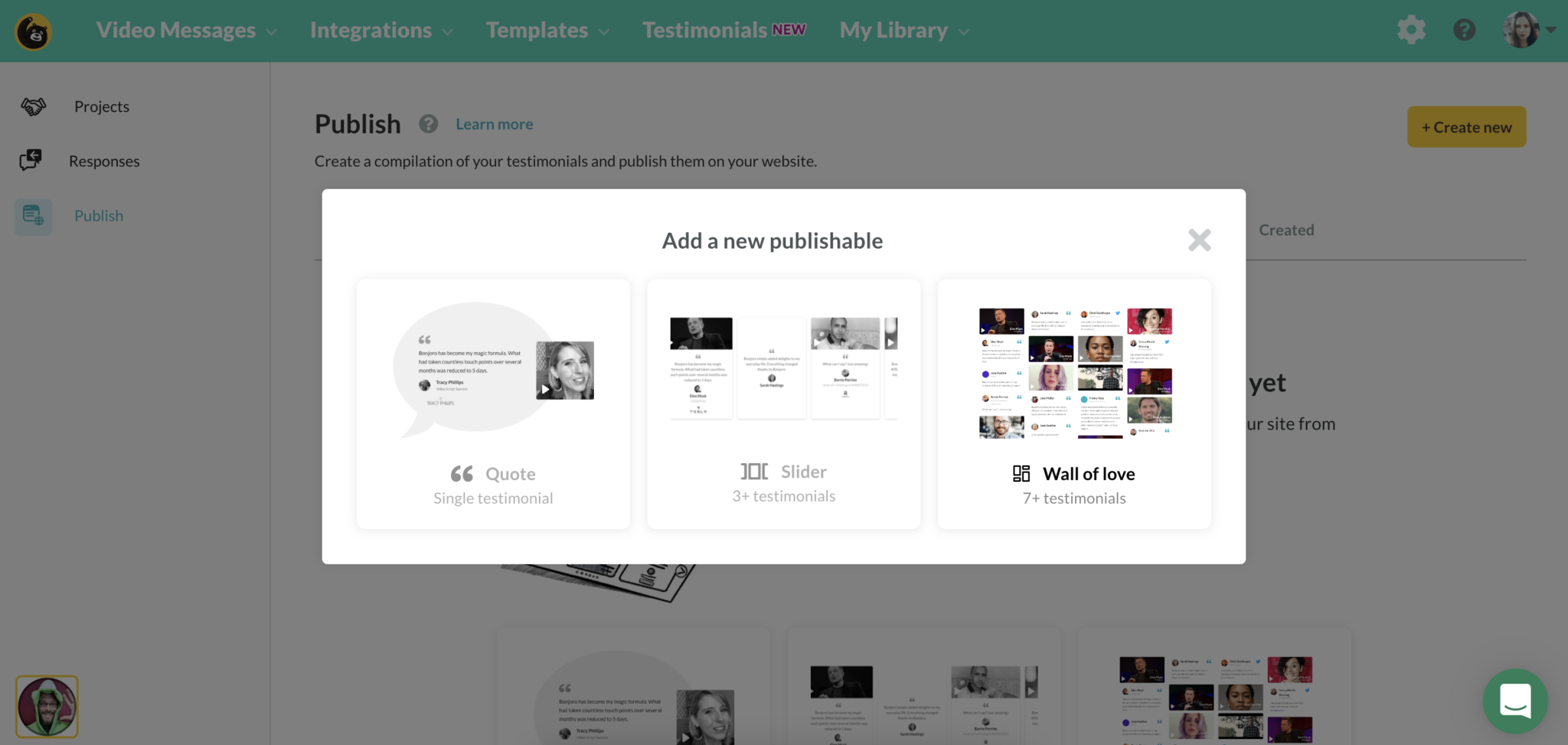 Organize and sort your videos seamlessly with custom tags.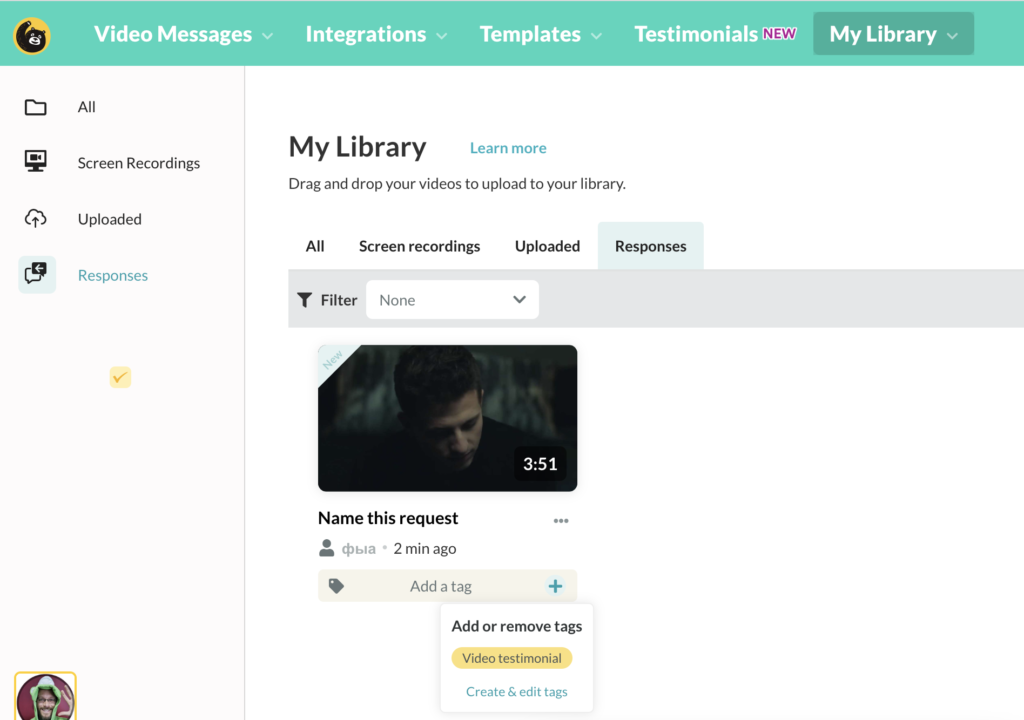 It offers integration with plenty of tools.
Any drawbacks of Bonjoro?
Unlike Trust, there are no customizable widgets and a lack of video transcription/editing features.
You can't add video questions to testimonial request forms.
Only 1 testimonial request form type that you can't embed on your website.
No option to import reviews or ratings from other platforms.
There's a very limited number of testimonials that you can show on your website.
How do VideoAsk and Bonjoro compare in price?
Bonjoro offers two sets of pricing plans – for Solo users and Teams.
The free plan is suitable for solopreneurs and startups.
You get unlimited testimonials and 50 videos monthly, but zero testimonials are publishable.
Its most popular plan, Pro for teams, starts at $69/mo monthly and $59/mo for yearly billings.
These price points are much cheaper than VideoAsk, considering the number of video messages you get.
But the only drawback with Bonjoro's pricing is the limited number of video testimonials publishable for each plan. For instance, the Pro plan has only 3.
VideoAsk alternative #3 – Qwary: An AI-driven tool to capture feedback
Focused on creating an optimum experience for your customers and employees, Qwary is a great tool for creating video surveys and learning about their experiences through insights.
Qwary prioritizes understanding the customer journey using surveys and key consumer insights, which you can later use to create a better customer-centric marketing strategy.
This software is great for healthcare, education, hospitality, retail, and other businesses that want to learn more about their customers' needs and preferences.
One of the things that makes Qwary so great is its user-friendly interface, making it easy for managers to create and view surveys in multiple languages. The surveys are not only easy to create but they're also easy to share, so you can start collecting feedback right away.
What's more, Qwary offers an application programming interface (API), which allows stakeholders to integrate the system with several third-party applications such as Zapier, Square, Google Analytics, and Hubspot.
This makes it easier to streamline your feedback collection and management processes.
How does Qwary outperform VideoAsk?
Qwary brings AI to action with its sentiment and intent analysis AI engine that helps you get better customer responses through video surveys.
Lets you collect feedback or reviews through video surveys, emails, texts, and more.
Provides actionable insights from your collected customer or employee feedback.
To request video testimonials, you can record videos of yourself asking questions and invite your customers to send the response as a video message or a text format.
Copy-paste your videos with no fluff. The received responses can be easily embedded into your website, social media channels, and emails with a small piece of code.
Any drawbacks of Qwary?
Poor UI/UX compared to its direct contenders such as Trust and Bonjoro.
Lack of native integrations with CRM or CMS tools.
No features to edit your videos for quality checks before embedding them.
You cannot import your reviews from other platforms to store them in a single place.
How do VideoAsk and Qwary compare in price?
Firstly, Qwary does not have a "free" plan but a 7-day free trial.
The plans are divided into Essential, Professional, and Ultimate, depending on the number of responses you are eligible for every month.
Its least-priced plan – Essential – costs $19/mo if billed yearly or $29/mo for monthly payments, making it 20% cheaper than VideoAsk.
However, the limited monthly responses can be a huge constraint for businesses looking to reach out to more customers.
VideoAsk alternative #4 – Testimonial: To get your testimonial landing page
Tired of sending questionnaires and video templates to your customers as VideoAsk does?
Testimonial has a cleaner request process to collect feedback from your best customers and to use them as powerful social proof.
Testimonial makes collecting and displaying customer testimonials on your website super easy.
With this tool, you can collect both written testimonials and video testimonials from your customers and manage them all in one central dashboard.
You can then showcase them on your website to build trust and credibility with potential customers.
Moreover, with Testimonial, you can also curate what people are saying about your business on social media platforms like Twitter, LinkedIn, YouTube, Google, and Capterra.
This means you can easily track and showcase all the positive things people are saying about your business online. This tool is great for business owners running a startup, B2B company, eCommerce store, or service-based business.
With Testimonial, you can create a dedicated landing page to showcase your testimonials star ratings, and reviews. You can easily set one up in under five minutes without hosting headaches.
Testimonial's video metrics feature is super valuable for your marketing teams to track and analyze video performance.
How does Testimonial outperform VideoAsk?
Since VideoAsk and Testimonial are mainly focused on capturing personal videos and publishing testimonials, it's interesting to see how Testimonial stands out:
You can set up your testimonial landing page in a few minutes. It's a valuable feature for solopreneurs and freelancers with no website to showcase their client testimonials.
Provides an organized dashboard to maintain all your reviews in one space.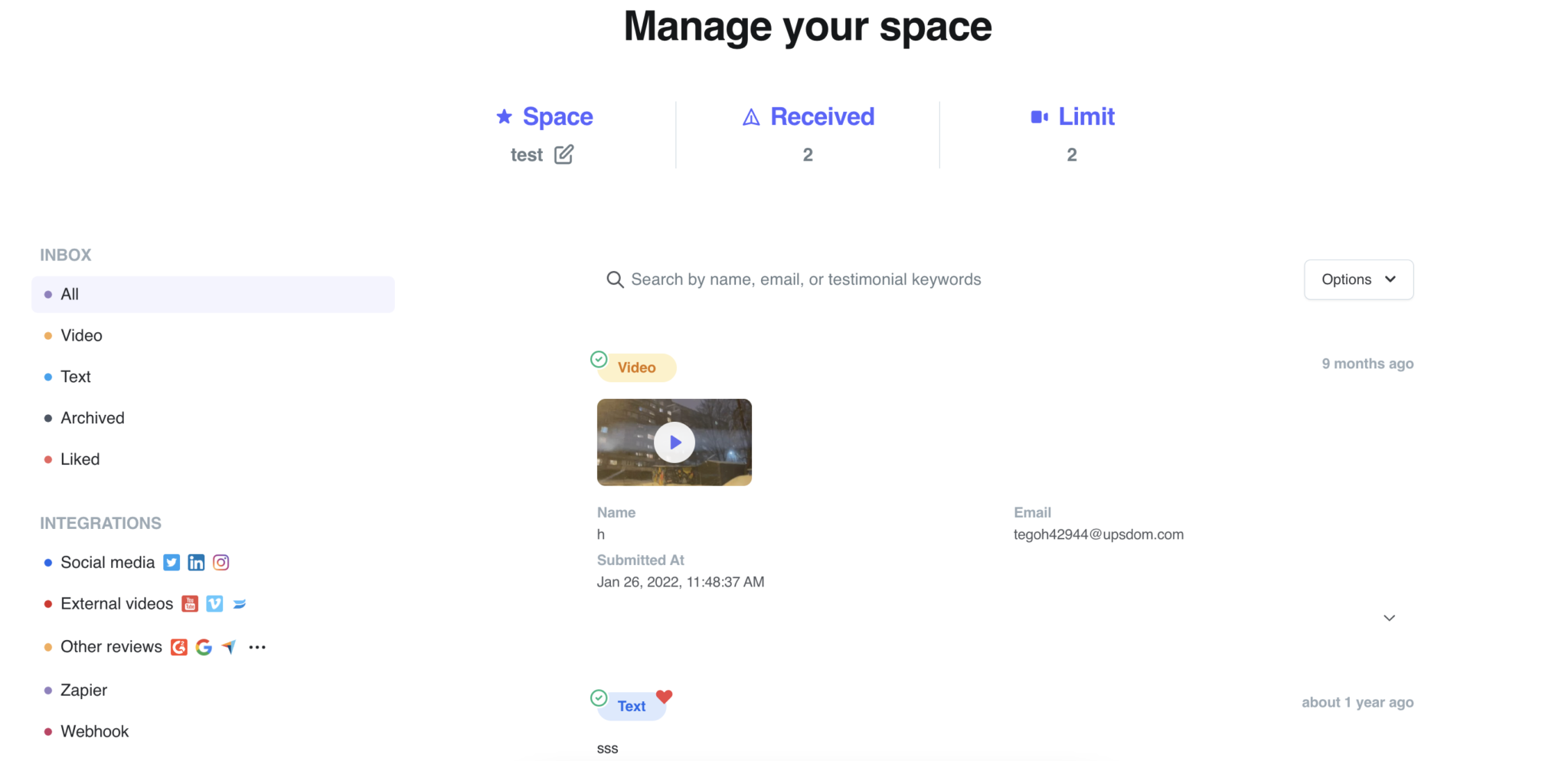 You can trim your videos and generate subtitles for them.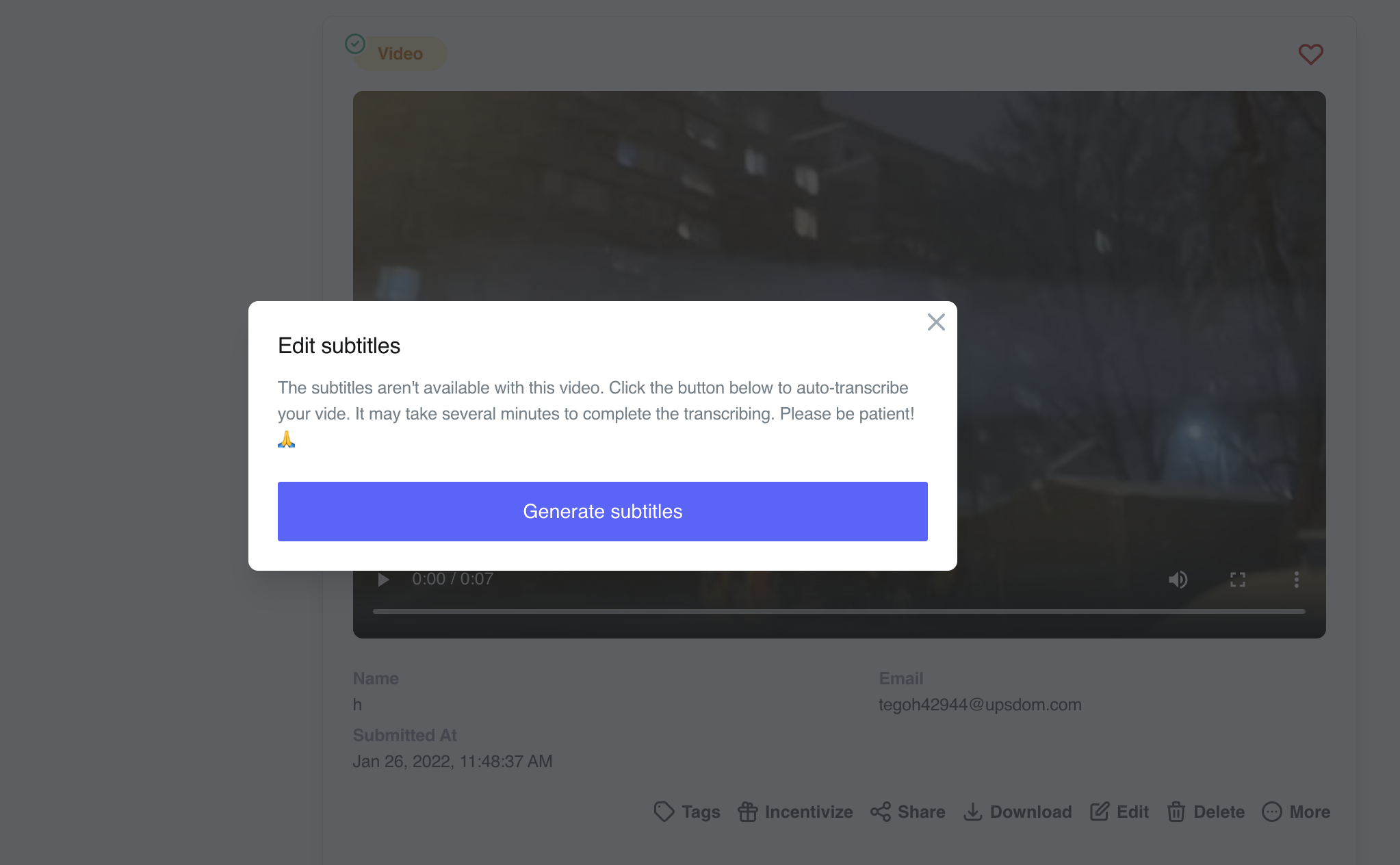 Generates actionable video performance metrics to help your marketing teams which are missing in VideoAsk.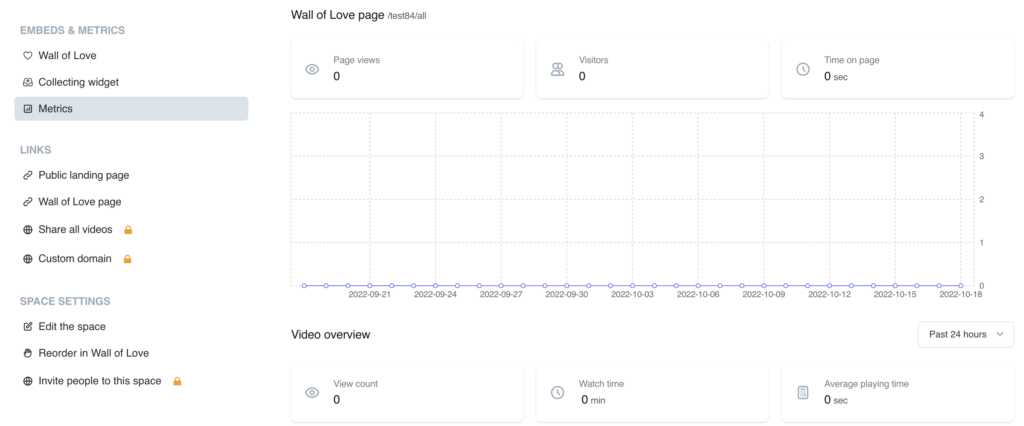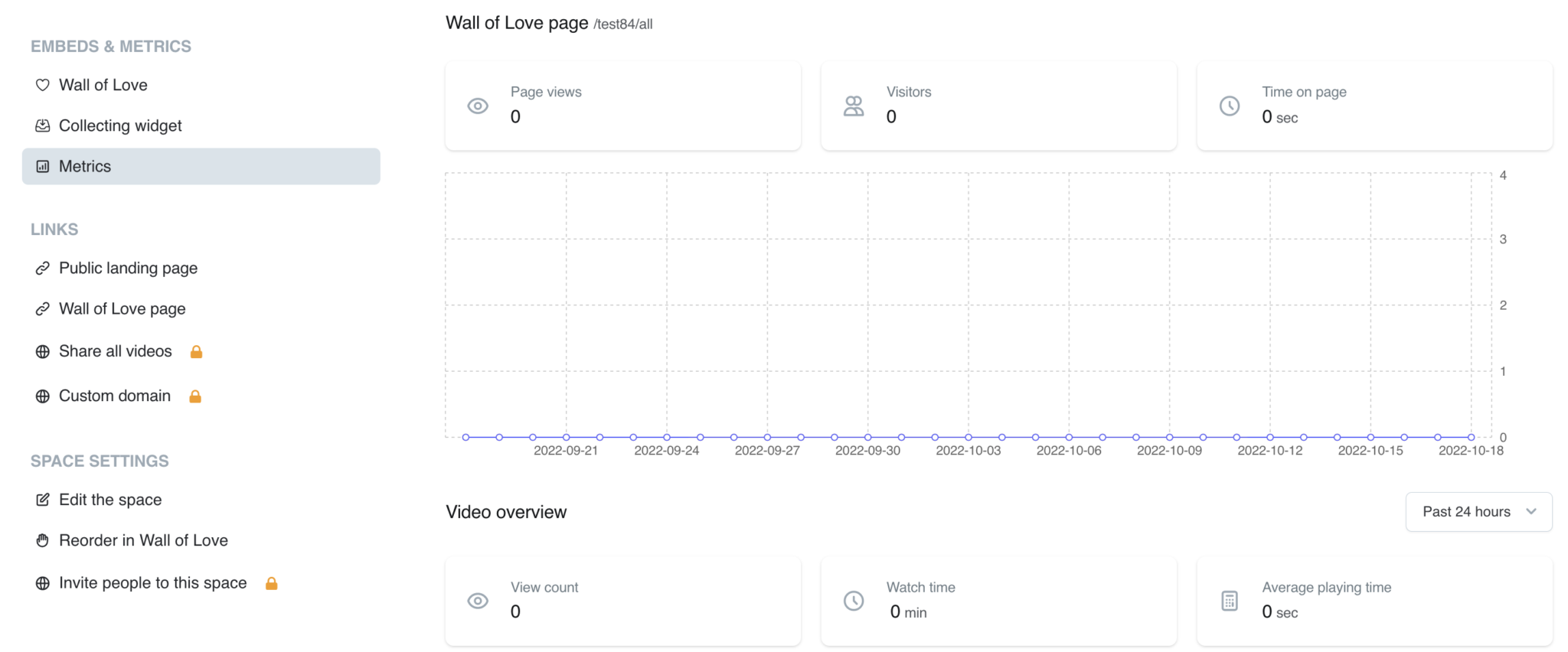 Easy import of all reviews or feedback from platforms such as Twitter, LinkedIn, YouTube, and more.
Quick integrations with no code tools under website building and workspace management.
Unlike VideoAsk, no branding on any of your videos.
Any drawbacks of Testimonial?
Some camera-shy customers would prefer a template as a guide to provide their feedback. And Testimonial has no feature for this aspect.
No text or video question series.
Only 1 option to collect customer feedback (public landing page).
Only 1 option to display testimonials on your website (Wall of Love).
How do VideoAsk and Testimonial compare in price?
Pricing-wise, Testimonial is pricier than VideoAsk, but it offers unlimited video recording time and testimonials, which was clearly missing in VideoAsk.
The Premium plan starts at $60/mo and is more suitable for growing businesses considering there's no limit to the testimonials you can collect and no branding on your videos. 
7 Tips for choosing a tool to collect video testimonials
With so many VideoAsk alternatives you can find online, it may seem that businesses are spoiled for choice. However, not all these tools are created equal.
Here are some criteria you may want to consider when choosing a video testimonial tool for your business.
When it comes to UX, you want a tool that is easy to use for both you and your customers.
Look for a tool that has a user-friendly interface that simplifies the process of creating and sharing video requests.
The tool should be intuitive enough for video or audio processing so that you and your customers can easily navigate through it without encountering any problems.
Customization options are important for personalizing your video requests and increasing the chances of receiving a response from your customers.
The tool should allow you to add personalized messages, branding elements, or specific questions that will help engage your customers and create a more personalized experience for them.
When weighing your options, consider choosing a tool that can capture high-quality video that is clear and visually appealing.
Low-quality video recording can detract from the effectiveness of your testimonials and reduce their impact on your customers.
When choosing a video testimonial tool, you want to look for a tool that provides you with a variety of distribution options for marketing videos.
You should be able to share video requests with your customers through email, SMS, social media, or other channels.
The tool should also provide options for sharing your video testimonials on your website or social media pages to help you maximize their reach.
To measure the effectiveness of your video testimonial template, you need a tool that allows you to track the number of views, engagement rates, and sentiment analysis for your video content.
This will help you make data-driven decisions and optimize your video testimonial strategy.
Integration with other tools
Another feature you should consider is whether the tool can integrate with other various marketing tools and customer relationship management tools.
This will help you streamline the collection and management of video messages and improve the overall customer experience.
The final thing to consider is the level of customer support provided by the video platform.
You should look for a tool that provides adequate customer support through online documentation, tutorials, and responsive customer service.
This will help you quickly address any issues or questions that come up during the use of the tool and ensure that you are getting the most out of your investment.
The bottom line
So, which out of the four VideoAsk alternatives stood the test of time?
To answer that, here's a quick and easy question for you:
Do you need a tool that fits right into your marketing strategy, guides your prospects down the sales funnel, enhances your website, and provides an all-in-one solution to create, publish, and manage your testimonials or reviews under a single hood?
The answer is Trust.
See it for yourself – sign up for the free trial today with no credit card info!