Video testimonials are powerful weapons to attract potential customers and portray your credibility in the most genuine form.
Unsurprisingly, 92% of customers read online reviews and testimonials before making a smart purchase decision.
But often, creating your own video testimonials from scratch and publishing them takes massive effort, not to mention the technical nitty-gritty involved.
Also, not all customer testimonials have a professional look or are publish-ready.
You are compelled to use external video editing software to enhance the look and feel of the final video.
So, to save yourself from this pain, create customer testimonial video templates tailored to your specific business needs.
This article is an ultimate actionable guide to help you craft your client testimonial video in a few easy steps using the top-rated, feature-rich testimonial platform – Trust.
Want to try it yourself first?

What is a video testimonial template?
Testimonial video templates are pre-made, standardized sets of guidelines for how to create effective testimonial videos.
It identifies the individuals involved, provides guidance on content, and often includes video testimonial templates for questions, script parts, and others.
Are video testimonials part of your marketing campaigns?
Then you should definitely consider making a template for your product or service and creating customer testimonial videos in no time.
Why do you need a genuine video testimonial?
A massive 82% of users mentioned that they had read one or more fake reviews in the last year.
Fake, unimpressive, and anonymous testimonial videos not just fail to convert your potential customers but also cause a huge negative impact on your brand's credibility.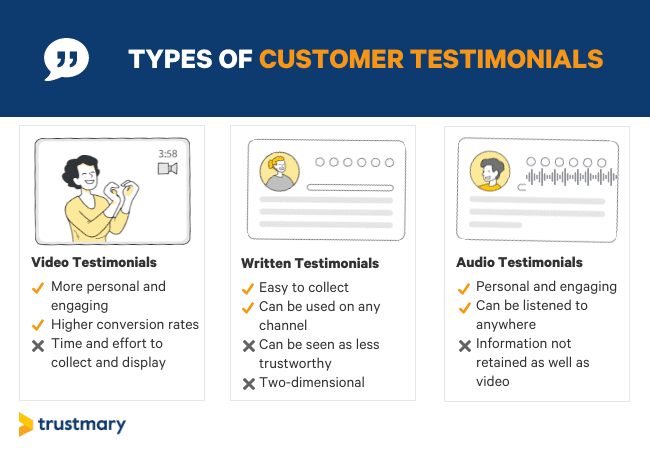 Well-made, top-quality reviews and video testimonials garner new leads and keep the old ones returning.
But what makes video testimonials trustworthy and of high quality? Here are some vital signs to look for:
Your testimonial videos show and quote real people. For instance, you can link your testimonials to customers' social media handles.
The videos are enhanced with graphics and thoroughly polished to be website-ready or optimized for social media platforms.
You use all the essential elements to make your video well-organized and on-point.
Your customers get personal with your brand on the video without sounding salesy.
Now that you know what makes a customer testimonial video authentic, let's look at the key elements a video must include.
7 key elements of genuine testimonial video
In order to prepare your video testimonial template, you need to understand what makes a video testimonial effective and attention-grabbing.
The ideal customer testimonial video is short (about 2 minutes) and to the point. It should include:
The short intro about the reviewer (their role, company and background)
Their pain points
Clear 'before vs after' statement
Focus on the value your business provide
Effective call-to-action
Your company logo or branding
Subtitles
You should aim to turn customer testimonial videos into the top-of-funnel content.
A solid rule of thumb here is to keep the video testimonial collection and production process structured and organized.
The planning phase of creating a great testimonial video is essential to ensure the success of the project. It is important to have a clear understanding of the goals and objectives for the video, as well as any budget and scope details.
Additionally, there are several key elements that should be considered during the planning phase.
First, it's important to determine who will be featured in the video and what type of story they will tell.
This includes deciding on a script or storyboard that outlines what will be said in each scene.
Additionally, it's important to consider how long the video should be and what type of visuals or graphics should be included.
Finally, it's important to decide on a timeline for filming and editing so that all deadlines can be met.
By taking time to plan out each step of the process, you can create an inspiring testimonial video that resonates with viewers.
Luckily, you can save your time and budget using video testimonial software.
Let's create and publish your first professional-looking video testimonial with Trust.
6-step guide to make your testimonial video template with Trust
Trust provides a simple and quick method to capture your customer video testimonials through a clean form.
It also supports seamless customer testimonial video editing and embedding features, so you can forget to hire a professional developer.
This guide will take you through the seven steps to capture and publish your customer testimonial video using Trust from scratch:
Step 1: Sign up or log into your Trust account
Trust has a 14-day free trial and does not require your credit card details.
Sign up here!
Step 2: All set? Explore your Trust dashboard
With Trust's dashboard, you can create testimonial request forms, collect testimonial videos and texts, import existing testimonials from review sites, and more, all from a single place.
On the left pane on your dashboard, click on "Testimonials".
Next, you can click on "Add New" to start adding new testimonial videos. There are two ways Trust to do that:
Pre-filling a testimonial request form to record a welcome video for more personalization or creating a contract for the submitter.
Add a testimonial – text or video directly to Trust or import existing videos from your social media sites (Instagram, Facebook, etc.) or review platforms (Google, G2, etc).
Choose "Add a testimonial" to upload or record a video directly onto Trust. Or choose "Pre-filled form" to customize the testimonial request and share it as a URL.
Step 3: Capture an engaging customer video testimonial
Let's face it. Not every customer would be comfortable being spontaneous on camera or possessing the needed technical skills to record a testimonial video themselves.
So to make things easier for them, Trust provides the Forms option to collect stunning testimonial videos seamlessly.
Here's a sample testimonial request form:

To create a custom testimonial request form, click "Forms" on the left pane of your Trust dashboard and then "Add New."
You can choose from 3 types of forms – Standard, Interactive, and Smart.
1. Standard form
With the Standard form, you can add specific customer guidelines, create a "Thank You page" for your customer or set custom font styles.
Doing so ensures the outcome is ready to publish with minimal editing.
To access Standard forms, select the "Texts" tab to enter the initial form settings, such as the form's name, to enable or disable a video/text testimonial, e-sign contracts, upload your business logo, set custom questions, etc.
Once you've entered the required information, click on Save.
2. Interactive form
To access, click Capture, followed by Forms, and select Interactive Forms.
Enter the general details to set up your form.
Similar to a Standard form, you may include additional details such as adding a "Thank You" note, enabling the option to ask for your customers' social media handles, request a star rating, and more.
The unique feature of Interactive forms is that you can create question-and-answer series.
They let you interview your customer step by step with a pre-defined set of text or video questions.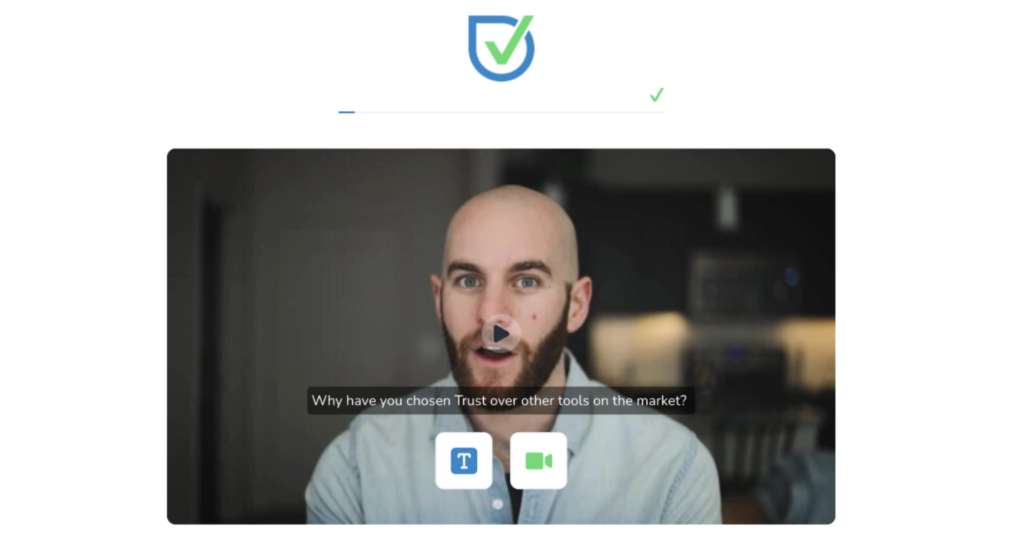 3. Smart form
With Smart Forms you can easily create custom forms because it includes a drag-and-drop builder.
This way building an ideal form for your particular use case is a no-brainer with a great variety of fields that you can rearrange.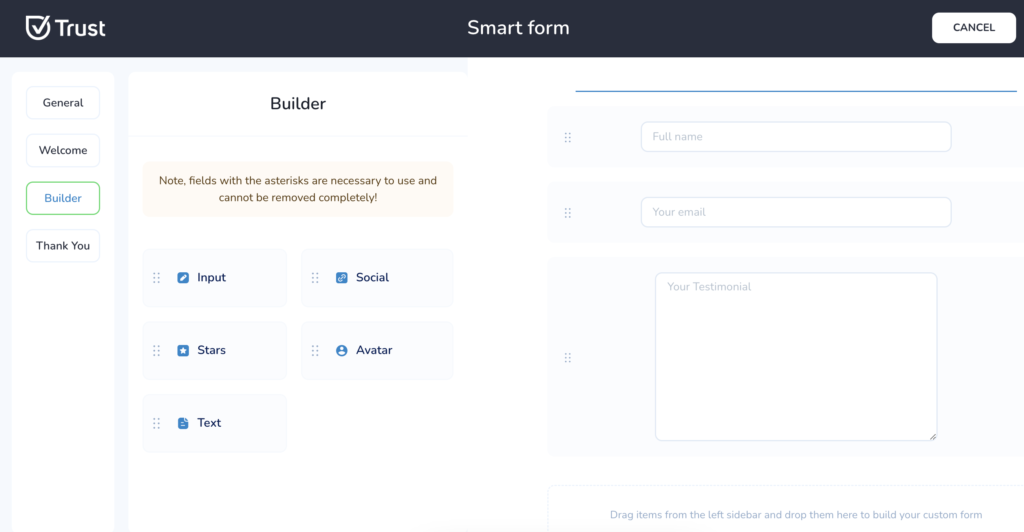 Apart from that, it offers all basic features that Smart and Interactive forms include.
Once saved, you can find your created forms on the Forms page:
Step 4: Share your customer video testimonial request
Trust provides a super quick method to share or request video testimonials. You can either share it as a URL with your client or customer or add it to your website or landing page.
To do this, under the Forms page's Activity tab, you can see options to add to the website, copy the URL, re-edit the form, and more.
If you choose to "Add to website," you get a pop-up message with a code snippet with options to add your testimonial request "Inline" or as a "pop-up notification."
Select Copy to Clipboard and paste it into your website builder apps, such as WordPress or Wix.
And if you wish to share the link, click on "Copy form URL to clipboard" and share the link in an email or text to your customer.
The best part?
Your customers do not have to sign up or log in to the Trust app to submit their testimonials!
Here's a sample published testimonial request form shared using a link.
Your customers can either record video footage, upload one from their device, or link an existing video from their social media sites (Instagram, Facebook, YouTube, or Vimeo).
Once submitted, your customer can watch a preview of their submitted video testimonial.
Note: Add Guidelines to your testimonial request form to make sure a reviewer won't miss adding any key elements of your testimonial video templates.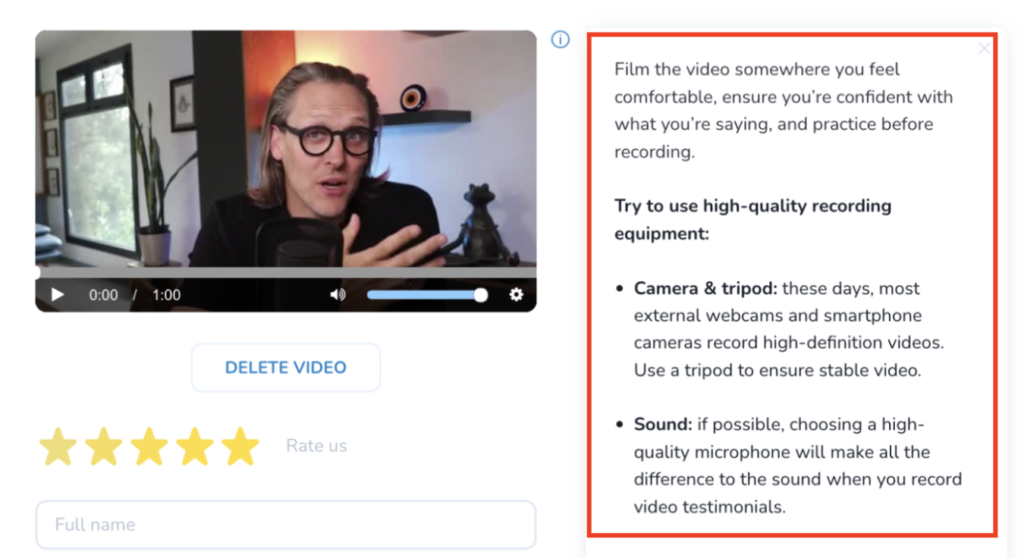 Step 5: It's time to publish your customer's video testimonial
You are notified on your configured email as soon as the customers submit testimonial videos.
To view them, navigate to the Trust dashboard and click on Testimonials. Here, you see an entire list of testimonials – published and unpublished.
To make the testimonial live on your website, under Actions, click on the publish icon. You can also preview or edit the testimonial before you hit publish.
Step 6: Add more impact by creating widgets, pop-ups, and badges
Trust does not stop at helping you capture high-quality customer testimonials
Displaying your testimonial well is as important as creating one. Video testimonials must captivate your potential customers and attract more leads quickly using stunning visual elements.
To do this, Trust offers three options to display a customer testimonial on your landing page, website, or on social media using: Badges, Widgets, and Pop-Ups.
Customize them to match your brand colors to convince your target audience.
Check out the full library of trust-building website elements here.
Expand the Display option on your Trust dashboard and select one of the three options.
For instance, to create a new widget for a received testimonial, click on Widgets and New Widget.
Next, enter or select the basic details about your new widget, such as name, layout, type, etc.
You can click on Advanced Settings to add more customized features to your testimonial widget and make it look more impressive.
Click on Add, and select Assign Testimonials next to your widget's name. Select the desired testimonial and click on Save.
Let your video testimonials do the talking
Stay ahead of your competition by showcasing client success stories as high-quality video testimonials that garner premium leads with minimal effort.
Use Trust to display your customer testimonial video and boost social proof.
Try the 14-day free trial today!

Frequently Asked Questions
1. What's a testimonial video used for? 
A testimonial video is a step above text testimonials and uses your customers' voices as video content to help grow brand credibility and bring more sales.
2. What should be included in a video testimonial?
For a more professional looking video, ensure you include high-quality background music, HD video, crisp video length, a before-and-after scenario, customers' names, and designations.