Video testimonials are on the rise. 79% of people have watched a video customer testimonial to learn more about a company, product, or service.
And two out of three people are more likely to buy after watching a video testimonial.
But while it's clear that video content from your customers can boost conversions and drive sales, getting video testimonials is a challenge.
Just because a client has a positive experience with your brand doesn't mean they will sit down in front of a camera.
Not to mention allowing the raw footage to be shared online.
And that's why many business owners are hesitant about using video testimonials from customers, even if they understand the value.
But the good news is that collecting video testimonials for marketing doesn't have to be complicated.
Even if you have no experience, you can get satisfied customers to record messages and display them on your site if you have the right tools.
In this guide, you'll discover how you can create beautiful and engaging video testimonials designed to impress and persuade your target audience. Just like this one:
Ready to get started? Then read on below.
Why video testimonials are important
Getting real customer testimonials in video format is a great way to boost engagement and sales.
But it also comes with additional benefits that make it one of the most impactful things you can do for your business.
These include:
Building immediate trust
As a business operating online, one of the biggest challenges you'll need to overcome is getting people to trust your company and the claims you make.
Unless you use Trust, a video testimonial platform.
With the help of Trust, you can leverage the built-in social proof elements from actual customers talking about your products on video.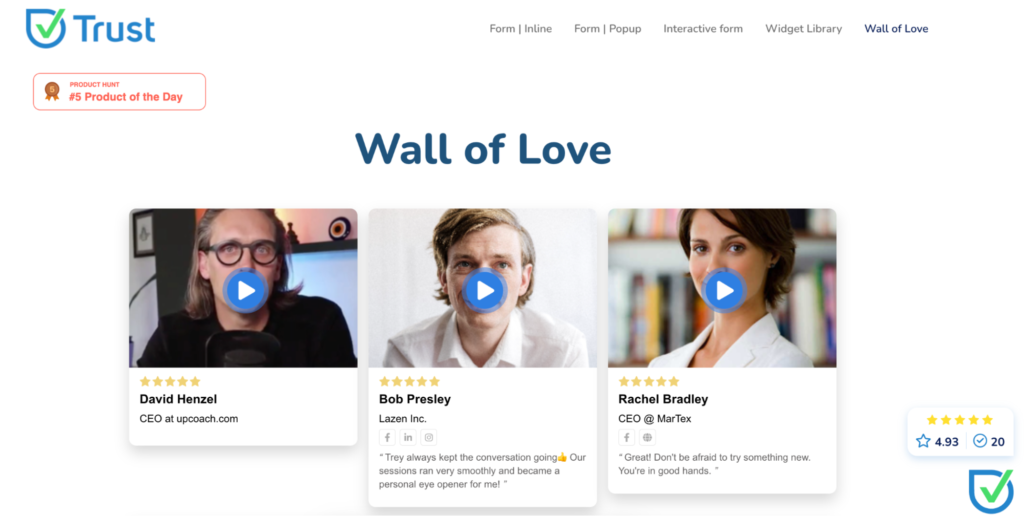 And that will not only emphasize your product's benefits but make the claims much more believable.
Boosting your SEO and conversion rates
Pages that contain an engaging video can receive as much as 250% more organic traffic.
And if you have multiple high-quality videos that are useful to your target audience, that can provide you an edge over the competition when trying to rank at the top of the most valuable searches.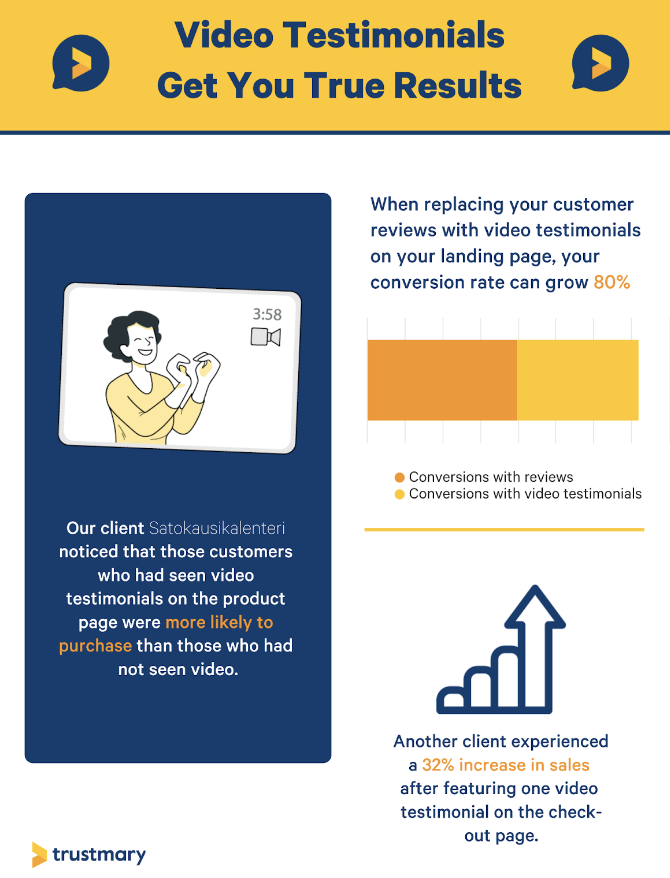 Trust makes it easy to collect and insert testimonials throughout your website.
This enables you to pick and choose where to feature different types of videos, enhancing your SEO efforts in the process.
Using it everywhere
Unlike reviews, which usually happen outside of your website and are harder to control, powerful video testimonials give you an engaging way to highlight messaging in everything you create.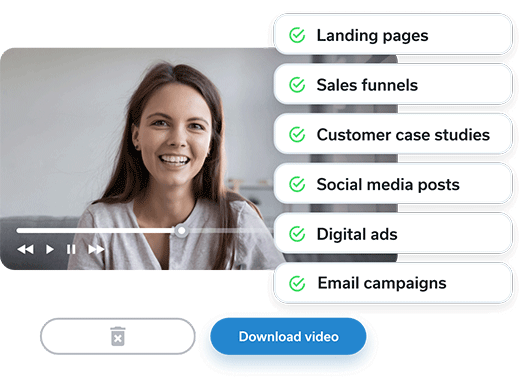 Want to send an email about a new feature?
Use high-quality footage with customer responses to highlight the huge benefit the feature offers.
Need to spice up your social media posts?
Create well-dressed video content that showcases quality video testimonials and helps emphasize the points you're trying to make.
How to create video testimonial videos using Trust
The best part about learning how to make a video testimonial using Trust is that the software has been designed to encompass all the steps you'll need to go through.
From sending out fully-customizable forms, to making it extremely easy for your happy customers to record selfie testimonial videos, to publishing anywhere you want, Trust can help you get real stories from people you've helped succeed, putting those stories in front of your audience and making them a powerful social proof element.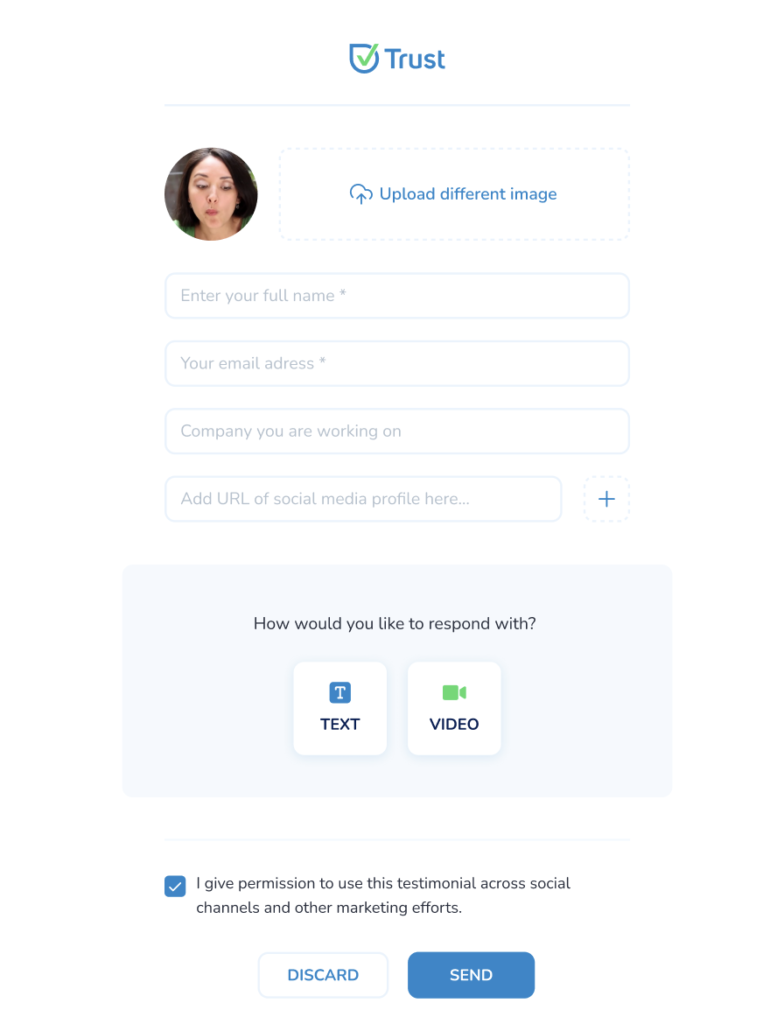 And when you don't have to spend a lot of time getting video testimonials, you can get a lot more of them.
Before you know it, you'll have a bunch of professional-looking video testimonials you can use throughout your marketing.
To make this happen, Trust uses a streamlined system that makes it easy for both the customer and the business:
1. You send a testimonial request form that contains everything the customer needs to record a testimonial. You can even add specific interview questions in video or text format, guiding your customers through what you want them to cover.
2. The customer can then answer each question in an individual video recording, which helps avoid them becoming overwhelmed.
3. Once they finish, you can access all of their answers and use our easy-to-use built-in video editor to convert the raw footage into a single testimonial that feels natural and helps prospective customers make buying decisions.
4. You can also add additional elements from your media library, such as an intro or an outro. This ensures your customer testimonials look consistent and stand out from other online reviews.
Benefits of Trust's video testimonial process
Because of the way Trust is designed, figuring out how to make a testimonial video is extremely easy. And the process comes with a range of benefits as well:
Customers can do it anytime. One of the biggest advantages of using a professional testimonial solution like Trust is that you don't have to personally oversee the testimonial being recorded. Once you set up the Question and Answer request form, your customers will have all the information they need to record each section of the review on their own time.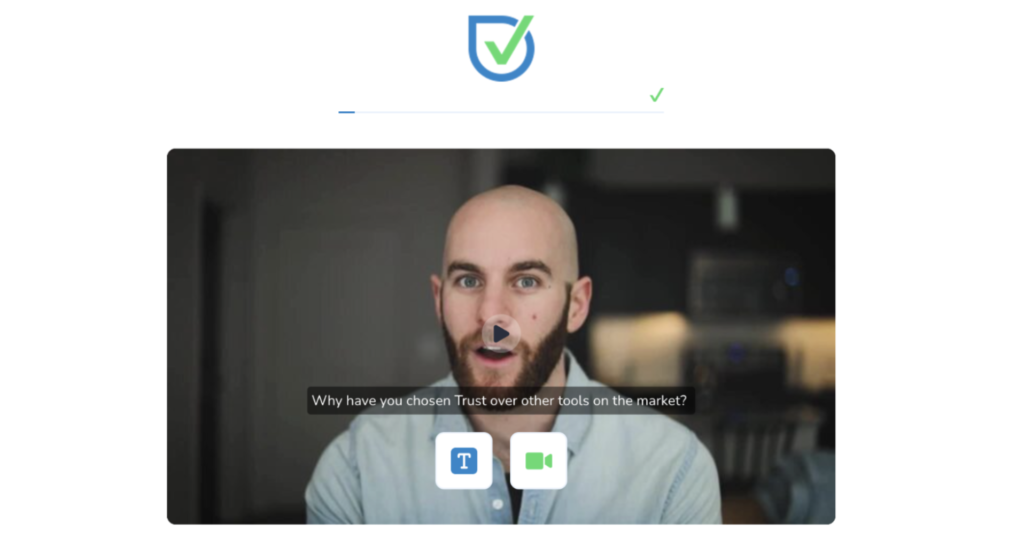 You don't need editing software. With Trust, you receive the entire recording collection from each customer in the Dashboard, which means you don't have to use any external software to prepare the testimonial for publishing. In fact, you can go through the simple editing process on your browser.
Easily scalable. Since you're setting everything up in advance, you can quickly scale your testimonial collection process with ease. With the interview questions already prepared, you can get customer endorsements basically on autopilot, especially if you also set up automated requests.
Creating professional testimonials with no Expertise: step by step
At this point, you should have a general idea of what the process of collecting video testimonials with Trust looks like.
But you're probably still unsure of the specific steps you'd need to take to go from where you are now to collecting (and publishing) dozens of high-value video testimonials to use in your marketing campaigns.
Let's break down the process in more detail below.
Set up an interactive testimonial request form
Before sharing your happy customer testimonials on your website, you need them to record the video.
And for that to happen, you need to have an easy method for providing information on how they can record and what testimonial questions they should cover.
That's why the first step of the process is setting up an interactive testimonial request form on the Trust Dashboard.
1. To start, go to your Dashboard→Forms, and select "Add New." Of the options, choose "Interactive Form."
2. Then, you can add customization options such as your logo, colors, validation messages, titles, and more. You can even record a welcome message to make the interaction more personal.
3. If you want to add testimonial questions to your review, you need to make sure you enable the "Q&A Series" feature.
4. You can then create the list of questions (in text or video format) and select the video answer type.
5. If you want to add additional guidelines, you can do so by enabling the "Show Guidelines" feature.
7. Consider if you want the reviewer to add a star rating that you could show next to the testimonial.
8. Finally, decide what personal information you want to collect.
Share your request form
The only way to get customer video testimonials from real people is to share the form you just created.
And the good news is there are multiple ways you can do that.
One option is to add the form (or a link to the form) directly to your website, encouraging your loyal customers to click through and record a video.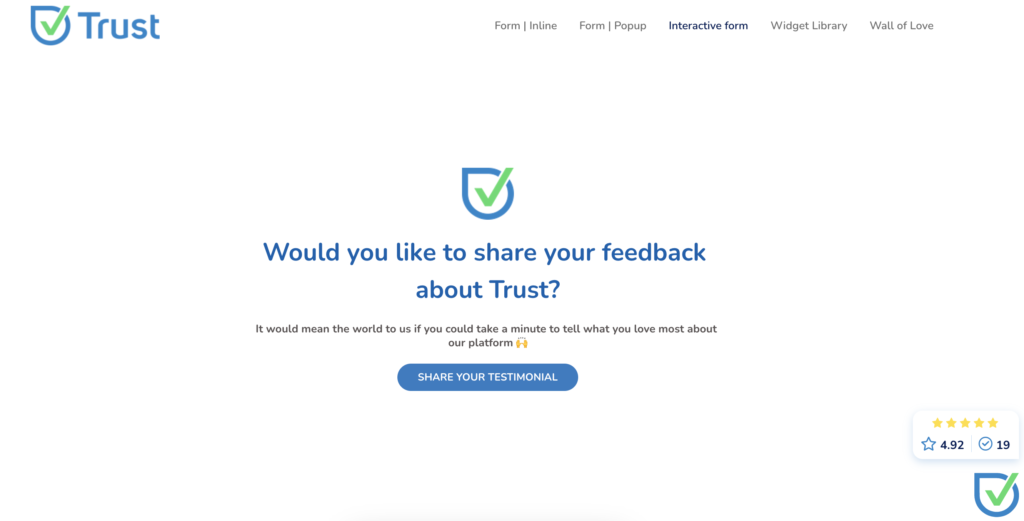 If you want to take a more proactive approach, you can also reach out to your recent customers, asking them if they'd be willing to share their thoughts about the key features of your product.
Although you can include the request in your email newsletter, it's usually better to time it through more personalized emails, social media messages, SMS, or even live chat so that the person is at the right stage of their customer journey to leave a review and answer the various types of questions you want them to cover.
Edit your video testimonial
Once you prepare and share your testimonial request form, they'll start appearing in your Dashboard sooner rather than later.
But once that happens, they won't be ready to be put in front of potential customers just yet.
Before moving forward, you'll need to edit your video testimonial and finalize how it looks.
The good news is that when using Trust, this process is designed to be as simple and painless as possible.
Even if you don't have any prior experience!
When you use the Q&A Series, you will get short video clips of each answer to the question when you open an individual review.
1. To begin, go to your "Testimonials" section on the Dashboard and select the "Edit" icon on a testimonial you want to work with.
2. Then, select the Q&A Series tab and click "Open Video Editor."
3. You can then trim each video clip to make sure that it's the right length and encompasses the essential answer you want to share.
4. Once the clips are edited, you'll also have the option of adding an Intro and Outro section to the video testimonial. You can upload images or videos with branding to give your testimonials a more consistent feel.
5. Click "Save" to start rendering the video, and you'll shortly have the testimonial ready to publish.
Share your testimonial
At this point, you should have a pretty good idea of how to make a testimonial video from scratch.
But you're probably still unsure how to share and publish your video testimonial to get it in front of as many people as possible.
And with Trust, it only takes a few seconds to display your customer video testimonials anywhere you want.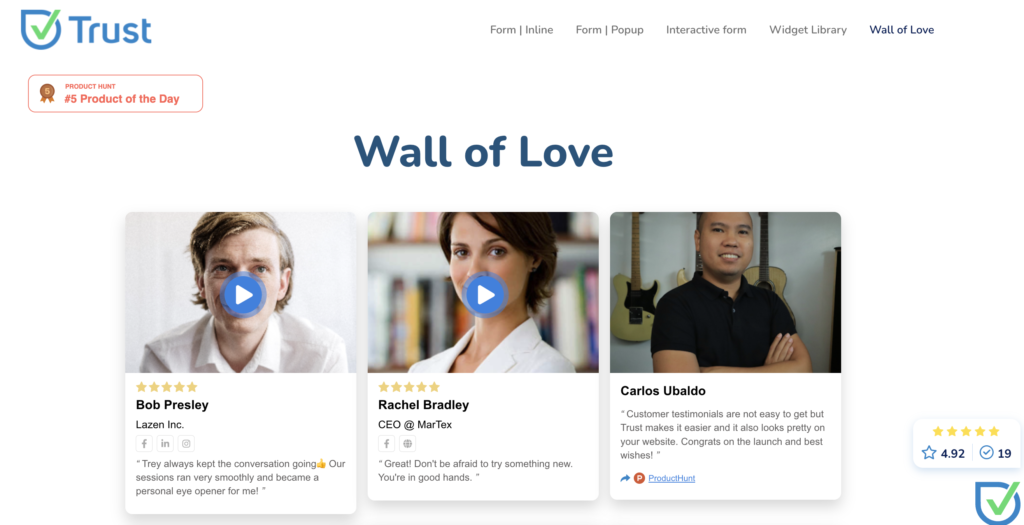 But what does the process of using online video testimonials look like?
Let's look at how to publish your testimonials on your site or social media platforms below.
Publish on your website
Trust makes publishing selfie video testimonials on your website extremely easy.
Go to your Trust Dashboard and select the Widgets section. There, click "New Widget" to create one.
Then, customize your widget by filling out the details.
Click on the "Assign Testimonials" button and select the ones you want to include in the widget.
Once you're ready to publish, click the "Add to Website" button next to the widget and copy the code, which you can paste on your website.
Publish on your social media platforms
If you want to use testimonial video marketing to showcase satisfied customers on social media, you can quickly access the recorded and edited high-quality video testimonials from your Trust Dashboard.
Even though Trust doesn't offer built-in features for importing your video testimonial playlist on social media, you can still use them by retrieving and uploading them manually.
First, go to the "Testimonials" section in your Dashboard.
Select the testimonial you want to use and click "Edit."
Once there, go to the Video tab and select the "Download Video" button below.
The video will download on your device, and you can manually upload it on any social media platform or anywhere else you want to use it.
Bottom line
You don't need a video production team or a complicated set-up process to create effective video testimonials that showcase your product's core benefits.
With the help of testimonial video services like Trust, you don't even need to have any experience with requesting, editing, or publishing video testimonials to generate high-quality video testimonials your target customers will love.
By following the steps above, you can enable your customers to go through a simple recording process while ensuring they touch on the major benefits of working with you over the competition.
You can then edit the testimonials to ensure that they match the attention span of modern audiences through a concise message that you can use almost anywhere.