Did you know roughly 62% of revenue can be generated per site visitor through customer testimonials?
If you're in the fitness industry, you may know customer reviews and testimonials play a huge role in proving your skills.
Fitness testimonials can turn your business around by attracting those skeptical potential clients and retaining existing ones.
But if you're curious about how to start gathering customer testimonials, you're right on time.
This article shows you how to capture fitness testimonials (with real examples) and introduces you to an all-inclusive tool to collect and display them in minutes.
Let's begin.
Personal fitness transformation stories
We have four real-time inspirational fitness transformation stories to inspire you to create one and generate more revenue:
Brad always believed 'genetics' was the reason for his skinny body type.
But like most youngsters, Brad wanted to get in better shape and fix his diet.
Through dedication and consistency in training, Brad went on to win an amateur bodybuilding competition.
Here are some challenges he overcame along the way:
Joined his first gym at 19 but quit within a month as he felt it wasn't the right fit.
Experimented with many diets in his 20s, attended a dozen fitness and wellness seminars, and read a bunch of books. But still couldn't get over his 'skinny genetics' belief system.
At 25, Brad gave fitness another shot and signed up for a gym membership. He then worked with the best personal trainers, understood the perfect 'diet' for his body type and the science behind it, gained muscle, and finally grew stronger.
To challenge himself further, he tried competing in an amateur bodybuilding competition and won it! And what follows are many more fitness challenges like marathons, power-lifting competitions, etc.
Despite all the ups and downs, Brad's commitment to fitness is commendable.
He continues to inspire others with his personal fitness goals and offers personal training to fellow fitness enthusiasts. He's now transforming their lives one step at a time.
Source: Brad Newton Fitness
Bodybuilding.com's recently published article features 15 extraordinary transformations of common people.
For example, Kate Jones, aged 24, changed her sedentary lifestyle and reconnected with her inner athlete.
The result? She lost weight and over 15% of body fat within two years.
Isaac is another inspiring fitness transformation example featured on the page.
Aged 35, Isaac's childhood trauma led him to stress eat and follow a terrible diet.
He then decided to transform his body with the perfect exercise program and a good diet.
He lost 150 pounds in just four years and became happier and more successful.
Transformations do not happen overnight.
And Bodybuilding.com's featured fitness inspirations are proof. They take time, effort, and, most importantly, a strong mindset to stick to fitness goals. 
The high-intensity fitness regimen, CrossFit, is a favorite of many fitness bugs.
Here are some note-worthy CrossFit success stories:
Gerald Andres mentions how he overcame his sedentary lifestyle and slowly transitioned to being an ardent CrossFit fan with more energy. He started by losing over 20 pounds and putting on 10 pounds of muscle.
Ben Sweeney went from doing stereotypical workouts to teaching spin classes, but nothing worked out. But when Cross Fit happened, he found his new favorite. Since then, he's been in the best shape and health.
Tips from individuals who've transformed their bodies with CrossFit:
Carry a solid pace and do not exert too much so you don't have to take many small breaks between workouts.
Choose one weight that can complete your workout in proper form and scale weights for faster workouts.
Focus on breathing and understand the basics.
Increase your speed variably.
Fitness success stories are more than just about weight loss.
Every fitness journey, no matter the number on the weighing scale, is inspirational and needs to be told.
Women's Health curated some incredible stories of women who've shown real grit with a positive mindset.
They've achieved extraordinary body transformations without compromising on mental / physical health and overall well-being:
Source: Women's Health
In her early 20s, Alicia succumbed to unhealthy food temptations and a stagnant lifestyle. She was slowly inching toward being 'obese,' which served as a wake-up call. She started working out regularly, cooked meals at home, and dropped a couple of pounds in a matter of months.
Source: Women's Health
Luciana emphasizes how strength training sessions taught her to understand and work with her body, not fight it. She realized the importance of fitness and mental well-being at 19, and there has been no stopping since. She consulted with nutritionists and weight trainers to curate a perfect regime.
The Power of motivation and inspiration
Motivation has the biggest influence on body transformation.
Setting time-bound fitness goals, following a fitness routine, sticking to a healthy lifestyle, and having a positive mindset are all powered by motivation. 
Since transformation does not happen overnight, staying self-motivated is key to consistently exercising and following a clean diet.
But what inspires this kind of motivation?
Fitness inspiration stems from the eagerness to stay fit and healthy.
Fitness enthusiasts get inspired by real success stories or testimonials of people like themselves.
Be it at the gym, on social media, or on fitness websites – inspiration is all around.
Fitness testimonials and their benefits to motivate readers 
Fitness testimonials are especially beneficial for the following reasons:
They offer a motivational boost – Reading fitness testimonials of successful people is a reason enough to push themselves to be like them.
They address skepticism – Testimonials from real people clear potential clients' doubts about a fitness program's efficacy or a personal trainer's credibility.
They provide tangible evidence – Customer testimonials with specific results achieved within a time frame and before-and-after transformation pictures provide tangible evidence for prospects.
They are relatable – When fitness testimonials talk about the challenges the customers faced before embarking on their fitness journey, it resonates with the doubtful readers and urges them to take action and sign up for the fitness program or the gym.
They help promote a healthier lifestyle – Sharing testimonials on social media or websites that talk about positive lifestyle changes, incorporating new exercises, and following a clean diet directly or indirectly promotes a healthier lifestyle.
How the COVID-19 pandemic had an impact on fitness motivation
Physical fitness and exercise took a back seat during the Covid-19 pandemic.
A study during this phase showed participants faced a lack of motivation for fitness and faced psychological health issues, too.
Fitness buffs felt disconnected from the fitness world, which impacted their motivation to work on their body inside doors.
However, there was also a slow change in perception toward fitness and workouts.
Fitness enthusiasts tried substituting their gym workouts with other available spaces and in-house pieces of equipment. 
For example, Yoga practices and meditation could be easily performed outside the gym to gain better control over fitness and overall well-being.
So ever since the pandemic hit, individuals have learned to adapt to environmental changes in a positive way to keep up their fitness journey.
Collecting and sharing your own fitness transformation stories
Are you a fitness or gym instructor who wants to make a difference by sharing your clients' fitness success stories?
We have just the right tool for you.
Meet Trust.
Trust is an all-in-one text and video testimonial collection software to help you collect high-quality, impactful fitness client testimonials and publish them in under 10 minutes.
Follow this step-by-step guide to get started on your testimonial collection journey:
Step 1: Sign up to Trust if you're new or login to the web app
Trust has a 14-day free trial and does not collect any credit card information. So feel free to get a touch and feel of the app without any strings attached.
Once done, set up your workspace by giving it a name.
Next, enter your fitness business website. You can also import your logo and select branding colors to create testimonials that fit your brand's tone. 
Next, you're redirected to your own Trust dashboard, where you can track testimonial submissions, create request forms, publish testimonials, and more.
Your Trust dashboard
Step 2: Request client testimonials using Trust's intelligent forms
A Trust form is a landing page dedicated to collecting your fitness client's responses through text or videos without needing them to log in to the app or install it.
Trust offers two types of forms: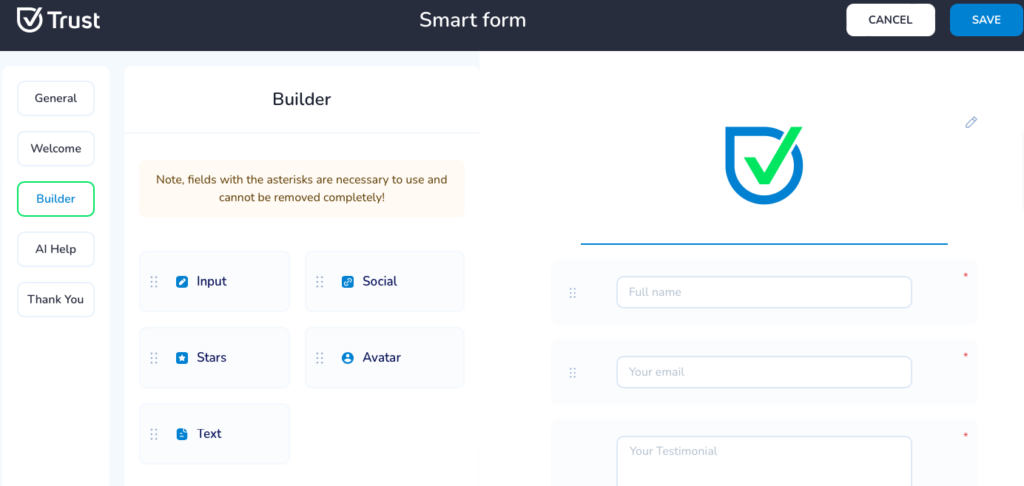 Create a smart form by just using the drag-and-drop Trust builder.
Add the essential fields to the testimonial collection form, such as the client's social media profile links, star rating collection tab, personalized video welcome message, custom thank-you note, etc.
Customize the smart form further by adding your fitness business's branding colors for a richer look to the final testimonial.
Trust lets you collect both text and video testimonials.
Go to the Builder tab on the smart form's page and drag and drop the Text field.
Trust allows clients to consent to share their fitness testimonials or personal trainer/gym feedback for marketing purposes.
As the name suggests, Trust's interactive forms let you gather fitness testimonials in a conversational manner.
For example, the forms can include question-and-answer series, surveys, etc., to collect text/video testimonials that tell clients' fitness success stories.
These forms allow you to add questions your fitness client can answer in a step-by-step format.
Some questions you can ask your own clients for a winning testimonial are:
What did you find challenging before choosing our gym/workout regime/instructor?
What was the atmosphere at the gym/fitness facility when you tried working out?
Can you describe your personal trainer and in a few words?
What made you choose our fitness center over other gyms?
What significant change did you notice after following our training sessions? (Did you build muscle tone, fix chronic pain, change eating habits, etc.)
Which ones are your favorite? Personal or small group training sessions?
Would you recommend our personal training session to others like you?
To add such questions to Trust's interactive form, go to the Testimonial tab, and under Question, type each question you'd like the client to answer in a video or as a text.
It's as simple as that!
Step 3: Share your testimonial request forms to start gathering fitness testimonials
You can share your created testimonial forms in just two easy ways: as a custom URL or by publishing the form landing page on your website.
For example, once published, your interactive form will appear like this:
To access the form's URL, go to Forms on the dashboard, and under the Activity tab, click on 'Copy form URL to clipboard.'
Paste this link in an email or text message to get your fitness clients to submit a glowing testimonial.
The other way to share your form is by adding it to your website as the landing page.
This time, click on 'Add to website' under the Activity tab and copy the code to add to your CMS.
Step 4: Publish fitness testimonials
It's finally time to publish your fitness testimonials and win more clients.
Go to Testimonials on your Trust dashboard. Under Actions, click on the Publish icon. But before doing that, ensure you review the testimonial and look for inconsistencies, if any.
Trust also allows you to export testimonials/reviews/ratings onto the dashboard from other sites such as Capterra, Google reviews, Facebook, and so on.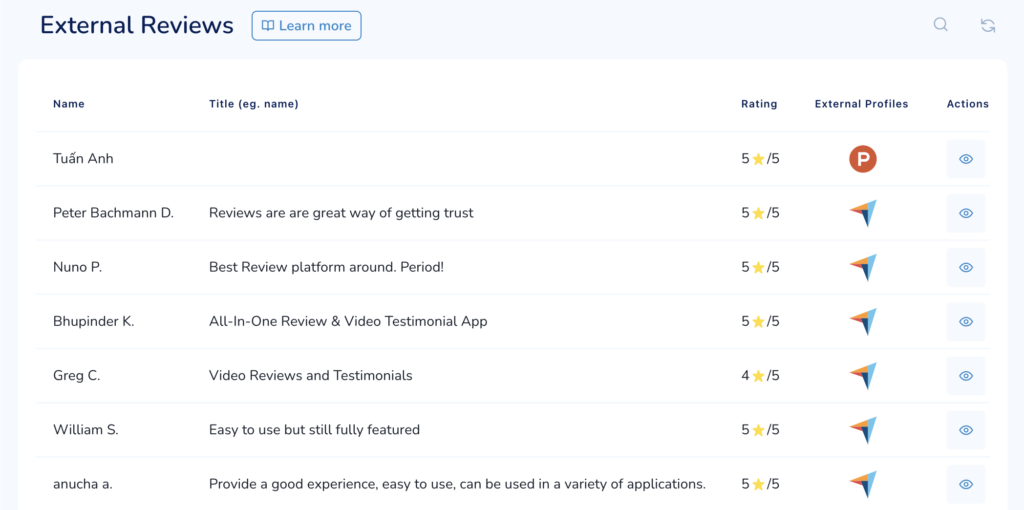 There you have it! A quick and easy system to collect testimonials and publish them in minutes without the tech headache.
Now you may wonder if testimonials are worth the effort and what's all their fuss about.
We have just the right term to convince you – digital storytelling.
Digital storytelling is a type of short-form content shared by people online in an attempt to talk about their experiences about a place, person, business, etc.
And as you may have guessed, a testimonial is the most effective way for your clients to tell a story.
Here are the top benefits of digital storytelling using testimonials:
It forms an instant emotional connection with the reader.
When ordinary people share interesting stories, readers or viewers can relate to them better and get motivated to achieve similar results.
Digital storytelling is the most engaging way to communicate with others and encourage interaction.
It pushes the reader or viewer to tap into their imagination and picture themselves in the story.
It grabs attention better than other forms of communication or messaging.
It encourages the reader or viewer to embark on their own personal journey and take the next step, for example, joining a gym membership.
Wrapping up
Fitness testimonials win the testimonial lottery as they are the best at portraying a before-and-after bridge and writing persuasive words that potential customers cannot ignore.
So if you're looking to set yourself apart from other trainers or fitness professionals, you know what to use – customer testimonials.
Fitness success stories are the best motivators. Use them to grow your business and attract quality clients who are eager to transition their health and well-being by trusting your process.
A video testimonial tool like Trust can make your work easier by letting you request, gather, and display fitness testimonials in under 10 minutes.
See it for yourself – sign up for the 14-day free trial today!
Frequently asked questions
1. How do you write a fitness testimonial?
Answer these questions to write a good fitness testimonial:
Why did you choose this business over others?
What problem did they help solve?
How was their solution unique and effective?
What did you like the most about their approach to fitness?
Can you summarize your experience in a few words.
2. How do I give feedback to my fitness trainer?
Here's an example you can use: "Mr. X has made the whole program motivational and encouraging. His skills and knowledge in following the right protein diet were outstanding. He's made training fun and never pushes you too hard. He takes utmost care in understanding your capabilities to curate the best regime for your body."
3. What do you write in a fitness post?
Here are some interesting captions for your next fitness post:
"No pain, no gain."
"Believe in yourself, and you'll be unstoppable."
"No excuses, Monday!"
"Rise and grind."
"Fall in love with taking care of your body."
"The gym is where every minute counts."
"Workouts are my happy hours."